Disclosure: This post may contain affiliate links, meaning I get a commission if you decide to purchase through my links, at no cost to you. As an Amazon Associate, I earn from qualifying purchases. Read the full disclosure here.
Halloween Jokes for Kids
If you are looking for some clean Halloween humor, look no further. Here you will find 25 funny Halloween jokes for kids.
You will find these jokes ideal for preschool and elementary-aged kids. Teachers can share them with their students in the classroom. Kids can share them with teachers or fellow classmates.
You will even find a lunchbox Halloween joke printout. Simply print sheet, cut them out, and send one with your child each day for lunch. This is a great way to bring a smile to your child's face at lunchtime.
Let's get started with these funny Halloween jokes. Simply read the question, click the answer button to reveal the joke.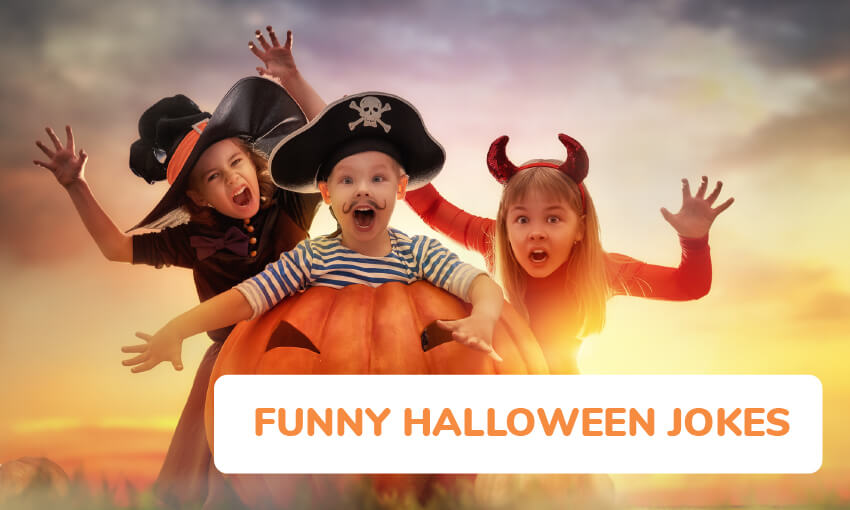 1. What kind of mistakes do spooks make?
Answer

Boo boos
2. When is it bad luck to meet a black cat?
Answer

When you're a mouse
3. What's the first thing ghosts do when they get in a car?
Answer

They boo-kle their seatbelts
4. What did the Kleenex say to the nose?
Answer

Put a little boogie in it!
5. What do the birds sing on Halloween?
Answer

Twick or tweet!
6. Why do mummies make good employees?
Answer

They get all wrapped up in their work
7. Why are there fences around cemeteries?
Answer

Because people are dying to get in
8. Monster#1: Can you lend an ear?
Answer

Monster #2: Yes, but I'll need it back
9. How do Monsters like movie stars?
Answer

Medium Rare
10. What do witches put on their hair?
Answer

Scare spray
11. What is a Mummy's favorite type of music?
Answer

Wrap
12. What type of dog do vampires like the best?
Answer

Bloodhounds
13. What do you call a fat Jack-O-Lantern?
Answer

A plumpkin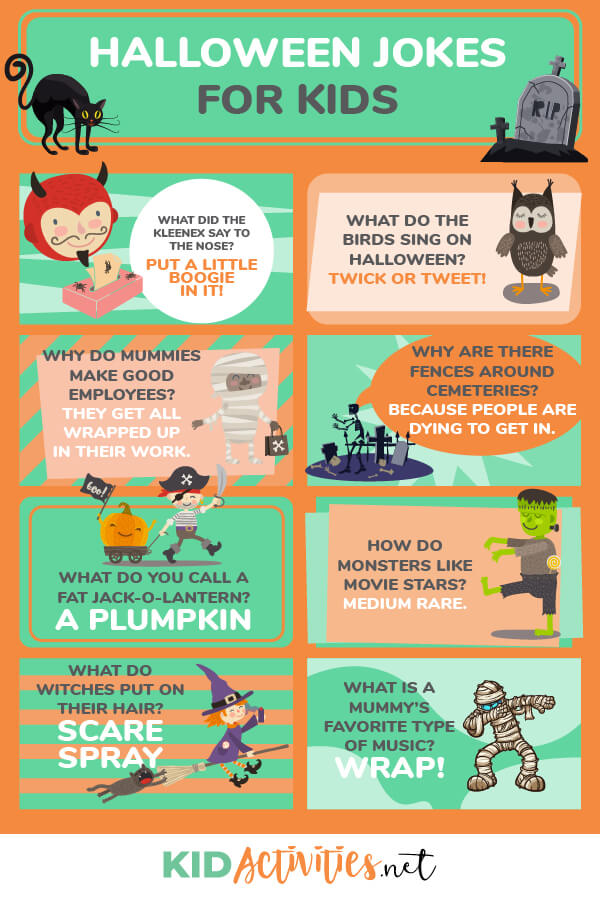 14. What happened to the man who didn't pay his exorcist?
Answer

He was repossessed
15. What do ghosts say when something is really neat?
Answer

Ghoul
16. Why didn't the skeleton cross the road?
Answer

He had no guts
17. What's it like to be kissed by a vampire?
Answer

It's a pain in the neck
18. Why don't skeletons like parties?
Answer

Because they have no body to dance with
19. What's a ghost's favorite color?
Answer

Light Boo
20. What do you call a skeleton who won't work?
Answer

Lazy bones
21. Why wasn't there any food left after the monster party?
Answer

Because everyone was a goblin
22. Who won the skeleton beauty contest?
Answer

No Body
23. What do you call a friendly dead Egyptian?
Answer

A chummy mummy
24. How does a witch tell time?
Answer

She looks at her witch-watch
25. What do ghosts serve for dessert?
Answer

Ice Scream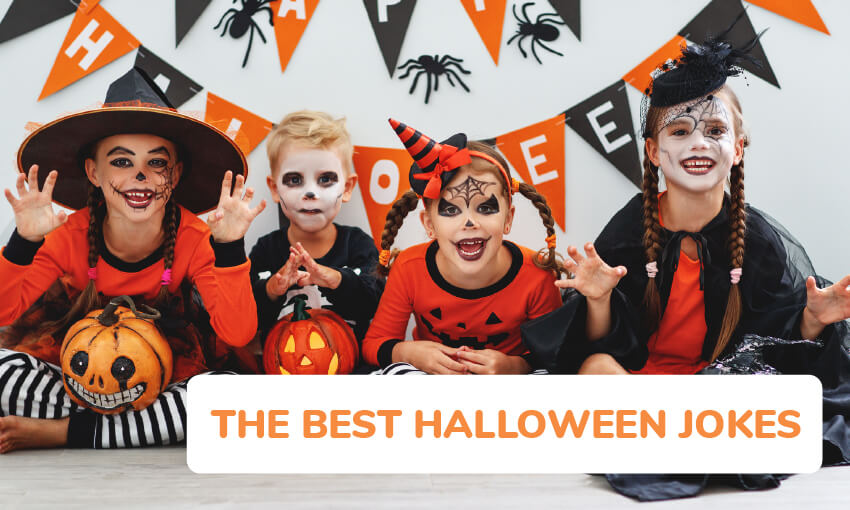 ---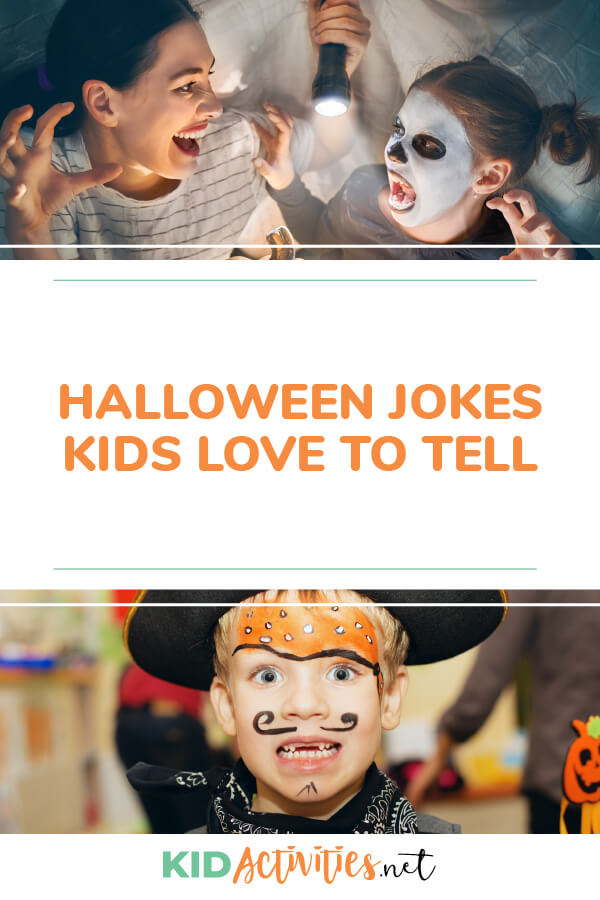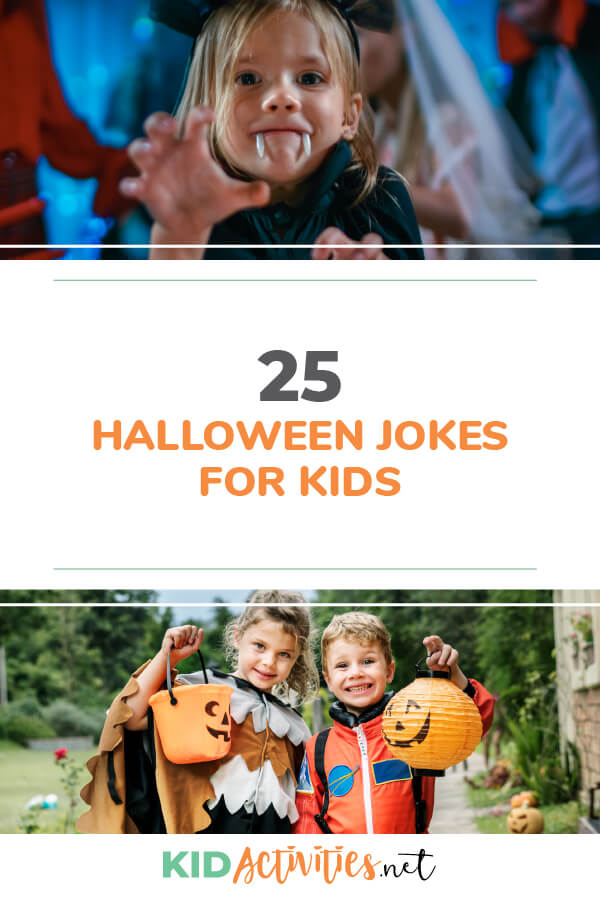 There you have it, 25 funny Halloween jokes for kids. Need some more good clean jokes for kids? Find a list of links to our other joke pages.
JOKE MENU…
HOLIDAY JOKES:
Patriotic (Labor Day, Memorial Day, Flag Day, Fourth of July, Patriotic Theme, Uncle Sam, Presidents Day)
All Winter time Jokes: Good All Winter, Reindeer, Christmas
Riddles:
SaveSave