It's July! Here's a list of July themes and activities for kids. Great ideas for developing lesson plans and keeping the kids engaged with what's happening in the days of July.
Make your monthly planning easy! Look at what's going on each day and do something to recognize or celebrate it. Put "what the day" is on your daily information board – along with the rest of the plans for the day!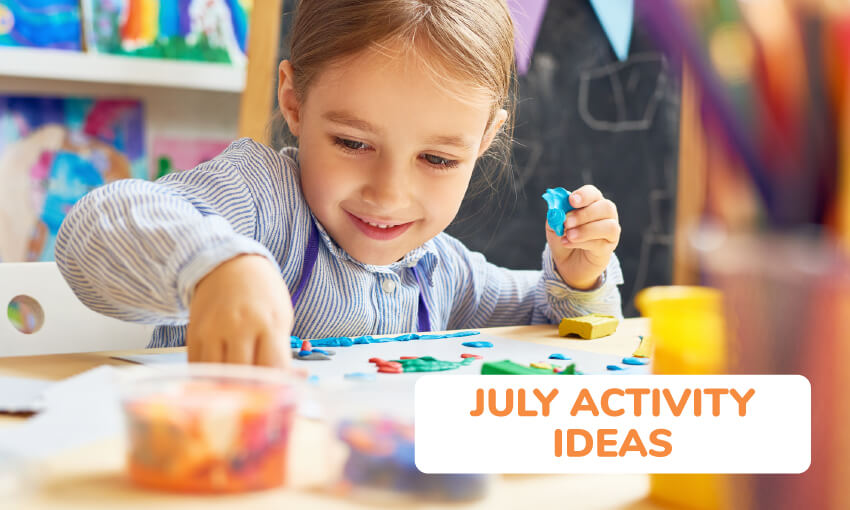 July Birthstone – Ruby
July Flower – Water Lily
July Zodiac Signs: Cancer the Crab June 21 – July 22, Leo the Lion – July 23 – August 23
The month of July is:
Anti-Boredom Month
Cell Phone Courtesy Month
Eggplant and Lettuce Month
Family Golf Month
Garlic Month
Mango and Melon Month
National Baked Bean Month
National Blueberry Month (See bottom of page for ideas)
National Grilling Month
National Horseradish Month
National Hot Dog Month
National Ice Cream Month (See bottom of page for ideas)
National Picnic Month
National Pickle Month (See ideas at bottom of page)
National Recreation Month
Nectarine Month
Sandwich Generation Month
The Tour de France is held every year in July and is the oldest of the cycle races, some will say the most respected as well.
July Activity Calendar
July 1
National Gingersnap Day (See three pumpkin dip recipes at the top of the Pumpkin Recipe page. Each tastes  great as a  Gingersnap dip!)
Build a Scarecrow Day
Canada Day – Canada Day is celebrated on July 1 and commemorates the day when Canada became self-governing, although remaining a dominion of Great Britain.  The day was originally known as Dominion Day but the name was changed to Canada Day in 1983.
International Joke Day (See Jokes Menu for Joke Categories!)
Princess Diana's Birthday
Second Half of the Year Day
July 2
July 3
Stay out of the Sun Day
Dog Days Begin
National Chocolate Wafer Day
Idaho Admission Day, 1890
July 4
First Bus was built
National Country Music Day
Tom Sawyer Fence Painting Day
July 5
July 6
First Picture Postcard Made
National Fried Chicken Day
World Kiss Day
National Strawberry Sundae Day
July 7
Macaroni Day (Visit Pasta Theme)
Chocolate Day
National Cherry Spitting Day (See Page 2 for Rules)
Tell the Truth Day
July 8
Liberty Bell Cracks In 1835, while being rung at the funeral of John Marshall
Video Games Day
National Milk Chocolate with Almonds Day
First Public Reading of Declaration of Independence, 1776
July 9
National Sugar Cookie Day (Put out homemade or purchased cookies and have children decorate them with a variety of goodies! Frosting, sprinkles, M&M's, etc.)
July 10
July 11
Cheer Up the Lonely Day
Slurp Day
World Population Day
National Blueberry Muffin Day
Swimming Pool Day
July 12
National Pecan Pie Day
Battle of the Boyne
Paper Bag Day – The paper bag manufacturing machine was patented.
Etch a sketch 1960
July 13
July 13
July 14
Bastille Day
Pick Blueberries Day (if you can't pick blueberries – EAT purchased blueberries!)
Tape Measure Day
July 15
National Ice Cream Day (See one of the Ice-Cream ideas at bottom of this page)
First Boeing 707 Flew in 1954
Forgetful Jones' Birthday (Sesame Street Character)
National Tapioca Pudding Day
Gummy Worm Day
Cow Appreciation Day
July 16
Apollo 11 lifts off on it's voyage to the moon in 1969
Fresh Spinach Day
July 17
National Peach Ice Cream Day
Disneyland Opens In 1955
Sewing Machine Patented In 1790
Yellow Pig Day
July 18
July 19
July 20
July 21
National Junk Food Day (How easy is this one!)
National Crème Brule Day
Monkey Day
July 22
Pied Piper of Hamelin Day
National Penuche Day
Summer Leisure Day
July 23
Ice Cream Cone Introduced In 1904 (Make ice-cream cones!)
National Vanilla Ice Cream Day
Mosquito Day
July 24
Amelia Earhart Day
Marvin the Martian's Birthday first appeared in cartoons in 1948
July 25
National Hot Fudge Sundae Day (Yummm!)
Threading the Needle Day
Merry-Go-Round Day
July 26
National Coney Island Hot Dog Day ( Chili Dog Day)
National Bagelfest
Bert's Birthday (Sesame Street Character)
New York Admission Day
July 28
National Milk Chocolate Day and Hamburger Day
Bugs Bunny's Birthday First appeared in cartoons in 1940
Beatrix Potter's Birthday – born in 1866
First Fingerprint Taken
July 29
National Lasagna Day
Rocket Day
July 30
July 31
First US Patent Issued to Samuel Hopkins in 1790
Ideas for doing some of the days
Have a bike day- In honor of Tour de France
Have the kids bring their bikes and have a bike race – but make it the 'slowest bike' is the winner! For directions visit the Theme on France. Idea is towards middle of the page.
July is blueberry month
Make some yummy 'blueberry smoothies'! Click here for several recipes located towards middle of page.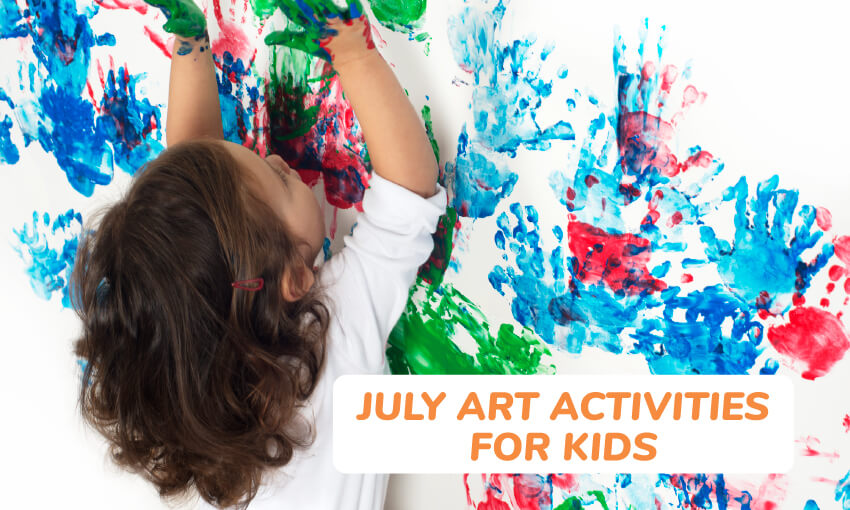 Blueberry painting
Good for any summer day-but great way to celebrate 'National Blueberry Month' during July! 
Give children blueberries to look at, touch, smell, and taste. (Good for the young)
After the children have observed the blueberries – add a little water to them and cook them in the microwave for one minute.
Have children mush them up. Use the blueberry juice to paint a beautiful blue blueberry picture.
July is ice cream month as well as blueberry month – try this ice-cream recipe and cover both.
Red, white & blue ice cream
Allow vanilla ice cream to thaw somewhat – remove ice-cream from the carton and mix in fresh strawberries and blueberries.
Optional additions:
chopped nuts
mini chocolate chips, etc.
When all is combined- refreeze. (You'll need a larger container that the original ice-cream container ) Serve in cones or disposal paper cups.
More for ice cream month.
Have an Ice Cream Social:  Ice-Cream Socials are great family/party/classroom/camp events! Put out. Ice cream, assorted ice cream toppings, sprinkles, cool whip, cherries, crushed Oreo cookies, M&M's.
Consider adding the below silliness to you festivities:
Ice Cream Eating – No Hands Used!
Give each child a scoop or two of ice-cream in a bowl. Have them sit comfortably at a table.
The fun is that they keep their hands behind their backs and eat the ice-cream with only their mouths! It's NOT a speed eating contest just silly fun!
Be sure to Video Tape and Take Pictures!
Have Dads participate
'I Scream For Ice-Cream'!  Pair this up with your ice-cream social.
Teach the kids:
I scream, you scream, we all scream for ice cream!
Divide the group into teams (number of teams depends on number of youth)
Which team can say it the loudest?
Have a third party judge.
Ice-cream sandwiches
Ingredients:
| | |
| --- | --- |
| Graham crackers any flavor | Ice cream |
| Plastic wrap | |
Let the ice cream get to a soft consistency.
Take the graham crackers and spread one half with about half cup ice cream.
Put another graham cracker on top and wrap with plastic wrap. Freeze for about 3 hours.
Homemade bagged ice-cream
Need:
Large resealable bags
Small resealable bags
1 Clean Gallon Milk Jug
Measuring Cups and Spoons
Ingredients:
½ tsp. salt, 2 cups sugar, Milk, 2 tsp. vanilla, 4 cups half & half (dairy cream), Crushed ice,
Optional: Crushed fruit – strawberries, peaches or raspberries
In one clean milk jug add the salt, vanilla, sugar, and half & half.
Fill the rest of the milk jug with milk so that it's almost full.
You'll need some space at the top so that you can shake up the mixture. Place the cap on the top and carefully shake the mixture until all the ingredients are well mixed.
If you have a pull off cap always keep your hand over the cap.
Once the mixture is completely mixed, pour one cup of mixture into a small resealable bag.
The mixture will give you about 16 cups so you can give each participant one bag or assign two participants per bag to share one cup of mixture. At that time they can decide if they would like to add fresh fruit.
Add 1 to 2 tablespoons for fresh fruit.
Place the small bag of mixture into one large resealable bag filled half way with crushed ice.
Have the participants add about ½ cup of salt over the ice and seal the large bag.
They will take turns shaking and moving the mixture around in the crushed ice.
You can add additional salt if need.
Once mixture has become frozen ice cream, divide it up and enjoy your rewards.
Makes about 16 cups or 32 (½ cups) of ice cream.
July is national pickle month
There really are a great variety of pickles. There are hundreds of different types in the world that are served as a side dish,  appetite, snack or garnish. Taste some of them, note the difference, talk about them! 
Some are:
Dill Pickle
Kosher Dill Pickle
Bread & Butter Pickle
Gherkin
Candied Pickles
Fermented or Processed Pickle.(In salt and vinegar)
Half Sour Pickle
Sour Pickle
Sweet Pickle
Pickle tasting and charting
Bring in  variety of pickles.
Have children taste them and see which one they like the best.
With older kids you can chart and tally the results.
Pickle graph – Math for the young 
Make a chart by putting a picture of three  different pickles at the top.
Have each child's name written down the left hand margin. Pass out a slice of each type of pickle and then have each child tell you which was their favorite.
Tally up the results and make a total at the bottom of each column.
You can get the colored sticker labels from the stationery store for the children to use to put on the chart.
If they like a red apple, they place their red circle sticker under the red, yellow circle sticker under the yellow apple, etc. They enjoy doing this because they get to use stickers but they also get to taste a variety of apples.
Pickle games for July
Running bases – also called 'pickle' (A great game for building baseball skills)
Need a 2 Bases, at least 3 players and rubber ball or tennis ball.
There are several versions for playing this game. This one is the most basic.
Set up two bases on a play area about 20 to 50 feet apart.(The distance depends on the skill level of the players)

Two players are 'fielders'. They each stand at a base and toss the ball to each other. All other players are 'runners'. If there is more than one runner – they divide and go to the bases.

The object is for the runner(s) to move from base to base without being tagged as the fielders toss the ball back and forth. If a runner is touching a base, he or she is safe. If they make it to the next base without being tagged out they score a run. If they are tagged it's an out.

A runner cannot hug a base. He/she must run at least every second time the ball is thrown. The fielder does not have to stay on the base to catch the ball. They may go after each runner.

The goal of the game is to touch the bases as many times as you can without being tagged out. The runner must keep track of how many times they touch the base before a fielder tags them out. When that runner gets out, they rotate positions so that the fielders can be the runner. After everyone has ran, they compare scores. (bases touched)
Pickle in the middle (Also called Keep Away or Monkey in the Middle.)
Two or more players must pass a ball to one another, while a player in the middle attempts to intercept it.
The game could be considered a reverse form of dodgeball instead of trying to hit people in the middle with the ball, players attempt to keep the ball away from them.
The basic game is played by drawing a circle on the ground about ten feet in diameter.
One person stands in the center (the monkey, the piggy or the pickle) and the rest stand outside the circle.
A player outside the circle must then throw the ball through the circle to another person outside the circle with the goal being to prevent the person who is "it" from getting to the ball.
This continues until the person who is it catches the ball or gains possession due to a failed catch, etc.
Whoever threw the ball last then becomes it, and replaces the person in the middle. Pull put the measuring tapes and measure everything! Shoes, feet, hands, height, living plants, table heights, etc. Record measurements, repeat often, and discuss what changes and what stays the same.
*Adapted from: wikipedia.org
Celebrating some special July days
July 1st is international joke day
Joke and punch line – connection/ice-breaker
Setup: Write a joke on one card and a punch line on another. Be sure to mix the cards up. The number of different jokes depends on the size of the group.
Give each person a card. Explain that they may have a joke or a punch line on the card. On a given signal, they are to walk around the group trying to find the other part of their joke/punch line.
When they find their other half, you may ask them to get to know their new partner by asking things like favorite ice cream or dream vacation etc.
When this is done, everyone can return to a circle and with their partner, tell their joke.
Click here for KidActivities.net Joke Menu
July 1st is also – second half of the year day
Think about the past six months – how's it been going? What would you like to change? Add? What would you like to see for the second half of the year?
Have some half of the year fun with your kids
Have lunch at half past twelve; have half of a sandwich.
Eat half an apple, orange or ______.
Drink several 'half glasses' of water throughout the day.
Walk half a mile–then maybe walk another half a mile.
Read at half chapter of a book (or half a book).
Make a collage using half of a circle shape. Use all sizes and lots of colors!
Look at things as your glass being 'half full' and NOT half empty! Talk with your kids about what that means.
When you start thinking about it – there are lots of 'half things' you can do!
July 1st is dress a scare crow day
Stock up on over-sized plaid shirts, goofy pants, floppy hats and any other clothing that a scarecrow might wear.  Make piles containing one of each item. The number of piles is determined either by the number of kids or teams participating.
Line up kids and let the game begin.
The children run to the pile, put on the outfit, and dart back to the starting line.
If doing it as a team game, they  then switch the outfit with their teammate – who run out and back.
First team with their last team member dressed as a scarecrow wins.
July 4th
Be sure to check out the patriotic theme! It loaded with tons of ideas for art, crafts, games, snacks and so much fun. Ideas good for camp, day care or home parties!
July 4th is also "Tom Sawyer fence painting day" OK, you may not actually be able to pain a fence but how about trying this activity with your kids?
Painting outside – koosh ball, fly swatter and 'whatever' painting
Hang a long piece of bulletin board paper on your outdoor fence. Place pans of paint and Koosh balls, blown up balloons and fly swatters on the ground. (Good idea is to place all on a plastic drop cloth/table cloth of some type – when activity is complete you just put away the supplies and then scoop and throw away the plastic cloth.)
Encourage children to throw, swat and stamp the paper.  If possible have the children do this activity in the bathing suits so you can hose them off when they are done.
This sample is from an outside summer birthday party – it's also great fun when there is a toddler or two visiting.  One two year old – spent most of 2 hours walking back and forth dipping a balloon bottom in the paint and stamping.
July 7th (07/07) is "Bonza bottler" day
It's a day just to have a reason to celebrate. So celebrate.  Try and make it a monthly event.
This happens each month when the day and date are the same number!
Example: January 1, February 2, March 3, April 4, May 5, etc.
It provides a break in routine for kids, parents and teachers. It has been celebrated since August 8 (8-8) 1985.
When the number of the year also coincides with the number of the day and month  (December 12,  2012) there is reason to have a bigger celebration (more food, more friends and more decorations).
This is called a 'Bodacious Bonza Bottler Day'. As the official website  states, "Bodacious means extraordinary, impressively great in size, or enormous" Consider making this a monthly event the kids can look forward to.
July 7th is also national cherry pit spitting day
How far can you launch a pit? Believe it or not. The Guinness World Record for competitive cherry-pit spitting is 93 feet 6.5 inches! Great fun for adults too.
Have a cherry – pit spitting contest
This can be done two ways.
1. Give each child a paper cup with their name written on it. As a snack, give them several cherries and save their pits in the cup. When the contest is later held – their allowed supply of pits is ready to go.
2. Give each participant three or four cherries. One by one they eat the cherry and then spit the pit.
Tips: 
Mark off the game area every 3 to 5 feet. This will make it easier to determine the winners. Pits can shoot an amazing distance. As an example – each year the city of Traverse City, Michigan holds their Cherry Festival. 'Pit Spitting' is one of the annual events. Men's pits usually travel an average of 55 feet, women's 35 feet and children's' have flown 40 some feet.
Pit Spitting is a practiced art. Allow children to practice before the event begins.
Go over rules before the event begins.
You may also like some of the "Cherry Theme' ideas on KidActivities.
July 7th is tell the truth day
Play truth or lie – Pass out index cards to the children. Kids then write down three facts – two truths and one lie (Or two lies and one truth) on the card. Youth then read their cards to the group and the group decides which fact is a lie or which fact is the truth. This activity can be a lot of fun and is also good anytime of the year.
---
July 10th is "Don't Step on a Bee
Share the following 'Bee' Jokes!
What do you call a bee who's had a spell put on him? He's bee-witched.
What does a bee get at McDonalds?
A humburger!
What buzzes, is black and yellow and goes along the bottom of the sea?
A bee in a submarine!
What's more dangerous than being with a fool?
Fooling with a bee!
What did the spider say to the bee?
Your honey or your life!
Who is a bee's favorite painter?
Pablo Beecasso!
What did the bee say to the other bee in summer?
Swarm here isn't it!
What is a bee's favorite classical music composer?
Bee-thoven!
Who writes books for little bees?
Bee-trix Potter!
Where do bees go on holiday?
Stingapore!
July 15th is gummy worm day (This day can bring lots of fun.)
wormy ice cubes for those summer drinks
Cup gummy worms
2 ice cube trays
Arrange gummy worms in ice cube trays, 1 worm per cube. Fill tray with water. Freeze until solid, 8 hours or overnight. Place into punch bowl/drinks minutes before serving.
Pond sludge (Green Jell-O) 
Fill clear plastic glasses with green Jello. When the Jello has almost set, add gummy worms, making sure a few of them are escaping over the rim of the glass.
If desired, when the Jello has set, add a dollop of pond mud (chocolate pudding).
SLIME JELL-O
Ingredients:
Lime Gelatin, Gummy Worm Candy, Large clear glass bowl or baking dish
Make Jell-o following package directions.
Pour into baking dish or bowl.
Once the gelatin has begun to set (about 1.5 hours) add gummy worms.
Be sure to have your camera ready – this one is a good photo op!
Gummy worm hunt contest
This one is fun
Give each child a plate with two or three gummy worms covered in whipped cream, and a cup.
The first child to find the gummy worms with their mouths and get them into their cup is the winner. No Hands used.
July 15 is also cow appreciation day
Cow collage by Jason-Grade 1
Materials: colored paper, glue, scissors
This project is great for practicing cutting and gluing skills AND makes a great display.
Put out  supplies and a copy of this image; have kids  make their own version. Source Art teacher Michal Austin
Game
Instead of Duck, Duck Goose – play horse, horse, cow
Snacks
Serve any dairy products such as milk, cheese, yogurt or ice cream! Make some milk shakes, a Purple Cow or Black Cow. yummy.
Purple cow
Ingredients:
1 cup milk
1 sliced banana
¼ cup unsweetened grape juice
Mix all ingredients together in a blender.
Makes 4-6 small servings
Black cow (recipe makes 1) 
Ingredients:
Root Beer, vanilla ice-cream, chocolate syrup (optional)
Directions:
Place 2 tablespoons of syrup in bottom of large glass. Add root beer, stirring until liquid is within 2 inches of top of glass. Add a huge scoop of ice cream.
Also check out the smoothies, shakers and coolers page
Make Puppy Chow and call it cow chow
1 cup peanut butter
1/2 cup (1 stick) margarine
12 ounces chocolate chips
1 large box Crispix
2 1/2 cups confectioners sugar
1. Melt peanut butter, margarine and chocolate chips.
2. Pour mixture over large box Crispix; coat well.
3. In a paper bag or very large bowl, put 2 1/2 cups confectioner sugar.
4. Add coated cereal and gently coat cereal. Cover well.
Note: The mixture actually tastes better after a day or two. The cereal absorbs the chocolate mixture. Yummy!
July 21 is monkey day
Play monkey tag game 
Scatter with three or four persons who are "It".
All players run around. When they are tagged, they must lie on their backs, feet up in the air.
They are free if another person can touch both feet with their elbow before being caught.
Time the game so many get a turn at being "it".
Make a monkey smoothie
1 to 3 tbsp. natural peanut butter, chunky or smooth
1 frozen banana
2 cup orange juice
Combine the frozen banana, peanut butter and orange juice in a blender or food processor. Blend until creamy. A swirl of chocolate syrup is the perfect topping for this thick and nutty treat.
Serves 1.
Make frozen monkey treats 
A healthy snack that kids will like.
Peel a banana and cut it in half. Insert Popsicle sticks into the cut ends. Dip the bananas into yogurt or melted chocolate, and then roll the bananas in chopped nuts, crushed cereal, or coconut shavings. Place the bananas on a small waxed paper-lined baking sheet and set the sheet into the freezer for an hour or so. Fun to make and even more fun to eat!
Make monkey bread
(I've made it with kids at camp in a toaster oven; they loved it.)
Need:
Bunt Pan
4 cans of 10 each refrigerated buttermilk biscuits
Small bowls
1 and 1/2 sticks butter or margarine
Small pan
3 cups brown sugar
4 T brown sugar
Directions:
Combine sugar and cinnamon. Divide mixture in half and put into 2 separate bowls.
Adult melts 1 stick of butter in a small pan over low heat – or melt in microwave.
Tear each biscuit into 3 pieces and roll into balls. Dip the balls in the melted butter and then into one bowl of the brown sugar and cinnamon mixture. Roll then to coat evenly.
Put into the un-greased bunt pan.
Adult melt over low heat the second ½ stick of butter with the brown sugar-cinnamon mixture. Pour evenly over the coated balls in the pan.
Bake for 30 minutes in 350 degree oven.
Turn oven off. Let pan sit for 5 minutes and then remove from the oven and turn the pan over onto a serving platter.
Let it sit a few minutes inverted on the plate, before removing it from the pan.
Cool before serving.
July 25th is merry-go-round day
Ingredients:
Apples, Animal crackers, Peanut butter or Nutella  (Strawberry or food colored Cream cheese if allergies)
Wash and core the apples.
Slice apples into 1/4″ to 1/2″  circles.
Spread the apple rings with peanut butter. Stand the animal crackers up around the apple ring to look like a merry-go-round. Because the peanut butter will keep the apples from yellowing – the 'Merry-Go-Round' can be admired a bit before eating.
Use a parachute and play merry-go-round  
Turn the body so that the chute is held with only one hand.
Walk, hop, jump, or skip around holding the chute.
It looks like a merry-go-round!
From KidActivities Parachute Game page
July 28 is the day the first finger print was taken
Here's an amazing trick that lets children try their hands at a little forensic science by lifting their own fingerprints.
Individually, have each childe press their fingertip on a pocket mirror.
Cover the entire print with graphite dust by rubbing a soft pencil with sandpaper.
Blow gently to remove excess dust.
Now carefully stick a strip of tape to the print and slowly peel it off. Stick the tape to a piece of white paper, and the print should be distinct. You can inspect the fingerprint under a magnifying glass, or just with the eye.  If you go to the wiki website, I you can decide whether the fingerprints are 's' whorl, loop, or an arch.
July 29th is rocket day
Make an alka-seltzer rocket,  a model rocket fashioned from a 35mm film canister and propelled by the generation of gas from an effervescent liquid. It is often used in science classes to demonstrate principles of chemistry and physics to students.
In the experiment, a film canister is filled with water and an effervescent tablet (commonly Alka-Seltzer) and tightly sealed.
After a short time, the evolved carbon dioxide reaches sufficient pressure to cause the body of the canister to be launched into the air with a popping sound.
The canister may be elaborated (or not) with paper fins to resemble more closely a real rocket.
Lessons based around the Alka-Seltzer rocket can focus on a number of principles. For example, the students are sometimes asked to experiment with the amounts of water and Alka-Seltzer to find the combination which propels the rocket the greatest distance.
Alternatively they may derive equations to calculate the speed and velocity of the rocket from the distance it travels.
Source: wikipedia.org
Not a rocket, but explodes like a rocket
Mentos eruption – Soda Geyser– or just called 'Diet Coke and Mentos' – This is a reaction between Mentos candy and diet cola. The experiment involves dropping several Mentos candies (usually 5–8) into a bottle of diet cola resulting in an eruption occurring because of rapidly expanding carbon dioxide bubbles on the surface of the Mentos. This one is always great for outside summer fun-the kids never tire of it!
I recently tried this experiment with three of my grandsons (Ages 6, 8,11-see photo) They all loved it! We quickly put five mentos into the Coke. The reaction starts 'immediately'-so be quick!
If you want an explanation:
There are various theories being debated as to the exact scientific explanation of the phenomenon, many scientists claim that it is a physical reaction and not a chemical one. Water molecules strongly attract each other, linking together to form a tight connection around each bubble of carbon dioxide gas in the soda. To form a new bubble, water molecules must push away from one another. It takes extra energy to break this surface tension. So, in other words, water resists the expansion of bubbles in the soda.
When Mentos are dropped into soda, the gellan gum and gum arabic of the candy dissolves and breaks the surface tension. This disturbs the water connection, so that it takes less work to expand and form new bubbles.
Each Mentos candy has thousands of tiny pores over its surface. These tiny pores function as nucleation sites, perfect places for carbon dioxide bubbles to form. As soon as the Mentos enter the soda, bubbles form all over their surface.
They quickly sink to the bottom, causing carbon dioxide to be released by the carbonated liquid with which they come into contact along the way. The sudden increase in pressure pushes all of the liquid up and out of the bottle.
From: wikipedia.org
Other good theme pages:
Warm Weather Activities,  Warm Weather Snacks,  Outdoor Water Games, Outdoor Games, Water, Theme, Sand Theme, Summer Olympics, Gardens/Gardening Theme, Ocean/Under the Sea, Patriotic Red-White & Blue Theme, Wind Socks & Wind Chimes