March Themes and Activities
It's April! Find a list of April themes and activities for kids. Great ideas for developing lesson plans and keeping the kids engaged with what's happening in the days of April.
Make your monthly planning easy! Look at what's going on each day and do something to recognize or celebrate it. Put "what the day" is on your daily information board– along with the rest of the plans for the day!
April's FLOWER is the Daisy~ the GEM STONE is the Diamond!
April's BIRTH SIGN…
Aries March 21 to April 20 and Taurus April 21 to May 21
THE MONTH OF APRIL IS … 
---
THE WEEKS OF THE MONTH ARE…
WEEK TWO: Observe NATIONAL LIBRARY WEEK 
WEEK OF THE YOUNG CHILD
APRIL 22 IS EARTH DAY! Celebrate it all month long!
WHEN IS EASTER? 
(See EASTER CATEGORIES)

April 21st 2019
---
theme ideas for the month of April. " width="850″ height="510″ />
THE DAYS OF THE MONTH
APRIL 1
EASTER and April Fool's Day (See April Fool JOKES)
One Cent Day
APRIL 2
Artist Max Ernst's birthday, 1891
Author Hans Christian Andersen's Birthday, 1805
International Children's Book Day
APRIL 3
Find a Rainbow Day-See RAINBOW THEME
Get Outside Day (See below) Also-Pony Express Established, 1860
APRIL 4
First US Flag approved on this day in 1818 (See USA PATRIOTIC CATEGORY)
Bonza Bottler Day! (See page bottom to learn about it)
APRIL 5
Road Map Day (See Mixing Geography & Fun for Map Ideas!)
APRIL 6
Artist Raphael's Birthday, 1483
North Pole discovered
APRIL 7
World Health Day
No Housework Day!
April 8
Ponce de Leon Day-Born in 1460; discovered Florida and searched for Fountain of Youth
April 9
First Public Library opened in Peterborough, NH
APRIL 10
Young Writer Day
Sibling Day
US Patent System was established on this day in 1790
APRIL 11
US President Johnson signed the Civil Rights Act on this day in 1968
APRIL 12
Author Beverly Cleary's Birthday, 1916
APRIL 13
USA President Thomas Jefferson's Birthday, 1743
APRIL 14
Webster's Dictionary first Published (1828)
Titanic struck Iceberg
APRIL 15
Artist Leonardo da Vinci's Birthday, 1452
First McDonalds opened in Des Plaines, IL, 1955
Income Tax Day USA
APRIL 16
Wilbur Wright's Birthday, 1867
Eggs Benedict Day
Slavery abolished in D.C. by Lincoln in 1862
APRIL 17
Apollo 13 landed in 1970
Daffy Duck's Birthday
Pet Owner's Day–Celebrate by having fun with something in the ANIMAL THEME!
Crossword Puzzle Day
Paul Revere Day–"The British are coming…" 1775
Great San Francisco Earthquake in 1906
First Laundromat opened in Fort Worth Texas-1934
April Activity Calendar
APRIL 19
Humorous Day-Tell JOKES all day! See a good variety of seasonal jokes…  Have fun with TONGUE TWISTER GAMES…
APRIL 20
Artist Joan Miro's birthday, 1893
Cuckoo Day
National Pineapple Upside-Down Cake
APRIL 21
Kindergarten Day-first Kindergarten founded by Friedrich Froebel in Germany in 1837
APRIL 22
Earth Day(See EARTH AND GREEN CATEGORIES!) ; Jelly Bean Day (See page bottom for ideas)
Girl Scout Leader Appreciation Day
APRIL 23
William Shakespeare's birthday, 1564
International Sing-Out Day
Home Run Day-Hank Aaron hit his first home run in 1954–(Play a good game of baseball! )
APRIL 24 Pigs-in-a-Blanket Day (See page bottom for recipes)
Artist Willem de Kooning's birthday, 1904
APRIL 25 …National Telephone Day (See page bottom)
Anzac Day-Australia and New Zealand…. You will be taken off site.
Hubble Telescope Launched, 1990
Take Our Daughters and Sons to Work Day (Fourth Thursday every year)
APRIL 26
Hug a Friend Day
National Pretzel Day (See our  PRETZEL CATEGORY) or just snack on pretzels!
Artist Eugene Delacroix's birthday, 1798
Naturalist John J. Audubon's Birthday, 1785 (See BIRD THEME)
April 27
Tell a Story Day (See TELLING CREATIVE STORY Ideas—lower half of the category page)
Creator or Woody the Woodpecker-Walter Lantz's Birthday
APRIL 28
Poetry Reading Day
US President James Monroe's Birthday, 1758
APRIL 29
The zipper was patented on this day in 1913
APRIL 30
Arbor Day
National Honesty Day–George Washington inaugurated as first US president in 1789
---
Ideas for Special Days in April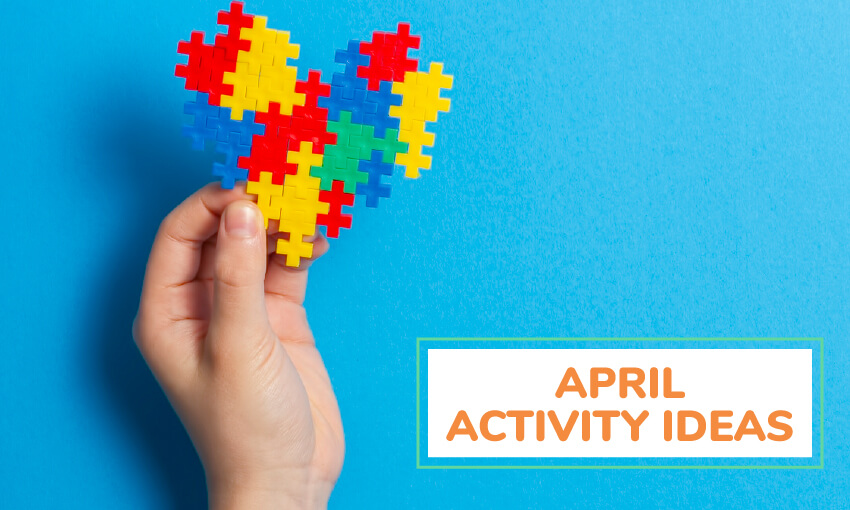 APRIL 3
GET OUTSIDE DAY!
Children & Nature Network was created to support people and organizations working worldwide to reconnect children with nature! Check it out!
The Network encourages children and adults, families and friends to spend the week leading up to April 3 engaging in outdoor activities. Then, on April 3 (or a date that works for each community), schedule a 'Get Outside Day' event.
Examples: A nature scavenger hunt; a beach, stream or trail cleanup; a nature walk; a recycling event; or a photo safari.
---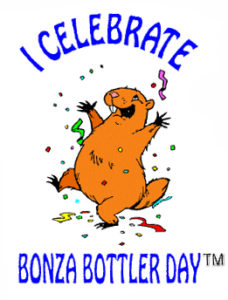 April 4 
Don't forget 'Bonza Bottler Day' !
It's a day just to have a reason to celebrate. So celebrate!!!
This happens each month when the day and date are the same number!
Example: January 1, February 2, March 3, April 4, May 5, etc.
Bonza Bottler Day is a favorite with many school classrooms and programs because it provides a break in routine for the students and teachers. It has been celebrated since August 8 (8-8) 1985!
When the number of the year also coincides with the number of the day and month (October 10, 2010, there is reason to have a bigger celebration (more food, more friends and more decorations).This is called a 'Bodacious Bonza Bottler Day'. As the official website  states, "Bodacious means extraordinary, impressively great in size, or enormous" Consider making this a monthly event the kids can look forward to!
---

April 22 – Besides being Earth Day-it's 'Jelly Bean' Day!
JELLY BEAN PAINTING
Materials: Jellybeans, paint, paper, tape, a box
Directions: Place a piece of paper in a box. Take the tape and roll a piece over on itself; place it on the back of the paper to keep the paper secure in the box… Add small amounts of paint in each corner. Place a few jellybeans in the box and have the children move the box so that the jellybeans will roll through the paint and create an abstract design "work of art…
PLAY THE JELLY BEAN GAME
Required: Container, 2-3 pkgs. of JELLY BEANS (depending on number of kids and tables playing), score sheet, paper and pencil
Players: Small to large groups
1. Find a deep, clean, non-see-through container to pour in several bags of JELLY BEANS.
2. Make a point chart on paper or blackboard for the different colored jelly-beans. An example is-
Purple 5 pts
Green 10 pts
Yellow 20 pts
Orange 25 pts
Red 30 pts
3. Divide into teams and have one person at a time from each team, draw out a jelly-bean. The team is awarded the points for the color that is pulled out.
4. The drawer gets to eat the jelly-bean. The first team to reach 500 pts is the winner.
TIP: 
You can use any kind of candy that has MANY COLORS
(Skittles, etc.) this is also a great transition activity or to get the group to quiet down!
OR…
Play BINGO—USING JELLY BEANS as markers. Be sure to have extra jelly beans to munch!
---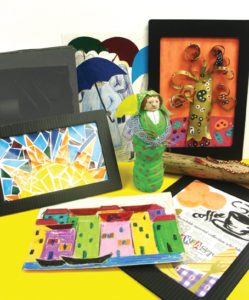 APRIL 22~LOVE THIS IDEA FOR EARTH DAY/WEEK!
(Taken from Earth Friendly Category)
HAVE AN EARTH WEEK ART AND PROJECT EXHIBIT…
Display photography, sculpture, drawings, pastels, etc., as well as crafts, toys, and nature projects made by the children. FOCUS EVERYTHING ON THE ENVIRONMENT or MADE FROM RECYCLED MATERIALS.
 Set up your "Exhibit" and Hold a FAMILY EVENT after school. You can also invite school classrooms to walk through and view.
Serve refreshments/snacks with an Earth theme…Ideas for snacks are in the Earth Day-Every Day Category.
---

April 23 is 'Pigs-in-a-Blanket' Day
PIG IN A BLANKET SNACK
Ingredients:
Package of hot dogs or little smokies cut in pieces; 1 can refrigerated biscuits (not the flaky type)
Directions:
Flatten the biscuit, cut in half.
Place half the hot dog on the biscuit and bring the two sides of the biscuit together.
 Place on a cookie sheet and bake them the same temperature as it indicated for the biscuits.
They are done when the biscuit is done.
Dip in ketchup or mustard.
Version Two: PIG IN A BLANKET
Ingredients:
8 hot dogs
4 slices American cheese, each cut into 6 strips
1 can 8 0z.) Refrigerated crescent dinner rolls
Directions:
Heat over to 375. Slit hot dogs to within ½ inch of ends; insert strips of cheese into each slit. Separate dough into triangles. Wrap dough triangle around each hot dog and place on ungreased cookie sheet, cheese side up. Bake 15-20 minutes or until golden brown.
---
Version Three: PIG IN A BLANKET:
Bread slices. Cheese slices, hot dogs, tooth picks
Place cheese and hot dog on bread slice. Roll the two ends of bread up around the hot dog and secure with tooth pick. Bake in pre-heated 350 oven until hot. (About 20 minutes)
---
April 25–National Telephone Day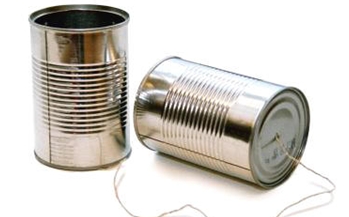 Make TIN CAN TELEPHONES! This also uses recycled materials-thereby celebrating the 'Earth and Green' Themes!
Children today are still delighted with simple tin can telephones. You can make a set n with two empty tin cans that have smooth edges.
1. Punch holes in the bottom of the cans.
2. Thread twelve feet of wire through the holes.
3. Wind each end in and out of a button, which acts as a stopper.
4. One child talks into his can while the other child holds his can over his ear to listen.
5. The vibrations travel along the taut wire. (Photo from Indoor Crafts)
---

APRIL SHOWERS BRING MAY FLOWERS! Check out the 'Rain and Clouds' Category for April ideas! (Photo by KidActivities) It's also a great time to start this fun Indoor or Outdoor Walking Club!
---


You may also be interested in…
---



SaveSave
SaveSave