Bird Games and Activities for Kids
If you are looking for some fun bird games and activities for kids, look no further.
Here you will find an extensive list of bird-themed activities. Below are many ideas to add to a Spring, Winter, Nature, Earth Day, and BIRD THEME.
It doesn't matter what time of year it is—-the birds can always use a friendly hand. Below you'll find suggestions for nest building, birdhouses, crafts, science, snacks, and more!
Bird Themed Arts & Crafts
1. EASY FEATHERED BIRD PICTURE
Kids love working with feathers!
Print out or draw a picture of a bird onto construction paper.
Spread glue onto the bird. Glue assorted feathers onto the bird…
---
2. BIRD FROM PAPER PLATE
Paint the backside of a paper plate any color you want and let dry.
Cut feather shapes out of various colors of construction paper.
Cut a circle out of black construction paper for an eye and an orange triangle for a beak.
---
3. MAKE BIRDSEED PLAY DOUGH
Materials:
Birdseed
2 cups flour
1 cup of salt
Water
Instructions
Mix flour, salt & birdseed with sufficient water to make play dough texture.
Note: This activity is included because it contains "birdseed" and fun to the theme. Do not place outdoors when done playing–as salt is dangerous to birds. It can make them ill–or kill them if consumed in large quantities.
---
4. BIRDSEED COLLAGE
Materials:
Birdseed
Plain paper or picture of a bird (colored by a child or not)
Glue
Have children apply glue and then birdseed to the picture or paper in the design of choice.
For interest, use a variety of birds, sunflowers, corn kernels, etc.
---
5. EGG CUP BIRD
Materials:
1 egg "cup" cut out from an egg carton
1-inch size pom pom or styrofoam ball
wiggly eyes
paint
glue
feathers
orange pipe cleaner or orange construction paper
Instructions
Paint egg cup or styrofoam ball. Let dry.
Glue the pom pom or styrofoam ball onto the top of the egg cup.
Glue feathers onto the back of the egg cup.
Glue two wiggly eyes onto the pom pom or styrofoam ball.
Cut a one-1/2 inch piece of pipe cleaner and bend it in half. Glue this onto the bird's head for an open beak.
Done!!!
---

6. PINECONE BIRD
Materials:
pinecone
feathers
wiggly eyes
orange pipe cleaner
glue
Instructions
Glue one or two feathers to the back of the pinecone near the bottom.
Glue two wiggly eyes on the other side of the pinecone near the top.
Cut a one-1/2 inch piece of pipe cleaner, bend in half, and glue on beneath the wiggly eyes.
An easy and inexpensive bird!
---
7. FEATHER PAINTING
Instructions
Put out an assortment of feathers, paper and paint.
Have children experiment with a variety of paint textures and feathers for their own unique piece of "Feather Art".
---
8. MAKE A SHREDDED WHEAT BIRD NEST!
Instructions
Line the bowl with glue and into crumble several large pieces of shredded wheat cereal.
The shredded cereal should stick to the glue on the sides of the bowl and resemble a birds nest.
When firm, add candy eggs to the nests
---
9. PAPER BAG BIRD'S NEST
Materials:
Brown paper lunch bag
Scissors
Artificial grass, moss or green and brown streamers cut up
Instructions
Cut off the top 3/4 of a paper lunch bag.
Scrunch the bottom of the bag down a bit.
Fill with artificial grass, moss or cut up pieces of paper, or green or brown colored streamers.
With the remaining 3/4 of the lunch bag that was cut off, cut horizontally across the lunch bag and strips will remain circular and intact, and ready and easy to wrap around the nest.
Arrange the strips around the outside of the nest. Place plastic eggs, chick, or jelly beans in the nest!
---
10. PINECONE OWLS
Materials:
Large pinecones
Glue
Googly eyes
Brown and yellow felt or craft foam sheets
Instructions
Find pinecones that are flat enough to stand upright or snip off a small amount from the bottom so that it is flat enough to stand the cone on end.
Cut out circles from the brown felt or foam. The circles should be a little larger than the size of your googly eyes.
Glue the googly eyes onto the circles.
Cut out triangle shaped ears from the brown felt or foam and triangle-shaped beaks from the yellow felt or foam.
Glue the eyes, ears and beaks onto the pinecones.
---
11. MAKE A POTATO STAMPED PENGUIN
Materials:
Pictures of penguins…
Potato (one cut in half, and one cut longways)
Paint: black, white, orange for the beak
Construction Paper
Paint Brushes
Instructions
Let this be an open art activity...
Discuss penguins and follow that by putting out supplies.
Children can make penguin designs with the potato stamping–or surprise you with other ideas
---
12. COFFEE FILTER BIRD NEST
Materials:
Coffee Filters
Easter Grass or shredded paper
Jelly beans/eggs
Instructions
Glue the Easter Grass onto the coffee filter; fill with jelly beans!
---
13. BIRD FEEDERS…
Bird feeding isn't just a winter activity; it might surprise you to learn that even in spring, food is still scarce for our feathered friends.  The temperatures are usually cool enough that many insect populations haven't emerged, and that's sad news for those birds that eat insects. Also, the fruit-eating birds won't see their favorite foods naturally appearing until harvest! You don't need to buy fancy bird feeders to feed your backyard friends.
14. BIRD FEEDERS #1
Materials:
2 cups shortening
2 cups peanut butter
5 cups birdseed
Instructions
Mix all ingredients together.
Shape into balls.
Wrap each ball in netting from onion bags, and secure with a plastic twist.
This recipe makes about 12 feeders.
---
14. BIRD FEEDERS #2
Instructions
Punch holes on either side of a plastic pop bottle.
Stick a twig all the way through with its ends sticking out for perches; poke more holes nearby for the birds to pull the seeds out.
Hang the bottle by tying a string around its neck.
(Finches really like these.)
---
15. PINE CONE BIRD FEEDER #3
Materials:
Lard or peanut butter
String
Pinecone
Birdseed
Instructions
Tie a piece of string around the widest part of the cone.
Mix the lard and seed together.
Press the mixture into the branches of the cone.
Use the string to tie the cone up in a tree pr bush for the birds to enjoy.
---
16. BIRD FEEDER #4
Instructions
Tie a string around the neck of a baby food jar and fill with orange juice.
Hang it from a tree. (It will hang tilted, but Orioles will perch on the rim and take dainty sips). They also love oranges!
---
17. MILK CARTON BIRDFEEDER #5
This bird feeder won't last long, but it is so easy to make, you can always have another one made all ready to replace it when it wears out!
Materials:
Small milk carton (the kind at school)
non-toxic poster paints
stapler and staples
hole punch
yarn or string
Instructions
Wash and thoroughly dry the milk carton.
Cut a small section from the carton and then staple the top opening closed.
Paint the container, if desired. Let it dry. (Note: If you paint the feeders in streaks of tan, gray and brown they will resemble tree bark. Then, on the bottom, paint on dark and light green leaves. When you stand underneath the hanging bird feeder, it really blends in with the canopy of leaves above it!)
Poke a hole in the middle of the top of the carton, and thread a piece of yarn or string through it to use as a hanger. (The string should be long enough for the feeder to hang where the branches don't rub against, but not so long that the feeder hangs too far away from the tree's leaf cover. Birds like to feel they have a hiding place to fly into quickly!)
Add birdseed and hang the feeder. (Since the small milk carton feeders are just the right size for the tiny birds such as finches, wrens, etc., you might want to use thistle seed. It is the finch's favorite food! Garden supply stores carry a sterile thistle seed just for bird feeding which is guaranteed not to sprout all over the yard).
---
18. BIRD FEEDER #6
Using a simple egg carton, you can help our feathered friends.
Materials:
Egg carton
String
Birdseed
Instructions
Remove the lid and save for another use (to hold paints like a palate for example).
Fill the carton sections with birdseed.
Poke holes in the 4 corners of the carton and attach a string to each. Next gather the strings together at the center, knot, and hang the feeder outside.
---
19. BAGEL BIRD FEEDER WITH LARD
Materials:
1-day old bagel
Lard
Birdseed
String or ribbon for hanging
Instructions
Spread the lard on the bagel.
Roll the bagel in the birdseed. (Or you may place the bagel in a gallon-sized zipper bag that contains birdseed; shake the bag to coat the bagel.)
Tie ribbon or string through the hole of the bagel to hang the bagel. One of the good things about this bird feeder is that the birds can eat the whole thing!
---

20. BAGEL BIRD FEEDER WITH HONEY OR PEANUT BUTTER
For Each Bird Feeder, You Will Need:
A day-old bagel
Honey or peanut butter
Birdseed
String or ribbon for hanging
Instructions
Spread the peanut butter or honey onto the entire bagel.
Roll the bagel in the birdseed.
Most of the bagel should now be covered in birdseed.
Have the children tie the ribbon through the hole of the bagel.
Hang the bird feeder from a tree in their yard when they go home.
---
21. SCATTER BREADCRUMBS ON THE GROUND!
---
22.  BIRD FEEDER HEART
Materials:
Flat wooden shape (such as a heart)
Peanut butter
Birdseed
Drill
4 feet of 1/4 inch wide ribbon
One bowl.
Directions
Drill a small hole in each side of the shape – the same distance from the top so that the shape does not hang lopsided.
Cover the wooden shape completely in peanut butter and then place the heart in a bowl of birdseed.
Cover the entire area of the shape with the birdseed making sure no empty spots are left anywhere on the shape.
Cut two lengths of ribbon each 2 feet long and run one length of ribbon through each hole.
Tie all ends of the ribbons together in a bow or knot.
Hang heart-shaped bird snack in a tree or somewhere birds have easy access to it.
---
23. CORN COB BIRD FEEDER
Instructions
Use a corn cob as a base.
Completely cover the corn cob with Peanut Butter.
Press bird seeds into the peanut butter.
---
24. DECORATE YOUR TREES OR SMALL SHRUBS!
IDEAS…
Take STALE BREAD and have children cut shapes with COOKIE CUTTERS.
Have them spread peanut butter on the bread with a plastic knife and then sprinkle on birdseed.
Poke a hole at the top with a plastic straw.
Thread with raffia or yarn.
Together decorate the outdoor bushes and low trees branches with these "yummy" decorations.
CHEERIO CHAINS…Wrap tape on one end of a long length of yarn.
Tie a knot with a Cheerio on it at the other end.
Demonstrate how to string the chain by sliding a Cheerio (or any "O" shaped cereal) over the tape (needle) and dropping it to the bottom. Invite children to help you until the entire chain is strung.
Drape these chains around the outside trees for birds/animals to enjoy.
ORANGE SLICES…
Poke a hole with a plastic straw at the top of each orange slice.
Thread with raffia or ribbon and tie each slice to a branch.
---
TWO BIRD FOOD RECIPES
25. HOMEMADE BIRD BALLS
Materials:
1 pound of lard
1 jar of peanut butter
5 cups cornmeal
6 cups oats
2 cups sunflower seeds
2 cups raisins
Instructions
Mix everything together (this will be nice and messy!).
Roll into about 5 or 6 small balls.
Roll balls in sunflower seeds and raisins.
Place the balls in a bird feeder and watch your feathered friends enjoy their snack. Birds, squirrels, and other small wildlife are in constant search of food, freshwater, and safe shelter.
26. BIRD HONEY STICK
Materials:
Instructions
Find a stick that's between 1 and 5 centimeters in diameter (2/5 inches to 2 inches).
Cover the stick in honey with a brush or dinner knife.
Pour birdseed on the stick until the stick is fully covered by the birdseed.
You can leave it in the refrigerator to harden or just hang it on your bird's cage or outside the branch.
---
27. POP-CORNY BIRD FEEDER
This one is for the birds. Make it and then spend the afternoon watching birds as they enjoy their popcorn treat!
Materials:
4 cups popped Orville Redenbacher's Original Gourmet Popping Corn Original Kernel Popcorn
6 slices Bread
1 Drinking straw
6 feet String or ribbon
2 cups  peanut butter
1 cup  Sunflower Seeds
Instructions
Using a drinking straw, punch a small hole near the top edge of each slice of bread.
Lay the bread on a cookie sheet and let air dry about 2-3 days.
Cut 6 pieces of string or ribbon about 12 inches long and thread a piece of string through the hole you made in each dried slice of bread.
Spread peanut butter on both sides of each dried bread slice.
Mix popcorn and sunflower seeds in a pie pan.
Press each side of the bread slice into the popcorn mixture.
Tie bird feeders to a tree branch or fence post. Watch for the birds as they enjoy their popcorn treat!
Source: Orville website
---

28. FEED THE BIRDS WITH APPLES AND BIRD SEED!
Instructions
Take an apple and cut it in half.
Put peanut butter and birdseed on it.
Place or hang it from trees and watch the birds. (As this photo illustrates, you can also find a safe area and slice an apple and place it in a dish with peanut butter!
---
29. PIPE CLEANER BIRD FEEDER
Instructions
Take a pipe cleaner and curl one end up to form the letter "J."
String Cheerios on the pipe cleaner until it is full.
If you leave a little room at the top of the pipe cleaner, you can wind it around a circular object so that it hangs outside the window
---
30. FOUR 'BIRD SNACKS' FOR HUMANS…
#1 BIRD'S NEST SNACK
First Version Recipe…

1/3 cup butterscotch morsels
1 cup chowmein noodles
Candy bird eggs (jelly beans)
Instructions
Melt butterscotch morsels in a medium microwave-safe bowl.
Add chow mein noodles to melted morsels and mix.
Shape into a circle on wax paper.
Use a large spoon to make an indention in the center.
Let nests harden.
Add jelly beans or chocolate eggs.
---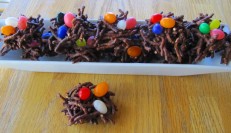 #2 CHOCOLATE BIRD NESTS
Make the above version, but instead of butterscotch chips, use chocolate chips! (Image by KidActivities.net)
---
#3 BIRD'S NEST SNACK
Recipe Version #3
Instructions
Melt 1/2 cup of butter in a saucepan.
Add 1 cup of brown sugar.
Boil and stir for one minute.
Add a 3 oz. can of chow mein noodles.
Put the mixture in 12 paper baking cups in a muffin tin.
Use your thumb to press noodles into the nest while still warm.
DO NOT BAKE.
Give children jelly bean eggs to put in their nests.
*You can also put MELON BALLS in the nests…
---

#4 PIGEON POOP SNACK (Yes, it does look like pigeon poop!)

Ingredients:
4 cups peanut butter crunch cereal
3 cups rice Krispies
2 cups pretzel sticks broken in 1/2
2 cups miniature marshmallows
2 bags white chocolate chips
Instructions
Mix all dry ingredients in a large bowl and melt white chocolate chips in microwave and cover and mix, then lay on wax paper until cooled.
Break into pieces.
---
BIRD THEMED SCIENCE ACTIVITIES AND IDEAS…
31. MAKE A REAL BIRD NEST!
Materials:
Mud
Sticks
twigs
pine needles or pebbles
grass or leaves
Birds also use yarn, thread, etc. (whatever they can find.)
Directions:
After showing children pictures of bird nests (Or a REAL bird nest kept in your science center) provide them with mud, sticks, grass, leaves, twigs, pine needles, and pebbles.
Let  kids create their own bird nest complete with eggs–(left-over jelly beans, marbles or egg looking candy!)
---
32. EGG FLOAT
Instructions
Place a hardboiled egg in water. The egg will sink.
Challenge the children to tell you what they think will happen when you add salt to the water.
Add salt…Once you stir in enough salt the egg will float.
---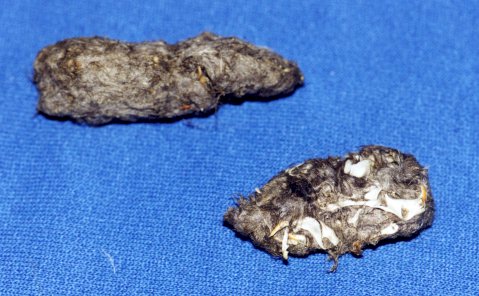 33. EXAMINE OWL PELLETS
Like many birds, owls don't have teeth, so they swallow their food whole (or in parts). A pellet, in ornithology, is the mass of undigested parts of a bird's food that some bird species occasionally regurgitate. The contents of a bird's pellet depend on its diet, but can include the exoskeletons of insects, indigestible plant matter, bones, fur, feathers, bills, claws, and teeth.
The passing of pellets allows a bird to remove indigestible material from its glandular stomach. In birds of prey, the regurgitation of pellets serves the bird's health in another way, by "scouring" parts of the digestive tract, including the gullet. Pellets are formed within six to ten hours of a meal in the bird's gizzard (muscular stomach).
IDEA:
Google 'Owl Pellets' into your search engine–they  can be purchased online at many stores.
Place pellets into a glass jar in the science center.
For older youth — consider dissecting the pellets to see what they will find!
---
33. Make "Cupcakes" for Birds
I think this one is better for colder weather—in case it softens
Materials:
1/2 cup peanut butter
1 cup birdseed
1 1/2 cups cornmeal
1/2 cup melted shortening
muffin tins (greased or sprayed with Pam)
sticks (about the size of a pencil)
yarn or string
Instructions
Combine the ingredients in a large bowl. Stir together.
Drop the mixture into muffin tins, pressing it down with your fingers.
To create a hole for hanging, push a stick or dowel down in the middle. LET DRY.
Remove from the pan & take out the sticks. Thread yarn or string through the hole. Tie a loop and hang from a tree for the birds to enjoy.
34. EGG DROP
Each student works within guidelines to fashion a container for an egg so that the egg won't break when the student drops it from an established height…
Use hard-boiled eggs (you could probably do raw-but be cautious of Salmonella and spoilage!).
Have each child create their own container for the egg — with the purpose of the egg not breaking. Some kids have used "parachutes," and cans with foam. It can be a lot of fun!
Of course, everyone's hypothesis should be that their egg won't break.
The testing is the fun part—when the youth see if their egg remains intact! For this, you want to drop the egg container from the highest available point… A second-floor balcony, off the top bleacher of the football field, or by a teacher on a ladder?
*Even though this is for older students, it can be adapted to the lower grades without going into weight and velocity.
---
35. FRY AN EGG ON THE SIDEWALK!
On a very, very hot day, take an egg outside and demonstrate how you can fry an egg on asphalt. (Make sure it's really hot!)
---
36. SHELTER & OBSERVATORY FOR BIRDS
Turn a protected section of your home,  program, or schoolyard into a natural shelter…
Set up a bird feeder, birdbath, and birdhouse where you and the children will be able to quietly observe. They'll enjoy watching different animals seek the food and water… and your birdhouse will be there when needed.
---
37. HELP THE BIRDS BUILD THEIR NESTS!
#1 IDEA: Lend a helping hand to the birds in your area by supplying them with simple nesting materials. All you need to do is fill a MESH BAG bag ( like the kind onions are packaged in ) OR A BERRY BASKET.
Fill with dried grass, short lengths of yarn and string, stuffing from old furniture or feather pillow— dryer lint, also hair from your brush. (Have the yarns/threads poke out of the mesh or basket so birds can easily access materials)
Hang the bag in a location that the birds can safely access; watch the birds collect–hunt to see if you can find one of "your" nests!
38. PROVIDE NEST SUPPLY BOX FOR BIRDS: IDEA #2
Materials:
A Milk carton
String
Scissors
Dryer lint
Pet and people hair
Bits of yarn and string
Instructions
Have adults cut a flap (about halfway down) on both sides of the milk carton.
Wash the inside of the milk carton and allow it dry.
Fold the flaps of the milk carton down to create a perch for the birds to land on.
To make the hanger: thread a long piece of string through the opening of the milk carton. Tie the two pieces of string together. Make sure you use strong knots or ask a grownup to help you.
Fill the box with the items you have collected (dryer lint, pet and people hair, bits of string, and yarn).
Hang your nesting supply box outside in a tree and keep checking to see if it needs replenishing.
---
39. LISTEN TO A CD OF BIRD SOUNDS…
Can the children hear the differences? After listening to a few times-can children identify the bird by their sounds?
To go along with this…collect bird books. Talk about names, colors, where they live what part of the country or world, etc.
---
BIRD THEMED GAMES!
40. EGG RACES!(Great for a Bird Theme!)
41. EGG TOSS
You'll need one, hard-boiled egg for each pair of children.
Instructions
Have the children stand across from a partner.
They should stand one foot apart.
When the leader says, "Go" the children should toss the eggs to their partners.
With hard-boiled eggs, everyone can play the whole game because the eggs won't crack.
With each toss, the children should back up one step. Play until the eggs are destroyed and before the kids get bored.
---
42. THE EGG-A-THON
This can be played as a race or relay…
Use a tablespoon and a hard-boiled egg or plastic Easter egg and plastic spoon.
Children try to walk fast holding the egg in the spoon to the finish line.
It can also be done as a relay and have one child in the middle of the race line waiting.
The children transfer the egg to their relay partner's spoon and go!
---
43. FOLLOW THE LEADER…
Give each child a tablespoon and a hard-boiled egg.
The children form a line and one is the leader.
Each one holds the spoon with the egg in its bowl at arm's length and hops on one foot, following wherever the leader leads them.
To drop the egg or rest on both feet prevents one from continuing in the game. They stay out until the next round.
---
44. BIRD SONG…
To tune of "Here we go round the Mulberry Bush"
This is the way we scratch for worms, scratch for worms, scratch for worms.
This is the way we scratch for worms so early in the morning.
This is the way we peck our food, peck our food, peck our food.
This is the way we peck our food so early in the morning.
This is the way we sit on our eggs, sit on our eggs, sit on our eggs.
This is the way we sit on our eggs so early in the morning.
This is the way we flap our wings, flap our wings, flap our wings.
This is the way we flap our wings so early in the morning.
This is the way we fly away, fly away, fly away.
This is the way we fly away so early in the morning.
---
45. PENGUIN WADDLE RACE (or Relay Race)
Instructions
Using medium-size kickball size balls–have children place a ball between their legs and race to a point.
If this is being played as a "Relay Race"–have kids race to the point and back. New runners continue…
---
CHECK OUT THE BIRDS JOKES!  (It's the third group of jokes in the category of 'Summer Jokes')
---
BIRD WATCHING…
WHERE DO YOU START?
Some of the best bird watching is in your own back yard. Many colorful birds are there to see every day. It's easy to learn the birds that live around you.
YOU'LL ONLY NEED TWO THINGS to start watching birds…A BOOK AND BINOCULARS!
BINOCULARS let you see the birds up close. They let you see details of undersides and wings when the birds glide overhead.
A BOOK IS YOUR 'FIELD GUIDE' and will help you learn the birds' names. It's like having an expert by your side so you'll know what you're seeing.
---
Two good books for bird watching with kids:
1. The Young Birder's Guide to Birds of Eastern North America
Written by a Bill Thompson III, editor of Bird Watcher's Digest
2. Backyard Bird Walk by Jane Kirkland… A great resource for parents and teachers who want to bird with kids. It teaches youth how to find and observe birds' nests without harming them. It shows how to tell what a bird eats by looking at its bill and tells how to help an injured bird.
HAPPY BIRDING!
---
HAVE YOU FOUND A BABY BIRD?
FYI: AT ONE TIME OR ANOTHER… we all have the dilemma of what to do when we see a little bird (or bunny) and the parents aren't visible… (This would be a good thing to go over with your kids!)
HERE'S WHAT TO DO
1.  Do not pick up the bird unless you are VERY sure it needs help. Sometimes, the mother will leave her baby alone for a specific reason. She could be watching from a nearby tree or burrow, getting food, or chasing away a predator, or playing decoy to one.
2. Do not remove the animal or bird from its den or nest UNLESS you KNOW the parents are dead. Only then should you consider becoming a foster parent.
3.  If a young bird has fallen out of its nest, PUT IT BACK.
4. The old saying that birds will abandon their chicks if humans have touched them is not true. Birds have a very poor sense of smell, so you may safely place the baby in its nest. Remember, though, that the mother may have pushed the baby out. She could be teaching it to fly.
---
Some other tips in this case are: 
1. If you have eggs, leave them alone. It is illegal to possess wild bird eggs. The parent birds will usually re-nest and start over.
---
2. If the chick is partially hatched, or hatched but has no feathers yet, put it in the nest. If you either can't see or reach the nest, you may put the baby in a plastic berry basket lined with paper towels to form a cup that you have placed securely on the trunk of the same tree.
---
3. If the baby is completely covered with feathers, chances are it is supposed to be out of the nest. You can place it on the top of a shrub away from predators.
---
4. Do not put the baby bird or animal in the wrong nest or burrow! Unlike the temporary nest you made above, putting the baby in the wrong natural nest can mean its death! Other birds and animals often kill those they see as "interlopers."
---
6. Wait and watch, first, to see what animal is using the nest site.
---
7. If the nest itself has fallen out of the tree, you can often put it back. Again, use a berry basket or a small square of screening as a base, and tie the nest to a limb. But don't use an old nest as a frame, because it could have mites or bacteria which could contaminate the newer nest.
---
8. If the baby is obviously in need of medical treatment, call a veterinarian or animal-rescue center. Basic first aid for bleeding and other emergencies is okay, but do not attempt to feed baby birds or give them water. They could choke.
---
9. While you're waiting for help, keep it warm and dry. You can use a heating pad on low setting, or a sealed jar of warm water, or a hot-water bottle.
---
10. Keep a towel between the animal and the heat source. Keep it out of direct sunlight. Baby animals, especially birds, can overheat quickly.
---
11. Release the animal when it has recovered. Try not to turn your patient into a pet. Wild animals belong in the wild. They are unpredictable, and find it hard to adapt to our ways. Furthermore, it is ILLEGAL to raise young birds and some animal species.
11. Finally, you should understand that despite your best efforts, some animals will die. That is also part of Nature's ways.
Information is provided by the Oklahoma Department of Wildlife Conservation and the National Wildlife Federation.
---
FOUND THIS GREAT FEBRUARY BIRD IDEA!
(There are also games, print-outs, and bird-fun on the site!)
The Great Backyard Bird Count (or GBBC) is an event that takes place over four days in February each year. It's very easy! All you have to do is watch birds in your yard, a nearby park, or maybe at your school. Then you tell what you saw by entering your bird list online. They collect that information from people all over the United States and Canada SO SCIENTISTS CAN LEARN WHAT KIND OF BIRDS ARE BEING SEEN IN THE WINTER AND WHETHER THERE ARE MORE OR FEWER THAN BEFORE!
Click here – to learn more about how to participate.
---
February is also Wild Bird Feeding Month! 
SaveSave