Below you will find August themes and activity ideas as well as activity calendars. Use this as a resource to help lesson plan and teach. We have compiled a list of themes and activities to keep kids learning and growing for the month of August.
FLOWER is the Gladiolus. The meaning of the August Birth Flower is sincerity and symbolizes strength of character
BIRTHSTONE: The Peridot
ZODIAC SIGNS
| | |
| --- | --- |
| Leo | July 23 – August 23 |
| Characteristics of Leo | Honest, Generous, Self-motivated, Warm-hearted & Enthusiastic |
| Virgo | August 22 – September 23 |
August Theme Ideas
American Adventures Month
Architecture Month
Berry Month
Children's Good Manners Month
Children's Eye Health and Safety Month
Children's Vision and Learning Month
Family Fun Month
Foot Health Month
Get Ready for Kindergarten Month (More than 200 literacy ideas to prepare your children for learning)
Goat Cheese Month
Happiness Happens Month
Hug Month
International Air Travel Month
Inventors' Month
Little League Baseball Month
National Back to School month in the USA (Teachers & Day Care~visit 'Beginning of School' ideas and Display Board Ideas!)
National Catfish Month
National Golf Month
National Napping Month
National Peach Month
National Parks Month
National Smile Month
Panini Month
Pooh Friendship Month
Say You're Happy Month
DOING THE WEEKS OF AUGUST
WEEK ONE
International Clown Week
Mosquito Awareness Weekend
National Smile Week
Simplify your life week
Video Game Week
WEEK TWO
WEEK THREE
Air Conditioning Appreciation Week
American Dance Week
Don't Wait – Celebrate! Week
National Aviation Week
Weird Contest Week
WEEK FOUR
Be Kind to Humankind Week
National Veterinary Week
Step-Parent's Appreciation Week
August Activity Idea List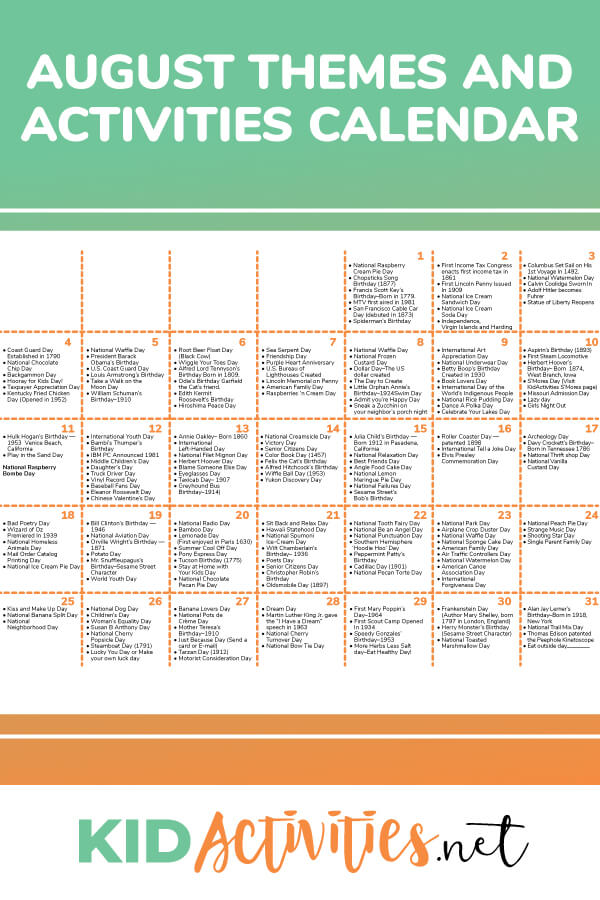 AUGUST 1st
National Raspberry Cream Pie Day
Chopsticks Song Birthday (1877)
Francis Scott Key's Birthday – Born in 1779.
MTV first aired in 1981
San Francisco Cable Car Day (debuted in 1873)
Spiderman's Birthday
Respect for Parents' Day
William Clark's Birthday
Hawai'i Volcanoes National Park Established
Sport's Day
Play Ball Day
Homemade Pie Day
National Raspberry Cream Pie Day
Switzerland Founded In 1291
Woman Astronomers Day
Colorado, National Parks and Explorers – Colorado Admission Day
Girlfriend's Day
Holiday Inn Opened in 1952
AUGUST 2nd
First Income Tax Congress enacts first income tax in 1861
First Lincoln Penny Issued In 1909
National Ice Cream Sandwich Day
National Ice Cream Soda Day
Independence, Virgin Islands and Harding
Signing of the Declaration of Independence
Virgin Islands National Park Established
AUGUST 3rd
Columbus Set Sail on His 1st Voyage In 1492.
National Watermelon Day
Calvin Coolidge Sworn In
Adolf Hitler becomes Fuhrer
Statue of Liberty Reopens
AUGUST 4th
Coast Guard Day Established in 1790
National Chocolate Chip Day
Backgammon Day
Hooray for Kids Day!
Taxpayer Appreciation Day
Kentucky Fried Chicken Day (Opened in 1952)
AUGUST 5th
National Waffle Day
President Barack Obama's Birthday
U.S. Coast Guard Day
Louis Armstrong's Birthday
Take a Walk on the Moon Day
William Schuman's Birthday – 1910
Neil Armstrong's Birthday – Born 1930 in Ohio
First Federal Income Tax
Traffic Light Installed – 1914
International Beer Day
Green Peppers Day
National Mustard Day
Work Like a Dog Day
National Failures Day
American Family Day
Pink Floyd's Birthday – 1967
Women's Pro Football Day
AUGUST 6th
Root Beer Float Day (Black Cow)
Wiggle Your Toes Day
Alfred Lord Tennyson's Birthday Born in 1809.
Odie's Birthday Garfield the Cat's friend.
Edith Kermit Roosevelt's Birthday
Hiroshima Peace Day
Delegates Debate Constitution
National Gossip Day
National Kid's Day
National Fresh Breath Day
Lucille Ball's Birthday
Garfield's dog friend Odie's Birthday
AUGUST 7th
Sea Serpent Day
Friendship Day
Purple Heart Anniversary
U.S. Bureau of Lighthouses Created
Lincoln Memorial on Penny
American Family Day
Raspberries 'n Cream Day
AUGUST 8th
National Waffle Day
National Frozen Custard Day
Dollar Day – The US dollar created
The Day to Create
Little Orphan Annie's Birthday – 1924Swim Day
Admit you're Happy Day
Sneak a Zucchini on your neighbor's porch night
AUGUST 9th
International Art Appreciation Day
National Underwear Day
Betty Boop's Birthday Created in 1930
Book Lovers Day
International Day of the World's Indigenous People
National Rice Pudding Day
Dance A Polka Day
Celebrate Your Lakes Day
National Hand Holding Day
National Rice Pudding Day
Smokey the Bear's Birthday (1944)
Filipina-American Recognition Day
AUGUST 10th
Aspirin's Birthday (1893)
First Steam Locomotive
Herbert Hoover's Birthday – Born 1874, West Branch, Iowa
S'Mores Day (Visit KidActivities S'Mores page)
Missouri Admission Day
Lazy day
Girls Night Out
Spoil Your Dog Day
National Duran Duran Appreciation Day
Candid Camera Day (1948)
AUGUST 11th
Hulk Hogan's Birthday – 1953  Venice Beach, California
Play in the Sand Day
National Raspberry Bombe Day
AUGUST 12th
International Youth Day
Bambi's Thumper's Birthday
IBM PC Announced 1981
Middle Children's Day
Daughter's Day
Truck Driver Day
Vinyl Record Day
Baseball Fans Day
Eleanor Roosevelt Day
Chinese Valentine's Day
AUGUST 13th
Annie Oakley – Born 1860
International Left-Handed Day
National Filet Mignon Day
Herbert Hoover Day
Blame Someone Else Day
Eyeglasses Day
Taxicab Day – 1907
Greyhound Bus Birthday – 1914
Wizard of Oz's Cowardly Lion Day (Actor Bert Lahr's Birthday)
Roller Derby Day – 1935
AUGUST 14th
National Creamsicle Day
Victory Day
Senior Citizens Day
Color Book Day (1457)
Felix the Cat's Birthday
Alfred Hitchcock's Birthday
Wiffle Ball Day (1953)
Yukon Discovery Day
AUGUST 15th
Julia Child's Birthday – Born 1912 in Pasadena, California
National Relaxation Day
Best Friends Day
Angle Food Cake Day
National Lemon Meringue Pie Day
National Failures Day
Sesame Street's Bob's Birthday
Wizard of Oz Day (1939)
I Love Cowboys & Cowgirls Day (See Western Theme pages)
Miami Dolphins Birthday (1965)
"Hello Day" (In 1877 Thomas Edison wrote a letter stating that Hello should be used to answer the phone instead of Ahoy as Alexander Graham Bell suggested)
AUGUST 16th
Roller Coaster Day – patented 1898
International Tell a Joke Day (Visit KidActivities Joke Category)
Elvis Presley Commemoration Day
AUGUST 17th
Archeology Day
Davy Crockett's Birthday – Born in Tennessee 1786
National Thrift shop Day
National Vanilla Custard Day
AUGUST 18th
Bad Poetry Day
Wizard of Oz Premiered In 1939
National Homeless Animals Day
Mail Order Catalog Printing Day
National Ice Cream Pie Day
AUGUST 19th
Bill Clinton's Birthday – 1946
National Aviation Day
Orville Wright's Birthday – 1871
Potato Day
Mr. Snuffleupagus's Birthday – Sesame Street Character
World Youth Day
"Black Cow" Root Beer Float
National Soft Ice Cream Day
Sandcastle and Sculpture Day
President Bill Clinton's Birthday (1946)
Indianapolis 500 Speedway Day (1909)
AUGUST 20th
National Radio Day
Bamboo Day
Lemonade Day (First enjoyed in Paris 1630)
Summer Cool Off Day
Pony Express Day
Tucson Birthday (1775)
Stay at Home with Your Kids Day
National Chocolate Pecan Pie Day
AUGUST 21st
Sit Back and Relax Day
Hawaii Statehood Day
National Spumoni Ice-Cream Day
Wilt Chamberlain's Birthday – 1936
Poets Day
Senior Citizens Day
Christopher Robin's Birthday
Oldsmobile Day (1897)
AUGUST 22nd
National Tooth Fairy Day
National Be an Angel Day
National Punctuation Day
Southern Hemisphere 'Hoodie Hoo' Day
Peppermint Patty's Birthday
Cadillac Day (1901)
National Pecan Torte Day
AUGUST 23
National Park Day
Airplane Crop Duster Day
National Waffle Day
National Sponge Cake Day
American Family Day
Air Traffic Controllers Day
National Watermelon Day
American Canoe Association Day
International Forgiveness Day
Sesame Street's Prairie Dawn's Birthday
National Baseball Association (1949)
First Photograph of Earth From the Moon – 1966 taken by Lunar Orbiter
Buttered Corn Day
National Gymnastics Day
Eat a Peach Day (Georgia Day)
National Banana Split Day
'Singing in the Rain Day' (Gene Kelly's Birthday 1912)
AUGUST 24th
National Peach Pie Day
Strange Music Day
Shooting Star Day
Single Parent Family Day
AUGUST 25th
Kiss and Make Up Day
National Banana Split Day
National Neighborhood Day
AUGUST 26th
National Dog Day
Children's Day
Woman's Equality Day
Susan B Anthony Day
National Cherry Popsicle Day
Steamboat Day (1791)
Lucky You Day or Make your own luck day
AUGUST 27th
Banana Lovers Day
National Pots de Crème Day
Mother Teresa's Birthday – 1910
Just Because Day (Send a card or E-mail)
Tarzan Day (1912)
Motorist Consideration Day
International Forgiveness Day
Kiss Me Day (Popeye and Olive Oyl First kissed)
Waffle Iron Patented – 1869 by Cornelius Swarthout/Troy, New York
AUGUST 28th
Dream Day
Martin Luther King Jr. gave the "I Have a Dream" speech in 1963 (Visit MLK's speech page – Also check out some activities to go with the speech.
National Cherry Turnover Day
National Bow Tie Day
AUGUST 29th
First Mary Poppin's Day – 1964
First Scout Camp Opened In 1934
Speedy Gonzales' Birthday – 1953
More Herbs Less Salt day – Eat Healthy Day!
AUGUST 30th
Frankenstein Day (Author Mary Shelley, born 1797 in London, England)
Herry Monster's Birthday (Sesame Street Character)
National Toasted Marshmallow Day
AUGUST 31st
Alan Jay Lerner's Birthday – Born in 1918, New York
National Trail Mix Day (Visit Snack Mix page)
Thomas Edison patented the Peephole Kinetoscope
Eat outside day
If you are looking for fun august activities, look no further. Here you will find august themed game and activity ideas to keep kids learning and having fun.
AUGUST IS BERRY MONTH
Make some Berry Smoothies.
1. SUPER BLUEBERRY SMOOTHIE
| | |
| --- | --- |
| 2 cups apple juice | 1 cup frozen strawberries |
| 1 cup frozen blueberries | 1 teaspoon honey |
Whirl all together in blender!
1 large serving
2. BLUEBERRY SMOOTHIE
1/2 cup orange juice
1 cup plain, low-fat yogurt (blueberry would be nice but any will work)
1 cup washed, stemmed blueberries
honey to taste
Place all the ingredients in a blender. Blend on high speed until smooth
3. BLUEBERRY SMOOTHIE #2
1 pint fresh blueberries or 2 cups (10 oz.) frozen blueberries, slightly thawed
1 cup pineapple, orange and strawberry juice blend or pineapple-orange juice
1 container (8 oz.) low fat vanilla yogurt
2 teaspoons sugar
Directions:
In the container of an electric blender, combine blueberries, juice, yogurt and sugar. Blend until smooth, about 1 minute. Serve immediately in tall glasses.
4. BLUEBERRY SUPREME
Great in the morning!
1 cup fresh blueberries
4 scoops vanilla frozen yogurt
1/2 to 1 cup milk
Combine the blueberries, frozen yogurt and milk in a blender or food processor. Blend until smooth, adding more milk if necessary. Serves 1.
5. EASY FRESH BERRY SHAKE
1 cup milk
½ banana, sliced
¼ cup fresh berries
Combine all ingredients in a blender and mix well. Makes 4 to 6 small servings.
6. LOTS OF BERRIES SMOOTHIE
1/2 cup frozen strawberries
1/2 cup frozen blueberries
1/2 cup frozen raspberries
1/2 cup apple juice
1/2 teaspoon lemon juice
1/2 cup nonfat frozen yogurt
1/2 cup ice
Directions:
Combine all ingredients in blender; mix until smooth and frothy.
7. TRIPLE RASPBERRY SMOOTHIE
1 cup frozen concentrated raspberry juice
1 cup frozen raspberries
1 cup vanilla yogurt
1 cup cold water
1 teaspoon raspberry jam
3 ice cubes
Directions:
Combine ingredients in blender and blend until smooth. Pour into glasses and serve immediately with drinking straws.
8. RASPBERRY SMOOTHIE
1 cup orange juice
1 cup raspberry yogurt
1 cup vanilla frozen yogurt
1/2 frozen banana (chunks)
1 1/2 cup frozen raspberries
Place all ingredients into a blender in the order listed. Blend at a low setting for the first minute, then the high setting until smooth.
9. COCONUT-STRAWBERRY FIZZ
This is cool and creamy, but light – with strawberries, coconut milk and a nice soda fizz.
Ingredients:
1/2 cup coconut milk
4 cups frozen strawberries
3 Tbsp sugar
1 cup club soda
Combine all ingredients in blender and process until smooth. Pour into two tall glasses.
RASPBERRY/STRAWBERRY/MIXED BERRY DRINKS
10. YUMM…RED-WHITE-AND-BLUE BERRIES
1 pint fresh strawberries
1 pint fresh blueberries
1 pint fresh blackberries
1/4 cup granulated sugar
1 pint heavy whipping cream
Slice strawberries and combine in a bowl with blue and/or blackberries. Sprinkle berries with two teaspoons sugar.
Whip cream until soft peaks form and sweeten with remaining sugar. Serve berries in small cups with generous spoonfuls of fresh whipped cream.
11. MAKE BERRY POUNDCAKE
Take a store bought pound cake and slice it long wise into three slabs. Cover the first slab with sliced strawberries (drain first). Add the second slab and cover with blueberries (drained).
Top with the remaining slab and frost with either cream cheese frosting or whipped topping. If using cream cheese frosting, refrigerate. If using whipped topping, freeze. Serve immediately (allow the frozen version to thaw).
12. RED, WHITE & BLUE BERRY ICE CREAM
Allow vanilla ice cream to thaw somewhat – remove ice-cream from the carton and mix in fresh strawberries and blueberries.
Optional additions: chopped nuts, mini chocolate chips, etc. when all is combined- refreeze. (You'll need a larger container that the original ice-cream container ) Serve in cones or disposal paper cups
13. MAKE A CHERRY-BERRY 'DUMP CAKE'!
Ingredients
1 can cherry pie filling
1 cup fresh blueberries
1 package white cake mix
2 sticks margarine, melted
1 cup chopped nuts
Directions:
Lightly grease a 13×9-inch baking pan. Pour in the cherry pie filling. Top with the blueberries. Sprinkle the dry cake mix over the fruit, then drizzle the melted margarine over the top. Finish with the nuts. Bake at 325 degrees F for 45 minutes-or until done.
Serve alone, with whipped topping, or with vanilla ice cream
14. PAINT WITH BLUEBERRIES!
1.  Give children blueberries to look at, touch, smell, and taste. (Good for the young)
2.  After the children have observed the blueberries add a little water to them and cook them in the microwave for one minute.
3.  Have children mush them up. Use the blueberry juice to paint a beautiful blue blueberry picture.
AUGUST IS NATIONAL INVENTORS MONTH
15. Invention Ideas for Kids
If you are back to school or work in a child care program celebrate  this month – challenge the children to come up with unique and useful inventions!
1. Open up your recycled supply area and provide materials such as- pieces of wood, used CD's, milk containers, straws, tape, pipe cleaners, paper clips, yarn, string, paper, glue, poster paint, markers, crayons, elastic, fabric scraps, construction paper, pom-poms, rubber bands and safety pins.
2. Children can work individually or in small groups; Give them plenty of time to brainstorm ideas. Challenge children to come up with unique,  creative, and useful items.
3. The kids may need more than one day to complete their projects; however, when complete- share the inventions with the group.
What is it?
What does it do?
What materials are used to make it?
5. SHARE IT – This is an activity that takes time and thought. Honor the children's work by inviting parents and visitors to view the display. A written description of each "invention" would also be a good idea.
This would be a nice "sharing with families time"; it could be held through-out the program afternoon or as social time after the program ends. Add punch and cookies and have a social event.
If awards are given out, be sure that each child or group receives one – the most unique, smallest, largest, useful, fun, amusing, original, helpful, practical, handy, amusing, entertaining, most materials used, least materials used, colorful, heaviest, lightest, etc. (Look up synonyms for descriptive words)
16. PAPER BAG INVENTIONS
Put identical items in paper bags. Challenge the children to see what unique creations they can come up with. Items to include could be things such as: pipe cleaners, old cds, string, tape, paper clips, rubber band, etc. Children can work on there 'creation' individually or in pairs.
AUGUST IS LITTLE LEAGUE BASEBALL MONTH
Of course play a traditional game of baseball but think about trying.
17. RUNNING BASES. ALSO CALLED 'PICKLE' (A great game for building baseball skills)
Need 2 Bases, at least 3 players and a rubber ball or tennis ball.
There are several versions for playing this game. This one is the most basic.
1. Set up two bases on a play area about 20 to 50 feet apart. (The distance depends on the skill level of the players)
2. Two players are 'fielders'. They each stand at a base and toss the ball to each other. All other players are 'runners'. If there is more than one runner – they divide and go to the bases.
3. The object is for the runner(s) to move from base to base without being tagged as the fielders toss the ball back and forth. If a runner is touching a base, he or she is safe. If they make it to the next base without being tagged out they score a run. If they are tagged it's an out.
4. A runner cannot hug a base. He/she must run at least every second time the ball is thrown. The fielder does not have to stay on the base to catch the ball. They may go after each runner.
5. The goal of the game is to touch the bases as many times as you can without being tagged out. The runner must keep track of how many times they touch the base before a fielder tags them out.
When that runner gets out, they rotate positions so that the fielders can be the runner. After everyone has ran, they compare scores. (bases touched).
WEEK #1 IS INTERNATIONAL CLOWN WEEK
18. MAKE ICE-CREAM CLOWNS
For the head, place a scoop of ice cream on a plate – or in a paper cupcake liner as in the drawing. For the clown's hat, place an ice cream cone upside down at the top of the ice cream face.
Have children decorate their clown faces with colorful m&m's. Use red icing gel for the mouth.
19. Have Kids Dress as Clowns
Have kids come dressed as clowns! FOR A CLOWN COSTUME wear over sized clothes, add a wig or hat, wide tie and face paint
20. PAINT CLOWN FACES
Kids love to have their faces painted! Keep the designs simple and provide a limited number of choices so you can move lots of kids through. You can make your own face paint  (At page bottom of Paint Recipes) or purchase it  from a party supplier or costume shop.
21. HAVE A CLOWN COSTUME RELAY RACE
Divide players into equal teams.
For each team have a box containing a complete costume, each costume should have the same number of pieces (4 or 5 is fun – Shirt pants, big shoes, huge tie, clown nose, wig or mask, etc.) Anything silly that a clown might wear!
In turn – each player must put on the costume and run to a certain point where they take the costumes off and put them back in the box.
They run back to start where the next player repeats the process until one team finishes and wins.
Want more relay race ideas?
22. FEEDING THE CLOWN BEAN BAG TOSS
1. This is a great activity for kids of all ages! Purchase or make bean bags suitable for tossing and draw a large picture of a clown on a piece of cardboard with its mouth wide open.
2. Draw and cut out the mouth so you have a hole large enough to toss the bean bags through.
3. Place the box about ten feet away (adjust distance for the age of your children) and give each child a chance to toss the bean bags into the clowns mouth!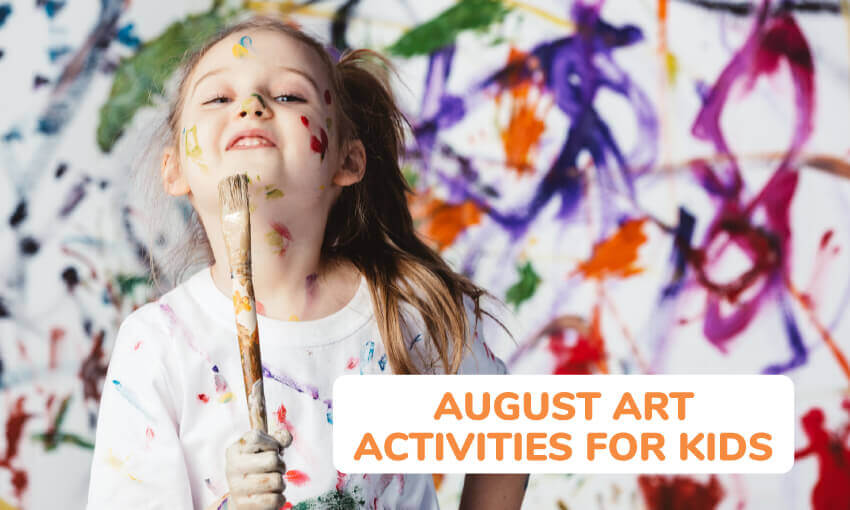 23. DRAWING CLOWNS, PAINTING CLOWNS, CLOWN COLLAGE.
SAMPLE OF GRADE 1 CLOWN
Materials: 9×12″ black paper, white glue, oil pastels
1. Draw the clowns on black paper with white school glue
2. Color with oil pastels; blend primary colors to create own secondary colors.
GRADE 2 CLOWNS
Materials: 9×12″ black paper, 4 1/2″x6″ tagboard, sharpie, glue, markers, scissors, oil pastels, wiggle eyes,pom poms
1. Begin by drawing clowns on tagboard with a sharpie.
2. Glue on wiggle eyes and pom pom.
3. Color with markers.
4. Cut out. Draw patterns on the black paper with oil pastels.
5. Attach clowns to black paper.
24. ART TABLE COLLAGE.
Put out some felt, scraps of fabric, yarn, ribbon, google eys, and pom poms – see what the kids come up with! Maybe something like this?! (I've had this sample in my files awhile – but misplaced the 'source'. If you can put a name with this collage, please send info?  It's cute and I'd like to link credit to its creator! Barb)
25. LIFE SIZE CLOWNS
Materials: Large sheets of paper (roll paper), markers, crayons, decorations as desired.
Form partners between the children. Have them take turns tracing each others bodies onto the paper. (If children are young an adult may need to trace) Children then color and decorate their tracing as a clown. Cute all lined up around the room or down a hallway!

26. MAKE A CLOWN BANK
Materials: Paper towel tube, cardboard, construction paper, yarn, poster board
Tape or glue a round piece of cardboard to each end of a paper towel tube.
Cut a slot for the clown's mouth, Make it large enough for coins to go through.
Paint the tube white, Glue on yarn hair and features cut from the paper.
You may also be interested in some of the Circus/Carnival Theme Page ideas to enhance your "CLOWN WEEK".
WEEK #1 IS ALSO NATIONAL SMILE WEEK! (IT'S ALSO NATIONAL 'SMILE MONTH'!)
27. Make a SMILEY FACE TREAT!
The ways to do this are endless
As a base use large round cookies, unfrosted cupcakes, bagels, bread cut into round shapes, or rice cakes.
Spread the base with a variety of ingredients such as peanut butter, cream-cheese, frosting, or Nutella. Add facial features using M&M's, spice drops, raisins, banana slices and/or veggie pieces!
28. PLAY THE BIGGEST SMILE
This is not a game, but a great group activity to see who can give the biggest smile! (Prizes or not–your choice)
One at a time measure people's smiles with a ruler (or measuring tape). This is fun. You can also measure the zany faces!
You can take photos as you do this as people are smiling BIG!
29. PLAY THROWING THE SMILE! (Circle Game)
In this game, players are forbidden to smile, but – giggling and laughing will abound anyway.
1. Players sit in a circle, making sure they can see everyone else. One player who is "It" starts the game by smiling widely, while all the other players are somber. "It" then uses their hand to wipe the smile off their face and throw it to another player – who has to catch the smile with their hand – and then put it on.
2. The new "It" can wipe off the smile to throw to someone else – (though he/she will probably choose to make funny smile faces at everyone for a minute or two before relinquishing the happy role.) Meanwhile, all other players must sit stone-faced. One smirk and they're out.
TIP:  The youngest players are the least successful at winning this game (they simply can't stop themselves from laughing), but they also tend to enjoy it the most.) From Cassie/Mi. Adapted from: familyfun.go.com
30. Prominently post this Poem
SMILING
Smiling is infectious; you catch it like the flu.
When someone smiled at me today, I started smiling too.
I passed around a corner and someone saw my grin.
When he smiled, I realized I had passed it on to him.
I thought about that smile and then I realized its worth.
A single smile, just like mine, could travel around the earth.
So if you feel a smile begin, don't leave it undetected.
Let's start an epidemic quick and get the world infected.
Author Unknown
WEEK #2 IS NATIONAL APPLE WEEK
Be sure to check out the entire APPLE THEME and the connected Apple Snacks and Recipes! KidActivities also has a page on the many varieties of Apples and the type of cooking/eating for which they are appropriate
WEEK #3 is NATIONAL AVIATION WEEK
31. HAVE A PAPER-AIRPLANE DAY!
Create and decorate paper-airplanes. Come up with categories for the fun.
Example:
Who's can go the farthest? Straightest? Highest?
Can anyone fly it through a hula hoop? Do loops?
Make a 'bull's-eye' similar to what you would use for playing darts; can anyone hit the bulls eye…or the outer circles?
WEEK #4 is BE KIND TO HUMANKIND WEEK
32. ACTS OF KINDNESS IDEAS FOR ADULTS
The best example to children in the meaning of kindness and altruism – is for adults in their lives to demonstrate generosity of spirit, good deeds and acts of service:
Stop negative comments by changing the subject when someone starts talking in a negative, bad way.
When you meet someone, learn their name and one personal thing about them. This shows people 'we care'.
When you have good service somewhere, write a letter to the company and that person's manager, telling them about their outstanding employee.
Put something you no longer need on craigslist.com for free.
Put change in a vending machine.
Listen to someone who needs to talk. Just listen to them.
Do something nice for someone when they are ill – wash their dishes, cook a meal or tidy up their house.
Buy a phone card and give it to a homeless shelter for them to give to someone.
Bake cookies and take them to someone who is homebound.
Leave a book you have already finished somewhere for someone else to read. Leave a note in it for them to pass it on.
Buy a meal for a homeless person.
Send a card to someone in the military overseas.
Locate a family that is struggling financially and buy each member several small gifts then have it delivered while you remain anonymous.
If you're tall and see someone trying to get something on a super market/store shelf – that is out of reach – get it for them.
When shopping – let someone go ahead of you in the checkout line.
Compliment a stranger, especially if they seem as if they're having a bad day.
Read to a child Make a wish come true Rake someone's yard. Smile at a stranger. Be a courteous driver. Help Special Olympics. Sing a song. Pick up litter. Train Seeing Eye dogs. Tutor immigrants. Be a pen pal. Hold a door open. Change a tire. Adopt-a-Highway. Organize a neighborhood watch. Teach peer mediation. Tell a joke. Sub for Santa. Start a community garden. Be a Crisis-Line volunteer. Send a thank you note. Give clothes at a shelter. Tend abused children. Wash a car. Visit a lemonade stand. Plant a tree. Recycle. Visit a sick neighbor. Give a tip. Volunteer.
IDEAS TO GET KIDS Started
Plant produce – Donate the harvest to a local food bank.
Plant seeds. Sell the flowers or plants and donate the proceeds to a local organization in need.
Make treats for a local senior home.
Improve the school grounds.
Develop and maintain a recycling program at school.
Collect food, warm clothing, toys, or personal care items for the needy. Deliver to shelters. Remember shelters are in need of supplies all year long!
Hold a Teddy Bear and Friends (Stuffed Animals) Drive. Donate the collected animals to a Homeless Shelter for new arrivals. Also…check with your local police station or fire station. Many are happy to take Teddy and Friends; a teddy bear can be a comfort to children in times of distress.
Collect unused make-up, perfume and other cosmetics for a center for abused women.
Make center pieces, holiday cards, birthday cards, and notes for assisted living facilities, children hospital wards, or meals on wheels.
Donate old eye glasses to an organization or place that recycles them for the needy.
Collect old stuffed animals and dolls, clean them up, repair and then donate them.
Collect old clothes and donate them for a dress-up area at a daycare or family shelter.
Write letters to service men/women.
Put together a care-package for service men/women. Establish a PEN PAL PROJECT with senior citizens in a nursing home; children in a local hospital, or children in another country.
Here's a 'cool' summer/warm weather service idea!
PENNIES FOR POPSICLES.
Collect pennies and then provide popsicles for a kids' homeless shelter. They'll love it! One summer program collected 19,447 pennies. A lot of popsicles!
CHECK OUT OTHER IDEAS in the KINDNESS CATEGORY and in the COMMUNITY SERVICE PAGES
There you have it, 31 fun August themes and activities for kids. We hope you have enjoyed the ideas and you are able to incorporate them into to your day to make it fun-filled!