Thanksgiving Jokes
Thanksgiving is a time where family and friends get together to celebrate and give thanks. If you are looking to lighten the mood and get people laughing, try some of these Thanksgiving jokes.
These Thanksgiving themed jokes are great for the holiday and are kid-appropriate. Whether you are a Grandpa looking to get the grandkids laughing, or a parent looking to give your child some jokes to tell at school, you've come to the right place.
Below you will find a collection of 57 funny Thanksgiving jokes for kids and adults alike. You notice there are quite a few turkey jokes as turkeys tend to be an essential party of the traditional Thanksgiving holiday.
Thanksgiving Jokes for Kids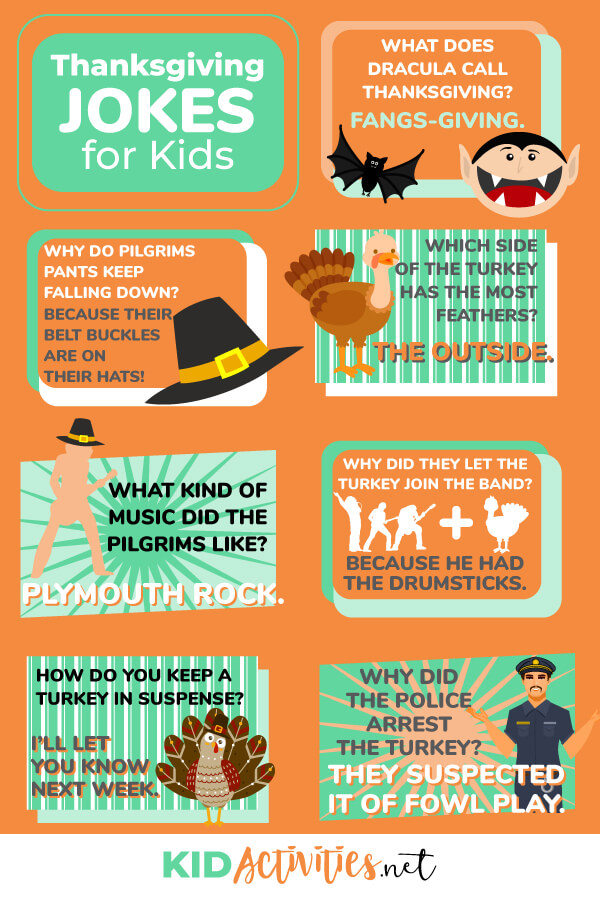 1. What did the mother turkey say to her disobedient children?
Answer

If your father could see you now, he'd turn over in his gravy!
2. Why did Johnny get such low grades after Thanksgiving?
Answer

Because everything is marked down after the holidays
3. Why was the turkey the drummer in the band?
Answer

Because he had the drumsticks.
4. Why did the turkey play the drums in his band?
Answer

Because he already had drum sticks!
5. If April showers bring May flowers, what do May flowers bring?
Answer

Pilgrims.
6. What do you call a dumb gobbler?
Answer

A jerky turkey.
7. Why do turkeys always go, "gobble, gobble"?
Answer

Because they never learned good table manners.
8. What has feathers and webbed feet?
Answer

A turkey wearing scuba gear.
9. What key has legs and can't open doors?
Answer

A turkey.
10. What kind of potatoes go oui-oui-buzz-buzz?
Answer

French flies.
11. What kind of vegetable would you like on thanksgiving?
Answer

Beets me!
12. Why can't you take a turkey to church?
Answer

Because they use such FOWL language.
13. Can a turkey jump higher than the Empire State Building?
Answer

Yes – a building can't jump at all.
14. What do you get when you cross a turkey with an octopus?
Answer

Enough drumsticks for Thanksgiving.
15. How can you make a turkey float?
Answer

You need 2 scoops of ice cream, some root beer, and a turkey.
16. Who is not hungry at Thanksgiving?
Answer
17. What's the best dance to do on Thanksgiving?
Answer

The turkey trot.
18. What does Dracula call Thanksgiving?
Answer

Fangs-giving.
19. Why do pilgrims pants keep falling down?
Answer

Because their belt buckles are on their hats!
20. Which side of the turkey has the most feathers?
Answer

The outside.
21. What kind of music did the Pilgrims like?
Answer
22. Why did they let the turkey join the band?
Answer

Because he had the drumsticks.
23. How do you keep a turkey in suspense?
Answer

I'll let you know next week.
24. Why did the police arrest the turkey?
Answer

They suspected it of fowl play.
25. What's the key to a great Thanksgiving dinner?
Answer

The turKEY.
26. What did the turkey say before it was roasted?
Answer

Boy! I'm stuffed!
27. Where did the first corn come from?
Answer

The stalk brought it.
28. Why did the Indian chief wear so many feathers?
Answer

To keep his wigwam.
29. What happened to the Pilgrim who was shot at by an Indian?
Answer

He had an arrow escape.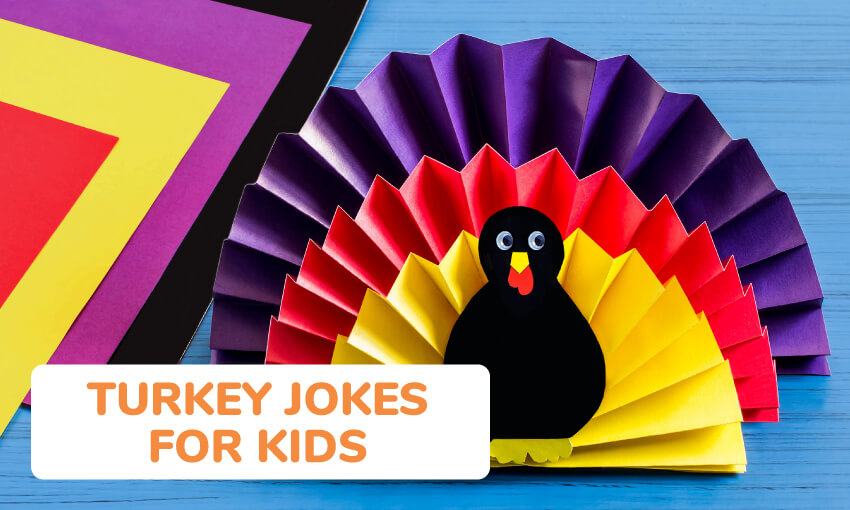 30. How did the Mayflower show that it liked America?
Answer

It hugged the shore.
31. Why did the turkey cross the road?
Answer

It was the chickens day off.
32. What happened when the turkey got into a fight?
Answer

He got the stuffing knocked out of him!
33. Why did the Pilgrims want to sail to America in the spring?
Answer

Because April showers bring MayFlowers.
34. If they took Thanksgiving Day off the calendar, what would you have?
Answer

One week with only six days in it.
35. Why is Thanksgiving Day such a beloved holiday for millions of people?
Answer

Little Boy: My dad says it's because he can fart all evening with good reason.
36. Why is the turkey the featured entree of a Thanksgiving dinner?
Answer

When the Pilgrims were asking around for good meat to cook for dinner, they
saw the turkey's tail feathers and thought he was raising his hand.
37. Teacher: Okay class, how much is 15+15?
Johnny: That's easy, it is 15.
Teacher: No, Johnny. that's wrong, why did you give that answer?
Johnny: Well, it's after Thanksgiving, and everything is marked down, so I took half
off.
38. How can you make a turkey disappear fast?
Answer

Invite all of my relatives over for Thanksgiving dinner.
39. Why did Johnny come to school late on the day after Thanksgiving?
Answer

Because it was Black Friday, and he gave himself 50% off the school day.
40. When is the best time to eat a turkey?
Answer

When it is cooked and on the dinner table.
41. Who gets full quicker during Thanksgiving dinner?
Answer

The turkey because it comes to the table already stuffed.
42. What happens if there is no turkey at the Thanksgiving table?
Answer

No need to worry, we've already invited Uncle Bob.
43. Why did the turkey pack his gear, and leave the farm?
Answer

He had gotten tired of all the fowl language.
44. Why do turkeys gobble?
Answer

Because they are not human, and can not talk.
45. When can a turkey be entertaining?
Answer

When they are making people smile and happy on Thanksgiving Day.
46. Do turkeys ever make wishes?
Answer

Yes, they wish that people would find another entree for their Thanksgiving celebrations.
47. Why were turkeys parading down the middle of main street dancing?
Answer

They were marching to the beat of their own drumsticks.
48. What did the mother turkey say to the younger turkey?
Answer

I named you Antonio instead of Tom for a reason.
49. If a turkey spent all night basking is a pool of fragrant oils, what would he be the next morning?
Answer

Well marinated, and ready for the oven.
50. Why did the chicken cross the road?
Answer

Because the turkey had run away from home, and he did not want to be the substitute for Thanksgiving dinner.
51. How many turkeys does it take to screw in a light bulb?
Answer

Four. One to hold the ladder, one to grab the light fixture, one to screw in the bulb, and one to remind them that they do not have fingers.
52. Mom asked little Johnny what was his favorite part of the turkey.
Answer

Little Johnny replied, I don't know because you give me the same part
every year, and said I better eat it whether I like it or not.
53. What are turkeys mostly thankful for at Thanksgiving?
Answer

Vegetarians
54. What are vegetarians thankful for at Thanksgiving?
Answer

That they can make their entire meal in a matter of minutes by using a
juicer.
55. Why would a turkey make a good band member?
Answer

He has a great beat because he has been beating his own drumsticks all of his life.
56. What would the turkey suggest families eat at Thanksgiving?
Answer

Any food that is not fowl in taste or smell.
57. Why do turkeys get nervous?
Answer

Because they watch the calendars roll over to November.
Conclusion
We hope you have found these Thanksgiving jokes funny and entertaining. How did you use them? Did you tell them to a family member? Or did you give them to your child to tell at school?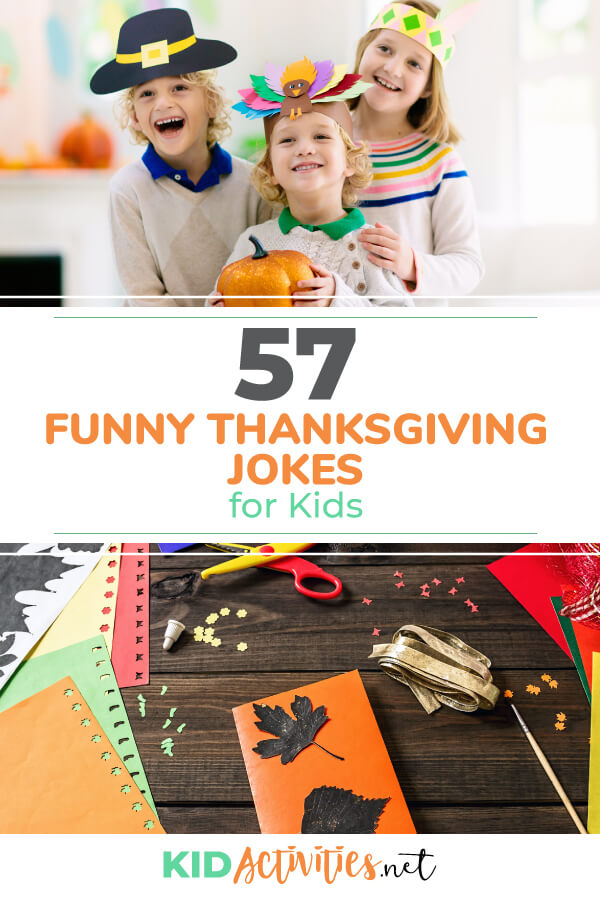 JOKE MENU…
HOLIDAY JOKES
There you have it, 33 funny Thanksgiving jokes for kids. Make sure you check out our fun Thanksgiving games and activities as well.
SaveSave