March Themes and Activities
It's March! Find a list of March themes and activities for kids.Great ideas for developing lesson plans and keeping the kids engaged with what's happening in the days of March.
Make your monthly planning easy! Look at what's going on each day and do something to recognize or celebrate it. Put "what the day" is on your daily information board– along with the rest of the plans for the day!
__________
___________
March Flower: Jonquil
March Birthstone: Aquamarine
March Astrological Sign:
Pisces: February 20 to March 20
Aries: March 20 to April 19
 ________
March is:
•
National Craft Month
(See all the Craft Categories on 'category side bar'!)

• Women's History Month
• American Red Cross Month
• National Peanut Butter Month 
(See below)

• Kite Month (
See below)

• Frozen Food Month (Make some frozen goodies with your kids-See page bottom)
• Help Someone See Month 
(For 'Comunity Service'-collect old eye glasses and donate to a clinic)

• Irish-American Heritage Month
• 
St. Patrick's Day 
(See Categories)

• International Listening Awareness
• 
Noodle Month (See Noodle/Pasta Category)
• Non-Fiction Reading & Writing Month
• Nutrition Month
• Optimism Month
• Poetry Month 
(See idea below)
• Play the Recorder Month
• Spring Month
FIRST DAY OF SPRING
March 20th, 2019
_________________________
_________________________
March Activity Calendar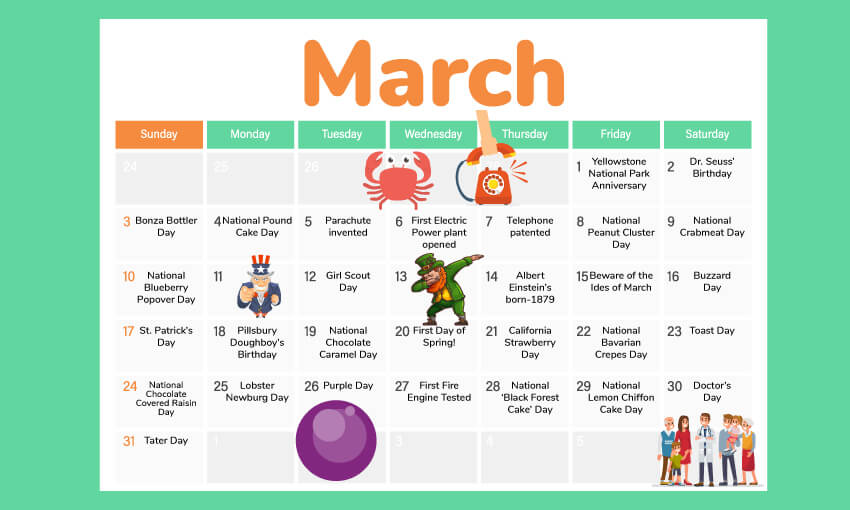 1. Yellowstone National Park Anniversary
Pig Day 
(See Pig Theme)

Peanut Butter Day 
(See ideas below)

Smile Day (
See 
Two Smile Ideas in October
 Category)

St. David's Day in Wales
Nebraska Admission Day-1867
Ohio Admission Day- 1803
2.
 Dr. Seuss' Birthday–this can be celebrated both in on his birth of March 2 and/or his death September 24. 
(See Dr. Seuss Categories) 
–some really wonderful ideas! It is also ANNUAL Read Across America Day! 
(See below) and 
National Banana Cream Pie Day
3.
 Bonza Bottler Day: 
Just a reason to celebrate
. This happens each month when the month and date are the same number.
Doll Festival in Japan (Hinamatsuri) This nationwide event takes place and sees girls set up red platforms, on which they display dolls. costume.
Florida Admission Day
Alexander Graham Bell Birthday-1847
4.
 National Pound Cake Day
Us Constitution in effect-1869
National Anthem Day
Vermont Admission Day
5.
Parachute invented (Visit Parachute Games) 
Also, see activity below; Stop the Clocks Day
National Chocolate Cheesecake Day
Artist Diego Velazquez Born
6
. First Electric Power plant opened
Oreo Cookies first go on sale 
(Serve or do something fun with Oreo cookies!)

Michelangelo Born 1475
7.
 Telephone patented
Coca-Cola Bottler's association formed
Artist Piet Mondrian Born – 1872
8
. National Peanut Cluster Day
Farmer's Day 
(See Farm Category)

International Women's Day
9.
 National Crabmeat Day
V-8 Engine built
Barbie's Birthday
10.
 National Blueberry Popover Day
First Paper Money issued
Harriet Tubman Day
Johnny Appleseed Day- September 26, 1774–March 18, 1845- Either day can be celebrated 
(See 
Apple Theme 
and 
Apple Snacks
)
12.
 Girl Scout Day
Anniversary of the death of Ann Frank
13.
 Uncle Sam's Birthday (
See Patriotic Category
)

Uranus discovered-1781
Earmuff Day
14. Albert Einstein's born-1879
National Potato Chips Day and Baseball Cap invented-1860
15.
 Beware of the Ides of March
Julius Caesar Assassinated 44BC
Maine Admissions Day-1820
16.
 Buzzard Day
National Artichoke Day
Everything you do is Right Day
17.
St. Patrick's Day 
(See Categories)

Submarine Day
18.
 Pillsbury Doughboy's Birthday
National Lacy Oatmeal Cookie Day
Canberra Day in Australia
Forgive Mom and Dad Day
Aruba Flag Day
19.
 National Chocolate Caramel Day
Sparky the Firedog's Birthday
Wyatt Earp Born
National Agriculture Day
Swallows Return Day
20.
 First Day of Spring! ) Spring begins in the Northern Hemisphere on March 20, at 1:14 A.M. (EDT). the Sun will cross directly over the Earth's equator. This moment is known as the vernal equinox in the Northern Hemisphere. For the Southern Hemisphere, this is the moment of the autumnal equinox. AND…Big Bird from Sesame Street's Birthday
Agriculture Day
Mr. Rogers Born
Independence Day in Tunisia
21.
 California Strawberry Day 
(See below for 'Strawberry mice')

National French Bread Day
Children's Poetry Day 
(See Below)

First US Zoo Opened
Pizza Day–Be sure to have pizza! Any kind! Bagel, English Muffin, Bobili, French Bread, etc.
Fragrance Day (See Crafts that Smell Good)

Absolutely Incredible Kid Day (Today-Let the kids know how fantastic they are!) Can you come up with a special phrase for each child?!
Single Parents' Day
Iranian New Year
Teen-Agers Day
22. National Bavarian Crepes Day
United Nations 'World Water' Day 
(Water Theme)

As Young as You Feel Day!
23. Toast Day 
(See painted toast idea below)

Cable Car Patented
National Energy Education Day
Elevator Day
Liberty Day-Patrick Henry's Famous Speech- "Give me liberty or give me Death" 1775
24.
 National Chocolate Covered Raisin Day 
(Visit Snack mix page and make some trail-mix and add chocolate covered raisins!)

Independence Day in Philippines
International Day of the Seal
25.
 Lobster Newburg Day
Independence Day in Greece
26.
 Purple Day (
Purple Day website
)…
(Also 
Visit KIdActivities Purple Theme Category
Cape Cod named-1602
Dunkin Hines Birthday-1880 (Make a Dunkin HInes cake!)
Robert Frost Born-1874
Independence Day in Bangladesh
Make up your own Holiday! (See below)
27. First Fire Engine Tested
National Spanish Paella Day
Education and Sharing Day
Happy Birthday to You Day (Have a Happy Un-birthday Party for the entire group or family!) 
28. National 'Black Forest Cake' Day
Qing Ming Festival in China
Holi in China
Morione's Festival in Philippines
29. National Lemon Chiffon Cake Day
Oscar Mayer Born (Have an Oscar Mayer snack!)
Youth Day in Taiwan
30.
 Doctor's Day
National Hot Dog Day 
(Make hot dogs or one of these Crock Pot Recipes)

Eraser-topped pencil patented-1858
Artist Vincent Van Gogh Born – 1853
 (See 
Van Gogh Sunflower 
Art Ideas or other Sunflower Ideas)

Artist Francisco Goya Born-1746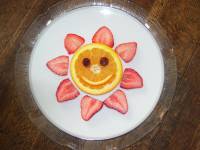 31. Tater Day (How about a 'baked potato bar' with all the toppings!)
Additionally it's National Clams on the Half-Shell Day and Eiffel Tower Anniversary. (Challenge the kids to make as replica of the Eiffel Tower out of Legos! )
_______________________________
_______________________________
____________________
____________________
IDEAS FOR SPECIAL DAYS OF MARCH!

MARCH IS NATIONAL PEANUT BUTTER MONTH! —some nice ideas for those with no 'peanut allergies'…
These are a few of the "Peanut butter" food ideas collected from the site… You check out the Play dough category and make 
Peanut Butter Play Dough
!
________
MAKE PEANUT BUTTER BALLS (24 balls)
1/2 cup honey
1/2 cup peanut butter
1 cup nonfat dry milk
1 cup quick cooking oats
Wax paper
Mix all ingredients and then roll the mixture into 1″ balls.
Lay the balls on waxed paper. Refrigerate until set.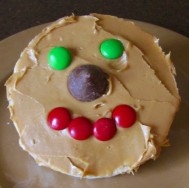 SANDWICH FACE
Just put out the ingredients and let the kids create their faces!
Ingredient suggestions: Peanut Butter, (If it's for another day or there are peanut allergies… consider using Cream Cheese)… Bananas-sliced, Raisins, Bread or Rice Cakes (1 slice), M&M's candy or spice drops
Spread the peanut butter or _______ on the slice of bread or Rice Cake.
For a healthy version put 2 banana circles on the bread to look like eyes…and a mini- carrot for the nose. Last, make a mouth out of M&M's candy. If not using the bananas and carrot, complete the face with candy and/or raisins.
_________________
BUMPS ON A LOG…
1 celery stalk, washed and ends trimmed
2 tablespoons creamy or chunky peanut butter
10 Raisenettes Milk Chocolate-Covered Raisins
____________
ANTS ON A LOG
Celery sticks
Peanut butter or cream cheese
Raisins
Wash the celery and cut it into pieces about 5 inches long.
Spread peanut butter over the entire length of the celery.
Press raisins into peanut butter.
_______________
MAKE AN ANT FARM
Ingredients: Peanut Butter, Graham Crackers and Raisins.
On a plate spread peanut butter
In the middle you erect a tunnel from the broken graham crackers. Then you place the raisins on the peanut butter to look like Ants. Eat the raisins and peanut butter with either the graham crackers or pieces of celery.
_______________
"DOMINOES" (Put dominoes out for children to see what they look like! Afterward play dominoe game!) Spread peanut butter on graham crackers (broken into the small rectangles) and top with either chocolate chips or raisins so that they look like 'dominoes'.
_________________
MARCH IS UMBRELLA MONTH…
TISSUE PAPER COLORED UMBRELLAS
Materials:
Sheet of white or manila oak tag (heavy paper)
Art tissue paper of various colors cut up into small pieces
Black felt tip permanent marker
Scissors
Squirt bottle of water
Make umbrella shape templates. Trace the shape on oak tag as large as you would like — but no smaller than half of the sheet. Cut it out. Using the marker, draw the umbrella ribs on the shape.
In a colorful arranegement, have children place pieces of art tissue all over the oak tag.
Gently squirt the "papered umbrella" with the water;it's a SPRING SHOWER.
Lay it flat to dry. As the tissue dries,the colors will adhere to the oak tag.
While drying-trace and cut out a handle.This can be stapled to the dry umbrella. The tissue will fall off when dry.
__________________________
UMBRELLA PICTURES #1
Need: Cupcake liners, Scissors, Glue, Crayons or Paint Pipe Cleaners
Cut several Cupcake liners in half (these will be umbrellas).
Glue the umbrellas onto a sheet of paper.
Use pipe cleaner to make the umbrella handles.
Glue on the handles. Add clouds and rain drops.______________________________________________
UMBRELLA #2Have children cut individual egg-carton cups in half.
Glue the halves onto a sheet of construction paper.
Add pipe cleaners for handles.
Draw pictures around the umbrellas with crayons or paint._________________________
ORANGE UMBRELLA SNACKSSlice an orange into 1/4″ thick round slices. Cut each round slice in half to form a half round umbrella shape. Place each orange umbrella on a small plate. Have each child choose an "umbrella handle" from thin sliced cheese, pretzel sticks, thin celery sticks, or thin apple slices.
_______________
UMBRELLA PAINTING
Rainy days on the way?
Have interested children bring a solid color umbrella.
Cover floor; open umbrella; decorate each section with fabric paint or pens. Let dry for a day before closing or using.
_______
UMBRELLLA COMMUNITY SERVICE IDEA…
Celebrate 'Umbrella Month' by donating one to a homeless shelter. Programs could hold an 'umbrella collection' drive. (Both gently used or new would be appreciated)
___________________________
MARCH IS NATIONAL KITE MONTH!

Beside making your favorite kites… here are two ideas for younger children!
PAPER PLATE KITE
Materials: Paper Plate, Tissue Paper, Streamers, Crayons/markers,
String, Craft Sticks
1. Have children draw a design (or make one with tissue paper) on the paper plate.
2. Next have them glue foot long streamers on the paper plate.
3. Punch a hole at the nose of the plate and tie a piece of yarn through it.
4. Wrap additional yarn around a craft stick and then tape the yarn on the plate to the stick. The kite will really fly on a windy day.
______________
SPRING-TIME MATCH GAME: WALL PAPER KITES…
1. Cut kite shapes out of different patterned wallpapers; cut the kites in half.
2. Have children match the kite halves by the design.
__________________
MARCH IS POETRY MONTH! HOW ABOUT POETRY PEBBLES? Grade: 4-8

Materials:
Small rocks or pebbles
Small paint bushes
Water and water containers
Magic markers
Paint (make tempera paint thicker by adding glue or flour)
A covered work area
A shoebox, yogurt or empty "Jiffy Pop" popcorn container
Hairspray or a spray varnish
• Make sure your pebbles are clean.
• Paint words onto your pebbles. You could also use markers instead of paint.
• Choose a number of words-people, places, things, action words etc. Example:
1. he
2. she
3. to
4. love
5. dog
6. went
7. walk
8. you
9. happy
10. in
11. to
12. a
13. my
14. your
15. orange
16. red
17. blue
18. purple
19. green
20. swim
21. bike
Use your imagination and make sure you draw some punctuation marks on some pebbles as well (comma, exclamation point, period, question mark etc.)
Once the pebbles are painted, let them dry and seal them with hairspray or spray varnish.
Put all the pebbles into a show box or Jiffy Pop container. You can decorate your container with paint or markers as well.
Play a game of poetry pebbles. Each player chooses a number of pebbles from the box and tries to come up with a poem or story.
Makes for a great way to begin a short story for those times when you have writers block!
Source: Kinderart.co
________________________

READ ACROSS AMERICA DAY and DR. SEUSS DAY
MARCH 2…
The National Education Association annually sponsors Read Across America. The focus is on how important it is to motivate children to read, in addition to helping them master basic skills. The nationwide reading celebration takes place each year on or near March 2, the birthday of children's author Dr. Seuss. Thousands of schools, libraries and community centersparticipate by bringing together kids and books. You can too!
Your reading event can be as simple or elaborate as time and inclination allow. Whether you choose to scale up or down, keep in mind the basic premise and it's almost sure to be a success:
On March 2, the National Education Association is calling for every child to be reading in the company of a caring adult.
ACTIVITY…TRAVELING ACROSS AMERICA–BOOK BY BOOK
This is a great way to kick off and celebrate! (However, ANYTIME is a good time to start this activity!)
Encourage reading books about our 50 states and earn mileage to move across a map of the U.S. for each book read.
You "travel" across a map of the U.S. by reading a book that takes place in each of the states. (A variation is to read a book whose author lives in a particular state, or a book about a particular state.
You can develop your own mechanism for tracking readers…
FOR BOOKS THAT FEATURE titles about America 
VISIT Here
… There is a long list of books for each state from Alabama to Wyoming!
Example:
ALABAMA
•Picture Book of Rosa Parks by David Adler
•Watsons Go to Birmingham by Christopher Curtis
•Run Away Home by Patricia McKissack
•Helen Keller: From Tragedy to Triumph by Katharine E. Wilkie
ALASKA
•Kiana's Iditarod by Shelley Gill
•Williwaw by Tom Bodett
•Julie of the Wolves by Jean Craighead George
•Child of the Wolves by Elizabeth Hall
•Call of the Wild by Jack London
•The Eagle's Shadow by Nora Martin
•Gentle Ben by Walt Morey
•Kavik the Wolf Dog by Walt Morey
•The Bravest Dog Ever: The True Story of Balto by Natalie Standiford
and so on…
___________
MARCH 5th the PARACHUTE WAS INVENTED…

MAKE A PARACHUTE
1. Cut a piece of tissue paper or garbage bag into a square, about 12 to 14 inches . .. Decorate the paper or bag with paint and markers. Draw your favorite design or print your name on it.
2. Tape the four corners with masking tape. Hole punch each corner.
3. Cut four pieces of dental floss or thread of equal amounts—about 15 to 17 inches. Attach to the four corners and allow the string to hang down.
4.T ie the loose threads together at the bottom leaving approximately 3 1/2 inches to tie your object.
5. Tie a light toy to the parachute. You can use farm animals, dinosaurs or toy soldiers that are available in bulk at discount stores. The heavier the object the faster it drops to the ground. Experiment with the size of your parachute and the object.
6. Throw the parachute in the air and watch a picturesque landing.
Example: NON-SEW SACHETS
Materials: Fabric scraps, Fabric glue, Potpourri
For each sachet, place 2 matching 5-inch fabric squares back-to-back and glue the edges together on 3 sides. Spread the glue close to the edges to prevent fraying.
Once the glue is dry, fill the sachet with about 1/2 cup of potpourri.
Glue together the open edges and again let the glue dry.
Arrange the finished sachets in multicolored stacks and tie them together with a festive ribbon or yarn.
______________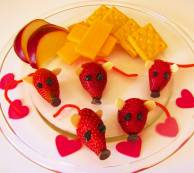 March 21 is CALIFORNIA STRAWBERRY DAY!

MAKE STRAWBERRY MICE (Ingredients: Fresh strawberries, Mini chocolate chips, Black decorators' icing, Almond slivers, Toothpick, Red lace licorice, Cheese and or crackers (Your choice)
1. For each mouse, slice a small section from the side of a strawberry so it sits flat.
2. Press a mini chocolate chip into the tip for a nose, using a small dab of icing to secure it in place, if needed.
3. Add icing eyes and stick 2 almond slivers into the top of the berry for ears.
4. For a tail, use a toothpick to carve a small hole in the back of the berry and push the end of a piece of licorice lace into the hole.
Serve these cute Berries with small triangles of cheese and maybe crackers…They're also nice as part of a fruit, cheese and cracker tray/snack. The image is from 
KidActivities Valentine Snack Category
__________________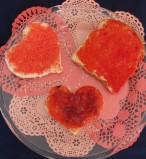 MARCH 23 is TOAST DAY!
Challenge kids to come up with ideas– pick one idea in a method that works for you and celebrate it! Could it be "National Happy Unbirthday Day?"- "Everyone Wear Their Shirts Backwards Day? " -"We have to have Pizza Day" or______!
TOAST, ART AND SNACK ALL IN ONE! If you haven't done this one with the kids yet–now is the time! Ingredients: Bread, Milk, Food coloring, cinnamon sugar or jam, butter, small paper cups, thin brushes or cotton-tipped swabs
Mix "paint by combining food coloring with milk. Paint designs on one side—try and be creative with stripes, stars, designs. When changing colors be sure to remind kids to use different brush or swab. When complete-toast in toaster on light or under broiler. Can eat as is—-or while still hot butter and sprinkle with cinnamon-sugar.
TIP: Be sure kids do not set the bread too much–go lightly–or the bread will not toast well.
This image is from 
KidActivities Valentine Snack Page
…(Because it's for Valentine'sDay-the painted toast samples are all red) The bread bread on the right is just painted..bread on upper left has been toasted…and bread heart at the center bottom has been painted, toasted and spread with jam! (Image by KidActivities.net) A much larger photograph is on the Valentine's page.
MARCH 26 IS MAKE YOUR OWN HOLIDAY! How cool is that?
Celebrate and have fun! The kids will love you for it! Be sure to celebrate it every year!
To Make Your Own Holiday…1. Decide what you want to do.
2. Get other people to do it with you.
Some of our best know holidays started just this way. (Kwanzaa, Valentine's Day and Thanksgiving are a couple)
AND…
MARCH 26 IS PURPLE DAY…Wear purple to support epilepsy awareness worldwide. For more info on 
Purple Day
 visit 
http://www.purpleday.org
_________________________________
MARCH IS 'MUSIC IN OUR SCHOOL MONTH'!
________
March is FROZEN FOOD MONTH!
YOU CAN FREEZE THE FOLLOWING FRUIT…
For a fast and frosty treat freeze grapes, pineapple chunks, peach slices, apricot slices, banana slices, apple slices, cantaloupe balls, watermelon chunks, orange wedges, berries and fruit leather! For frozen fruit goodies check out 
Page 2 of Warm Weather Snacks
…
OTHER MARCH CATEGORIES TO VISIT!

SaveSave