Christmas Jokes
Christmas is a great time of year, filled with family, friends, and likely some good food. If you are looking to incorporate some humor into your holiday season, try some of these funny Christmas jokes.
These Christmas themed jokes are great to tell at family Christmas parties and are kid-appropriate. Whether you are looking to tell jokes to kids or are looking to equip your child with some jokes to tell at school, we've got you covered.
Below you will find a list of 34 Christmas jokes for kids (adults as well). You will even find Santa Claus jokes as he is a staple of Christmas.
Christmas Jokes for Kids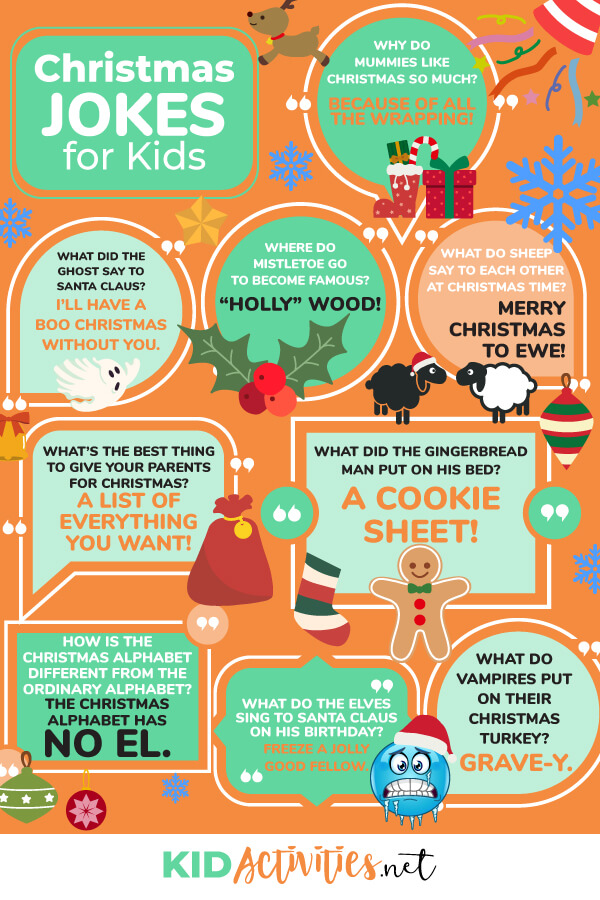 1. What's the best thing to give your parents for Christmas?
Answer

A list of everything you want!
2. What do vampires put on their Christmas turkey?
Answer

Grave-y.
3. Why do Mummies like Christmas so much?
Answer

Because of all the wrapping!
4. What did the ghost say to Santa Claus?
Answer

I'll have a boo Christmas without you.
5. Where do mistletoes go to become famous?
Answer

"Holly" wood!
6. What do sheep say to each other at Christmas time?
Answer

Merry Christmas to ewe!
7. What did the Gingerbread Man put on his bed?
Answer

A cookie sheet!
8. How is the Christmas alphabet different from the ordinary alphabet?
Answer

The Christmas alphabet has NO EL.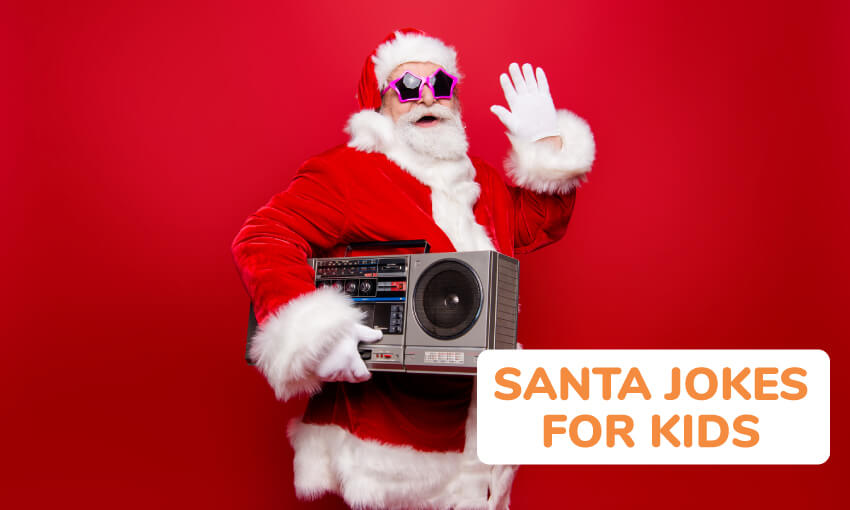 9. What do the elves sing to Santa Claus on his birthday?
Answer

Freeze a jolly good fellow.
10. What comes at the end of Christmas Day?
Answer

The letter "Y"!
11. What do you call a cat on the beach at Christmastime?
Answer

Sandy Claws!
12. Why are Christmas trees such bad knitters?
Answer

They are always dropping their needles.
13. How do sheep say Merry Christmas in Mexico?
Answer

Fleece Navidad!
14. What beats his chest and swings from Christmas cake to Christmas cake?
Answer

Tarzipan !
15. Mom, Can I have a dog for Christmas?
Answer

No, you can have turkey like everyone else!
16. What did the dog breeder get when she crossed an Irish Setter with a Pointer at Christmastime?
Answer

A "pointsetter"!

A "pointsetter"!
17. Why does Santa have three gardens?
Answer

So he can ho ho ho!
18. Why is it so cold at Christmas?
Answer

Because it's in Decembrrrr!
19. What's red, white and blue at Christmas time?
Answer

A sad candy cane!
20. What do wild animals sing at Christmas time?
Answer

Jungle bells, jungle bells, jungle all the way!
21. Whats the best thing to put into a Christmas cake?
Answer

Your teeth!
22. What is the best key to get at Christmas?
Answer

A turkey!
23. We had grandma for Christmas dinner.
Answer

Really, we had turkey!
24. What did Adam say on the day before Christmas?
Answer

It's Christmas, Eve!
25. What happens if you eat the Christmas decorations?
Answer

You get tinsel-itus!
26. What do you call an elf who steals gift wrap from the rich and gives it to the poor?
Answer

Ribbon Hood!
27. Do you ever buy any Christmas Seals?
Answer

No, I wouldn't know how to feed them.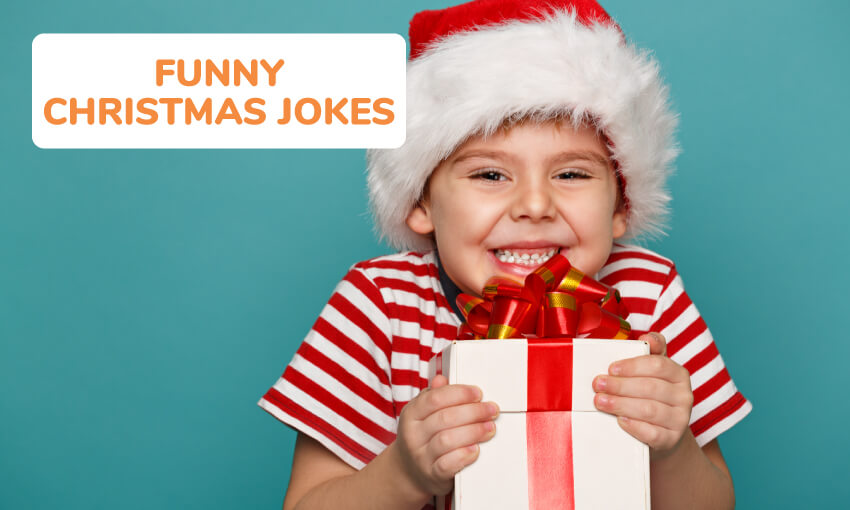 ---
CHRISTMAS KNOCK-KNOCK JOKES
28. Knock Knock
Who's there?
Wayne
Wayne who?
Wayne in a manger!
29. Knock Knock
Who's there?
Donut
Donut who?
Donut open till Christmas!
30. Knock Knock
Who's there?
Oakham
Oakham who?
Oakham all ye faithfull…!
31. Knock Knock
Who's there?
Avery
Avery who?
Avery merry Christmas!
32. Knock Knock
Who's there?
Holly
Holly who?
Holly-days are here again!
33. Knock Knock
Who's there?
Igloo
Igloo who?
Igloo Suzie like I knew Suzie!
34. Knock Knock
Who's there?
Mary
Mary who?
Mary Christmas
Be sure to also check out CHRISTMAS TONGUE TWISTERS!
Conclusion
We hope you have found these Christmas jokes funny and entertaining. Did you get some chuckles from the people you told them to? Did you tell them to a family member or did you give them to your child to tell at school?
Wishing you the best this Christmas season. Check out these other funny joke categories.
HOLIDAY JOKES