Rain Games and Activities 
If you are looking for some fun rain themed activities, look no further. Here you will find rain themed games, crafts, and activity ideas for kids. These activities are great for the classroom or at home. Who knows, perhaps it will develop a passion in your little one to become a meteorologist.
---
Rain Activities for Kids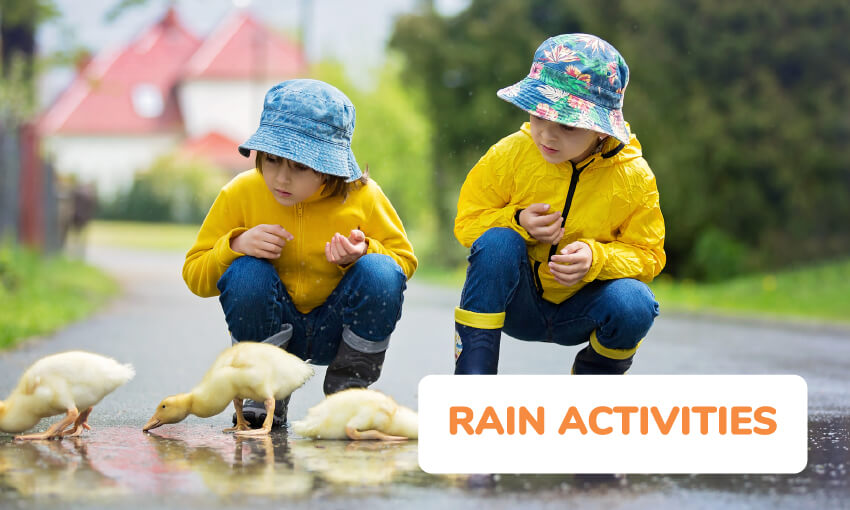 1. GUESS HOW MUCH RAIN?
Have each person mark a line on a container showing where they think the water line will be when the rain stops. The person closest to the actual line is the winner.
---
2. How to Make a Rain Gauge
Materials
Popsicle stick
Ruler
Waterproof marker
Clean, empty soup can
Colorful contact paper or paintbrush, acrylic paints, and clear acrylic spray (optional)
Glue
Plastic bucket and sand (optional)
1.  Lay a Popsicle stick next to a ruler, aligning the ends.
Use a waterproof marker to copy the ruler markings onto the Popsicle stick.
2.  Mark every inch, half-inch, quarter-inch, and eighth-inch on the Popsicle stick.
3.  If you like, have children decorate a clean, empty soup can with colorful contact paper or acrylic paint.
4.  If the can is painted, finish it with clear acrylic spray.
5.  Stand the Popsicle stick inside the can and glue it onto the side of the can.
6.  Set the can outside in a place where it won't tip over. If you like, place the can in a plastic bucket and pack sand around it.
7.  After a rainfall, read the Popsicle stick ruler to see how much rain has fallen.
8.  As an extension—you can log your readings on a chart, calendar or in a weather notebook.
9.  Pour the rain out of the can after each reading.
---
3. CAN YOU GET A LOCAL WEATHER PERSON or meteorologist to visit your class or program?
Request the weather person talk about their job and why they like it… Show children how to predict the weather using instruments, etc.
Brainstorm with children and prepare questions to ask when the guest arrives…
---
4. WATER TASTING
1.  Provide tap water, soda water, mineral water, and distilled water.
2.  Pour the different types of water into paper cups and have children taste them.
3.  Discuss the differences.
4.  As an extension you can do a survey/graph
---
5. YELLOW RAIN
Collect raindrops into two different containers:
1.  Use ONE container with NO COVER…
2.  Place a COVER ON THE OTHER container (A coffee filter will work fine as a cover)
3.  As the rain falls through the air, it gets dirty; this leads into an environmental talk regarding the dirtiness of air and purifying drinking water…
---
6. HOW FAR AWAY IS THAT STORM?
The purpose of this experiment is to watch lightning and hear thunder to give you clues about how far away you are from a storm.
What you need:
One thunderstorm
A stop watch (Or the ability to say "one-Mississippi")
1. After you see a flash of lightning, count the number of seconds until you hear the thunder. (Use the stop watch or count "One-Mississippi, Two-Mississippi, Three-Mississippi," etc.)
2. For every 5 seconds the storm is one mile away. Divide the number of seconds you count by 5 to get the number of miles.
What travels more quickly, light or sound?
If you said light travels faster than sound, you're right! The lightning and thunder are happening at the same time, but light reaches you instantly, while sound takes longer.
Do you ever see lightning without hearing thunder? Some call that "heat lightning," but it is really lightning that is over 15 miles away and too far away for you to hear the thunder!
LOOK OUT if you see the lightning and hear the thunder at the same time!
---
7. Rain Themed Art and Music Creation
1.  Provide gray, black, and white paint at an easel or on covered tables.
2.  Play a CD of rain sounds or tape record rain or a thunderstorm.
3.  Have the children listen to the rainstorm and paint to it.
4.  Ask the children how the tape makes them feel.
5.  This could also be done as a group mural!
---
8. How to Make Rain Sticks 
#1 (Heavy-Duty)
1. Hammer nails into Heavy cardboard mailing tubes 1/8″ apart, using the spiral seam of the cardboard.
2. Add several handfuls of assorted filler material (rice, beans, etc)
3. Seal each end of the tube securely with tape.
4. Decorate your stick with raffia, ribbon, adhesive-backed shelf paper, wrapping paper or a jungle print or decorations.
RAIN STICK #2
Paper Towel Roll, Tape that can be painted, Paint, Glue, Uncooked Rice, Toothpicks…
Pre-poke holes into the side of the paper towel rolls. Have children poke toothpicks through the holes and glue each end of the tooth pick. Next- tape one end of the roll closed. Add rice and tape the other end. Then let the children paint their sticks as they choose. Last, cut off the toothpicks that stick out from the tube.
---
9. MAKE IT RAIN! #1 (Science)
Need:
Glass mayonnaise or canning jar, plate, hot water, ice cubes,
Pour about two inches of very hot water into the glass jar.
Cover the jar with the plate and wait a few minutes before you start the next step.
Put the ice cubes on the plate.
What happens? The cold plate causes the moisture in the warm air, which is inside the jar to condense and form water droplets. This is the same thing that happens in the atmosphere. Warm, moist air rises and meets colder air high in the atmosphere. The water vapor condenses and forms precipitation that falls to the ground
---
10. MAKE RAIN #2
1.  Boil some water in a pot until steam forms above it.
2.  Fill a pie pan with ice cubes and hold it above the pot in the steam "cloud."
3.  Have the children observe that when the steam comes in contact with the cool air from the pie pan, drops of water form and fall back into the pot like rain.
---
11. RAIN ART
Kids put on rain gear and take heavy duty paper plates outside. Sprinkle a few drops of food coloring onto plates and watch as designs appear. For a 'batik effect', first draw on the plate with white crayon and then add the food coloring.
---
12. SIDEWALK CHALK ART
A couple hours after a rain fall…take children outside and have them draw on the sidewalk with sidewalk chalk. Colors will be bright from the rain water.
---
13. BUILD ON A RAIN-WORD  (For older children)
1.  Choose a long word that is related to the rain (umbrella, for example) and have each player write it in the center of a piece of paper.
2.  Allow two minutes to build up as many other words as they can from the basic word. (Add to letters like in scrabble)
3.  All the new words must in some way be related to the first word.
4.  The player with the most words wins.
---
14. 'OUT IN THE RAIN' PAINTING
When the weather forecast is light rain, make a rain painting. Spread out a large sheet of paper before the rain begins, using bricks or other heavy objects to weigh down the edges. Fill shaker dispensers with powdered paint. Sprinkle the paint randomly over the paper.
As it rains, the raindrops will mix and blend the paint. After a few minutes, go out and observe the designs the rain has made for you. Bring in the wet painting, and let it dry on layers of newspaper.
---
15. UMBRELLA PAINTING
Rainy days on the way? Have interested children bring a solid color umbrella. Cover floor, open umbrella, decorate each section with fabric paint or pens. Let dry for a day before closing or using.
---
16. ORANGE UMBRELLA SNACKS
1.  Slice an orange into 1/4″ thick round slices.
2.  Cut each round slice in half -to form a half round umbrella shape.
3.  Place each orange umbrella on a small plate.
4.  Have each child choose an "umbrella handle" from thin sliced cheese, pretzel sticks, thin celery sticks, or thin apple slices.
---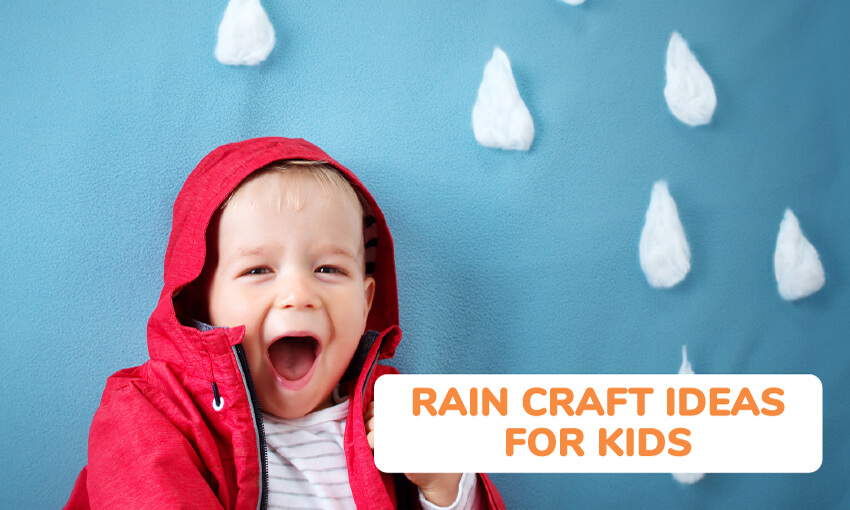 17. TISSUE PAPER COLORED UMBRELLAS
Materials:
Sheet of white or manila oaktag (heavy paper)
Art tissue paper of various colors cut up into small pieces
Black felt tip permanent marker
Scissors
Squirt bottle of water
1.  Make umbrella shape templates and trace the shape on oaktag as large as you would like — but no smaller than half of the sheet.
2.  Cut it out.
3.  Using the marker— draw the umbrella ribs on the shape.
4.  In a colorful arrangement, have children place pieces of art tissue all over the oaktag.
5.  Carefully and gently squirt the "papered umbrella" with the water—as a RAIN SHOWER.
6.  Lay it flat to to dry. As the tissue dries — the colors will adhere to the oaktag.
7.  While drying,trace and cut out a handle– which can be stapled to the dry umbrella.
8.  The tissue will fall off when dry.
---
18. UMBRELLA PICTURES #1
Need: Cupcake liners, Scissors, Glue, Crayons or Paint Pipe Cleaners
1.   Cut several Cupcake liners in half (these will be umbrellas).
2.  Glue the umbrellas onto a sheet of paper. Use pipe cleaner to make the umbrella handles—Glue on the handles. Add clouds and rain drops.
---
19. UMBRELLAS #2
1.  Have the children cut individual egg-carton cups in half.
2.  Have them glue the halves onto a sheet of construction paper.
3.  Add pipe cleaners for handles.
4.  Draw pictures around the umbrellas with crayons or paint.
---
20. Let it rain…SQUIRT ART!
Materials:
Blue colored water
White construction paper or-butcher paper
#1 IDEA: Cover the area and let children squirt blue colored water on white construction paper.
Or-
#2 IDEA: Hang a large piece of butcher paper on the fence of the play yard and let children squirt blue colored water on the butcher paper.( It'll look like rain)
21. WRITE AND ILLUSTRATE RAINY DAY POEMS
Write poems about puddles, mud, raindrops, or gray skies…
---
22. WILL IT FLOAT? Science…
1.  Gather twigs, leaves, seeds, from the playground.
2.  Throw into the air to see which will "float" on the breeze.
3.  AFTER A RAIN… gather items and toss into a mud puddle to see which will float.
Rain Themed Game Ideas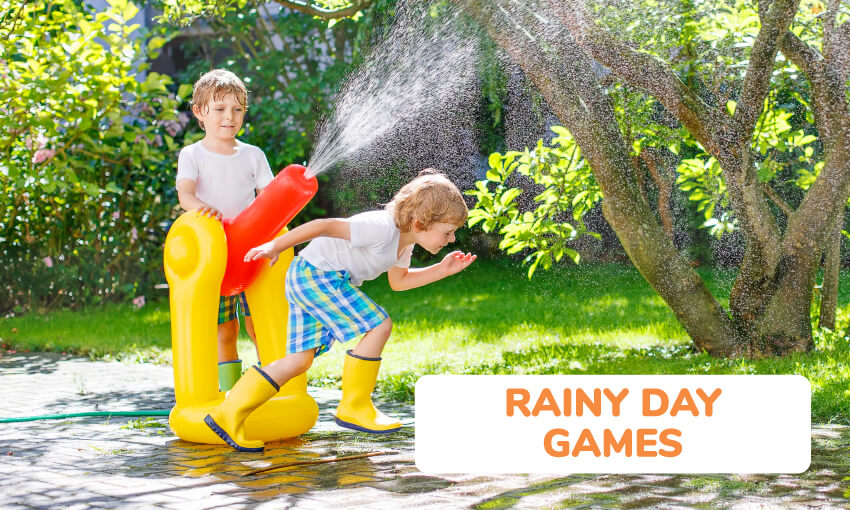 22. Instead of "Duck, Duck, Goose"…
PLAY "DRIP, DRIP, DROP'!
23. Instead of "Simon Says"…
PLAY THE "WEATHERMAN SAYS"!
---
24. RAIN GAME
1.  The group sits in a circle.
2.  The leader starts by rubbing their hands together. The person to the right does the same, the person to the right, and so on until everyone is doing the action.
3.  When all are rubing their hands, the leader starts a new sound, finger snapping, then hand clapping, next slapping thighs, try foot stomping.
4.  To END the storm, reverse the actions. At the end, the group, one by one stops rubbing hands and sits and waits for action to be completed by the group.
---
25. HAVE A RAIN DROP RACE
Each person picks a raindrop as they hit the top of the window. Follow your raindrop until it gets to the bottom of the window and see whose raindrop wins the race. Then start at the top and do it again!
---
***Idea: There are "JOKES ABOUT WEATHER" in the "JOKE Category"
---
26. WEATHER STATION DRAMATIC PLAY
Provide materials for the dramatic play area in which the children are able to be weather anchors!
Some suggestions include:
Large cardboard box to be used as a large televsion
Laminated weather-symbols for the "weather person" to explain the weather (use double backed tape or roll tape sticky side out so the symbols will stick to the weather map)
Large wall map
Microphone (Or use paper towel tube to create one)
Paper and pencils to write scripts
'Computer' to show the radar screen (Provide paper and let the children draw their own picture of the Doppler radar picture)
---
Place WEATHER RELATED BOOKS in the Science and Literacy centers.
A list of  books is in Spring Seasonal, Holidays, Earth & Weather Category.
---
27. MAKE A RAIN BOOK (For young children)
1.  Staple together 4-6 pieces of paper to make a booklet for each child. Write the words "Rain Helps Things Grow" on the cover of each book.
2.  Have children look through magazines and tear out pictures of things that need rain to help them grow such as trees and flowers—Then have them glue the pictures into their books.
---
28. For Young Children:
Tape record and identify different sounds/kinds of rain… drizzling, sprinkling, pouring, misting, raining, thundering, lightening, hail, etc.
---
Poems and Songs About Rain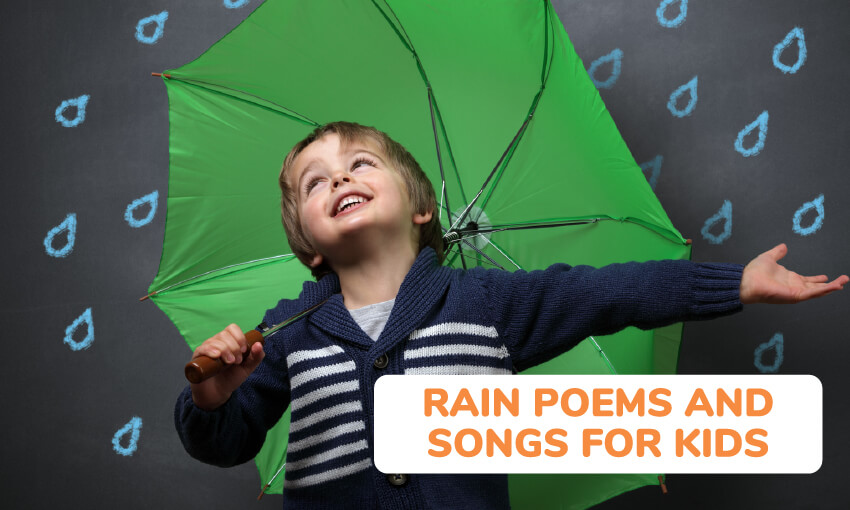 ---
29. IT'S RAINING, IT'S P0URING…
Author Unknown
It's raining, it's pouring;
The old man is snoring.
He went to bed and he
Bumped his head
And he couldn't get up in the morning.
---
30. IT AIN'T GONNA RAIN…
It ain't gonna rain no more, no more
It ain't gonna rain no more,
How in the heck will we wash the neck
If it ain't gonna rain no more?
---
31. RAIN, RAIN, GO AWAY…
Rain, rain, go away
Come again some other day
We want to go outside and play–
Come again some other day
Optional lyrics:
Change third line to say:
"child's name" and "child's friend's name"…
want to play.
---
32. RAINDROPS – sung to "Frere Jacques"
Raindrops falling,
Raindrops falling,
From the sky,
From the sky.
Put up an umbrella,
Put up an umbrella,
Nice and dry,
Nice and dry.
Showers over,
Showers over,
Sun aglow,
Sun aglow.
See the pretty flowers,
See the pretty flowers,
In a row,
In a row.
By Jean Warren from Totline
Magazine, April 1993
---
33. R-A-I-N-Y – sung to "Bingo"
There was a time when we got wet
And rainy was the weather.
R-A-I-N-Y, R-A-I-N-Y, R-A-I-N-Y
And rainy was the weather!
---
34. EENSY-WEENSY-SPIDER
The eency-weency spider
Went up the water spout. (Move hands up while touching index finger and thumb alternately)
Down came the rain (Move hands down while wiggling fingers)
And washed the spider out. (Cross arms)
Out came the sun (Make a circle with arms above head)
And dried up all the rain.
And the eency-weency spider
Went up the spout again. (Start spider moving up again)
---
35. WHAT'S THE WEATHER?
To Tune of Clementine
What's the weather? What's the weather?
What's the weather like today?
Tell me children what's the weather?
What's the weather like today?
Is it sunny, is it rainy, is it windy out today?
Tell me children what's the weather, what's the weather like today?
---
36. OH MY, WHAT WILL THE WEATHER BE?
(Tune: Oh Dear, What Can The Matter Be?)
Oh my, what will the weather be?
Oh my, what will the weather be?
Oh my, what will the weather be?
It will be (rainy, cloudy, sunny, snowy, windy) today
Cloud Activities for Kids 
A FUN BOOK IDEA:
"CLOUDY WITH A CHANCE OF MEATBALLS"…
Read the book aloud to the children. Ask the children to list what they wish would rain from the sky. Record the children's responses. Have the children draw a picture of their favorite food raining down from the sky. This could be made into a class book.
---
37. RAINY DAY CLOUD HANGINGS
1.  Make CLOUDS on gray paper & cut them out.
2.  Make RAINDROPS on blue paper and attach them to the clouds with string/yarn— so the raindrops are falling from the cloud.
3.  Punch a hole in the cloud and tie a string to attach to then ceiling—or leave as is–to put up on wall.
---
38. CLOUD BEAN BAG TOSS
Create raindrop shaped bean bags. Paint white clouds on cardboard or a sheet. Cut holes for the bean bag toss. Let children toss "raindrops" into the clouds.
---
39. CLOUD PLAY DOUGH
Ingredients:
1 c. vegetable oil
6 cups flour
1 cup water
Food coloring (optional)
1.  Add food coloring to the water.
2.  Put flour and oil into large bowl.
3.  Slowly add water, stirring as you pour.
4.  Continue mixing ingredients until there is a soft dough.
5.  Add a little more water or flour if necessary.
6.  Put the dough on the table and knead until it is completely blended. This dough will have an oily texture.
---
40. WIND MAZE SCIENCE
1.  Create a wind table by taping blocks around the edge of a table. Use more blocks to form a maze inside the frame created.
2.  Provide a selection of materials for the children to try to blow through the maze; provide straws for the children to blow through.
3.  Some suggestions would be feathers, cotton balls, ribbons, tissue paper, marbles, ping pong balls.
4.  Brainstorm with the children what other items they could try to blow through the maze
---
41. CLOUD ART
1.  Choose a day with white cumulus clouds in the sky.
2.  Read a book about shapes in the clouds. (Book suggestions: Little Cloud by Eric Carle;  Charles Shaw's It Looked Like Spilt Milk (HarperCollins, 1947)
3.  Provide blankets (to lay on outside), clip boards, blue construction paper, white construction paper, cotton balls, glue, scissors. children to look at the clouds and represent what they see with the art materials.
4.  Later, talk about what they saw in the clouds. Did they see a clown, angel, etc. like the book?
6.  When your next rainy day arrives–contrast "these clouds" to the other clouds…
---
42. CLOUDS COLLAGE
Materials needed:
Umbrella shapes cut out, gray cloud cut outs (Or cotton balls)
Blue rice (use food coloring to make blue rice)
Glue
Construction paper
Have a children MAKE A COLLAGE with blue rice and cutouts…
---
43. COTTON CLOUDS
Materials:
Paper
Paint
Glitter,
Cotton BallS
1.  Have children draw and paint an umbrella or a picture of themselves on paper.
2.  Next have children glue cotton for the clouds.
3.  Dip fingers into paint to make rain drops under their clouds.
4.  Sprinkle glitter on the raindrops to make them sparkle …. It will make a 3-D effect.
---
44. COTTON BALL CLOUDS #2
Have children take a large blue piece of construction paper and draw, color, paint a landscape or seasonal scene. Glue on clumps of white fluffy cotton balls to create cotton clouds in any shape they want. Add a bright shining sun in the sky!
Looking for a 'Rainbow Theme'? Click here! Lots of ideas!
Also, check out the QUICK 102 Rainy Day~Any Day Ideas …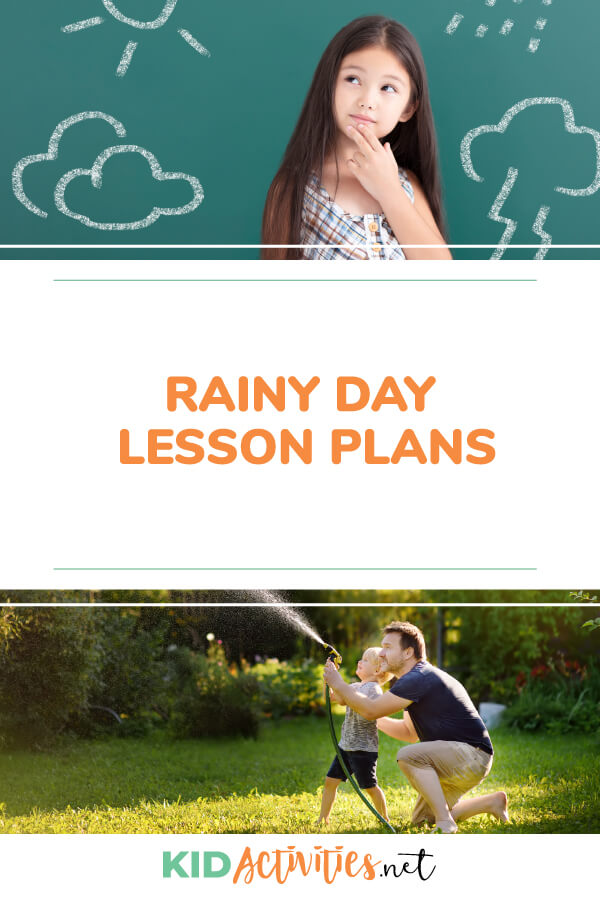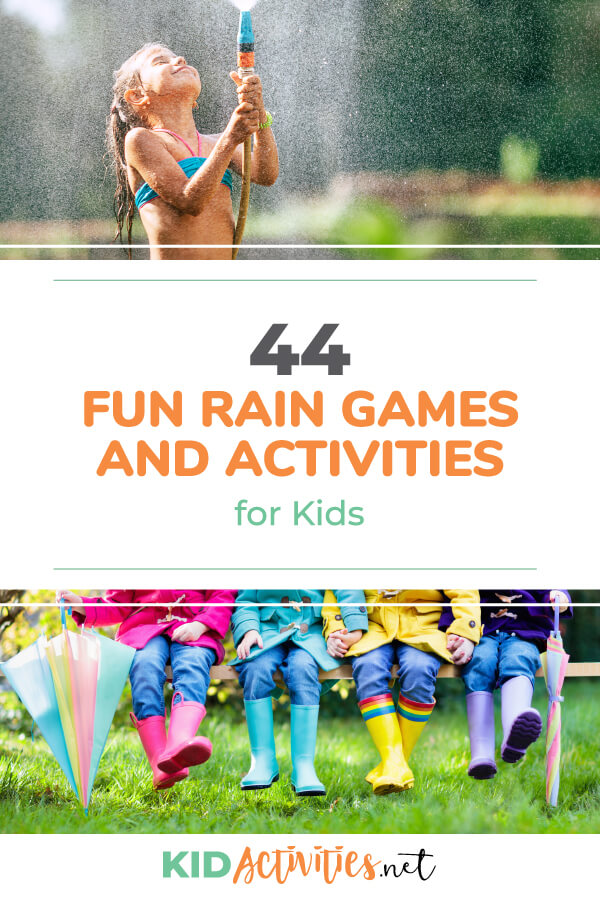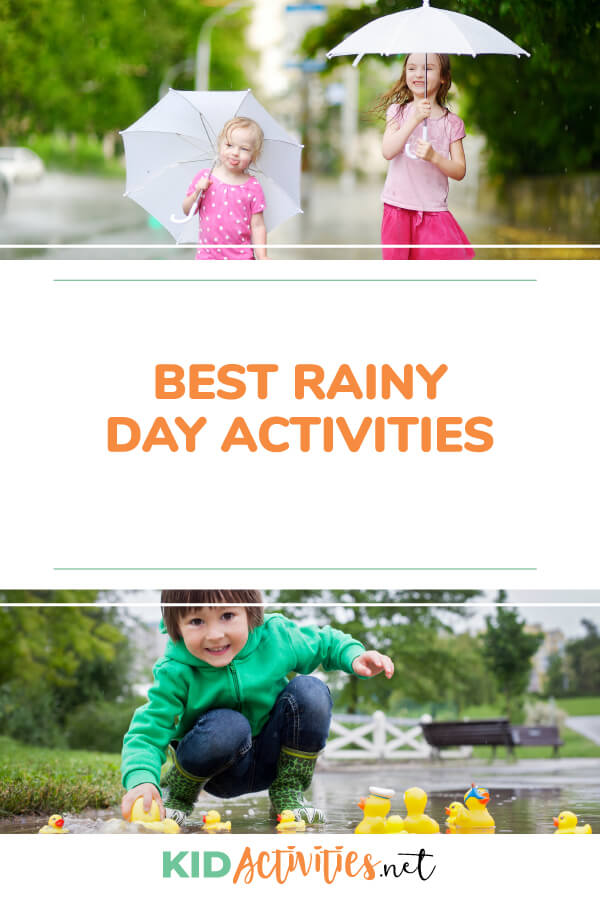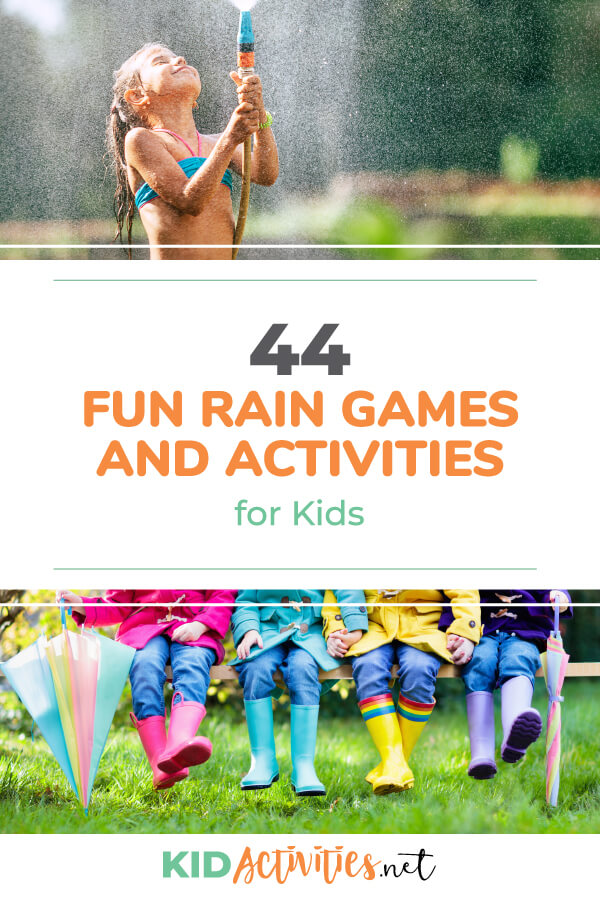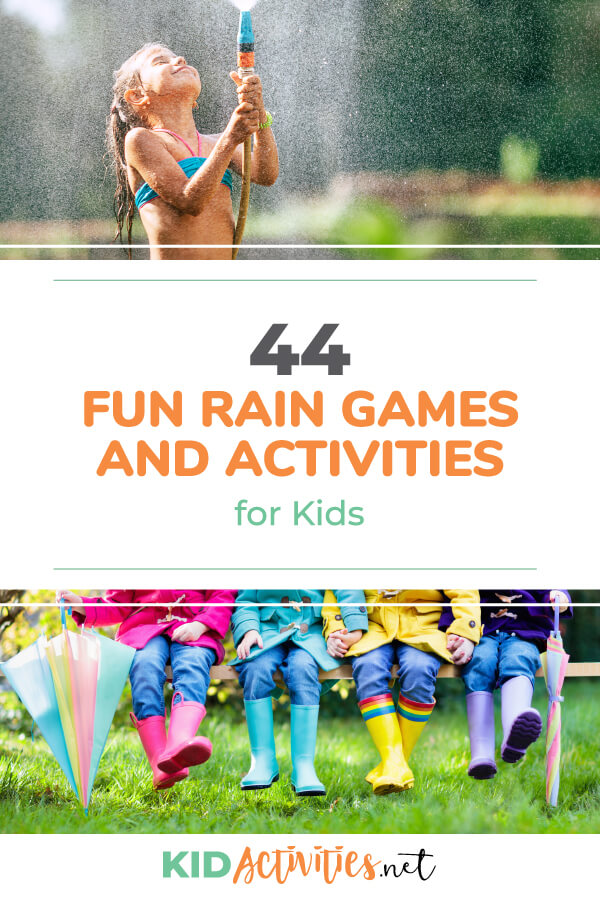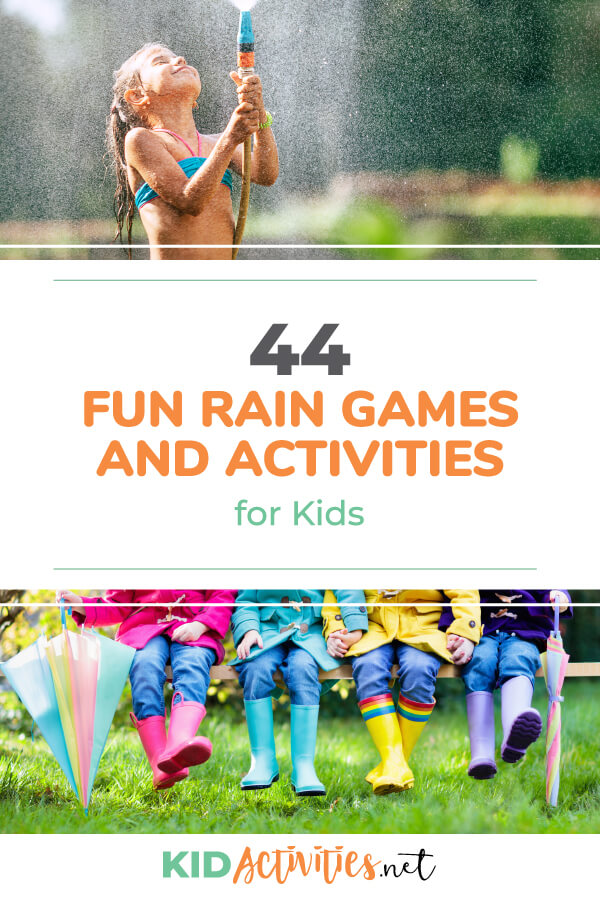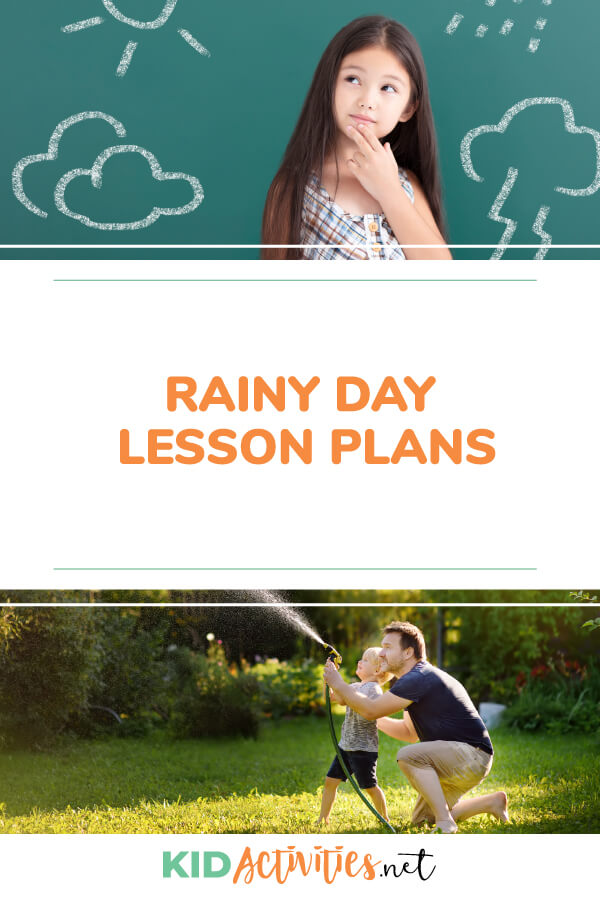 SaveSave