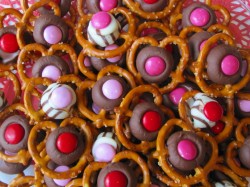 NOTE: Wrapping 'pretzels for gift' ideas are at the bottom of this page…
HUGS AND/OR KISSES  PRETZELS (Good all year round!)
Simply change the color of the M&M candy. Green for St. Paddy Day, Red and Pink for Valentine's Day, Red and Green for Christmas, etc.
Ingredients: 3 (10 ounce) bags checkerboard, windowpane or round shaped pretzels
1 (large pound size) bag M&Ms plain chocolate candies.  (Hershey's Hugs chocolates
Hershey's chocolate kissesse Red and Green M&M's for Christmas–Red and Pink for Valentine–Green for St. Paddy Day, etc.)
Preheat oven to 170 degrees.
Open the bags of pretzels and place them on a parchment or waxed paper-lined cookie sheets in a single layer. DO ONLY ONE TYPE OF CANDY PER SHEET because the 'Hugs' melt faster than the kisses.
Unwrap Hugs or Kisses, place one on each pretzel, repeat for an entire cookie sheet.
Place cookie sheets in the preheated oven, bake 4 MINUTES FOR THE SHEET OF pretzels and HUGS, 5-6 minutes for the pretzels and KISSES. Remove from oven and immediately put a M&M on top of each pretzel/chocolate, pressing down gently. Place cookie sheet in freezer or refrigerator until the chocolate is reset.  If this is a gift…wrap either in cellophane bags, a tin or a candy box. (Photo samples by KidActivities. 
The version  with a variety of colored M&M's used Chocolate Kisses candy on square pretzels. The Valentine version used smaller round pretzel shapes with both Hugs and Kisses candy. M&M's were only in shades of pink and red…
THE ABOVE PRETZEL ideas are boundless! Two more ideas following the above directions are pretzels on pretzels… and pretzels with gold fish crackers! Images by KidActivities.net
___________________________
CHOCOLATE DIPPED PRETZEL RODS
Ingredients:
Pretzel Rods
Semisweet chocolate chips
Sprinkles (the sugar sprinkles won't work as well as non-perils or "jimmy" sprinkles) (The pictured also have caramel drizzled on them.)
Line a cookie sheet with parchment paper.
Melt the chocolate chips in either a double boiler or in a mason jar over a pot of simmering water. Remove from heat.
While the chocolate is still hot, dip the rods in the chocolate and place on the cookie sheet.
Using a spoon, scoop out some chocolate and finish covering the rods to ½ of the way down.
Sprinkle with sprinkles. Allow to cool until solid.
Wrap either individually or in bunches in Pretzel Rod bags.
________________
LARGE CHOCOLATE DIPPED PRETZELS
12 oz.) bag chocolate chips
Large pretzels–Not rods (KidActivities likes Snyder Pretzels)
Melt chocolate and dip pretzels in chocolate leaving about 1/2-inch space at top of pretzel to hold. Lay on wax paper and let set.
_______________________
TIP: When I melt chocolate for dipping- I add about a teaspoon to teaspoon and half of shortening such as 'Crisco' to the chocolate. (The amount of shortening depends on the amount of chocolate being melted.) Do not use liquid shortening.
I also microwave in short intervals. If chocolate is heated too long it will become hard. I don't have half power on my microwave-so I use the 'defrost setting'—starting with one minute and adding 25 to 30 seconds as needed. Usually when ready, the chips will still have shape; however, when stirred they melt down. (Barb/KidActivites)
_______
WHITE CHOCOLATE DIPPED PRETZELS
1 lg. bag pretzels
1 lbs. white chocolate
Melt chocolate in microwave as package shows. Dip pretzel in chocolate and place on wax paper; let cool. To change the color of the chocolate, add food coloring before dipping.
PRETZELS FOR VALENTINES DAY or ANY Holiday/Season 
Using the above directions… dip pretzels and then sprinkle with 'jimmies' to match the season. I just made these–and they are ohhh-so good!
The white chocolated pretzels were dipped in Wilton's Vanilla with peppermint  candy circles. The chocolate are melted Nestle semi-sweet chocolate chips. (Image by KidActivities.net)
______________________________
MILK CHOCOLATE AND PEANUT 3″ PRETZELS
Ingredients: 1 pkg. (11 1/2 oz.) milk chocolate morsels, 3 inch square chopped paraffin wax, 3 1/2 to 4 doz. (3 inch) pretzels, Unsalted peanuts, finely chopped, Mixed colored sprinkles…
Line several trays or baking sheets with foil; set aside.
Melt milk chocolate morsels and wax over hot (not boiling) water.
Stir until morsels and wax melt and mixture is smooth. Remove from heat.
Using tongs, dip each pretzel in chocolate; drain excess. Place on foil-lined tray.
Before chocolate sets, sprinkle with choice of peanuts or sprinkles; repeat with remaining pretzels.
If chocolate starts to set, return to heat until melted.
_________________________
ROLO CARAMEL SMALL TWISTED PRETZELS 
Ingredients:
Small pretzels (twisted)
ROLO Chewy Caramels in Milk Chocolate
Pecan halves
1. Heat oven to 350 F. Line cookie sheet with parchment paper or foil.
2. Place one pretzel for each pretzel treat desired on prepared sheet. Top each pretzel with one ROLO Chewy Caramel in Milk Chocolate.
3. Bake 3 to 5 minutes or until caramel piece begins to soften, but not melt. Remove from oven; top with either A pecan half or additional pretzel. Cool completely before storing in airtight container.
__________________________
CHOCOLATE (ALMOND BARK) COVERED PRETZEL RODS 
1 bag of pretzel rods
3 to 4 squares of almond bark-any flavor
Melt chocolate in dry, narrow but deep, microwave-safe dish.
Dip in pretzel rods to coat 3/4. Shake off excess. Lay dipped pretzels on waxed paper. Chill or freeze until set.
___________
BUTTER BRICKLE PRETZEL RODS
1 box pretzel rods
1 pound white chocolate
1 package butter brickle chips
Melt chocolate. Dip two-thirds of each pretzel rod into the chocolate. Roll on butter brickle chips.
________________________
BUTTERSCOTCH PRETZELS  
1 (6 oz.) pkg. butterscotch chips
1 tbsp. cooking oil
3-4 doz. small pretzels
1/4 c. chopped nuts
Melt butterscotch pieces and oil over hot, but not boiling water. Stir until smooth. Remove from heat but keep over water. With tongs, dip each pretzel into butterscotch. Place coated pretzels on wire racks (with foil underneath to catch drippings, if desired). Sprinkle tops of pretzels with chopped nuts. Refrigerate a few minutes until coating is firm.
Makes 3-4 dozen.
__________________
CHOCOLATE CHIP CARAMEL PRETZEL RODS  
1 (14 oz.) pkg. caramels
2 tbsp. water
20 pretzel rods
3 c. miniature semi-sweet chocolate chips
Line cookie sheet with wax paper. Unwrap 1 package of caramels into 4 cup microwave proof measure. Add water. Microwave on high until melted (2 1/2 minutes), stirring every minute. Cool about 10 minutes. Dip 20 pretzel rods into caramels just to coat, leaving 2 inch handle. Roll in 3 cups miniature semi-sweet chocolate chips. Place on wax paper and let stand until firm.
_________________
FROSTING & PRETZELS — 84 Servings)
Heat contents of 1 tub Creamy Deluxe vanilla or chocolate ready-to-spread frosting in 1 qt. saucepan over low heat until melted. Keep frosting over low heat, stirring occasionally; dip small pretzel twists into frosting to coat. Place on waxed paper; let stand until dry, about 8 hours
_________________________
RAINBOW PRETZELS
Ingredients:
3 different colors of Candy Melts (Purchased at candy supply or craft store)
Pretzel rods or shapes
1. Melt the candy.
2. Using a teaspoon, swirl the colors onto the pretzel rods or shapes–until you achieve your desired 'rainbow' result.
3. Sprinkle on rainbow jimmies before the candy melts dry.
Note: Even though the melts will be pastel colors of pink, blue, green or yellow -the flavors will all be vanilla.
________________
HOLIDAY PRETZEL RODS
REINDEER CHOCOLATE COVERED PRETZEL RODS (Pretzel rods with antlers)
Ingredients:
4 ounces chocolate vanilla or butterscotch-flavored almond bark–chopped
12 large pretzel twists
12 pretzel rods
24 miniature semisweet chocolate chips
12 red M&M'schocolate candies (sample uses gree for nose)
1 roll Betty Crocker Fruit by the Foot–Cherry or other flavor chewy fruit snack rolls
12 miniature  M&M's
1. Place candy coating (Almond Bark) in 1-cup microwavable measuring cup. Microwave uncovered on High 30 to 60 seconds, stirring every 15 seconds, until melted.
2. Dip pretzel twists into melted candy coating. Place on waxed paper. Let stand until coating is set.
3. If necessary, re-warm coating. Dip top 2 inches of pretzel rod into melted candy coating; attach pretzel rod to bottom of pretzel twist. Place on waxed paper.
4. To make reindeer…
Press on chocolate chips for eyes and red M & M for nose– using melted candy coating.
Cut scarf from fruit roll; attach to reindeer using candy coating.
Press on green M & M for button using candy coating. Place on waxed paper. Let stand until coating is set.
Store coated pretzel rods loosely covered at room temperature no longer than 2 weeks. Really cute! (Source: Betty Crocker)
_______________________________________
HALLOWEEN (or any Holiday color) PRETZEL RODS
Ingredients:
2 cups white chocolate candy melts or white chocolate chips
Orange colored sugar or sprinkles (for Christmas use red and green)
Chocolate sprinkles
20 pretzel rods
Preparation:
1. Line a baking sheet with waxed paper.
2. Place candy melts or white chocolate chips in a double boiler. Heat over low heat until melted.
3. Spread orange sprinkles and chocolate sprinkles in even layers on two separate shallow plates.
4. Dip pretzel rods into white chocolate, using a spoon to coat the rods well.
5. Press gently into orange or other colored sprinkles. Turn, then press into chocolate sprinkles.
6. Place pretzel rods on prepared baking sheet. Let harden for 20-30 minutes.
Serve immediately or store in an airtight container for up to 1 week.
____________________
GOODIES WITH PRETZELS AS AN INGREDIENT!
CARAMEL CHOCOLATE CLUSTERS WITH PRETZELS
25 soft caramels
1 tbsp. water
1 c. coarsely chopped walnuts
1 c. M&M'S plain chocolate candies
1/2 c. broken thin pretzel sticks
1. In medium saucepan, stir caramels and water over low heat until smooth.
2. Remove from heat and gently stir in nuts, candies and pretzels. d
3. Drop by heaping teaspoonfuls onto greased waxed paper lined cookie sheets. Let stand until firm. (Image by KIdActivities.net)
NOTE: I made these following the above reciepe; however, I think these chewy delights would be excellant using chopped pecans or peanuts instead of the walnuts.
_______________________
PRETZEL CANDY DROPS
1 1/2cup Broken pretzel sticks
1 1/2 cup Nuts; chopped
1 pound White candy chocolate
Break pretzels into thirds, add nuts. Melt chocolate according to package directions. Pour chocolate over pretzels and nuts, stirring to cover all. Drop by spoonfuls onto wax paper on cookie sheet. Refrig about 10 minutes.
_____________
BARB'S WINTER HOLIDAY SPECIAL (Or anytime special)
This one is really good—a tradition in many holiday homes!  (I make this every year!)

1 2/3 cups (11-ounce package) Nestle TOLL HOUSE Butterscotch Morsels AND 1 1/2 cups (9 ounces) Nestle® TOLL HOUSE Semi-Sweet Chocolate Morsels
1/2 cup creamy peanut butter
2 cups pretzel sticks
2 cups dry-roasted peanuts
1 1/3 cups Nestle RAISINETS Milk Chocolate-Covered Raisins
Directions:
1. Butter 13 x 9-inch baking pan.
2. Microwave 1 1/3 cups butterscotch morsels, semi-sweet morsels and peanut butter in large, uncovered, microwave-safe bowl on HIGH (100%) power for 1 minute; STIR. The morsels may retain some of their original shape. If necessary, microwave at additional 10- to 15-second intervals, stirring just until morsels are melted.
3. ADD pretzels, peanuts and Raisinets; stir well to coat. Spread into prepared baking pan.
4. REFRIGERATE for 1 hour or until firm.
5. Break into bite-size pieces or chunks. Note: It can be very difficult to break apart. Last time I made this– my husband used a chisel LOL! Yes-it was clean…Barb

_______________________
CANDY CARAMEL PRETZELS AND POP CORN  
16 c. popped popcorn
2 c. firmly packed brown sugar
1/2 c. dark corn syrup
1/2 tsp. baking soda
2 c. of M&M's, raisins, chocolate mints
5 c. miniature pretzels
1 c. butter
1/2 tsp. salt
1 c. salted peanuts
1. Heat oven to 200 degrees. In large roasting pan combine popcorn and pretzels, set aside.
2. In 2 quart saucepan combine brown sugar, butter, corn syrup and salt. Cook over medium heat, stirring occasionally, until mixture comes to a full boil (12 to 14 minutes).
3. Continue cooking, stirring occasionally until small amount of mixture dropped in ice forms a soft ball or candy thermometer reaches 238 degrees.
4. Remove from heat, stir in baking soda.
5. Pour over popcorn and pretzels, sprinkle peanuts over caramel mixture. Stir until all popcorn is coated.
6. Bake for 20 minutes, stir. Continue baking for 25 minutes. Remove from oven.
7. Stir in candy.
8. Immediately place caramel corn on waxed paper, cool.Break into pieces and store in tightly covered container.
____________________________
RANCH PRETZELS (APPETIZERS)  
1 bag broken up pretzels
1 pkg. Ranch style dressing (dry)
1/2 tsp. lemon pepper
1/2 tsp. dill weed
1/2 tsp. garlic powder or salt
1 c. oil
Heat oven to 350 degrees.
Break pretzels in bite size pieces and put in 9 x 13 inch cake pan. Mix oil, Ranch pack, dill weed, lemon pepper, and garlic together in small bowl.
Pour over pretzels and mix up and put in oven for 15-20 minutes. Stir about three times while baking. Let cool.
___________________
STRAWBERRY PRETZEL JELLO DESSERT (or buffet dish) – – It may seem this is off  topic–but it DOES contain Pretzels and people really like it!
1ST LAYER:
1 sm. bag pretzels, crushed (about 2 TO 2 1/2 cups)
3 tbsp. sugar
3/4 c. melted butter
Press into 9″x13″ pan. Bake at 350 degrees for 10 minutes. Cool.
2ND LAYER:
1 (8 oz.) pkg. softened cream cheese
1 c. sugar
Beat cream cheese and sugar, mix in 1 (8 oz.) container Cool Whip. Spread over cooled crust.
3RD LAYER:
Mix this layer together first and then set aside to thicken.
Dissolve 1 large box strawberry Jello in 2 cups boiling water. Add diced frozen strawberries, 12 ounce bag or 2 cups cut up fresh. Gently pour over 2nd layer. Refrigerate to set.
________________
BLUEBERRY PRETZEL DELIGHT   
3 tbsp. sugar
2 c. crushed pretzels
3/4 c. butter, melted
1 (8 oz.) cream cheese
1/2 c. confectioners' sugar
1 (8 oz.) Cool Whip
1 can blueberry pie filling
1 lg. black raspberry Jello
2 1/2 c. boiling water
Mix together the sugar, pretzels and butter. Press it into the bottom of a 9 x 13 pan. Bake 15 minutes at 350 degrees. Cool.
Cream softened cheese, add the confectioners' sugar, beat. Fold in Cool Whip.
Spread it over the baked cooked layer.
Make Jello, add 2 1/2 cup boiling water to gelatin. Cool until syrupy, add can of blueberry filling.
Chill until slightly thickened. Spread over cream cheese layer and chill. Serves 16 to 20.
________________________
CHERRY AND PRETZEL DESSERT 
2 c. coarsely crushed pretzels (save out 1/2 for topping)
1 c. melted butter
3/4 c. sugar
Mix together and press in bottom of 9 x 13 inch pan (chill).
1/2 c. powdered sugar
8 oz. cream cheese (softened)
Mix together and spread over crust:
1 can cherry pie filling
Pour over cream cheese. Top with Cool Whip and sprinkle 1/2 cup pretzels on top.
__________________________
BUTTER PRETZEL COOKIES   
2 c. sifted flour
1/2 c. sugar
1/4 tsp. salt
1 c. butter
2 1/2 tsp. vanilla
2 tbsp. milk
2 c. coarsely crushed pretzels (about 36 thin twisted pretzels)
Confectioners' sugar
1. Preheat oven to 325 degrees.
2. Sift flour, sugar, and salt together.
3. Work in the butter and vanilla, then add milk and pretzels.
4. Shape into balls about 1 inch in diameter.
5. Place on greased cookie sheets. Bake in oven for about 25 minutes. 6. While still warm, roll cookies in confectioners' sugar. Makes about 5 dozen.
________
BACON PRETZEL RODS (Hmmm-let me know what you think about this one!)  
1 lb. bacon
1 pkg. pretzel rods
Cut each bacon strip in half lengthwise.
Wrap bacon around pretzel rod in a spiral fashion.
Microwave on bacon rack until bacon is cooked, about 6 minutes for 8 pretzels.
These can also be broiled in the oven on a cookie sheet until bacon is done.
Optional: Sprinkle with garlic salt or Worcestershire sauce.
______________
WRAPPING PRETZELS FOR GIFTS
…Image courtesy of Bigsislittlesis
Any of the above Pretzel Recipes are great for gifts… but also fun to make with kids — for the kids and for yourself!!!  If they are for gifts–the following may give you wrapping ideas…
1. Purchase 'PRETZEL BAGS'.  Place 1 or more pretzels in a bags–dipped side up. Wrap prettily with ribbon and bow and you're done!
2. SMALL VASE
To make a "bouquet" of pretzels, stand pretzels dipped side up and wrap the tops individually in cellophane. Place them in a small vase and wrap it with a bow.
3. Take a TWO QUART JAR and fill the bottom of the jar a few inches with basket filler, shredded cellophane, or scrunched tissue paper. Put a pretty ribbon/bow or raffia around the jar. Stand the pretzels 'dipped ends up' in the jar.
FABRIC ON ABOVE JAR: You can also take some pretty fabric (or tissue paper); place the jar bottom in the middle of fabric/tisue paper;  pull the paper up with the material or paper flowing over the jar top. Secure the fabric or tissue paper at the jar lip with a ribbon!
4. You can do the same as the above using  SMALL CLAY POTS.
5. Place a few Rods that have been wrapped in individual cellophane pretzel bags and place in a cup…
6. Most everyone loves dipped pretzel Rods—if you are giving another wrapped gift—Use a rod as a decoration!  Place a cellophane  and ribbon wrapped rod on top of the wrapped package.
____________________
You may also like some of the ideas in…
SaveSave