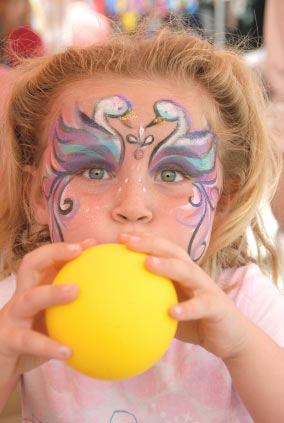 Fun Circus Games and Activities
Need some fun circa games and activities for your big event? Look no further. Here you will find an immense amount of circus themed ideas to make your event a success. Circus games, music, carnival food ideas, and much much more.
This is a great page  filled with games, snacks, art,  crafts, and fun ideas for a Circus or Carnival Theme. Activities can be planned for a theme that lasts a day, week or for a family event! Ideas for all ages and all budgets…
How to Create a Circus Themed Event or Party
BALLOONS
•Clusters – groups of four or five tied together work well
•Garlands – string clusters together and hang from the ceiling
•Shapes – create any shape with easy to bend aluminum rods
•Centerpieces – anchor on the table with 2 cups of sand in a paper sack
•Rainbow Arch without a frame:  Make a rainbow arch grand entrance. Use helium balloons tied on a string or ribbon and anchor each end with a heavy weight
_______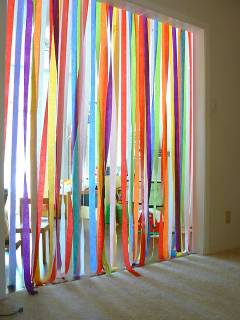 CREPE PAPER
Use twisted crepe paper looped from the ceiling or corner to corner…
Hang streams of crepe paper from the light fixtures or doorways… Streamer doorway is  by Katey Magill at HavingFunatHome…
_________
Make lots of colorful PAPER CHAINS to hang and swag from the ceiling and windows!
____________
GET AN INSIDE CIRCUS TENT FEEL!
If your party is in a room with a normal height ceiling, secure  bed sheets to the ceiling at each corner of the room. Let the middle drop slightly as you swag them towards the room center.
________
Circus POSTERS
Hang pictures and posters of clowns, circus performers, cartoon and circus animals and cut-outs of food such as popcorn, ice-cream and cotton candy.
You can make circus posters using pages from any circus coloring book. Enlarge the pages at an office supply store, and then color them  with craft paint or watercolor crayons; these cover large areas easily.
Also create circus signs with craft paint and poster board. Include wording such as: "Welcome to the Greatest Show on Earth!", "Under the Big Top!", or "AMAZING!" Hang the posters on the walls throughout the circus space.
__________
DECORATE WITH  TWIRLERS! A fun craft and nice decoration (and craft)
to hang from ceiling, a window or tree!  Materials: Plastic coffee can lids (Lids come in a variety of colors), marker, scissors, string
To make one, use a nail to poke a hole in the center of a plastic coffee can lid.
With a marker, draw a spiral that starts 3/8 inch from the hole (it keeps going around itself in circular pattern) and gradually extends to the rim—then cut along the line with scissors.
Knot an end of a piece of string, thread the other end up through the hole in the center, and the twirler is ready to hang up and spin.
To spin, grasp each one at the bottom, twirl it around and around until the string is wound tight, let go and enjoy.  (Source: FamilyFun-but have also seen on CafeMom)
___________
Make a TICKET BOOTH This can be done using a large cardboard box; use paint or markers to decorate the booth.
_________
Circus Themed Music
Be sure to play circus/carnival music–especially as the event starts! Start out with it louder and subdue to background music as time progresses.
Play songs such as: Be a Clown, That's Entertainment, No Business like Show Business, Thunder and Blazes or Entry of the Gladiators. Some polkas and marches also work.
_______________
Fun Circus Themed Games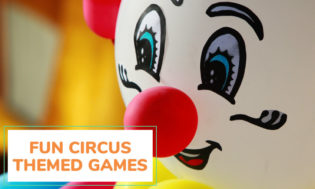 1.FROG JUMPING GAME
1. Paint the bottom of a large cardboard box (with low sides) blue. The blue is the water.
2. Put some small green paper plates on the 'water'. These are lily pads.
3. Purchase small toy frogs and have children toss the frogs onto the 'lily-pads'.
Optional: Put numbers on the pads and add the points up as the frogs land on the pads.
________________
2. THREE LEGGED RACE
It's best to play on a grassy area or even a sandy beach.
You'll need:
Old rags or stockings
Cut rags in wide strips – 3 feet long.
Use old stockings; they are softer and have some give to them. Pair up into partners and stand side by side.
Tie one persons left leg to the other player's right, or vise versa. Practice walking together until you get a rhythm going and then try hopping or running. This can be played as a race or just for active fun.
An obstacle course can be created as well. For a real challenge if it is warm -try adding and avoiding an oscillating sprinkler. Be sure to wear swim suits!
The kids won't be able to make it without getting wet!
________
3. CLOWN COSTUME RELAY RACE
Divide players into equal teams.
For each team have a box containing a complete costume, each costume should have the same number of pieces (4 or 5 is fun – Shirt pants, big shoes, huge tie, clown nose, wig or mask, etc.)Anything silly that a clown might wear!
In turn each player must put on the costume and run to a certain point where they take the costumes off and put them back in the box.
They run back to start where the next player repeats the process until one team finishes and wins.
__________
4. TIGHT ROPE WALKING
Do you have a balance beam? If not-using bright colors paint a 2″x4″ piece of lumber. Once dry you have your Tight Rope!
Children can pretend placing one foot in front of the other. Add some fun with props. Can they juglle bean bags while walking or balance a book on their heads?!
______________
PARACHUTE GAMES
5. HOT DOGS
1. Give each player one of three names associated with hot dogs-such as: hot dog, relish, mustard.
2. To start play-call out one 'hot dog' word. All players with that name run around the parachute.
3. Call Mushroom (see PARACHUTE GAMES for more info–it's the act of filling parachute with air) and also an action such as skip or shake hands.
4. Players run under the parachute performing the called out action–while returning to their places.
_________
6. MERRY-GO-ROUND
Turn the body so that the chute is held with only one hand.
Walk, hop, jump, or skip around holding the chute.
It looks like a merry-go-round!
_________
7. CIRCUS TENT
1. With the parachute lowered, players raise their arms (and the chute) as high as possible.
2. Once the chute is high, on a signal-all take  3-4 big steps towards the center.
3. Still holding the chute tightly, children sit down at the edge of the chute-under what should appear to be a cathedral
___________
Raise the 'tent' as you sing…
'PUTTING UP THE BIG TOP (ABC tune)
Everybody circle round,
Lift the canvas off the ground,
Pull and pull and watch it rise,
Big Top grows before our eyes.
Everybody circle round,
Lift the canvas off the ground.
____________
OTHER FUN CIRCUS GAMES
8. POPCORN RELAY RACE
– All it takes are two big bowls of popcorn and some small cups per team. Have kids run and get a cupful of popcorn and transfer it to the bowl across the room. The first team finished wins. Because of potential popcorn mess, this would be good played outside!
Click here for KidActivities great POPCORN THEME. Popcorn and a  circus or carnival go together!
___________
9. CUPCAKE, COOKIE, OR PIE WALK
Players walk in a circle of numbered squares while music plays.
When the music stops, the facilitator chooses the winning numbers from a hat.
Players standing on a winning number get a prize.
TIP: Check with local codes if home-made goods can be used, otherwise use prizes like Hostess Cupcakes, Twinkies, Fruit Pies, or packaged cookies. Often local grocery stores will donate goods, or check with local fast-food outlets for gift certificates for ice cream cones, cookies, etc.
______________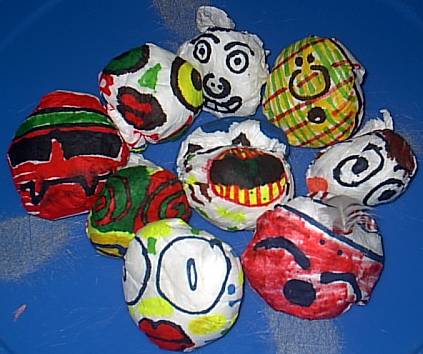 10. BEAN BAG TOSS #1
1. Create a beanbag toss game by using a large sheet of foam board.
2. Decorate it as desired and cut some circles out that are large enough for bean bags to go through.
3. Support the board by propping something behind it.  It could also be propped by taping a hula-hoop to the back-side top and stretching it out at the bottom to stand the board game.
4. Purchase  bean bags or make your own from fabric and dried beans.
Also see how to make paper napkin beanbags…(In relay games at page bottom)  A fun and functional craft project!
__________
11. BEAN BAG TOSS #2– FEEDING THE CLOWN
This is a great activity for kids of all ages! Purchase or make bean bags suitable for tossing and draw a large picture of a clown on a piece of cardboard with its mouth wide open.
Draw and cut out the mouth so you have a hole large enough to toss the bean bags through.
Place the box about ten feet away (adjust distance for the age of your children) and give each child a chance to toss the bean bags into the clowns mouth!
__________
12. LION TAMER
Set up a hula hoop so it stands up securely. The player tries to throw a small stuffed  lion or tiger (or bean bag) through the hoop. Decorate the hoop with colored paper to look like flames.
_____________
13. BALLOON STOMP (Win a prize game)
Tuck a prize slip inside a small balloon and then inflate. You can write the name of the prize on the slip or just a number corresponding to a prize. Have lots of prize balloons ready, store in plastic bags. Player chooses a balloon and "stomps" it to pop it and see what their prize will be.
____________
14. KNOCKDOWN THE CANS (Win a prize)
Stack cans in a pyramid. Each player gets to throw one to three balls at the cans. You can use tennis balls, rubber baseballs, or other types of balls for this game. You can decide if they must knock down all or just a few cans to win a prize
__________
15. GUMMY WORM HUNT CONTEST -This one is fun!
Give each child a plate with three gummy worms covered in whipped cream, and a cup.
The first child to find the gummy worms with their mouths and get them into their cup is the winner! No Hands used!!!
IDEA: This can also be adapted to putting whipped cream on a small paper plate. Under the whipped cream put a few m&m's or a maraschino cherry.  The children must find the hidden goodies  with their mouths. The first to eat the m&m's or cherry is the winner! Of course, no hands used…Be sure to have your camera ready-a good photo op!
___________
16. JELL-O EATING CONTEST
To prepare, make one small bowl of Jell-O for each child (plus a few extra).
Line the bowls along the ground outside if the weather permits.
If playing inside, lay a tablecloth or other mess protection under the bowls for easier cleanup.
To play, the kids place their hands on the ground beside their bowls and must keep them there throughout the game. When the command is given to start, all players begin eating their bowl of gelatin. The first one to clean his or her bow wins! Optional: Add a dollop of whipped cream to add a little mess!
______________
17. FRISBEE OR BEAN BAG THROW
Throw a small Frisbee or bean bag at a large picture of a circus animal (lion, elephant, tiger, dog, seal, etc.) on the ground. The closest is the winner.
_____________
18. BOWLING
You can use real bowling pins, a kid's bowling set, or empty 2 liter pop bottles weighed with a little sand or water…
___________
19. BASEBALL TOSS
Make a target out of plywood or foam core (available at art supply stores) for baseballs. Paint the board with a fun sports design and cut out holes large enough for the baseballs to go through. Each player gets to throw three balls at the target
_____________
20. BASKETBALL TOSS
You can use a standard size basketball goal and kid-sized goals. Players get three tries to make a basket…
____________
21. CARTWHEELS
How many cartwheels in a row can each participant do? Have children challenge themselves-by beating their highest number! (Best to do on soft surfaces)
________
22. CIRCUS PARADE (For young children)
1. Children form a circle. One person is chosen to be the leader.
2. The leader calls the name of a child and names an animal or circus performer.
3. The child does an imitation on the movements of the animal/person named.
4. AFTER THE CHARADES, all players form a line for a "Circus Parade" led by the leader.
The group moves around the room, each imitating the animal/person he/she represents… Variations: Play a round with sound imitations only—or a combination of sounds and movements…
23. CIRCUS CHARACTERS
Ring Master, Tight Rope Walker, Jester, Food vendors, Elephant, Tiger, Dog, Seal, Lion, Lion Tamer, Fire Eater, Clown, etc.
______________
FUN CARNIVAL ACTIVITIES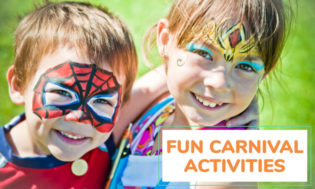 • Paint clown faces…Kids love to have their faces painted! Keep the designs simple and provide a limited number of choices so you can move lots of kids through. You can make your own face paint  (At page bottom of Paint Recipes) or purchase it  from a party supplier or costume shop
• Have kids come dressed as clowns! FOR A CLOWN COSTUME wear over sized clothes, add a wig or hat, wide tie and face paint
• Teach and practice mime
• Tell circus, carnival or circus animal themed jokes (Click here for Joke pages)
• Do caricatures
• Have someone dress like a clown and teach/make animal balloons
• DANCING
Line dancing and square dancing are fun for everyone.
Keep the dances as simple as possible so no one feels intimidated. If budget allows, hire a professional caller or DJ if you can't find an experienced volunteer.
• FORTUNE TELLER
Have your principal or a popular teacher dress up as a fortune teller. Decorate their office as their booth. Both the fortune teller and the kids will enjoy the 'game'. Give fortune cookies as a treat. You can get cookies with messages specially designed for kids if you plan ahead.
• FUNNY PHOTOS
Paint foam core or plywood with funny bodies (circus performers, aliens, farmers, etc.) cut out holes for faces. Take Polaroid or digital pictures. Or…
You could  someone dress as a clown and pose with the kids and parents!
• TATTOO PARLOR
Temporary tattoos are inexpensive and quick to apply. You can set it up next to the face painting…
As an activity you can also make tattoos…
EASY-OFF TATOOS
Materials:
1 Tbs. cold cream
2 Tbs. cornstarch
1 Tbs. water
Food coloring
Clean paint brush
Mix all ingredients together, stirring to mix well. Use a thin paintbrush to apply the tattoo.
• GUESS HOW MANY
Fill a large clear jar with jelly beans or animal crackers, or ______.  Players write their guess as to how many objects are in the jar on a slip of paper. At the end of the carnival or at a set time, announce the winner and award a  prize (Or the jar if it's filled with goodies!)
• JAIL
Decorate an area as the "jail" and have volunteers dress as police officers or sheriffs.  A person is arrested when a "friend" pays one ticket to have them jailed. They then have to pay one ticket to get out. This game works better with older children and teens.
• KARAOKE
Use your own karaoke machine or rent a professional set up. Lots of fun for both kids and parents.
____________
• For OTHER RACES, RELAYS, BEAN BAG, EGG AND BALLOON GAMES
CIRCUS THEMED SNACKS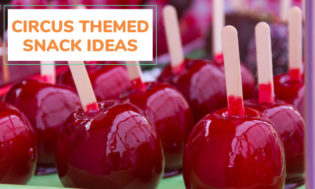 1. Make RICE CAKE OR SUGAR COOKIE BALLOONS!
Decorate either large or  smaller sized  rice cakes or round cookie  with frosting. Add a licorice string.
The 'Balloons, with the clown bear  are made using  large rice cakes. The 'balloon' on the left is blue tinted frosting—the 'balloon' on the right is red tinted cream cheese.
When the licorice string is applied, it will stay on the balloon if the frosting or cream cheese is put 'over' the string near the base of the balloon. (Image by KidActivities.net)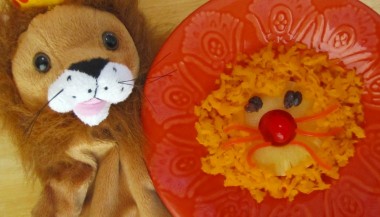 2. LION FACE
Place a pineapple slice on a paper plate.
Spread  shredded carrots around the pineapple for the lion's mane.
Add two raisins for each eye and cherry nose! Image by KidActivities.net
3. EASY SNACKS
BAGS OF POPCORN

PEANUTS IN SHELLS

LEMONADE

SNOW CONES

ANIMAL CRACKERS

HOT DOGS

CORN DOGS

COTTON CANDY

NACHOS AND CHIPS…
4. CIRCUS SNACK MIX
Mix animal crackers, m&m's, raisins and popcorn. Add peanuts if there are no allergies.
5. ICE-CREAM CLOWNS
For the head, place a scoop of ice cream on a plate–or in a paper cupcake liner as in the drawing. For the clown's hat, place an ice cream cone upside down at the top of the ice cream face.
Have children decorate their clown faces with colorful m&m's. Use red icing gel for the mouth.
________
6. Make JELL-O JIGGLERS using animal shaped cookie cutters
_________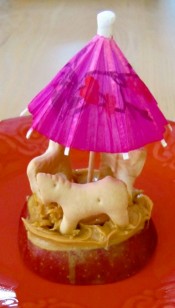 7. APPLE MERRY-GO-ROUND
Ingredients:
Apples, Animal crackers, Peanut butter or Nutella  (Strawberry or food colored Cream cheese if allergies)
Wash and core the apples.
Slice apples into 1/4″ to 1/2″  circles.
Spread the apple rings with peanut butter. Stand the animal crackers up around the apple ring to look like a merry-go-round. KIdActivities added a paper umbrella in the center to more resemble a carousel! Because the peanut butter will keep the apples from yellowing–the 'Merry-Go-Round' can be admired a bit before eating! (Image by KidActivities.net)
CIRCUS THEMED ARTS AND CRAFTS
1. ANIMAL CRACKER MAGNETS
Use plain regular animal crackers. Have children color them with regular markers or paint. You can use clear nail polish and paint over what they have colored after it is dry. Then use a magnet small enough and glue it on the back with a hot gun or other strong glue.… instant magnets you can put on your fridge.
NOTE: KidActivities used tempera paint to color the cookies. Clear nail polish was applied as a glaze when they were dry.( It took about an hour for the animal crackers to dry from the paint.) One cookie/cracker was left natural with only a coating of clear nail polish… they all actually all had a 'glass-like' appearance.
The magnetic tape– that is cut off from a roll –is what KidActivities put on the back of the magnets. Because the animal crackers are so small–be sure to get a high-quality magnet. For K-A…the magnets stayed on the whiteboard permanently–much better than the refrigerator.
Be sure to let the paint and polish dry well before applying the magnet or magnetic tape. (Image by KidActivities.net)
____
2. ANIMAL CRACKER PIN
To make this craft project you will need animal crackers, paint, a flat backed pin, clear nail polish or varnish, and some craft glue.
First, paint the animal crackers. After they dry, polish or varnish in a well ventilated area and let them dry. Next glue it to a pin. An option is to only polish/varnish the animal crackers as the one up above– in the image of the magnetic board.
NOTE: Be sure to let the animal crackers dry well before glueing on the pin backs. (Image by KidActivities.net)
_________
3. ANIMAL CRACKER SCENE
Materials:
Animal crackers
Craft glue
Crayons or other materials
Colorful paper.
On paper draw, color, or paint a circus scene such as  'Under the Big Top' or 'The Background for a Parade'—Glue on the animal crackers to complete the scene.
____________
4. PAINT WITH BALLOONS
________________
5. DECORATE BAGS FOR POPCORN
Materials:
Lunch Sized Paper Bags, Crayons, Paint, Markers, Stickers, etc.
Popcorn
Put out the bags and decorating materials. Instruct the children to decorate their bags in a bright 'circus-like' manner and write the word 'Popcorn' on it.  When the bags are complete–fill them with popcorn!
_____________
6. DRAWING CLOWNS, PAINTING CLOWNS, CLOWN COLLAGE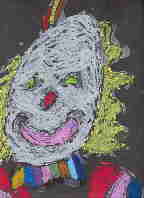 SAMPLE OF GRADE 1 CLOWN…
Materials: 9×12″ black paper, white glue, oil pastels
1. Draw the clowns on black paper with white school glue
2. Color with oil pastels; blend primary colors to create own secondary colors.
Art  by a first grade student of Art teacher Michal Austin.
__________
GRADE 2 CLOWNS
Materials: 9×12″ black paper, 4 1/2″x6″ tagboard, sharpie, glue, markers, scissors, oil pastels, wiggle eyes,pom poms
1. Begin by drawing clowns on the tagboard with a sharpie.
2. Glue on wiggle eyes and pom pom.
3. Color with markers.
4. Cut out. Draw patterns on the black paper with oil pastels.
5. Attach clowns to black paper…Art  by a Grade 2 students of At teacher Michal Austin.
_________________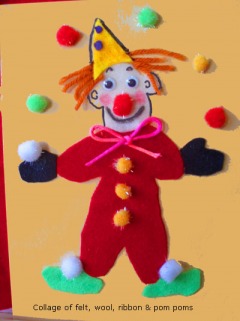 7. ART TABLE COLLAGE
Put out some felt, scraps of fabric, yarn, ribbon, google eys, and pom poms — see what the kids come up with! Maybe something like this?! (I've had this sample in my files awhile–but misplaced the 'source'. If you can put a name with this collage, please send info?  It's cute and I'd like to link credit to its creator! Barb)
____________________
8. LIFE SIZE CLOWNS–Materials
Large sheets of paper (roll paper), markers, crayons, decorations as desired.
Form partners between the children. Have them take turns tracing each others bodies onto the paper. (If children are young an adult may need to trace) Children then color and decorate their tracing as a clown. Cute all lined up around the room or down a hallway!
______________
9. MAKE A CLOWN BANK
Materials: Paper towel tube, cardboard, construction paper, yarn, poster board
1. Tape or glue a round piece of cardboard to each end of a paper towel tube.
2. Cut a slot for the clown's mouth, Make it large enough for coins to go through.
3. Paint the tube white, Glue on yarn hair and features cut from the paper.
__________
FALL HARVEST CARNIVAL GAMES…
The following are several games that will work for a 'Harvest Celebration'. If you are looking for ideas to go with a Harvest Theme–there may be some ideas in the 'Farm and Harvest Category' that will work for you!
1. PUMPKIN SEED TOSS
Number and line up 5 small baskets or crates; have children stand 3 feet in front of the first crate and toss seeds into the crates in sequence. Small prizes can be given for each of the crates they get their seeds in.
_____________
2. CORN HUSKING RACE
Give each child 4 ears of unhusked corn and race to see who can have all of their corn husked first.
______________
3. PUMPKIN WALK
This is like a regular cake walk except instead of numbers, place pictures of several fall items on the floor for the children to walk on and call out the names of the items instead of numbers. Use fall themed music such as "Turkey in the Straw" or "Jimmy Cracked Corn".
______________
4. FLOATING PUMPKINS
Number the bottom of the small gourds that look like miniature pumpkins and float them in water for the children to choose one for small prizes.
____________
5. MUSICAL BALES
Play musical chairs with bales of straw instead of chairs. A scarecrow in the center makes a fun decoration for this game.
______________
6. TURKEY IN THE STRAW
Fill a wading pool with straw and hide a small picture of a turkey in it for groups to dig through to see who can find it first.
______________
7. THE SQUIRREL GAME –
Let the kids pretend they are squirrels gathering nuts for the winter. Give each a small paper bag, then toss out several unshelled nuts onto the floor and let the kids race to see who can collect the most. Older and younger children should be separated for this game.
Another way to play this game, (if you have a way to corral a large quantity of leaves) is to hide nuts beneath a large pile of leaves and give the kids a set amount of time to find as many nuts as they can.
_____________
8. PUMPKIN RACE
Set up starting and finish lines and have the children race to see who can get their pumpkin over the finish line first using only their feet to slide the pumpkins along. No kicking the pumpkins like footballs…
____________
9. PICKING APPLES
A regular sucker pull can become "Apple Picking." Make a large apple tree with lots of red apples out of construction paper; then connect the tree to the pegboard. Mark the tips of the handles on only a few caramel apple suckers then poke them through the pegboard holes; poke several unmarked suckers around the marked suckers; then let the kids pick an apple. Have prizes ready for those who get the marked suckers, but everyone gets to keep the sucker they pulled.
_____________
10. HARVEST DASH (OUTSIDE GAME)
Set up a fall relay with the kids. Fill large containers with sunflower seed-bird feed. (Popcorn would also work) Have smaller, clear containers at the opposite end.
Kids fill up a cup with seed and race to dump it in the empty container. They sprint back to the start and hand-off the cup to the teammates. Goal of the race is to be the first team to fill up the small container with the seeds.
As an extra challenge, give the kids an over-sized soup ladle instead of a cup. Don't worry if the seeds spill; that's part of the fun! The birds will easily find them later.
Try a dollar store for inexpensive clear containers. They usually stock plastic ones in apple or pumpkin shapes in the fall.
Popcorn or candy corn also can be used in place of seed.
_______________
11. HARVEST BINGO
Make autumn bingo cards using different types of dried seeds and beans. Check out your grocery store or natural foods co-op for plenty of unusual choices. First child to get bingo wins!
Fall/Autumn Game Category …It has lots of ideas with pumpkins, corn and gourds that will work with a Harvest Theme…Autumn Pumpkin Theme Here…
__________________________
SaveSave