Halloween Treats for School
If you need halloween treats for school, look no further. These easy 87 halloween themed snack ideas are sure to be spooktacular.
EDIBLE CREEPY CRAWLIES
ANTS IN THE SAND
Crushed graham crackers
Chocolate sprinkles
Snack sized re-sealable plastic bags
To crush graham crackers, place inside a large (gallon size) re-sealable plastic bag. Using a rolling pin, crunch crackers through the bag by rolling back and forth over them until they are all in crumb form.
Fill snack sized re-sealable bags halfway with graham cracker crumbs. Add a small handful of chocolate sprinkles to the bags and seal.
---
2. COOKIE SPIDERS
Black or chocolate licorice twists
Fudge sandwich cookies
Chocolate frosting
Red cinnamon candies or chocolate chips or raisins for eyes
Cut licorice in half.
Remove the top of each sandwich cookie; press 8 licorice pieces into the fudge center to resemble spider legs.
Spread a little chocolate frosting over the licorice; replace cookie tops.
Frost the tops of the spider cookies with frosting. Place red cinnamon candies on top for eyes.
---
3. MUENSTER CHEESE BEETLES
Crunchy Chow Mein noodles
Muenster cheese (or other soft block cheese)
Cut the cheese into 2″ x 1″ rectangular blocks. Gently insert three Chow Mein noodles on each side of the cheese blocks for legs. Using two broken Chow Mein noodles, insert into the "head" as antennae.
Tip: Use softer cheese such as gouda, Havarti, Monterey jack, or mozzarella so cheese does not crumble Chow Mein noodle are inserted.
---
4. MARSHMALLOW SPIDERS
You'll need a package of large marshmallows, pretzel sticks or chow mein noodles and mini M & M's or raisins. (KA image shows both ways)
Have the kids push four pretzel sticks or noodles into each side of the marshmallow as the spider's legs. Use another stick to poke two eye holes in the marshmallow; insert M&M's or raisins into place as the spider's eyes.
---
5. CRACKER SPIDERS
— with peanut butter or cheese spread!
These arachnid treats are easy to make and they look positively lifelike crawling across the snack plate.
For each:
2 round crackers
2 teaspoons smooth peanut butter (or cheese spread if allergies)
8 small pretzel sticks
2 raisins
With the peanut butter, make a cracker sandwich. Insert eight pretzel "legs" into the filling. With a dab of peanut butter, set two raisin "eyes" on top. Makes 1.
You can also make the spider snacks more substantial by using small round bread slices (They are usually rye or pumpernickle and called party bread slices) Follow the above directions and add olives, chocolate chips or raisins for eyes.
---
6. THE ABOVE ARE ALSO GREAT WITH NUTELLA
Ingredients:
8 Ritz crackers
4-5 Tbsp. chocolate hazelnut spread, such as Nutella
Thin pretzel sticks for decorating
Raisins or white chocolate chips for decorating
1. Spread approximately one tablespoon of the chocolate hazelnut spread (Nutella) on four Ritz crackers. Top each with another Ritz cracker to make a sandwich.
2. Insert pretzel sticks on the sides of each cracker to make a spider's legs. 3. Make the spider's eyes by dabbing a bit of Nutella on the back of two raisins or white chocolate chips and placing them on top of the cracker sandwich.
4. Serve and eat!
Makes 4 crunchy spiders
---
7. CREEPY CRAWLERS
1 lg. pkg. butterscotch chips
1 lg. pkg. milk chocolate chips
1/4 c. butter
1 (5 oz.) can chow mein noodles
1 to 2 tbsp. water
Melt chips and butter in double boiler or glass bowl in microwave. Stir to mix. Gradually add small amounts of water to thicken mixture. Stir in noodles and mix to coat in chocolate mixture. Drop by spoonfuls onto waxed paper.
---
8. WORMY ICE CUBES
Cup gummy worms or other creepy crawler candy
2 ice cube trays
1 quart fruit punch
Arrange gummy worms in ice cube trays, 1 worm per cube. Fill tray with fruit punch as you normally would water. Freeze until solid, 8 hours or overnight. Place into punch bowl/drinks minutes before serving.
---
9. POND SLUDGE (Green Jell-O)
Fill clear plastic glasses with green Jello. When the Jello has almost set, add gummy worms, making sure a few of them are escaping over the rim of the glass.
If desired, when the Jello has set, add a dollop of pond mud (chocolate pudding).
---
10. SLIME JELL-O 
Ingredients:
Lime Gelatin, Gummy Worm Candy, Large clear glass bowl or baking dish
Make Jell-o following package directions.
Pour into baking dish or bowl.
Once the gelatin has begun to set (about 1.5 hours) add gummy worms.
---
11. JELL-O JIGGLER EYEBALLS
Need:
Ice Cube Trays, White Grape Gelatin, Blueberries or Dark Grapes
Follow the directions to make jigglers from the gelatin.
Fill ice-cube tray containers 3/4 full.
Once they beginto set, add blueberries or grapes.
Following package directions, use warm water to remove the jigglers from the tray.
Place in a clear serving bowl or on a serving dish.
---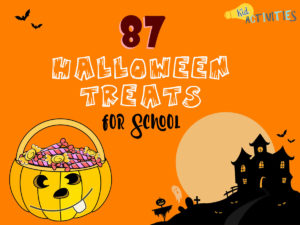 HEARTIER SNACKS or with BREAD/CRACKER, or TORTILLA BASE
12. MUMMY DOGS
6 hot dogs
1 package ready to bake pastry in a tin
Parmesan cheese
Directions:
Wrap each hot dog in a pastry sheet and lightly brush with melted butter. Sprinkle parmesan cheese over the top.
Place "mummy dogs" on a lightly greased baking tray and bake at 350F approximately 15 minutes or until golden and baked through. You can add pepper corns or dots of mustard for eyes.
Serve  with "blood" (ketchup
---
13. WORMS ON A BUN
Try this Halloween twist of the traditional hot dog and bun.
Ingredients:
Hot dogs
Hamburger rolls
Ketchup
Directions:
Cut the hot dogs into thin slices and score the edges (about three cuts per slice).
Boil or microwave until the slices curl like wiggly worms. Serve three or four worms to a bun. For an extra-icky touch, add a few squiggles of ketchup.
Source: FamilyFun.com
---
14. STRING CHEESE BROOMSTICKS (A pretty healthy snack that is also fun!)
Ingredients:
String Cheese
Pretzel Rods
Shred the  string cheese into long strips.
Place/Press them around the end of a pretzel rod.
Tie a piece of string licorice around it to look like a broom. (I've also seen these using the top of green as a tie)
---
15. BLOODY STRING CHEESE FINGERS
Ingredients: Mozzarella string cheese, Green bell pepper and/or slivered almonds, Cream cheese
Optional: Use red gel, catsup or hot sauce to make the fingers appear bloody.
1. Using a small knife cut each string in half.
2. To make a place for the finger nail, About 1/4 from the end of cheese finger, carve a small indentation.
3. Where the knuckle would be, cut three finger joint marks. Also  above the fingernail area, cut another two creases.
4. Cut green pepper strips into nail sized pieces. You'll need to remove some of the pepper pulp so that the "nail" will lie flat.
5. With a dab if cream cheese-adhere the nails to the finger.
NOTE: I found it easier to place the "almond slice nail" putting a bit of cream cheese on the finger. The almond slices are fragile and break easily.
If desired, use a bit of red gel or catsup to bloody the finger. (Image by KidActivities.net)
---
16. BLOOD AND GUTS WITH EYEBALLS
1 package green spinach pasta (elbow macaroni is best)
1 jar spaghetti sauce
1 jar stuffed Spanish olives
Boil pasta according to package instructions. Heat spaghetti sauce. Cut olives in half to make "eyeballs" and place on top of the "blood and guts."
---
16. PUMPKIN FACES
Toasted English muffins
Orange spreadable cheese or cream cheese with added orange food coloring (If mixing yellow and red coloring–usuall 2 drops of yellow to 1 of red works)
Raisins (M&M's and Candy Corn optional)
Have children spread the cheese or colored cream cheese on the English muffin. Arrange a variety of raisins, M&M's and candy corn to make the eyes, nose and mouth.
Actually the raisins tasted the best when KA tested…however your children many like a variety of goodies to create their faces. (Image by KidActivities.net)
---
17. JACK-O-LANTERN PIZZAS
Ingredients:
English muffin halves
Pesto or Marinara Sauce
Grated Cheddar cheese
Sliced Black Olives
Lightly spread sauce on the English Muffin halves.
Cover with grated cheese. Make a jack-o-lantern face
with olives. Place mini-pizzas on a cookie sheet and
broil in oven until the cheese is melted.
This is a great kid activity as well as a menu food
---
18. GHOST SANDWICHES
White sliced bread
Children's favorite sandwich ingredients
A ghost-shaped cookie cutter (or a cardboard template to cut around)
Make up favorite sandwiches and cut out with the ghost-shaped cookie cutter. You can add eyes with chocolate chips, olives, or whatever else is appropriate.
19. GHOST SANDWICHES #2
Ingredients:
Bread, Peanut Butter or Whipped Marshmallow Creme, Ghost Cookie Cutter, Raisins
Make the sandwiches using peanut butter, marshmallow creme-or both.
Use the cookie cutter on finished sandwiches to create ghost shaped sandwiches. Add raisins for eyes
---
20. BISCUIT GHOSTS
Ingredients needed:
One or Two cans of Refrigerator Biscuits
Cinnamon & Sugar Mixed together
Butter or Margarine
Have children separate and shape each biscuit like a ghost…brush on melted butter…sprinkle with sugar and cinnamon and bake as directed. Simple, fun and tasty.
---
21. HALLOWEEN CHEESY 'TORTILLA TREATS'
Flour tortillas
Canola or other oil
Cheddar, Parmesan or other favorite cheese
Directions:
Start with some flour tortillas and spray a little oil on them. Sprinkle with grated Parmesan or other cheese. Then cut fun shapes out of the tortillas with a bat, ghost or pumpkin cookie cutter. Put the shapes into the oven for a crispy treat
---
22. PUMPKIN SHAPED TORTILLA CRISPS 

1. TO MAKE TORTILLAS: Brush the tortillas with melted butter, and with cookie cutter– cut them into pumpkin shapes.
2. Arrange the shapes on a greased baking sheet, sprinkle with a cinnamon and sugar nixture.
3. Bake at 350°F until golden brown, about 10 minutes. Let them cool before serving. (Image by KidActivities.net)
NOTE: These are nice all year-round. If you search about the site-you'll find versions with photos in the categories of Winter Snacks, Mexican Theme, and Valentine's Day!
---
Serve 'BLOOD SOUP' (tomato soup)! Serve it in bowls made out of carved gourds or small pumpkins…
---
GOODIES USING CAKE OR COOKIES…
23. EASY PUDDING WITH WHIPPED CREAM GHOSTS
Makes 4 servings
3 1/2-oz) chocolate OR vanilla pudding
Chocolate cookie crumbs (for dirt)
Whipped cream
8 mini chocolate chips for eyes
Scoop pre-made chocolate pudding into serving glasses.
Sprinkle cookie crumbs on top and  swirl a mound of whipped cream on top of crumbs.
Place mini chocolate chips on near top of whipped cream mound for eyes.
---
24. GHOST COOKIES #1
Ingredients:
Nutter Butters Cookies
Ready-made White Frosting in a can
Ready-made Chocolate Frosting in a can (or mini chocolate chips)
Directions:
Spread each Nutter Butter cookie with white frosting, then make little eyes with the chocolate frosting or mini chocolate chips.
---
25. GHOST COOKIES #2  
6 oz. vanilla flavored almond bark
1 pkg. (15.5 oz.) peanut butter sandwich cookies (peanut shaped) Small black jelly beans
Melt almond bark following package directions. Dip two-thirds of each cookie into melted candy, shaking gently to remove excess coating. Place on wire rack with waxed paper underneath.
For eyes, cut jelly beans in half and place on cookie.
Makes 32 cookies …source unknown
---
26. COOKIE DECORATING
Provide prebaked sugar cookies (or bake your own in Halloween shapes). Set out a variety of frosting/icing, sprinkles, chocolate chips and candy corn for children to decorate their own cookies. A craft and snack in one! Photo Source: Pinchmyself
---
27. KITTY LITTER CAKE
This really does look like used kitty litter!)

1 spice or German chocolate cake mix
1 white cake mix
1 large pkg vanilla instant pudding mix
1 pkg vanilla sandwich cookies
Green food coloring
12 small Tootsie Rolls
1 new (and definitely unused) kitty litter pan
1 new plastic kitty litter pan liner
1 new Pooper Scooper
1.  Prepare cake mixes and bake according to directions (any size pans).
2.  Prepare pudding mix and chill until ready to assemble. Crumble white sandwich cookies in small batches in food processor, scraping often. Set aside all but about 1/4 cup.
3.  To the 1/4 cup cookie crumbs, add a few drops green food coloring and mix. When cakes are cooled to room temperature, crumble into a large bowl. Toss with half the remaining white cookie crumbs and the chilled pudding. (Mix in just enough of the pudding to moisten it. You don't want it soggy. Combine gently).
4.  Line new, clean kitty litter box. Put mixture into litter box. Put three unwrapped Tootsie rolls in a microwave safe dish and heat until soft and pliable. Shape ends so they are no longer blunt, curving slightly. Repeat with 3 more Tootsie rolls and bury in mixture. Sprinkle the other half of cookie crumbs over top.
5.  Scatter the green cookie crumbs lightly over the top. (This is supposed to look like the chlorophyll in kitty litter.) Heat 3 Tootsie Rolls in the microwave until almost melted. Scrape them on top of the cake; sprinkle with cookie crumbs.
6.  Spread remaining Tootsie Rolls over the top; take one and heat until pliable, hang it over the side of the kitty litter box, sprinkling it lightly with cookie crumbs. Place the box on a newspaper and sprinkle a few of the cookie crumbs around.
Source: Familycorner.com
---
28. PUMPKIN SHAPED CAKE
Make or purchase two bunt cakes. To create your pumpkin–put the two cakes together. (You may have to shave a bit off the bottom cake to sit on the plate and stay level) Cover with orange frosting and decorate as desired!
---
29. PUMPKIN FACE CAKE
…Make a round cake and just decorate!
---
30. EDIBLE EYEBALLS …There are many ways you can make these.
This image shows small, powdered donuts. In the center is a gummy rasberry candy-placed upside down in the hole. Red gel is squiggled on for a 'blood shot eye' effect. (Image by KidActivities.net)
General Directions and Ingredients:
Powdered Donut Holes (Or small powdered donuts)
Gummy Life Saver
Chocolate Chips
Tube red gel icing/frosting
1. Place a life saver in the center of the eye (donut). This makes the iris.
2. Place a chocolate chip for the pupil.
3. Use the red gel to glue all together and make the eye appear blood shot. (This is something that can be prepared ahead or to have the children make!)
---
31. WITCHES HATS 
Take a Hershey Kiss candy and with frosting, attach it to  a round cookie using frosting or gel. Be sure the cookie is turned to the frosted side before attaching the candy kiss. (Next time I make the hats, I'd use orange frosting instead of gel. It would then look more like a hat band-Barb)
NOTE: Also in the above image is a Styrofoam pumpkin–a great way to serve, display or give out suckers! Just insert sucker sticks into the pumpkin.
---
32. OREO PUDDING WORM CUPS
Ingredients:
4 cups of cold milk
1 package (4-serving size) Jell-O chocolate flavor instant pudding
1 package ( 4-serving size) Jell-O vanilla flavor instant pudding
1 tub (8oz) Cool Whip topping, thawed
18 Oreo chocolate sandwich cookies, finely crushed, divided
8 plastic cups (6-7 oz)
8 gummy worms
8 gummy frogs
1. Prepare instant chocolate and vanilla puddings separately, with two cupsof cold milk each , as directed on packages. Let stand for five minutes.
2.Gently stir 1/2 cup of cool whip into each bowl of pudding. Sprinkle onetablespoon of Oreo crumbs into bottom of plastic cups. Top each with 1/4 cupof vanilla pudding, 1 tablespoon Oreo crumbs and 1/4 cup chocolate pudding.Sprinkle evenly with remaining Oreo crumbs. Refrigerate at least one hour.
3. Insert one gummy worm and one gummy frog into each cup just beforeserving.
Makes 8 Sand & Dirt Cups.
---
33. BLOODY FINGERS 
Ingredients: 1 package ladyfingers, Almond slices, Confectioners' sugar, Raspberry jam
Place the ladyfingers on a tray.
Spread with raspberry jam.
Place an almond slice at the tip of the finger.
Sprinkle with confectioners' sugar and serve.
---
34. NO BAKE HALLOWEEN CAKE! Not really a cake-but pudding!
Ingredients:
2 packages Instant Chocolate Pudding (four serving size)
3 1/2 cups milk
2 8-ounce tubs of whipped topping
1 16-ounce package of chocolate sandwich cookies
1 package of Milano Cookies and Gummy Worms
Crush the entire package of cookies by placing them all in a zip style plastic bag and have the kids pound on the package.
in a large bowl, make pudding as directed on the package but use 3 1/2 cups milk for both packages. Let stand 5 minutes. Mix in one tub of the whipping topping then mix in half of the crushed cookies. Spread the mixture into a 13×9 pan.
Sprinkle the rest of the crushed cookies on top. Put in refrigerator and refrigerate for 1 hour.
Use the Milano cookies to make the grave stones. U
---
35. GRAVEYARD CUPCAKES
Make or purchase cupcakes with chocolate frosting. Place a Pepperige Farm Milano cookie–along with a 'Peeps' marshamllow ghost on each cupcake. To make the tombstone and ghost stay in place-use extra frosting. (Image by KidActivities.net)
NOTE: KidActivities used a black 'Food Writer' to write RIP on each cookie before it was placed.
---
HALLOWEEN  'FRUIT & VEGGIE' IDEAS!
The following are a few ideas from the APPLE COOKING THREAD that  are wonderful at Halloween time!  Be sure to check out the '68 Apple Recipes' for other ideas–including 'apples on a stick'
se the other tub of whipped topping to make ghosts. Stick gummy worms into the mixture so it looks like they are coming out of the dirt.
(Source: About.com)
36. APPLE SMILES

This is an apple recipe your kids are sure to love. Cut a red apple into slices. (These are the lips) Have child spread peanut butter or cream cheese on apple slice. Place mini marshmallows (These are the teeth) on top of peanut butter and top with other apple slice. (Image by KidActivities.net)
---

37. APPLE FANGS
Ingredients:
8 large Red Delicious apples
1/4 cup lemon juice
1 tbsp. sugar
1 10-oz. jar strawberry or cherry sauce
Directions:
1. Wash, peel and core the apples. Then cut each apple into 8 pieces.
2. Dip the cut apples into the lemon juice to prevent them from turning brown.
3. To prepare the fangs, cut the apple slices into long, narrow triangles, making pointy tooth-like shapes. Re
-dip slices in the lemon juice and lightly sprinkle them with sugar.
4. Arrange the fangs on a serving platter with the strawberry dipping sauce in the middle. Make sure you splatter some of the "blood" over the fangs. Makes 10 servings.
---
38. WORMY APPLE…
Help kids slice apples into thirds and remove seeds from the center. Reassemble the apple with peanut butter (or cream cheese) and gummy worms between each layer.
Worms should be hanging out from apple. (Image by KidActivities.net)
---
39. APPLE OR PEAR MOUTH
Preparation Time: 10 minutes
Ingredients
1 medium apple or pear
1 Tbsp peanut butter (or low fat cream cheese or cottage cheese) Cutting board
20 raisins
1. Cut apple into 8 slices. Spread 4 of the slices with a small amount of peanut butter.
2. Insert raisins between the apple slices for "teeth".
3. Top the apple slices with another apple slice.
4. Serve. Refrigerate leftovers.
---
40. LOOKING FOR A 'HEALTHY' HALLOWEEN SNACK?
How cute is this?!
Using a 'Sharpie type' pen… draw various 'Jack-O-Lantern' faces on Clementine Oranges! Small, seedless, usually sweet… and easy for children to peel. These make a nice snack to take to school, pack in the lunch box, or snack on at home! Tangerines and Mandarin Oranges could also be used. (Image by KidActivities.net)
---
41. PEANUT BUTTER and BANANA CATERPILLARS
Bananas
Peanut butter
Grapes
Chow Mein noodles

Peel and slice a banana. Join the slices together by "gluing" them with peanut butter. Carefully poke two Chow Mein noodles (or break a pretzel stick in half to make two pieces) through the top of the grape. Use more peanut butter to attach the head (grape) to the front of the body, with antennae (Chow Mein noodles) pointing up.
---
42. BASIC 'BUGS ON A LOG'
Celery stalks
Peanut butter, cream-cheese or spreadable cheese spread
Raisins or Raisinette candy
Spread peanut butter onto washed and drained celery stalks. Top with raisins.
---
MAKE 'LOGS' from any of these foods:
CELERY STALKS (cut to about 3 inches long)
APPLES
CARROT STICKS
---
43. FILL THE 'LOGS' WITH A SPREAD
Cream Cheese
Cream cheese and pineapple
Cheese and pimento
Peanut butter
Egg salad
---
44. SPRINKLE 'BUGS' ON THE SPREAD:
Raisins
Golden raisins
Dried cranberries or cherries
Raisenettes candy
Unsweetened cereal
Sunflower seeds
Chopped peanuts of finely chopped walnuts
Mix in chopped apple or crushed pinapple
---
45. GHOST PEARS
Isn't this idea wonderful!  Photo and directions  are courtesy of  No Fuss Fabulous–a fantastic blog site. Melt white chocolate in your slow cooker. Holding a pear by it's stem, dip it into the melted white chocolate until you have a nice even coat of chocolate. Place chocolate-covered pear onto wax-paper. Place two choclate chips on the pear for eyes. Let harden and enjoy!
---
46. BLOODY MUMMY BONES
(Raisin Banana Roll Up's-Good all year long!))
Ingredients
1 – 8-inch whole wheat or flour tortilla
1 tablespoon – peanut butter
1 tablespoon – strawberry fruit spread or strawberry jelly
3 tablespoons – DOLE Seedless Raisins
1 – large Banana
1. Spread peanut butter on one side of tortilla; spread on jelly. Sprinkle raisins over jelly.
2. Peel banana and place at one end of tortilla
3. Wrap tortilla around the banana.
4. Use a sharp knife to cut in half. (Image by KidActivities.net)
NOTE: Half of the banana tortilla is quite substantial. For 'snacks'…consider cutting the banana roll halves in half again.
---
47. FRUIT SALAD IN A JACK O'LANTERN ORANGE 
Slice off the top of an orange, like you would when making a pumpkin Jack-O-Lantern.
Remove the orange fruit from the inside of the orange— chop the orange segments into bite sized pieces. Mix with fruit cocktail or your favorite chopped, fresh or canned fruit.
Next refill the orange with the fruit salad.
If desired, draw a traditional Jack O'Lantern face with food writer markers, or a regular black marker (you won't be eating the orange skin).
Serve in a shallow bowl with a spoon.  (Image by KidActivities.net)
---
48. JACK-O-LANTERN PUDDING
Do the same as above; however, save the fruit for later. Instead, fill the orange with vanilla or butterscotch pudding.
---
49. WORMY BAKED 'APPLE TONGUES' AND 'RAISIN BUGS'
6 red baking apples, cored and sliced (KA left the skins on–peel if desired)
1/4 cup raisins
1 Tbsp soft margarine
Juice of one lemon
1 tsp cinnamon
Pinch nutmeg (optional)
1 Tbsp brown sugar
6 candy gummy worms
Preheat oven to 350 degrees.
Combine apples, raisins, lemon juice, spices and sugar in a large baking dish.
Cover and bake until apples are tender, about 30-45 minutes.
Place in bowls and serve warm or chilled. Garnish each one with a gummy worm.
Serves 6. (Image by KidActivities.net)
TIP: If you wish to serve from baking dish–scatter gummy worms in/out/and under the apples. This recipe is delicious as a dessert without making it a 'gross type' dish. Just omit the gummy worms and serve with ice-cream or whipped topping!
---

HALLOWEEN PARTY DRINKS 
50. SPIDER CIDER
Spider Cider is simply apple cider with 6 drops of red food coloring -chill for 30 minutes. Then get a small cup or ice tray and pour some more apple cider in to them; get some gummy spiders and put 1, 2, or 3 in each cup or ice tray. Add 6 drops of purple food coloring. Freeze it over night. Put iced cider with gummies into red cider. (Be sure not to freeze the red cider over night…a tasty beverage.
---
51. HARRY POTTER'S DRAGON SNOT
Mix 8 ounces of Sprite or 7-Up with one scoop of lime sherbet.
---
Make a few glasses of FRANKENSTEIN FROTH: floats made with sherbet and 7-up
---
52. PUTRID PUNCH
Ingredients:
1 13-oz. package lemon-lime Kool-Aid
1 cup sugar
8 cups water
1 can frozen orange juice concentrate
4 cups ginger ale
Worm cubes (See above))
3 scoops orange sherbet
This sick-colored punch looks disgusting but tastes wonderful.
Empty the Kool-Aid package into a punch bowl.
Add the sugar, then the water and stir until dissolved.
Stir in the orange juice.
Just before serving, add the ginger ale and worm cubes and float the scoops of sherbet on top.
 Before long, the punch will be green and infested with worms. Serves 14.
A perfect drink to compliment 'Worms on a Bun'.
TIP: Be sure to freeze your worm cubes before the party.
Adapted from: Familyfun.com
---
53. GREEN GOUL PUNCH
1/2 gallon limeade
1 liter ginger ale
1/2 gallon lime sherbet
Mix together juice and ginger ale. Scoop sherbet and add to punch. Add marshmallows and maraschino cherries to float in punch.


---

54. SLIME PUNCH WITH FROZEN HAND!
You Need:
Large bowl
Half-gallon (2 liters) of lime sherbet
One quart (one liter) each of ginger ale and lemon-lime soda
One quart (one liter) of sugar-free lemonade (made from powdered mix and dyed with green or red food coloring)
Two surgical gloves, washed first in warm, soapy water, rinsed, and turned inside out
String or rubber band
---
55. EYE BALL PUNCH

Canned litchis, drained
Maraschino cherries without stems
Dark red punch or fruit drink, chilled
Directions:
1. Cut a slit in each litchi. Stuff a maraschino cherry into each fruit so it resembles an eye. Place stuffed litchis on a large baking pan. Freeze until solid.
2. To serve, pour punch into a large bowl. Add the litchis.
Fill the gloves with the colored, sugar-free (sugar-free freezes better than sugar) lemonade and tie them securely at the wrists with string or a rubber band. Freeze until solid.
In the bowl, mix the sherbet, ginger ale, and soda.
With scissors, cut the gloves from the frozen hands. Discard the gloves and float the icy hands in the punch.
---
56. 'EYES OF NEWT' FOR PUNCH
Fill small muffin tins with apple juice and freeze slightly. Place a red grape in the center of each tin and freeze until solid. Float the "eye" in fruit punch.
---
57. GLOW PUNCH
Materials:
1 quart pineapple juice
1 quart Mountain Dew soft drink
5 scoops of lemon or lime sherbet
1 clean (washed/dried) glow-stick
Chill all ingredients. Gently stir together the soda/soft drink and pineapple juice.
Add the glow-stick and sherbet just before serving…
---
58. PUMPKIN PUNCH
Scoop out the inside of a large pumpkin. Put a mixing bowl inside. Fill the bowl with apple cider, orange punch or any other beverage the kids would like!
---
59. POPCORN BALLS…ALWAYS GREAT AT HALLOWEEN!
(October is National Popcorn Month…Visit the 'Popcorn Theme' if you'd like some fun ideas!) Other Popcorn Recipes here…
60. POPCORN PUMPKINS
1. Microwave and melt 1/4 c. margarine/butter and  10 1/2 oz. of mini marshmallows for 1-2 min.
2. Stir in a 4 serving size orange Jell-O; after it is combined, pour it over 3 qts of popped popcorn (12 cups)
3. Grease/butter hands and form the popcorn into pumpkin-shaped balls.
4. Complete pumpkin features with a green spearmint candy for the top stem and chocolate chips and M&Ms for the face.
---
61. DECORATE YOUR HALLOWEEN POPCORN BALLS! 
Decoration Ideas:
Food coloring for 'colored' popcorn balls
Edible glitter
 Melted white, milk, or dark chocolate (drizzled)
Melted peanut butter or butterscotch chips (drizzled)
Candies, such as candy corns
Black licorice for "spider legs"
Gummy "body parts"
Gummy worms
Popcorn Ball Add-ins:
Nuts (peanuts, walnuts, hazelnuts, pine nuts, etc.)
Chocolate or white chocolate chips
Peanut butter or butterscotch chips
Toffee bits
Melted peanut butter (add to caramel/marshmallow mixture)
Sprinkles
Cocoa powder or baking chocolate (add to caramel/marshmallow mixture)
Mini or regular M&M's
Graham cracker pieces
Dried fruit
Sweetened flaked coconut
Alternative flavoring extracts: coconut, almond, rum, maple, peppermint, etc.
---
TIPS ON MAKING POPCORN BALLS…
1. If using add-ins, add them after you combine the popcorn and caramel-syrup recipe of your choice. Stir well, then form into balls.
2. It's easiest to form popcorn balls while mixture is hot– get helpers to make the process move along quickly.
3. Keep a bowl of cold water handy to cool your hands if hot popcorn mixture starts to burn.
4. Taking out the unpopped kernels is key– unless you want to break a tooth. An easy way to do this is to use your hands to scoop the popped popcorn into another container. All of the unpopped corns will fall to the bottom.
5. For colored popcorn balls, pour a few drops of food coloring into the caramel or marshmallow mixture before adding to popcorn. Make the color brighter than you need, as the pale-colored popcorn will dilute any coloring.
6. Resist the urge to over-pack your popcorn balls. Tightly packed popcorn balls are hard and not very tasty.
---
62. EASY POPCORN MARSHMALLOW BALLS
This easy popcorn ball recipe makes chewy, rich popcorn balls that are similar to Rice Krispies treats.  Makes about 30 medium sized popcorn balls.
Ingredients:
1/2 C. butter
1 lb. bag of mini marshmallows
1/2 C. brown sugar, firmly packed
6 quarts (24 C.) air-popped popcorn (unpopped kernels removed)
1. In a heavy saucepan, melt the butter over low heat.
2. Stir in brown sugar. Cook over low, stirring, until dissolved, about two minutes.
3. Add marshmallows. Melt into butter mixture, stirring constantly. Do not burn.
4. Pour marshmallow mixture over popcorn. Mix well with a wooden spoon or spatula.
5. With greased hands, form your popcorn marshmallow balls.
6. Let balls cool on greased cookie sheets or waxed paper.
---
63. CLASSIC MOLASSES POPCORN BALLS…a crisp-chewy caramel popcorn balls that taste similar to Cracker Jacks.
Ingredients:
1 C. granulated sugar (or brown sugar for riche flavor)
3/4 C. light corn syrup
1/4 C. molasses
2 tbsp. butter
1/2 tsp. salt
8 quarts (1 gallon) popped popcorn, unpopped kernels removed
1. In a heavy saucepan, combine sugar, corn syrup, molasses, butter, and salt.
2. Bring to a simmer, and cook over medium for about 3 1/2 minutes.
3. Pour mixture over popcorn.
4. Mix well with a wooden spoon or spatula.
5. With greased hands, form into popcorn balls.
6. Let cool on greased baking sheets or waxed paper.
If desired–add peanuts to popcorn mixture.
Makes about 40 popcorn balls. Great at Halloween Time!
---
64. CHOCOLATE POPCORN BALLS
1/2 cup sugar
1/2 cup light corn syrup
1/2 stick butter
2 tablespoons cocoa
1/2 teaspoon salt
8 cups popcorn, popped
1. Prepare popcorn and set aside in a large bowl sprayed with cooking oil.
2. Combine sugar, corn syrup, butter, cocoa, and salt in a saucepan and cook over medium heat until boiling.
3. Pour mixture over popcorn and stir well to coat thoroughly. Form into 3 inch balls and allow to cool.
4. Alternately: Heat mixture in a large pot and add the prepared popcorn to the pot, heating and stirring for a couple of minutes. Sometimes this method makes it easier to coat popcorn thoroughly.
Don't burn fingers; this mixture is hot! Butter  hands before forming balls. Allow to cool slightly if necessary.
Wrap finished popcorn balls in cellophane or plastic wrap. They can also be stored  in an airtight container.
---
65. SCARY WITCH POPCORN HANDS/FINGERS
Fill a clear plastic food handler's glove by placing one or two pieces of candy corn or raspberry shaped candy in the tip of each finger.
Fill the remainder of the glove with popcorn or cereal.
Tie with yarn or raffia.
---
HALLOWEEN PRETZEL IDEAS
66. BONES
Ingredients: pretzel sticks, mini-marshmallows, white chocolate, wax paper
First, stick pretzel ends in the round sides marshmallows. Next melt chocolate over a double boiler– or in microwave for one minute for a half bag of chips. If using a larger amount of chocolate chips-test chocolate at 5-10 second intervals. In my experience, melted chips appear to still have shape–and when stirred become smooth. Do not over cook or it will become thick and or lumpy!
Dip and spoon melted chocolate over the marshmall pretzels. (I also used my fingers) Place 'bones' on wax paper to firm up. Pictured bones took only about 10 minutes to become firm.
TIP: For testing, KA used  half a bag of chocolate chips and added a teaspoon of Crisco shortening. Shortening helps the chocolate to remain smooth.  Remember this when using recipes that 'dip goodies into chocolate'!
NOTE: KA posted this snack idea in 2011. I've recently seen it on Pinterest via Family Circle. It goes to show that no idea is unique. Someone always will have the same vision
---
67. CHEESE BOOGERS
Ingredients:
Cheez Whiz, Green Food Coloring, Pretzel Sticks, Wax Paper
Follow  directions to melt Cheez Whiz.
Dip a pretzel half way into the cheese.
Wait fifteen to twenty seconds and re-dip pretzels. Place on wax paper to harden.
When the cheese has re-hardened, remove from wax paper and place on a serving dish. (Image by KidActivities.net)
---
68. HALLOWEEN PRETZEL RODS
Ingredients:
2 cups white chocolate candy melts or white chocolate chips
Orange colored sugar or sprinkles
Chocolate sprinkles
20 pretzel rods
Preparation:
1. Line a baking sheet with waxed paper.
2. Place candy melts or white chocolate chips in a double boiler. Heat over low heat until melted.
3. Spread orange sprinkles and chocolate sprinkles in even layers on two separate shallow plates.
4. Dip pretzel rods into white chocolate, using a spoon to coat the rods well.
5. Press gently into orange sprinkles. Turn, then press into chocolate sprinkles.
6. Place pretzel rods on prepared baking sheet. Let harden for 20-30 minutes.
Serve immediately or store in an airtight container for up to 1 week.
---
MISCELLANEOUS SNACKS… Pudding, Candy, Suckers & more 
69. PUMPKIN SUCKER BOUQUET/CENTERPIECE
This is a party snack and craft in one…wonderful for a dessert table! I purchased a Styrofom pumpkin and simply inserted the sucker sticks into the pumpkin. Result is an extremely quick and cute sucker holder decoration! (Image by KidActivities.net)
It would also be a good idea to cover the entire pumpkin with suckers–and place it on your porch for 'trick and treaters' to help themselves if you will not be home…
---
70. GRAVEYARD GRAVEL
3 cups semisweet chocolate pieces
1 14-ounce can sweetened condensed milk
2 Tablespoons butter or margarine
1-1/2 tsp. vanilla
Dash salt
2 cups tiny marshmallows
Unsweetened cocoa powder mixed with an equal amount of powdered sugar
Powdered sugar
Directions:
1. Line a 9x9x2-inch or an 8x8x2-inch baking pan with foil; set aside.
2. In a medium saucepan, heat and stir chocolate pieces, condensed milk, butter, vanilla, and salt over medium heat until melted and smooth. Remove from heat; stir in marshmallows just until combined. Spread mixture evenly in the prepared pan. Using a table knife or thin metal spatula, swirl marshmallows through fudge in pan until marshmallows are mostly melted. Cover and chill about 2 hours or until firm.
3. Using a small scoop, scoop fudge and shape into rocks (fudge will be sticky). Roll some in cocoa powder mixture and some in powdered sugar. Store in an airtight container for up to 3 days. Makes about 80 pieces (2 1/4 lbs.).
---
71. ICE-CREAM WITCH (Or Goblin)
Place a large scoop of orange sherbet (or favorite ice-cream such as this mint) into a dessert dish. Make the eyes, nose and mouth with pieces of nuts and raisins. Licorice hair is optional…Top the ice-cream with a pointed ice cream sugar cone hat. Freeze until time to serve. (Image by Kidactivities.net)
Tip: Ice cream melts quickly. I needed to put the ice-cream face back I the freezer a bit before I could embellish the face.
---
72. WITCHES BROOMS
This one is nice and easy! If you are going to serve these rather quickly–unwrap small size (not miniature) Reese's Peanut Butter cups and insert a thin pretzel stick in the center. If they are going to sit out before serving, leave wrappers on and insert pretzel sticks through the wrapper.
TIP: I inserted a metal skewer through the wrapping-before inserting the pretzel. It can be difficult to get the pretzel through the paper without doing so. (image by KidActivities.net) Image shows both wrapped and unwrapped brooms…
---
73. DEAD TREES… A craft and snack in one!)
Ingredients: licorice sticks, chocolate frosting, peanut butter cups
With scissors, cut one end of a black or chocolate flavored licorice stick to make the trunk and branches of a tree.
Push the other end through a hole in the bottom of a peanut butter cup. (This is the base)
Use chocolate frosting to cement the tree in place.
---
74. CANDY CORN PUDDING
Ingredients:
1 small box of butterscotch instant pudding
1 small box of banana bream instant pudding
4 cups milk
Red food coloring
Yellow food coloring
1 container of whipped cream
Candy corn
1. Make  butterscotch pudding as directed on the box, using 2 cups of milk.After it's mixed, add 20 drops of red food coloring and 25 drops of yellow food coloring, stir and refrigerate for 30 minutes.
2. Make banana cream pudding as directed, using the last two cups of milk. Add 20 drops of yellow food coloring and refrigerate until ready to use.
Use clear dessert containers OR small clear plastic cups…
To assemble…
1. Put the yellow pudding at the bottom:
2. Then the orange:
3. And last, the coolwhip
---
75. SPIDER SUCKERS (A craft & Goodie in one!)
Take a large sucker such as Tootsie Roll Pop.
Under the sucker part, securely twist 4 long black pipe cleaners around the stick. Extend the end of the pipe cleaners to make 8 legs.
Bend each leg to resemble a spider's leg. (Image by KidActivities.net)
---
76. GHOST SUCKERS (Another craft & Goodie in one!)
Materials:
Tootsie Roll Pops (suckers), White Facial Tissue, White, Orange or Black Ribbon or Yarn
Place the top of the sucker in the very center of the tissue, then wrap the tissue around the sucker. Tie the ribbon or yarn under the sucker. Use a felt tip markerand draw features on the ghost faces. (Image by KidActivities.net)
---
77. THREE HALLOWEEN SNACK MIX RECIPES
One easy way to provide Halloween party food for kids is to create a huge bowl (or plastic pumpkin) full of Halloween snack mix.
Start with a box or two of Count Chocula or Frankenberry cereal- they aren't always easy to find, and are only out at Halloween. Other cereal brands sometimes come out with a special Halloween blend as well.
Add candy corn, raisins, small marshmallows, small pretzels, chocolate chips or other treats to the mix.
Kids will have fun 'grazing' at this yummy snack bowl all night!
---
78. HALLOWEEN PARTY MIX #2
Ingredients:
1 6-oz bag original flavor Chex Party Mix
2 cups Wheat Chex cereal
1 cup candy corn
1/2 cup whole salted almonds
1/2 cup chopped dried apples
In a large bowl, mix one 6-oz bag original flavor Chex Party Mix, 2 cups Wheat Chex cereal, 1 cup candy corn, 1/2 cup whole salted almonds and 1/2 cup chopped dried apples.
---
79. #3 WITCHS' GORP
3 cups eyes of Newts (peanuts)
2 cups tails of dogs (pretzel sticks)
1 cup squishy, slithery parts of frogs (raisins)
2 cups warts of toads (Cheerios)
1/2 cup lizard lips (walnuts)
1 cup dinosaur toenail chips (banana chips)
1 cup teeth of bats (sunflower seeds)
1/2 cup of dandruff from the biggest rats (coconut)
1 cup chocolate cover iguana hearts (chocolate chips)
Measure and combine all of the ingredients in the order listed above. Mix well with mixing spoon.
Source: Cooks.com
This is a good one for your newsletter…really cute!
You may also be interested in the loads of Snack Mix Recipes that KidActivities has!
---
CEREAL TREATS…
80. KIX BALLS ON A STICK…
Prep Time:30 min
Start to Finish: 30 min
Makes: About 20 snacks
Ingredients:
1/2 cup sugar
1/2 cup light corn syrup
1/2 cup peanut butter
3 cups Kix® cereal
20 raisins, miniature milk chocolate candy drops, small gumdrops, chocolate- or yogurt-covered raisins or miniature marshmallows 1 to 2 tablespoons multicolored candy sprinkles, 20 thin pretzel sticks (2 1/4 inch)
1. In 3-quart saucepan, heat sugar and corn syrup to boiling over medium heat, stirring frequently. Remove from heat; stir in peanut butter until blended. Stir in cereal. Cool slightly, 2 to 3 minutes.
2. Lightly butter hands. Shape 1 to 2 tablespoons cereal mixture into a ball around each candy. Immediately roll in candy sprinkles. Place pretzel stick into each cereal ball.
---
81. No-Cook' NOT SO SPOOKY' SPIDERS
1 cup semi-sweet chocolate morsels
3/4 cup Rice Krispies
1/2 cup thin chow mein noodles
Candy eyes
1. Line baking sheet with waxed paper.
2. In microwave, place chocolate in 2 cup microwave safe bowl. Microwave on medium (50%) for 2 minutes. Stir. If chocolate is not completely smooth, microwave an additional 20 to 30 seconds; stir.
3. Stir in Rice Krispies.
4. Drop by teaspoonfuls onto waxed paper, forming spider-body shapes. Stick 4 noodles into each side of "body" for spider legs. Add eyes on top of spider.
5. Refrigerate about 15 minutes to set, or let them set at room temperature about 1 hour. Store in covered container.
Makes 12 spiders.
Source: Cooks.com
---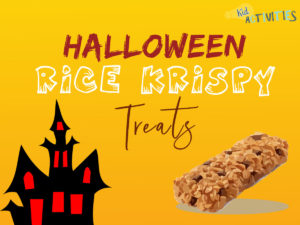 82. #1 RICE KRISY HALLOWEEN TREATS
The regular, run of the mill rice cereal treat can be turned into a sweet and unique Halloween treat by adding a few drops of orange food coloring (or a combination of red and yellow) into the marshmallow/butter mixture as it melts.
When you cut the treats into squares, add one candy corn to the top of each square.
Variation: Add in candy pumpkins, candy corn, chocolate chips for extra fun.
---
83. #2 RICE KRISPY TREATS
Ingredients: 3 TBSP butter, orange food coloring (or mix red and yellow food coloring), 10 oz. marshmallows, 6 c. rice krispies
Directions:
 Melt butter in a sauce pan over medium heat; add food coloring to desired color; then add marshmallows.  You may want to add more food coloring once the marshmallows are melted.
Place the rice krispies in a large bowl.  Pour the melted marshmallows over the rice krispies and toss to combine.
Line a sheet pan with foil and spray foil with cooking spray.  Dump rice krispies mixture onto foil.
Take a sheet of wax paper and spray it with cooking spray; then cooking spray side down press rice krispies mixture so that the entire pan has a thin layer of mixture, about 1/4 inch thick.
Let set for a few hours.
With Halloween cookie cutters, cut out your shapes and decorate.
---
84. #3 RICE-KRISPY CREEPY SPIDERS
6oz. pkg. (1 cup) semi-sweet chocolate chips
1'4 cup peanutbutter'3 cups Rice Krispies cereal
1 cup miniature marshmallows
Black pipe cleaners
1. Melt chocolate chips and peanut butter together in the micro-wave or in large saucepan over a very low heat. Remove from heat and stir in cereal and marshmallows.
2. Shape the cereal mixture into a spider body shape–roundish that is about 3 to 4 inches wide.
3. When spider bodies are firm, insert 6 black pipe cleaners–each 3 to 4 inches long.  Add candy or frosting eyes.
---
85. HALLOWEEN 'MARSHMALLOW HAYSTACKS'
This is a great variation to the rice cereal treat recipe.
Replace the rice cereal with corn flake cereal. Follow the instructions combining the cereal, melted marshmallow and butter mixture. Mold the cereal mixture into the shape of haystacks. Add an orange candy corn pumpkin to the top of each haystack.
---
86. NO BAKE MAGIC BROOMS
1 cup granulated sugar
1 cup light corn syrup
1 cup smooth peanut butter
5 cups shredded wheat cereal, crushed
1 cup M&M's (plain)
32 (8-inch) pretzel rods
Grease 2 large baking sheets; set aside.
In a small saucepan combine sugar and syrup.
Bring to a boil; boil 1 minute. Remove from heat; stir in peanut butter.
Place cereal and M&M's in a large buttered roasting pan.
Pour peanut butter mixture overall, tossing to coat well.
Drop mixture by rounded tablespoon onto prepared baking sheets, spacing about 2 inches apart.
Form each mound into a broom shape.
Place a pretzel rod into top of each "broom" to form a handle.
Refrigerate 35 minutes or until set.
Store in single layers in covered containers.
By JBic
---
87. RICE KRISPIE GHOSTS
Prepare Rice Krispie Marshmallow treats according to the cereal box directions. Shape the warm mixture into ghosts—- use a ghost cookie cutter if necessary. Add some white icing and mini chocolate chip eyes and the kids will enjoy eating the fun Halloween ghost treats!
---
For more than 70 Halloween Games (Arts, Crafts, Mad Science, Games, Easy Costumes, etc.)