Use these Martin Luther King activities and resources to teach students about the civil rights movement and build out your lesson plans.
Dr. Martin Luther King played an important role in the history of our great nation. His life can teach us so much. How to stand up for what we believe to be right. How to dream of a better world and bring it into existence.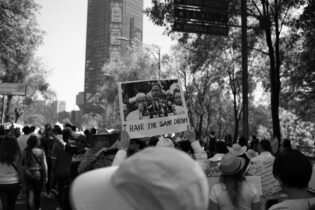 Martin Luther King Jr Day KIDS ART and CRAFTS
Below you will find 5 arts and crafts ideas. These are great for the classroom and will teach students about the life of Dr. King.
1. We Have a Dream Poster 
First, talk to children about Martin Luther King's dream speech and the fact that one man managed to help change a whole country. Ask children what they think is unfair, and what they think they can do to change it. If they could change big things in the world, what would they be?
Next, have children trace the outline of their hands on a variety of construction paper in different rainbow colors. Have them cut out each hand shape and then glue them onto the poster board.
Now brainstorm things that the children believe need a change in the world and ways that they and your program can help. Few individuals will get the chance to speak before thousands of people at the Lincoln Memorial like Martin Luther King, Jr., but there are things your program can do to make a difference!
Perhaps it's collecting cans for a local food bank to help the hungry, or running a car wash to raise money for the homeless.
Maybe it's bringing entertainment to cancer patients at a local hospital or sending care packages to soldiers abroad.
On each hand, write one thing that each child dreams of changing, such as hunger or homelessness. Next, write a few sentences about what they can do to help.
Not only will this project get children thinking about Martin Luther King, Jr., but it will encourage them to explore what they can do to make the world a better place. It's never too young to start making a difference.
2. Bead Pin Craft
Children will enjoy creating this craft which demonstrates that people of all colors are part of one family. Even more fun than making your pin is wearing it on Martin Luther King Jr. Day.
Materials:
✓ Three 5/8-inch wooden beads in three different finishes
✓ Black, brown and yellow yarn
✓ Six small wiggle eyes
✓ Three tiny pom-poms, two black and one white
✓ Toothpick
✓ Red permanent marker
✓ Pin-back
✓ White craft glue
✓ Scissors
Instructions
Cut six one-inch pieces of yarn from each of the three colors of yarn.
Use one end of the toothpick to rub glue inside the hole in each of the three beads.
Use the other end of the toothpick to push the ends of one of the colors of yarn into the hole of each bead for hair.
Glue two wiggle eyes to the side of each bead, below the yarn hair.
Glue a pom-pom to the side of each bead below the eyes for the nose.
Use the red marker to draw a mouth on each bead below the nose.
Glue the three beads together.
Glue the pin-back to the back of the beads.
Tips
If you do this project on a Styrofoam plate or tray you will not have trouble with glue or paint sticking to the surface as it dries. If you are helping a younger child make this pin you might want to use slightly larger beads to make it easier to work on.
Source: kaboose.com
3. I Have a Dream Scroll
Write on a chart, some of the "dreams" that Martin Luther King expressed in his speech.
Let's celebrate Martin Luther King by asking students to think about the things they dream for themselves, their families, their country, and the world, and to express those dreams in their own "I have a dream" scroll, essays, journals, or artwork. See How Stuff Works. An example of what an elementary student's dream scroll could look like: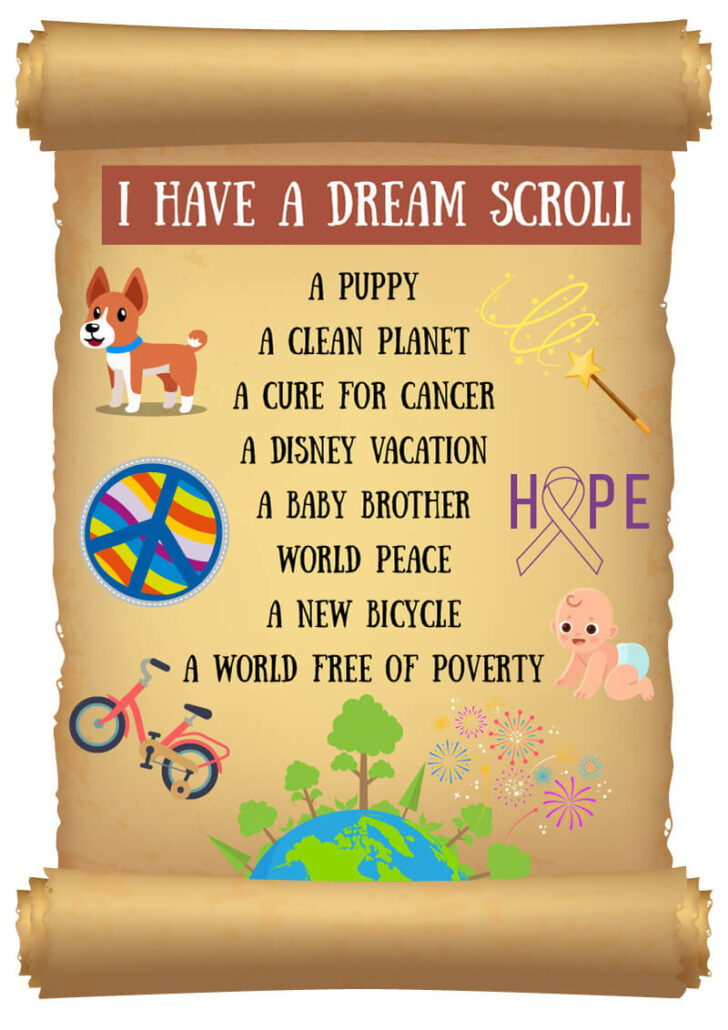 4. I have a Dream Quilt 
Materials:
✓ Paper and Construction paper
✓ Pencils and markers, and crayons
✓ Yarn
Instructions
Martin Luther had a dream. What are the children's dreams? Explore this by having them draw a picture of themselves representing what they want to be/do as adults!
Put the individual squares together and tie them with yarn.
Put a plain colored border around the quilt and as a fill-in where needed.
Put a title above the Quilt: "I Have a Dream" or "When I Grow Up." The title will depend on the age of the group.
5. I Have a Dream Mobile
Materials:
✓ Cardstock or construction paper
✓ Paper punch
✓ Crayons or markers
✓ Yarn
✓ Stickers, glitter or other decorations for your mobile
Instructions
Cut a large cloud shape out of a piece of card stock. If you are using construction paper cut two of the same shape and size and glue them together so they are strong enough to hold your mobile. Your cloud needs to be long enough to hand three or four smaller clouds from it.
Cut out three or four smaller cloud shapes. These can be different colors and even different shapes. You don't have to use clouds – they can be circles, squares, hands or whatever you like.
On the large cloud write the words "I have a dream" on both sides. Decorate however you like. You can use stickers, glitter or draw a picture or a rainbow on your cloud. Decorate both sides. Now punch two holes evenly spaced across the top. Cut a piece of yarn about a foot long and tie an end in each hole. This is how you will hang your mobile.
On the smaller clouds, write what your dreams are. Do you want to be a doctor? Would you like everyone to be happy? Do you want to own a puppy? Your dreams can be big ones or small ones – they are yours and that is what makes them special. Again, decorate each cloud however you would like it to look.
Now punch a hole for each cloud along the bottom of the larger cloud – spacing them out evenly. Then punch a hole in the top of each little cloud. Cut a piece of string to go with each cloud, making them different lengths. Tie one end of the string in the bottom of the large cloud and the other end in the top of a small cloud. Repeat until you have all your shapes hanging from the larger cloud. Hang your "I have a dream" mobile where you can share your dreams with others. From: educational-kids-crafts.suite101.com
Martin Luther King Jr Day Community Service Ideas
6. Seeds of Diversity
A simple project can demonstrate the beauty of diversity!
Martin Luther King's dream was to see people of all countries, races, and religions living together in harmony. Gather seeds of different kinds and invite each student to plant a variety of seeds in an egg carton.
The seeds of different shapes, sizes, and colors will sprout side by side. Once the plants are large enough, transplant them into a large pot in the classroom or in a small garden outside. If you do this project with some of the school classes, each class in the school might do the project on its own, culminating in the creation of a beautiful, colorful, and diverse schoolwide garden!
7. Two Friendship Snacks for MLK Day 
Have each child brings in a half cup of their FAVORITE SNACK (You can offer parents suggestions at this point: cereal, raisins, crackers, etc) when you get all of the snacks— mix them all in a huge bowl and serve them for a snack.
Talk about how DIFFERENT THINGS GO TOGETHER to make something very good. This helps get the ideas of diversity, sharing, cooperation, and trying new things across.
8. Consider celebrating MLK Day with a 'SERVICE PROJECT'!
As Coretta Scott King said, "The greatest birthday gift my husband could receive is if people of all racial and ethnic backgrounds celebrated the holiday by performing individual acts of kindness through service to others." See the Community Service and Service Ideas on this site.
9. Explore Diversity of the World's Population
Talk to kids about the wonderful contributions that people from many different backgrounds make will go a long way to creating caring and compassionate adults who accept people for who they are.
Also discuss cultural awareness issues with kids and explore traditions and activities from African and Caribbean countries. Try some of these ideas as a starting point to explore many cultures all year long.
Take on a Program or Club Research Project Learn about a different country in Africa or the Caribbean. Every member of the program group or a "special club" could research one aspect of the country such as the population, languages spoken and where it is on a map. Younger children could draw a picture or write a story about what one day in a child's life would be like in that country.
Find out how to speak three phrases in the primary language of the country as part of the group project.
Research an influential person, such as a politician or inventor, in the movement of black rights in North America.
Go to the produce aisle and try a fruit or vegetable from the Caribbean or Africa that your children have not tried before such as plantains, figs or guava. Adapted from: Suite101.com
10. Give Peace a Hand 
This wonderful display is from the kindergarten class of Renee Glassow.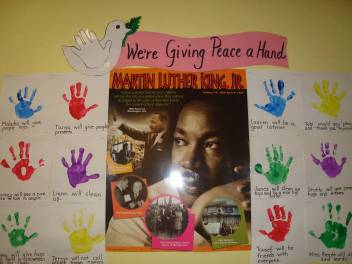 Surround the center photographs/images/posters with handprints and promises the children make. On individual sheets of paper, put each child's painted or traced handprint. Below the handprint write the child's pledge. Examples from display: I will use kind words, I will be friends with everyone, I will give hugs and kisses, I will listen and clean up, etc.
Martin Luther King Jr Day Songs for Kids
11. A Song Sung to the Tune of Bingo
There was a man who had a dream His name was Mar-tin Lu-ther King
Mar-tin Lu-ther King…. Mar-tin Lu-ther King… Mar-tin Lu-ther King…
His name was Mar-tin Lu-ther King
Doctor King, he had a dream He wanted peace for everyone
P-E-A-C-E… P-E-A-C-E…. P-E-A-C-E
His name was Mar-tin Lu-ther King
12. MARTIN LUTHER KING, JR.
Sing to tune of London Bridges Falling Down 
His name was Martin Luther King,
Luther King,
Luther King,
His name was Martin Luther King,
A civil rights leader.
On peaceful marches he would go,
He would go,
He would go,
On peaceful marches he would go,
This civil rights leader.
I have a dream, he said one day,
Said one day,
Said one day,
I have a dream, he said one day,
This civil rights leader.
Treat everyone the same and fair,
Same and fair,
Same and fair,
Treat everyone the same and fair,
Said this civil rights leader.
Conclusion
We hope you have found these teaching resources helpful and will use them for a teaching lesson on Martin Luther King or the history of the civil rights movement. If you want some more teaching ideas, choose a Dr. Martin Luther King worksheet.
Sale
Last update on 2023-12-03 / Affiliate links / Images from Amazon Product Advertising API
 ***You may also be interested in the Diversity and Multicultural Categories and category activities in Black History 
---