Summer Snacks for Kids
These summer snacks for kids are great for when the kids are at home or even at summer events. Take some of these tasty treats when traveling or even when you are enjoying a good moving. Even for the pickiest of kids, there is sure to be something for them to eat from this list.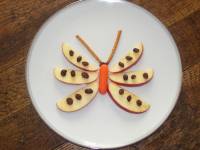 More Warm Weather Snacks
FRUIT & VEGGIE FUN!
1. BUTTERFLY BITES
Put out apple slices, mini carrots, pretzel sticks and raisins or dried cranberries. Have kids use apple slices for the wings, carrot for the body and pretzel sticks for antennae. Decorate with raisins. (Image by KidActivities.net)
2. BUTTERFLY BITES VERSION 2
Ingredients:
Stalks of celery, Twist pretzels, Pretzel pieces, Raisins and Spreadable cheddar, any cream cheese or peanut butter
Directions:
Wash celery and cut in half crosswise. Fill each celery piece with 1-tablespoon cheddar cheese, cream cheese or peanut butter. Add two pretzel twists for wings. Use pretzel pieces for antennae and raisins for decoration. Eat your butterfly before it files away!
---
3. SUN
SHINE or FLOWER —which ever you choose!
Slice some oranges and strawberries! It's that easy…
Kids can build on this healthy snack and add blueberries, banana slices, raisins or dried cranberries for facial features! (Images by KidActivities.net)
---
4. FRUIT ON A STICK
Cut up a variety of fruit such as…
Apples, bananas, kiwis, mango and whole grapes.
Thread them onto a skewer for a delicious summer time treat.
Add a few pieces of marshmallows between the fruit.
CREAMY FRUIT DIP
Ingredients:
1 jar marshmallow cream
8 ounce bar of cream cheese (softened)
Sliced fruit ( Strawberries, melons, cantaloupe, etc.)
Mix the marshmallow cream and cream cheese well.
Take favorite fruit and dip into the creamy mixture–or serve with fruit on a stick.
---
5. STAR SHAPED FRUIT
Have some with your summer fruit! Pull out the star-shaped cookie cutters and serve the shapes mixed in a fruit bowl…on a platter…or on long tooth picks or skewers! Wonderful treat for 4th of July! Watermelon, canteloupe and honey dew would all work nicely. (Image by KidActivities.net)
---
6. FROZEN FRUIT KABOBS
1/4 cup orange juice
2 tablespoons orange blossom honey
16 medium strawberries, hulled
16 (2-inch) chunks fresh pineapple cubes
2 large bananas, peeled and sliced crosswise into 16 pieces
1/4 cup unsweetened, shredded coconut
1/4 cup ground or finely shredded chocolate
Mix the orange juice with the honey in a large bowl.
Add all the fruit and toss together with a spoon to completely coat the fruit.
Skewer the fruit in any order that you like on 4 separate skewers.
Roll the skewered fruit in the ground coconut and chocolate.
You can mix the coconut with the chocolate or keep them separate.
You may need to use your fingers to help coat the fruit.
Line a baking sheet with parchment paper.
Lay the skewered fruit out on the baking sheet and cover with a sheet of plastic wrap.
Freeze the fruit until completely firm.
Serve frozen –Serves 4
---
7. APPLE PALM TREE ON THE BEACH
Ingredients:
Apple or pear slices (The palm Fronds)
Favorite variety of graham crackers (tree trunk)
Peanut butter–if no allergies (Beach)
Raisins (Coconuts)
Simply create tree as in the image by KidActivities.net. Have extra ingredients to munch on!
---
8. FRUIT BURRITOES
To make 4 fruit burritos:
4 6-inch tortillas
4 TBS peanut butter
1 banana, sliced
4 strawberries, sliced
1 peach, peeled & sliced (remove pit)
1/4 cup blueberries
4 TBS vanilla yogurt
Spread about 1 TBS peanut butter over each tortilla. Place fruit slices down center of each burrito. Drizzle about 1 TBS vanilla yogurt over fruit. Kids love to design & roll their own burrito. Roll up the tortilla, burrito-style (fold up one side, tuck under fruit, fold up bottom, then roll the other side).
---
9. ORANGE SMILES…
Very easy and kids think it's fun!
Cut orange in half and then into wedges that look like smiles. As children eat the orange snack…they put the wedge into their mouths and over their teeth. Ta-daa–Orange Smiles. M's on the right shaped her wedge to resemble a vampires long tooth! (Images by KidActivities.net)
---
10. HOW EASY AND CUTE IS THIS?! WATERMELON ON A STICK!
Cut a whole watermelon in half. Next cut triangle shaped wedges from the watermelon. (It was interesting-the watermelon we used had six perfect wedged shapes in the melon half. We just followed the natural sections for the  pictured wedges)
With a small sharp knife (have adult do this) cut a small slit in the bottom of the green rind. Insert a popsicle stick into the slit! Nice, easy, and a little different for a warm sunny day! (Image by KidActivities.net)
---
SIX BANANA RECIPES…
11. BANANA IN A BLANKET
1 (6 inch) tortilla
1 tablespoon smooth peanut butter
1 medium banana
1 teaspoon maple syrup or honey
1 tablespoon crunchy, nutty nugget cereal
1.  Lay tortilla on a plate.
2.  Spread peanut butter evenly on the tortilla.
3.  Sprinkle cereal over peanut butter.
4.  Peel and place banana on the tortilla and roll the tortilla.
5.  Drizzle maple syrup or honey on top.
12. FROZEN BANANA POPS
Need:
Popsicle sticks
Bananas (cut in half),
Creamy Peanut Butter or dip-able chocolate-ready to dip
Crushed cookies, granola, or graham crackers
1.  Cut bananas in half and stick a Popsicle stick into the banana – so it looks like a Popsicle.
2.  Freeze for about 10 min.
3.  Coat the bananas with peanut butter or dip it in chocolate.
4.  Next dip into the crushed cereal mixture. (Or any of the ingredients below-in #3)
5.  Crushed fruit loops work well.
---
13. CHOCOLATE DIPPED BANANA CHUNKS
Bananas – Peel the bananas and slice into several pieces.
Place the 8 oz. chocolate chips in a microwave safe bowl and cook on high until melted – about 1 minute, stirring every 30 seconds until smooth.
Optional: Dip the banana slices in the chocolate, then roll them in other ingredients as desired: Colored sugars…cinnamon sugar…peanut butter… chopped nuts…coconut… ice cream sprinkles…crushed cookies.
---
14. FROZEN MONKEY TREATS
A healthy snack that kids will like! Peel a banana and cut it in half.
Insert Popsicle sticks into the cut ends.
Dip the bananas into yogurt — and then roll the bananas in chopped nuts, crushed cereal, or coconut shavings.
Place the bananas on a small waxed paper-lined baking sheet and set the sheet into the freezer for an hour or so.
Fun to make and even more fun to eat!
---
15. QUICK BANANA ICE
1.  Take a few ripe bananas and mash them in a bowl.
2.  Cover and place in the freezer for about 30 minutes.
3.  Remove from freezer, fluff up with fork for a healthy, ice cream like treat.
---
16. TASTES JUST LIKE 'BANANA ICE CREAM'
This treat is similar to the above–however– first slice ripe bananas into circles and THEN freeze..
To freeze– spread out on a plate (if making soon)… or keep in a baggie if ice cream is made at another time.
When frozen, whirl in a blender until smooth. Although some say bananas easily blend –I find I get better results when a couple tablespoons of milk are added. Mash whatever small lumps are left.
Eat as is–or add a squirt of syrup, chocolate chips, or whatever you like with your banana ice cream. (The sample image used 1.5 bananas.)
TIP: When eaten immediately, the consistency is much like a 'soft-serve' dairy treat. When placed in freezer, it becomes more firm like ice-cream. Kid Activities' family prefers the soft-serve version. It seems the taste changes a bit when frozen again. It REALLY does taste like ice-cream! (Image by KidActivities.net)
---
FROZEN FRUIT TREATS…
17. FROZEN MANDARIN SLICES
Peel a few mandarin slices and cover in plastic wrap.
Place in the freezer for about an hour for a thirst quenching treat.
---
18. MOUSE POPSICLES
The name refers to the size of the treat!
Wash a bowl of seedless grapes, and then set the grapes in the freezer for about an hour.
Poke colored toothpicks into the grapes to serve.
---
19. FROZEN APPLESAUCE & FRUIT CUPS
Ingredients:
1 cup Chunky or Regular Apple Sauce
10 ounce package frozen strawberries, thawed
11 ounce can mandarin orange segments, drained
1 cup grapes, if desired
2 tablespoons orange juice concentrate
1.  In medium bowl, combine all ingredients.
2.  Spoon fruit mixture into individual dishes or paper cups.
3.  Freeze until firm.
4.  Remove from freezer about 30 minutes before serving.
Makes 7 (1/2 cup) servings.
---
20. YOU CAN FREEZE THE FOLLOWING FRUIT…
For a fast and frosty treat freeze grapes, pineapple chunks, peach slices, apricot slices, banana slices, apple slices, cantaloupe balls, watermelon chunks, orange wedges, berries and fruit leather!
________________
21. YOGURT KISSES
This is a quick, healthy and refreshing snack!
Simply take yogurt–the sample used a small container of regular raspberry Activa but any brand will do–and drop it by small teaspoons onto a plate or cookie sheet covered with wax paper. Place in freezer and ta-daa…yummy and nice yogurt kisses!
When frozen keep in covered container or plastic baggie and return to freezer.
If you would like a perfect "button shape"–put yogurt in a baggie. Snip of a corner of the bag and squeeze out perfect round shapes. Be sure to keep small;  they are eaten with fingers and melt quickly. (Image by KidActivities.net)
---
A COUPLE SUMMER TIPS USING 'CUPCAKE LINERS'!One 'under' and one 'over'…
When your kids are enjoying, Popsicles, Fudgesicles, or an Ice-Cream cone— insert a cupcake liner through thebottom of the stick or cone to catch the drips!
Outside with your favorite drink and want to shoo away unwanted beverage guests? Put a straw through a cupcake liner and place over the top of the glass! A great glass cover! (Images by KidActivities.net)
---
SUMMER BEVERAGES
22. LOVELY FRUITED LEMONADE…
First, make your favorite lemonade. Add a variety of sliced fruit. After being refrigerated, the lemonade will pick up the color and taste of the added fruit.
The lemonade in the image was made adding orange slices, blueberries, sliced strawberries, and squished raspberries to add the red color. Complete with ice-cubes and enjoy! (Image by KidActivities.net)
---
23. ORANGE SIPPER
Using a knife or the tip of a potato peeler, poke a hole about one third of the way through an orange. (Be sure the orange is the type with a lot of juice such as a Valencia)
Insert a plastic straw into the hole.
When thirsty, suck the orange juice out of the orange.
(You may need to "massage" the orange before you start)
---
24. REFRESHING and PRETTY WATERMELON COOLER
…This one is sooo good and easy too!
Ingredients: Watermelon chunks and frozen lemonade ice-cubes ( A couple strawberries thrown into the blender would also add a nice taste!)
This is extremely easy to make…just chunk up a watermelon and put into a blender. After combining watermelon, add PRE-MADE lemonade ice-cubes and continue to whirl in the blender. This drink will not be 'slushy' but more of a smooth or watery drink.
Add a few ice-cubes (made from water) to a glass and enjoy!
The cooler is best if drank immediately– as it will separate as it sits… (The pictured drink was made using about 3 cups of watermelon and about 7 small lemonade ice-cubes. If too many frozen-lemonade cubes are used, they will overpower the drink.
The glass in the sample is very large; this amount would fill two regular size glasses. NOTE: It is actually my husband's favorite summer drink that has been sampled this year! Oh! And did I forget to mention how much healthier this is than a soft drink beverage? Image by KidActivities.net
---
25. MAGICAL LAYERED JUICE
Ingredients:
1/4 cup chilled fruit nectar–apricot or peach
1/4 cup fruit punch drink
6 oz. glass
Pour fruit nectar into glass.
Tilt the glass and SLOWLY add the fruit punch.
Do not stir.
Makes one serving
---
26. COOL & REFRESHING MINT SHAKE
2 scoops vanilla ice cream
3/4 cup milk
3 or 4 drops green food coloring and a few  drops of peppermint extract flavoring…to suit your taste.
Chocolate syrup
Put ice cream, milk, peppermint, a few squeezes of chocolate syrup, and food coloring into a blender. Blend until smooth and green. Pour into glass.
NOTE: Having just made the above recipe, I added a few more large scoops of ice cream for a thicker shake. Either decrease the milk or increase the ice-cream. Don't be afraid to add the chocolate syrup. It doesn't change the color and gives it a good taste.  Image by KidActivities.net
Visit  'Smoothies, Shakes, and Coolers' for some other wonderful warm weather drinks!
---
Return to Page 1 of WARM WEATHER SNACKS…….RAINBOW THEMED SNACKS are fun in warm weather! Click Here for RAINBOW THEME–Snacks are near the page bottom. Also check out OCEAN THEMED SNACKS!
There you have it, 25 tasty summer snacks for kids. Make sure you check out our outdoor summer activities as well.
SaveSave
SaveSave
SaveSave