Disclosure: This post may contain affiliate links, meaning I get a commission if you decide to purchase through my links, at no cost to you. As an Amazon Associate, I earn from qualifying purchases. Read the full disclosure here.
Art, Crafts, Games, Discussion, Snacks/Recipes, Facts & Tips
ART & CRAFTS… 
ARM, HAND & FINGER PAINTING!!!  MESSY BUT FUN!
This is a given…Keep lots of water and paper towel nearby!
Paint each child's arm brown and hand and fingers green. Have them put it on construction paper to make a tree. Placing the green hand a few times on the paper–makes a nice tree. After, dip fingers in red paint to make cherries. Messy but the kids will love it!!! Image by KidActivities.net 
---

POPCORN CHERRY BLOSSOMS …
Put popped popcorn and pink powdered tempera paint in a baggie and shake. It makes great cherry blossoms for a spring art project or for President's Day. They look very real.
---
CHERRY TREES WITH TWIGS 
Glue twigs on sheets of sturdy white or light blue paper to make trees. You can use a variety of items for the cherries! Any of the following will work: small red circle sticker 'cherries'–fingers tips dipped into red finger paint–the popped-popcorn as above image shows– or 'pinched and squished' tissue paper squares!
---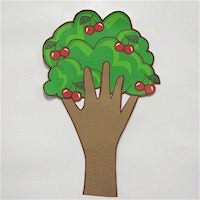 CONSTRUCTION PAPER – HANDPRINT CHERRY TREE…visit freekidcrafts for directions.
---
TP PAPER  CHERRY TREE…
Materials: Toilet paper roll, green & red construction paper, glue, hole punch, & stapler
Cut a cloud-type shape out of green construction paper that is folded in half so you will get 2 pieces with the same shape (front & back of tree). Make sure that it is big enough to go around TP roll.
Staple the top and sides of the tree together leaving the bottom open so it's like a pocket.
Use hole punch to make cherries out of red paper.
Put glue on the tree and have children put cherries on their tree while counting them.
When dry stick TP roll in the "pocket" and staple to make it tight around the "trunk".
---
MAKE CHERRY PLAY DOUGH — NO COOK METHOD    
This is my favorite play dough because–it's fast–no cooking–easy ingredients and smells good—tastes bad. The original recipe calls for 1 cup of flour–however just having made it–we added  another two or three cups of flour. When making play dough, you can always add more flour if it is too wet and a little more hot water if it's too dry! My 4.5 and 6 year old grand-daughters thought it was the greatest thing ever! (Barb )
Need:
2 1/2 c flour, sifted
1/2 c salt
3 T cooking oil
1 or 2 pkg Cherry flavored Kool-aid (unsweetened)
1 c very hot water
Mix together flour, salt, oil, and Kool-aid.
Add the cup of almost boiling water. Mix well.
Knead the mixture until it forms a soft dough.
Have fun!
Store in a sealed container in the refrigerator.
Your play dough will be the scent and color of the Kool-Aid!
*Any other unsweetened, powdered drink mix may be substituted.
*There may be colored hands but it washes off. (My own experiences have never produced colored hands–hower some have said theirs did.)
---
CHERRY 'SCRATCH AND SNIFF' WATER COLORS 
Ingredients:
1 Tablespoon purple powdered unsweetened cherry drink mix
1 Tablespoon warm water
Several small containers
1. Mix the water and unsweetened drink mix together in a small bowl.
2. Pour blended mixture into containers. (Muffin tins or film canisters work well.) You can also mix other colors to use in your art.
Paint with ordinary paint brushes, cleaning the brush between colors. Allow artwork to dry overnight before scratching and sniffing.
---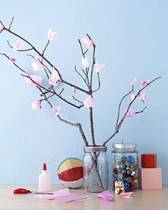 BRANCH CHERRY TREE
Gather branches that have fallen outside; let dry.
Cut out 2-inch squares of pink tissue, pinch tightly in the center to create blooms; affix them to branches with white glue.
Display in a tall container, such as a canning jar with the lid's center removed.
Source: marthastewart
---
MAKE 'THUMB PRINT' CHERRIES
On finger-paint paper, draw or copy a lot of cherry stems.
Using red finger-paint- have children use their thumbs to fill the page with "red cherries"!
Add green leaves if desired…
---
CHERRY KOOL-AID PAINT 
2 packages unsweetened cherry Kool-aid
2 cups flour
1/2 cup salt
3 cups boiling water
3 tablespoons oil
Mix dry ingredients together, then add wet ingredients. Paint.
---
USING FACE PAINT– PAINT CUTE RED CHERRIES (adding a little brown stem and green leaf) on face and hands!
---
MAKE EDIBLE CHERRY LIP GLOSS
Materials:
Cherry Flavored drink mix (Kool-Aid)
1 cup vegetable shortening
Food coloring
Small container such as a film container
1. Mix one packet of drink mix with shortening.
2. Add in a few drops of red food coloring that matches the flavor.
3. Pack in small container, such as a film container, and you have wonderful tasting and smelling lip gloss. Of course the lip gloss is edible should some accidentally be licked off.
---
SPRAY CHERRY KOOL-AID 
Sprinkle CHERRY Kool-aid crystals onto a piece of paper.
Have children spray water from a spray bottle onto the paper.
---
PAINT WITH CHERRIES!
Cut  some juicy red cherries in half. After pitting…use the cherry as you would a paint brush and draw on paper!
---

BERRY BASKET WEAVING
For each child, tie a long piece of yarn to a plastic berry basket. Have children weave the yarn in and out of the basket holes. If desired, they can also weave in item such as ribbon pieces, pipe cleaners or twine.
---
GAMES
PLAY ACTIVE GAMES using red balloons or balls.(Call them cherries!)
See many balloon games in the Races, Relay, Balloon and Bean Bag Category. (Balloon games are towards the bottom of the page.)
---
CHERRY AND WHIPPED CREAM FUN
A cherry pie eating contest would be expensive for a classroom or program–but how about a few cherries under a pile of whipped cream! Also great fun at home or a party!!!
Put two or three maraschino cherries on each plate and cover it with whipped Cream.  Children then use only their mouth to pick up and eat the cherries. The first child to do this wins!
---
PUT THE CHERRY ON THE SUNDAE!
Instead of Pin the Tail on the Donkey-play- Put the Cherry on the Ice-Cream Sundae.
Make a large picture of an ice-cream sundae. Also make a paper cherry for each player.
Proceed exactly as in playing Pin the Tail on the Donkey. One by one, blind fold the players as they try to 'top' the center of the sundae! The closest one wins.
---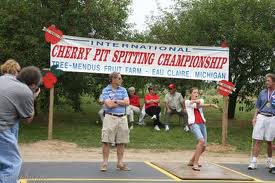 CHERRY-PIT SPITTING CONTEST!
How far can you launch a pit? Believe it or not…The Guinness World Record for competitive cherry-pit spitting is 93 feet 6.5 inches! Great fun for adults too!!!
This can be done two ways.
#1. Give each child a paper cup with their name written on it. As a snack, give them several cherries and save their pits in the cup. When the contest is later held–their alloted supply of pits is ready to go.
#2. Give each participant three or four cherries. One by one they eat the cherry and then spit the pit.
TIPS: 
Mark off the game area every 3 to 5 feet. This will make it easier to determine the winners. Pits can shoot an amazing distance! As an example–each year the city of Traverse City, Miching holds their Cherry Festivival. 'Pit Spitting' is one of the annual events. Men's pits usually travel an average of 55 feet, women's 35 feet and childrens' have flown 40 some feet.
Pit Spitting is a practiced art. Allow children to practice before the event begins!
Go over rules before the event begins!
---
DISCUSSION…
Like so many goodies, cherries have entered our common language in an important way: beautiful and delicious! They've become synonymous with the best of the best.
When things are going good we often say, "Life is just a bowl of cherries"! And then when they are going badly, "This is the pits!"
There is also the phrase "______ is the the cherry on the cake!"
---
RECIPE IDEAS USING CHERRIES!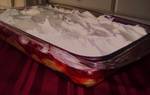 TWINKIE CHERRY DESSERT
Ingredients
1 box Twinkies
1 small box instant vanilla pudding
1 cup milk
1 can cherry pie filling
Whipped cream of Cool Whip
1. Cut Twinkies in half. Arrange in a single layer in bottom of pan or large glass bowl.
2. Mix pudding according to package directions. Pour pudding over Twinkies.
3. Spoon cherry pie filling over the pudding layer. Smooth the pie filling layer.
4. Top with Cool whip. Yumm!
NOTE: This dessert tasted just as fresh several days after it was made–as the day it was made! (Barb) Image by KidActivities.net
---

CHERRY-PINEAPPLE DUMP CAKE  Easy and good!
1 can (16 oz.) crushed pineapple
1 can (20 oz.) cherry pie filling (I use 2 cans)
1 pkg. yellow cake mix
1/2 – 2/3 c. chopped nuts
1/2 c. butter
Grease 9×13 pan. Dump in pineapple with juice, spreading evenly. Pour cherry pie filling over pineapple, spreading evenly. Add dry cake mix evenly over fruit. Add nuts. Drizzle melted butter over top. Do not mix. Bake 350 degrees for 1 hour.
Often when I make it I semi-drain the pineapple …Barb
THE ABOVE DESSERT USING THREE INGREDIENTS!
2 cans cherry pie filling
1 Yellow cake mix
1/2 cup melted margarine
Layer the ingredients in a 13×9-inch baking pan in the order given. Bake at 350 degrees  about 40 minutes or until; topping is golden. Serve with a dollop of whipped cream/topping or ice-cream.
---
 EASY CHERRY PIE
Follow package directions on pre-made pie crust… then fill it with Cherry Pie filling!
---

CHERRY TOPPED…NO-BAKE EASY CUPCAKE DESSERTS
Ingredients:
1 Package Cupcake Papers/Holders
1 Loaf Pound Cake or sponge cake
1 Can Cherry pie filling
1 Can of Cool Whip type topping
Cut cake into small cubes.
Place cubes at the bottom of each cupcake holder.
Plop a spoonful of cherries on top of the cubed cake pieces.
Keep chilled.
When ready to serve dab on whipped topping. (Image by KidActivities.net)
---
EASY CHOCOLATE COVERED CHERRIES (These are ohhhh so good!)
2 (10-ounce) jars maraschino cherries, with stems
1 (12-ounce) package milk or semisweet chocolate chips
Drain cherries; discard juice or use for another purpose.
Put cherries on paper towels to dry completely.
Put chocolate chips in a medium saucepan with a heavy bottom. Heat over low heat, stirring constantly, until chocolate is melted. (The chocolate can also be melted in the microwave.) Remove from heat.
Dip cherries into chocolate; swirl to coat completely. Place on a baking sheet lined with waxed paper. Refrigerate until set
Makes 5 dozen.
If desired, dip some of the cherries in melted white chocolate chips instead.  Start with 1 minute then continue at 30-second intervals, stirring after each, until completely melted.
Recipe Source: Cherry Marketing Institute.
---
ICE CUBE SHAPED CHERRY JELL-O
Make Cherry Jello using only 1/2 of the recipe directed amount of water.
Fill an ice cube tray with the Jello and refrigerate.
Carefully pop out each "cube" with a knife.
---
CHERRIES IN THE SNOW
1 large angel food cake
1 (16 oz.) tub whipped topping
1 can of cherry pie filling
1 9×13 inch (23×32.5 cm) pan
Scrape the light brown crust off the cake.
Tear the angel food cake into pieces and line the bottom of the pan. Place whipped topping on top of the cake pieces.
Use a spoon to place cherry pie filling on top of the whipped topping. Chill for a few hours.
---
CHERRY BRIE TORTE
1 (15- to 16-ounce) wheel Brie
6 tablespoons butter, softened
1/3 cup chopped dried tart cherries
1/4 cup finely chopped pecans
1/2 teaspoon dried thyme (or 2 teaspoons finely chopped fresh thyme)
Assorted crackers
Refrigerate Brie until chilled and firm; or freeze 30 minutes, or until firm. Cut Brie in half horizontally.
Combine butter, cherries, pecans and thyme in a small bowl; mix well. Evenly spread mixture on cut-side of one piece of the Brie. Top with the other piece, cut-side down. Lightly press together. Wrap in plastic wrap; refrigerate 1 to 2 hours. To serve, cut into serving size wedges and bring to room temperature. Serve with crackers.
---
CHERRY THUMBPRINT COOKIES
1 teaspoon vanilla
2 sticks butter or margarine
2 egg yolks
1/2 cup brown sugar
2 cups flour
1/2 teaspoon salt
maraschino cherries
Preheat oven to 350 degrees. In a large bowl, mix together the vanilla, butter, egg yolks and brown sugar until creamy. Add the flour and salt and mix well.
Have the children roll the dough into 1″ balls and place them on greased cookie sheets. Have the children make a thumbprint in each ball and then place a maraschino cherry in each thumbprint.
 Bake for 8 to 10 minutes. (Makes about 3 dozen cookies)
---

QUICK AND EASY IDEAS…
Serve scoops of vanilla ice-cream with a spoonful (or two) of cherry-pie filling.
Serve cherry-pie filling over vanilla pudding
Don't foget wonderful fresh cherries
Make Cherry Jell-O
Cherry Ice-Cream
Cherry Popsicles
Cherry Yogurt
Make Peanutbutter and Cherry JELLY/JAM SANDWICHES–cut with cute cookie-cutters if desired.
Store-bought cherry pie
---
CHERRY BEVERAGES
CHERRY COKE SUPREME
Ingredients:
1 12 OZ Coke
1 T Cherry Grenadine
1 T Maraschino Cherry juice
1 Maraschino Cherry
Combine the first three ingredients by mixing slowly so as not to disturb the bubbles in the soda. Pour in tall glass over ice and top with Maraschino Cherry.
---
CHERRY JELL-O SMOOTHIE
Small package of Cherry Jell-O
1/2 Cup milk
1 Cup cherry yogurt
1/2 cup fruit of choice (pitted cherries, banana, etc.)
1/2 cup ice cubes
Put all ingredients in blender and mix until smooth.
---
CHERRY LIMEADE
1/2 cup lemon lime soda
Juice of 2 limes
1 tsp cherry juice
1 maraschino cherry
Squeeze lime juice into a tall glass.
Add soda and cherry juice and stir well.
Add a maraschino cherry on top!
---
CHERRY LEMONADE for 12
2 cups hot water
1 1/2 cup sugar
8 cups cold water
1 cup fresh lemon juice
12 ounces maraschino cherries — un-drained
In a large pitcher, combine hot water and sugar; stir until sugar is dissolved.
Add cold water, lemon juice and cherries with their juice.
Mix well. Serve over ice.
---
'CHERRY JELL-O' MILKSHAKE
1 cup milk
1 pkg. (4-serving size) Cherry Jello'  (For other times -any flavor is fine)
1 pint vanilla ice cream, softened
Directions:
Place milk and ice cream in blender. Add Jello. Blend 30 seconds.
---
 A FEW CHERRY FACTS…
There are more than 1,000 types of cherries and are grown in 20 countries. Practically all cherries fall into just two categories–either sweet or sour. (P. avium -sweet cherries and P. cerasus-sour cherries) The number of cultivated cherry varieties worldwide is now estimated to be about 900 for sweet and 300 for sour.
Cherries are from the Rose family and are related to plums, peaches, apricots, and almonds.
Some types of cherries are:
Bing
Black
Black Stone Cherry
Chelan
Choke Cherry
Lapins
Maraschino
Morello
Napoleon
North Star
Rainier
Spanish Cherry
Sweetheart
Tieton
Bing cherries are the best-known variety of a sweet cherry. Rainer cherries are sweet with a yellow or pinkish skin. They are milder and sweeter than the bing but are grown in limited quantities.
The montgomery cherry is the best-known sour cherry, and is mostly used for pie filling or sauce.They are grown mainly in the eastern and midwestern states.
Cherries are a good source of Vitamins A and C and potassium, and sour cherries are higher in Vitamin C and Beta carotene.
Cherries have a very short growing season and can grow in most temperate latitudes. The peak season for cherries is in the summer.
In Australia they are usually at their peak around Christmas time…
In southern Europe in June…
In North America in June…
In south British Columbia (Canada) in July-mid August…
In the UK in mid July…
CHERRY TREES
In the United States, there are more than 1,000 different varieties of cherry trees, almost all of them blossoming over a three-week period in late May and early June. Of those 1,000, about ten varieties are produced commercially and are put to good use. Every tree produces about 7,000 cherries–which is about thirty pies each! In many parts of North America they are among the first tree fruits to ripen.
---
CHERRY TIPS…
Always buy completely ripe cherries. Unlike other stone fruits, cherries do not ripen off the tree.
Look for cherries that are plump and brightly colored; avoid those with blemishes, or those which feel hard to the touch.
Cherries are highly perishable: Their shelf life is about four days in the refrigerator. Use them promptly, or they will rot.
Cherries can be frozen; this is a good way to preserve both the fruit and its juice. Do not defrost cherries before using them to cook or bake, or you risk losing some of their succulent juice.
As with many plants in the Rosaceae family (including the apricot and the Japanese plum), cherry leaves are poisonous and should not be eaten.
Cherry juice stains hands, table linens and clothing.
For stained hands, rub lemon juice over the affected areas and rinse well with warm water. For fabric, apply a commercial brand of stain remover directly to the stained portion of the material, follow directions and repeat as necessary.
---
SaveSave