Art Themed Activities for Kids
If you are looking to teach kids about cherries, take a look at these fun ideas below.
You'll find cherry themed arts and crafts as well as other fun games and activities.
Great for a cherry theme day in the classroom.
Cherry Themed Arts & Crafts
1. ARM, HAND & FINGER PAINTING!!! MESSY BUT FUN!
This is a given…Keep lots of water and paper towels nearby!
Instructions
Paint each child's arm brown and hand and fingers green.
Have them put it on construction paper to make a tree. Placing the green hand a few times on the paper–makes a nice tree.
After, dip fingers in red paint to make cherries.
Messy but the kids will love it!!! Image by KidActivities.net
---

2. POPCORN CHERRY BLOSSOMS …

Put popped popcorn and pink powdered tempera paint in a baggie and shake. It makes great cherry blossoms for a spring art project or for President's Day. They look very real.
---
3. CHERRY TREES WITH TWIGS
Instructions
Glue twigs on sheets of sturdy white or light blue paper to make trees.
You can use a variety of items for the cherries! Any of the following will work: small red circle sticker 'cherries'–fingers tips dipped into red finger paint–the popped-popcorn as above image shows– or 'pinched and squished' tissue paper squares!
---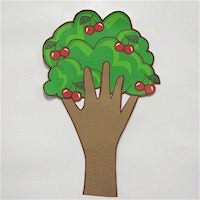 4. CONSTRUCTION PAPER – HANDPRINT CHERRY TREE…visit freekidcrafts for directions.
---
5. TP PAPER CHERRY TREE

Materials:
Toilet paper roll
Green & red construction paper
Glue
Hole punch
Stapler
Instructions
Cut a cloud-type shape out of green construction paper that is folded in half so you will get 2 pieces with the same shape (front & back of tree). Make sure that it is big enough to go around TP roll.
Staple the top and sides of the tree together leaving the bottom open so it's like a pocket.
Use hole punch to make cherries out of red paper.
Put glue on the tree and have children put cherries on their tree while counting them.
When dry stick TP roll in the "pocket" and staple to make it tight around the "trunk".
---
6. MAKE CHERRY PLAY DOUGH — NO COOK METHOD
This is my favorite playdough because–it's fast–no cooking–easy ingredients and smells good—tastes bad. The original recipe calls for 1 cup of flour–however, just having made it–we added another two or three cups of flour. When making play dough, you can always add more flour if it is too wet and a little more hot water if it's too dry! My 4.5 and 6-year-old grand-daughters thought it was the greatest thing ever! (Barb )
Ingredients:
2 1/2 c flour, sifted
1/2 c salt
3 T cooking oil
1 or 2 pkg Cherry flavored Kool-aid (unsweetened)
1 c very hot water
Instructions
Mix together flour, salt, oil, and Kool-aid.
Add the cup of almost boiling water. Mix well.
Knead the mixture until it forms a soft dough.
Have fun!
Store in a sealed container in the refrigerator.
Your play dough will be the scent and color of the Kool-Aid!
*Any other unsweetened, powdered drink mix may be substituted.
*There may be colored hands but it washes off. (My own experiences have never produced colored hands–however, some have said theirs did.)
---
7. CHERRY 'SCRATCH AND SNIFF' WATERCOLORS
Ingredients:
1 Tablespoon purple powdered unsweetened cherry drink mix
1 Tablespoon warm water
Several small containers
Instructions
Mix the water and unsweetened drink mix together in a small bowl.

Pour blended mixture into containers. (Muffin tins or film canisters work well.) You can also mix other colors to use in your art.

Paint with ordinary paintbrushes, cleaning the brush between colors. Allow artwork to dry overnight before scratching and sniffing.
---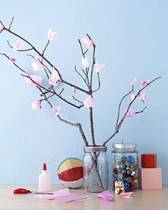 8. BRANCH CHERRY TREE
Instructions
Gather branches that have fallen outside; let dry.
Cut out 2-inch squares of pink tissue, pinch tightly in the center to create blooms; affix them to branches with white glue.
Display in a tall container, such as a canning jar with the lid's center removed.
Source: marthastewart
---
9. MAKE 'THUMBPRINT' CHERRIES
Instructions
On finger-paint, paper, draw or copy a lot of cherry stems.
Using red finger-paint- have children use their thumbs to fill the page with "red cherries"!
Add green leaves if desired…
---
10. CHERRY KOOL-AID PAINT
Ingredients:
2 packages unsweetened cherry Kool-aid
2 cups flour
1/2 cup salt
3 cups boiling water
3 tablespoons oil
Instructions
Mix dry ingredients together, then add wet ingredients. Paint.
---
USING FACE PAINT– PAINT CUTE RED CHERRIES (adding a little brown stem and green leaf) on face and hands!
---
11. MAKE EDIBLE CHERRY LIP GLOSS
Materials:
Cherry Flavored drink mix (Kool-Aid)
1 cup vegetable shortening
Food coloring
A small container such as a film container
Instructions
Mix one packet of drink mix with shortening.
Add in a few drops of red food coloring that matches the flavor.
Pack in a small container, such as a film container, and you have a wonderful tasting and smelling lip gloss. Of course, the lip gloss is edible should some accidentally be licked off.
---
12. SPRAY CHERRY KOOL-AID
Instructions
Sprinkle CHERRY Kool-aid crystals onto a piece of paper.
Have children spray water from a spray bottle onto the paper.
---
13. PAINT WITH CHERRIES!
Cut some juicy red cherries in half. After pitting…use the cherry as you would a paintbrush and draw on paper!
---
14. BERRY BASKET WEAVING
Instructions
For each child, tie a long piece of yarn to a plastic berry basket.
Have children weave the yarn in and out of the basket holes.
If desired, they can also weave in items such as ribbon pieces, pipe cleaners, or twine.
---
Cherry Themed Game Ideas
PLAY ACTIVE GAMES using red balloons or balls. (Call them cherries!)
See many balloon games in the Races, Relay, Balloon and Bean Bag Category. (Balloon games are towards the bottom of the page.)
---
15. CHERRY AND WHIPPED CREAM FUN
A cherry pie eating contest would be expensive for a classroom or program–but how about a few cherries under a pile of whipped cream! Also great fun at home or a party!!!
Instructions
Put two or three maraschino cherries on each plate and cover it with whipped cream.
Children then use only their mouths to pick up and eat the cherries.
The first child to do this wins!
---
16. PUT THE CHERRY ON THE SUNDAE!
Instead of Pin the Tail on the Donkey-play- Put the Cherry on the Ice-Cream Sundae.
Instructions
Make a large picture of an ice-cream sundae.
Make a paper cherry for each player.
Proceed exactly as in playing Pin the Tail on the Donkey.
One by one, blindfold the players as they try to 'top' the center of the sundae!
The closest one wins.
---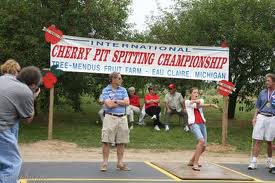 17. CHERRY-PIT SPITTING CONTEST!
How far can you launch a pit? Believe it or not…The Guinness World Record for competitive cherry-pit spitting is 93 feet 6.5 inches! Great fun for adults too!!!
This can be done in two ways.
#1. Give each child a paper cup with their name written on it. As a snack, give them several cherries and save their pits in the cup. When the contest is later held–their allotted supply of pits is ready to go.
#2. Give each participant three or four cherries. One by one they eat the cherry and then spit the pit.
TIPS:
Mark off the game area every 3 to 5 feet. This will make it easier to determine the winners. Pits can shoot an amazing distance! As an example–each year the city of Traverse City, Miching holds their Cherry Festival. 'Pit Spitting' is one of the annual events. Men's pits usually travel an average of 55 feet, women's 35 feet and children's' have flown 40 some feet.
Pit Spitting is a practiced art. Allow children to practice before the event begins!
Go over rules before the event begins!
---
DISCUSSION…
Like so many goodies, cherries have entered our common language in an important way: beautiful and delicious! They've become synonymous with the best of the best.
When things are going good we often say, "Life is just a bowl of cherries"! And then when they are going badly, "This is the pits!"
There is also the phrase "______ is the cherry on the cake!"
---
SaveSave