Are you looking for French Day Activities including French Games For Kids and French art activities For Kids? 
You've reached the right place! This guide will share 34 fun French theme activities for kids that will keep your students or children busy for hours. 
Why teach children about France? Kids love learning about other cultures and the histories of other countries. 
France is a particularly interesting country because of its rich culinary traditions and close ties with the United States
This article is packed with:
French games for kids
French club ideas
French art activities
Fun french lessons for kids
French day activities
French classroom decoration ideas
Let's check them out!
'Traveling Around the World' are great themes for multicultural experiences as well as popular for classroom, day camp and childcare programs!
Category resources available at this time are:
French fashion show themes for kids
Paris…one of the fashion centers of the world! So naturally let's HOLD A FASHION SHOW!
Following are three different ideas… (From Drama Category)
This is fun for Day Camp, in stages for an event …or full days of programming…
Props that would be helpful are: spotlights; a backdrop; if possible, a raised platform/ stage or catwalk; music and sound system…
1. French fashion show for kids
First session: Putting on a fashion show can be fun for all players, especially if everyone gets to choose the role they will play.
In the planning stages, have participants decide on a theme for the show (such as fall fashions or holiday outfits); plan music and which roles children will play.
Both male and female models would be nice; you'll also need designers, emcees, a journalist or two, and photographer.
Help the players plan the setup; where youth will enter and exit—as well as where the audience will sit.
Make a list of special clothing to wear during the show and any other props you may need. If you have the "#3-WACKY" version below-you'll also have to make the outfits.
Second session: Give members time to set up the show and get organized. Get the audience seated a let the show begin!
2. Failed French Fashion Show
Rehearse a fashion show in which EVERYTHING GOES WRONG! ( On purpose ) It's fun but not easy to do.
Example: The emcee trips over the microphone cord, or models wear things that don't fit-and don't go together. Think of all the silliness you can!
3. French Hair Show Themed Ideas
One activity that I facilitated while managing a summer camp was to have a "WACKY HAIR-DO AND FASHION SHOW".
The staff and kids "in fantasy fashion" back-combed, jelled, and styled each other's hair while others designed, drew, cut-out, and taped outfits using ROLL-PAPER.
They also used paints/ markers, tape, and accessories! Of course, there was also a fantasy make-up.
It was great fun!!! ( Barb Shelby ) When the hair and costumes were complete, a show was held for the rest of the day-campers!
NOTE: Any of the final stage above ideas would be great for a family event.
French Art Activities
ART-CRAFTS-DECORATIONS and French classroom decorations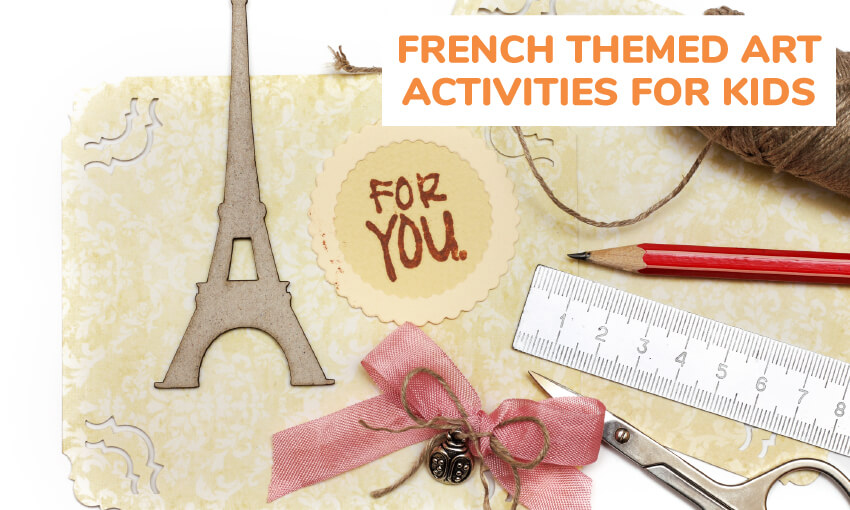 4. French Maps and French Flags For Kids
Put up MAPS of France and make FRENCH FLAGS! ALSO.
Hang ( or make ) a large French flag on the wall; set up a PHOTOGRAPHY AREA in front of the flag where you can take photos of kids. ( Be sure to first get parental permission to photograph )
5. French Classroom Decorations
In big bold letters write some of the French words (See below in teaching French words) and phrases on card-stock.
Hang these on the walls! You could write the words in French and English ( or your language ), or put pictures below the French word! 
The children will literally be reading the walls!  They make fun french lessons for kids.
6. French Classroom Decorations – Balloons
Get plenty of blue, white and red BALLOONS for your decorations. These represent the three colors of the French tricolor.
7. Dress in French Colors
Have all children and staff members wear versions of BLUE, WHITE, AND RED!
8. Eiffel tower activities for kids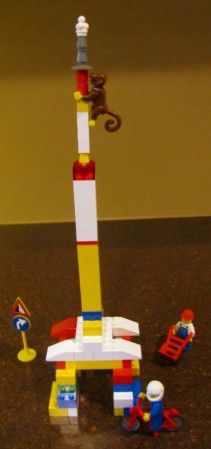 Make Eiffel Towers using LEGOS or Toothpicks and marshmallows or spaghetti and gum drops.
You can  challenge the children to make Eifel Towers using any of the above materials! If using Legos.
Gather all you can and see what the kids come up with…the tallest, straightest, most curvy, smallest, unique, realistic, etc.
There is also a great idea below under 'GAMES at #6'…where kids team up and build towers using 'STRAWS AND TAPE'!
Traditional French Arts and Crafts
Experiment with all kinds of PAINTING  ( watercolor, finger paint, tempera, etc )
Visit the 'Paint and Color Recipe/Idea Category' on this site as well as 'Art Activities Category'! Tons of wonderful ideas to try.
9. French Impressionist Paintings For Kids
PAINT IMPRESSIONIST MURALS do this with small groups of kids for each mural.
10. Create French Jewellery
String bleu-blanc-rouge PONY BEADS onto string, yarn or elastic for necklaces ( Blue, white, red-the colors of France )
11. Create Papier Maché French Art
Try some Papier Maché ( See Pinatas-Paper Maché category )
12. Run an Outdoor French Market
For fun and an authentic French atmosphere, set up an OPEN AIR MARKET AND CAFE AREA.
Set up tables covered in red and white cloth or roll paper. Have snacks and play board games in this area!
This would also be a great place to display your completed classroom/camp/program arts and crafts!
You could also decorate/fill this area with FLOWERS!
See 'Flower Category' for ideas on making paper flowers.

13. Paint T-Shits French
PAINT T-SHIRTS
with French words such as 'Oui'!
French Sports for Kids
14. Tour de France for Kids
HAVE A BIKE DAY- ( In honor of Tour de France )
Have the kids bring their bikes and have a bike race-but make it the 'SLOWEST BIKE' IS THE WINNER!
SLOW BICYCLE RACE. How slowly can you ride a bike without touching the ground?
Safety Rules. 
You must wear a helmet on your head when you are on a bike and both wheels of the bike must be on the ground at all times, so…
NO Bunny hops
NO Wheelies
NO flying through the air in general
Stay in your team's track
Watch out for your classmates.
Directions: Eachperson will ride a bike through a track two times in a row. Make the track a rectangle about 20 feet ( 6 meters ) long and 2 feet ( 60 centimeters ) wide.
You have to ride the bike through the track as slowly as you can. Use a stopwatch to time how long each ride takes:
Start the timer when the bike's back tire enters the track.
Stop the timer when the bike's back tire leaves the track or if the rider's foot touches the ground
Record the time of each ride on the Slow Bicycle Race Data Chart: Give each person two turns in a row and record everyone's times.
To calculate how slow your team went– you need to know:
15. Kids Bike Decorations
Using crepe paper and streamers, have the kids DECORATE THEIR BIKES with blue, white, and red crepe paper ( Colors of France. ) 
You can also attach playing cards to the frame so they hit the spokes & sound like a wheel of fortune.
French Language Games For Kids
DOES ANY STAFF MEMBER SPEAK FRENCH?
To incorporate a foreign language into your curriculum, all one needs is first-year language!
Teaching greetings, 'Thank-you and Your Welcome, 'Yes and No' along with a few phrases and numbers is all that is needed for fun french lessons for kids.
If no-one speaks French-can you invite someone that does?
Great Idea, invite your local HIGH SCHOOL FRENCH CLASS to share in the festivities! Beside teaching simple phrases there are many more activities they could share both your ideas and some of their own!
Have NAME TAGS with kids names WRITTEN IN FRENCH for them to wear ( Peter would be Pierre ) Purchase a French name book to look up names. Checking Amazon.com. There are French name books starting at 99 cents for used.
16. POLITE PHRASES IN FRENCH
Hell-o (good day) = bonjour (bone-je-or)
Good evening = bonsoir (bone-swa-r)
Please = s'il vous plaît (seel-voo-play)
Thank you = merci (mare-see),
Excuse me = excuse moi (x-kyoos-eh-mwa)
Good night = bon nuit (bone noo-ee)
Good-bye = au revoir (O rev-wa-r)
I'm sorry = je suis dé solé (je swee des-o-lay)
17. COLORS IN FRENCH
Red = rouge (roo-je)
Orange = orange (oh-ran-je)
Yellow = jaune (je-awn)
Green = vert (var)
Blue = bleu (bl-oo)
Purple = violet (vee-o-lay)
Pink = rose (row-s)
White = blanc (bl-an)
Black = noir (noo-ar)
18. FOOD IN FRENCH
| | |
| --- | --- |
| Bread | le pain (le pahn) |
| Milk | le lait (le lay) |
| Banana | le banane (le ba-nahn) |
| Apple | le pomme (le pahm) |
| Juice | le jus (le je-oo) |
| Orange | orange (oh-ran-je) |
| Tomato | le tomate (le toe-maht) |
| Cheese | le fromage (le froh-ma-je) |
| Hot dog | le hot dog (le oht-dog) |
| Hamburger | le hamburger (le am-bur-ger) |
| Sandwich | le sandwich (le sand-weech) |
French Songs For Kids
19. TEACH AND SING 'FRÈRE JACQUES'
Sing in French and then in English! When children know the words, get a round going!
Frère Jacques,
Frère Jacques,
Dormez vous?
Dormez vous?
Sonnez les matines,
Sonnez les matines,
Din, din, don!
Din, din, don!
English Version:
Are you sleeping, Are you sleeping? Brother John? Brother John? Morning bells are ringing, Morning bells are ringing, Ding ding dong, Ding ding dong.
A more literal translation of the French lyrics is:
Brother James, brother James,
Are you sleeping? Are you sleeping?
Ring the morning bells! Ring the morning bells!
Ding, dang, dong. Ding, dang, dong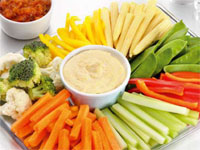 French Cooking For Kids
20. French Snacks For Kids
French bread
Cheese and cracker platter
Crudités ( veggies ) with dip
Fresh fruit
Chocolate dipped strawberries
Pome Frette's ( French fries ) with vinegar and oil
Crepes
French toast
Petite Fours ( Very small  glazed cakes )
Croissants
Quiche
Chocolate mousse
Petit beurre cookie ( literally "little butter" ) A small rectangular cookie that can be purchased in French food shops, also Macaroons, Madeline cookies
21. FRENCH CHOCOLATE  SANDWICH FOR KIDS
Karen, a middle school French teacher, shares that a favorite of her students on food days is the chocolate sandwich.
Take two pieces of bread ( French, bien sur! ) and put a plain chocolate bar in between. Voila! A typical French child's favorite after school snack.
22. FRENCH ESCARGOT
Do you have an adventurous group of kids? Send home a permission slip for snail tasting. TAKE PHOTOS and award an "I ate an escargot" certificate!
23. FRENCH DRINK RECIPES FOR KIDS
Pink fizzy punch in plastic cups or wine glasses would be a fun drink-as well as.
Carafes of juice (Purple and White grape juice)
FRENCH GAMES FOR KIDS
24. PLAY SOCCER
25. FRENCH GAMES FOR KIDS – STRIKE A POSE GAME
A GAME to go with the above 'French Fashion' Theme
Form a circle. Each person chooses one other person in the circle to secretly watch.
2. Everyone closes their eyes and strikes a pose.
3. On "GO" — everyone opens their eyes and begins to copy the person they chose to watch. (In posture, pose, stance, etc.)
Watch as the whole team morphs into the same pose!
26. French Theme Puzzle Games
ON THE GAME TABLES, put French-themed puzzles, card games, concentration games…
27. French Language Games For Kids
Set up the COMPUTER CENTER with language learning games.
28. Simon Says in French
PLAY 'Jacques Dit' which is 'Simon Says' in French
29. Eiffel Tower Activities For Kids
Have an EIFFEL TOWER BUILDING CONTEST!
Split kids up into pairs or teams.
Give each team a set amount of straws and tape Example: 25 straws & 2 feet of masking tape (or more of each)
Set a pre-determined time to build the free-standing 'Eiffel' tower.
For teamwork and creativity give certificate for the tallest, shortest, straightest, most leaning, most authentic, most realistic, most unusual or unique, most original, most humorous, etc.
BE SURE TO LEAVE the towers on display in the 'Open Air Market' or 'Cafe' area! (Maybe a wide hall area or in the cafeteria of your camp or program space?)
How was the Eiffel Tower Built? Watch this video:
30) Kid's French Scavenger Hunt
Select an older child, staff member, or volunteer French Class student to be a tour guide. 
Have the 'Tour Guide" facilitate a scavenger hunt for famous Paris monuments. The monuments can be pictures, posters, and postcards scattered around the inside and outside of the building!
Example: Mont St Michel, Eiffel Tower, Notre Dame,Moulin Rouge,The Louvre, France Miniature theme park,etc. Famous French works of art could also be included.
Most Popular French Artists:
Yves Tanguy
Henri Matisse
You could also include Picasso. Although born in Spain, he spent much of his life living and painting in Paris.
Along with Henri Matisse, he is considered one of the greatest artists of the 20th century.
Pictures of famous monuments and art can easily be found on the internet. This would also be an excellent learning opportunity! Discuss the monuments and art before children search!
31. French Games For Kids – PANTOMIME
Invite someone to TEACH-DEMONSTRATE MIME!
Play MIME DRAMA GAMES. See the PANTOMIME CATEGORY all kinds of ideas there!
32. French Games For Kids – PETANQUÉ
TEACH/PLAY THE TRADITIONAL GAME OF PETANQUÉ or French lawn bowling.
The game of boules, otherwise known as petanqué, is perhaps the sport that is closest to French hearts.
Similar to British lawn bowling or Italian bocce. However, with bocce–the ball is rolled and with pétanque the ball is thrown.
33. French Art Activities – Artists and Blobs
Honoring both the ART AND FASHION OF FRANCE-PLAY 'ARTISTS AND BLOBS'.
Have children work in 2 or 3 person teams. Ask each team to pick an 'A' and a 'B'. 'A's' are the artists, and 'B's' are the blobs.
The artist (s) forms his/her partner into some kind of statue. The blob relaxes as much as possible until the statue is formed, then tries to hold that pose.
( TIP: PLAY MUSIC while artists are forming blobs. It goes a lot better with music in the background. )
When art works are complete have artists walk about and admire each other's creations!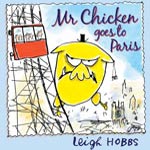 The following ideas come from a visitor to KidActivities who happens to facilitate a French Club for High School Students!
Hello, I just wanted to add some suggestions to the French Page of your site. (I stumbled upon it looking for ideas for my French Club in high school this year)
A good french-like beverages are sparkling cider & Oragina. Oragina is particularly favored in France.
A good children's book is "Mr. Chicken goes to Paris" by Leigh Hobbs. I bought this book at the Louvre in France.
I thought it was ridiculous, but I couldn't put it down. It is an adorable book, with humor I've found people of all ages love.
Best Regards,
-K. Leann
Thank you for taking the time to send this Ms. Leann! Barb
French Books For Children

34. LIST OF CHILDREN'S BOOKS-SET IN FRANCE
( All books can be purchased at Amazon.com-starting used at .01 cents! )
A Brave Soldier by Nicolas Debon
A Poodle in Paris by Connie Kaldor
Adele & Simon by Barbara McClintock
Anatole by Eve Titus
Andy Says … Bonjour! by Pat Diska
Belinda in Paris by Amy Young
Charlotte in Paris by Joan Knight
Chloe's Birthday . . . and Me (Anne Schwartz Books) by Giselle Potter
Crepes by Suzette by Monica Wellington
Eloise in Paris (Eloise Series) by Kay Thompson
French Kitty in Kitty Goes to Paris by Mighty Fine
Happy Orpheline by Natalie Savage Carlson
I, Crocodile by Fred Marcellino
Jeanne-Marie in Gay Paris by Francoise
Linnea in Monet's Garden by Claude Monet
Madeline, Reissue of 1939 edition by Ernesto Livon-Grosman
Marie: An Invitation to Dance (Girlhood Journeys) by Lyn Durham
Mirette on the High Wire by Emily Arnold McCully
Moi and Marie Antoinette by Lynn Cullen
Ooh-la-la (Max in Love) (Picture Puffin) by Maira Kalman
Pancakes – Paris by Claire Huchet Bishop
Postmark Paris: A Story in Stamps by Leslie Jonath
Remy's Adventure in Paris (Ratatouille) by tk
Secret Letters From 0 To 10 (Puffin Books) by Susie Hoch Morgenstern
Suzette and the Puppy: A Story About Mary Cassatt (Young readers) by Joan Sweeney
The Cat Who Walked Across France by Kate Banks
The Cows Are Going to Paris by David Kirby
The Family Under the Bridge by Natalie Savage Carlson
The Giraffe of King Charles X by Miche Wynants
The Glorious Flight: Across the Channel with Louis Bleriot July 25, 1909 by Alice Provensen
The Happy Lion by Louise Fatio
The House of the Four Winds by Colette Vivier
Miss Panda in France by Ambika Mathur-Kamat
The Mona Lisa Caper by Rick Jacobson
The Shadow Children by Steven Schnur
This is Paris (This is . . .) by M. Sasek
Tino Turtle Travels to Paris, France by Carolyn L. Ahern
Tosca's Paris Adventure by Abby Wasserman
'Traveling Around the World' are great themes for multicultural experiences as well as popular for classroom, day camp, and childcare programs! 
BONUS – Invite a guest speaker
Invite a French speaker to teach the kids about the French culture and people. This could be a great opportunity for the kids to learn by a real person and also hear the language from a first person experience.
Category resources available at this time are: