Do you crave delicious pumpkin snacks and treats right now? As the leaves start falling and Thanksgiving approaches, we can totally relate. You will find an assortment of pumpkin themed food ideas whether it's a pumpkin dessert, treats, pumpkin dips, or a hot cup of pumpkin cocoa. Get the kids involved in cooking and practicing food preparation and cooking.
Pumpkin Snacks List
1. PUMPKIN DIP RECIPE
What you need:
4 c. powdered sugar
2 (8 oz.) pkgs. cream cheese
1 can (30 oz.) pumpkin pie filling
2 tsp. cinnamon and 1 tsp. ginger
What to do:
Combine sugar and softened cream cheese until well blended. Beat in remaining ingredients. Store in airtight container in the refrigerator.
This dip is good with gingersnaps!
2. PUMPKIN DIP RECIPE #2 
What you need:
| | |
| --- | --- |
| 1 – 8 ounce package cream cheese, softened | 2 cups confectioner's sugar |
| 1 – 15 ounce can pumpkin puree | 1 tablespoon pumpkin pie spice |
| 1 teaspoon pure orange extract | 1/2 teaspoon ground ginger |
| Gingersnaps cookies, apple slices | |
What to do:
Blend cream cheese and confectioner's sugar until smooth in food
processor. Remove cover and add pumpkin and remaining ingredients. Blend
thoroughly. Chill 30 minutes or until ready to serve.
Serve with cookies and/or apple slices.

3. PUMPKIN DIP RECIPE #3
What you need:
2 cups Pumpkin Puree – canned or fresh
1 cup Brown Sugar
1 tsp. Ground Cinnamon
1 tsp. Pumpkin Pie Spice
1 pkg. Cream Cheese, softened
What to do:
1. Place pumpkin puree and cream cheese into alarge bowl and mix together.
2. Add all other ingredients
3. Mix ingredients together until smooth and
creamy.
4. Refrigerate at least four hours or overnight.
5. Serve with ginger snaps, crackers, apples, celery, carrots, etc.
TIP: RECIPE FOR 'PUMPKIN PIE SPICE'.
Of course you can purchase the spice, but you can also make your own!
Ingredients:
4 tablespoons ground cinnamon and 4 teaspoons ground nutmeg
4 teaspoons ground ginger
3 teaspoons ground allspice
What to do:
In a small bowl, combine all ingredients and mix well. Store in air tight container.
4. PUMPKIN PUDDING RECIPE
Ingredients:
1 cup Canned Pumpkin
1 pkg. (4 serving size) Instant Vanilla Pudding Mix
1 tsp. Pumpkin Pie Spice
1 1/4 cups Skim Milk or 1% Milk
What to do:
Mix all ingredients together.
Place in individual bowls or glasses and chill until set.
Serve cold.
Makes 4 servings
5. CROCK POT PUMPKIN PUDDING 
NOTE – Just like pumpkin pie without the crust
Ingredients:
1 can ( 15oz.) pumpkin puree' or filling
1 scant tbsp of pumpkin pie spice
2 tsp of vanilla
1 can  evaporated milk
3/4 cup of sugar ( Adria used 1/2 white, 1/4 brown)
1/2 cup of biscuit mix/bisquick
2 tbsp butter
2 eggs
OPTIONAL:
Whipped cream or Cool Whip
Individual pie crusts
Graham crackers
What to do:
Spray crock pot with non-stick spray
Combine all ingredients in a mixing bowl – use an electric mixer at low speed & mix until smooth. -Pour into crockpot
Cook on low for 6 to 8 hours (at about the 4 hour mark check the rock pots cook at various temps) Pudding is done when it's similar to a pie or mousse. The sample was more like a firm 'whipped mousse'.
PRO TIP – Adria put 2 paper towels, layered, across the top of the CP before she put the lid on to catch the moisture, you may not have to do that. Serve in bowl with cool whip, or in individual pie crusts, or in a bowl with cool whip and graham crackers crumbled. It all depends how you like to eat " pumpkin pie"
TIP: if you like to eat your pumpkin pie cold – put in a dish and refrigerate til ready to eat.
6. MICROWAVE PUMPKIN BUTTER
Ingredients:
| | |
| --- | --- |
| Scant 1/4 cup brown sugar | 1/4 cup water |
| 1/2 teaspoon allspice | 1/4 teaspoon ginger |
| 1/4 teaspoon clove | 1/4 teaspoon nutmeg |
| 1/2 teaspoon cinnamon | 1 1/2 cups (15 oz) canned pumpkin (NOT pumpkin pie filling mix) |
Adjust all to your taste

Combine everything except pumpkin in microwave-safe bowl. Mix well, and microwave on high for three minutes. Carefully remove from microwave, stir well. Stir in pumpkin and microwave on high 5 minutes.
Remove from microwave, stir, and let cool.
Pumpkin is not butter but sweet, spicy, and dense. It's great on toast or pancakes. Also-makes nice holiday gifts!
7. CROCK POT-SLOW COOKER PUMPKIN BUTTER
Ingredients:
2 cups of cooked, pureed pumpkin (or you can use a 15oz can of pumpkin if you don't want to use fresh)
1 cup white sugar
1 cup brown sugar
1 tsp. cinnamon
1/4 tsp nutmeg
1 Tbsp. finely grated fresh ginger
1/8 tsp ground cloves
What to do:
Combine all ingredients in crock-pot and stir to mix well.
Cook on Low for 5 hours, stirring occasionally. It will thicken as it cooks.
*Do not let it burn or stick. Store in the refrigerator or freeze.
8. NO-COOK PUMPKIN PIE (Individual servings)
Give each child a cup. Into their cup put a large scoop of canned pumpkin, marshmallow crème, cool whip, and pumpkin pie spices. Children then mix and  spread it on graham crackers and eat.
9. NO BAKE PUMPKIN PIE RECIPE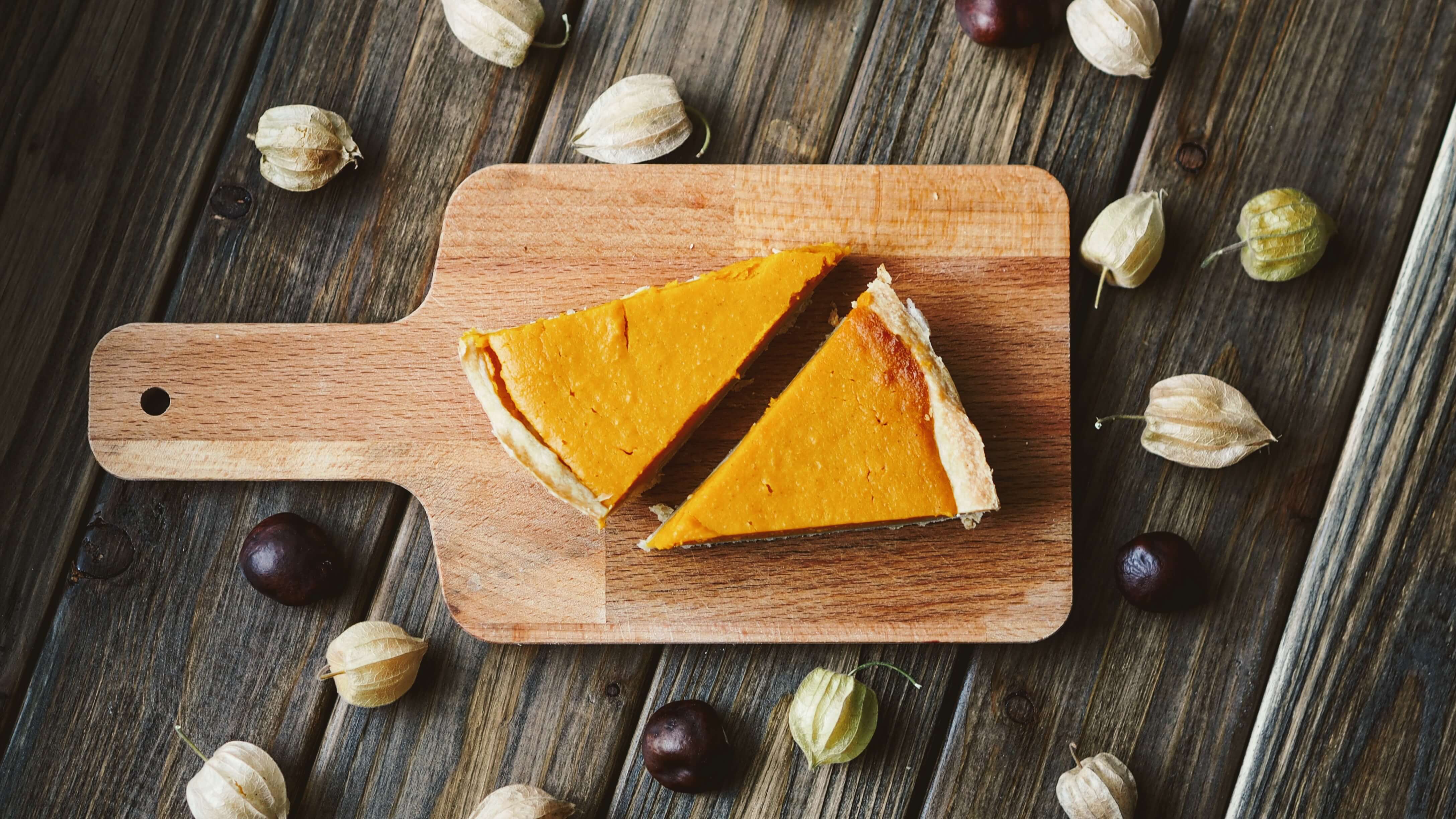 Individual recipe:
Small custard-sized ready to eat pie crusts
2 tablespoons canned pumpkin
1 tablespoon marshmallow creme
1 tablespoon prepared whipped topping
Sprinkle of cinnamon
Mix all ingredients together and pour into the crust. The recipe is then ready to eat, it may be refrigerated or frozen.
10. MINI PUMPKIN PIES
Place a wafer cookie in the bottom of a cupcake paper.
Fill with pumpkin filling top with miniature marshmallows.
Bake for 10-15 minutes. DONE.
11. FROZEN PUMPKIN DESSERT
Ingredients:
1  can pumpkin (15 oz)
1/2 gallon of vanilla ice cream
1 teaspoon pure vanilla extract
3/4 cups sugar
1/2 teaspoon salt, 1/4 teaspoon nutmeg, 1/4 teaspoon ginger, 1/8 teaspoon ground cloves, 1/2 cup chopped walnuts or pecans
What to do:
Soften the ice cream. Combine pumpkin and other ingredients. Fold ice-cream with pumpkin mixture.
Pour into a 9″ by 13″ pan. Top with chopped nuts. Freeze overnight. This can also be put together weeks ahead.
Warm at room temperature slightly before serving so pieces will easily cut. Top with whipped cream if desired.
12. TWO INGREDIENT PUMPKIN CAKE
Ingredients:
1 box any flavor cake mix (Spice is recommended-I used chocolate)
1 (15 ounce) can pumpkin (NOT pumpkin pie filling)
Preheat the oven to 350 degrees F (175 degrees C).
Generously grease a 9×13 or 9X11 inch baking pan.
1. In a large bowl, mix together the cake mix and canned pumpkin until well blended. Spread evenly into the prepared pan.
2. Bake for 25 to 30 minutes , or until a knife inserted into the center comes out clean.
3. Cool and serve, or store in the refrigerator.
NOTES: We tasted this warm but agree that it tasted better cold–if fact it tasted better the next days! After reading a lot of reviews in several places about adding ingredients. I DID add 2 eggs. Others have said how difficult it was to mix the ingredients, but using a hand mixer, it was no more difficult than mixing a regular cake. There was one piece of cake left that was well wrapped in the fridge after one week it still tasted moist!
Next time I'll try it with NOT adding the two eggs and will update this post
13. PUMPKIN SHAPED TORTILLA CRISPS 
1. TO MAKE TORTILLAS: Brush the tortillas with melted butter, and with cookie cutter cut them into pumpkin shapes.
2. Arrange the shapes on a greased baking sheet, sprinkle with a cinnamon and sugar nixture.
3. Bake at 350°F until golden brown, about 10 minutes. Let them cool before serving.
NOTE: These are nice all year-round. If you search about the site-you'll find versions with photos in the categories of Winter Snacks, Mexican Theme, and Valentine's Day!
14. HOW TO MAKE PUMPKIN CHIPS
When it comes to fall pumpkin recipes, this is one you should try!
Ingredients:
Peeled Pie pumpkin (a regular Jack-o-Lantern or field pumpkin can also be used) and Salt.
What to do:
Preheat deep frying oil in a fryer to 375 degrees. Slice pumpkin pulp as thinly as possible, no more than 1/8″ thick. Carefully, drop a few chips at a time into the hot oil.
Fry until crisp. Remove chips from the oil and place on paper towels to drain. Salt to taste. Serve warm.
15. HOW TO MAKE FRIED PUMPKIN CHIPS 
Need:
1 pumpkin
Salt and pepper
Flour
Electric skillet
Spatula
Sharp knife
What to do:
Slice pumpkin into thin strips. Salt and pepper the strips, then dust them with flour. Fry, turning occasionally, until the strips are browned.
16. PUMPKIN CHIPS #3
Ingredients:
Fresh pumpkin – seeded, pared, and cut into 2×4 inch sections
Vegetable oil for frying
Salt or garlic salt
What to do:
1. Slice the pumpkin sections with the slicing disk.
2. Soak slices in water for 1 hour.Remove and pat dry.
3. Fry a few slices at a time in oil at 360 degrees F. (Approx. 2 minutes or until lightly browned. Drain on paper towels.
4. Sprinkle with salt or garlic salt or a mixture of salt, ginger, and nutmeg. A mixture of garlic salt and curry powder is also good.
17. FRIED PUMPKIN BLOOMS  
Gather pumpkin blooms.
Wash and roll in batter made of egg, flour and milk.
Put in hot oil and fry until light brown.
Salt and pepper to taste.
18. HOW TO MAKE A PUMPKIN SHAPED CAKE
Make or purchase two bunt cakes. To create your pumpkin put the two cakes together. You may want to use frosting between the cakes to hold together.
( You also may have to shave a bit off the bottom cake to sit on the plate and stay level ) Cover with orange frosting and decorate as desired!
19. PUMPKIN SEED RECIPE IDEAS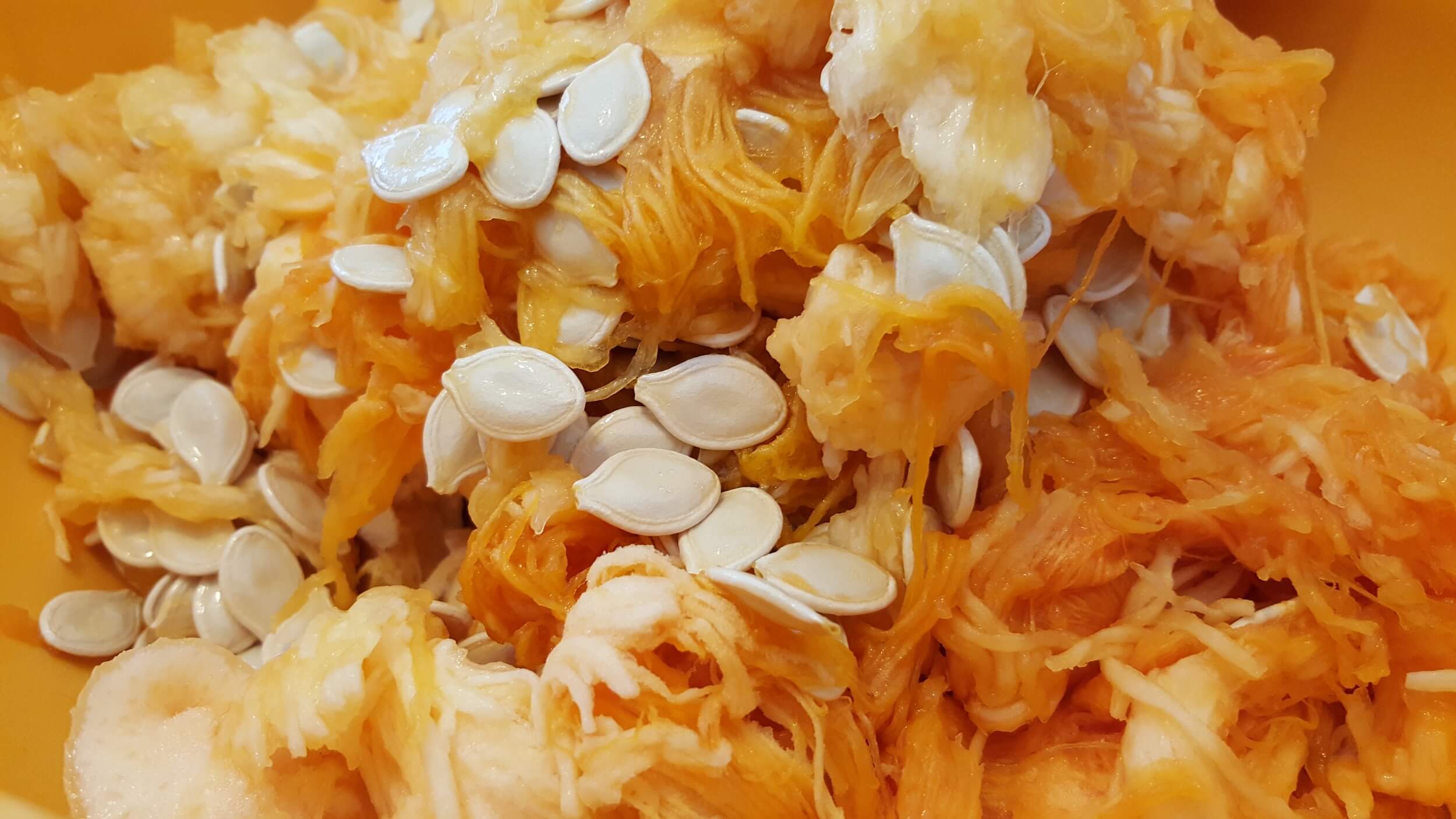 You can quickly make pumpkin seeds in your microwave. The shells are edible and a good source of fiber. You can also use this method with other seeds such as acorn squash and butternut squash.
Ingredients:
1 cup pumpkin seeds, 1 Tbsp. Olive oil or butter, Salt, seasoned salt, garlic /onion powder or other seasonings to your choice.
Rinse pumpkin seeds. Remove all the pulp. Drain the seeds and discard the pulp. Spread out on paper towel on a cookie sheet and dry them over-night. Place butter or Olive Oil l in a microwave-safe, baking dish.
Microwave on high about 7 to 8 minutes or until seeds are toasted a light golden color. Be sure to stir every 2 minutes as they are cooking. When done, sprinkle with your choice of seasonings.
Coat evenly. Cool them before eating or storing. They can be stored in an airtight container at room temperature up to 3 months or refrigerate up to 1 year.
If you like your toasted pumpkin seeds extra-salty, soak them overnight in a solution of 1/4 cup salt to 2 cups of water. Dry an additional day, and follow the above directions.
20. POPCORN PUMPKINS 
1. Microwave and melt 1/4 c. margarine/butter and 10 1/2 oz. of mini marshmallows for 1-2 min.
2. Stir in a 4 serving size orange Jell-O; after it is combined, pour it over 3 qts of popped popcorn (12 cups)
3. Grease/butter hands and form the popcorn into pumpkin-shaped balls.
4. Complete pumpkin features witha green spearmint candy for the top stem and chocolate chips and M&Ms for the face. (Or just add a leaf for a plain pumpkin)
21. SPICED PUMPKIN MOUSSE RECIPE
Ingredients:
1 envelope unflavored gelatin (2 1/4 teaspoons)
1/4 cup cold water
1 (15-ounce) can pure pumpkin
3/4 cup packed light brown sugar
1/2 teaspoon cinnamon
1/2 teaspoon nutmeg
1/4 teaspoon ground ginger
1/8 teaspoon salt
2 1/4 cups chilled heavy cream
1 1/2 teaspoons pure vanilla extract, divided
Garnish: ground cinnamon (optional)
Equipment: 8 (8-ounce) glasses
Directions:
Sprinkle gelatin over water in a small saucepan and let soften 1 minute. Bring to a bare simmer, stirring until gelatin has dissolved. Whisk together gelatin mixture, pumpkin, brown sugar, spices, and salt in a large bowl.
Beat 1 cup cream with vanilla until it holds soft peaks, then fold into pumpkin mixture gently but thoroughly.
Spoon about 1/2 cup pumpkin mixture into bottom of each glass. Chill until set, at least 2 hours.
Beat remaining 1 1/4 cups cream with remaining 1 tsp vanilla until it holds soft peaks. Dollop each with whipped cream before serving.
25. PUMPKIN SOUP BOWLS
Need: A Pumpkin and two cans soup of your choice
Clean out the pumpkin and don't cut a face.
Make the soup and pour it in the pumpkin.
Easiest directions you'll ever get!
26. EASY PUMPKIN SOUP RECIPE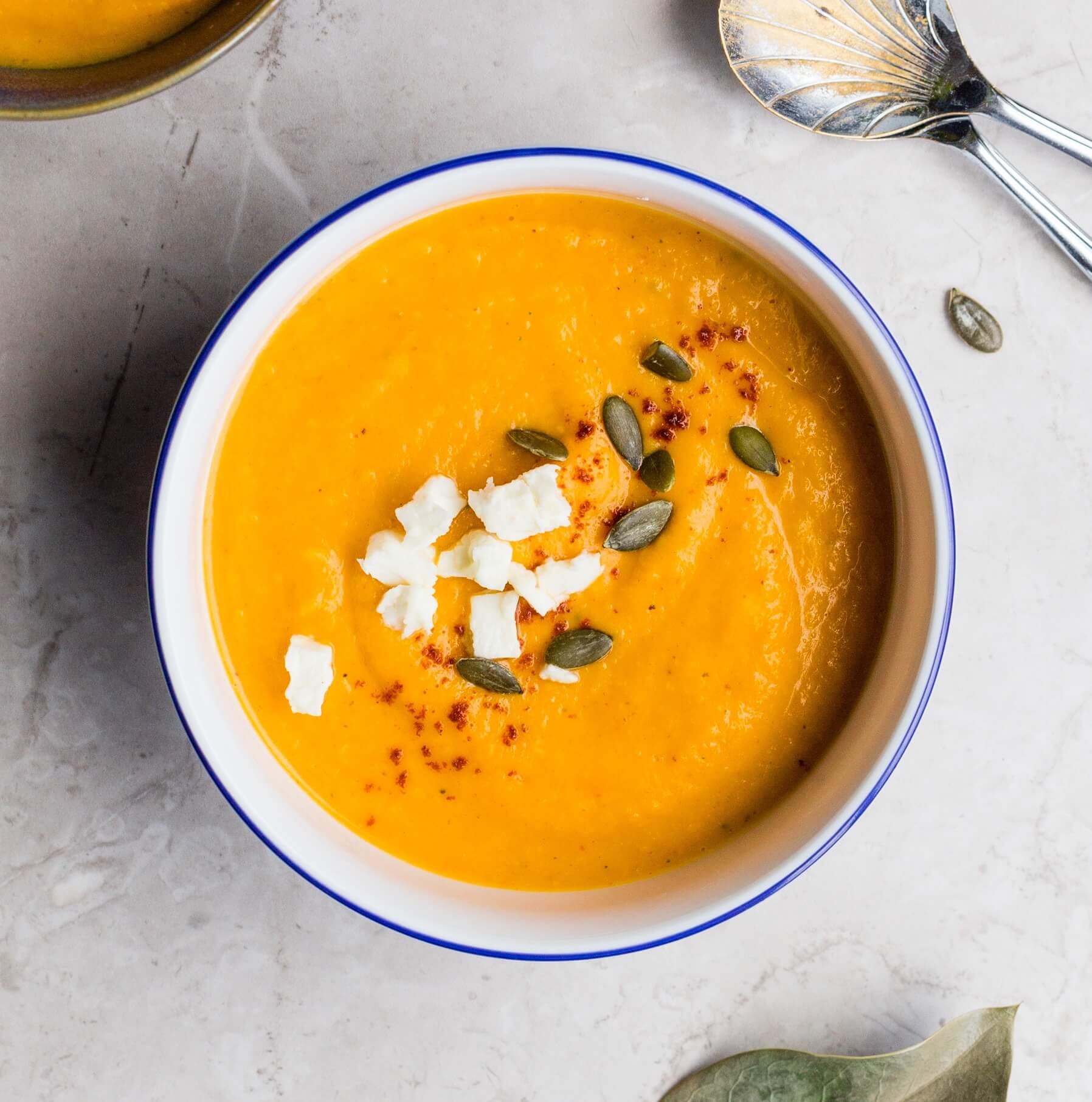 Ingredients:
| | |
| --- | --- |
| 1/2 cup finely chopped onion | 2 tablespoons butter |
| 2 cans (14-1/2 ounces each) Progresso Chicken Broth | 1 tablespoon all-purpose flour |
| 1 teaspoon brown sugar | 1/8 teaspoon pepper |
| 1/4 teaspoon salt | 1 can (15 ounces) solid-pack pumpkin |
| 1/8 teaspoon ground nutmeg | 1 cup heavy whipping cream |
What to do:
In a large saucepan, saute onion in butter until tender. Remove from the heat: stir in flour until smooth. Gradually stir in broth, pumpkin, brown sugar, salt, pepper and nutmeg: bring to a boil.
Reduce heat and simmer for 5 minutes. Add cream; cook for 2 minutes or until heated through. Yield: 6 servings.
NOTE: People that have made this soup say it's really good. All say to adjust seasoning as you like. One says she added Saigon cinnamon and doubled the nutmeg. She also sprinkled additional grated fresh nutmeg on top. Another says. This soup is wonderful. I altered it by adding 1/8 tsp of cinnamon and doubled the nutmeg. I also used 99% fat free chicken broth and reduced the whipping cream to 3/4 cup to lower the calories.
PUMPKIN THEMED DRINK IDEAS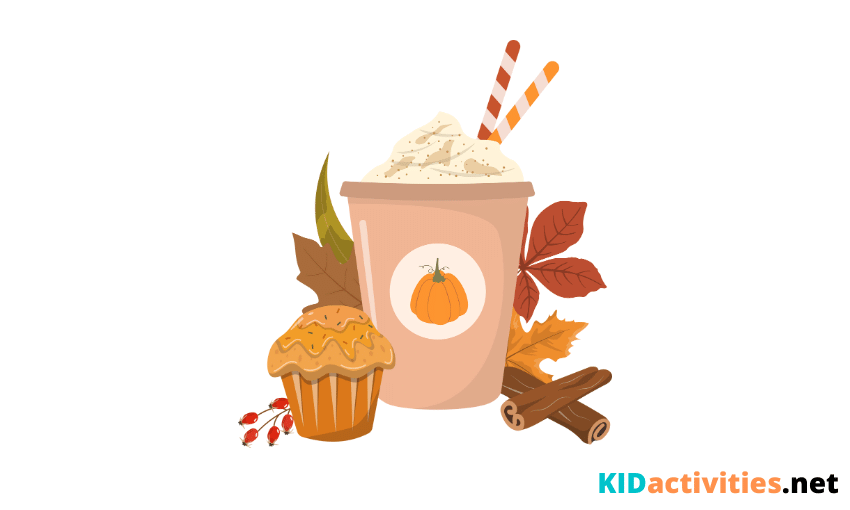 27. PUMPKIN PUNCH
Thoroughly clean out and scrape the sides of a pumpkin. Line the inside with Saran Wrap. Fill with vanilla ice cream and ginger ale. (Or your favorite fall punch recipe)
28. PUMPKIN SPICE HOT COCOA RECIPE
6 cups of milk
6 packets of powdered hot chocolate OR ½ lb. of dark chocolate bits
1 1/2 tbsp. pumpkin pie spice
Lots of whipped cream
Cinnamon
Heat milk to almost boiling. Place hot chocolate mix into mugs and thoroughly mix in ¼ T of pumpkin pie spice in each cup. Pour in hot milk and stir well. Load on the whip cream. Sprinkle cinnamon on top. Serves 6
29. PUMPKIN SMOOTHIE RECIPE 
4 servings, about 1 cup each
1 qt. (4 cups) milk
1 pkg. (4-serving size) JELL-O Butterscotch Flavor Instant Pudding & Pie Filling
1/2 cup vanilla ice cream, softened
1 tsp. pumpkin pie spice
What to do:
1. Place all ingredients in large pitcher with tight-fitting lid, cover. Shake vigorously 1 minute or until well blended.
2. Pour evenly into 4 glasses. Serve immediately. (Mixture thickens as it stands. Thin with additional milk, if desired.) From Kraft Food Website
30. ZESTY PUMPKIN SMOOTHIE 
1/2 cup pumpkin puree
1 cup vanilla yogurt
2 cups milk
1/2 teaspoon cinnamon
1/4 teaspoon nutmeg
4 ice cubes
Directions:
Combine ingredients in blender and blend until smooth. Pour into glasses and serve immediately with drinking straws.

There you have it, 30 pumpkin snacks and treats for kids. Enjoy these in the classroom or at home during the fall season. They make great Thanksgiving snack ideas.
You may also like the Autumn/Fall Pumpkin Theme: Games, Art, Crafts, Science, Poems, Songs and Finger Play