Thanksgiving Crafts
It's that time of year again, the leaves are falling and autumn is upon us. Thanksgiving is right around the corner and you need some Thanksgiving crafts for kids in the classroom. Below you will find 15 crafty creations that are perfect for the classroom.
These crafts aren't just an activity, they are an opportunity. An opportunity to teach what it means to be thankful. An opportunity for the children to shows thanks to those that do so much for them.
These Thanksgiving crafts are great for preschoolers and elementary students. After your done, showcase them throughout the classroom or wrap them up as a gift for mom and dad.
15 Thanksgiving Crafts for Kids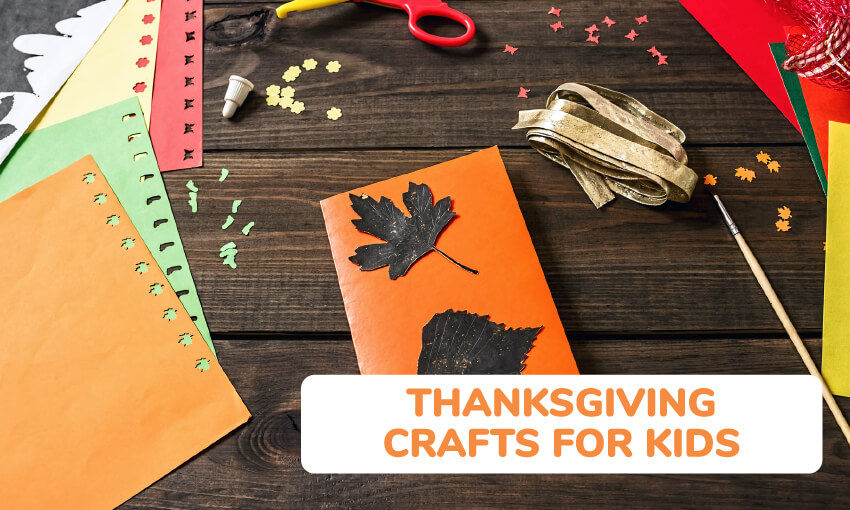 1. Rocks of Gratitude 
Materials:
✓ Rocks (various sizes, avoid shiny or glossy rocks)
✓ Light stock paper (such as newsprint)
✓ Low-gloss varnish or clear finish
Instructions:
1. Collect an assortment of rocks.
2. Clean with soap and water, then paint with fall colored acrylic paints (It's not necessary to cover the entire rock with paint, leave some areas exposed if you wish. Let dry.
3. Print words of wisdom or Thanksgiving quotes on paper. Tear out the sayings (ragged edges).
4. Glue the sayings to your rocks using either white glue or Modge Podge.
5. Finish off the rocks by applying low-gloss varnish or polyurethane.
At home, a variety of rocks good be arranged for a centerpiece or in a cornucopia along with some other dried elements, such as nuts or grasses.
After Thanksgiving, this makes a nice paperweight or addition to a garden!
---
2. I am Thankful Handprint Tree
Gather colored paper (red, orange, brown, green, yellow) Trace the children's hands onto several sheets of several colors. Cut out. Then cut out brown tree trunk branches in proportion to the number of leaves. Have the children glue the hand shapes to the tree trunk to form the leaves of the tree. Have the child think of things to be thankful for and label the hand/leaves.
---
3. Thankful Wreath of Leaves 
Children can make a beautiful wreath of leaves that displays what they are thankful for. This wreath makes a great Autumn or Thanksgiving decoration.
Materials:
✓ A plain white paper plate
✓ Construction paper (orange, red, yellow, brown, and other earth tones)
✓ Templates of leaf shapes
✓ Crayons or markers
✓ Scissors
✓ Glue or a glue stick
Instructions:
Cut a HALF CIRCLE OUT OF THE CENTER of a plain paper plate. Cut out a lot of leaves from construction paper. Draw the leaf veins if you wish. If you'd like, use a leaf template.
Glue the leaves all around the rim of the paper plate.
In the lower center of the wreath, (the half-circle part that was NOT cut out) writes, "I am thankful for," and then have the children write or draw what they are thankful for.
Put the child's name on the wreath (or let them sign it).
For variations on this wreath: instead of using leaves, use cut-out handprints of the child, tissue paper baking cups or torn-up scraps of paper.
---
4. Kindness or Gratitude for Thanksgiving
Instructions:
Make a huge turkey body out of construction paper and affix it to a wall. (Or make a smaller body and put on card stock or construction paper)
Give kids multi-colored paper feathers (made from construction paper) and have them write something nice about other students or family members.
Collect the feathers and place them on the turkey.
---
5. How to Make a Pine Cone Turkey 
Materials:
✓ A pine cone
✓ An acorn or a nut in the shell
✓ Brown, red, orange and yellow construction paper
✓ Pencil or marker
✓ Scissors
✓ Glue
✓ Hot glue
✓ Googly eyes
✓ Clay
Instructions:
Cut out construction paper feathers.
Put a small blob of clay on one side of the pine cone to steady it on the table. The pine cone will be the turkey's body.
Glue the "feathers" to the top of the wide side of the pine cone.
Glue the acorn to the front of the turkey using hot glue.
Glue on two googly eyes and a small piece of red construction paper (for the turkey's wattle). Let the glue set.
You now have a great Thanksgiving table turkey decoration. To avoid staining a tablecloth with the clay, put the turkey on a small plate.
---
6. Scratch and Sniff Cornucopia
Instructions:
1. Do you have a large pattern or coloring book picture of a cornucopia? If so, make a copy for each child.
2. Have kids color the picture.
3. With stick glue, apply glue to a piece of fruit in the cornucopia; sprinkle dry Jell-O (matching the fruit) over the glue. Shake off the excess Jell-O powder.
4. Repeat with the other fruit and flavors of Jell-O.
(Original idea from Ms. Tyler-Livonia, Mi. SAC)
---
7. Hand and Footprint Turkey 
Instructions:
Have the kids scrub wash their feet the night before.
Paint the kid's fingers different (Turkey) colors and placed them on a piece of tagboard.
Paint one foot.
Place foot opposite way so the heel is on the top, your toes are the turkey feet and your heel is the head.
Include a poem like the one below.
Wrap them up and give them to the parent.
Poem
This isn't just a turkey,
As anyone can see-
I made it with my hands and feet…
Which are part of me.
It comes with lots of love
And especially today…
I hope you have a very
Happy Thanksgiving Day!
---
8. Holiday Scents 
Materials:
✓ Construction paper or tagboard
✓ glue
✓ paintbrush
✓ different seasonal spices such as nutmeg, cinnamon, cloves, allspice, whatever smells good!
Instructions:
1. Trace children's hands-on tag board or construction paper. Have the children then put glue on the palm and finger shapes.
2. Spices are then sprinkled on the glue. They can be mixed or put on areas of fingers and hands…
3. To make the spiced handprint become a turkey, draw-feet, eyes, beak, and wattle.
---
9. Apple Turkeys (A snack and craft in one)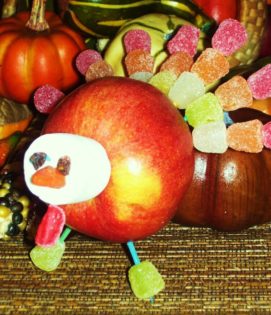 These are fun to make. The tail feathers can be colored mini-marshmallows, gumdrops or a ring cereal such as Froot Loops. The feet can be whatever you decide–such as gumdrops or candy corn
TURKEY: (Sample and Photo by KidActivities)
Materials:
✓ Apples
✓ Ingredients for feathers
✓ Candy corn
✓ Large marshmallows
✓ Colored toothpicks
Instructions:
The apple is the body of the turkey.
Add colored mini-marshmallows or gumdrops to 5 or 6 toothpicks; stick them in one end of the apple.
Use a toothpick for the neck.
Use a marshmallow for a head -tiny raisin pieces for the eyes – a cut-up candy corn for the beak. Use 3 toothpicks for legs (in a triangular position so your turkey can stand up) If you decide not to add legs, cut a small slice from the bottom of the apple to sit straight.
Personally, I like to then eat the spice gum-drops! When you are making food crafts with children, make sure to have a few extra pieces for the kids to munch on!
The "Apple Turkeys" would look nice combined with some of the centerpieces at the bottom of the page…
---
10. Plymouth Rock Seating – A fun alternative to place cards! 
Version #1
Materials:
✓ Smooth rocks
✓ Craft paint
✓ Paintbrushes
Instructions: 
1. Make sure rocks are clean and dry.
2. Paint the stone/rock entirely or with designs on it.
3. After the rocks are dry, paint names of Thanksgiving Day dinner guests!
Version #2 using pasta letters…

Materials:
✓ Medium-sized smooth stones
✓ Pasta Letters
Instructions:
Coat stones in brightly colored craft paint.
When the paint is dry, glue on pasta letters.
---
11. Thankful for You "Because" Bags 
A Connecting and Feel Good Activity
These can double as an activity and for decorations on the tables.
Materials:
✓ Brown paper lunch sacks
✓ Green paint pen
✓ Raffia
✓ Tissue leaves in autumn colors
✓ Plenty of small pieces of paper (approx. 3″ X 4″ size)
Instructions:
Cut the top of each sack in a decorative manner. (Use pinking shears, or regular scissors to trim the size, and give the bag a little character.)
Glue one autumn leaf to the center of each bag at an angle.
Tie raffia into little bows, and glue one to the base of each leaf with a hot glue gun. Write the name of each child on the bags with the green paint pen.
Place small pieces of paper in a basket along with pens and markers. Have each child write a note or draw a picture (little ones) of why they are thankful for each person.
If your group is having a party-this can be done in the days preceding the party. Drop notes into bags. Allow time during the party or program for the children to read their notes. A great self-esteem building activity!!!
---
12. Make a Thanksgiving Tree in a Container 
Materials:
✓ Leaves (these can be commercial silks, plastic leaves, or children can children trace and cut out their own leaves.
✓ A branch to make the tree
✓ A container and rocks to support the tree
✓ Magazines
✓ Paper
✓ Scissors
✓ Markers
✓ Needle
✓ Thread
✓ Low-tack tape
Instructions
1. Fill the container with rocks. Remove leaves and unnecessary branches from the tree. Put branch in container. Make sure that the branch is securely anchored by the rocks.
2. Use the needle and thread to make individual hangers for the leaves.
3. Have children cut out or draw images of things for which they are thankful or have them write a list of things they are thankful for and cut out the words.
4. Use the tape to stick the thanksgiving items to the leaves. Hint: Any adhesive would work but if you use a low tack adhesive you can use the leaves again next year.
5. Hang the leaves on the tree.
---
13. Thanksgiving Card 
Materials:
✓ Leaf cutouts
✓ Glue
✓ Dried kernel corn
Instructions:
Write a greeting on a sheet of construction paper or card-stock- such as Happy Thanksgiving, Happy Autumn, Give Thanks, etc.
Have the children glue the corn to form the letters of the words. 3. Glue leaf cutouts around the rest of the picture for decoration
---
14. How to Make a Paper Plate Turkey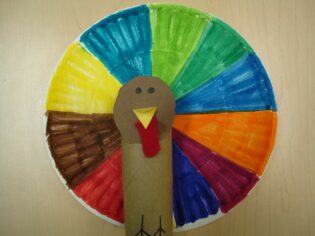 Materials:
✓Paper plates
✓ Markers
Instructions:
Color paper plates with markers
Glue turkey head on to T-paper tube.
Staple the tube to the plate.
Courtesy of Renee Glashow
---
15. Turkey of Leaves
Gather brightly colored leaves and create this cute turkey!
Instructions:
1. Glue the leaves to a piece of construction paper. It should resemble the tail feather of a turkey.
2. Add a body cut from another piece of construction paper.
3. Add a beak, feet, and some eyes–either wiggly eyes or paper.
Tip: You may want to preserve the leaves before starting the project. Thank you to MomentsofMommyHood for ideas and images! 
---
Thanksgiving Activity Book 
Sale
Last update on 2023-09-22 / Affiliate links / Images from Amazon Product Advertising API
175 Easy-To-Do Thanksgiving Crafts
 (Creative Uses for Recyclables) (Paperback)by Sharon Dunn Umnik
$7.95 new and starting at $2.97 used at Amazon.com
A review: 
This book is an incredible asset to any classroom. The directions are clear and concise and the full-color pictures of the end result are great! I would highly recommend this book to any teacher in need of extra ideas!
 Mary Ellen Fuentes
---
There you have it, 15 Thanksgiving crafts for kids in the classroom. Which craft did you end up trying? How'd it turn out? These are great activities for teaching kids about thankfulness and letting them see how it feels to show thanks. Often times it's those that give the gifts that reap the greatest reward.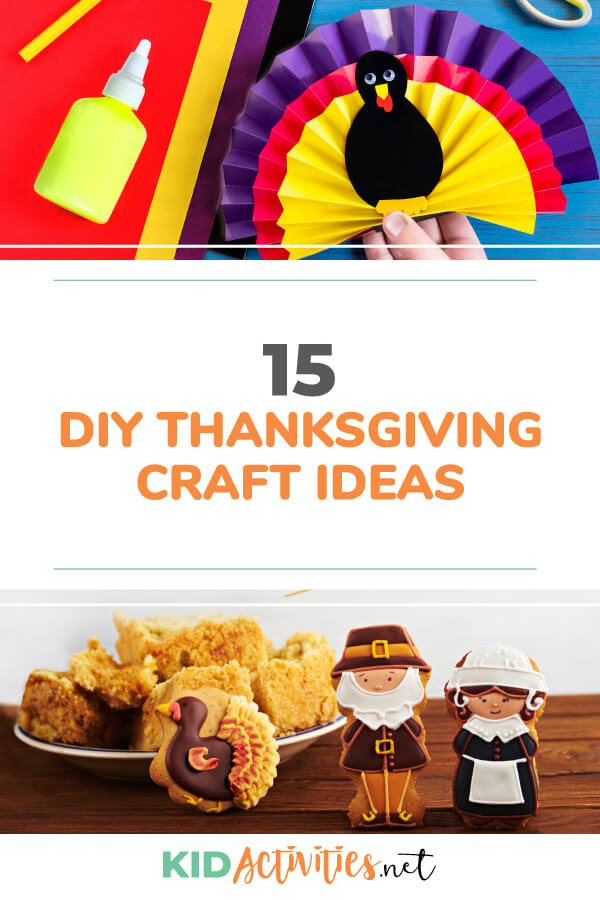 You may also be interested in…