Popcorn Snacks
Looking for some popcorn snacks and recipes? Check out these tasty ideas. Whether you are looking for caramel corn, popcorn snack mix, or rainbow popcorn recipes, we have it all.

Click here if looking for 'Popcorn Theme' Page
FYI: *Popcorn can be a choking hazard in young children–usually under 5–so take care when considering popcorn as a snack…(See note at the bottom of the page)
1. EASY CARAMEL CORN RECIPE
Made in paper bag in micro-wave
3 quarts popped corn
1 cup brown sugar
1/4 cup corn syrup
1 stick of butter
1/4 teaspoon salt
1/2 teaspoon baking soda
1. Put popcorn in a heavy paper bag.
2. Melt butter in a saucepan and mix together sugar, syrup, and salt.
3. Add 1/2 teaspoon baking soda and stir well.
4. Pour into paper bag and stir with a wooden spoon. Put bag in microwave and cook on high for 1 1/2 minutes. Take out and shake well.
5. Cook for another 1 1/2 minutes. Shake bag again and pour into a large container.
6. Serve in paper baggies that kids can decorate.
---
2. CARAMEL CORN RECIPE #2 
This recipe is very inexpensive and easy to make.
Ingredients:
One stick (equals 1/2 cup) butter or margarine
1 cup packed brown sugar
3 Tbs. Light Karo syrup
1/2 tsp. vanilla
1/2 tsp. baking soda
Popped popcorn
Put one stick of butter or margarine in a medium saucepan; add one cup packed brown sugar (light or dark it doesn't matter). Add 3 TBS. Karo Syrup.
Heat all ingredients over med until you start to see it bubble. Turn the heat to low and let it cook for 5 minutes (Do not stir during the five minutes)
Remove from heat and quickly add 1/2 tsp vanilla and 1/2 tsp baking soda.
Stir and quickly pour over a large mixing bowl full of popped corn. Mix it all up to get it evenly coated. Enjoy!
---
3. POPCORN 'SNACK MIX' RECIPE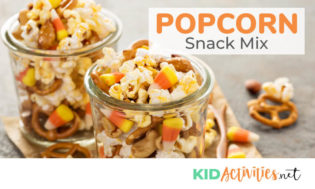 This snack mix relies on lightly sweetened popcorn to give it just the right flavor. Some prefer "Mallow Magic" popcorn from Jolly time. The "Caramel" flavor variety from Act II is also yummy-Or just use your favorite kettle corn.
To make this mix you'll need:
Popped "Mallow Magic" popcorn that is cooled–
Raisins
Dried sweetened cranberries
Small twist pretzels (hard type)
Multi-colored goldfish crackers
For a good sized group take 3 bags of popcorn, plus 1 bag of goldfish, 2 cups of pretzels, plus 1/2 cup each of raisins and dried cranberries. However you can make it — in whatever proportion you like.
For a special treat, you can even add  some M&Ms.
Note: the "Mallow Magic" comes with packets of gooey icing to put over the top; it's not necessary. And of course it adds extra calories and sugar.
---
4. POPCORN CAKE RECIPE 
Ingredients
1/4 cup plus 2 teaspoons vegetable oil
4 quarts popped popcorn (16 cups – plain, unsalted, and unbuttered)
2 cups M&M candies
1 cup cocktail peanuts (lightly salted)
1/2 cup unsalted butter (1 stick)
1 pound marshmallows (mini or regular)
Cooking Directions
Grease a large tube or bundt cake pan with 2 teaspoons of the oil. Set aside. In a large bowl, mix the popped corn with the M & Ms and the peanuts.
In a small saucepan, melt the butter, oil, and marshmallows over medium-low heat, stirring occasionally. When melted, pour over the popcorn mixture, and stir to combine. Pour into the prepared cake pan, pressing down to fit. Cover with aluminum foil to keep moist.
Let sit for 3 to 4 hours, or until firm and set.
To serve, invert the cake pan onto a large plate or platter. Shake gently to release.
Serve at room temperature.
Recipe courtesy Emeril Lagasse, (his mother's recipe-from childhood) originally appearing in Emeril's "There's a Chef in My Family," HarperCollins Publishers, New York, 2004, courtesy Martha Stewart Living Omnimedia, Inc.
---
5. RAINBOW POPCORN RECIPE
Ingredients
8 cups popped popcorn
1 cup peanuts (if no allergies)
1/4 cup butter or margarine
3 tablespoons light corn syrup
1/2 cup firmly packed light brown sugar or granulated sugar
1 (3 1/2 ounce) package Jello gelatin, any flavor
Directions:
1.  Heat oven to 300°F Line a 15x10x1-inch pan with foil or parchment paper.
2.  Place popcorn and nuts in large bowl.
3.  Heat butter and syrup in small saucepan on low heat.
4.  Stir in sugar and gelatin.
5.  Bring to boil on medium heat.
6.  Reduce heat to low; gently simmer 5 minutes.
7.  Pour syrup immediately over popcorn, tossing to coat well.
8.  Spread popcorn in prepared pan, using two forks to spread evenly.
9.  Bake 10 minutes.
10. Cool.
11. Remove from pan and break into small pieces.
---
6. CARAMEL POPPED CORN, PRETZELS AND CANDY MIX  
16 c. popped popcorn
2 c. firmly packed brown sugar
1/2 c. dark corn syrup
1/2 tsp. baking soda
2 c. of M&M'S, raisins, chocolate mints
5 c. miniature pretzels
1 c. butter
1/2 tsp. salt
1 c. salted peanuts
1. Heat oven to 200 degrees. In large roasting pan combine popcorn and pretzels, set aside.
2. In 2 quart saucepan combine brown sugar, butter, corn syrup and salt. Cook over medium heat, stirring occasionally, until mixture comes to a full boil (12 to 14 minutes).
3. Continue cooking, stirring occasionally until small amount of mixture dropped in ice forms a soft ball or candy thermometer reaches 238 degrees.
4. Remove from heat, stir in baking soda.
5. Pour over popcorn and pretzels, sprinkle peanuts over caramel mixture. Stir until all popcorn is coated.
6. Bake for 20 minutes, stir. Continue baking for 25 minutes. Remove from oven.
7. Stir in candy.
8. Immediately place caramel corn on waxed paper, cool.Break into pieces and store in tightly covered container.
---
7. PARTY POPCORN
Ingredients:
1 package of vanilla almond bark
Popcorn
Your choice of mini M&M's, chocolate chips, Peanut Butter chips and  peanuts.
Make as much popcorn as needed/desired.
Melt almond bark in microwave. Pour over popcorn.
Add more almond bark as needed. Mix in your choice (s) of the above ingredients.
---
8. POPCORN SEASONING IDEAS
Using  popped popcorn…
Regular buttered popcorn is always a favorite!
Sweet Cinnamon Popcorn-Shake popcorn with cinnamon sugar
Sprinkle parmesan or cheddar powdered cheese over buttered popcorn
Zesty Popcorn – Top popcorn with grated Parmesan, then spice it up with a dash of garlic salt–or add a little garlic salt and paprika for a fun flavor
Tex-Mex Popcorn- Add a pinch of chili powder or taco seasoning to melted butter, pour over popcorn and toss.
Pizza Popcorn- Mix a pinch of oregano, basil, and parsley in melted butter before tossing.
---
9. CIRCUS SNACK MIX WITH POPCORN 
Mix animal crackers, m&m's, raisins and popcorn. Add peanuts if there are no allergies. Yumm!
---
10. POPPY (not Puppy) CHOW 
(Just like Puppy Chow–but with popcorn instead of Chex Mix cereal)
Ingredients:
2 quarts popped popcorn
1/4 cup (1/2 stick) butter or margarine
1/2 cup creamy peanut butter
1 cup milk or semi-sweet chocolate chips
1 cup confectioner's sugar
Place popcorn in a large bowl; set aside.
In a microwave safe bowl, combine butter, peanut butter and chocolate chips.
Microwave 2 minutes; stir until smooth.
Pour the chocolate mixture over the popcorn and stir until well coated.
Sprinkle Confectioner's sugar over popcorn and stir until coated.
Cool to room temperature before serving.
Store in airtight container, refrigerated, up to 24 hours.
Makes 2 quarts
---
11. MILK CHOCOLATE POPCORN
12 cups popped popcorn
1/4 cup butter or margarine
2-1/2 cups (12oz can) salted peanuts
2 cups (11-1/2 oz bag) milk chocolate
1 cup corn syrup
In a large greased roasting pan, combine popcorn and nuts. In a separate large heavy saucepan, combine chocolate chips, corn syrup and butter. Cook over medium heat until mixture boils, stirring constantly. Pour over popcorn toss well to coat. Bake in a preheated 300 degree oven for 45 minutes stirring frequently. Cool completely. Store in an airtight container for up to two weeks. Makes about 14 cups.
---
12. POPCORN WITH CANDY BAR PIECES
Ingredients:
1 package (3.5 ounce size) microwave popcorn–or any pre-made popcorn
1 king-size bar chocolate-coated caramel-peanut nougat candy
Directions: Pop the popcorn according to the package directions. While the corn pops, cut the candy bar into 1/2-inch pieces. (Or put pieces on your pre-made popcorn)
Spread the popped corn onto a microwave-safe platter such as paper plates… Top with candy bar pieces.
Heat on full power in the microwave at 30 second intervals, or until candy is melted.
---
POPCORN BALL RECIPES
13. CLASSIC MOLASSES POPCORN BALLS
Crisp-chewy caramel popcorn balls that taste similar to Cracker Jacks.
Ingredients:
1 C. granulated sugar (or brown sugar for riche flavor)
3/4 C. light corn syrup
1/4 C. molasses
2 tbsp. butter
1/2 tsp. salt
8 quarts (1 gallon) popped popcorn, unpopped kernels removed
1. In a heavy saucepan, combine sugar, corn syrup, molasses, butter, and salt.
2. Bring to a simmer, and cook over medium for about 3 1/2 minutes.
3. Pour mixture over popcorn.
4. Mix well with a wooden spoon or spatula.
5. With greased hands, form into popcorn balls.
6. Let cool on greased baking sheets or waxed paper.
If desired–add peanuts to popcorn mixture.
Makes about 40 popcorn balls. Great in Autumn and Halloween Time!
---
14. CHOCOLATE POPCORN BALLS
1/2 cup sugar
1/2 cup light corn syrup
1/2 stick butter
2 tablespoons cocoa
1/2 teaspoon salt
8 cups popcorn, popped
1. Prepare popcorn and set aside in a large bowl sprayed with cooking oil.
2. Combine sugar, corn syrup, butter, cocoa, and salt in a saucepan and cook over medium heat until boiling.
3. Pour mixture over popcorn and stir well to coat thoroughly. Form into 3 inch balls and allow to cool.
4. Alternately: Heat mixture in a large pot and add the prepared popcorn to the pot, heating and stirring for a couple of minutes. Sometimes this method makes it easier to coat popcorn thoroughly.
Don't burn fingers; this mixture is hot! Butter  hands before forming balls. Allow to cool slightly if necessary.
Wrap finished popcorn balls in cellophane or plastic wrap. They can also be stored  in an airtight container.
---
15. COLORFUL POPCORN BALLS
Ingredients:
2 c. light corn syrup
1 cup sugar
1 lg. box of any colored/flavored gelatin dessert
20 cups popped popcorn
1. Combine sugar and syrup and boil for 1 minute. Do not stir.
2. Add Jell-o and mix. Pour over popcorn and mix well.
3. Add sprinkles if desired.
---
16. EASY POPCORN MARSHMALLOW BALLS
This easy popcorn ball recipe makes chewy, rich popcorn balls that are similar to Rice Krispies treats.  Makes about 30 medium sized popcorn balls.
Ingrdients:
1/2 C. butter
1 lb. bag of mini marshmallows
1/2 C. brown sugar, firmly packed
6 quarts (24 C.) air-popped popcorn (unpopped kernels removed)
1. In a heavy saucepan, melt the butter over low heat.
2. Stir in brown sugar. Cook over low, stirring, until dissolved, about two minutes.
3. Add marshmallows. Melt into butter mixture, stirring constantly. Do not burn.
4. Pour marshmallow mixture over popcorn. Mix well with a wooden spoon or spatula.
5. With greased hands, form your popcorn marshmallow balls.
6. Let balls cool on greased cookie sheets or waxed paper.
---
17. TIPS ON MAKING POPCORN BALLS…
1. If using add-ins, add them after you combine the popcorn and caramel-syrup recipe of your choice. Stir well, then form into balls.
2. It's easiest to form popcorn balls while mixture is hot– get helpers to make the process move along quickly.
3. Keep a bowl of cold water handy to cool your hands if hot popcorn mixture starts to burn.
4. Taking out the unpopped kernels is key– unless you want to break a tooth. An easy way to do this is to use your hands to scoop the popped popcorn into another container. All of the unpopped corns will fall to the bottom.
5. For colored popcorn balls, pour a few drops of food coloring into the caramel or marshmallow mixture before adding to popcorn. Make the color brighter than you need, as the pale-colored popcorn will dilute any coloring.
6. Resist the urge to over-pack your popcorn balls. Tightly packed popcorn balls are hard and not very tasty.
---
POPCORN BALLS CAN BE DECORATED for any occasion: Halloween, Christmas, birthdays… you name it. 
DECORATION IDEAS…
Food coloring for colored popcorn balls
Edible glitter
Melted white, milk, or dark chocolate (drizzled)
Melted peanut butter or butterscotch chips (drizzled)
Candies, such as candy corns, jelly beans, red hots, etc.
Black licorice for "spider legs"
Gummy "body parts"
Gummy worms
Popcorn Ball Add-ins:
Nuts (peanuts, walnuts, hazelnuts, pine nuts, etc.)
Chocolate or white chocolate chips
Peanut butter or butterscotch chips
Toffee bits
Melted peanut butter (add to caramel/marshmallow mixture)
Sprinkles
Cocoa powder or baking chocolate (add to caramel/marshmallow mixture)
Mini or regular M&M's
Graham cracker pieces
Dried fruit
Sweetened flaked coconut
Alternative flavoring extracts: coconut, almond, rum, maple, peppermint, etc.
---
18. AUTUMN PUMPKIN PIE POPCORN AND RAISIN MIX
1 bag low-fat microwave popcorn
1/4 cup granulated sugar
1 tablespoon pumpkin pie spice
1 cup California Raisins
1 (5-ounce) package glazed pecans
Butter-flavored non-stick cooking spray
1. Microwave popcorn according to package directions and empty into a large bowl. Remove all unpopped kernels.
2. Stir sugar and pumpkin pie spice together in a small bowl.
3. Spray popcorn liberally with cooking spray and toss to coat evenly. Add raisins and pecans.
4. Sprinkle with sugar and spice mixture and toss until popcorn is well coated.
Makes 12 (1-cup) servings.
---
19. POPCORN PUMPKINS
1. Microwave and melt 1/4 c. margarine/butter and 10 1/2 oz. of mini marshmallows for 1-2 min.
2. Stir in a 4 serving size orange Jell-O; after it is combined, pour it over 3 qts of popped popcorn (12 cups)
3. Grease/butter hands and form the popcorn into pumpkin-shaped balls.
4. Complete pumpkin features with a green spearmint candy for the top stem and chocolate chips and M&Ms for the face. (Or just add a leaf for a plain pumpkin)
---
20. HALLOWEEN HANDS/FINGERS
Fill a clear plastic food handler's glove by placing one or two pieces of candy corn or raspberry shaped candy in the tip of each finger.
Fill the remainder of the glove with popcorn or cereal.
Tie with yarn or raffia.
---
21. HOLIDAY POPCORN WREATHS
Ingredients:
1/2 cups popped popcorn
2 cups marshmallows
2 Tbsp. milk
5 Tbsp. Lime flavored jello
1 cup red and green fruit flavored candies
1. Put popcorn in large bowl.
2. Melt marshmallows over low heat; stir constantly.
3. Add milk and jello; stir till jello is dissolved.
4. Take off of stove; stir in the candy.
5. Pour over popcorn; stir to coat evenly
6. Lightly grease your hands. Shape about 4 heaping Tablespoons popcorn mix into wreath shapes
7. Lay on waxed paper to cool down completely. Make wreathes out of the rest of the mix.
8. Store in an airtight container  Photo from Artists Helping Children
---
22. SNOWBALL POPCORN BALLS
For 10- 3″ Balls you need: 8 cups popped corn-unsalted, 1/4 cup butter/margarine, 1 cup light brown sugar, 1/2 cup light corn syrup, 1/2 cup water, 1/2 tsp. vanilla, 1-cup cold water, additional margarine for hands, optional candy thermometer
Remove all un-popped kernels from popped corn.
In large saucepan melt butter over medium heat.
Add the brown sugar, corn syrup, and 1/2 cup water. Stir and bring to boil.
Boil until syrup reaches soft ball consistency (235 F) or until a tsp. of syrup dropped into a cup of cold water forms a pliable dough-like ball.
Pour the syrup over the popped corn and stir until well coated.
With buttered hands–shape the popcorn into balls"!  Source: The book 'Snacktivities!' by MaryAnn F. Kohl and Jean Potter,Robins Lane Press 2001.
---
POPCORN BALLS on CANDY CANE HOOKS
Make popcorn balls and put the straight end of a miniature candy cane into each one.
Sprinkle colored sugar onto the balls before they harden.
Wrap in colorful cellophane.
The popcorn ball ornaments will have built-in peppermint tree hooks.
Note: These make great gifts!
---
23. CHRISTMAS "RED AND GREEN" POPCORN
Make popcorn any way you'd like.
Once it's done popping, spread out on a cookie sheet.
Drizzle red and green food coloring over the entire batch of popcorn.
Mix well until you have your desired Christmas colors.
---
24. POPCORN SNOWMEN
Ingredients: 2 ½ quarts popped corn
¼ Cup butter
1 pkg. 10 oz. Marshmallows
1 teaspoon Vanilla
Pop popcorn and set aside.
In a saucepan over low heat melt butter and marshmallows. Stirring constantly until smooth. Stir in vanilla.
Pour over popped pop corn and mix until well coated.
With buttered hands form into snowball shapes.
Make one large ball for the bottom, one medium ball and a smaller ball for the head.
Decorate with pretzel sticks, candy, raisins, or nuts for the eyes, nose, mouth and buttons.
---
FOOD CRAFT AND SNACK IN ONE!
POPCORN SCULPTING
Ingredients
1/4 cup margarine, plus 1 tablespoon extra
1 bag mini-marshmallows
12 cups popped popcorn
3 packages gelatin (such as Jell-O, 4 serving size), different flavors and colors as desired
Choice of the following foods, such as sprouts, celery sticks, carrot slices, raisins, pretzel sticks, etc.
Materials
3 bowls
Oven mitts
Wax paper or serving plate
Large wooden spoon
Large microwave-safe bowl or saucepan
1.  Place the margarine and the marshmallows in the microwave-safe bowl. Microwave the two on high for 1 to 2 minutes until the marshmallows are puffed.
2.  Using oven mitts, remove the bowl of marshmallows from the microwave. Stir the mixture with a wooden spoon.
3.  Divide the popcorn into three separate bowls.
4.  Pour equal amounts of the marshmallow mixture over popcorn.
5.  Sprinkle a different color of gelatin over each bowl of popcorn and marshmallow mixture. Quickly stir with the spoon until the gelatin and marshmallow mixture evenly covers the popcorn mixture and let cool.
6.  Rub some margarine on your hands. Take some of the popcorn mixture and mold into an interesting form. Add different colors of the popcorn mixture to make different parts of the sculpture.
7.  Place the sculpture on wax paper or a serving plate. Add any of the remaining foods to make an interesting presentation of the sculpture just before serving.
---
*At what age should children be allowed to eat popcorn?
With its sharp edges and kernel flakes, popcorn is one of those foods that can even get caught in an adult's throat, causing gagging and choking. "I'd say 4 years is the youngest age when you should let a child eat popcorn," says Susan Moores, a registered dietitian in St. Paul, Minnesota, and a spokeswoman for the American Dietetic Association. When your child does start eating popcorn, take the bag or bowl away from him after the fluffy stuff is gone. The unpopped and half-popped kernels that fall to the bottom can get caught in your child's throat and block his airway.
---
BE SURE TO VISIT THE  Popcorn Theme Page! Great fun for kids! Games, Art, Crafts, Music-Movement, Science and a Book List…
---
There you have it, 24 popcorn snacks for kids. We hope you have found some inspirational recipe ideas for your popcorn themed treat. Need some more snack ideas? Check some of the links below.

ideas are great for a kids party as well as the classroom. " width="300″ height="781″ />
You may also be interested in…
Apple Recipes-Check out APPLES ON A STICK near the page middle.
All kinds of DIPPED PRETZELS and Pretzel Treats.
Look in Category List (on left side of page) under 'Snacks' for other ideas…as well as all the Holiday and Seasonal Themes…
SaveSave