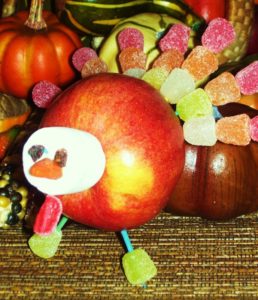 Thanksgiving Snacks
A collection of Thanksgiving snacks and treats for kids can be found below. These are great treats for the classroom or for a kids Thanksgiving party.
1. APPLE TURKEYS 
These are fun to make. The tail feathers can be colored mini-marshmallows, gumdrops or ring cereal. The feet can be whatever you decide–such as gum drops or candy corn.
Need: apples, large marshmallows, candy corn and colored toothpicks.
1. The apple is the body of the turkey.
2. Add colored mini-marshmallows or gum drops to 5 or 6 toothpicks; stick them in one end of the apple, like a fan.
3. Use a toothpick for the neck. Use a marshmallow for a head. Tiny raisin pieces make the eyes and a candy corn for the beak.
4. Use 3 yellow toothpicks for legs (in a triangular position so your turkey can stand up)
Personally, I like to eat the spice gum-drops! When you are making food crafts with children, make sure to have a  extra pieces for the kids to munch on!  NOTE: Because of the toothpicks-this 'Turkey' would be better to only use as a decoration with younger children…
I've also tried this idea using a pear! Be sure the pear is very firm and not ripe. (The pears will ripen and become soft quickly.) I was able to only keep the 'Turkey' on the table about 3 days and then needed to discard it. Pear samples were made with gum-drops and colored mini marshmallows. (Barb)
---
2. ICE-CREAM CONE CORNUCOPIA
Put little cookies, raisins, nuts, M&M's, and pretzels into an ice cream cone (the ones that are pointed) to make a cornucopia snack. I didn't find it necessary–but you can use icing/frosting to hold goodies in.
These would also make cute 'Name Place' treats. Simply write each guest's name with a 'food writer' on the side of the cone!
OPTIONAL IDEA as in shown in image: You can turn up the end of the 'Horn of Plenty' by placing the end in warm water about 11 to 15 seconds. (It will not be pliable at this point.) Place the cone in the micro-wave for about 17 seconds. Take it out and curl it around a clean pencil or pen for a few second. (Image by KidActivities.net)
---
Four Pumpkin recipes here… but be sure to also visit the PUMPKIN SNACKS AND RECIPES CATEGORY!  Great for Thanksgiving!!!
3. "NO COOK" PUMPKIN PIE (Individual servings)
Give each child a cup. Into their cup put a large scoop of canned pumpkin, marshmallow crème, cool whip, and pumpkin pie spices. Children then mix and  spread it on graham crackers and eat.
---
4. NO BAKE PUMPKIN PIE
Individual recipe:
Small custard-sized ready to eat–pie crusts
2 tablespoons canned pumpkin
1 tablespoon marshmallow creme
1 tablespoon prepared whipped topping
Sprinkle of cinnamon
Mix all ingredients together and pour into the crust. The recipe is then ready to eat; it may be refrigerated or frozen.
---
5. PUMPKIN DIP
4 c. powdered sugar
2 (8 oz.) pkgs. cream cheese
1 can (30 oz.) pumpkin pie filling
2 tsp. cinnamon
1 tsp. ginger
Combine sugar and softened cream cheese until well blended. Beat in remaining ingredients. Store in airtight container in the refrigerator. This dip is good with gingersnaps
---
6. FROZEN PUMPKIN DESSERT
1 15 ounce. can pumpkin
1/2 gallon of vanilla ice cream
1 teaspoon pure vanilla extract
3/4 cups sugar
1/2 teaspoon salt, 1/4 teaspoon nutmeg, 1/4 teaspoon ginger, 1/8 teaspoon ground cloves, 1/2 cup chopped walnuts or pecans
Soften the ice cream. Combine pumpkin and other ingredients. Fold ice-cream with pumpkin mixture.
Pour into a 9″ by 13″ pan. Top with chopped nuts. Freeze overnight. This can also be put together weeks ahead.
Warm at room temperature slightly before serving so pieces will easily cut. Top with whipped cream if desired.
---
7. CANDY CORN PUDDING
Ingredients:
1 small box of butterscotch instant pudding
1 small box of banana cream instant pudding
4 cups milk
Red food coloring
Yellow food coloring
1 container of whipped cream
Candy corn
1. Make  butterscotch pudding as directed on the box, using 2 cups of milk.After it's mixed, add 20 drops of red food coloring and 25 drops of yellow food coloring, stir and refrigerate for 30 minutes.
2. Make banana cream pudding as directed, using the last two cups of milk.Add 20 drops of yellow food coloring and refrigerate until ready to use.
Use clear dessert containers OR small clear plastic cups…
To assemble…
1. Put the yellow pudding at the bottom:
2. Then the orange:
3. And last, the coolwhip
---
This one is also nice September through November! 
8. MAKE SOME SUPER EASY AND YUMMY ACORNS!
Ingredients:
Glazed donut holes
Choice of Nutella, chocolate frosting or peanut butter
Chocolate sprinkles, crushed toffee bits, or crushed nuts
Pretzel Sticks broken in halves
1. Dip an end of the Donut Hole into your choice of spread. ( Nutella, etc.) Only dip it half way!
2. Dip the frosted end into your 'sprinkle' choice. This is the top of the acorn.
3. Stick the pretzel stick into the top of the acorn. This is the stem.
Image by Kid Activities. NOTE: These were made by M and B ~7 and 5 years old. TIP: We used two kinds of donuts; a box from the bakery and Entemann's. The bakery donuts were too soft to easily work with. The sample image uses Nutella with a combination of chocolage sprinkles and finely chopped pecans. They tasted even better after being in the refrigerator awhile! (Good the next day too-when covered)
---
9. THANKSGIVING SNACK MIX WITH A MESSAGE
This is great to serve as a snack or to tie up prettily in a baggie with raffia and a note explaining the symbolism of the ingredients!
If you're going to put this out in a bowl for children or guests to munch on—write the symbolic ingredients on a card and place it near the treat for all to see!
Ingredients:
2 cups Bugles corn snacks (Horn of plenty)
1 cup candy corn (Corn that pilgrims ate at the first Thanksgiving)
1 cup dried fruit (A sweet harvest)
2 cups pretzels (Arms folded in thanks)
1 cup nuts or sunflower seeds (A bountiful harvest)
Recipe makes 8 servings
---
10. PARTY MIX #1 
One easy way to provide Thanksgiving party food for kids (or adults)  is to create a huge bowl full of snack mix. Start with a box or two of your favorite snack cereal Add candy corn, raisins, small marshmallows, small pretzels, chocolate chips and other treats to the mix.
11. THANKSGIVING PARTY MIX #2
Ingredients:
1 6-oz bag original flavor Chex Party Mix
2 cups Wheat Chex cereal
1 cup candy corn
1/2 cup whole salted almonds
1/2 cup chopped dried apples
In a large bowl, mix one 6-oz bag original flavor Chex Party Mix, 2 cups Wheat Chex cereal, 1 cup candy corn, 1/2 cup whole salted almonds and 1/2 cup chopped dried apples.
---
12. AUTUMN 'PUMPKIN PIE' POPCORN AND RAISIN MIX
1 bag low-fat microwave popcorn
1/4 cup granulated sugar
1 tablespoon pumpkin pie spice
1 cup California Raisins
1 (5-ounce) package glazed pecans
Butter-flavored non-stick cooking spray
1. Microwave popcorn according to package directions and empty into a large bowl. Remove all unpopped kernels.
2. Stir sugar and pumpkin pie spice together in a small bowl.
3. Spray popcorn liberally with cooking spray and toss to coat evenly. Add raisins and pecans.
4. Sprinkle with sugar and spice mixture and toss until popcorn is well coated.
Makes 12 (1-cup) servings.
---
You may also like the SNACK MIX RECIPES Category…! Lots of ideas there!!!
_______________
13. POPCORN PUMPKINS (Visit the Popcorn Snacks and Recipes  page for loads of Popcorn snack ideas! Popcorn is always nice in Autumn)
1. Microwave and melt 1/4 c. margarine/butter and  10 1/2 oz. of mini marshmallows for 1-2 min.
2. Stir in a 4 serving size orange Jell-O; after it is combined, pour it over 3 qts of popped popcorn (12 cups)
3. Grease/butter hands and form the popcorn into pumpkin-shaped balls.
4. Complete pumpkin with a green spearmint for the top stem.
---
14. 'FRIENDSHIP' FRUIT SALAD for a classroom or childcare program…
Ask each child to bring in a piece of fresh fruit or a can of fruit. Have them chop the fruit with a plastic knife. Mix all together in a big bowl and serve. May top with miniature marshmallows and/or add some dry vanilla pudding (or cool-whip) and shredded coconut to the fruit to make it special.
The extra cans of fruit left over can be donated to a local food pantry.
---
15. APPETIZER CENTERPIECE
To stabilize the turkey body, slice a piece of melon from the bottom.  Alternate cheese cubes and grapes onto long tooth picks. Put the (feathers) fruit and cheese skewers near the back of the melon. At the sides, insert red and yellow pepper strips. Insert a small pear in the front of the melon for the head. Complete the decorations using read and yellow pepper pieces and additional cheese!
---
16. ANOTHER FUN APPETIZER IDEA!  BREAD BOWL and DIP TURKEY
Ingredients: Round loaf of bread–scooped out in one piece or cubes–your choice, favorite bread dip (such as spinach dip), cut up veggies, long tooth picks and skewers
OK get ready for this one! The scooped out bread bowl with the dip in it– is the body of the turkey. Place the scooped out bread and put it where the turkey's head would go. Next thread veggies on the really long toothpicks or skewers…those are the tail feathers! Improvise with veggie bits for the wattle and eye…If platter is large enough, surround this guy with additional veggie dippers. Love this one!
---
TWO IDEAS FOR CRANBERRY-CREAM CHEESE APPETIZER
17. EASY VERSION
Ingredients: 1 (8oz) package of block cream cheese, 1 can whole berry cranberry sauce, zest from one orange
1. Mix orange zest with cranberry sauce.
2. Pour over the block of cream cheese.
3. Serve with veggies, crackers and pretzels. Celery is especially good with this!
---
18. FRESH CRANBERRY RELISH AND CREAM CHEESE
Ingredients: 12 ounce) packages fresh cranberries, 1 cup and 2 tablespoons apricot jam, 1 cup and 2 tablespoons white sugar, 1 cup and 2 tablespoons chopped pecans, 8 oz. packages cream cheese
1. Preheat an oven to 350 degrees F (175 degrees C).
2. In a 2 quart baking dish with lid, blend sugar with cranberries. Be sure to coat all berries.
3. Cover and bake for about 30 minutes, until the cranberries pop and release their liquid.
3. Remove from oven and stir in the apricot jam and pecans.
4. For best taste/results, refrigerate overnight.
Serve with 'Ritz type crackers' and pretzels (Makes 36 servings)
---
19. Pilgrims "Reeses Peanut Butter Cup" Hats
Attach hat tops with frosting. Cookie base can be made using ginger snaps,  striped round cookies or small sugar cookies. An orange chicklet is used for the buckel.
PILGRIM HATS #2 using Marshmallows
24 round chocolate striped cookies, 12 ounce pack of chocolate chips,  24 marshmallows,  Tube yellow frosting (Makes 24)
1. Set the chocolate-striped cookies stripes down on a wax-paper-covered tray, spacing them well apart.
2. Melt the chocolate chips in a microwave or double boiler.
3. One at a time, stick a wooden toothpick into a marshmallow, dip the marshmallow into the melted chocolate, and promptly center it atop a cookie.
4. Using a second toothpick to lightly hold down the marshmallow, carefully pull out the first toothpick. Chill the hats until the chocolate sets, then pipe a yellow decorators' frosting buckle on the front of each hat.
---
20. Turkey Cookies by Pillsbury … Candy corn feathers are attached using chocolate frosting. The eyes are small baking bits with a dab or dark frosting in the center. Orange tube frosting is squiggled on for the beak and feet! This decorating would also be adorable on top of cupcakes! The candy corn would adhere nicely to the frosting…
---
21. FUN TURKEY SANDWICH
Use a large turkey shaped cookie cutter to cut out turkey shapes from wheat bread. Spread the whole shape with peanut butter. Use a raisin for and eye, a slice of a red gummy worm for the wattle, and fruit loops for the tail feathers.
---
22. PEANUT BUTTER TURKEY TREATS (A little different than above)
1. Using a large, turkey-shaped cookie cutter, cut cookie shapes out of toast.
2. Spread toast turkeys with peanut butter.
3. Add corn candies for feathers.
4. Add raisins for eyes.
---
23. MINI CORNUCOPIAS  
Make mini cornucopias using bugles and Trix cereal for snack.
The kids can create their own by adding some peanut butter inside the bugle and then adding a few pieces of the trix. They come out cute and the kids love them!
---
24. BOUNTIFUL COOKIES
Both an activity and snack in one! Yummy for all ages!
Bake or purchase sugar cookies that are cut out in Thanksgiving shapes. (Turkeys, pilgrim hats, pumpkins, etc.)
Place containers of "autumn" colored frosting, sprinkles, candy corn, and other decorations on the table. Children decorate as desired!
---
25. OREO TURKEY
To make one turkey, you need two Double Stuff Oreo cookies,
candy corn
and a chocolate covered raisin (Raisinettes)…
Open one of the Oreos. The side with the filling is the base of the turkey. (Eat the other part!) Take the other cookie and stand it upright in the filling. Stick pieces of candy corn in the filling of the upright cookie for feathers and place the raisin in front of the body for the turkey's head.
---
26. OREO TURKEY (Version #2)
Oreo cookie, Candy Corn, Hershey Kiss–
OPTIONAL: Green icing (or white with green food coloring)
Red icing or small piece of red licorice.
1. Divide the Oreo into two pieces without breaking the cookies.
2. Place four or five pieces of candy corn around the top of the Oreo cookie that has the icing.
3. Place the flat part of the Kiss in the icing at the bottom of the Oreo.
OPTIONAL IDEAS:
Add green icing to the other half of the Oreo so the Turkey will look like it is standing up.
Add a touch of red icing or a small string of red licorice to make the waddle. Eyes can be added using small pieces of icing.
---
27. CORN CAKES
A fun snack using Jiffy cornbread mix….
Make dollar-sized corn pancakes from the mix; fry them on an electric skillet or griddle.
Top mini-cakes with butter and other toppings the children can bring in–such as jelly, jam, honey, etc. (or the program supply toppings)
---
28. TURKEY GLOVE 
Need: plastic gloves (deli kind)
Popped Popcorn (Made into popcorn balls if able to)
Candy corn or Reeses pieces.
Fill the fingers with candy corn and the thumb with popcorn.
Place the ball in the palm of the bag.
Glue an eye on and then twist the bag.
Place cardboard feet on bottom.
Don't forget the little red waddle over the nose/beak.
---
29. CRANBERRY SAUCE… 
This one is for you at home–so simple and very good! The kids also like this one…
1 can whole cranberries (not jellied)
1 can mandarin oranges (drained)
1 cup walnuts
1 cup pecans (Adjust  or omit amount of both nuts to suit your taste)
In a medium size bowl, gently fold together cranberries, mandarin oranges, walnuts, and pecans. (Make sure oranges are well drained) Serve cold. (Image by KidActivities.net)
---
APPLE DIPS & SPREADS
30. APPLE CARAMEL DIP #1 
Caramel apple dip
1 bag Kraft caramels
1 can sweetened condensed milk
1 stick butter or margarine
1 bag apples
Unwrap caramels. Combine caramels, butter and milk. Melt together in microwave. Stir occasionally while melting. Slice apples. Dip into warm caramel. Keeps well in refrigerator and just needs to be heated again when serving.
---
31. CARMEL APPLE SPREAD #2 
8 oz Cream cheese, softened
1/2 c Brown sugar
1/2 tsp. Vanilla
1/2 tsp. Caramel Flavoring
Apple slices…
Blend all ingredients with mixer. Serve with apple slices. Tastes like caramel apples, but doesn't stick to your your teeth
---
32. APPLE CREAM CHEESE CARMEL DIP #3
8 oz. cream cheese
1/2 cup brown sugar
1/2 cup powdered sugar
1/2 cup caramel sauce
1 tsp. vanilla
Mix together and chill.
Option: Mold Mixture into a ball and roll the ball in broken Heath candy pieces.
---
33. SPREAD #4
1 jar of Carmel sauce (Mrs. Richardson's is good)
1/2 cup of Sour Cream
Heath Bar pieces
Mix all together…
---
34. APPLE SPREAD  #5 
Ingredients:
1 8 oz. pkg. cream cheese, softened
1 c. grated cheddar cheese
1/4 c. mayonnaise
Dash of sugar
1 c. chopped apple with peel
1/2 c. chopped celery
1/2 c. chopped pecans
Directions:
Mix together the cream cheese and cheddar cheese until well blended. Add remaining ingredients and mix well. Serve with crackers or fresh vegetables.
---
35. APPLE CHEESE SPREAD #6 
8 oz. package softened cream cheese
1 ½ cups shredded Monterey jack cheese
1 cup diced apple (unpeeled)
1/3 chopped walnuts
2 Tbl. Milk
½ tsp. cinnamon
1/8 tsp. nutmeg
Beat the cream cheese until light and fluffy in a small mixing bowl.
Beat in the remaining ingredients until well blended.
Refrigerate, covered, for 1 to 2 hours to allow flavors to blend.
The spread will keep in the refrigerator for up to one week if covered. Use spread on bagels, crackers or waffles.
Makes 2 cups.
---
HOT & COLD BEVERAGES
36. PUMPKIN SMOOTHIE 
4 servings, about 1 cup each
1 qt. (4 cups) milk
1 pkg. (4-serving size) JELL-O Butterscotch Flavor Instant Pudding & Pie Filling
1/2 cup vanilla ice cream, softened
1 tsp. pumpkin pie spice
1. PLACE all ingredients in large pitcher with tight-fitting lid; cover. Shake vigorously 1 minute or until well blended.
2. POUR evenly into 4 glasses. Serve immediately. (Mixture thickens as it stands. Thin with additional milk, if desired.)From Kraft Food Website
---
37. PUMPKIN BOWL PUNCH
Thouroughly clean out and scrape the sides of a pumpkin.
Fill with vanilla ice cream and ginger ale. (Or your favorite Autumn punch recipe)
---
38. PUMPKIN SPICE HOT COCOA – Wonderful for November evenings!
6 cups of milk
6 packets of powdered hot chocolate OR ½ lb. of dark chocolate bits
1 1/2 tbsp. pumpkin pie spice
Lots of whipped cream
Cinnamon
Heat milk to almost boiling. Place hot chocolate mix into mugs and thoroughly mix in ¼ T of pumpkin pie spice in each cup. Pour in hot milk and stir well. Load on the whip cream. Sprinkle cinnamon on top. Recipe and photo thanks to No Fuss Fabulous Serves 6
---
39. ZESTY PUMPKIN SMOOTHIE 
1/2 cup pumpkin puree
1 cup vanilla yogurt
2 cups milk
1/2 teaspoon cinnamon
1/4 teaspoon nutmeg
4 ice cubes
Directions:
Combine ingredients in blender and blend until smooth. Pour into glasses and serve immediately with drinking straws.
---
APPLE CIDER served warm or cool is the perfect beverage for a Thanksgiving gathering. To fill the room with a delicious aroma, fill a crock-pot with apple cider. Add 2 or three cinnamon sticks.
Optional: Add 1/2 cup of maple syrup or orange juice. Simmer on low. Mmmmm, I can already smell it!
---
There you have it, 39 Thanksgiving snacks and treats for kids. We hope you have discount and decided on the appropriate Thanksgiving food ideas for your event. Other Thanksgiving Activity, Game, and Snack Links…
SaveSave