Disclosure: This post may contain affiliate links, meaning I get a commission if you decide to purchase through my links, at no cost to you. As an Amazon Associate, I earn from qualifying purchases. Read the full disclosure here.
St. Patrick's Day Games and Activities
If you need some St. Patrick's Day games and activities for the classroom, look no further. These St. Patrick's Day ideas are sure to lead to hours of entertainment and bring out the holiday spirit.
St. Patrick's Day and Leprechaun Games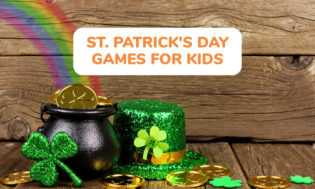 1. SHAMROCK BOUNCE
Paint an old tennis ball green.
Set five pie tins on the floor, numbered 1-5.
Give each child five bounces to land in the pie tins.
Add up the total numbers to see who wins.
---
2. SHAMROCK AND STRAW TABLE GAME
Divide groups into equal teams and sit them at table or desks that have been pushed together.
Pass out a drinking straw to each child.
Place 2 inch Pre-made green tissue-paper shamrocks -in front of  the first player of each team.
Have children clasp their hands behind their backs.
At "Go!" the first player picks up the shamrock by inhaling it onto the straw.
That player keeps the shamrock in the straw until he/she places/drops it down in front of the next player's area.
If the shamrock falls off, it must be sucked up again–The game continues until each team player has had a turn.
(Remember…no hands!)
---
 3. TOP OF THE MORNIN!
Children stand in a circle around a blind-folded child–who is the "leprechaun".
The leprechaun holds a paper-towel tube (that can be previously covered in green construction paper) and SLOWY turns.
The tube is in a stretched out arm pointing to the circle of children… Play Irish music and when the music stops the leprechaun stops.
The child standing opposite the pointed tube goes to the leprechaun and says, "A Top of the morning to you," INTO the TUBE. (Have children change their voices if they are able to.)
The leprechaun has 3 chances to guess who the voice belongs to.
If the leprechaun is correct–the child saying "Top of the Mornin" is the new leprechaun.
---
4. ST. PATRICK'S DAY RELAY RACE 
Cut out a large number of SHAMROCKS; write a different instruction on each one for a relay race —
Such as: skip, crawl, crab walk, hop, walk backwards, etc.
Duplicate the words for the number of Teams you will have playing. (Example: Three teams equal three sets of instruction words.
Divide the children into groups (if not even, have one child go twice)
Put the SHAMROCKS at the end of the room in a pile for each team.
On go, the first player on each team runs up to the pile and takes a SHAMROCK. They do what the Shamrock shape instructs.
When the first players get back– the next players run to the shamrocks–and play continues…Return the shamrocks to the bottom of the pile until ALL have had a turn.
Tip: Laminate the shamrocks for FUTURE St. Paddy's Days.
(This game can also be a adapted to other themes such as Valentine's Day– with hearts instead of shamrocks.
---
5. THEMED BANNER RACE WORD RACE
Challenge  friends to a race of the minds.
♣ Prepare two banners (or as many as you need for each team) that say whatever you want them to say.
Example: Happy St. Patrick's Day! Kiss Me I'm Irish! Luck of the  Leprechaun, etc. (The words can be themed to any holiday!)
♣ Also prepare a set of letters for the same words cut out in two different colors (for two teams) hidden randomly around the area.
♣ Divide the group into teams with captains–the captains sit and wait for their teammates to bring the letters for their banner. If a student is on the "gold" team and sees a letter for the "green" team he/she just leaves it alone. The first team to cover their banner letters wins.
---

6. IRISH HOT POTATO–A traditional game of hot potato using a real potato.
Play a CD of Irish music while the kids pass the potato around the circle. The player holding the potato when the music stops, will be in charge of the CD player for the next round.
Variation: Pass the BLANRNEY STONE
Play the same game using a "BLARNEY STONE" (a regular old rock).
---
7. POT OF GOLD DRAMA GAME 
You say, "If I found a pot of gold at the foot of the rainbow, I'd buy this…"
Then you show by acting out what you would buy. The others try to guess what you bought, and the first one to guess becomes the new actor.
---
8. Draw a HOPSCOTCH "course" that ties in with your party theme.
For a St. Patrick's Day Party draw a leprechaun in the start box…
♣ A pot of gold in the end box…
♣ A rainbow from one end to the other
♣ Have children toss a gold coin on the course to play.
---
9. PLAY 'HURLEY'…A GAME OF IRELAND
Need 10 or more players, aged 8 and up, played indoors and outdoors.
Hurley is an old game which can be tracked back to ancient Rome, and has been played throughout Great Britain for hundreds of years. However, Hurley is  popular in Ireland, and it is believed to be the ancient ancestor to modern football.
Players form two equal teams, each taking one half of a gymnasium or a large field. One team begins with a medium sized ball (eg: football), with the object of moving the ball over the opposing teams End, which is simply the rear boundary of that teams half.
The defending team may tag an approachable player, whereupon that player must stop and immediately pass the ball, or give the ball up. The ball may be passed or run with, but it may not be kicked and no rough play should be allowed. Essentially the same game may be played indoors, but with a goal, into which the ball may be thrown, and defended by a goalie. No goalie is required for the outdoors version. Source: Thunder Bay Multicultural Association.
---
10. A game of LEPRECHAUN, LEPRECHAUN, WHERE'S YOUR SHAMROCK? 
(A version of Doggy, Doggy where's your Bone? Pre-K to grade 1)
One child, who is the leprechaun, sits in the middle of the circle with their eyes closed. One of the children in the circle hides a paper shamrock shape behind their back – the group together says,
"Leprechaun, Leprechaun where's your shamrock? Somebody has it in their Pocket! Guess who?
Maybe you… Maybe a monkey from the zoo.
Come on Leprechaun where's your shamrock?"
The Leprechaun opens his/her eyes and has three guesses to who is holding the shamrock behind their back. Whether a right or wrong guess…the child with the shamrock is the next leprechaun.
---

11. FIND THE FOUR LEAF CLOVER
♣ Prepare pictures or cutouts of green clovers (have one for each child.)
♣ All Clover's should have 3 leaves except one, which would be a 4-leaf clover.
Children take turns passing around the clovers to music.
When the music stops, the child who has the 4-leaf clover gets a special treat (sticker, etc.)
Tell children that the person with the 4-leaf clover is lucky — that is why they get the special treat.
Continue on until ALL KIDS have gotten the 4-leaf clover and special treat.(Or pass out treat to those who did not receive one in the game)
---
St. Patrick's Day Activities for Kids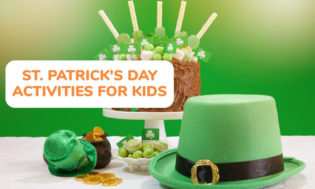 12. GOLDEN THOUGHTS…A BULLETING BOARD IDEA…(Also great for kids 'connecting and feeling good') 
When I first started working with children– the children painted a big, paper black pot. They  cut out large circles and painted them yellow (Or you can use yellow/gold construction paper)
On the circles, each child wrote  their 'Golden Thought.' Some were:
♣ I wish my grandpa could see
♣ My new dog makes me happy
♣ I want to be a doctor when I grow up
♣ I like it when my dad plays ball with me
Any "Golden Thought" children wished or makes them happy works!
These then were stapled onto the black pot. The remainder of the wall was decorated with St. Patrick's Day shamrocks, etc. The Parents "did stop" and read what their child wrote. They often were touched by what the wishes revealed…Barb
---
13. AN IRISH BLESSING POSTER IDEAS
Leprechauns, castles, good luck and laughter…
Lullabies, dreams and love ever after.
Poems and songs with pipes and drums…
A thousand welcomes when anyone comes.
That's the Irish for you!
---

14. THE LEPRACHAUN LOST HIS GOLD!
I have this in my file, but don't remember where I copied it from…Sounds like fun!!!! Kudos to the creator and also an apology for not giving you credit…
Tell the children-
"Two weeks ago, a leprechaun 'lost' all his gold in your play spaces, he left you his pot and a reward notice saying that if you could find all his gold and refill his pot by St. Pats Day, he would leave you a reward!"
Let the children find the gold that is hidden about (gold spray-paint items – anything you can think of – rocks, corn pops, buttons, keys, spoons, etc.).
Each time they find a piece of gold, they place it in the leprechaun's pot and they receive a "Lucky Shamrock" sticker to put on– or stick on a sticker page. (Or not, your choice…)
On St. Pats Day, the leprechaun will return and pick-up his small pot full of gold – and in return — he will leave a large pot (a Halloween witch's cauldron) full of a reward. (Their reward can consist  of shamrock shaped cookies, a pitcher of lemonade tinted green, festive cups and napkins, and a goodie bag for each child. You can fill it with whatever you'd like!
Some of the other things to do- Have the leprechaun leave a GREEN FOOTPRINT TRAIL to the pot…
---
15. ST. PADDY DAY PARADE! Great for all ages!
You Need:
Poster board, paint sticks, cardboard tubes, paint, pattern templates, heavy cardboard, gold glitter, glue, cans, and home-made musical instruments and noise makers
I work in a program that has kindergarten kids in the half-day when there is no class for them. We do this for the school–going around the halls and in and out of the rooms….. BUT…..This would also be fun for pre-school!
IIt has grown to our program leading a parade around the block and this is what we do…
The week prior to St. Patrick's Day, students begin making a variety of items to be used in the annual parade. They make very large shamrocks and paint them green; they attach these to paint sticks and long cardboard tubes. They also make large pots of gold and shamrocks out of heavy cardboard which they paint and decorate with glitter. (Many of the decorations are stored and can be used from year to year) Students decorate tin cans, washtubs, etc. (anything will do) to use as drums and instruments. (See the Home-made Instrument Category)
On St. Patrick's Day the entire school (dressed in green!) gathers. Signs, poster, instruments, hats, etc. are passed out and they hold the annual parade.
The students and the teachers love this event. The kids and teachers walk around the block while the neighborhood and non-teaching building staff watch the parade. (It's advertised on the school marquee)
When weather is bad—the kids by lower and upper grades walk around the school. (Don't forget the Irish music!!!) Submitted by Casey/California)
---
16. LEPRECHAUNS INVADE THE PROGRAM!
(For Pre-K to Grade 2)
Make mischief! For St. Paddy's week, when the children go outside to play, turn chairs and tables upside down.
Or, when children take naps–the leprechauns switch shoes around.
On St. Patrick's Day the leprechaun should write a note saying he's sorry for the mischief he has caused. He'll also tell the children that he has left them a treasure and  has hidden a pot of gold for them to find.
Kids follow the clues around the center/school, until they find the surprise.
(Take a black cauldron Halloween pot and fill with goodies!) Submitted by teacher #1 in Ohio
---
17. MAKE A LEPRECHAUN TRAP!
Begin your celebration by building a Leprechaun trap. I read of this a few years ago and it has become a "tradition" in our program ever since.
Round up supplies you decide to use…such as a shoe box, pipe cleaners, markers, glitter, construction paper, wrapping paper, tape, glue, egg cartons, etc. Kids will have fun designing the trap, making it, and the anticipation of the day it is used.
Can you design one with a trap door?
Because Leprechauns are smart and quick–you'll have to lure them in with something.
Maybe a piece of gold coin candy, a shamrock, clover or penny?
When I read the original idea–Lucky Charms cereal was mentioned as bait.
1. Leave your trap out the night before St. Patrick's Day and in the morning the kids will get a surprise!
2.The day before (when you leave work,) put little green foot prints and chocolate coins or treats in the "cage"! A nice touch could be a note saying that he (the Leprechaun) couldn't stay and needed to get back to the Rainbow)!
3. If you have a Before AND After School group—be sure to make two traps—one for the "morning" and one for the afternoon groups
Of course you'll never catch a leprechaun…but a really fun tradition!!!   Submitted by Cassie in Michigan
---
18. GREEN BUBBLES IN SENSORY TABLE (Pre-K-K)
Have fun with green water!
Simply add a few drops of green food coloring to the water-table… it only takes a few drops of color. Add child-safe bubbles as well!
Advise to wear cover-shirts but there is no staining of the skin, table or towels.
---

19. ST. PATRICK'S DAY SCIENCE EXPERIMENT PLANT GREEN BEANS
Have each child plant their own green beans.
Start well in advance so the beans will start to come up before March 17!
♣ Beans are the color green and the children will love watching them grow. They are also a great way to introduce children to gardening and the connection between food and the earth.
You need is  bean seed, small garden pot (3 inch across) some soil and water. You will also need a place  to put the pot where it will get 4-6 hours of sunlight. Fill the pot with soil; make a small hole using the little finger about 1/4 inche deep–put in the bean cover over, water. Place the pot in a sunny spot and watch it grow. Be sure the planter has drainage and be sure to place a saucer to catch the excess water.
♣ If children are younger–begin or end the activity with READING JACK AND THE BEANSTALK.
---
Also see the three LEPRECHAUN GROWING GRASS ideas in the St. Patrick's Day Arts and Crafts section!
---
 SONGS and POEMS FOR ST. PATRICK'S DAY (Pre-K and K)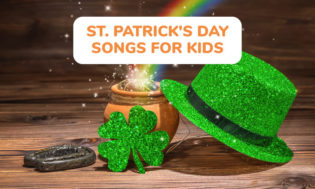 20. Lucky Leprechaun to tune of Jingle Bells
Leprechaun, Leprechaun,
Oh, where can you be?
Come a little closer now,
Don't be afraid of me.
Leprechaun, Leprechaun,
You bring luck my way.
I'd really like to see you
On this St. Patrick's Day!
---
21. St. Patrick's Day Song Tune to Mary Had a Little Lamb
I'm looking for a leprechaun,
Leprechaun, leprechaun.
I'm looking for a leprechaun.
Do you know where he's gone?
He wears a suit that's made of green,
Made of green, made of green.
He wears a suit that's made of green
Do you know where he's gone?
He lives by a rainbow and hides his gold,
Hides his gold, hides his gold.
He lives by a rainbow and hide his gold.
Do you know where he's gone?
If you see a leprechaun,
Leprechaun, leprechaun.
If you see a leprechaun,
Please tell me where he's gone!
Originally from Sue Goodman
Hillcrest School, Morristown, TN
---
22. LITTLE LEPRECHAUN 
To tune of  I'm a Little Teapot
I'm a little leprechaun
Dressed in green,
The tiniest man
That you have ever seen.
If you ever catch me, so it's told,
I'll give you my pot of gold.
---
23. If You're Wearing Green Today
By Elizabeth McKinnon
(Sung to 'f You're Happy and You Know It)
If you're wearing green today, dance a jig.
If you're wearing green today, dance a jig.
If you're wearing green today,
Dance a jig, then smile and say,
Have a very Happy St. Patrick's Day!
---
24. I'm a LIttle Leprchaun–Sung to I'm a Little Teapot)
I'm a little Leprechaun short and green,
Here is my shamrock but I can't be seen,
When you pull my feather, hear me scream (everyone scream)
I'm a little Leprechaun, short and green.
---
25. FIVE GREEN SMAMROCKS
1 green shamrock, in the morning dew,
Another one sprouted, and then there were two.
2 green shamrocks, growing beneath a tree;
Another one sprouted and then there were three.
3 green shamrocks, by the cottage door;
Another one sprouted, and then there were four.
4 green shamrocks, near a beehive
Another one sprouted, and then there were five.
5 little shamrocks, bright and emerald green,
Think of all the luck these shamrocks will bring.
---

Thanks for checking out our St. Patrick's Day games and activities. We hope this makes your classroom celebration a fun and memorable day.
Complete Menu for 'St. Patty Day' Activities

---
SaveSave