Let's take a look at some fun St Patrick's Day activities for kids. You can use these ideas to celebrate St Patrick's Day as well as get kids engaged and involved in this global holiday. If you are looking for something crafty, check out our St Patrick's Day crafts.
St Patrick's Day Activities
1. Golden Thoughts
This is a fantastic bulletin board idea. When I first started working with children– the children painted a big, paper black pot. They cut out large circles and painted them yellow (Or you can use yellow/gold construction paper).
On the circles, each child wrote their 'Golden Thought.' Some were:
"I wish my grandpa could see."
"My new dog makes me happy."
"I want to be a doctor when I grow up."
"I like it when my dad plays ball with me."
Any "Golden Thought" children wished or make them happy works!
These then were stapled onto the black pot. The remainder of the wall was decorated with St. Patrick's Day shamrocks, etc. The Parents "did stop" and read what their child wrote. They often were touched by what the wishes revealed…Barb
2. Irish Blessing Poster
Have your students make an Irish blessing poster. This is a great way to encourage creativity.
Leprechauns, castles, good luck and laughter…

Lullabies, dreams, and love ever after.

Poems and songs with pipes and drums…

A thousand welcomes when anyone comes.

That's the Irish for you!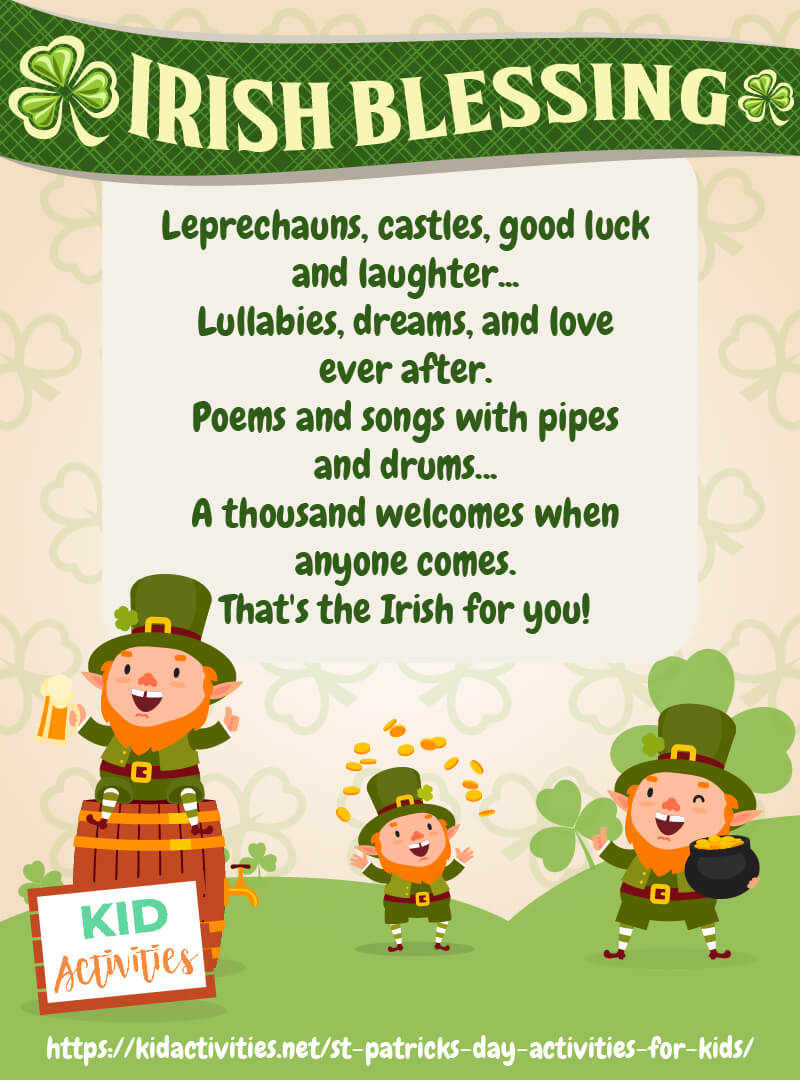 3. The Leprechaun Lost His Gold
I have this in my file but I don't remember where I copied it from. It sounds fun!!!! Kudos to the creator and also an apology for not giving you credit…
Tell the children-
"Two weeks ago, a leprechaun 'lost' all his gold in your play spaces, he left you his pot and a reward notice saying that if you could find all his gold and refill his pot by St. Pats Day, he would leave you a reward!"
Let the children find the gold that is hidden about (gold spray paint items – anything you can think of – rocks, corn pops, buttons, keys, spoons, etc.).
Each time they find a piece of gold, they place it in the leprechaun's pot and they receive a "Lucky Shamrock" sticker to put on– or stick on a sticker page. (Or not, your choice…)
On St. Patrick's Day, the leprechaun will return and pick-up his small pot full of gold – and in return — he will leave a large pot (a black cauldron) full of a reward. Their reward can consist of shamrock-shaped cookies, a pitcher of lemonade tinted green, festive cups and napkins, and a goodie bag for each child. You can fill it with whatever you'd like!
Some of the other things to do- Have the leprechaun leave a green footprint trail to the pot…
4. Have a St Patrick's Day Parade
Materials:
✓ Posterboard
✓ Paint sticks
✓ Cardboard tubes
✓ Paint
✓ Pattern templates
✓ Heavy cardboard
✓ Gold glitter
✓ Glue
✓ Cans
✓ Homemade musical instruments and noisemakers
This is one of my favorite St Patrick's Day activities. I work in a program that has kindergarten kids in half-day when there is no class for them. We do this for the school–going around the halls and in and out of the rooms….. BUT…..This would also be fun for pre-school!
it has grown to our program leading a parade around the block and this is what we do…
The week prior to St. Patrick's Day, students begin making a variety of items to be used in the annual parade. They make very large shamrocks and paint them green; they attach these to paint sticks and long cardboard tubes. They also make large pots of gold and shamrocks out of heavy cardboard which they paint and decorate with glitter. (Many of the decorations are stored and can be used from year to year) Students decorate tin cans, washtubs, etc. (anything will do) to use as drums and instruments.
On St. Patrick's Day the entire school (dressed in green!) gathers. Signs, posters, instruments, hats, etc. are passed out and they hold the annual parade.
The students and teachers love this event. The kids and teachers walk around the block while the neighborhood and non-teaching building staff watch the parade. (It's advertised on the school marquee)
When the weather is bad—the kids by lower and upper grades walk around the school. (Don't forget the Irish music!!!) Submitted by Casey/California)
You can customize this St Patrick's Day parade to the way you want it. Take a little from this idea, a little from some other ideas, and make it your own.
5. Leprechauns Invade the Program
(For Pre-K to Grade 2)
Make mischief! For St. Patrick's week, when the children go outside to play, turn chairs and tables upside down.
Or, when children take naps–the leprechauns switch shoes around.
On St. Patrick's Day the leprechaun should write a note saying he's sorry for the mischief he has caused. He'll also tell the children that he has left them a treasure and has hidden a pot of gold for them to find.
Kids follow the scavenger hunt clues around the center/school until they find the surprise.
(Take a black cauldron and fill with goodies!) Submitted by teacher #1 in Ohio
6. Make a Leprechaun Trap
Begin your celebration by building a Leprechaun trap. I read of this a few years ago and it has become a "tradition" in our program ever since. This is a fun activity for the family as well.
Round up supplies you decide to use…such as a shoebox, pipe cleaners, markers, glitter, construction paper, wrapping paper, tape, glue, egg cartons, etc. Kids will have fun designing the trap, making it, and the anticipation of the day it is used.
Can you design one with a trap door?
Because Leprechauns are smart and quick–you'll have to lure them in with something.
Maybe a piece of gold coin candy, a shamrock, clover or penny?
When I read the original idea–Lucky Charms cereal was mentioned as bait.
Instructions
Leave your trap out the night before St. Patrick's Day and in the morning the kids will get a surprise!
The day before (when you leave work,) put little green footprints and chocolate coins or treats in the "cage"! A nice touch could be a note saying that he (the Leprechaun) couldn't stay and needed to get back to the Rainbow)!
If you have a Before AND After School group—be sure to make two traps—one for the "morning" and one for the afternoon groups
Of course, you'll never catch a leprechaun…but a really fun tradition!!! Submitted by Cassie in Michigan
7. Green Bubbles in Sensory Table
Have fun with green water!
Simply add a few drops of green food coloring to the water-table… it only takes a few drops of color. Add child-safe bubbles as well!
Advise to wear cover-shirts but there is no staining of the skin, table or towels.
Check out our list of fun sensory activities for kids as well.
In Summary
We hope you have enjoyed these St Patrick's Day activity ideas. Not only will they make great fun in the classroom but they can be enjoyed by the whole family. Take a look at some of our other St Patrick Day pages as well.