Disclosure: This post may contain affiliate links, meaning I get a commission if you decide to purchase through my links, at no cost to you. As an Amazon Associate, I earn from qualifying purchases. Read the full disclosure here.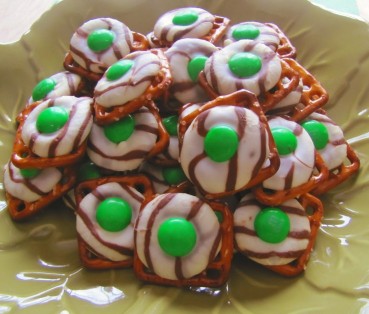 ST. PATRICKS' DAY HUGS ON PRETZELS
You'll see versions of this goodie all over KidActivities website. Love them! Easy, fast, pretty, and oh so good!
Ingredients: checkerboard, windowpane or roundish heart shaped pretzels
1 (large pound size) bag M&Ms plain chocolate candies. Pick out all the 'green' candy and set aside.
Hershey's Hugs chocolates (The green candy shows up much better on the white chocolate hugs)
1. Preheat oven to 170 degrees.
2. Open the bags of pretzels and place them on a parchment or waxed paper-lined cookie sheets in a single layer.
3. Unwrap Hugs… place one on each pretzel, repeat for an entire cookie sheet.
4. Place cookie sheets in the preheated oven, bake 4 MINUTES FOR THE SHEET OF pretzels and HUGS. When removed from over, place a green M&M in the center of each hug. (You'll find the Hugs continue to melt after they come out of the oven, so place candy carefully)
5. Place cookie sheet in freezer or refrigerator until the chocolate is reset.  If this is a gift…wrap either in cellophane bags, a tin or a candy box. (Photo sample by KidActivities)
TIP: Purchase several bags of the Holiday Green and Red M&Ms' after Christmas. You can then use the red for Valentine treats and the Green for St. Patrick Day goodies!
---
SHAKE IT UP! LEPRECHAUN PUDDING #1
Ingredients:
♣ For every five children use one 1-ounce box of instant pistachio pudding.
♣ Per child use 1/2 cup of milk and 1 small resealable plastic bag
♣ Need 1/2 cup measuring cup and spoon
♣ Put tablespoon of pudding mix in sandwich bag and milk, then close the baggy and have kids shake and squeeze. Eat! Enjoy!
---
LEPRECHAUN PUDDING #2
(Made in individual small jars)

Need:
Instant pistachio pudding, small jars with lids, spoons, milk
1. Place 1 tablespoon of pudding mix into a jar (1 for jar for each child)
2. Add 1/4 cup cold milk –adding the milk makes the instant pudding turn green.
3. Place lid on tightly and have children shake away until the pudding is made
---

MAGIC 'LEPRECHAUN POWDER' RECIPE GIFT or SURPRISE!
♣ Buy a box of instant pistachio pudding. Take it out of the box so it is in the plain white wrapper.
♣ If using a large box of pudding ~ tape the following poem to the front of the package/or baggie of pudding ~ other wise change the milk to 2 cups.
Magic Leprechaun Powder filled with gold…
Add a little milk (4 cups) icy cold.
Give it a stir and watch the surprise …
Presto! It changes right before your eyes!
---
PINEAPPLE PISTACHIO PUDDING #1
There are many ways this quick and easy dessert can be made/re-invented. This version has been put together from the below recipes of #2 and #3…yumm
Ingredients: I large can undrained pinapple chunks (20 oz size), 1 small box pistachio instant pudding mix, 1 1/2 cups Cool-Whip and handful of mini-marshamllows… (Optional: several broken pecans and/or cherry halves. Green cherries would be nice for St.Patrick's Day)
Mix together the undrained pinapple chucks and dry pudding mix. Stir until the liquid begins to thicken. Add the Cool-Whip, mini marshamallows, and nuts or cherries. Cool in refrigerator for an hour or two. (A few mini-marshmallows and shreded coconut was added to the top as a garnish.) Image by KidAcftivities.net 
---
PINEAPPLE PISTACHIO PUDDING #2
1 can crushed pineapple
1 box instant pistachio pudding
1 (8 oz.) Cool Whip
1 c. mini marshmallows
Dissolve pudding in pineapple. Stir in Cool Whip and marshmallows. Optional Ingredients: Chopped nuts and coconut. (For other occasions- lemon pudding can also be used.) Can be served immediately.
---
PINEAPPLE PISTACHIO PUDDING #3
2 (3 1/4 oz.) pkg. pistachio pudding mix (instant)
1 lg. (20 oz.) can pineapple chunks
1 lg. (20 oz.) can crushed pineapple
15 maraschino cherries, quartered (optional)
1 (8 oz.) carton Cool Whip
Combine dry pudding mix with pineapple and cherries. Fold in Cool Whip. Put into casserole and refrigerate several hours.
---

POT OF GOLD POTATOES
1. In advance prepare one small, baked potato for each child.
2. Wrap the potatoes in gold foil or gold foil gift wrap.
3. Keep them warm in an ice-cooler–till needed.
4. When served, pile them up in a black plastic cauldron or a bowl…make them "look like a leprechaun's pot of gold."
Fill bowls with various "green" toppings. (Green onions, tinted "green" sour cream, broccoli florets, guacamole–don't forget the butter. Add shredded cheddar if desired!) Eat! Enjoy!
I did this many years ago at summer day camp-a-nd the kids really liked it! With many programs/classrooms  so large now, it could be a good cooking club activity. This would also be something fun to do at home! (Barb)
---
ST. PATRICK'S DAY COOKIE POPS (Easy to do)
Ingredients:
20 vanilla wafer cookies, 1/2 cup peanut butter, 1 12-ounce bag white chocolate chips, green and yellow decorator sugar, green food coloring, ice cream or lollipop sticks, wax paper or paper plates
1. Spread peanut butter onto the flat side of the cookies.
2. Place an ice cream stick into the peanut butter on half the cookies.
3. Top with another cookie so the stick is sandwiched between the two cookies.
4. Melt chocolate chips in the microwave, one minute, then in 20 second increments, stirring until smooth.
5. Before melting, separate the white chips into two bowls. After melting, add a few drops of green food coloring to one of the bowls of white chips to make green chocolate. To the other sprinkle with the green sugar after dipping.
6. Dip cookie pops in the melted chips, covering completely. Sprinkle with green and yellow sugar and lay or stand on waxed paper or paper plates.
7. Place in refrigerator to chill. Source: fabulousfoods.com
---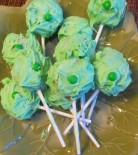 A VERSION OF THE ABOVE… (A mistake but still yummy!)
NOTES: KidActivities started following the above recipe; however, the chocolate would not melt smoothly. Be sure to get 'good quality' melting chocolate–and if using a microwave–melt on defrost setting or at 50 % power. The chocolate KA used was heated too fast/too high/too long–and would not thin out. (When white chocolate is heated too long-it thickens instead of thining)
In spite of the thick coating…KidActivities continued to 'pretty much spread' the green chocolate onto the wafers. The five kids and two adults who ate them…. thought they were great!
What KidActivities would do differently next time.
1. Use a flat popsicle/craft stick in between the peanut butter cookies…or use no stick at all.
2. Use 'better quality' melting chocolate and/or add a tablespoon of solid vegtable shortening. As written above–they didn't come out as intended–but still tasted great! (See KidActivities image) In lieu of sugar, we placed a small green M&M on each.
---
RITZ CRACKER ST. PADDY DAY COOKIES
This recipe is much as the above.
Spread peanut butter on the flat side of two Ritz crackers. Join them together. Using either the double boiler method or microwave—melt white chocolate. Stir in green food coloring when chocolate is smooth. Using two spoons (or whatever works best for you) dip the cracker-cookie into the chocolate and coats both sides. Place on wax paper or paper plates.
Chill in refrigerator until chocolate hardens. (These are also great all year -ound without adding food coloring. Just dip in white or regular chocolate!
---

READ DR. SEUSS' Green Eggs and Ham…then… make green eggs! (Perfect for St. Patrick's Day)
Make scrambled egg batter your normal way …Add a little green food coloring until you get a color of green you like. Cook and Eat. Serve with toast or English muffin. You could also really 'green' it up by putting green cream cheese on bagels or rice cakes!
This can also be a visual experience. When something looks different, it still may tasted the same! Try eating the eggs with eyes open and then with eyes closed. The kids may not like the way it tastes, because of the way it looks…but then will realize there is no difference.
---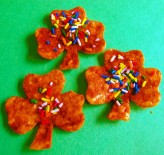 SWEET SHAMROCK TORTILLA SHAPES
1. Using small SHAMROCK shaped cookie cutters cut shapes out of a flour tortilla.
2. Place on non stick cookie sheet (or line with parchment paper) and lightly brush with a little butter.
3. Lightly sprinkle (you only need a little) with a mixture of 1 part cinnamon and 3 parts brown sugar.
4. Bake in a moderately hot oven for 10 minutes for a sweet and crispy treat.
KidActivities added 'Jimmies' to the top of the shapes towards the end of baking. I wish we had 'green sprinkles or green sugar to add…but they still were nice.
NOTE: These are light and crispy and were really a hit!!! The treats can be made any time of the year, with any shape. (Image by KidActivities.net)

---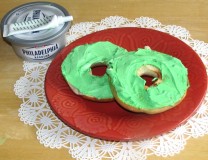 'READY- MADE' & EASY GREEN SNACKS…
 Green food coloring can be added to nearly any food to change the color!
 Put some in your kids' pancake/ waffle batter, in milk for cereal or to drink, butter, mayonnaise/sandwich spreads, scrambled eggs, white cake and cupcake batter, cream cheese, white frosting, rice krispy treats, mashed potatoes, etc. (Green Cream Cheese Image by KidActivities.net)
♣ Green fruits and veggies such as grapes, kiwi, green peppers, broccoli, and honeydew…
♣ Tinted Green Veggie Dip
♣ Pistachio pudding
♣ Shamrock-shaped cookie (kids can frost and decorate them); purchased or home-made sugar cookies can be put out for children to decorate with green frosting and sprinkles. Also use cookie cutters to cut out shamrock shaped bread, cheese, and lunch meat for cute sandwiches.
♣ Lemon-lime soda
♣ Green maraschino cherries ( top desserts and whipped cream pudding and drinks)
♣ Lucky Charms cereal can be bagged up or used as decorations on pre-made cupcakes or cookies.
♣ Eating Lucky Charms cereal in a bowl? Add green milk! (Cereal and milk image by KidActivities.net)
♣ Green Jell-O or Jell-O jigglers
♣ Lime Sherbet
♣ Green lemonade (Tint  with food coloring)
♣ Make a green Salad
♣ Green  applesauce (Add green food coloring)
---

HOW ABOUT A ST. PATRICK'S PARTY WITH "GREEN" ICE-CREAM BAR?!
CONSIDER MAKING IT AN 'ICE-CREAM SOCIAL' FAMILY EVENT…
Ingredients
♣ Pistachio,  Mint Chocolate Chip Ice Cream– or Lime Sherbet
♣ Green M&M's
♣ Green Gummy Worms
♣ Green Sprinkles
♣ Green Shamrock Cookies
♣ Green Maraschino Cherries
♣ Chocolate Syrup
♣ Whipped Cream
Set up the ingredients in bowls on a buffet table for the kids to create their own sundaes. YUMMY! 🙂
---
Do you have access to an oven? MAKE IRISH SODA BREAD!
Ingredients:
3 cups all-purpose flour
1 tablespoon baking powder
1/3 cup white sugar
1 teaspoon salt
1 teaspoon baking soda
1 egg, lightly beaten
2 cups buttermilk
1/4 cup butter, melted
1. Preheat oven to 325 degrees F (165 degrees C). Grease a 9″x5″ inch loaf pan.
2. Combine flour, baking powder, sugar, salt and baking soda. Blend egg and buttermilk together, and add all at once to the flour mixture. Mix just until moistened. Stir in butter. Pour into prepared pan.
3. Bake for 65 to 70 minutes, or until a toothpick inserted in the bread comes out clean. Cool on a wire rack. Wrap in foil for several hours, or overnight, for best flavor.
Variation: 1 cup raisins, craisins, citron or dried fruits and a few tablespoons caraway seeds may be added.
---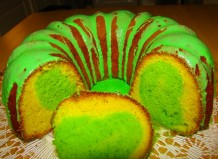 GREEN in the CENTER CAKE
The green in this cake shows off best by using a plain white cake mix–however my family likes pudding pound cake. The following recipe is what I used.
When YOU make this cake–use your favorite white or yellow recipe.
It's the layering of the green that makes the cake special for St. Patrick's Day!
The cake in the images…
4 eggs
1 pkg. (2 layer size) yellow cake mix (KidActivities used lemon cake)
1 (3 3/4 or 3 5/8 oz.) pkg. instant lemon pudding
3/4 c. water
1/3 c. cooking oil
Beat eggs until thick and lemon colored.
Add cake mix, dry pudding, water, and oil; beat at medium speed 8 minutes.
Pour 1/2 to 3/4 of batter into buttered Bundt pan. Add green food coloring to the remainder of the batter and pour evenly over the first batter in the pan.
Bake at 350 degrees about 40 minutes. (I followed the recommended time on the cake box–however I've seen other recipes that say to bake aabout 50 minutes. ) Bake until a tooth pick in the center comes out clean.
Cool cake in pan on wire rack about 15 minutes. Invert onto plate. After cake is completely cooled, frost with glaze.
---
GREEN GLAZE
Ingredients:
1 can white frosting
Green food coloring
This is the easiest part. Briefly microwave the frosting in a small bowl until it becomes the consistency of a glaze.
Add green food coloring and stir.
With a spoon, drizzle glaze over the cake. After it sets a bit, drizzle again.
This cake recipe would also be wonderful on St. Patrick's Day using Pistachio instant pudding mix. Just mix it all together for a green cake!
TIP: When frosting or glazing cakes,  put small pieces of wax paper around the bottom of the cake. It catches all the drips and drops. When complete, gently pull out the paper beneath the cake. Also–a couple cake mix companies now sell glaze mix. That would work wonderfully!
---
• Rainbows and St. Paddy's Day go together! Click Here for Rainbow themed Snacks! They're at the bottom of the Rainbow Theme Page…
---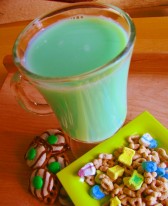 BEVERAGES…
♣ GREEN MILK…
How simple can this one be!
Just add a couple drops of green food coloring to regular milk. Stir well…and serve with a favorite goodie! (Liquid food coloring mixes more easily in liquid than the tube coloring) Image by KidActivities.net
---
LUCKY LIME DRINKS
♣ Put one, or two small scoops of lime sherbet in a clear plastic glass; pour 7-Up over the sherbet.
♣ Add a dollop of whipped cream, green sugar sprinkles and a green maraschino cherry!
---
ST PADDY DAY PUNCH!  Easy…only two ingredients!
2 gallon lime sherbet
2 liters 7-up or Sprite
1. Let the sherbet soften in the refrigerator for 1 hour before preparing.
2. Mix sherbet and soda in punch bowl or large mixing bowl with a hand mixer on medium speed until well blended.
3. Serve immediately or chill in the refrigerator
---
PADDY DAY PARTY PUNCH
1 can (355 mL) frozen limeade concentrate, thawed
1 quart (1 L) lime sherbet
2 liters lemon-lime carbonated beverage (like 7-Up or Sprite)
4 cups (1 L) crushed ice
1. In a large mixing bowl or punch bowl, stir together the limeade concentrate and the lime sherbet.
2. Add the lemon-lime beverage and the crushed ice and serve immediately.
If not serving immediately, refrigerate the mixture of limeade and sherbet until just before serving time.
Add the carbonated beverage and crushed ice at the last possible moment.
Makes at least 12 servings.
---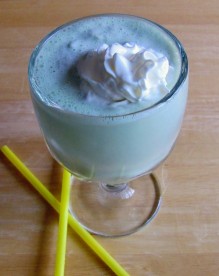 LEPRECHAUN SHAKE
2 scoops vanilla ice cream
3/4 cup milk
3 or 4 drops green food coloring and a few  drops of peppermint extract flavoring…to suit your taste.
Chocolate syrup
Put ice cream, milk, peppermint, a few squeezes of chocolate syrup, and food coloring into a blender. Blend until smooth and green. Pour into glass.
NOTE: Having just made the above recipe, I added a few more large scoops of ice cream for a thicker shake. Either decrease the milk or increase the ice-cream. Don't be afraid to add the chocolate syrup. It doesn't change the color and gives it a good taste.
You can also omit the peppermint extract if you prefer a plain shake; however, it really DOES leave a refreshing taste after it's finished! (Image by KidActivities.net)
---
SHAMPROCK PARTY PUNCH 
2 liters ginger ale
1 large container frozen lemonade
1 large can pineapple juice (chilled)
1 quart lime sherbet
Stir together. The lime sherbet melts and makes a milky green punch with foam on top.
---
PEPPERMINT CANDY SHAKE
2 1/2 cups vanilla ice cream
1/4 cup milk
1/2 cup Peppermint Pattie bars, or Junior Mints cut into pieces
Blender
♣ Place candy pieces and place into the freezer for 15 minutes.
♣ Combine all ingredients in the blender and blend on medium speed for 30 seconds.
♣ Stir with a spoon and blend for 30 more seconds.
♣ Repeat until desired consistency is reached.
♣ Top with whipped cream and more mint candy pieces on top.
---
RAINBOW SNACKS are also nice for St. Patick's Day. Snack are at the bottom of the page. Click here.
---
Pages for St. Patty Day Activities…
---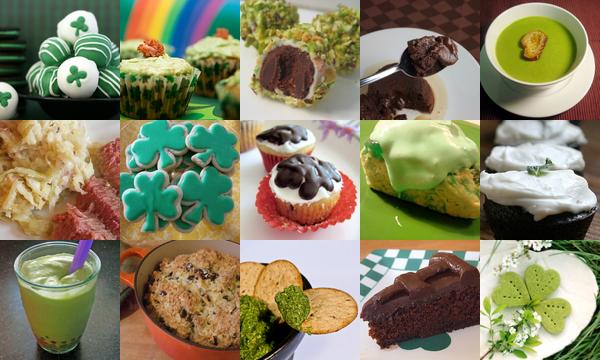 SaveSave