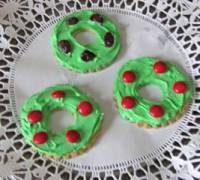 WREATH COOKIES
Ingredients:
Round Butter cookies with hole in the middle
White frosting
Green food coloring
Cinnamon candies, M&M's or pieces of gum drops
Directions: Mix food coloring with frosting spread on cookie
Place decorations on cookies (Image by KidActivities.net)
---
BAGEL WREATHS
Ingredients:
Bagels
Cream cheese -tinted green
Dried cranberries or dried cherries
Spread half a bagel with green cream cheese to look like the base of a wreath. Decorate the wreath with dried fruit.
(Nice for your program but also nice at home for Christmas brunch!)
---
CHEERIOS CHRISTMAS TREE
Ingredients:
6 cups Honey Nut Cheerios cereal
6 tablespoons butter or margarine
4 1/2cups miniature marshmallows
Green food color
Red cinnamon candies or sliced gumdrops
1. Line a cookie sheet with waxed paper
2. Pour the cereal into a 4-quart bowl. Set the bowl aside.
3. Place the butter and marshmallows in a 3-quart saucepan. Heat over low heat, stirring constantly, until the mixture is smooth. Remove the saucepan from the heat.
4. Stir in the food color until the mixture is evenly colored.
5. Pour the marshmallow mixture over the cereal and stir until the cereal is evenly coated.
6. Lightly spray your hands with cooking spray. For each tree, shape about 1/4 cup of the cereal mixture into a Christmas tree shape on the cookie sheet.
7. Press the candies into the trees to look like ornaments.
8. Refrigerate until firm, about 1 hour. Store the trees in a loosely covered container.
---
HOT APPLE DIP (Great for Winter Holidays!) From Apple Snacking Category
2 cups or 16 servings
Ingredients:
1 tub (8 oz.)Philadelphia cream cheese
2 Tbsp. brown sugar
1/2 tsp. cinnamon or pumpkin pie spice
1 apple, chopped and divided in half
1/4 cup KRAFT Shredded Cheddar Cheese
1 Tbsp. finely chopped Pecan Pieces
Wheat Thin Original Crackers or Cinnamon snack crackers
1. Heat oven to 375°F.
2. Mix cream cheese, sugar and cinnamon or spice in medium bowl until well blended. Stir in half of the apples.
3. Spread into pie plate or small casserole dish. Top with remaining apples, cheddar cheese and nuts.
4. Bake 10 to 12 min. or until heated through.
Serve with crackers.
---
'SANTA FACE' NUTTER BUTTER COOKIES (See 'Reindeer Nutter Butter' at page bottom)
Ingredients for one cookie:
Nutter Butter Cookies, White Frosting/Icing, Red Sprinkles, Coconut, 2 Chocolate Chips, 1 Red Hot
1. Put frosting on each end of the cookie.
2. On one end dip the iced cookie into coconut to make Santa's beard.
3.On the other end of the iced cookie, sprinkle the red sprinkles on for the hat.
4. Place the chips on with icing for the eyes and the red hot for the nose
---
REINDEER CHOW
FOR SANTA TO GIVE TO THE REINDEER ON CHRISTMAS EVE… (But of course 'Santa' eats it himself!)
Recipe calls for handfuls-which would be the handful size of a child–be sure to give children plastic gloves if this is the method you will use–or measure what an actual child's handful is and use that amount in a measuring cup. (This activity is for a child care center-but it can be made at home minus the note.)
1 handful Frosted Shredded Wheat (It's hay frosted with the snow of the North Pole)
1 handful pretzel sticks (Tender twigs)
1 handful of raisins (Dried berries)
1 handful of red candy such as M&M's (Fresh berries)
The original recipe call for 1 baby carrot (It's up to you. I don't know if I'd want to mix it in the baggies with the above…) Be sure to have extra ingredients for kids to munch on while making!
Place ingredients in a zip lock baggie. Shake up and enclose a note that says…
Even Santa's Reindeer need a snack now and then, especially on Christmas Eve, please leave me out with the cookies and milk for Santa!
---
SANTA CUPCAKES
Start with 2 cups (or one 16-ounce can) vanilla frosting. Place 2/3 cup in a bowl; tint with red food coloring. Frost part of the cupcake top with white frosting for the face and the other part with red frosting for the hat. If desired, pipe white frosting to create the fur band of the hat. Press a miniature marshmallow on one side of the hat for pom-pom.
Add chocolate chips for the eyes and a red-hot candy for the nose. Gently press flaked coconut below the nose for the bear
---
SUGAR CONE CHRISTMAS TREES
Ingredients: Sugar cones, Green frosting, small candies, plastic knives
Give each child a sugar cone and plastic knife. Have the children frost their 'tree base'. You can get green frosting by mixing food coloring with white frosting.
After the tree is frosted, decorate with small candies. Keep, make a scene with the trees, or eat!
Note: Raven and Laney (both age 12) decided to mix it up a bit-by adding spice drops and shredded coconut.
Also made by 'R and L' is the above tray of 'mixed winter goodies'. Directions for each treat are found on this page… as well as 'Winter Snack pages' of Snowmen and Reindeer. (Images by KidActivities.net)
---
GIFT WRAPPED SNACKS (For a festive holiday touch)
1. In a large bowl, mix together such foods as dry cereal pieces, sunflower seeds, M & M's, raisins, nuts, and mini marshmallows.
2. For each child put a serving of the snack mix in the center of a holiday napkin.
3. Bring the sides of the napkin together and tie with ribbon.
---
SANDWICH YULE LOG… Looking for a fun but substantial snack? Try this…good for all ages!
1. Remove the crust from a slice of bread–any kind your kids like…
2. Flatten the bread with a rolling pin and spread the bread slice with your children's favorite filling
3. Roll into a log–eat!
---
APPLE CHRISTMAS ORNAMENTS
Ingredients:
Apples, Marshmallows, Pretzels
Cut and apple in half—into as many slices as you want for your ornament.
Use halved marshmallows and anything else you'd like) in between the slices.
Break a piece off of a pretzel for the hanger. (Stretch a marshmallow to cover the base of the pretzel piece and 'glue' it to the top of the apple.) Image source littlenummies
---
JOLLY S'MORES
Ingredients for one: 2 graham crackers, 1 Tablespoon peanut butter, 1 Tablespoon marshmallow creme, 1/2 chocolate bar
Spread peanut butter with knife on 1 graham cracker square. Top the peanut butter with the chocolate bar. Spread the marshmallow creme on the remaining graham cracker square; place the other cracker–marshmallow side down– on the chocolate bar.
To make with your children…you may also be interested in the many no-bake cookie and bar recipes in the NO-BAKE CATEGORY…
---
TOFFEE CRUNCH GRAHAMS
Ingredients: 12 whole graham crackers (about 5″ x 2.5 "), 1.5 cups butter (3 sticks) use only butter-no substitutes, 1 cup packaged brown sugar, 2 cups sliced almonds
Line a 13″ x 1" baking pan with heavy-duty tin foil. Place graham crackers in the pan. (They fit perfectly!
In a saucepan, combine butter and brown sugar. Bring to a boil–stirring constantly. Carefully pour mixture over the graham crackers. Sprinkle on the sliced almonds. Bake at 400 for 6 to 8 minutes. Cool in pan for 4 minutes. Cut each cracker into four sections; transfer to wire racks to cool completely. (Image of candy-cooling on the rack-by KidActivities.net)
This recipe seemed so easy that I had to try it! IT IS EASY…and now sitting all wrapped in my freezer and waiting for the Holidays! Don't let the brown sugar and butter mixture scare you as you stir it in the pot. It comes together wonderfully as it begins to boil. Really nice for the Holidays! Barb
---
PEANUTBUTTER AND COCONUT SNOWFLAKES
Ingredients:
Peanut butter, hexagon shaped crackers, coconut
Spread peanut butter on the crackers.
Sprinkle coconut over them…
---
HOLIDAY FRUIT CANDLE
Place a pineapple ring on each child's plate. Cut bananas in half and let each child peel his banana and place standing up in pineapple ring. Give each child a maraschino cherry and a toothpick to put on top of banana. You can put a raisin on top too. Now everyone has a Christmas candle.
---
NO COOK PUMPKIN PIE (Individual Servings)
Give each child a cup.
Into their cup put a big scoop of canned pumpkin, marshmallow creme, cool whip, and pumpkin pie spices.
Have children mix and then spread on graham crackers and eat.
---
NO BAKE PUMPKIN PIE
Individual recipe:
Small custard-sized ready to eat–pie crusts
2 tablespoons canned pumpkin
1 tablespoon marshmallow creme
1 tablespoon prepared whipped topping
Sprinkle of cinnamon
Mix all ingredients together and pour into the crust. The recipe is then ready to eat; it may be refrigerated or frozen.
Get other ideas in the PUMPKIN SNACKS CATEGORY!
---
MICROWAVE FUDGE #1
1 pound powdered sugar
1/2 cup cocoa
1/4 cup milk
1/4 pound margarine (or butter)
1 Tbsp. vanilla
1/2 cup chopped nuts
Blend powdered sugar and cocoa in mixing bowl then add milk and butter, cook in Microwave Oven for 2 minutes. ( do not mix these ingredients, merely place in the bowl)
Remove bowl from microwave and stir to mix ingredients.
Add vanilla and nuts and stir until blended.
Pour in greased container and place in freezer for 20 minutes or refrigerator for 1 hour.
Cut and serve. Yield: 60 pieces.
---
MINUTE MICROWAVE FUDGE #2
From the kitchen of Erica Wilson on Mrs. Clauses' website
Ingredients:
1 pound of powdered sugar
1/2 cup cocoa
1/4 teaspoon salt
1/4 cup milk
1 Tablespoon vanilla extract
1/4 pound butter/margarine
1 cup chopped nuts
Mix all dry ingredients together.
Put in a 8″x8″ inch microwave safe pan (important to use this size pan).
Add milk and vanilla extract.
Place chunk of butter/margarine in center ( leave butter as whole do not chop up).
Microwave on high for 2 minutes until bottom of dish feels warm.
Stir vigorously and blend in chopped nuts.
Put in mold or whatever and chill for 1 hour.
*Use real butter for best results.
---
NO BAKE PEANUTTY CLUSTERS
A super-easy sweet treat!
Makes: About 3 dozen goodies
1 bag (about 12 oz) semisweet chocolate, milk chocolate or butterscotch chips (2 cups)
2 cups chow mein noodles or any ready-to-eat cereal
1 cup peanuts
1. In large microwavable bowl, microwave chocolate chips uncovered on High 1 minute.
Stir after 30 seconds- until softened. Keep stirring until smooth. If not completely softened, continue microwaving 15 seconds at a time, stirring after each microwave time, until smooth.
2. Stir noodles and peanuts into chocolate until well coated.
3.Drop by teaspoonfuls onto waxed paper. Refrigerate about 1 hour or until firm. Store covered in refrigerator.
For other EASY CANDY RECIPES…click here! Many are wonderful for the Holidays!
---
FOR HOLIDAY SNACKS…Don't forget fun and easy…
Cookie-cutter sandwiches of Holiday shapes
Star shaped cheese and Holiday crackers
Red and Green Christmas Chips and Salsa
Red and Green Apples
"Little Debbie" Tree shaped individual snack cakes
Red and Green Grapes
Tomato Soup with Green Goldfish Crackers
Ice Cream with Strawberry Syrup and Green Sprinkles
Decorated cupcakes
Pepperoni and Green Olive Pizza (Christmas Colors)
Rice Crispy Treat Present: Take a treat and tie with Licorice String
Purchased or Homemade Christmas cookies
Peppermint ice cream
---
If your looking for GOODIES THAT MAKE GREAT GIFTS click here! You'll find such things as Tea mix, Cocoa Mixes, Gourmet Apples, Colored Sugar, Tea Stirrers and Chocolate Covered Spoons!
---
REINDEER CHOCOLATE COVERED PRETZEL RODS (Pretzel rods with antlers)
Ingredients:
4 ounces chocolate vanilla or butterscotch-flavored almond bark–chopped
12 large pretzel twists
12 pretzel rods
24 miniature semisweet chocolate chips
12 red candy-coated chocolate candies
1 roll Betty Crocker Fruit by the Foot
Cherry or other flavor chewy fruit snack rolls
12 miniature green M & M's
1. Place candy coating (Almond Bark) in 1-cup microwavable measuring cup. Microwave uncovered on High 30 to 60 seconds, stirring every 15 seconds, until melted.
2. Dip pretzel twists into melted candy coating. Place on waxed paper. Let stand until coating is set.
3. If necessary, re-warm coating. Dip top 2 inches of pretzel rod into melted candy coating; attach pretzel rod to bottom of pretzel twist. Place on waxed paper.
4. To make reindeer…
Press on chocolate chips for eyes and red M & M for nose– using melted candy coating.
Cut scarf from fruit roll; attach to reindeer using candy coating.
Press on green M & M for button using candy coating. Place on waxed paper. Let stand until coating is set.
Store coated pretzel rods loosely covered at room temperature no longer than 2 weeks. Really cute!
---
HUGS AND KISSES HOLIDAY PRETZELS
Ingredients: checkerboard, windowpane, square, or round shaped pretzels
M&Ms plain chocolate candies (Use red and green for the Christmas Holiday Season)
Hershey's Hugs chocolates
Hershey's chocolate kisses (The amoubt of each depends on how many you are making)
Preheat oven to 170 degrees
Open the bags of pretzels and place them on a parchment or waxed paper-lined cookie sheets in a single layer. DO ONLY ONE TYPE OF CANDY PER SHEET because the Hugs melt faster than the kisses.
Unwrap Hugs or Kisses, place one on each pretzel, repeat for an entire cookie sheet.
Place cookie sheets in the preheated oven, bake 4 MINUTES FOR THE SHEET OF pretzels and HUGS, 5-6 minutes for the pretzels and KISSES. Remove from oven and immediately put a M&M on top of each pretzel/chocolate, pressing down gently. Place cookie sheet in freezer or refrigerator until the chocolate is reset.
I've actually made these several times and they're wonderful! A picture of some that KidActivities has made is at the top of the page of the 'Dipped Pretzel Recipes' Category…In my experience, they should be eaten within a few days–after that the 'chocolate kiss' candy begins to whiten a bit. Barb
---
M& M PURCHASE TIP…
When the Christmas Holidays are over–buy all the red and green M&M candies you can. Often they are on sale at 50-75% off and you can use the red for Valentine's Day and save the green for St. Patrick's Day!
#2 PURCHASE TIP: Be sure to buy lots of RITZ SNOWFLAKE CRACKERS during the winter Holidays…You'll then have them to pull out for dips and spreads for other Winter Food Fun! (They're only in stores for the Holidays)
---
FROM OUR REINDEER THEME COME THESE GOODIES!
---
REINDEER FACE SANDWICH (1 slice bread)
Peanut butter
4 mini pretzels
4 raisins or m&m's
2 mini marshmallows
Maraschino cherries or red-hot cinnamon candies
Plates and knife
1. Cut bread in half from corner to corner, making two equal triangles.
2. Spread peanut butter over bread.
3. Decorate as follows:
Place it in front of you, with the point facing you and the long side of triangle facing away from you. Place one mini pretzel on each upper corner for the antlers; two raisins in the center of each slice (the eyes) and one mini marshmallow for the nose…if you are making Rudolf, use a maraschino cherry or cinnamon candy — on the tip of each short point nearest you for the nose). You now have two reindeer faces…
REINDEER SANDWICHES in general…
Just put variety of bread slices, cheese, meat or peanut butter. Add and a good selection of veggies and fruit…Raisins, carrot strips, celery, olives, slices of red pepper,etc.
---
REINDEER NUTTER BUTTER COOKIE
Ingredients: Nutter Butter Cookies, Peanut Butter, Raisins, Small Pretzel Twists, Red M & M Candies
Directions:
1. Place a small amount of peanut butter on the top of a Nutter Butter cookie.
2. Put a small pretzel twist on the peanut butter, letting it stick beyond the cookie for antlers.
3. Put two more dots of peanut butter and add raisins for eyes.
4. Finally put a dot of peanut butter on the bottom part of the cookie and add a red M&M for a nose
---
REINDEER POOP (These are NO-BAKE COOKIES)…Enjoy with the kids… or give out for gifts! Put some in a zip-lock baggie and attach one of the "Reindeer Poop" poems from the "Reindeer Theme" page.
Ingredients: 1/2 cup butter
2 cups granulated sugar
1/2 cup milk
2 teaspoons cocoa
1/2 cup peanut butter
3 cups oatmeal — not instant
1/2 cup chopped nuts — optional
1. In a large saucepan, mix butter, sugar, milk and cocoa together.
2. Bring the mixture to a boil while stirring constantly. Boil for 1 minute.
3. Remove from heat and stir in the remaining ingredients.
4. Drop by the teaspoon-full onto wax paper and allow to harden.
5. They will set up in approximately 30-60 minutes.
6. This will keep for several days without refrigerating, up to 2 weeks refrigerated and 2-3 months frozen. Make 72…
---
REINDEER CUPCAKES
Ingredients:
24 large pretzel twists,
24 miniature marshmallows or M&M's for eyes
24 red cinnamon candies for nose
Optional: 24 small red gumdrops for mouth
Make 24 cupcakes (or double or triple batch as box directs)
Can also purchase plain frosted cupcakes.
1. Frost cupcakes with frosting. (Chocolate would most likely resemble deer)
2. For each cupcake, cut pretzel twist in half; arrange it on cupcake for reindeer antlers.
3. Cut miniature marshmallow in half; arrange on cupcake for eyes. 4. Center a gumdrop below marshmallow halves for nose.
5. Optional: Place red cinnamon candy below gumdrop for mouth. Store loosely covered.
Also check out these other decorating ideas…Reindeer with straight 'pretzel antlers' courtesy of ziggityzoom and reindeer with 'candy cane antlers' from carpercupcakes
---
REINDEER CHOW… MAKE 'PUPPY CHOW' AND CALL IT 'REINDEER CHOW'!
1 cup peanut butter
1/2 cup (1 stick) margarine
12 ounces chocolate chips
1 large box Crispix
2 to 2 1/2 cups confectioners sugar
1. Melt peanut butter, margarine and chocolate chips. ( I melt it in the microwave-checking frequently)
2. Pour mixture over large box Crispix; coat well.
3. In a paper bag put 2 1/2 cups confectioner sugar.
4. Add coated cereal. Shake well and pour onto wax paper.
---
MARSHMALLOW REINDEER…A snack and craft in one!
Ingredients:
Large Marshmallows and a dab of white frosting to hold on eyes and nose
Stick Pretzels
Red Licorice strings (optional)
Gummy candies, mini-chocolate chips or mini M&M's for eyes/tail
1. Assemble Reindeer bodies by sliding a pretzel stick through two marshmallows, one from either end.
2. Use 4 whole pretzel sticks for legs and a half of a pretzel stick for each antler.
3. Fold a 1 inch piece of licorice string in half and insert into face of reindeer for a red nose.
4. Attach head with half of a pretzel stick and then tie a piece of red licorice around neck for decoration. (Sample and image by KidActivities.net)
NOTE: These should be eaten rather quickly. As our two 12 year old crafty cooks learned– the reindeer have a mind of their own and want to sit or lean after a bit…
CHRISTMAS TREE SANDWICH
Ingredients:
2 slices white bread
Celery stick
Yellow pepper
Veggies for ornaments
Sandwich filling
Cheese for snow
1. Trim crusts from bread, then cut out an elongated triangle for the tree.
2. Fill with sandwich filling of your choice.
3. Make a free hand star from a slice of yellow pepper or cheese.
4. Cut a tree trunk from celery.
5. Arrange on plate.
6. Make circle ornaments from carrots, red pepper etc. or use slices of red and green apple to make the ornaments.
7. Using a large straw, cut circles for snow out of a slice of cheese.
---
THREE HOLIDAY SNACK MIXES…
CHEX VANILLA CHUNKS
Snack mix with chocolate, peanuts, marshmallows and pretzels. Make it in minutes! .
Makes:16 cups snack
Ingredients:
1 cup semisweet chocolate chips (6 oz),
3 cups Corn Chex cereal
3 cups Rice Chex cereal
3 cups Wheat Chex cerea,
2 cups salted dry-roasted peanuts,
2 cups small pretzel twists, 2 cups miniature marshmallows,
1 package (20 oz) vanilla-flavored candy coating (almond bark)
1. Place chocolate chips in freezer to chill. In large bowl, mix cereals, peanuts, pretzels and marshmallows; set aside.
2. In large microwavable bowl, microwave candy coating uncovered on High 1 minute 30 seconds; stir, breaking up large chunks. Microwave about 30 seconds longer or until coating can be stirred smooth.
3. Gently and quickly fold cereal mixture into coating with rubber spatula, stirring gently until evenly coated.
Stir in chilled chocolate chips. Spread on waxed paper; cool completely, about 30 minutes. Break into chunks. Store in airtight container in refrigerator.
Betty Crocker Recipe
---
WHITE CHOCOLATE HOLIDAY MIX
1 – 10 oz package miniature pretzels
5 cups Cheerios
5 cups corn Chex
2 cups salted peanuts
1 lb pkg Red and Green M&Ms
2 – 12 oz pkgs. vanilla chips or 24 oz. almond bark
3 tablespoons vegetable oil
Place the first five ingredients in a large bowl.
Microwave the chips/almond bark and the vegetable oil until melted.
Stir the mixture until creamy and smooth. Pour over the dry ingredients and mix well.
Spread on wax paper covered counter. Cool and break apart.
Store in a sealed container.
---
CHRISTMAS SNACK MIX
32 Servings
Ingredients
1 (16 ounce) jar dry roasted peanuts
2 (14 ounce) packages red and green candy-coated chocolate (M&M's)
1 (14 ounce) package chocolate covered peanuts
1 (7 ounce) jar wheat nuts
1. Mix together the peanuts, red and green candy-coated chocolate pieces, red and green candy-coated chocolate covered peanuts, chocolate covered peanuts and wheat germ nut snacks.
2. Serve in a large bowl or place in decorative glass jars and give as gifts.
Check out the great 'SNACK MIX CATEGORY' for other ideas!
---
POPCORN WREATHS
Ingredients:
1/2 cups popped popcorn
2 cups marshmallows
2 Tbsp. milk
5 Tbsp. Lime flavored jello
1 cup red and green fruit flavored candies
1. Put popcorn in large bowl.
2. Melt marshmallows over low heat; stir constantly.
3. Add milk and jello; stir till jello is dissolved.
4. Take off of stove; stir in the candy.
5. Pour over popcorn; stir to coat evenly
6. Lightly grease your hands. Shape about 4 heaping Tablespoons popcorn mix into wreath shapes
7. Lay on waxed paper to cool down completely. Make wreathes out of the rest of the mix.
8. Store in an airtight container Photo from Artists Helping Children
---
CHRISTMAS "RED AND GREEN" POPCORN
Make popcorn any way you'd like.
Once it's done popping, spread out on a cookie sheet.
Drizzle red and green food coloring over the entire batch of popcorn.
Mix well until you have your desired Christmas colors.
---
MERRY CHRISTMAS CUPCAKES!
1. Make the green and red cupcakes (tint half the mix with red food gel and half with green)
2. Slice them up alternating cake layers (Freeze the baked cupcakes first–it's much easier to slice them)
3. Fill with a marshmallow butter cream between the layers and swirled on top.
4. Optional: Sprinkle with some red and green large non-pareils. Source: sugarswings
RECIPE FOR 'MARSHMALLOW BUTTER CREAM' FROSTING
Ingredients:
1 cup unsalted butter, softened
1 jar (7 oz.) marshmallow cream or Marshmallow Fluff
1 cup confectioners' sugar
1 tsp. vanilla extract
Beat butter in a medium bowl with mixer on medium speed until creamy. Beat in marshmallow cream. When well blended, beat in confectioners' sugar and vanilla. Increase speed to high and beat 3-4 minutes until fluffy. (This will be sweet) Source: foodgeeks
---
SNOWBALL MARSHMALLOWS
Ingredients:
Bag of Large Marshmallows, Corn Syrup, Sugar Crystals, Cake Sparkle Sprinkles
Gently brush each marshmallow with corn syrup.
Roll in sugar crystals and cake sparkles.
Set aside on parchment paper to dry.
Cover lightly with saran wrap to keep air off so marshmallows don't dry out.
Once set, enjoy or place into snack-sized zip-lock bags for gifts or later!
---
SUGAR GLAZED WALNUTS HOLIDAY WALNUTS
(Micro Wave Method)
1/2 cup (1/4lb.) butter
1 cup packed brown sugar
1 tsp. cinnamon
1 lb.(about 4 cups) walnuts or pecans
1. Put butter in 1 1/2 quart casserole.
2. Microwave on high for one minute or until melted.
3. Stir in brown sugar and cinnamon. Microwave at high 2 minutes.
4. Combine and mix butter and sugar.
5. Add nuts and mix to coat. Microwave at high 3 to 5 minutes.
6. Spread hot nuts out on wax paper and let cool. Serve warm or cold.
Note: These are wonderful for the Holidays but great all year-round tossed into salads–especially those made using baby greens (spring mix) and fresh fruit ( sliced strawberries and apples), dried cranberries and crumbled blue cheese. My step daughter, Belinda makes up a batch each year which I keep in the freezer for the special salads…superb! (Image by KidActvities.net)
---
BANANA AND STRAWBERRY 'CANDY CANE'
This is an easy 1-2-3 healthy snack your kids will love!
Simply alternate banana slices and strawberry halves. Place in the shape of a candy cane. If you like your fruit sweetened, sprinkle sugar on the berries before placing on plate. This 'cane' was formed– and then sprinkled with powdered sugar…(Sample and image by KidActivities.net)
---
HOLIDAY BEVERAGES
PEPPERMINT PATTY MOCHA (For Mom and Dad!)
Ingredients: 1 small (1-1/2 inch) YORK Peppermint Pattie
1 to 2 teaspoons milk
Hot coffee
Whipped cream(optional)
Directions:
1. Unwrap candy and cut into quarters; place in large microwave-safe mug. Add milk.
2. Microwave at HIGH (100%) 30 seconds or until candy is melted and smooth when stirred. Stir in hot coffee until mug is almost full.
3. Top with whipped cream, if desired. Serve immediately. 1 serving. .
---
CANDY CANE (Hot Chocolate) MINT FLOAT
Ingredients:
3/4 cup (6 oz.) prepared hot chocolate
1/8 teaspoon peppermint extract
1/2 cup Mint Chip Ice Cream
Whipping cream, whipped
Mint candy cane, crushed
(…If you're an adult loking for a yummy holiday drink–you can add 2 tablespoons peppermint schnapps or creme de cocao liqueur instead of the extract)

In large mug, pour hot chocolate and extract or liqueur; stir to mix. Spoon ice cream into hot chocolate mixture. Top with whipped cream and sprinkle of candy..Or top with whipped cream and a peppermint candy cane or stick. Yumm…
Makes 1 serving…
TIP: For 4 servings, use 3 cups (24 oz.) hot chocolate, 1/2 cup liqueur or 1/2 teaspoon peppermint extract and 1 carton (14 fl. oz.) of ice cream. Follow directions above.
---
NORTH POLE STRAWBERRY SMOOTHIE (Yummy!)
Makes:2 servings
1 package (10 ounces) frozen strawberries in syrup, partially thawed and undrained
1/4 cup water
2 cups vanilla frozen yogurt
2 tablespoons vanilla reduced-fat yogurt
1 strawberry-flavored or peppermint candy cane, about 6 inches long, finely crushed
Green decorating gel
1. Place strawberries and water in blender. Cover and blend on medium-high speed until slushy. Blend on medium speed until smooth. Transfer to 2-cup measure.
2. Wash and dry blender. Place frozen yogurt and reduced-fat yogurt in blender. Cover and blend on medium speed until smooth.
3. Place crushed candy cane on small plate. Pipe decorating gel around rim of two 12-ounce glasses. Dip rims into crushed candy.
4. Carefully pour yogurt mixture and strawberries at the same time into glasses, creating a half-and-half design. Serve with large drinking straws if desired.
From: bettycrocker.com
---
HOLIDAY SODA… A refreshing holiday soda drink!
Ingredients:
8 oz. bottle of club soda
Any cranberry juice, preferably cranraspberry
Ice
Candy cinnamon stick
Fill glass half full of juice–Add soda and stir–Add ice –Add candy
stick
---
HOT RASBERRY AND APPLE CIDER PUNCH
Ingredients:
2 quarts (2 L) sweet apple cider
1 can (12-oz/355-mL) frozen raspberry cocktail concentrate, thawed
1 or 2 whole cinnamon sticks, broken in half
2 cups (500 mL) frozen raspberries
In a saucepan, stir together apple cider, raspberry cocktail concentrate and cinnamon sticks.
Bring to a boil over medium heat and then lower the heat to low. Simmer for about 10 minutes.
Stir in raspberries and serve directly from the saucepan or transfer to a Crock-Pot to keep warm. (Good to make at home too!)
Servings: 8 to 10
---
HOT CRANBERRY PUNCH
Source: "Cooking Light, Nov/Dec 1994, page 145"
12 cups cranberry juice cocktail
4 cups orange juice
1 cup lemon juice
1/2 cup sugar
1 tablespoon grated orange rind
12 whole cloves
6 cinnamon sticks — (3-inch)
Combine all the ingredients in a large Dutch oven, and bring to a
boil.
Reduce heat, and simmer for 5 minutes. Strain the juice mixture, and
discard spices.
Serving Size: 1 cup
---
HOT CIDER PUNCH (My favorite! B)
1 gal. (4 qt.) apple cider
One cup of orange juice (suit to your taste)
Orange slices a nice touch…
2- 4 cinnamon sticks
PLACE all ingredients in large saucepan. Cook on low heat 20 min. or until heated through, stirring occasionally. (Do not boil.)
Can also be made in crock pot– cook for several hours and then float a few orange slices in pot when serving…
REMOVE cinnamon sticks-Serve warm.
---
HOLIDAY PUNCH
1 12 oz can of frozen white grape juice – thawed
1 pt French vanilla ice cream softened
2 liters ginger ale
Cnnamon
Pour grape juice concentrate into punch bowl, add ice cream and mix together with wire whisk…As the bowl begins to empty add anoth of ginger ale.
---
CRANBERRY PUNCH
This sparkling red punch is a good choice for a buffet at holiday time with a citrus bite. For a less sweet punch, substitute seltzer or club soda for the ginger ale.
Makes about 1 1/2 quarts.
Ingredients
2 cups cranberry juice
2 cups pineapple juice
1 cup orange juice
1 pint strawberries, hulled and sliced
1 lime, thinly sliced
(If making for adult home celebration– may add 3/4 cup triple sec optional)
4 cups ginger ale, chilled
Instructions
In a large glass container, combine ingredients and chill thoroughly.
---
PEPPERMINT FLOATS
Ingredients:
Vanilla ice-cream
Ginger Ale
Miniature candy canes
Red and green sugar sprinkles (crystals)
Large opening straws
Add one scoop of vanilla ice-cream to cup.
Pour ginger Ale over top of ice-cream.
Add a candy cane and sprinkle the colored sugar on top
Submitted by Gerri/Illinois
---
For tons of Hot Cocoa ideas visit HOT COCOA RECIPES CATEGORY…Yummy! Cocoa gift ideas and poems also there…
---
SPECIAL OCCASION COFFEE BAR…WONDERFUL FOR THANKSGIVING & CHRISTMAS
Surround coffee and cups with your choice of goodies!
IDEAS:
Dipped Chocolate Covered Spoons are always a wonderful addition. (Directions here).
Whipped Cream
Candy Canes (visit candy cane category for ideas)
Powdered Coffee Cream in a variety of flavors
Hot Cocoa mix
Red and White Sugar Crystals
Shakers filled with Cocoa, Cinnamon, and Nutmeg.
For those over 21 Kahlua and/or Bailey's Irish Crème is always a nice addition.
YUMMM
---
SNICKERS & APPLES…Yummy for the Holidays!Recipes taken from the Snacking/Cooking with Apples…
(Kids love this–in fact everyone loves it all year long!)
#1 Made with 12 Apples…
Core and dice 6 red Delicious apples. (Leave peeling on for color.) Core and dice 6 green apples. (Leave peeling on for color.)
Add 6-8 frozen SNICKERS® candy bars which have been crushed or pounded with a rolling pin so they are in big pieces. Fold all together. Add a big carton of Cool Whip. Refrigerate until ready to serve.
---
SNICKERS® – APPLE SALAD
#2 Made with 3 apples…
1 (8 oz.) container Cool Whip
3 apples, diced
3 regular size SNICKERS® candy bars, frozen
Mix together the Cool Whip and apples. Smash the SNICKERS® bars and add to the salad. Best if you allow to stand for a little while before serving.
---
APPLE SNICKERS® SALAD
#3 Made with 6-8 apples…
6-8 apples (unpeeled)
2 SNICKERS® bars
1 1/2 to 2 c. Cool Whip
Marshmallows (optional)
Cut apples in small pieces. Dice SNICKERS® and add them and Cool Whip. Let chill at least 1 hour.
---
FOR OTHER WINTER HOLIDAY & GOOD ALL-WINTER TIME SNACKS visit…
SaveSave