Let's get creative by making some delicious, colorful rainbow snacks. These ideas can work great for a St. Patrick's Day classroom party or your little one's birthday party. Have fun teaching colors of the rainbow while making and eating delicious snacks! 
Rainbow Snacks
1. Rainbow Pudding
Instructions
Make vanilla pudding.
Place portions of pudding in 3 containers.
Add food coloring and make one red, one blue, and one yellow.
Have the children mix the colors to see what other colors they create.
Another variation is to add some colored fruited ring cereal to your pudding.
2. Make Rainbow Pancakes
This idea originated with Amanda Rettke at IamMommy…Wonderful fun!!!
Ingredients:
✓ Pancake batter
✓ Food coloring
Instructions
In one large bowl, make pancake batter following recipe directions.
Separate the batter equally into several smaller bowls.
Add one color to each bowl.
Make pancakes as usual…that's it! This is another one your kids will always remember you for!
3. Rainbow Bracelet or Necklace
This doubles as a rainbow treat and a fun rainbow activity.
Materials:
✓ Yarn or long licorice
✓ Froot Loops cereal
Instructions
Take a piece of yarn or long licorice string candy to go around child's neck or wrist.
Let children string the colored fruit ring cereal on it. (You might need to tie one at the end for pre-k children so it doesn't fall off.)
Tie it off when you are done. Enjoy eating it!
4. Rainbow Rice Krispy Snacks
Ingredients:
✓ Rice Krispy cereal
✓ Food coloring
Make Rice Cereal Treats (Rice Krispy treats)
Color them with your favorite food coloring (or use two or more colors).
5. Rainbow Marshmallows
Eat colored marshmallows or add to Jello or pudding. Use as decorations on frosted cupcakes or cookies.
6. Rainbow Graham Crackers
Ingredients:
✓ Graham crackers
✓ Colored sugar
✓ Frosting
Instructions
Spread frosting on a graham cracker.
Sprinkle on colored sugar.
Makes all kinds of rainbow frosted cookies.
7. Rainbow Popcorn
Ingredients:
✓ 8 cups popped popcorn
✓ 1 cup peanuts (if no allergies)
✓ 1/4 cup butter or margarine
✓ 3 tablespoons light corn syrup
✓ 1/2 cup firmly packed light brown sugar or granulated sugar
✓ 1 (3 1/2 ounce) package Jello gelatin, any flavor
Instructions
Heat oven to 300°F Line a 15x10x1-inch pan with foil or parchment paper.
Place popcorn and nuts in a large bowl.
Heat butter and syrup in a small saucepan on low heat.
Stir in sugar and gelatin.
Bring to boil on medium heat.
Reduce heat to low; gently simmer 5 minutes.
Pour syrup immediately over popcorn, tossing to coat well.
Spread popcorn in prepared pan, using two forks to spread evenly.
Bake 10 minutes.
Cool.
Remove from pan and break into small pieces.
8. Rainbow Jell-o
Ingredients:
✓ 6 and 1/4 c Boiling water
✓ 2 Jello(red); 4 serving size
✓ 2 Jello(Orange); 4 serving
✓ 2 Jello(Lemon); 4 serving
✓ 2 Jello(Lime); 4 serving
✓ 2 Jello(Berry Blue); 4 serving
✓ 8 oz Cool whip
Instructions
Stir 1 1/4 cups boiling water into each flavor of gelatin in separate bowls until completely dissolved.
Pour each flavor into separate 8 or 9″ square pans.
Refrigerate 3 hours or until firm.
Cut each pan into 1″ cubes.
Arrange rows of different color gelatin cubes to form a rainbow on a large flat tray or cookie sheet.
Place 1/2 of the cool whip at each end of the rainbow to form clouds for dipping.
Serve immediately or refrigerate until ready to serve.
You can also make 'RAINBOW JELL-O' by setting each layer before adding the next layer. Use a glass bowl or set in clear plastic cups so that the colors show through.
9. Rainbow Cake
Carefully cut arcs out of a round cake; reassemble and frost in each color of the rainbow.
10. Rainbow Cupcakes
Simply make your favorite cupcakes and frost them in different colors and topped with colored sprinkles.
11. Rainbow Fruit Salad
Ingredients:
✓ Yogurt
✓ Red watermelon
✓ Cherries
✓ Orange cantaloupe
✓ Mandarin oranges
✓ Yellow apples
✓ Bananas
✓ Green honeydew melon
✓ Blue blueberries
✓ Purple plums
✓ Nectarines
Optional: Chopped nuts of choice
Instructions
Cut all pieces of fruit into small pieces.
Put out in bowls and children can choose what they like (give instructions as to HOW MUCH they can take)
Mound on plates to make a tall mountain.
Top with yogurt.
Sprinkle with nuts.
12. Rainbow Fruit Kabobs
Place bite-sized fruit on kabob skewers to look like a rainbow – Strawberries (red,) Oranges (orange, Pineapple pieces (yellow), Kiwi slices (green), Blueberries (blue), Grapes (purple)
13. Rainbow Pretzels
Ingredients:
✓ 3 different colors of Candy Melts
✓ Pretzel rods or shapes
Instructions
Melt the candy.
Using a teaspoon, swirl the colors onto the pretzel rods or shapes–until you achieve your desired 'rainbow' result.
Sprinkle on rainbow jimmies before the candy melts dry.
Note: Even though the melts will be pastel colors of pink, blue, green or yellow -the flavors will all be vanilla.
14. Rainbow Colored Toast
A rainbow craft and snack in one!
Ingredients:
✓ White bread
✓ Milk
✓ Butter
✓ Food Coloring
✓ Small bowls
✓ Small food-grade brushes
Optional: Cinnamon sugar
Instructions
Depending on group size-As a guide, fill bowls with about 3 ounces of milk and add 2 to 3 drops of food coloring.
Have children paint the toast. (Remind them NOT to soak the bread)
Toast in toaster or toaster oven.
Butter and sprinkle cinnamon if desired.
For young kids, explain that this is safe to eat because it is NOT real paint! Also, for theme days, you can cut the bread with cookie-cutter shapes before it is painted and toasted.
15. Store-Bought Rainbow Snacks List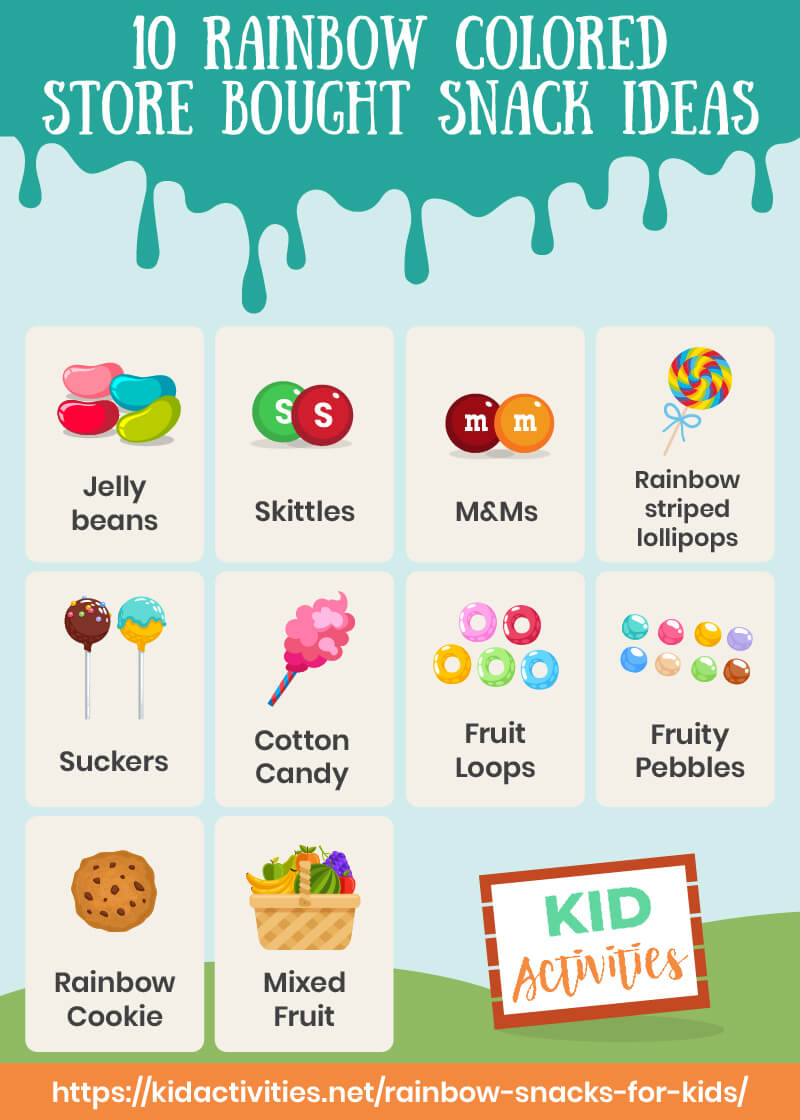 In Summary
We hope you found some creative rainbow snack ideas for your next celebration. Remember, rainbows go great with St Patrick's Day activities and kids love colorful food.