Reindeer Themed Ideas to Celebrate the Christmas Season
Can you name all eight of the creatures that power Santa's sleigh?
The reindeer is one of the most iconic signs of the holiday season, and there are plenty of reindeer themed crafts out there to help your kids celebrate all December long!
Whether you're looking for activities, songs, or treats for your Christmas party, these 28 ideas are Santa approved to infuse your holiday with some reindeer games!
Reindeer Recipes
1. Reindeer Pretzel Rods
Ingredients:
4 ounces chopped chocolate vanilla or butterscotch-flavored almond bark
12 large pretzel twists
12 pretzel rods
24 miniature semisweet chocolate chips
12 red candy-coated chocolate candies
1 roll Betty Crocker Fruit by the Foot
Cherry or other flavor chewy fruit snack rolls
12 miniature green M & M's
Directions:
1. Place almond bark in a 1-cup microwavable measuring cup. Microwave uncovered on high 30 to 60 seconds, stirring every 15 seconds, until melted.
2. Dip pretzel twists into melted candy coating. Place on waxed paper and let stand until coating is set.
3. If necessary, re-warm coating. Dip top 2 inches of pretzel rod into melted candy coating; attach pretzel rod to bottom of pretzel twist. Place on waxed paper.
4. To make reindeer:
Press on chocolate chips for eyes and red M & M for nose, using melted candy coating.
Cut scarf from fruit roll; attach to reindeer using candy coating.
Press on green M & M for button using candy coating. Place on waxed paper. Let stand until coating is set.
Store coated pretzel rods loosely covered at room temperature no longer than 2 weeks.
2. Reindeer Nutter Butter Cookies
Ingredients:
Nutter Butter cookies
peanut butter
raisins
small pretzel twists
red M&M's
Directions:
1. Place a small amount of peanut butter on the top of a Nutter Butter cookie.
2. Put a small pretzel twist on the peanut butter, letting it stick beyond the cookie for antlers.
3. Put two more dots of peanut butter and add raisins for eyes.
4. Finally put a dot of peanut butter on the bottom part of the cookie and add a red M&M for a nose.
3. Reindeer Cupcakes
Ingredients:
24 large pretzel twists
24 miniature marshmallows or M&M's for eyes
24 red cinnamon candies or cherries for nose
Optional: 24 small red gumdrops for mouth
Make 24 cupcakes (or double or triple batch as box directs)
Can also purchase plain frosted cupcakes.
Directions:
1. Frost cupcakes with frosting. (Chocolate would most likely resemble deer)
2. For each cupcake, cut pretzel twist in half; arrange it on cupcake for reindeer antlers.
3. Cut miniature marshmallow in half; arrange on cupcake for eyes.
4. Center a gumdrop below marshmallow halves for nose.
5. Optional: Place red cinnamon candy below gumdrop for mouth. Store loosely covered.
4. Reindeer Face Sandwich (1 slice bread)
Ingredients:
Peanut butter
4 mini pretzels
4 raisins or M&M's
2 mini marshmallows
Maraschino cherries or red-hot cinnamon candies
Plates and knife
Directions:
1. Cut bread in half from corner to corner, making two equal triangles.
2. Spread peanut butter over bread.
3. Decorate as follows:
Place it in front of you, with the point facing you and the long side of triangle facing away from you. Place one mini pretzel on each upper corner for the antlers; two raisins in the center of each slice (the eyes) and one mini marshmallow for the nose if you are making Rudolph, use a maraschino cherry or cinnamon candy on the tip of each short point nearest you for the nose. You now have two reindeer faces.
Make your child's lunch special all December long with these additional reindeer sandwich ideas.
5. Reindeer Food for Kids
Ingredients:
12 cups Crispix cereal
1 bag (12 oz) semi-sweet chocolate or butterscotch chips
3/4 cup peanut butter
1 cup powdered sugar
Directions:
1. In a very large pot over low heat, melt peanut butter and chocolate chips, stirring frequently, or melt in the microwave.
2. Remove from heat and add cereal, stirring gently to coat well.
3. Add the powdered sugar, a bit at a time, and continue stirring until mixture is completely combined.
4. Spread pieces on a cookie sheet or other clean, flat surface, separating them so they don't stick together. Allow to cool completely. Store in an airtight container until ready to serve. Makes about 12 1-cup servings.
6. Reindeer Chow
Traditional 'Puppy Chow' or 'Muddy Buddies' also make a great Reindeer Chow. See the Snack Mix category for recipes.
Ingredients:
9 cups of Rice Chex
1/2 package Hershey's semi-sweet chocolate chips
2 cups powdered sugar
Directions:
1. Put Hershey's chips into a microwave-safe bowl and microwave for 1 to 2 minutes, or until smooth.
2. While the chips are melting, gently put the Rice Chex into a separate bowl.
3. Gently pour the melted chocolate over the Rice Chex. Gently stir the chocolate and Rice Chex together until all the Rice Chex are covered.
4. Put 1/4 of the mixture into a zip lock bag with 1/2 cup powdered sugar and shake gently until Rice Chex are covered with sugar. Pour into a storing dish.
5. Cover the remainder of the Rice Chex with powdered sugar in the same manner.

Ingredients:
2 cups Bugles
2 cups square-shaped cheese flavored crackers
2 cups pretzel sticks
1 cup Corn Chex cereal
1 cup bite-size shredded wheat
1 cup pecan halves
1/2 cup butter, melted
1 tablespoon maple syrup
1 1/2 teaspoons Worcestershire sauce
3/4 teaspoon Cajun seasoning
1/4 teaspoon cayenne pepper
Directions
1. In a large bowl, combine the first six ingredients. In another bowl,combine the butter, syrup, Worcestershire sauce, Cajun seasoning and cayenne; pour over cereal mixture and toss to coat.
2.Transfer to an ungreased 15-in. x 10-in. x 1-in. baking pan. Bake, uncovered, at 250 degrees F for 1 hour, stirring every 15 minutes.
8. Reindeer Chow for Santa to give to Reindeer on Christmas Eve
Ingredients:
1 handful Frosted Shredded Wheat (It's hay frosted with the snow of the North Pole)
1 handful pretzel sticks (Tender twigs)
1 handful of raisins (Dried berries)
1 handful of red candy such as M&M's) (Fresh berries)
Directions:
Be sure to have extra ingredients for kids to munch on while making!
Place ingredients in a Ziploc baggie. Shake up and enclose a note that says:
Even Santa's Reindeer need a snack now and then, especially on Christmas Eve, please leave me out with the cookies and milk for Santa!
9. Reindeer Poop (No-Bake Cookies)
Ingredients:
1/2 cup butter
2 cups granulated sugar
1/2 cup milk
2 teaspoons cocoa
1/2 cup peanut butter
3 cups oatmeal (not instant)
1/2 cup chopped nuts (optional)
Directions:
1. In a large saucepan, mix butter, sugar, milk and cocoa together.
2. Bring the mixture to a boil while stirring constantly. Boil for 1 minute.
3. Remove from heat and stir in the remaining ingredients.
4. Drop by the teaspoon-full onto wax paper and allow to harden.
5. They will set up in approximately 30-60 minutes.
6. This will keep for several days without refrigerating, up to 2 weeks refrigerated and 2-3 months frozen. Makes 72 cookies.
You can enjoy with the kids or give out for gifts!  Put some in a  baggie Ziploc and attach one of the below "Reindeer Poop" poems.
10. Marshmallow Reindeer
A snack and craft in one!
Ingredients:
Large marshmallows and white frosting to help hold on eyes and nose
Stick pretzels
Red licorice strings (optional)
Chocolate chips, gummy candies, or mini M&M's for eyes/nose (Sample made with mini chocolate chips and M&Ms)
Directions:
1. Assemble reindeer bodies by sliding a pretzel stick through two marshmallows, one from either end.
2. Use 4 whole pretzel sticks for legs and a half of a pretzel stick for each antler.
3. Attach head with half of a pretzel stick– Tie a piece of red licorice around neck for decoration.
4. Add eyes and nose.
NOTE: These should be eaten rather quickly. As our two 12 year old crafty cooks learned, the reindeer have a mind of their own and want to sit or lean after a bit.
---
Reindeer Crafts
11. Popsicle Stick Reindeer
Materials:
3 Popsicle sticks
2 google eyes
1 red pom pom
Glue
Directions:
1. Glue 2 Popsicle sticks together and make a 'V' shape.
2. About 1/3 or the way from the top, glue the third Popsicle stick horizontally across the others.
3. Glue on googly eyes under the cross stick.
4. Glue the red pom pom at the bottom of the V-shape.
12. Reindeer Puzzle Pin
Materials for one pin:
3 puzzle pieces (2 small & 1 medium size)
Brown paint
2 google eyes
Red and green felt
Red pom-pom (optional)
Craft pin
Glue gun
One small bell
Directions:
1. Paint the puzzle pieces brown and let dry.
2. Take  small puzzle pieces and glue them in the top two corners of the larger puzzle piece.
3. Glue on eyes.
4. Cut out a small red circle or take a red pom-pom and glue on for the nose.
5. In the corner of one of the reindeer's antler, make a small holly leaf from red and green felt.
6. On the back side of the medium size puzzle piece, attach the craft pin.
13. Reindeer Food
Materials:
1/4 cup dry oatmeal
1/8 cup granulated sugar
1-2 tablespoons colored sugar
Directions:
In a baby food jar, layer half of the oatmeal, followed by half of the colored sugar, the white granulated sugar, the rest of the colored sugar, and topped with the rest of the oatmeal.
Alternatively, combine ingredients in a mixing bowl and scoop into zippered plastic bags.
How to make colored sugar:
Put some sugar into a bag and add a drop of food coloring. Close the bag and, with your hand on the outside of the bag, mix the color in. You may need to add slightly more food coloring or sugar until you get the right color and texture (you don't want the sugar to be damp). Tip the sugar on to a paper plate to dry. To use the sugar, tip it back into a clean bag, seal and break up any lumps which have formed.
Attach this poem if it is a gift!
Sprinkle on the lawn at night.
The moon will make it sparkle bright.
As Santa's reindeer fly and roam,
This will guide them to your home.
Direct the children to sprinkle it on Christmas Eve on the lawn, driveway, or apartment patio to entice the reindeer. It gives them something to munch on while Santa delivers his goodies.
14. Rudolph Mask
Materials:
Paper plates
Brown, black and red construction paper
Scissors
Glue
Markers or crayons
Single hole punch
Rubber bands
Tongue depressor stick
Directions: For young children, pre-cut antlers and reindeer nose.
1. Cut reindeer nose, and antlers out of construction paper.
2. Paste onto plate. Draw mouth. Cut holes out for eyes.
3. Punch hole on both sides of plate and attach rubber bands–or tape to a Popsicle to hold in front of face.
4. Have children wear reindeer masks while singing "Rudolph the Red-Nosed Reindeer."
15. Candy Cane Reindeer
Materials:
2 pipe cleaners to match your reindeer
candy cane
two 6 mm google eyes
1/4″ pom pom, glue
scissors
Directions:
1. Cut one long pipe cleaner in fourths.
2. Twist the other long pipe cleaner around the top of the cane to make 2 large antlers.
3. Wrap 2 pieces of the cut pipe cleaner pieces –around each antler to make the "branches" on the antler.
4. Glue the eyes to each side of the cane "hook and glue the pom pom at the end of the cane for the nose. You have a reindeer!
16. Reindeer Tree Bulb Ornament
This little guy has been around about 11 years and still makes it to the tree each year! You can use the photo as a guide to follow.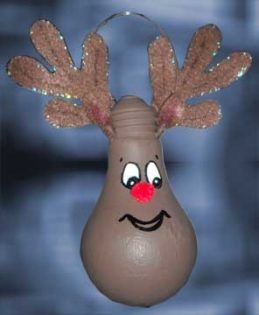 Glue on wiggle eyes and a pom-pom nose. Cut a piece thin ribbon and tie it into a loop for hanging. Glue the loop to light bulb.
Form antlers out of a chenille/pipe cleaner stem, twist it around the top of the bulb or glue it to the light bulb.
Be sure to save any Christmas leftover candy canes to make Valentine Hearts in February!
Need more ideas to decorate your tree? Here are some additional reindeer ornament ideas.
17. Reindeer Poems
Poem #1
I woke up with such scare when I heard Santa call…
"Now dash away, dash away, dash away all!"
I ran to the lawn and in the snowy white drifts,
those nasty reindeer had left "little gifts."
I got an old shovel and started to scoop,
neat little piles of reindeer poop!
But to throw them away seemed such a waste,
so I saved them, thinking-you might like a taste!
As I finished my task, which took quite awhile,
Old Santa passed by and he sheepishly smiled.
And I heard him exclaim as he sped off in the sky…
"Well they're not potty trained, but at least they can fly!"
Poem #2
Santa's been here. How do I know?
Look what I found outside in the snow!
Bring the spirit of Christmas into your holiday reading time with these books about reindeer.
18. Reindeer Noses
Fill a small baggie with round chocolate Milk Chocolate Malt Ball candy. (Whoppers is one company in the States that makes them) Add one red ball of the same size.  Of course the red nose is Rudolph's! A red gumball,  red osur balls, or giant red spice drop candy works well for the red nose. There are also candy companies that make white, pink and red malt balls for Valentine's Day.
Add a tag tied to the baggie saying, "Reindeer Noses for Dasher, Dancer, Prancer, Vixen, Comet, Cupid Donner/Donder, Blitzen, and Rudolph."
A good idea when packing small goodies such as this is to size card-stock to the width of a clear bag. After writing the title or title/poem/directions on the bottom half of the card, fold the paper in half and attach it to the top-one side on each side to the bag. Embellish the card with ribbon if desired.
19. Reindeer Puppet
Materials:
Small paper lunch bag
Scissors
Markers or crayons
Red paint or Red sticker circles
Directions:
1. Have children cut 2 antler holes and one nose hole in their bags. Antler holes are at the bag top and the nose hole should be in the middle of the bag where a nose would go
2 Show the children how to put their fingers in the holes to make the antlers. First two fingers for one hole and last two fingers for next hole. Thumb is used for the nose hole
3. Optional:Each child can dip their thumb in red paint or stick on a red sticker to make the nose.
Young kids can then sing "Rudolph the Red-Nose Reindeer" using this as a prop!
20. Easy Paper Reindeer for Young Children
Materials:
Dark brown construction paper
Light brown construction paper
Large googly eyes
Small red pompoms
Directions:
Trace child's shoe on dark construction paper and cut out to make head. Trace child's hands on light construction paper and cut out to make antlers. Glue antlers, eyes, and pompom (nose) to head
21. Dog Biscuit Reindeer
Materials:
1 dog biscuit (Or a dog biscuit shape)
2 wiggly eyes
Set of ears (Make templates for ears and holly-shaped antlers as shown in picture)
Set of holly antlers
Pom pom for the nose (Sparkly nice)
yarn or ribbon for the hanger
Directions:
Glue all parts on as shown in sample to make a reindeer ornament for your tree!
---
Reindeer Games
22. Just for fun, memorize Santa's reindeer's names.
The common names given for Santa's reindeer in modern culture are Dasher, Dancer, Prancer, Vixen, Comet, Cupid, Donner/Donder, Blitzen, and Rudolph.
Eight of these names are taken more or less directly from Clement C. Moore's "A Visit From St. Nicholas," and the ninth from the song "Rudolph the Red-Nosed Reindeer" and the TV special based upon it.
23. Play "Rudolph Says" instead of Simon Says.
Get the official rules for Simon Says here.
24. Play "Pin the Tail on Rudolph" instead of Pin the Tail on the Donkey.
Find a Rudolph image you can print out here.
25. Santa's Reindeer Gym Game
Players stand side by side on a line called the North Pole
The children can select the name of a reindeer for themselves.
One person is Santa.
Santa stands in the middle of the play area facing the reindeer.
Santa calls the name of a reindeer.
All reindeer by that name gallop to the other end of the play area .
Santa tries to tag them.
All players tagged stay in the middle to help Santa. If there is a large amount of children, Santa can have one of two of his/her elves assist.
---
Reindeer Music & Movement
26.Rudolph the Red Nosed Reindeer
You know Dasher and Dancer and Prancer and Vixen,
Comet and Cupid and Donder and Blitzen,
But do you recall
The most famous reindeer of all?
Rudolph the Red-Nosed Reindeer
Had a very shiny nose,
And if you ever saw it,
You could even say it glows.
All of the other reindeer
Used to laugh and call him names;
They never let poor Rudolph
Join in any reindeer games.
Then one foggy Christmas Eve,
Santa came to say:
Rudolph with your nose so bright,
Won't you guide my sleigh tonight?"
Then how the reindeer loved him
As they shouted out with glee,
Rudolph the Red-Nosed Reindeer,
You'll go down in history."
27. The Reindeer Pokey (to tune of "Hokey-Pokey")
You put your reindeer hoof in,
You take your reindeer hoof out.
You put your reindeer hoof in,
And you turn yourself about.
You do the Reindeer Pokey,
And you turn yourself around.
That's what it's all about.
Next verses:
You put your reindeer tail in…
You put your reindeer nose in…
You put your reindeer body in..etc…
You can make up own verses…
28. Reindeer Jokes
What do reindeer say before telling you a joke?
This one will sleigh you!
Why do reindeer wear fur coats?
Because they would look silly in plastic macs!
How do you make a slow reindeer fast?
Don't feed it!
Why did the reindeer wear black boots?
Because his brown ones were all muddy!
How long should a reindeer's legs be?
Just long enough to reach the ground!
Why did the reindeer wear sunglasses at the beach?
Because he didn't want to be recognized!
Which reindeer have the shortest legs?
The smallest ones!
Where do you find reindeer?
It depends on where you leave them!
I can lift a reindeer with one hand.
I bet you can't.
Well you find me a reindeer with one hand and I'll lift it!
How many legs does a reindeer have?
Six. Forelegs at the front and two at the back!
What's the difference between a cookie and a reindeer?
You can't dunk a reindeer in your tea!
When should you feed reindeer milk to a baby?
When it's a baby reindeer!
If a reindeer lost his tail, where would it go for a new one?
A retail shop!

Why do reindeer scratch themselves?
Because they're the only ones who know where they itch!
Find more kid-appropriate reindeer jokes.
Make sure you check out our charades ideas page as well for more fun family games to be played throughout the December holidays.