Disclosure: This post may contain affiliate links, meaning I get a commission if you decide to purchase through my links, at no cost to you. As an Amazon Associate, I earn from qualifying purchases. Read the full disclosure here.
ARTS AND CRAFTS
DOILEE ART SNOWFLAKE PRINTS  
Place dollies on black or dark colored paper.
Sponge paint over the dollies with white paint.
When the dollies are removed your pictures will look like snowflakes!
---
GLITTERY SNOWFLAKES
Lightly tape a doily to a paper plate.
Using a paintbrush, gently dab blue or white tempera paint over the doily.
While paint is still wet, remove the doily.
Sprinkle glitter on the wet paint. Shake off the excess glitter and hang the snowflake plate when dry.
---
SNOWFLAKES FROM STYROFOAM BALLS 
For one snowball need:
Seven toothpicks, 1 inch styrofoam balls, 1/2 liquid starch, 1 cup laundry powder, electric mixer, waxed paper, 24 inch length of string, glitter.
Tie the string to one toothpick. Push the 6 other toothpicks into the ball in a starburst pattern. Beat the starch and laundry powder to make a stiff paste. Working on  wax paper, dip the "snowflake" into the starch/soap mixture. Sprinkle it with glitter while it is still wet. Hang snowflakes from the ceiling by the string to dry and display!
---
PRETZEL SNOWFLAKES 
Take 4 mini pretzels for each snow flake. Pour white paint into a container/baggie/pie tin…Coat the pretzels with the paint and let them dry.
When the pretzels are dry, form a snow-flake by gluing the four pretzels to each other. Useing a hot glue gun,  glue corners to corners and points to points. If desired, dip the flakes in glitter or craft snow.
When dry… tie on string, yarn or ribbon to hang.
---
GLUE-GLITTER SNOWFLAKES
Using white glue, draw a snowflake desigh on wax paper.
Cover generously with glitter; let dry for one to two days.
Pour off excess glitter.
Gently peel the snowflake from wax paper; add a string and hang.
---
Q-TIP SNOWFLAKES
On  wax paper — have children position  Q-tips end to end. Take glue and put it where the Q-tips meet. When dry remove them from wax paper and suspend from the ceiling.
ANOTHER way to do this is to squeeze a puddle of glue into the middle of a sheet of wax paper. Give the children several Q-tips cut in half (or whole) and then position them around the glue blob. If using half a Q-tip- be sure the swab end is sticking out so it looks like a snowflake.
Insert a loop of string in the glue puddle for a holder. Children can sprinkle glitter onto the glue. The snow-flakes will need a couple of days to dry; then peel them off the waxed paper! (This would also be a nice gift) Photo courtesy of Busy Bee Crafts
---
PAPER SNOWFLAKES IN GENERAL…
Materials:
Piece of white paper
Scissors
Instructions:
1. Start with a square sheet of white paper. Fold paper in half diagonally, forming a triangle.
2. Fold paper in half diagonally again.
3. Hold paper so triangle base is at bottom. Fold paper into thirds from the center point. The resulting shape should resemble a piece of pie.
4. Using scissors, cut off excess at the bottom part of the pie shape to reveal a small triangle.
5. Cut small shapes around the outside of the triangle, using designs of your choice.
6. Unfold paper to reveal your snowflake.
---
COFFEE FILTER SNOWFLAKES
Fold the coffee  filters (See above directions); cut out designs and then unfold. Easy! Hang about the room or in a window.
---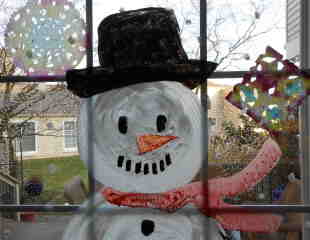 DIP AND DYE SNOWFLAKES
Materials:
Cone or square-shaped coffee filters (or paper towels cut in circles or squares), Scissors, Small bowls of dye (diluted food coloring or strong tempera paint)
(The Coffee filter snowflake smaple is left of the snowman and the Paper towel snowflake is to the right of the snowman)
Directions:
Fold coffee filters or paper-towel circles or squares in half, quarters, thirds, and so on.
Dip them into a bowl of dye, blot, open up, and let dry.
When dry, fold again and make snowflakes by cutting small shapes along the folded edges.
NOTE: Having made these-I found that dropping on color with an eye-dropper works well. The coffee filters dry very fast; the paper towel took longer to dry. When using either method, be sure the filter/paper is completely dry before folding and cutting. (Images by KidActivities.net)
---
SNOWFLAKES FROM PAPER BAKING CUP LINERS
Flatten cupcake baking liners and fold them in fourths. Have children cut notches along the folds. Unfolded they'll have snowflakes with different designs.
---
LIFE SAVER CANDY SNOWFLAKES… Glue together popsicle sticks in a snow-shape pattern. Glue on white minty lifesavers to the sticks. Add glitter to all and hang them from the ceiling.
---
PASTA SNOWFLAKES
Need: Wheel shaped pasta, White paint, White glitter, Dry Tapioca pudding mix, Paint brushes, Elmer's glue
Take round wheel shaped pasta and glue them together in a circle shape. When dry–paint the entire snow flake white. Before the paint dries sprinkle on glitter mixed with dry Tapioca pudding mix.
To hang from the ceiling, insert a piece of string or yarn through one of the wheel holes after the snow flake is dry.
---
TISSUE PAPER and JUICE LID SNOWFLAKES
Materials:
Metal Juice lids, White tissues paper torn in small pieces, Glue
1. Cover the flat side of the juice lid with glue.
2. Tear or cut small pieces of paper and place on top of the glue-top  lid.
3. Again-cover the paper with glue. Dry overnight.
4.When dry, the "snowflake" will easily pops off the lid.
6. Hang the snowflakes from ceiling or windows.
---
SPARKLING PIPE CLEANER SNOWFLAKES
Supplies
Scissors
Silver and/or blue tinsel pipe cleaners 2 per snowflake
Blue, white, silver plastic pony beads
Cut the two pipe cleaners in half.
Make a cross and twist the two blue pipe cleaners in the center. Do the same with the silver.
Twist the two crosses together in the center to make a 'Snowflake'.
Add a couple beads to each stem. Bend end of stem if needed so that beads stay on.
NOTE: This sample was made using four full pipe cleaners…the same above directions were followed. I think it would be easier for the children to handle-cutting the pipe cleaners in half.
---
SNOWFLAKE PICTURES
Fold a circle of paper in half, then half again. Snip out
shapes and open out. Clip the snowflake on top of another sheet of paper and fill in the shapes by patting with a paint-soaked sponge or rag. Allow to dry, and then remove the snowflake to reveal the pattern.
---
MORE ELABORATE PAPER SNOWFLAKES~SNOWSTARS
Snowflakes on mirror from Martha Stewart…
---
TWO SNOW GLOBES
SNOW GLOBES OR PAPER WEIGHTS …Version #1
1. Either supply the group with jars— or have children bring in an empty jar such as baby food, jelly, pickle, etc. Any small, clear jar with a screw-top lid will work.
2. Cut a piece of felt or construction paper the size of the jar lid and glue it in place to the top of the jar lid.
Fill the jars within 1/2 inch of jar top with a mixture of 1/3 light corn syrup and 2/3 warm water. Use popsicle sticks to stir until it's mixed.
3. Add about 1/2 tsp. (or more depending on size of jar) of glitter –any color of child's choice will do–also add a few snowflake-shaped sequins.
4. After screwing the tops on tightly have an adult hot-glue the lids on the jars so there is no leaking.
Tips: Using a mixture of water with corn syrup "thickens" the liquid and keeps the glitter in suspension longer.
Don't use white glue to seal the lids. It's water-soluble and will turn the water cloudy. You can also use a non-water soluble glue such as rubber silicone to glue a figure or seasonal item to the inside of the lid.

---
SNOW GLOBE #2
Materials:
A jar with a secure lid, Super glue, Glitter, Decorations for the inside of the snow globe, Glycerin (optional)
1.  Jar selection is important; choose one that has a large enough base and is tall enough for the diorama you want to create; make sure that the glass is clear enough to see though.
2. Assemble your diorama on the inside of the jar lid, and when you're happy with how it's going to look, use super glue to stick all your pieces down to the lid. Let this dry according to the instructions for the glue you're using.
3. Fill the jar almost to the top with water and add some glitter. If you've got some glycerin handy, add some, as it will make the glitter fall more slowly. Then carefully turn your lid upside down and immerse the diorama in the water. Make sure you fasten the lid securely, and turn the whole thing upside down. Shake repeatedly!
4. Good Idea! We decided to use a thin piece of lego as the base that we glued onto the inside of the jar lid; this means that when we get bored of watching a polar bear in a snow storm, we can easily take him off the base and add some other pieces of lego to make a completely new scene for our snow globe. (Cassie/Mi.–Original Idea Source: Martha Stewart)
---
ICY SNOWFLAKES TO HANG OUTDOORS
1. Cut a snowflake shape from paper.
2. Fill a pie tin 1/2 full with water.
3. Place snowflake shape in the water and place it in a freezer or outdoors.
4. When the water is 3/4 frozen- place a piece of looped string on top of the forming ice. (Be sure it sticks and is in the middle of the tin with the loop hanging over)
5. Over this, pour in more water until the pan is almost full.
6. When frozen, hang the 'icy-snowflake from tree branches. Ice easily pops from the pie tin. Note: The ice image hanging from the tree in back of the 'snowflake' sample is made the same way; however–  berries, branches, etc. are placed in it instead of 'paper snowflakes'. Food coloring or shaved crayon pieces can also be added to it. Image by KidActivities
---
HONEYCOMB SNOWFLAKES 
Dip Honeycomb cereal in white tempera paint.
Place the cereal on blue construction paper to dry.
---
MAKE SNOWFLAKE MOBILES
Need lightweight paper for cutting in about 4″ x 4 squares, hole punch, scissors, hangers and yarn.
Round the corners of the paper to create a circle. Fold the circle in half….and then in half again….
Create  designs with scissors and/or a hole punch. Paste several (about 3) snowflakes down one line of yarn…tie the yarn to the hanger. Do this 3 times. There should be three lines of snow flakes hanging from your mobile.
_______________
FROSTY HOLIDAY CARDS AND PICTURES (Two projects in one!)
Mix 1 cup Epsom salts with 1 cup boiling water. Let cool.
Use paint brushes to paint mixture over recycled Christmas cards or note cards with pretty pictures.
When dry, pictures will have a frosty/snowy appearance.
Don't throw away the mixture when you're done painting!
In your science center… take a piece of black construction paper and cut it to fit the bottom of a clear, flat dish.
Pour any remaining salt and water mixture into a dish and let sit over night to dry.
The mixture forms crystals.
The children can then use magnifying glasses to view the crystals. Two projects in one!!!
_________
STAMP SNOWFLAKES…(Using strawberry baskets)
1. Dip the bottom of a strawberry basket into white paint.
2. Have children stamp the basket bottoms onto blue paper.
3. Sprinkle with glitter.
4. Leave as is or cut out the shapes to hang in the window or from the ceiling.
---
POTATO STAMP AND PRINT SNOWFLAKES
Cut a snowflake pattern into a 1/2 potato.
Dip potato into white paint and stamp onto paper.
Shake on silver glitter while the paint is still wet. Let dry.
---
This idea and image comes from techyteacher
Fourth grade students wanted to do a holiday related project; however, class schedule was set for 'pop art'. Ta-daa, both ideas were combined!
MIXING POP ART AND SNOWFLAKE …
1. Children started with snowflakes by cutting out geometric and irregular shapes.
2. Using blue, white, and silver tempera, students sponge painted their snowflakes.
3. After an introduction to the pop art time period, tie dye backgrounds in a radial design with chalk pastels were created. 4. Last, snowflakes were glued on…
---
PAPER DOILY SNOWFLAKE DECORATIONS
How easy is this one! Just get out a supply of paper doiles; tie string, yarn or ribbon—and hang about the room. Great to get the 'Snowflake Theme' mood going! These are also make nice and easy tree decocorations.
---
SNOWSTORM ART
Materials:
Liquid Starch or Glue
Brush or Q-tips
Construction Paper
Rice
Generously brush starch or glue onto paper. Sprinkle rice on the paper. Shake off excess.
---
GAMES…
SNOWFLAKES KEEP FALLIN' ON MY HEAD (A Relay Game)
Supplies: A 5-inch paper snow flake per team, masking tape or chalk
Divide children into equal teams. Use tape or chalk to mark a starting and turning point–about 10 feet apart for each team. Give the first team members a paper snowflake. At the signal, the first players place the snowflakes on their heads and clasp their hands behind their backs. They walk to the turning point and back. If the snowflake falls off, players must return to the starting point and begin again.
---
SNOWFLAKE ICE-BREAKER/CONNECTION GAME: MATCH MY SNOWFLAKE!
Before the event, make pairs of paper snowflakes. (The snowflakes can be made by making copies found on the internet, drawing, or cutting out.) The designs need to be different enough to tell them apart. Be sure to have one for each child.
1. Give each player a snowflake.
2. After everyone has a snowflake, instruct players to find their 'matching' snowflake.
3. The first to find his/her match wins!
---
PLAY "SUZY SNOWFLAKE SAYS…" Instead of Simon Says…Play Suzy Snowflake Says…
---
JACK FROST (or 'Suzy Snowflake' if an all- girl) GAME
Materials: Snowflakes, Snowballs, and icicle shapes drawn or copeied on paper…chairs or carpet squares, tape
Divide kids into 3 groups–
The snowballs
The snowflakes
The icicles.
Tape one labeled paper shape on each child to indicate what group they are part of. Have the children sit in a circle on chairs or carpet squares.
Choose one child to be 'Jack Frost' or 'Suzy Snowflake' so there is one seat less than the amount of kids playing the game.
Begin by having Jack Frost/Suzy call out ONE group name—such as "snowflakes" (or one of the other two)
When a group hear their group name called, the children of THAT group run to a NEW chair in the circle. (All in that group switch seats) At the same time, Jack Frost/Suzy tries to get into one of the empty seats…
Whoever is NOT in a seat is the NEW Jack Frost.
Jack may also call out SNOWSTORM! If so…All kids find new seats!
I first thought this game is only for younger children; however, even 3-5 graders wanted to play too! I join in and play with them. Laugh and have a good time. When adults laugh and play too…the kids have a better time! Barb
---
'SNOWFLAKE' WORD RACE
Find as many little words as possible within the word 'snowflake' – before the timer runs out. This can be played individually, in pairs, or small teams…
Example for Snowflake:
snow, flake, now, owe, ale, was, saw, as, so, lake, won, now, no, flow, low, know, kale, woe, sow, owl, oaf, nose, etc.
---
SCIENCE…
CRYSTAL SNOWFLAKES
1.  Cut a white pipe cleaner into 3 equal sections and twist it together to make a six-sided flake.
2.  Tie a string from point to point to form the pattern.
3.  Also, tie a piece to the top of one of the pipe cleaners and tie the other end to a pencil (This is for the snowflake to hang from)
4.  Fill a wide mouth jar, cup or glass with boiling water.
5.  Mix in Borax one tablespoon at a time (3 Tablespoons per cup of water) and stir it until it's dissolved. (It's alright if there is some settling.)
6.  If desired, add a little blue food coloring at this point to tint the snow flake.
Totally immerse the snowflake in your solution. Rest the pencil on the top of the container letting the flake suspend freely in the solution. Wait overnight and the next day the children will have a snowflake covered with tiny crystals.
---
VIEWING SNOWFLAKES 
What you'll need:
Viewing platform: black velvet, dark cloth, or black construction paper
Magnifying glass
Snowflakes are delicate creatures and their fine crystalline shape can vanish at the touch of warmth.
You'll need to freeze your viewing surface (keep it in the fridge or outside in a cold dry area).
If the snow is falling, just hold your platform aloft to catch a few flakes and view with your magnifying glass.
You may need to wear a scarf over the mouth and nose to avoid melting the flakes with a warm breath.
Source: fun.familyeducation.com
---
CATCHING SNOWFLAKES
Place a black sheet of paper into a freezer until cold. Take outdoors and use a magnifying glass to view snowflakes that land on the paper.
---
PRESERVE and STUDY SNOWFLAKES
Materials:
Microscope slides
Microscope (optional but fun)
Hairspray or Artist fixative; keep in a cold place (such as refrigerator) before using
Toothpicks
Shoe Box or container with a lid
1. Place slides in a freezer
2. When slides are ice cold, spray one side with hairspray.
3. Catch a snowflake  on the sticky side of the microscope slide.
4. Using a toothpick, gently move the snowflake to center.
5. Place the snowflake slide in the covered container. (Repeat the procedure)
6. Keep the box in a cold area. Do not touch the slide for several hours. The hairspray needs to dry as well as the water in the snowflake to disappear.
7. The slide should now have the imprint of the snowflake. Study it with your eyes or a microscope if available.
---
SNACKS & GOODIES…
'REAL SNOW' SLUSH CONES
Collect some 'freshly fallen' snow and scoop it into bowls. Put a few spoonfuls of frozen juice concentrate on top, and you have your own slush snow cones.
---
TIP: BE SURE TO PURCHASE LOTS OF RITZ SNOWFLAKE CRACKERS DURING WINTER HOLIDAY TIME…You'll then have them to pull out for dips and spreads during your 'Snowflake Theme'! (They're only in stores for the Holidays)
---
 MAKE SNOWFLAKES TO EAT! (Fry Method)
Flour Tortillas
Oil
Powdered sugar
Warm the tortillas slightly in the microwave so you can fold them. Next fold the tortilla into half, then half again. Cut out designs just like you were making a paper snowflake.
Put a small amount of oil into a skillet. Fry the tortilla in hot oil until crisp. (About 30 seconds on each side) Absorb extra oil on paper towel. Sprinkle with powdered sugar.
(Note from Barb: I just made the three in the image. My husband R loved them! They would also be great sprinkled with cinnamon sugar or drizzled with chocolate syrup over the powdered sugar. Children would not be able to fry them- but they could fold and cut them into 'snowflakes'. They could also sprinkle on the sweeteners. 'R'  and grandchildren have asked to make them again!) Image by KidActivities.net
---
SWEET FLOUR TORTILLA SNOWFLAKES (Bake Method)
1. Depending on the size of the flour tortilla..(this one is large and the above were smaller) Fold it in half–and then in half again.
2. Cut out a 'Snowflake shape'–just as you would using paper.
3. Place on non stick cookie sheet and lightly brush with melted butter.
4. Bake in a moderately hot oven for 10 minutes for a sweet and crispy treat.( (If the snowflake is large and a little thicker–it may need an extra minute. Take out of over when starting to crisp and look golden.
5. Sprinkle generously with powdered sugar. My grandchildren and husband like them also sprinked with a cinnamon/sugar mixture– over the powdered sugar. Image by KidActivities.net)
NOTE: These can also be made using a snowflake cookie cutter!
---
PEANUTBUTTER AND COCONUT SNOWFLAKES
Ingredients:
Peanut butter, hexagon shaped crackers,  coconut
Spread peanut butter on the crackers.
Sprinkle coconut over them…
---
'SNOW' COVERED DONUTS
TIP: Consume these the same day they are made. The sugar melts into the 'donut' and they can become sticky. They also taste good when first rolled in a mixture of cinnamon and then the powdered sugar…
Directions:
Take 1 tube unbaked biscuits and separate. Cut or split crosswise. Heat oil in small pan. Fry the little biscuits like donuts until golden brown. After frying drain– and then roll in powdered sugar 'snow.' (Image by KidActivities.net)
---
MINI MARSHMALLOW SNOWFLAKES…Snack and Art in one!
Makes snowflakes with toothpicks and miniature marshmallows connected to each other!
---
EASY 'SNOWBALLS' ON PRETZEL STICKS
This isn't exactly a snowflake–but 'hundreds of snowflakes' make a snowball! Simply put out marshmallows and thin pretzel sticks. Inform the children to how many they may have– before they make and eat!
NOTE: Mini marshmallows may also be used–in fact, you may prefer the mini! When 'spearing' the mini snowballs, they can be put into a baggie and then taken outside to eat. (Image by KidActivities.net)
---
MISCELLANEOUS FUN…
BRING THE SNOW INSIDE!
When you have a lot of snow and it's too cold to play outside, have the children help you fill large tubs with new snow and carry it in!
Fill your sensory table, large tubs, or a sink with the snow. The children can use gloves to play in it.
Variations include filling the empty sand table or other large containers with snow and then ADDING pre-made colored ice-cubes of different sizes.
So the children won't soil their own mittens, collect old mittens for them to wear while they play with the snow and the melting colored ice.
Another idea is to use water color sets and have the children use them in the tubs of snow. As the snow is painted the colors will blend!
---
SNOW MOLDS
Just like sand, snow is wet and dense–and can be formed into shapes. When you go outside…take out the sandbox toys, buckets, containers and molds. Create a snow castle (instead of sand castle) — Create and have fun
---
SHARE the poem…
SNOWBALL
by Shel Silverstein
I made myself a snowball
Just as perfect as could be.
I thought I'd keep it as a pet
… And let it sleep with me.
I gave it some pajamas
And a pillow for it's head.
Then, last night it ran away,
But first it wet the bed!
---
LYRICS TO 'HERE COMES SUZY SNOWFLAKE'
Here comes Suzy Snowflake,
Dressed in a snow-white gown,
Tap, tap, tappin' at your windowpane
To tell you she's in town.
Here comes Suzy Snowflake;
Soon you will hear her say,
"Come out ev'ryone and play with me;
I haven't long to stay.
If you want to make a snowman,
I'll help you make one, two, three.
If you wanna take a sleigh ride,
The ride's on me."
Here comes Suzy Snowflake;
Look at her tumblin' down,
Bringing joy to ev'ry girl and boy;
Suzy's come to town.
---
PRE-SCHOOL AND K SONGS/POEM
DANCE LIKE SNOWFLAKES
Sing to tune of Frere Jacques
Dance like snowflakes
Dance like snowflakes
In the air
In the air…
Whirling, twirling snowflakes
Whirling, twirling snowflakes
Here and there…
Here and there…
---
IT'S SNOWING
Sing to Frere Jacques
It is snowing, it is snowing,
Falling down, falling down.
Winter winds are blowing,
Drifts are slowing growing,
All around, all around.
---
SNOWFLAKES FALLING DOWN
Sing to tune of Row, Row, Row Your Boat
Snowflakes falling down
Falling to the ground…
Big, white fluffy flakes
They do not make a sound.
---
SNOW IS FALLING
Sung to Farmer and the Dell
The snow is falling down,
The snow is falling down,
Heigh ho, fast then slow,
The snow is falling down.
The yards are covered with snow,
The yards are covered with snow,
Heigh ho, just watch it snow,
The yards are covered with snow.
---
FIVE LITTLE SNOWFLAKES
One little snowflake with nothing to do
Along came another and
Then there were two.
Two little snowflakes laughing with me
Along came another and
Then there were three.
Three little snowflakes looking for some more
Along came another and
Then there were four.
Four little snowflakes dancing a jive
Along came another and
Then there were five.
Five little snowflakes having so much fun.
Out came the sun and
and then there were none!
---
HAVE FUN WITH WINTER PAGES!  Many might round-out your 'Snowflake' theme!
SaveSave