Sensory Play
It can be difficult to describe the sounds of the ocean or the feel of a soft blanket. These sensations must be experienced naturally.
Although they seem inherent to us, your young children need to experience these sensations themselves to promote their psychological growth.
Below, you can learn more about sensory play and why it's important for development. We'll also give you some activities that you can implement at home!
What Is Sensory Play?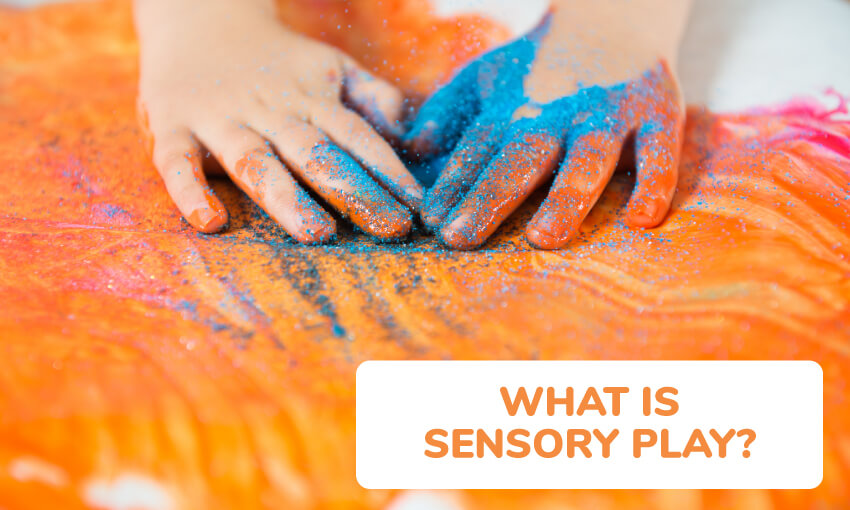 Sensory play is any activity that sparks the participant's senses. All 5 senses (sight, touch, taste, sound, and smell) can be stimulated with this type of play, depending on the activity. Some activities focus on one specific sense, while others expose the participant to multiple senses at once. When children engage in sensory play, they naturally use scientific processes. Different activities allow children to develop familiarity with new senses, like strong tastes in foods.
The Benefits Of Sensory Play
From an outside perspective, sensory play can seem like an intimidating, and even stressful, idea. These types of activities are often messy and involve some sort of clean up on your part. Why would I want to give my child the opportunity to make a mess for fun?
Or, maybe you think sensory play won't be beneficial for your child.
Here, we'll discuss some of the benefits of sensory play:
1) It's an introduction to tactile learning.
Tactile learning, or kinesthetic learning, is a style of learning that takes place through physical activities, rather than through demonstrations or lectures. As your child goes through school, they'll have chances to learn through participating in physical activities. Grant them early exposure to this learning style through sensory play.
2) It's an introduction to life skills.
Although they may seem simple, your child will pick up on skills like pouring, dumping, and scooping through sensory play.
It teaches children how to use utensils and how to efficiently transfer different items. As adults, we know it's not a good idea to use chopsticks to transfer large amounts of rice into a bowl. Children learn this type of knowledge by experimenting with sensory activities.
Sensory play is very hands-on. Because of this, your child will actively move their fingers, adjust the grip of their hands, and improve their hand-eye coordination. This physical activity helps your child develop fine motor skills in a way that watching television or playing games on a tablet cannot.
Make sure you check out our fun gross motor activities for kids.
4) It promotes imaginative play.
Sensory play is a collection of simple activities that promote creativity. They instruct your child on what to do or how to do it, like video games and talking toys often do. With sensory activities, your child is in the driver's seat. They take charge by making decisions, imagining situations, and determining tasks to complete. This type of play works best when your child is left uninterrupted so they can truly experience the different sensations on their own.
If your child needs some help, you can always offer them tips or grant them tasks to complete. Because of the nature of sensory play, they'll likely assign their own meaning to the objects they have in front of them.
5) It gets children thinking about math.
Even if your child is a toddler, these activities can get them thinking about math. Scooping and transferring objects gets them thinking about:
Rough measurements

Capacity

Estimation

Spatial awareness (the relation of objects to one another)
6) It teaches responsibility.
While your child is allowed a sense of independence within these activities, some responsibility is thrown in as well. It promotes self-control. Your child is allowed to have fun, but they must exhibit self-control while participating in these activities. You should talk to them about not making too big of a mess and establish specific rules.
When a mess is made, have them clean it up when they're finished. Enforce clean up and don't settle for doing it yourself.
7) It makes them more open-minded.
Without adequate sensory play, your child may develop aversions to certain sounds, tastes, and smells. Let them experience sensations like hot, cold, sticky, and dry for themselves. A disinclination to certain sensations can make it difficult for them to explore the world on their own and do things that fall outside of their comfort zone.
8) It calms feelings of anxiousness or frustration.
Sensory play helps alleviate feelings of anxiousness or frustration, especially in children with autism and other developmental disabilities. These activities stimulate the brain and create neural pathways that improve sensory processing systems.
Sensory Play Ideas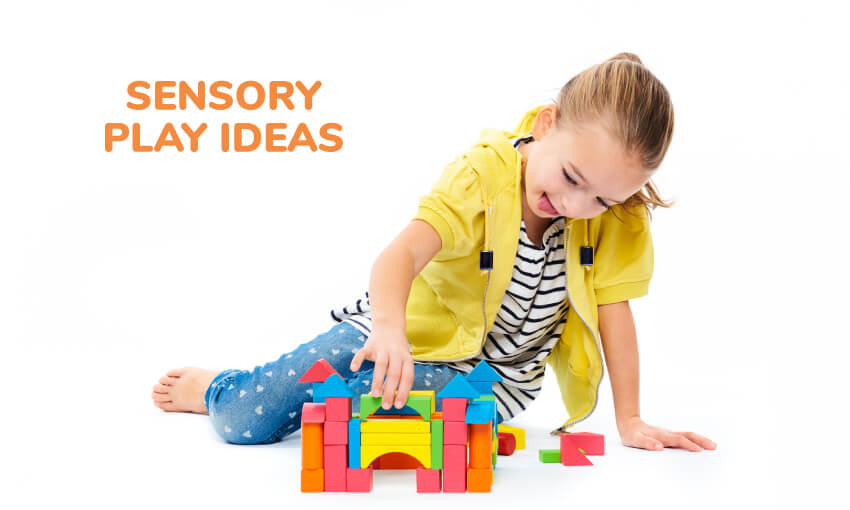 Want to have your child engage with sensory play in the classroom or at home? Consider the following sensory play ideas below! We've divided them up into 3 categories: for babies, toddlers, and kindergarten-aged children. This way, you'll be able to find an engaging, age-appropriate activity for your child.
Sensory Play For Babies (0-2)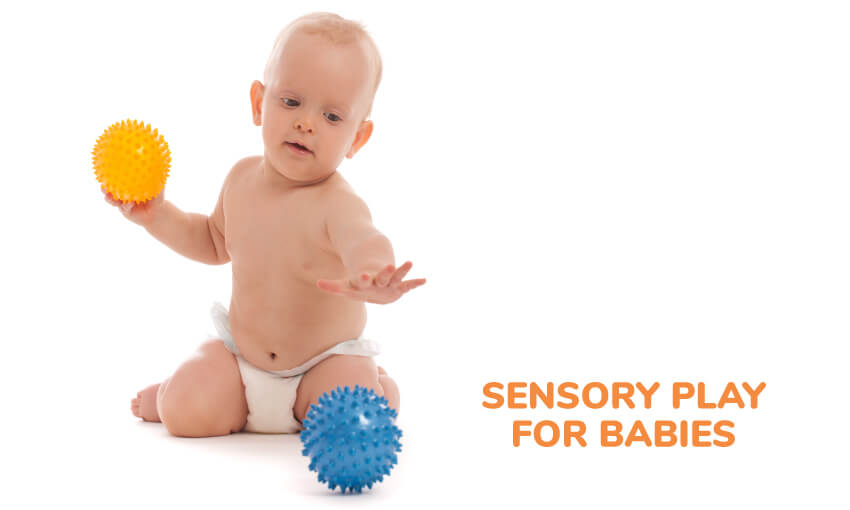 Sensory play isn't just for older children. Because babies are inclined to put anything in their mouths, it's important you closely supervise them. Get inspiration from these ideas below.
1) Autumn Basket
Embrace the season by making an autumn-themed sensory basket! For this, you'll need:
An orange colander

1 felt sunflower

Artificial fall leaves and pine needles (these can be found at a craft store like Michaels)

1 piece of brown burlap

1 real pine cone

Wooden toy squirrel or owl
Assemble all of these items in the orange colander. Introduce your child to the various items in the colander. Allow them to pick up each item on their own. Leave the colander in your child's playroom and allow them to revisit it on their own.
For this basket, we recommend sticking with a fall color scheme (oranges, reds, browns, and yellows). This way, you can stimulate your child's sense of touch and sight. If you don't have the right items on hand, make any necessary changes and include different items altogether if needed.
2) Laundry Basket Game
This game stimulates a sense that's often forgotten about. This sense is called proprioception. It's how you perceive the movement and position of your body and limbs. Proprioception includes planning muscle movement and moving your limbs without needing to look at them.
Clumsy babies with barely a barely-developed sense of proprioception can benefit from this laundry basket game.
To start, you'll need:
A laundry basket

A few heavy books

A few of your child's favorite toys (like stuffed animals or balls)

Optional: cones or floor tape
Start by filling the laundry basket with the books you selected. This creates a laundry basket that won't fall over too easily. Just be sure to not make it too heavy. Then, fill the basket with your child's favorite toys. Set the full basket in a room with hardwood or tile flooring so the basket is easy to push. Show your child what to do and allow them to imitate you. Because the basket is full of their favorite items, they'll likely be eager to push it around with them. This activity allows them to engage their muscles and work on pushing and pulling, all of which are essential to developing a sense of proprioception.
3) Water Mat
This water mat from Amazon is great for infants. It's ideal for infants aged 3 months and up. It's a plastic whale that has smaller sea creatures inside of it like a fish, crab, turtle, and starfish. Before giving it to your child, fill it up with water. Then, present it to your child during their tummy time. It can also be used when they are in a stroller or high chair.
This item stimulates the senses of touch and sight. Once the mat is placed in front of your child, they'll be able to squish the sea creatures through the plastic covering. They can watch the creatures bob and move around. The bright colors in this mat provide an engaging visual experience as well.
If you want a cheaper version of a water mat, you can make one at home! You'll need:
A Ziplock bag.

Hair gel.

Small toys.
Fill the Ziplock bag with hair gel and add the small toys inside. Make sure the bag is tightly sealed shut. Try sealing it with duct tape to keep its contents contained. Present it to your baby so they can push the toys around.
4) Ice Bowl
Keep a close eye on your child with this activity.
This activity is super easy to set up! All you'll need is a couple of ice cubes and a bowl. Set the bowl in front of your baby and let them play with it. You can fill up the bowl with water and ice, or just ice so they can experience the sounds of clinking ice cubes.
An ice bowl is a safe way for babies to experiment with temperature. Plus, attempting to grab slippery ice cubes will help them develop hand-eye coordination.
5) Homemade Cloud Dough
Also called moon sand, cloud dough is an item commonly used in sensory play. Some products on the market may not be safe for consumption. If your baby tends to put anything and everything in their mouth, you don't have to shy away from cloud dough. Here's an organic recipe for cloud dough:
Pour 1 cup of organic baby rice cereal into a bowl.

Add 3 tablespoons of melted coconut oil.

Mix and allow the concoction to cool.
You should be left with a final product that's shimmery and fluffy. It should easily clump into balls. Give your baby free reign to shape and explore the dough in any way they want.
Don't worry if it gets in their hair or mouth. It doesn't stick and is safe for consumption!
Sensory Play For Toddlers (2-4)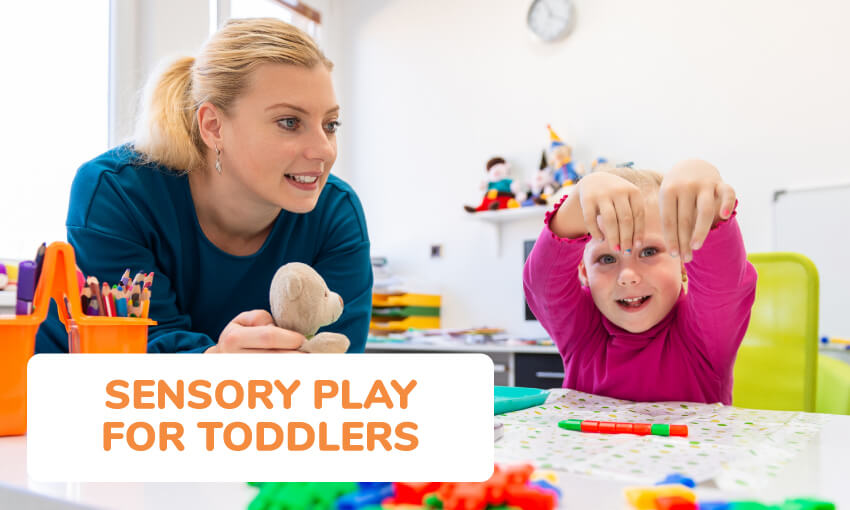 Consider introducing your toddler to these sensory activities made for them!
6) Pop-Up Tent and Lights
This pop-up sensory tent from Amazon is perfect for sensory play. It gives toddlers a private space of their own. Studies show that this type of tent helps your child relax and minimizes meltdowns. It's particularly helpful to children with autism, ADHD, anxiety, and sensory integration disorder.
Its blackout design creates a dark space that minimizes visual distractions and promotes relaxation. This tent has a silver-lined interior, which makes it perfect for using colorful sensory lights. The combination of a dark space with colorful lights helps to regulate the senses and make your child more comfortable in their environment. Feel free to use it in any room of the home, to include a bedroom, playroom, living room, basement, or special education classroom.
7) Colorful Spaghetti
Give your toddler a fun, slimy experience with colorful spaghetti. Start by cooking a small pot of spaghetti. Once it's done cooking, drain it and toss it in a couple of teaspoons of oil. From there, divide the noodles into different bowls, add different colors of liquid food coloring, and stir. You'll be left with bowls filled with different colored noodles. Combine these noodles into one large bowl and present it to your child.
For an enhanced sensory experience, you can add magnetic alphabet shapes or numbers to the bowl. These pieces add different textures to the mixture and expose your toddler to aspects of literacy and math.
8) Uncooked Rice
Uncooked rice in a pan or bowl offers hours of endless entertainment! Plus, it stimulates the senses of sound and touch. Toddlers enjoy picking it up with their hands and watching it slowly drop. The sound and feel of the rice are what makes this activity great for sensory play.
To mix it up, consider hiding objects in the rice. Allow your child to search for them on their own.
You can let your child play with the rice with their hands, but you can also offer some spoons or other utensils. Let them experiment with transferring the rice to a different bowl. This way, they can develop fine motor skills and learn about measurements.
Sensory Play For Kindergarten (and up)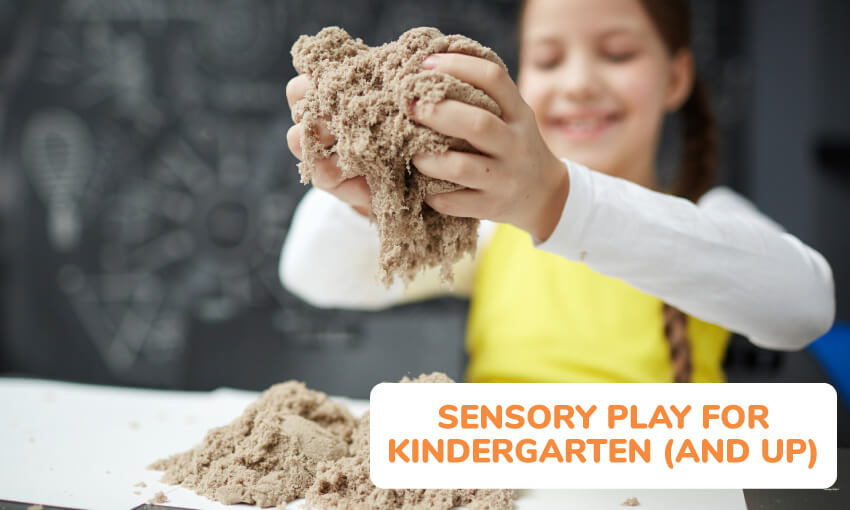 As your child is entering school, consider introducing them to one of these more advanced sensory activities.
9) Muddy Car Wash
Letting children get messy may be frustrating to think about. However, it has the potential to offer them a great sensory experience.
Take sensory play outside with this fun activity! it requires some set-up, but once that's done, your child will be entertained for hours. You'll need:
2 buckets of water.

Soap.

Potting soil.

Sandbox sand.

Large plastic container.

Wagon.

Wood plank for a homemade ramp.

Toy cars and trucks.
Once you've gathered these materials, you can begin the set-up:
Add potting soil, sand, and water to the wagon. This will create the mud you need for the car wash.

Place the toy cars and trucks in the mud.

Add water and soap to the plastic container. This will create the washing station for the car wash.

Set the wooden plank at an angle in a way that connects the wagon and the plastic container. This will be the ramp for the car wash.
After this set-up, allow your children to drive their cars through the muddy wagon. Then, they can slide their toys down the ramp into the clean bucket of water. This activity will keep them entertained for hours. They'll want to keep cleaning and dirtying their toys as they experience different sensations the play car wash provides.
10) Fidget Noodles
These fidget noodles from Amazon are perfect for increasing focus and reducing stress. They stimulate the senses of sight and touch. These fidget noodles stretch from 10 inches to 8 feet! Allow your child to experiment with distance with these durable yet soft rubber noodles.
These products are BPA- and latex-free, so they're ideal for children who want to put everything in their mouths.
11) Shaving Cream Writing
You can add some shaving cream to a pie pan and let your child experience the feeling of shaving cream on their hands! They can draw or practice writing their name in the pan.
For a more visual experience, consider trying shaving cream marbling. You'll need:
Watercolor paints.

A dropper.

A pie pan.

Shaving cream.

Rubber cooking spatula.
Start by spraying the shaving cream into the pie pan. Smooth it over with the spatula. Using the dropper, drop small amounts of each color onto the surface of the shaving cream. Then, use the spatula to mix the shaving cream and paint together. This creates a mesmerizing marble effect. Your child will feel even more compelled to play and draw with this colorful concoction.
12) Gummy Worm Food Bowl
Make snack time fun for your picky eater! Compile some appealing foods, like gummy worms and Oreo pieces, into a bowl. Then, add some other foods your child has never tried before, like raisins or grapes (cut in half to prevent choking). This combination of different foods will stimulate your child's sense of taste and smell. Plus, they'll get accustomed to the textures of different foods.
Combat pickiness with this fun activity. Make it more engaging by asking your child to describe the foods' different tastes, smells, and textures. Ask them what they like and dislike, and give them praise for trying new foods.
Expose Your Child to Sensory Play Today!
Sensory play is great for exposing your child to unfamiliar sensations. As they grow and develop, they'll undoubtedly need to adapt to their environment. Help them get a head start by having them try one of these fun activities!