If you are trying to avoid the "normal" birthday parties that look like every other birthday party, take a look at this extensive list of 71 kids party ideas. We tried to put together a list that would have some themes that you haven't thought of but the kids would love!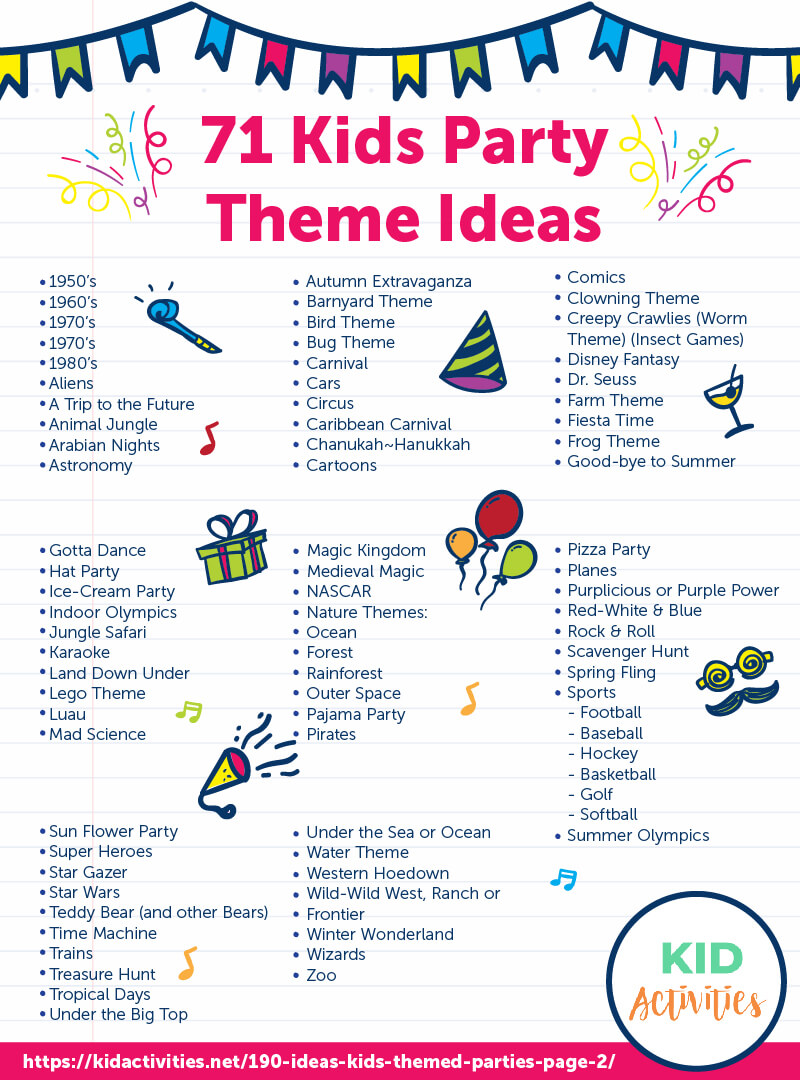 How do you choose a party theme?
The best way to choose a party theme is to start by looking at some of your child's passions and hobbies. Can you write down 10 or 15 things that they love?
Ask yourself these questions:
Do they have a certain toy that they just cannot be without?
Do they always ask for a specific movie, like Toy Story or Frozen?
What sports do they enjoy playing?
What do they like to do outdoors?
Are there specific animals that they are drawn to?
Once you have your list of ideas, are there any that stand out as birthday party themes? When you look at the list, what theme would your little one love the most?
What are some good birthday party themes?
If you went through the activity above and are still having a hard time, browse these birthday party ideas.
1950's – Jukebox, vinyl records, posters, milkshakes, 1950's sunglasses, etc.
1960's – Tye dye, VW Beetles, smiley faces, peace signs, flower power, etc.
1970's
1980's – Rubik's cubes, neon, Michael Jackson, Donkey Kong, Pac Man, Footloose, etc.
A Trip to the Future
Animal Jungle – Animal themed plates, fresh fruit, jungle leaves, and wild animals
Astronomy
Barnyard Theme – Barns, tractors, straw, and animals.
Cars – Get some car-themed decorations, invitations, and RC race track.
Circus – Tents, animal crackers, clowns, popcorn, and Ferris wheels.
Caribbean Carnival
Cartoons
Comics
Clowning Theme
Creepy Crawlies (Worm Theme) (Insect Games)
Disney Fantasy
Good-bye to Summer
Gotta Dance
Hat Party
Ice-Cream Party
Indoor Olympics
Karaoke
Land Down Under
Luau – Hawaiian shirts, pineapple cups, Hawaiian themed plates, invitations, and more.
Magic Kingdom
Nature Themes:
Pizza Party
Planes
Rock & Roll – Guitars, boombox, invitations, microphones, etc.
Spring Fling
Sports

Football
Baseball
Hockey
Basketball
Golf
Softball

Summer Olympics
Super Heroes – Spiderman, Superman, Superwoman, Iron Man, X-men
Star Gazer
Time Machine
Trains – Anything Thomas the train could work.
Treasure Hunt
Tropical Days
Western Hoedown
Wizards – Merlin, Gandolf, Yoda, Etc.
In Summary
Did this help you pick a birthday party theme or a theme for a different type of kid's party? Once you have chosen a theme, it's time to generate some ideas for the party itself.
Things to consider for the kid's party:
Invitations
Food
Entertainment
Decorations
Location
This is where the real work begins. Get your little one involved in the planning process. This will be a great way to spend time with them and there will surely be some teachable moments along the way. You may also be able to find some inspiration by visiting our school theme day ideas.