We made a full list of fun toddler songs to sing with your child, so you can make the best playlist for you and your little one. Music is a great way for your toddler not only to have fun but also to learn! Music is a fundamental part of any childhood, and it's important to find songs that both you and your toddler can enjoy.
Toddler Songs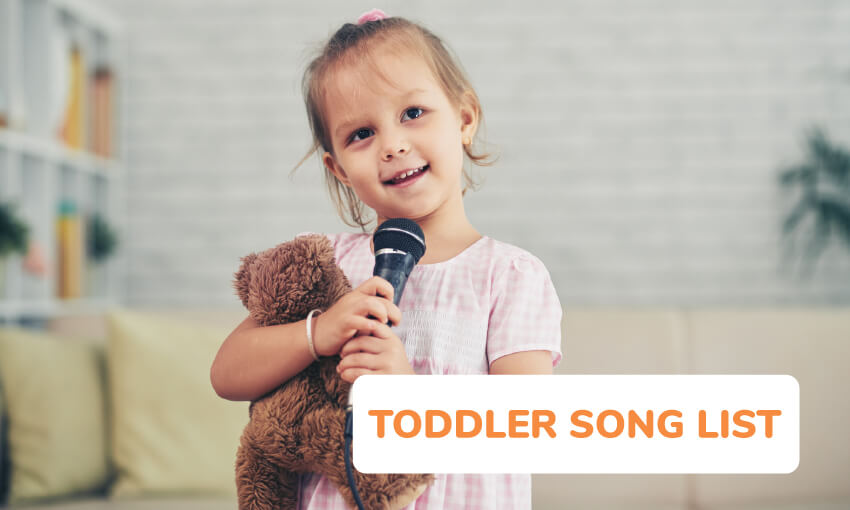 1. The Wheels on the Bus
One of the most popular preschool songs, this one is always a blast, and you can add new and unique verses that you and your toddler come up with together!
2. Head, Shoulders, Knees, and Toe
This silly toddler song is a lot of fun when you add interactive movements! You can teach your child about various parts of their body with this classic tune.
3. Itsy Bitsy Spider
This widely loved song is made even more fun with the hand movements that go along with it to help teach your child fine motor skills.
4. The ABC's
This is one of the best songs to sing with toddlers to kick start their alphabet skills! We suggest using visual aids while singing to enhance their experience.
5. If You're Happy and You Know It
This is one of the best toddler songs for younger children. It helps them learn tactile motions and teaches them about emotions.
6. Little Bunny Foo Foo
Silly toddler songs are simple and fun! This one is a great little story for children to enjoy and have fun singing.
7. Five Little Monkeys
This is one of our personal favorites on our toddler songs list! Five Little Monkeys helps children learn their numbers, and you can make this even more fun by jumping on the bed while you and your child are singing.
8. Old MacDonald Had a Farm
Help your child learn various animals and animal sounds with this never-ending tune. Make this an interactive toddler song by letting your child pick the animal in each verse or by calling out the animal sounds!
9. Twinkle, Twinkle Little Star
Twinkle, Twinkle Little Star is a soothing song for your toddler to sit back and relax. This is a good option for bedtime or any other time you need your child to bring down their energy.
10. London Bridge
We have always loved this interactive toddler song! Multiple children can enjoy playing and singing this song with the associated movements of "falling down" or being "locked up."
11. The Ants Go Marching
Another great counting song to help your child start to learn numbers! March around with your toddler while singing to make it even more fun!
12. Mary Had a Little Lamb
This timeless nursery rhyme is another great option for bedtime or a time when you need your child to calm down.
13. BINGO
Toddlers love this repetitive song because it is full of endless fun! This is a great way to introduce spelling to your child. Create an interactive toddler song experience by encouraging your child to clap along with you as you both sing.
14. Hokey Pokey
Get your toddler moving and grooving with the Hokey Pokey song. This is another great way to teach your children body parts, as well as introduce "left" and "right" to them!
15. Hey Diddle Diddle
Hey Diddle Diddle is a lovely nursery rhyme for you and your child to enjoy. If your child loves animals, they will definitely enjoy this silly toddler song.
16. Five Little Ducks
This sweet song about ducks wandering away from their mother is another great counting song. You and your toddler can also learn the hand motions that go along with it to hone those fine motor skills!
17. Row, Row, Row Your Boat
Toddlers love to sing this endless tune during any time of the day, but especially during bath time! This is a super simple song for young toddlers who are just starting to talk.
18. Baby Shark
Baby Shark is one of the most popular toddler songs of this year, and you have to admit it's pretty catchy! Children everywhere love it, and there are even hand motions to go along with it.
19. Humpty Dumpty
This silly nursery rhyme is a staple of every toddler's repertoire. Keep it interesting by acting out the song with your child!
20. Boom Chicka Boom
This is a fun call and repeat song that the whole family can enjoy! One of the more popular summer songs for preschool, there are also different versions for all kinds of holidays!
21. The Freeze Song
This is another awesome song for teaching toddlers to follow directions. Watch your little one move and shake until the announcer calls "FREEZE!"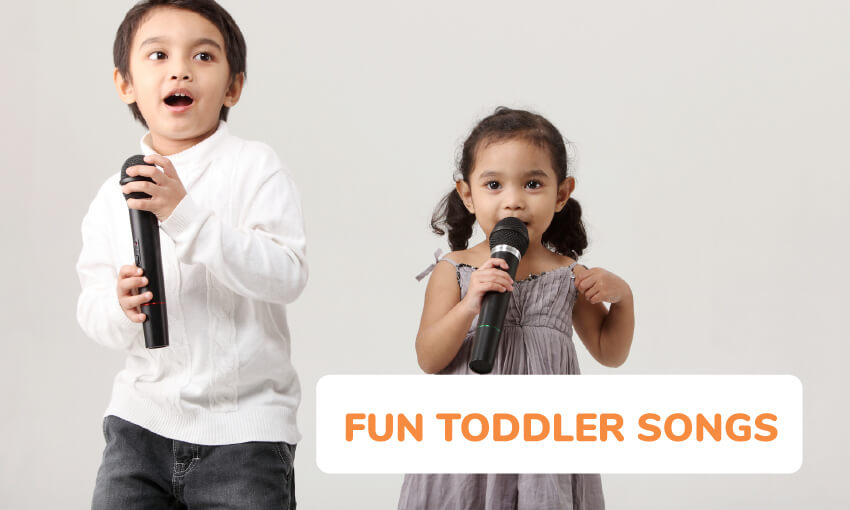 22. We're Going on a Lion Hunt
This silly toddler song encourages your child's imagination! Travel through "deep rivers" and "dark caves" with your toddler to search for an imaginary lion.
23. Baa-Baa Black Sheep
This is a great song for toddlers who are just learning how to talk. You and your toddler can choose which roles to take on in this duet.
24. The Gummy Bear Song
Your toddler will love to bounce around while listening to this song! You can find this song in just about any language, so if you are looking to expose your toddler to different languages this is a perfect pick.
25. Down by the Bay
You might remember this song from your own childhood! It's a great toddler song enjoyable for tots and adults alike.
26. You Are My Sunshine
This sweet, loving song is one of our favorites for bedtime or for when your toddler needs some comfort.
27. This Little Piggy
This Little Piggy is a fun distraction for your child when you need them to focus! You and your toddler can laugh along while you tickle their little toes!
28. Pop Goes the Weasel
Have a blast chasing your child around while singing this fun number! Have them jump up every time you yell "pop!" to make a fun directions game out of this song.
29. Three Blind Mice
Children love this silly toddler song! The lyrics may sound a little gruesome to your adult ear, but toddlers laugh along without a care.
30. Do You Know the Muffin Man?
If your child loves muffins, they will love the Muffin Man. This is another repetitive classic that toddlers adore.
31. This Old Man
Keep practicing those counting skills with this fun rhyming toddler song! Your child will love the silly lyrics, and you make it a fun clapping game, too.
32. Ring Around the Rosy
This one might make you a little dizzy, but your toddler will love spinning around in a circle with you while singing!
33. Do Your Ears Hang Low?
We love this silly song that is filled with endless fun! Sing and dance with your toddler and look online for extra verses to keep the fun going.
34. Yankee Doodle
This nursery rhyme was actually created by the British to make fun of Americans, but is now just a beloved silly toddler song that we all enjoy!
35. Be Our Guest
Are you and your toddler Disney fans? Break the routine of your regular nursery rhymes and sing a song from a family favorite movie!
36. She'll Be Coming Round the Mountain
This high energy fun toddler song is even better when you gallop around! This is another great song to stretch your child's imagination.
37. A Root Chy Cha
This is one of our favorite interactive toddler songs because it is so catchy and fun! This song will help your toddler stretch their memory muscles and practice following directions.
38. This Land Is Your Land
Teach your children about respect and sharing with this American classic!
39. Take Me Out to the Ballgame
If your family loves baseball, this should be a staple of your household! You can sing this song all the way through to ninth inning with your toddler.
40. I'm a Little Teapot
Pretend to be a teapot with your child in this short, silly toddler song!
41. YMCA
This might not have been originally made for toddlers, but they will love spelling out YMCA with you in this energetic, catchy song!
42. How Much Is That Doggy in the Window?
This nursery rhyme song has definitely stood the test of time! It might inspire your child to want a puppy though, so be prepared!
43. Hakuna Matata
We love lighthearted Disney classics, and your toddler does, too! Hakuna Matata is fun for the whole family and will leave you with no worries.
44. Twist and Shout
This oldies song will have your toddler twisting and shouting with joy all day! Plus, it never hurts to expose your child to The Beatles at a young age.
45. The Farmer in the Dell
Children love repetition, and this song is definitely repetitive. It is admittedly quite catchy though, and we love it!
46. Happy
Even though it wasn't intended for children, Happy has become one of the most popular toddler songs. You can't blame your toddler for loving this upbeat, joyful tune!
47. Home on the Range
Break out the cowboy hats and rocking horses with your toddler for this American classic!
48. Do You Want to Build a Snowman?
Frozen swept the nation and won the hearts of toddlers everywhere. If you need a fun alternative to Let it Go, try this song out! Check out some more snowman activities.
49. Pat-a-Cake
Keep practicing those fine motor skills with this classic clapping song!
50. ABC
Jackson 5 songs are always a good time, and you and your child can jam out together! This song also teaches kids numbers and letters in the process.
51. Hush Little Baby
Hush Little Baby will soothe your toddler in any situation. We love how sweet this song is, and it's a favorite during bedtime.
52. Rock a Bye Baby
Grab a baby doll and encourage your toddler to play along with this loving classic!
53. Frère Jacques
Expose your toddler to another language with this French favorite!
54. Hickory Dickory Dock
This silly and fun toddler song will have your child singing until the clock strikes twelve!
55. Happy Birthday
Even when it isn't anyone's birthday, toddlers love singing this celebratory tune. At least you know they'll be prepared when a birthday rolls around!
Your child can listen to these songs on radio, youtube, or on a tablet specifically designed for kids. Want to add some instruments to your singing? Check out our DIY musical instruments for kids. You can find a list of toddler party games and activities as well as some great drum sets for toddlers.