There are many reasons why using nursery rhymes for toddlers is beneficial, and how music contributes to a child development. If it's from pregnancy and showing love and affection in the womb, or using music to calm your baby or young child when he is older.
Nursery rhymes are a great way to interact with young children. They do not only help toddlers develop an ear to sound and language, but also accelerates the development of their brains. Nursery rhymes impact the growth of fundamental skills for school readiness, including literacy, motor skills, intellectual capacity, and social-emotional functions.
Whether you're looking for classic English nursery rhyme songs from your childhood or the most interactive nursery rhymes for toddlers, this list gives it all. Below are the top 11 nursery songs that rhyme (with lyrics!) to sing with your toddlers.
Nursery Rhymes for kids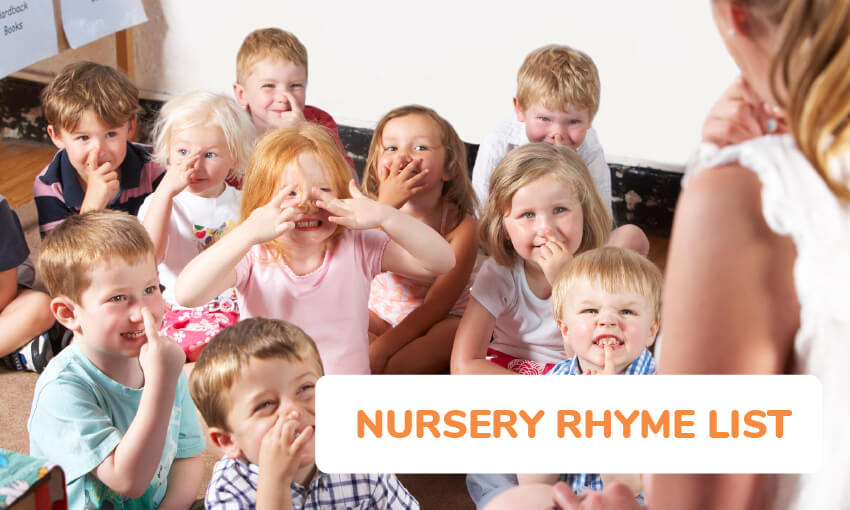 1. Twinkle, Twinkle, Little Star
Twinkle, twinkle, little star,
How I wonder what you are!
Up above the world so high,
Like a diamond in the sky.

When the blazing sun is gone,
When he nothing shines upon,
Then you show your little light,
Twinkle, twinkle, all the night.

Then the traveler in the dark
Thanks you for your tiny spark,
How could he see where to go,
If you did not twinkle so?

In the dark blue sky you keep,
Often through my curtains peep
For you never shut your eye,
Till the sun is in the sky.

As your bright and tiny spark
Lights the traveler in the dark,
Though I know not what you are,
Twinkle, twinkle, little star.

By Jane Taylor
2. The Muffin Man
Oh, do you know the muffin man,
The muffin man, the muffin man,
Oh, do you know the muffin man,
That lives on Drury Lane?

Oh, yes, I know the muffin man,
The muffin man, the muffin man,
Oh, yes, I know the muffin man,
That lives on Drury Lane.

Oh, do you know the ice cream man,
The muffin man, the ice cream man,
Oh, do you know the ice cream man,
That lives on Drury Lane?

Oh, yes, I know the ice cream man,
The muffin man, the ice cream man,
Oh, yes, I know the ice cream man,
That lives on Drury Lane.

Oh, do you know the fruit stand man,
The muffin man, the fruit stand man,
Oh, do you know the fruit stand man,
That lives on Drury Lane?

Oh, yes, I know the fruit stand man,
The muffin man, the fruit stand man,
Oh, yes, I know the fruit stand man,
That lives on Drury Lane.

Oh, do you know the muffin man,
The muffin man, the muffin man,
Oh, do you know the muffin man,
That lives on Drury Lane?

Oh, yes, I know the muffin man,
The muffin man, the muffin man,
Oh, yes, I know the muffin man,
That lives on Drury Lane.

By Ella Jane Fitzgerald
3. Ring A Ring A Roses
Ring-a-ring-a-rosies
A pocket full of posies
A tissue, a tissue
We all fall down

The king has sent his daughter
To fetch a pail of water
A tissue, a tissue
We all fall down

The robin on the steeple
Is singing to the people
A tissue, a tissue
We all fall down

The wedding bells are ringing
The boys and girls are singing
A tissue, a tissue
We all fall down

By Charlotte Lucy Gainsbourg
4. The Wheels on the Bus
The wheels on the bus go round and round
Round and round
Round and round
The wheels on the bus go round and round
All through the town

The wipers on the bus go Swish, swish, swish
Swish, swish, swish
Swish, swish, swish
The wipers on the bus go Swish, swish, swish
All through the town

The horn on the bus goes Beep, beep, beep
Beep, beep, beep
Beep, beep, beep
The horn on the bus goes Beep, beep, beep
All through the town

The doors on the bus go open and shut
Open and shut
Open and shut
The doors on the bus go open and shut
All through the town

The Driver on the bus says "Move on back
Move on back, move on back"
The Driver on the bus says "Move on back"
All through the town

The babies on the bus says "Wah, wah, wah
Wah, wah, wah
Wah, wah, wah"
The babies on the bus says "Wah, wah, wah"
All through the town
The mommies on the bus says "Shush, shush, shush
Shush, shush, shush
Shush, shush, shush"
The mommies on the bus says "Shush, shush, shush"
All through the town

By Verna Hills
5. Row, Row, Row Your Boat
Row, row, row your boat
Gently down the stream
Merrily, merrily, merrily, merrily
Life is but a dream

Row, row, row your boat
Gently down the stream
Merrily, merrily, merrily, merrily
Life is but a dream

Row, row, row your boat
Gently down the stream
Merrily, merrily, merrily, merrily
Life is but a dream

Row, row, row your boat
Gently down the stream
Merrily, merrily, merrily, merrily
Life is but a dream


By Eliphalet Oram Lyte
6. I'm a Little Teapot
I'm a little teapot
Short and stout
Here is my handle
Here is my spout
When I get all steamed up
Hear me shout
Tip me over and pour me out!

I'm a little teapot
Short and stout
Here is my handle
Here is my spout
When I get all steamed up
Hear me shout
Tip me over and pour me out!

By George Harold Sanders and Clarence Z. Kelley
7. Old MacDonald Had a Farm
Old MacDonald had a farm. E-I-E-I-O.
And on that farm he had a pig. E-I-E-I-O.
With an oink oink here.
And an oink oink there.
Here an oink.
There an oink.
Everywhere an oink oink.
Old MacDonald had a farm. E-I-E-I-O.

Old MacDonald had a farm. E-I-E-I-O.
And on that farm he had a duck. E-I-E-I-O.
With a quack quack here.
And a quack quack there.
And an oink oink here.
And an oink oink there.
Old MacDonald had a farm. E-I-E-I-O.

Old MacDonald had a farm. E-I-E-I-O.
And on that farm he had a horse. E-I-E-I-O.
With a neigh neigh here.
And a neigh neigh there.
And a quack quack here.
And a quack quack there.
And an oink oink here.
And an oink oink there.
Old MacDonald had a farm. E-I-E-I-O.

Old MacDonald had a farm. E-I-E-I-O.
And on that farm he had a sheep. E-I-E-I-O.
With a baaa baaa here.
And a baaa baaa there.
And a neigh neigh here.
And a neigh neigh there.
And a quack quack here.
And a quack quack there.
And an oink oink here.
And an oink oink there.
Old MacDonald had a farm. E-I-E-I-O.

Old MacDonald had a farm. E-I-E-I-O.
And on that farm he had a cow. E-I-E-I-O.
With a moo moo here.
And a moo moo there.
And a baaa baaa here.
And a baaa baaa there.
And a neigh neigh here.
And a neigh neigh there.
And a quack quack here.
And a quack quack there.
And an oink oink here.
And an oink oink there.
Old MacDonald had a farm. E-I-E-I-O.

Old MacDonald had a farm. E-I-E-I-O.
And on that farm he had a turkey. E-I-E-I-O.
With a gobble-gobble here,
And a gobble-gobble there,
And a moo moo here.
And a moo moo there.
And a baaa baaa here.
And a baaa baaa there.
And a neigh neigh here.
And a neigh neigh there.
And a quack quack here.
And a quack quack there.
And an oink oink here.
And an oink oink there.
Old MacDonald had a farm. E-I-E-I-O.
E-I-E-I-O.

By Thomas d'Urfey
8. Itsy Bitsy Spider
Itsy bitsy spider went up the waterspout.
Down came the rain
and washed the spider out.
Out came the sunshine
and dried up all the rain
and itsy bitsy spider climbed up the spout again.
(x4)

By Mike and Peggy Seeger ( California Folklore Society )
9. Bingo
There was a farmer had a dog.
and Bingo was his name-o.
B-I-N-G-O, B-I-N-G-O, B-I-N-G-O
And Bingo was his name-o.

Clap!
There was a farmer had a dog.
and Bingo was his name-o.
*-I-N-G-O, *-I-N-G-O, *-I-N-G-O
And Bingo was his name-o.
(* = clap)

Pat your legs!
There was a farmer had a dog
and Bingo was his name-o.
*-*-N-G-O, *-*-N-G-O, *-*-N-G-O
And Bingo was his name-o.
(* = pat your legs)

Pat your tummy!
There was a farmer had a dog
and Bingo was his name-o.
*-*-*-G-O, *-*-*-G-O, *-*-*-G-O
And Bingo was his name-o.
(* = pat your tummy)

Pat your head!
There was a farmer had a dog
and Bingo was his name-o.
*-*-*-*-O, *-*-*-*-O, *-*-*-*-O
And Bingo was his name-o.
(* = pat your head)

Jump!
There was a farmer had a dog
and Bingo was his name-o.
*-*-*-*-*, *-*-*-*-*, *-*-*-*-*
And Bingo was his name-o.
(* = jump)

There was a farmer had a dog
and Bingo was his name-o.
B-I-N-G-O, B-I-N-G-O, B-I-N-G-O
And Bingo was his name-o.

By obscure origin
10. Five Little Monkeys
Five little monkeys jumping on the bed,
One fell off and bumped his head.
Mama called the Doctor and the Doctor said,
"No more monkeys jumping on the bed!".

Four little monkeys jumping on the bed,
One fell off and bumped her head.
Papa called the Doctor and the Doctor said,
"No more monkeys jumping on the bed!".

Three little monkeys jumping on the bed,
One fell off and bumped his head.
Mama called the Doctor and the Doctor said,
"No more monkeys jumping on the bed!".

Two little monkeys jumping on the bed,
One fell off and bumped her head.
Papa called the Doctor and the Doctor said,
"No more monkeys jumping on the bed!".

One little monkey jumping on the bed,
He fell off and bumped his head.
Mama called the Doctor and the Doctor said,
"Put those monkeys straight to bed!"

By Unknown
11. Head Shoulders Knees and Toes
Head, shoulders, knees and toes,
Knees and toes.
Head, shoulders, knees and toes,
Knees and toes.
And eyes, and ears, and mouth, and nose.
Head, shoulders, knees and toes,
Knees and toes.

By Unknown
What a list! As you can see, these nursery rhymes engage children in both song and dance. The easy-to-learn moves and catchy lyrics ensure that you and your child will always have a blast singing, dancing, and learning together. Want some more song ideas? Check out the following: