Snowman Games
Below you will find 7 fun snowman games and activities to help you enjoy the winter. These games are great for preschool, snow-days, or even winter party's.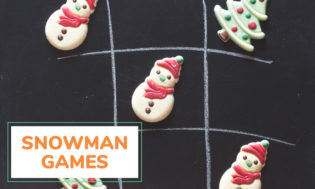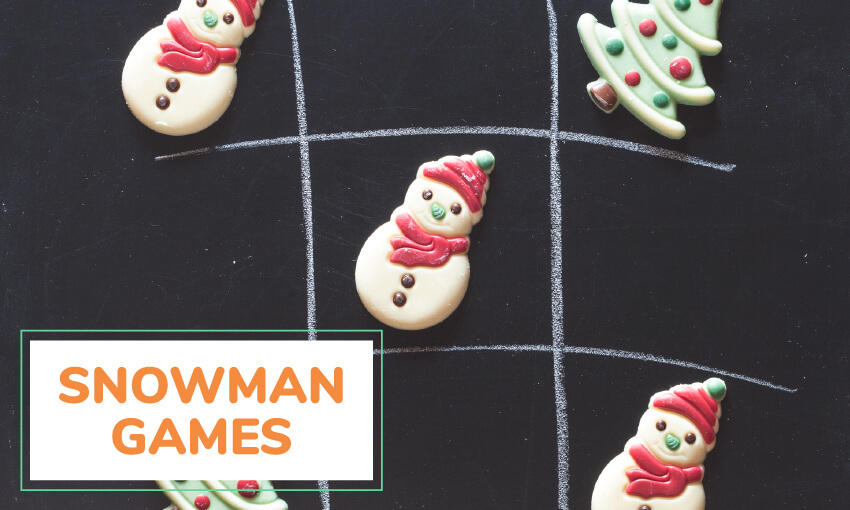 1. SNOWMAN BOWLING
Fill two liter pop bottles with some sand; paint them white and add a snowman face! The children then row a ball at the snowmen and try to knock them down (You can play this seasonal game from first snowfall to last)
---
2. FROSTY THE SNOWMAN
(Team game good for a party)
Supplies:
A roll of toilet paper for each team.
Sheet of orange, black, red and yellow construction paper for each team.
Hat for each team
Scissors for each team.
To Play:
Have several teams of four or five children. When you say, "GO" they should wrap one of the people on their team up in toilet paper (leaving an opening for nose and eyes). Once they've built their "Frosty" they can utilize the hat and construction paper to decorate him. Put a time limit on decorating. Give a prize for the first completed Frosty, most unique Frosty, ugliest Frosty, cutest Frosty, Biggest, Smallest, etc.
Source: kaboose.com
---
OUTSIDE SNOWMAN HAT TRICK
Build a plump, snowman in the yard/play field. Make a game of taking turns trying to land a hat on his head by throwing it Frisbee style from 10 (or age-appropriate) feet away.
---
3. SNOWBALL TOSS GAME
Cut out two large circles in a large piece of cardboard; make it the shape of the bottom of a snowman. Next draw a snowman head on the top…
Give the children white beanbags, white socks balled up, or white paper crumpled into balls to represent snowballs. These are thrown at the snowman target.
You can assign points to the circles.
---
4. PUT THE NOSE ON THE SNOWMAN…
Draw a very large 3-circled Snowman…
Attach it to a wall or door. Draw on his features and put a small black cross where his nose should go.
Cut out carrot-shaped noses from orange card stock …When about to play, attach a piece tape to the back side of the nose.
Blindfold children and proceed as playing "Pin the Tail on the Donkey". You can also play Put the Top Hat on Frosty!
---
FOUR QUICK SNOWMAN ACTIVITY IDEAS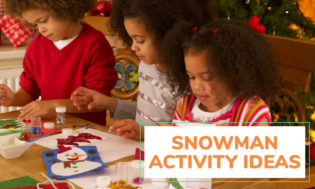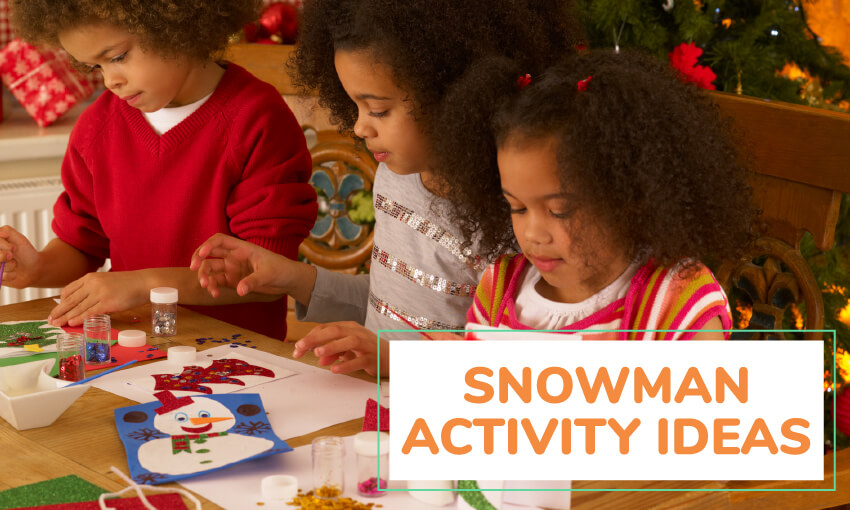 Ball up a white sock of white paper and Play "MELTING SNOWBALL" like Hot Potato
With musical games play the Frosty the Snowman song…lyrics here…
Instead of "Simon Says…" play FROSTY SAYS…" or The SNOWMAN SAYS
MELTING…Have children pretend they are snowmen that are melting.
---
5. SNOWMAN-SNOWMAN WHERE'S YOUR NOSE?
(Played like "Doggie Doggie, Where's Your Bone?")
1. Children sit in a circle.
2. One child is chosen to be the snowman. With eyes covered, that child can sit or stand in the center of the circle.
3.Give a small carrot or an orange carrot shaped pattern to one child.
4. Have the child hide the carrot behind their back. All other children also have their hands behind their backs.
5. All children chant:
Snowman, Snowman, Where's Your Nose?
Somebody took it from your home.
Upstairs, Downstairs, by the phone…
Wake up Snowman, Find your Nose.
6. The child in the center now uncovers their eyes and  guesses which child they think has the snowman's nose. The 'snowman' gets up to three guesses.
7. The child who is holding the snowman's nose, now becomes the new snowman in the middle!
---
6. STUFF A SNOWMAN
Need:
Balloons-Amount depending on the number of groups you will be having)
Extra large white sweat suit or a large white T-shirt.
1. Inflate balloons in advance.
2. Divide kids into teams of equal number of players.  Have one of the group put on the suit or tee shirt over their clothes.
3. Teammates are given the task of stuffing the suit with balloons. 4. Set a timer for two minutes and see how many balloons the team can stuff into the outfit before the time is up.
5. The next team of Snowman stuffers tries to top the previous record.
---
7. 'DRESS LIKE A SNOWMAN' RELAY
1. Put together 2 boxes of items that a snowman would wear.  Be sure to include scarves, hats, gloves/mittens, boots, large buttons with double sided tape on the back and brooms.
2. Make a carrot nose using orange felt and elastic so the kids can put it around their heads over their own noses.
3. Divide the children into two groups with each forming a line.
4. Have each player run to the box; put on the snowman clothing and hold the broom.
5. After putting on all the clothing – kids must perform a quick snowman shuffle…take everything off and run back to tag the next person
---
HAVE FUN WITH ALL THE "SNOWMAN" & WINTER PAGES!