Snowman Craft Ideas
Enjoy these fun snowman craft ideas with your preschool class. These simple arts and craft ideas are sure to provide hours of entertainment.
1. PAPER PLATE SNOWMAN Simple Craft...

Materials:
2 white paper plates (a small and larger)
Construction paper (black, red) or wrapping paper
An orange pipe cleaner or orange paper (for the nose)
A short length of yarn or ribbon
Hole punch
Marker or crayons
Scissors
Glue
Optional: Googly eyes, large buttons
Glue the two plates together to make a basic snowman.
Use  the round stickers (or google eyes) for the eyes, mouth. Add buttons or decorate as above with pipe cleaner.
From  scraps of card stock– cut two twig arms (or use pipe cleaners as image shows), mittens, a carrot nose and a scarf. Glue these to your snowman. Add a hat and he's done!
---
2. USE MARSHMALLOWS to paint snowmen
Children dip the marshmallow in paint and use them as a stamp for snowmen...
---
3. NON-SNOW SNOWMAN
Fun with packing peanuts—-Snowman and Igloos
Some packing peanuts are great for building because they have a cornstarch base.
Have children build a snowman by moistening the peanuts and sticking them together. Add eyes, nose, etc. for character out of whatever bits you have around!
I've read how one program puts them outside on the playground when it rains. It may take a few days, but it will dissolve! Also, use the peanuts to build igloos and other projects. 
---
4. SOCK SNOWMAN  Stuff clean white socks with dried beans, peas, coffee beans, or small rocks rubber banding off sections as you fill them. Finish the tops by rubber banding it shut.
Glue with hot glue; glue on the toe of a colored sock for a hat, turning up the edge.
Decorate with markers; glue on buttons for eyes; cloves for buttons…
---
5. STYROFOAM SNOWMAN
Materials:
3 Styrofoam balls of different sizes
Tothpicks or sticks
Decorations such as buttons, orange pipecleaners, felt/faabric pieces, black pom-poms, glue-gun, etc.
1. Shave the bottom off the largest ball with a knife so it will stand.
2. Using a gluegun, attach the middle sized ball and then the smallest ball for the head.
3. Embeliosh the snowman by adding toothpick or stick arms and buttons. Twist an orange pipecleaner into a carrot nose. Add felt or fabric scrap for a scarf; black pom poms for the eyes and mouth
---
6. SOAPY SNOWMAN Using a grater, grate soap such as Ivory. Add a couple tablespoons of water and mix into a ball using hands.
Take the soap out of the bowl and separate it into three sections- one small, one medium, and one large. Roll each section into a ball and stack the balls to form a snowman. If necessary, rub a little water on the soap where you are joining the pieces.  This will help it stick.
Add eyes and a nose using spices. You can use toothpicks for the arms and fabric for a scarf. Let harden.
---
IDEA: CARVE SNOWMEN out of a bar of Ivory soap…
---
7. SNOWMAN FINGERS
Isn't this Cute! For young children but cute anyway!   Sample Photo Courtesy of Cere Child Care and Pre-School. Place child's hand in white paint make a handprint on colored paper. When dry–add top hats, facial features and buttons down the snowmens' chests!
---
8. SPONGE PAINTED SNOWMEN
Materials:
Sponge circles cut in a variety of sizes
Washable paint
Thinned washable white paint
Paintbrushes
Dark construction paper
Preparation: Cut various-sized circles out of sponges.
Time: 15-30 minutes
Directions:
Choose a large, medium, and small sponge. Dip the large sponge into thinned white paint. Do not get too much paint on sponge! Stamp largest shaped on bottom of page. Stamp medium circle above it, and small above that…., to create snowman shape. Paint features and other accents on with a paintbrush.
---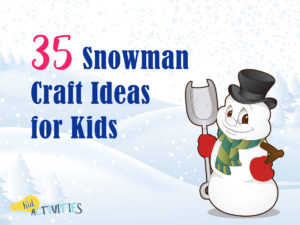 9. COTTON BALL SNOWMAN (On paper) 
Need:
Cotton balls
Clear contact paper
Construction paper
Scissors
Stapler
Cut three circles from clear contact paper. The circles should be in three different sizes ranging from a diameter of 1 1/2 – 2 inches to 4 1/2 – 5 inches.
Staple the contact paper, backing side up, to the construction paper to form a snowman shape.
Peel off the backing and stick cotton balls to the contact paper to cover the snowman.
If you like, cut additional snowman features such as a hat or carrot from construction paper and glue to the snowman.
---
10. BALLOON STAMPED SNOWMEN
Materials: White Paint,  Balloons,  Paper
Give children three balloons –one big, one medium, and one small. Roll the balloons in white paint and then place them on a piece of paper to make a snowman. They can add features, scarf and a top hat with paint. A cute touch is to add froot loop cereal for the buttons! Be sure to have extra to munch!
---
11. PAPER BAG SNOWMEN
Materials:
White paper craft bags or painted white lunch bags (Need two bags for each snowman)
Newspaper
Markers or paint
Other decorations as desired
1. Ball up  newspaper and stuff it into one of the lunch bags.
2. When a bag is full, take an empty bag and pull it over the stuffed bag.
3. Cut pieces of yarn and wrap them tightly around the middle of the bags (or below where the head would be) to form the top and the bottom sections of the snowmen.
4. With markers or paint-decorate facial and body features as desired. No two snowmen will be alike! (Samples and image by KidActivities)
---
12. SALT DOUGH SNOWMAN ORNAMENT
Salt dough is fun to make as well as to model with. This salt dough snowman makes a nice Christmas present or tree decoration. Left-over dough can be kept in the refrigerator for about five days.
Materials:
6 tablespoons plain flour
3 tablespoons salt
Mixing bowl
3 tablespoons water
Pastry board
Baking parchment
Rolling pin
Blunt knife
Drinking straw
Baking sheet
Acrylic paint in shades of white, orange, green, red, and purple
Medium and fine paintbrushes
Narrow ribbon
Mix the flour and the salt in the bowl. Gradually add the water until you have a firm, pliable dough. Set aside for ten minutes.
Place the dough on the pastry board and roll a 4 cm (1½ in) wide ball for the body and a 3 cm (1¼ in) wide ball for the head. Flatten the body and head.
Lay the body and head on baking parchment, butting them together.
With the rolling pin— roll a scrap of dough to ¼ inch  (5 mm) in thickness. Cut a rectangle about 1½ x 1¼ inches (4 x 3 cm) for the hat. Press to the head.
Roll four logs 1 cm (½ in) thick. Lay one across the hat as a brim. Lay another across the 'neck' as a scarf. Lay the other logs at angles to the scarf, touching at the top, and dent the ends for a fringe with the knife.
Roll three small balls of dough; press one to the head as a nose, the others to the body as buttons. Make a hole at the top of the hat with the straw.
Place the snowman on baking parchment on a baking sheet. Place in a preheated oven 250 degrees Fahrenheit, for about 6 hours, until hard. Leave to cool in the oven.
Paint the snowman's body white. Paint the hat, scarf, nose and buttons. Add a smile and two eyes. Leave to dry then thread the ribbon through the hole and tie.
---
13. JUMBO CRAFT STICK SNOWMAN
Materials are per child…
7 Jumbo craft sticks
White and Black paint (you may want to spray-paint the sticks before hand)
Decorative ribbon about 5inches long (for hat)
2 Large wiggle eyes
5 small rocks (about 1/4 inch diameter) or buttons. Snow-plow cinders are the perfect size.
Orange craft foam, felt, or construction paper
Black Marker (optional)
Scrap of cardboard about 3-3/4inches wide x 5″ high
Hole punch
Scissors
Hot glue and hot glue gun or white glue.
Directions: You can save time and mess by pre-painting the sticks. Complete steps 1, 2, 3, and 4 ahead of time. If you plan to have the children paint the craft sticks, glue the sticks to the cardboard first (steps 6 and 7), then start at step 1  
Paint six craft sticks white.
Allow the paint to dry.
Paint one of the craft sticks entirely black.
Paint the top 2 inches of the six white sticks black (to form the hat)
Allow the paint to dry completely.
Make two vertical cuts about 1in long in the top of the center of the cardboard. Fold slightly to make a flap as illustrated. Punch a hole in the center of the top of the flap of cardboard (to hang from a nail).
Glue the six white craft sticks to the cardboard scrap as shown.
Glue the black craft stick down to create the brim of the hat, as shown.
Glue the wiggle eyes on to the snowman's face.
Cut out a triangle of orange craft foam (the carrot nose)
Glue the carrot on to the snowman's face
Wrap the ribbon around the brim of the hat and glue the ends in place on the back.
Glue each of the small stones or buttons to the snowman's face in the shape of a smile.
---
14. TP COTTON BALL 'FROSTY THE SNOWMAN' …
Supplies:
cotton balls
glue
paper punched black circles
toilet paper roll
Spread glue all over the toilet paper roll with a paint brush. Next cover the entire roll with cotton balls. Add black eyes nose and a mouth. Cut a desired shape hat in any color.
---
15. TP SNOWMAN
1. Cut a paper towel roll in half. (Or use a toilet paper roll.)
2. Paint it white.
3. Make a hat using an old baby sock! (Another good thing to add to your items on. Cut the sock and use the 'toe' part.
4. You can make a scarf by braiding several strands of yarn–or by cutting a piece of felt or material.
5. Last, draw a face, cut out a carrot nose, and assembled the snowman. As Sandy (our gracious source) from Just4fun says, Are they not the cutest?! B
---
16. SHAVING CREAM SNOWMAN
It doesn't have to snow to make a snowman! Cover your table with plastic, and then spray several cans of non-menthol shaving cream on top. Kids have fun making snowmen–pretending it's snow! You may want to have them wear shirts or aprons over their clothing; cleanup is simple!
---
17. PUFF PAINT SNOWMEN
Make Puff Paint by mixing equal parts of glue and non-menthol shaving cream.
Then using white paper (or roll paper if you want to make a large group snowman mural)…
Cut out 3 circles: one small, one medium, and one large. Glue them onto blue construction paper.
Decorate the snowman and scene with collage materials. When complete, have children paint onto the snowman. User popsicle sticks, q-tips, plastic spoons, fingers, etc. to paint. When dry, hang for puffy snowman decorations!
This is also a good mix for a polar bear! Food coloring can be added to this mixture…
---
18. JUST A PUFFY SNOWMAN…and more
This more simple snowman on the right– also was made with a mixture of equal parts of white glue and non-mentol shaving cream  You just may find that when doing projects such as this— kids will turn it into a complete sensory event!
It has never failed that my 3 to 6 year olds (and many older) — love the entire  tactile experience.
They'll start out with the project at hand and then….well…check out the image!
Whether it's plain old foaming shaving cream, finger paint, or this concoction-experimentation ultimately ends up like the photo on the left…Images by KidActivities.net (Snowman by Bria age 4–was also very proud that she learned to make 'star-shaped' snowflakes. Yes, she liked them 'black'.)
---
19. SNOWMAN MAGNET
Need:
3 white pom-poms (about 1/2-inch round)
2 wiggle eyes
Red sock or felt
Black felt
Thin marker
Tacky glue or hot glue
Tip of an orange crayon or piece of clay,
Felt or construction paper
Popsicle stick or piece of cardboard
Magnet strip with adhesive or jewelry pin
1. Take 3 pom-poms and glue across Popsicle stick.
2. Take red sock or felt and cut a 1/2-inch x 8-inch strip. Tie the "scarf" around the snowman's neck.
3. Glue on wiggle eyes.
4. Cut "buttons" out of edge of black felt and glue on as snowman's eyes.
5. Depending on the type of nose you want for your snowman, cut out orange felt, or construction paper—or a piece of clay in a carrot shape.
6. Cut a rectangle out of black felt 3 x 4 inches long and glue the short ends together to make the hat. 7.Trace around the top of the hat to make a circle to fit. Cut out and glue on one end of the hat.
8. Trace around the bottom of the hat, making the circle slightly larger to make the brim. Cut out.
9. Stuff the hat lightly with felt scraps to help it keep the shape.
10. Glue the brim to the bottom of the hat. Glue the hat onto the snowman's head and anchor onto the Popsicle stick.
11. Glue a magnet strip to the back of the Popsicle stick and let dry.
---
20. MELTED SNOWMEN
Glue
Wax Paper
Twigs
Pipe Cleaner (orange)
Googly Eyes
Yarn
Glitter
1. Give child wax paper with a puddle of glue (glue is the actual snowman)
2. Have children place twigs (arms), orange pipe cleaner (nose), googly eyes, & yarn (tied for hanging) in the glue
3. Sprinkle rainbow white glitter on the glue
4. Let the snowmen sit for 2-3 days
5. Once dried– melted snowman should pull right off of the wax paper … hang them about the room
---
21. OPEN ART TABLE~ Put out the white and black paint, blue, black ,white, and orange construction paper, art paper, a bit of ribbon and/ or material and see what the kids come up with! This sample image is courtesy of Shannon Stewart, Art Teacher atStetson Hills School in Phoenix. The work is that of a third grade student.
---
22. PAINT STICK SNOWMAN
Materials:
1 paint-stirring stick
White, black and orange Tempera paint
Strip of winter fabric for the scarf
Blush make-up for the cheeks
Small strip of thin wood (or foam) for the hat brim
Hot glue gun or Elmer's glue
Heavy string or yarn to hang ornament
Bit of greenery or a bell for hat decoration
1. Using a clean new stirring stick, paint the majority of the stick white, leaving some space at the top to paint black for the hat.
2. Paint the top of the stick and small strip of wood black.
When all the paint has completely dried, glue the black strip of wood to the hat.
3. Use the Tempera paint to make the face and buttons.
4. Tie the material around the narrowest part of the stick, which is the neck of the snowman.
OPTIONAL: Glue some decorative greenery, holly, or bell to the hat.
Glue the yarn to the back of the hat forming a hanging loop.
Let dry overnight. (Photo and idea from Kansas City Public Library)
---
23. POPCORN SNOWMAN
Print a picture of a snowman for each child.
Prepare popcorn.
Dip popcorn in corn syrup and stick it to the snowman silhouette. Let dry.
Use fishing wire, string, or yarn to hang.
---
24. BUBBLE WRAP SNOWMEN
Need:
Bubble Wrap
White Paint
Construction Paper
Cut circle shapes from bubble wrap. Press the wrap into the white paint—next press the painted wrap on the paper. Press the circles 2 or 3 on top of each other to look like a snowman. The snowman will look like it is made from snowballs. Decorate the dried snowman as desired.
---
25. SNOWMAN STAMPING with BUBBLE WRAP
Need:
Packing bubbles, paint, dark paper
Directions:
Use packing bubbles to make a snowman.
Cut the bubbles in to a snowman shape
Paint the bumpy side with white tempera and press onto dark paper.
---
26. GIFT WRAP WITH SNOWMEN…
Monica from The Homespun Heart states that her favorite gift wrap is brown craft paper and twine. (This snowman gift image appears  to be wrapped in felt.) Some of the many items Monica incorporates into her wrapping are "… pages from old books, mini clothespins, magazine pictures, felt scraps, sticks from the yard, buttons, ribbon and sewing notion scraps." When wrapping gifts with children, the wrapping procedure is an artistic endeavor in itself! 
---
27. PAINTED WINDOW  SNOWMAN …using liquid tempera and liquid dishwashing detergent
For this Snowman scene…KidActivities mixed equal parts of liquid tempera paint with liquid dishwashing soap. The mixture is a little watery…so be sure to cover floors and have paper toweling nearby. The drips of paint wipe up easily.
The 'snowman' was made with a circular motion of the brush.  The other parts (hat, stick arms, scarf, facial features) of the scene were used with a stippling effect of the brush. As above…be sure each color dries before you paint over the first.
The snowflakes on the window were used by simply placing a finger in the paint and lightly touching to the glass. To prevent dripping, be sure not to use too much paint on the brushes or the fingers. (Image by KidActivities.net)
Good News! My 'Snowman Friend' easily washed off the door–just using a wet cloth!
This smaller image of a snowman is my 'friend' painted on door for December, 2012 and January, 2013! I'm getting better at it! (Image by KidActivities.net)
 NOTE: there is also another 'Window Paint Recipe' using dry tempera on the paint and coloring pages
---
28. SNOWMAN SPOON-A 1-2-3 Activity
You need:
White plastic spoon (round part is the face)
Scrap of orange craft foam, felt or card stock
Scrap of black craft foam, felt or card stock
Felt or ribbon for a scarf
Black beads or stickers
Marker pen and white glue that will attach to plastic
Instructions:
Cut the appropriate nose and hat shapes out of your scraps. Using tiny dabs of white glue, attach the features carefully. Use a marker pen to draw a mouth.
---
29. SHREDDED COCONUT SNOWMAN

Place glue on a piece of paper in the shape of a snowman.
Have the children add coconut to the paper.
Use raisins for the eyes and buttons
---
30. MELTED SNOWMAN PIN
Caution-this one is for older kids…
Simply put a glob of hot glue  onto a sheet of wax paper. While glue is still warm-place eyes, nose and mouth. When melted snowman is firm, peel it off of wax paper and glue on pin backing.
(Image by KidActivities.net) NOTE: Eventhough the pin is small, it took most of a hot glue stick
---
31. PEANUT BUTTER JAR SNOWMAN #1
Materials:
Peanut Butter jar
Cotton Balls
Orange card stock or foam
Add features with twigs, pipe cleaners, buttons, or pom-poms
Fill the peanut butter jar tightly with cotton balls. (The cotton will hold the features in place.)
Slide a carrot shaped nose–button or pom-pom eyes–and button or pom-pom buttons down the inside of the jar. Add small twigs from outdoors– or pipe cleaners for the arms.
You can finish off by making a top hat from construction paper as in the sample. (Direction are below in Snowman Jar #2.)
I've also seen this project with a pre-made bow on top of the cap! The bow would be much easier if doing this with young children. (Image and sample by KidActivities uses pom-pom buttons, button eyes, and pipe-cleaner arms. Hat is a combination of black craft tape and construction paper.) Image by KidActivities.net
---
32. PEANUT BUTTER JAR SNOWMAN #2
1. Fill a peanut butter jar with cotton and replace the lid.
2. Make a scarf either from paper or material. Glue the scarf just above the center part of the jar. (This creates head and body separation)
3. Complete decorations by adding facial features, buttons, and an orange pipe cleaner nose.
4. To make the hat, first glue construction paper around the edge of the lid.
Next, cut a rectangle from construction paper and glue or staple it into a tube. Glue this onto the paper that is on the lid. (Leave an edge so it appears to have a brim.)
5. Finish of the top hat by cutting a circle to fit on top of the tube. Glue it in place. (It may be easier to glue to top to the tube-before gluing down the tube)
---
33. MINI 'MARSHMALLOW' OUTLINED SNOWMEN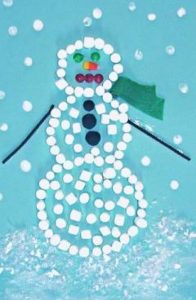 Draw three circles on heavy construction paper or card stock. Make the face as desired. 
For eyes, 'KidActivities' used google eyes on one… and M&M's on the other.
Left-over corn candy makes the nose. (The eyes and mouth could also be drawn in with marker–and orange construction paper for the 'carrot nose'). Buttons are actually made with buttons on one and pom-poms on the other
To continue, outline the circle shapes with marshmallows. Add Popsicle sticks, Pretzel sticks, twigs or pipe cleaners for arms–and a bit of ribbon or cloth for a scarf!
As illustrated–snowman can be filled in with marshmallows as well as finger print snow flakes and artificial snow or shredded coconut added as desired. Put out a variety of supplie and see what the kids come up with! 
TIP: Activities of this type are great in building counting skills. Have children count the marshamallow they use …Be sure to have extra marshmallows and M&M's for the kids to munch on!  Plain snowman is on 9X12 paper…Marshmallow filled in snowman is 11X14 (Images by KidActivities.net)
---
34. SNOWMAN DISPLAY FOR A DOOR OR WALL…
Make a large snowman holding a banner that says:
IT"S "SNOW" SECRET…SAC (or grade ____) IS "COOL"!
Hang shiny blue wrapping paper on the board or door and put the snowman in the middle. Then have each child cut out a snowball and sign it. Scatter all the snowballs around the door or board.
It should look like it was the target of a major snowball fight! It's something you can leave up from first snow to last snow!
---
35. FROLICKING SNOMAN DISPLAY BOARD
Material: Hot glue gun/glue sticks, small beads, bit of carrot-shaped nose and pin backing…
'FROLICKING SNOWMEN' DISPLAY BOARD
Put three jolly snow fellows on a blue background. Stand them on white drifting "snow."
One is juggling snowballs; the middle is about to throw a ball; the last is  'mid-flip' while jumping rope!
All are smiling — have a long construction-paper carrot nose and apple-red cheeks. Thank you to Upton Elementary School-Royal Oak, Michigan for sharing…(Photo by KidActivities)
HAVE FUN WITH OTHER SNOWMAN AND WINTER PAGES!
SaveSave