Construction Party Games and Activities
When it comes to parties for children, finding just the right theme can sometimes be a challenge, especially when they're still toddlers because their likes change daily. Don't sweat it though, because even if you need to combine the themes, it will all work out.
If your little one is asking for a construction party theme, you've come to the right place. We've put together a list of 15 construction party games and activities for kids that will sure to be a big hit.
No matter if the party will be indoors or out, most of the games and activities can be enjoyed either way. Some of the games can start at the arts and crafts table and end in a competition. We even came up with a way that you can make a decoration into fun, and for more excitement and fun, we've thrown in a great costume idea too!
Everything you need is right here in this list of construction party games and activities guaranteed to make it a day full of fun. You will never hear those famous "I'm bored" words coming from their mouths during this party.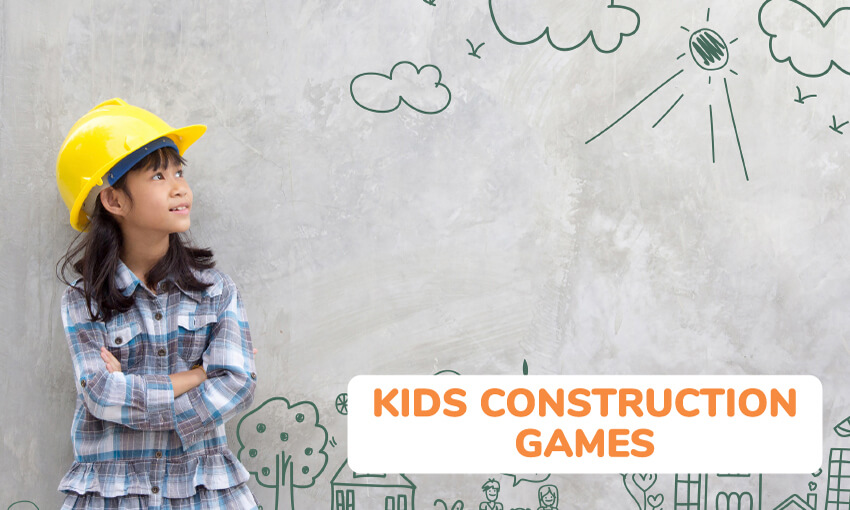 1. Toss the Rocks
Every party has a game like this one, so why not include it into the construction theme? 
Supplies
Bean bags to be used as rocks
Sturdy dump truck
Line the players up in a single file. Place the dump truck a fair distance for the age of the children. Using three or four bean bags, each person should take turns throwing them into the back of the dump truck. The person who gets the most "rocks" in the back of the truck wins. For smaller kids, consider using only one or two bean bags and give a prize to the ones who get their "rocks" closest to the truck.
2. Foreman Says
This game is played like Simon Says except the Foreman will replace Simon.
Supplies
The Foreman must say "Foreman says" for the others to perform the action. If they perform the action and the foreman doesn't say, that person is out of the game. The last person standing wins the game. This would be best played with children ages 4 or 5. The foreman could ask the group to perform such things as dig a hole, saw some wood, or hammer a nail.
3. Tape the Builder
In this game, the teams will race to be the first to completely tape up their foreman.
Supplies
Last update on 2023-12-07 / Affiliate links / Images from Amazon Product Advertising API
Divide the kids into two teams. Choose one person from each team to be the foreman. Provide each team with a roll of caution tape that they will use to wrap around the foreman. The first team to completely cover the foreman wins. 
4. Playing in the "Dirt"
Every child enjoys playing in the dirt, so this activity would make the perfect ending to your child's construction party.
Supplies
Last update on 2023-12-07 / Affiliate links / Images from Amazon Product Advertising API
This one is simple, but it can get a bit messy, so it would be best for an outdoor party and you might want to make this the final activity of the day. Just fill up a kiddie pool with sand and toss in some toys. Allow the children to use their imaginations while they play in the "dirt."
5. Little Builders Construction Game
This is another fun building game for kids. If you can't set it up outdoors, then you will want to tweak it so that it's suitable for indoor play.
Supplies
Cardboard boxes
Basketball
Plastic grocery bag with handles
Replicate a building by stacking up boxes on a flat surface. Place a basketball inside a plastic bag and tie it by the handles from a sturdy tree limb or other similar feature. Line the children up and allow each one to take three swings at the ball. Keep track of how many boxes each child knocks down and then restack them for the next player. The one who knocks down the most boxes wins. 
6. Guess the Tool
This game will implement learning while the kids have fun doing it. Not only is this a great party game, but you can also include it in your indoor activities for a rainy day. 
Supplies
Variety of tools
Toolbox
Blindfold
Place one tool in the toolbox and, while blindfolded, each child should take a turn putting their hand in the box to guess the tool. As they guess the tool that's in the box you can also ask them if they know what the tool is used for. When each child has had a turn, you can place another tool in the box and start the game again. The player with the most correct answers wins the game. Consider construction zone silicone wristbands as prizes for this game.  
No products found.
7. Little Builders Construction Activity
This is another fun building activity for the kids to do at a party or on a rainy day, and they can use things around the house to develop their creations.
Supplies
Popsicle sticks
Toothpicks
Cotton balls
Construction paper
Cardboard
Shoe boxes
Glue
String
Markers/Crayons
The kids can use so many different things to construct their buildings. Put them around a large table to allow their imaginations to go to work. There isn't a prize for this activity, but there will be a lot of fun and in the end, the kids will be proud to show off their creations.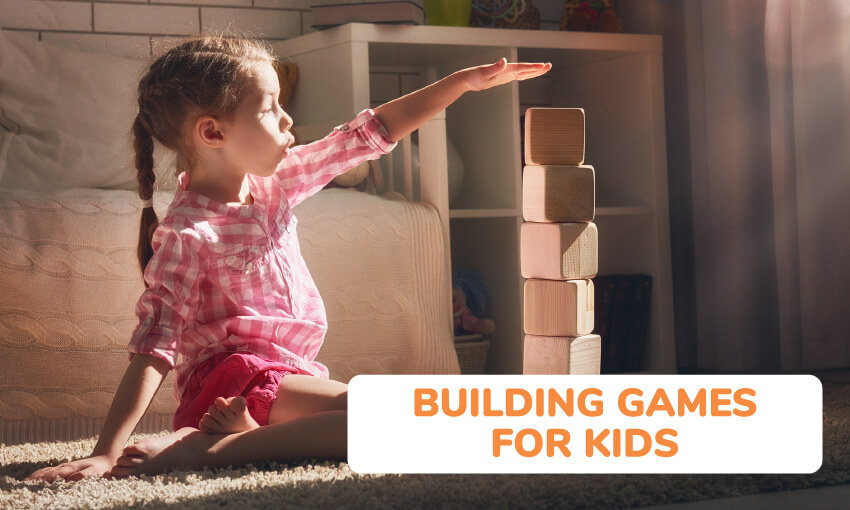 8. Wrecking Ball Bowling
Children love bowling games, so you should consider working a bowling game into your construction party theme. It's a fun game and a great way for your children to develop their gross motor skills. 
Supplies
Empty paper towel rolls
Orange and white construction paper
Orange or black playground ball
Allow the kids to participate in making the bowling pins for this game. Set up an arts and crafts table and ask them to decorate the empty paper towel rolls using the orange and white construction paper. When they've completed the pins, set them up on a hard surface, outside if possible. Allow the children to take one turn each throwing the ball to knock down the pins. The player who knocks down the most wins.
9. Sand Bucket
This is the perfect outdoor construction game that is not only fun at parties, but it's also a great team building exercise.
Supplies
Sandbox or a kiddie pool
One sand bucket per team
One spoon for each player
Fill the sandbox or the kiddie pool with sand. Divide the group into two teams and provide each team with a bucket and each team member with a spoon. Each team must work together to scoop the sand into their bucket using their spoons. The teams will race to see which one will fill their bucket first. The team who fills their bucket first wins. Be sure there is plenty of room for the teams to work.
10. Wheelbarrow Race
This isn't the traditional wheelbarrow race that you might remember from your childhood where each team raced to win by using their teammates as wheelbarrows. With this race, there will be actual wheelbarrows involved.
Supplies
One toy wheelbarrow per team
A lot of Styrofoam bricks
Divide the children into two teams and line them up in a single file. Place a pile of bricks at the opposite end of each team. The first person in the line of each team should run with the wheelbarrow to the bricks. Each player must pick up the bricks using only their hands and fill up the wheelbarrow. When the barrow is full, they should then run back to the end of the line, dump the bricks and hand off the wheelbarrow to the next teammate. Play continues until the brick pile has been moved to the opposite end. The first team to get all their bricks moved wins. 
Last update on 2023-12-07 / Affiliate links / Images from Amazon Product Advertising API
If you're going to throw a construction themed party, then you need to have the costume to go with it. This set, available on Amazon, includes eight hats made of soft plastic and eight vests to match. Kids love to play dress-up so complete the party by providing your little builders with these pretend uniforms.
12. Mini Construction Zone Tote Bags
Last update on 2023-12-07 / Affiliate links / Images from Amazon Product Advertising API

With all the prizes they will win, the kids will need something to keep them in. These construction bags are the perfect addition to the party. They're not large, they're only 6"x 6" but that's perfect for little hands. They can use these for their prizes, or you can make these the goody bags they can take home with them. The best part about these bags, the kids can use them long after the party is over! 
13. Pull Back Construction Trucks
Laxdacee Pull Back Car,12 Pack Assorted Mini Plastic Construction Vehicle Set, Car Truck Toy for Kids, Boy, Girl, Child Birthday Party Favors, Goody Bag, Prizes, Pinata Filler Supplie
Car toy: This pull back car contains 12 pieces in total,including Clay cart, Fuel tank car, Dumper,Mixer,Road roller, Excavator,watering cart, Fire Engine,etc.
Easy to play: Pull back vehicles,pull back and go cartoon car increase fun when playing,suitable for kids to learn more about car and truck.And each of our toys is extremely easy to use.
Last update on 2023-12-07 / Affiliate links / Images from Amazon Product Advertising API

Each construction truck in this pack of 12 is only 2- inches in size which makes them perfect for little hands. They can pull them back and let loose to watch them roll across a hard surface. You can use these trucks for the playing in the dirt game or use them as favors to include in the construction zone tote bags. You can even consider these as party decorations.
14. Bulldozer Construction Pinata
No products found.
Add a pinata to your list of construction party games. You can fill it with three pounds of candy and prizes, hang it by the sturdy cable tie provided, and use it as a decoration before breaking it open.
Supplies
Pinata
Ball Bat
Blindfold
Line the children up and while blindfolded, each one can take a turn swinging at the bulldozer with a bat. To make things harder you could spin each player once or twice before they swing. You might also have fun moving the pinata up and down or back and forth while they're trying to break it open. Once the bulldozer is broken the kids can dive in for the goodies.
15.  Help Engineering Vehicle Find Parts Game
Last update on 2023-12-07 / Affiliate links / Images from Amazon Product Advertising API
This one is just like Pin the Tail on the Donkey only with a construction vehicle. The object is to get the vehicle part in the right place while blindfolded. The person who gets it spot on or comes the closest wins the game. This game includes the poster, 24 vehicle parts stickers, and a blindfold. It isn't a party if it doesn't include a pin on the game.
Additional Party Tips and Suggestions
Now that you've got the construction party games and themes covered you will need to plan the party food and snacks and don't forget the invitations!
Last update on 2023-12-07 / Affiliate links / Images from Amazon Product Advertising API
Here are a few more suggestions and tips for planning the construction party for your kids:
Before planning the games and activities, think about the ages of the children. If you're planning a party with mixed ages, you might consider pairing the smaller children with the older ones. All the games on the list can be created to fit any age, even the older kids can enjoy the pinata and the vehicle parts game, just make it a bit more challenging.
Make sure the kids have dressed appropriately. If you're planning a sand game, make sure the parents know ahead of time so they can plan accordingly. The same things go for water games, you might even ask them to bring a change of clothing just in case. This is important if you're planning a party with toddlers.
If you're on a budget and you want to include the little builder's construction activity in the party, you could ask the guests to bring their own supplies. This is also a good idea if you need a kiddie pool or sand, your friends won't be offended if you ask to borrow some things to help you create your theme.
No matter if the party is indoors or out, don't forget to practice safety first. Be sure the children have plenty of room to play games and activities. Keep things away from a swinging pinata that could get broken and be sure the kids stay out of each other's way when they're playing such games. If the children are blindfolded be sure they each have a guide, you don't want anyone to get hurt.
Now that you have this guide of 15 construction party games and activities for kids you should be on your way to planning the party of the year! Check out our list of 25 toddler party games as well as our blindfold games for kids.