The PebbleGo education app is one of the most popular options for teachers and parents to engage with their students and improve learning.
In this post we will go through all the features and options for PebbleGo and provide you with the info you want.
Children love to have some screen time and enjoy playing games online. 
However, why don't you try to reduce the Pokemon Go time and show them more educational apps?
Taking advantage of the latest technology, many of today's kids' apps create an engaging and interactive environment that enhances learning. 
A variety of educational apps are available for your child to learn whatever skills or subjects they are interested in.
If you are a parent or a teacher, though, you should go for the best one! One of the best educational apps now is PebbleGo! 
What is PebbleGo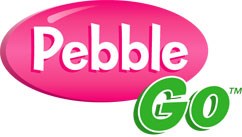 PebbleGo is a research tool designed for young students who want a curriculum-based place to learn.
PebbleGo is specially built for young students who look for different and interactive ways to conduct in-depth research on a specific topic. 
The platform's goal is to foster the love of learning by providing resources that can continue to grow.
Both teachers and parents are able to use the platform and create personal and self-driven work to push their kids to love learning new skills.  
The research resources help young students become more driven and resourceful through a fun database that will make them easy.
This platform is geared toward K-3 students with easy-to-navigate instructions and interface. 
PebbleGo has also created the PebbleGo Plus which is designed for young students who require more help with their learning.
PebbleGo has the ability to check students' performance and provide them with more instructions to push them to improve their learning performance.
Another great function of the platform is that includes keyword searching! This function also boosts young students' ability to learn about their required topic but also teaches them how to enhance their research techniques.
PebbleGo platform is available both in English and Spanish. The switch between the two languages is easy and can happen just by clicking a small icon.
Of course, to integrate the two language options you need to buy the specific package. But we'll see below all the package options.  
PebbleGo has categorized all the information into five simple categories: biology, animals, science, biographies, and social studies. Additionally, parents and mostly teachers can access the list of extra information and instructions about each specific module. 
This service makes their work a lot easier; by reading the extra instructions they can guide their young students and also create tasks based on the knowledge that they want to communicate with them.
How do PebbleGo works?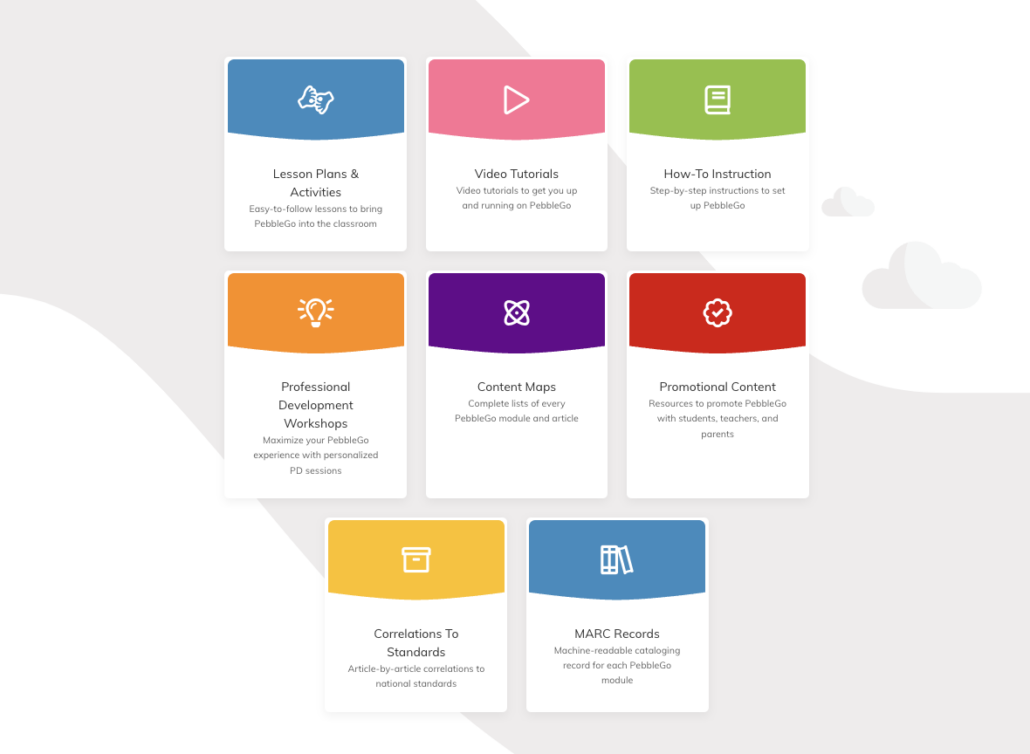 Like in any other app, teachers, schools, or parents need to sign up for the platform in order to use it to its full potential.
Once the account is set you take the option to choose the subjects and the areas that you want to focus in.
Then teachers or parents can authorize students to work on a research subject from their own devices or to give them free access to what is available.
As we mentioned above the platform's topics are categorized into 5 specific categories; those categories are separated into smaller subcategories that make the students' research easier and more in-depth.
For example, instead of just searching for flowers, students are able to search for red flowers or autumn flowers. This option pushes them to think and research with all the relevant keywords on the specific topic.
The more specific the keyword is the more specific their resources will be. Photo sources, text sources, media sources, links to similarly-themed content, and assessment sheets are available after initial research as search results. 
With PebbleGo young students have the opportunity to work and study on their own time and device and of course at their own pace.
Students can read alone all the reading material, or select to have the text highlighted in order to enhance their reading skills. Of course, like any other kids' app, PebbleGo offers more interactive ways of learning.
On the platform, young students can find games, specifically designed for their individual learning material! Those games are everything they need to put their knowledge into function. 
PebbleGo also allows teachers and parents to add a service with extra assignment plans and activities.
A great feature is that the platform offers plenty of article-based resources that help both educators and students acquire more in-depth knowledge on every subject.
All the articles can also be printed by just clicking a small icon below the text. The printing option allows educators to transform the learning back into the more traditional paper way.
No one can deny the fact that learning should be focused both on technology and tradition.
Best PebbleGo features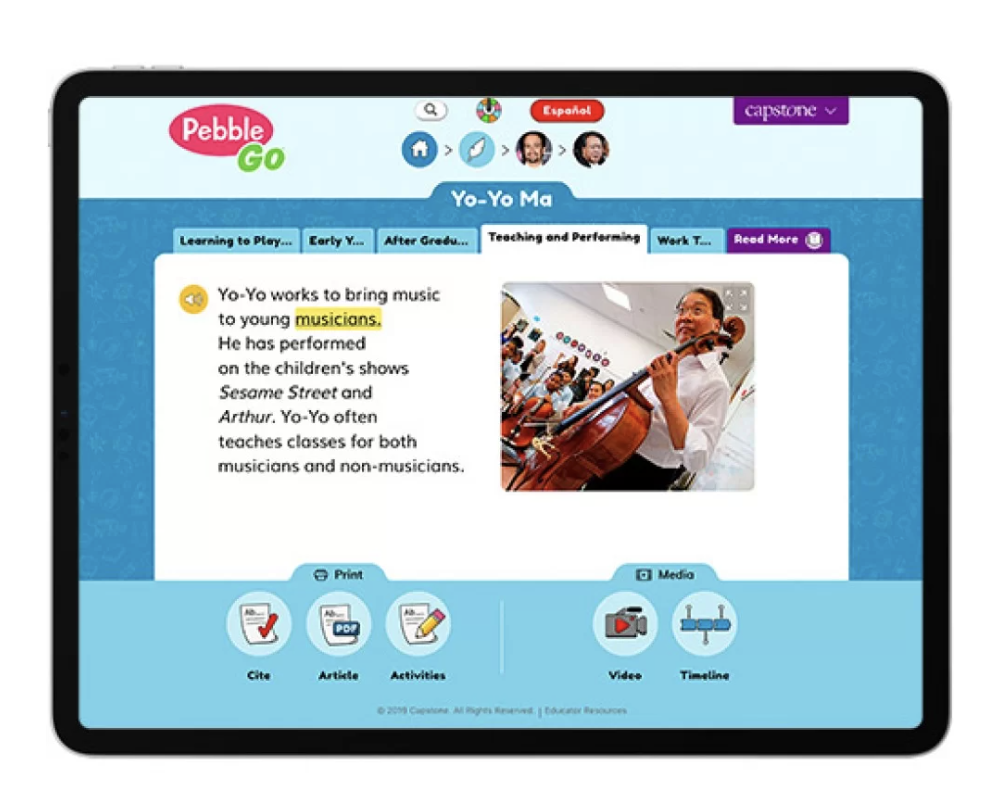 PebbleGo is one of the simplest platforms that young learners can use. The supporting article-based reading allows students to enhance their reading techniques and abilities while learning more information about a specific subject.
At the same time, students can also extend their research techniques as they need to search with precise keywords in order to discover the material they need. 
PebbleGo offers standard-based content which can be easily used by teachers as classroom material. However, at the same time, the same standard-based content is perfect for continual at-home learning.
PebbleGo's interface also gives educators a content map that can be used as detailed guidance and navigation to the platform.
The content map includes all the articles, activities, games, and lesson plans.
This feature is amazing as it can save plenty of time and patience! Although the platform offers a lot of freedom for students in terms of exploring topics, some may need considerable assistance.
That's why the content map can also be used by students who can not easily locate their learning and lesson materials.
One of the most important features of the PebbleGo learning platform is that offers the opportunity for students to create their own presentation slides with the material that they have learned. 
Students can freely create their own information slides that can help them with their future tasks and assignments. Of course, the "Create" option can also be used by teachers or parents who want to boost their child's learning.
For example, teachers can create slides for extra learning for students by submitting tasks to understand comprehension.
The platform – app is quite open and can be used by any device. PebbleGo can be downloaded on a range of devices, like tablets, smartphones, laptops, etc.
Those options make it easy for students and teachers to use the app at any place and time. Teachers can use their own devices to locate their learning material and create tasks and assignments.
On the other hand, young students can use their own or their parents' devices to continue their learning at home or complete their homework.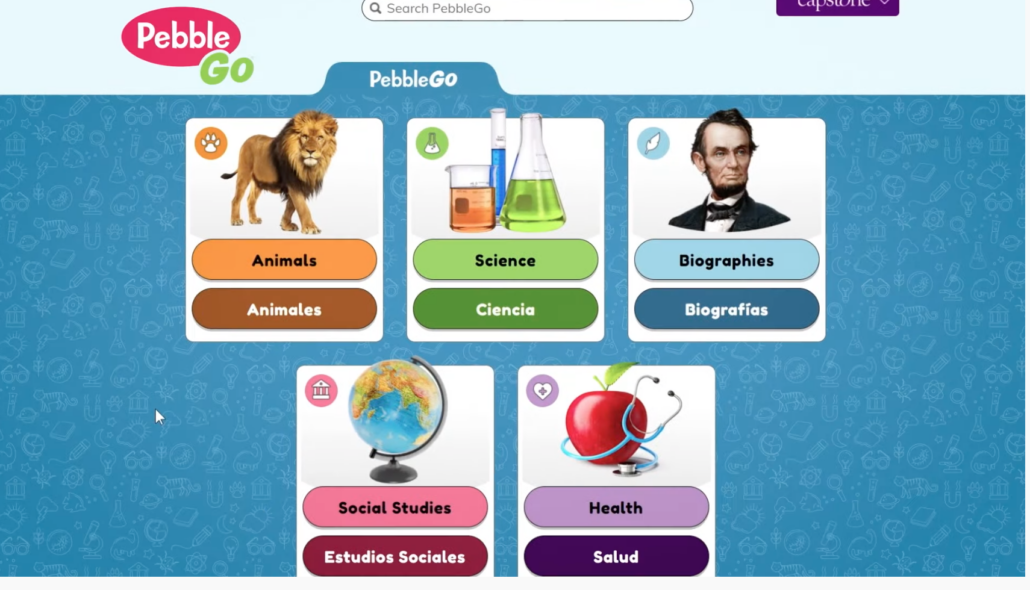 A premium extra option of PebbleGo is that offers the option to add personalized ebooks to each Animal or Science article.
This option comes with an extra cost but it is amazing and it enhances students' learning with extra and more personalized learning material.
5 creative ways to use PebbleGo at school
If you are a teacher and you are looking for a way to push your learning to the next level PebbleGo is the right option to go with.
PebbleGo can be used as a must-have application for teachers, parents, families and students who wants to change the learning community. 
PebbleGo can be used in many ways in the classroom and at home. However, it is considered a great learning resource that can be used in different creative ways. Below you will find some of the most creative ways to use it.
1. Enable a smooth start
It is easy to access PebbleGo. The landing page come with instructions for teachers and parents that can be used to navigate the specific learning material that they want to find.
PebbeGo also has a promotional page that offers you the opportunity to find customizable printables that can be used to create more personalized and interactive learning.
Educators, also get the chance to share the required material with the parents and students, to make their navigation even simpler. 
2. Get familiar with the content
Before starting to use the platform, it's better to familiarize yourself with all the resources and materials that has to offer.
As we mentioned above, PebbeGo offers a content map that facilitates the navigation of the app. There is so much to uncover in PebbleGo and students will love to explore all the features games and activities.
However, as a professional teacher, you want to be ready for all the functional questions that may arise.
Students sometimes can find it hard to locate everything that they need; that's why you should be 100% comfy with using the Content Map and the articles that are available on every specific module.
3. Get connected with Google Classroom
A feature that we haven't mentioned above, is that PebbleGo can be used by just signing into the Google Classroom.
It's magical how technology can move the students' partnership outside of the real walls of the classroom and library. 
The Google classroom and PebbleGo link help students to work together on their tasks and activities by utilizing tools like Google Docs and Spreadsheets.
Students can collaborate even if they live in different neighborhoods, cities, and even countries. 
In the years 2020, 2021, and 2022 students learned how to utilize different online tools.
This by itself transformed the way of learning. Google Classroom and PebbleGo are integrated in a way that makes them even more valuable in fostering students' research, curation, and organization skills. 
4. Have students keep a Curiosity Journal
Curiosity is one of the most important characteristics of young children. That's why teachers and all educators should find ways to boost their curiosity.
Sometimes curiosity can also boost more interactive and productive learning. As a teacher, you can create a curiosity journal where students can fill in all the questions that may not be answered directly.
On the other hand, you can let the students create their own curiosity journals. After that, you can provide them with extra time to go on PebbleGo and let them find the answers independently by researching on the platform.
In the same journal, they can record everything that they learned during their research time. This feature boosts students' learning, productivity, and research skills, all in one.
5. Create a Virtual Scavenger Hunt
A scavenger hunt is an excellent way to familiarize students with the learning content, the app, and all the activities that it offers.
Create some questions (the weirdest the questions the better), and let your students find the answers through research on PebbleGo's content!
It's up to you if you want to choose a specific subject, or if you want to let them choose as a class.  
How much does PebbleGo cost?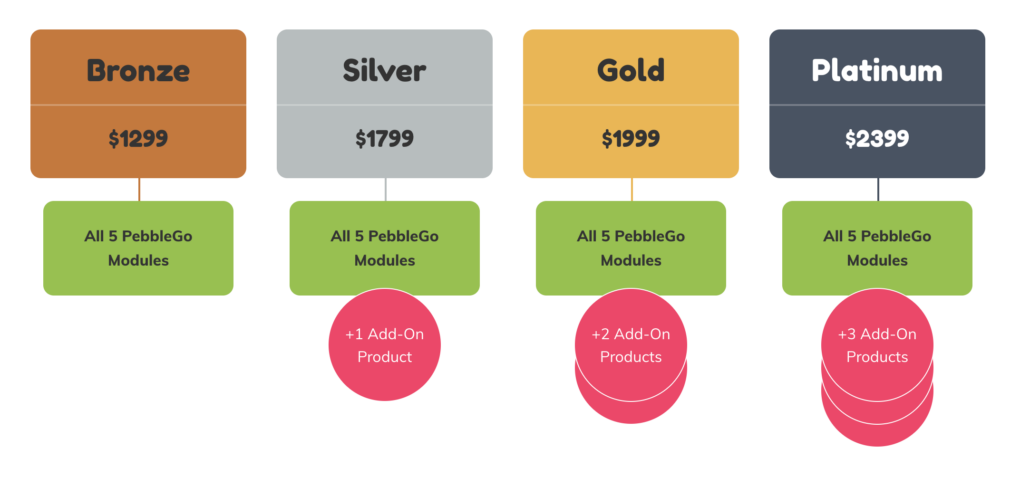 PebbleGo comes with four different pricing plans to choose from. There is a basic plan but you can also add some additional services, like the older student PebbleGo Next, the Create option, Spanish language, and the Read More ebook add-on.
Below you will find the list of all the available plans for the PebbleGo app.
Bronze
The Bronze costs $1,299 and gives you all 5 PebbleGo modules with the categories and learning material.
Silver
The Silver option costs $1,799 and allows you to use all the 5 PebbleGo modules and categories, along with one extra add-on on the products.
Gold
The Gold option costs $1,999 and gives you the 5 modules with the categories with two extra add-ons.
Platinum
The Platinum option costs $2,399 and it's the most complete one. The Platinum pricing plan has all 5 modules, the categories along with 3 extra add-ons on the products.
An extra add-on that you can add is the "Create". "Create" is sold individually and it costs $500.
Available add-ons

PebbleGo Next for Grades 3-5
PebbleGo Next offers you the next step in the digital environment and research and gives you 4 PebbleGo Next modules that work as a supplement to your subscription.
PebbleGo Spanish
PebbleGo Spanish is a new dual language feature that offers you all the modules and activities in both English and Spanish. With the Spanish option, you take 5 extra PebbleGo Spanish modules as a supplement to your existing subscription.
PebbleGo Read More
With PebbleGo Read More, you can add two read-aloud eBooks to every PebbleGo Animals & Science article and encourage more personalized and customized learning. 
PebbleGo's most useful tips and tricks
There are many fun activities that you can do with the young students while using PebbleGo.
Get biographical
Build a guessing game for the class using what students learn about someone they don't know. Then give then some time and let them guess who is that person.
Have fun
Give your students the freedom to explore the platform and learn about any topic that they like.
Sometimes curiosity is what builds productive learning. At the end of the exploration, you can give them a task to discuss 3 of the most interesting facts that they learned. 
Use structure
Make a reference wall for the entire class by using the website's report templates and having students complete them as they work.
PebbleGo is an easy-to-go platform that gives teachers, students, and parents the opportunity to have more creative, interactive, and unique learning that is outside of the box.
PebbleGo is an international remote learning platform that offers a wide range of resources for the classroom. If you want to stand out the boring traditional classroom learning and homework you should definitely give it a try! 
More educational online guides: