Baamboozle is an alternative learning platform that provides teachers with fun and active teaching activities in an online environment. 
In recent years teaching has transited to a whole new level. The traditional ways of teaching seem old-schooled, and teachers are always looking for new methods and techniques.
Digitalisation is really handy at this point and provides a great boost. During the last 2 years, a lot of teaching games and applications were created in order to ease distance learning. 
However, the apps were not only limited to virtual meetings but also fun games and different types of activities.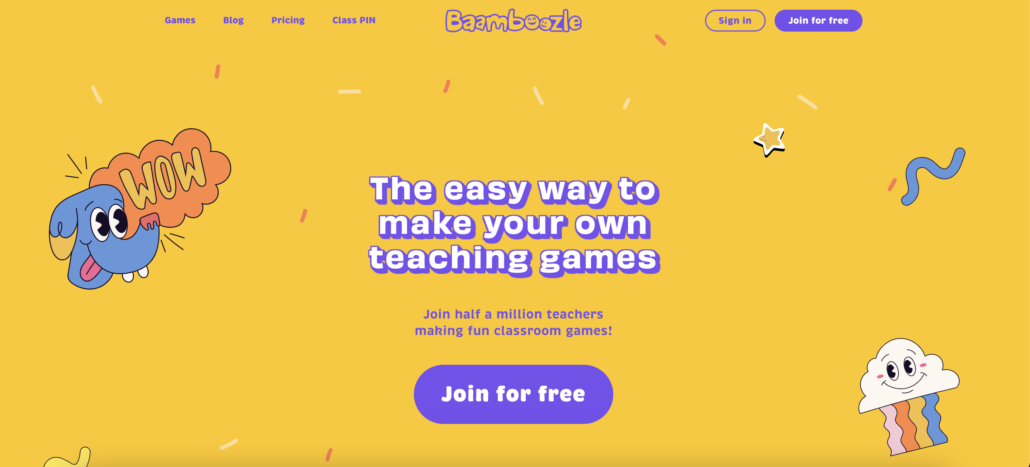 What is Baamboozle?
Baamboozle is a simple online platform suitable for classroom use and beyond. Baamboozle doesn't look like any other learning platform; it offers quizzes but with some extra simplicity that makes work even more fun and easy.
Baamboozle helps students to learn the learning material in unique, stimulating and interactive ways. 
The site has more than half a million pre-made games but also gives the opportunity to teachers to create their own games, which makes the learning even more unique.
The games and learning library are enriched every day with new and exciting games that suit all students and learning styles. 
Most learning platforms need high systems to run, however, Baamboozle simplicity makes it compatible with even older devices.
It is compatible with every PC, laptop, smartphone and tablet. It is remarkable that both teachers and students can use it just by creating a free account. The content is available for free to everyone! How exciting is that? 
The games can be played from everywhere with just a few clicks. Teachers can use Baamboozle for creating interactive homework that students will never be bored with completing.
The site offer games and quizzes are suitable for all ages, experiences and knowledge and that makes it an amazing addition to every classroom.
By now, more than half a million teachers use the learning platform every day. The games and quizzes can be played both by individuals and in groups.
Baamboozle is considered one of the most flexible learning platforms in the world, similar to Blooket and a few other popular services.
How does Baamboozle works?

As we mentioned above Baamboozle is one of the simplest platforms to use. Anyone can access the games in just a few clicks.
No registration is required for students to access the interactive games and quizzes. Of course, like any other platform, a simple sign-up is needed in order to access all the extra elements and tools and creative abilities. 
Choose the "Play Games" link and you will be redirected to all Baamboozle's saved games.
Then you have the opportunity to search for specific games or even choose from the general list. Baamboozle can be played by individuals or by teams.
If you go for a group play you need to split your teams equally. The next step is playtime! Using the game board, each team chooses a number and answers the question.
However, you need to keep in mind that you always need to check for the accuracy of the answers. Of course, like any other virtual learning platform, Baamboozle keeps track of correct and wrong answers and gives you the right score at the end of each game.
Baamboozle features
Baamboozle has plenty of features that can be amazing for your learning environment. 
It is a great platform for all ages and classes. The games boost innovation and creativity. There is nothing common in the games; the new and exciting quizzes in the game library can help students learn their teaching material easily!
Another great feature is that Baamboozle group play helps students to bond and create completed beautiful activities. 
Baamboozle learning platform can be used both in class and remote learning. The option to edit the games makes it even more exciting. 
You can edit the existing games and keep them always on your topics. Check out the personalised games that keep students engaged all time.
The quizzes and the questions are never in the same order. No matter how many times you will access the same quiz you will always find new questions. 
Baamboozle offers a wide bank of questions and answers; which makes it amazing for wide class learning. With Baamboozle students will never feel bored and the process will never be repetitive. 
Each game can be played both with and without a time limit. If you want to take off the pressure on your students, then you can remove the time and let them answer the questions at their own pace.
In addition, if you want to take additional pressure off students, you can allow them to hit pass-on questions.
It is worth mentioning that each game allows up to 24 questions with a wide range of topics, which makes it suitable for every classroom learning. 
How do you find a game in Baamboozle?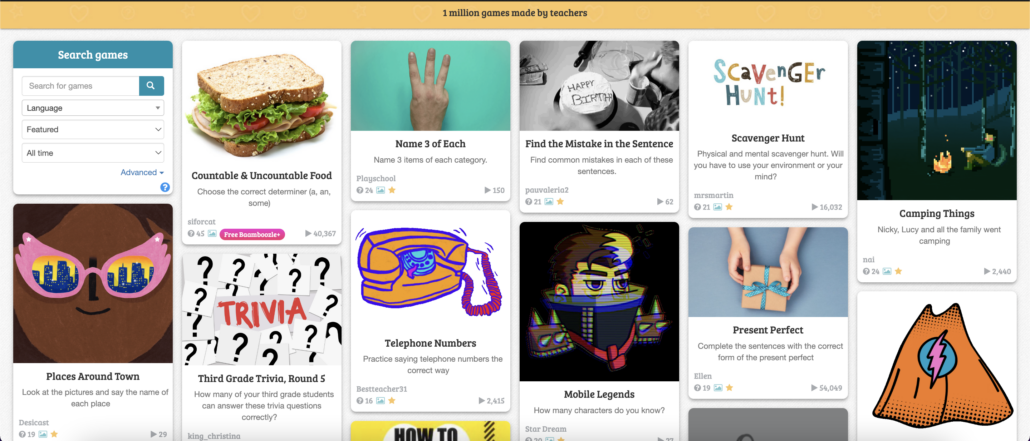 Baamboozle's interface is simple and straightforward. The platform is made in a simple way that made it accessible to everyone. 
You don't need to be a technology expert in order to start using this learning platform as a teaching method.
All you need to do is log into the main page of the site, click 'Games' and then you will be redirected to the existing game library.
The next step is the easiest! Just click on the game that you want to play and let the fun begin. 
Click "Play" on any game that you like. Choose the one that is better for you and your students. Of course, Baamboozle's interface gives you the opportunity to create a more personalised interface and dashboard.
You can choose and apply various themes, versions, power-ups, and other exciting features that will make your experience even more fun! 
If you're unsure, start with something simple to get a sense of how we work before moving on to something more complex.
As you can see the site allows you to play on any difficulty. In the library, you can find easy games for younger students or more difficult games for your older ones.
Quizzes allow students to present their work or work in groups, giving you a new way to get them to work together.
How to split your class into teams
As we already mentioned Baamboozle can be played both by individuals and in teams.
However, the most exciting game is always the "group" game. If you want to use Baamboozle as a teaching material, then you need to split your class into teams. 
Each team can be anything between 2 to 4 players. Baamboozle games can be played by up to 8 people; so, it's better to keep that in mind before you try to apply it in your classroom.
One of the easiest and most straightforward ways to split your teams is to give a random number to each student, each number will be indicating a team.
Let's say for example that you have 3 teams; give a number from 1 to 3 to each student and easily construct your teams.
If this way is a bit boring for you, there are multiple more exciting ways to split your teams.
4 exciting games to split your groups
1. Line Ups 
It's either a matter of dividing the line into chunks or numbering the participants along it, like 1,2,3,1,2,3 for three groups. Some of the most exciting line-ups: 
Depending on when you were born (January here, December there), line up accordingly.
How far is the school from your house?
The grades that each student has in the class
2. Create a physical activity 
What is better than putting your students into a physical competition in order to create your Baamboozle teams?
Some amazing examples are: 
Bounce in the air and land on your feet. Check which foot is on the front. Is it the right or the left? Each foot indicates a team.
Do a running competition. The fastest students go to team number 1 and the last to team number 3.
How did the dog's tail look in the air? Was it to the left, to the right, or was it missing altogether? Draw a dog and let them decide!
3. Use props
Some props can really help in creating your teams.
Grab a bag with numbers and let your students choose from odds and evens to form the numbers.
‌Ask your students to find the shapes and make squares. The students who form the best squares faster go into one team.
Give students cards with words on them and ask them to form groups based on those words
4. Ask for cluster
Split them according to clusters. How many siblings do they have? What is their favourite colour? Where are they going on holiday? etc.
How do you play Baamboozle in class?
Baamboozle does not require students to use their own devices to access it. That keeps all the process stress-free and simple.
This option boost equality! Students don't need smartphones, laptops, tablets and PCs.
Baamboozle doesn't require any expensive equipment to use in class. All it takes is just one large main screen in the class. 
Every teacher can use their own smartphones or laptops and share the screen on the projector, on the white screen or on the big screen.
Log into the site dashboard, load a game and share it with your students. Cast your games and let the fun begin! 
How can you teach online?
We are living in weird times and online teaching may be once again required. So, if you are teaching remotely, Baamboozle could be one of the best learning platform to use!  
If you're teaching online, you can simply share your computer screen with your students.
If you want to use Baamboozle for online learning students don't need to access anything! You can do everything yourself.
Let them join a simple meeting and then share the game from your own screen.
How do you create a personalised Baamboozle game?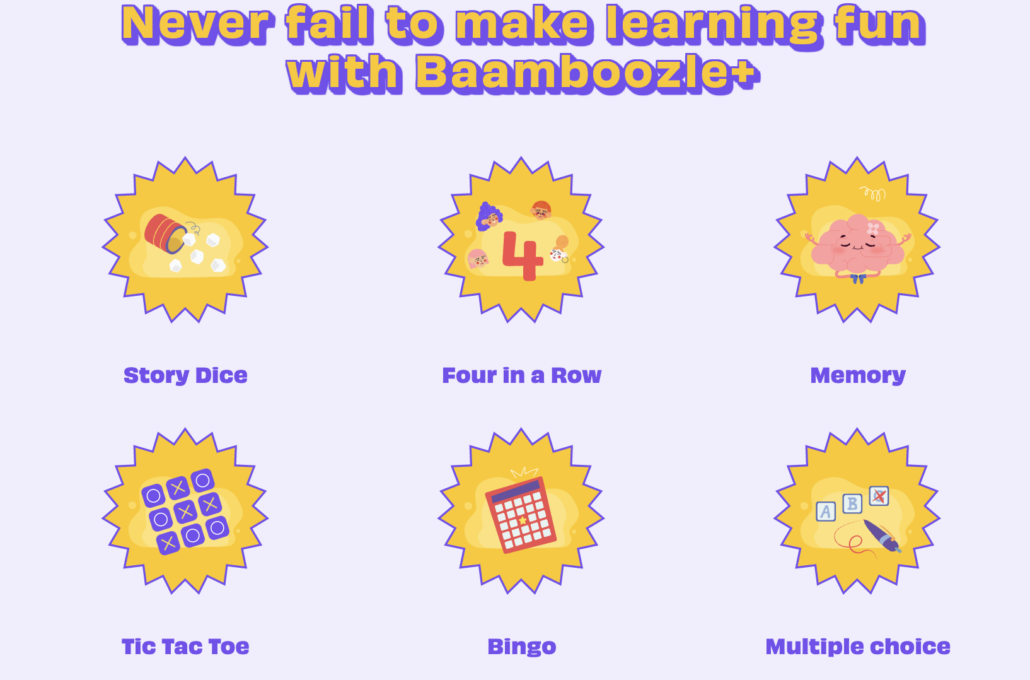 One of the greatest features is that you can create your own personalised games that will suit your teaching materials and classroom.
The game library is massive however, the service knows that teachers sometimes require something more personal. That's why you can create a new game in just a few minutes! 
The process of creating a new game is easy and straightforward. Of course, if you want to create new games you firstly need to create an account and register to the platform.
After the registration, all new features and tricks are available to you! Once you have signed in to your account:
Click the library icon and access all your games.
In your library, you will also find the option to create a game. 
Click "+ Game", and you are on the last stage of creating a game.
After choosing the create option, add a new Title and Description in order to make your game unique and personalised.
Baamboozle also gives you the option to add images and emojis to your games.
Make it as interactive and fun as possible! Don't create a game that will be boring!
Give your students an excellent game that will pass them with a unique way all the knowledge and teaching material. 
When you are done with the creation the game will be added to your personal library.
Of course, the site boosts unity and bonding; that's why your games will be available to all teachers around the world. 
Alternatively, you can import the URL from Quizlet or Kahoot directly into a game!
How much does Baamboozle cost?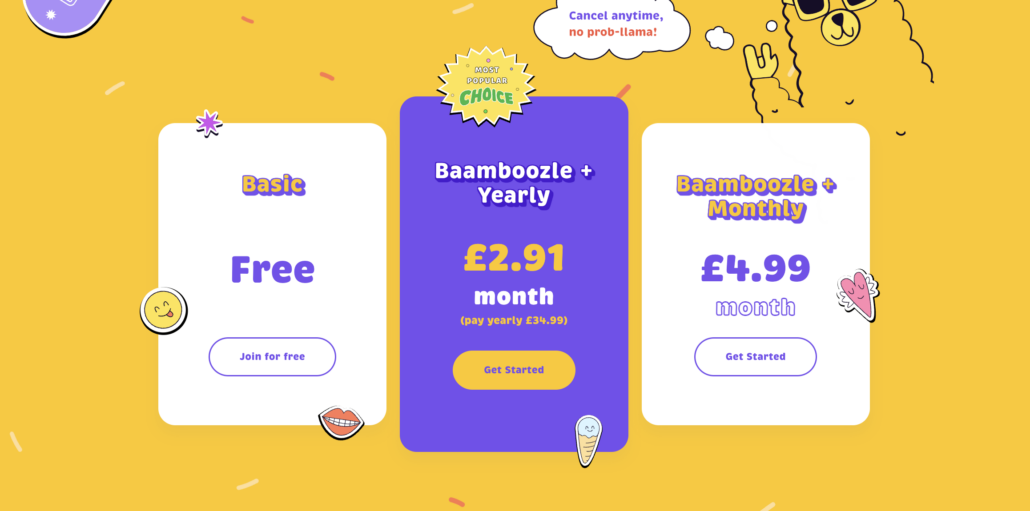 | | | |
| --- | --- | --- |
| Basic | Yearly | Monthly |
| FREE | $3.25 | $5.58 |
Baamboozle offers both free and paid plans. You have the option to play games directly after logging in; the library is full of different types of games and quizzes that will teach your students for free.
However, if you want a more personalised experience you can go for a paid plan. 
Basic Plan
The basic Baamboozle option is for free. However, even the standard option allows you to create new games and upload images up to 1Mb.
Teams can play together, and you can add up to 24 questions to each game. To use the standard free option, you just need to give your email address. 
Baamboozle+ Plan
Baamboozle+ option costs just $7.99/month. This option gives everything that the standard option offers, plus some more extra features.
The + option lets you upload 20MB of images, create games and add up to 8 teams, create as many folders as you want, access slideshows that will allow you to teach directly from the platform, add multiple choice questions and play private games with no ads.
Of course, one of the extra features that you have with the paid plan is priority customer support! You get in the front line every time that you need to use the support team.
Tips & Tricks for better learning
Baamboozle is a game with plenty of features! However, if you know how to use it then you can create a learning paradise. There are some specific tips and tricks that will help your students have the greatest learning experience.
Assess the class
Use the Baamboozle app to count your students' presence in class. Create an assessment game for every start and end of the class.
By creating a starting quiz you will see at what stage are your students. Then, the end quiz will show you if your students understood what you taught them.
Innovative learning
Split your students into teams and ask them to create new creative games. Give each team a topic and let their imagination go wild.
When the games are ready, let them solve each other's quizzes. Ensure that you assess both the quality of the questions and the quality of the answers so that one team does not get all the credit for making the hardest quiz.
Get projecting
Use Baamboozle for the best remote learning experience. Project your games on a big screen and play together with your students.
Let your class take part in the quizzes as teams and allow them to discuss their answers at any time.
The discussion will allow your students to expand their learning and dive into the learning material. 
Baamboozle is an online learning platform that will equip you with everything you need to create an interactive learning environment. 
Students usually get bored in the classroom, so what's better than offering them a unique learning method that will help them bond together and interact with each other?
Feel free to sign up, play around, and see if it's for you. Craft a bespoke learning material with exciting games and quizzes, and let the fun begin!