Hispanic Heritage Month is a great time to celebrate the rich culture of Latinos and the many contributions that they have made to American society.
The United States has a long history of immigration, so it's important to learn more about the minority groups who have helped shape the United States into what it is today.
With more than 19% of the American population, Hispanics represent the fastest-growing minority group in the country.
In addition to contributing to the U.S. economy through their labor and hard work, Latinos have made significant contributions through music, food, language, art, religion, and culture.
Whether you are celebrating Latino heritage in your own home, at school, or with friends, here are some ideas for decorating your space during Hispanic Heritage Month.
Hispanic Heritage Month Decorations
1. Flags of Spanish-Speaking Countries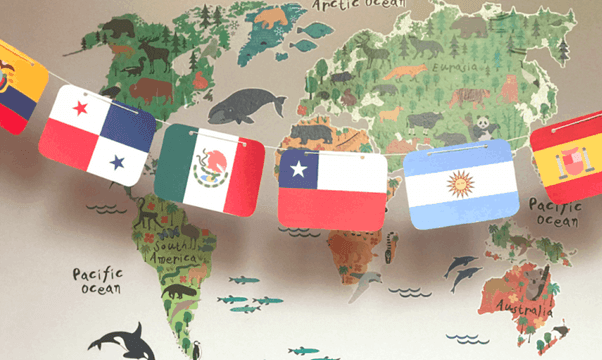 Decorating your space with flag buntings and flaglets is a great way to celebrate Hispanic Heritage Month.
You can hang the flags as a sign of solidarity, respect, and patriotism for Spanish-speaking countries and communities.
There are plenty of printable flag templates online or you can buy premade banners from Amazon for as low as $7.99.
Hispanic Heritage Month Flags
Countries that use Spanish as their official language, include:
Argentina
Bolivia
Chile
Colombia
Costa Rica
Cuba
Dominican Republic
Ecuador
El Salvador
Equatorial Guinea
Guatemala
Honduras
Mexico
Nicaragua
Panama
Paraguay
Peru
Spain
Uruguay
Venezuela
Puerto Rico
2. DIY Piñata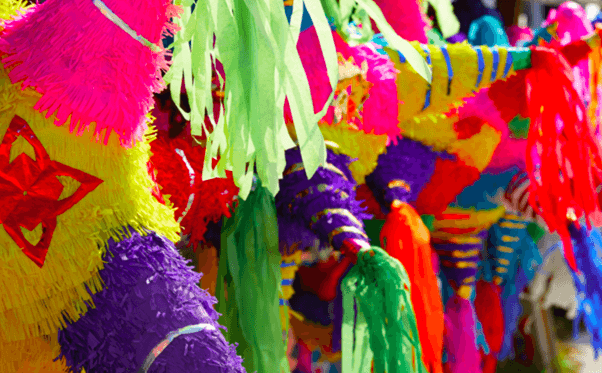 Piñatas are the perfect two-in-one decoration for your home during Hispanic Heritage Month.
They can be hung on the front door or window sill to add some festive flair to your home. On the last day of Hispanic Heritage Month, it's a great idea to break your piñata and let everyone take turns hitting it with a stick.
3. Papel Picado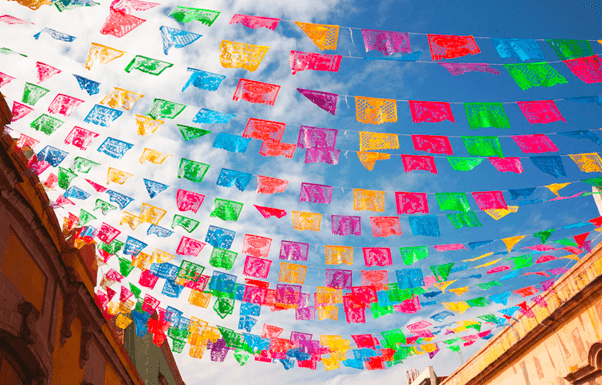 You can make your papel picado by using a pair of scissors to cut shapes out of colorful paper.
You can use different colors and sizes to create a beautiful mosaic or other patterned design. Cut your design into pieces and arrange them around your room to create a fun, unique décor piece. This is a fun afternoon activity for kids or at school.
4. Fiesta Themed Decorations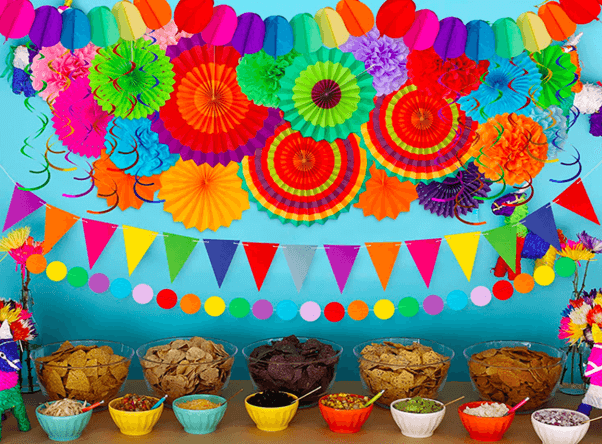 If you want to add a little more color and pattern to your home during Hispanic Heritage Month, think about fiesta-themed decorations.
A colorful table runner, balloons, buntings, and paper fans can help bring a festive atmosphere to your home or office.
5. Day of the Dead Displays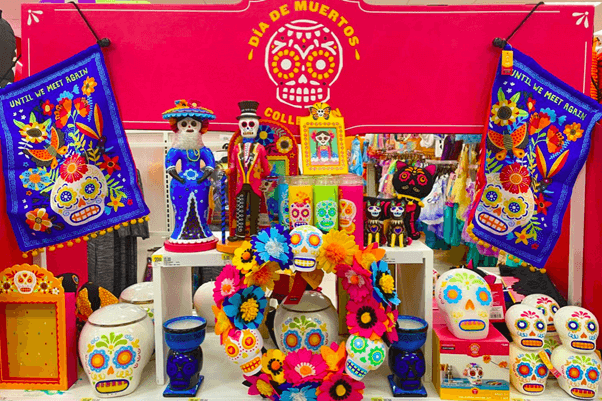 Day of the Dead displays is a fun and festive way to bring the Hispanic culture to your home.
Create a small altar featuring photos and other mementos of the deceased, such as favorite books, artwork, or food. Add a few candles in a decorative jar or bowl, along with decorative marigolds, sugar skulls, and even candy skulls and skeletons.
6. Sombreros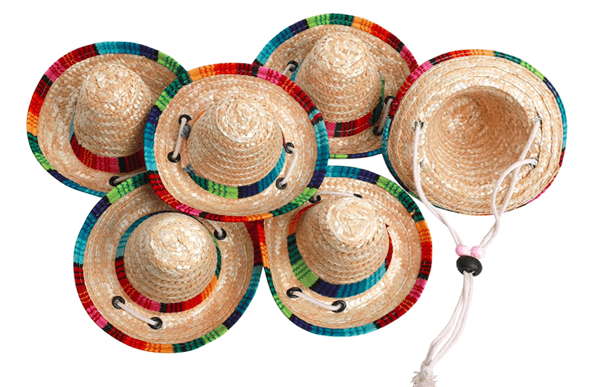 You can create an inexpensive backdrop with a sombrero or two on a wall, window, or door. Or, use a sombrero as a headpiece for your next party, formal event, or get-together.
Sombreros are a staple item in Hispanic culture, so they're sure to fit in well with your overall decor theme.
7. Spanish-Themed Bulletin Board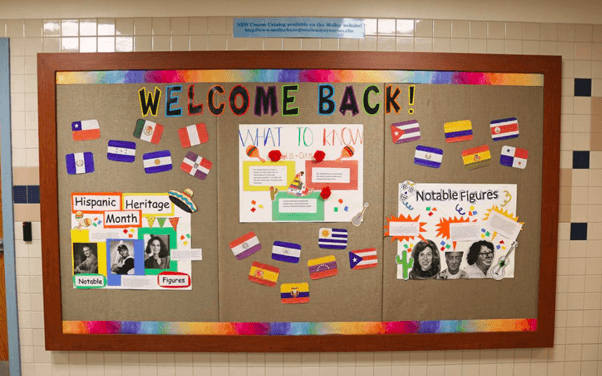 A bulletin board full of photos, artwork, or other interesting items would make a great display for students and office workers to show their appreciation for the Hispanic culture.
You can also feature some of your Spanish classmates' or coworkers' pictures on the bulletin board as a way of showing your love and support for them.
8. Happy Hispanic Heritage Month Banner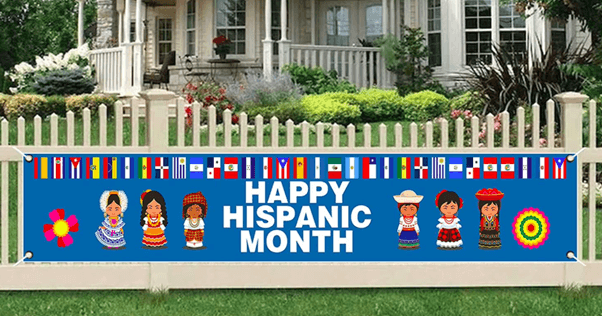 A "Happy Hispanic Month" banner is a creative way to show your appreciation for the Hispanics around you.
It is a great decor idea for your home, classroom, or office – and the perfect way to show your support and appreciation for all of the Hispanic students, teachers, and colleagues in your life.
9. Foil Balloons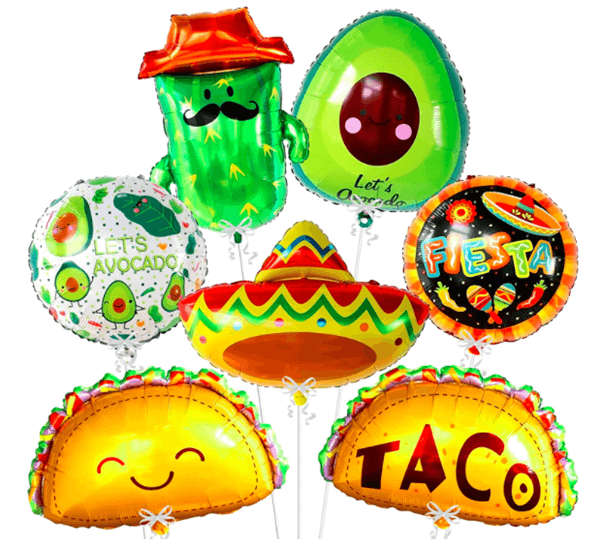 Make your backdrop for Hispanic Heritage Month with foil balloons. They look great as a backdrop for parties or other events, and they're an easy and affordable way to create the look and feel of a fiesta.
Plus, foil balloons are inexpensive, so you can easily add them to your decorations without spending too much money.
10. Colorful Mexican Paper Flowers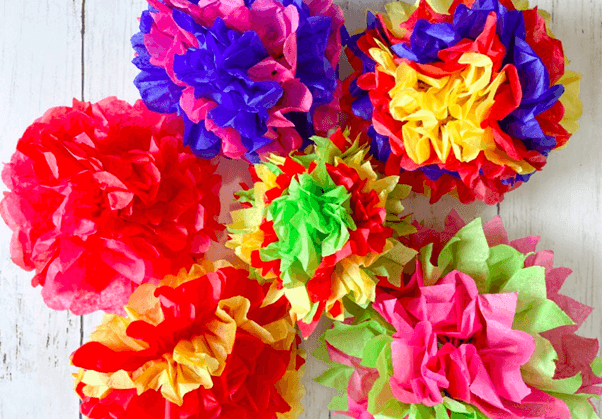 Mexican paper flowers make a cheerful centerpiece for a party or celebration. You can use a variety of colors and patterns to design a special table arrangement for Hispanic Heritage Month.
They will surely brighten up any room, making it a truly festive atmosphere.
11. Make Hispanic Treats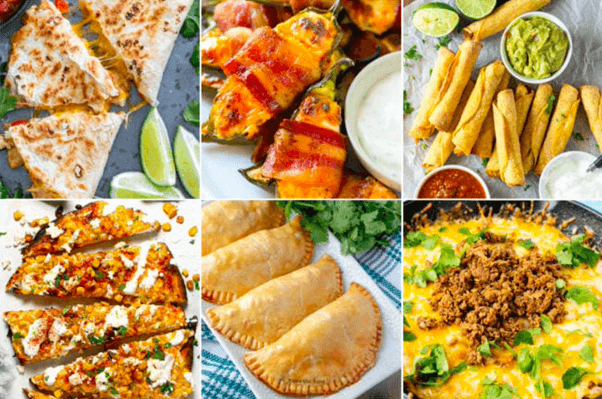 The Hispanics are known for their culinary delights, and there's no other way to celebrate Hispanic Heritage Month than by preparing something delicious for everyone to enjoy.
Try making some Hispanic treats like tamales, empanadas, guacamole, and tacos for a tasty centerpiece for your party or celebration.
12. Host a Fiesta-Themed Party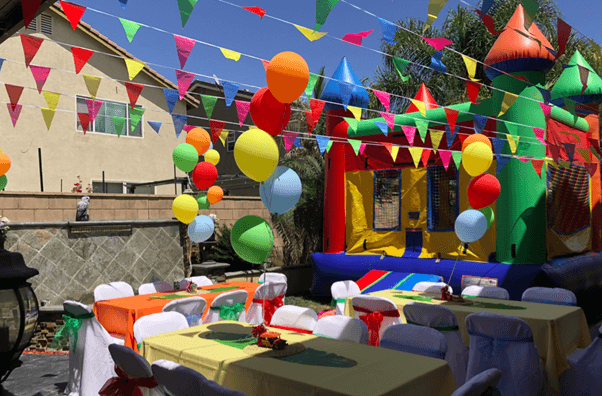 A fiesta-themed party is a great way to celebrate Hispanic Heritage. It's also the perfect opportunity to encourage your child to learn about his or her Hispanic heritage, which is a fun lesson that both kids and adults can enjoy.
Here are some ideas on how to plan a party with a fiesta theme:
Create a backdrop of traditional fiestas with Mexican flags and other fiesta-inspired decorations.
Play fiesta-themed games like bingo and piñata.
Serve tacos, tamales, tortillas, and guacamole.
13. Celebrate Hispanic Culture Through Arts and Crafts
Crafts are a fun way to learn about Hispanic culture. Use different types of fabrics to make clothing and accessories such as sombreros, ponchos, and bandanas. Use colorful beads and yarn to make jewelry.
And of course, don't forget to include a DIY piñata for some piñata party games.
14. DIY Día de los Muertos Mask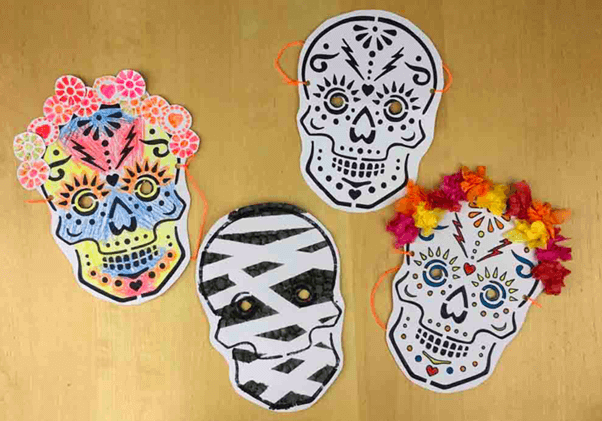 Día de Los Muertos (Day of the Dead) has its roots in Aztec and Mayan cultures and is an important part of Mexican heritage.
Día de Los Muertos masks are intricate, detailed, and often made by hand. They can take a long time to create but they are well worth the effort.
Creating a Día de Los Muertos mask can be a great way to connect and learn more about the Hispanic cultural heritage.
15. Watch Disney/Pixar's Coco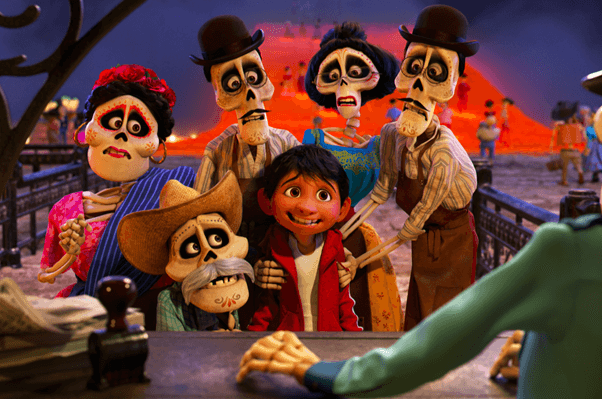 Coco is a story of a young boy named Miguel who dreams of becoming a famous musician like his idol, Ernesto de la Cruz. His life takes an unexpected turn when he ends up in the Land of the Dead when he tries stealing Ernesto's guitar from his tomb.
The story revolved around his journey in the afterlife where he learned the importance of family, music, and love.
16. Discover Latin Dances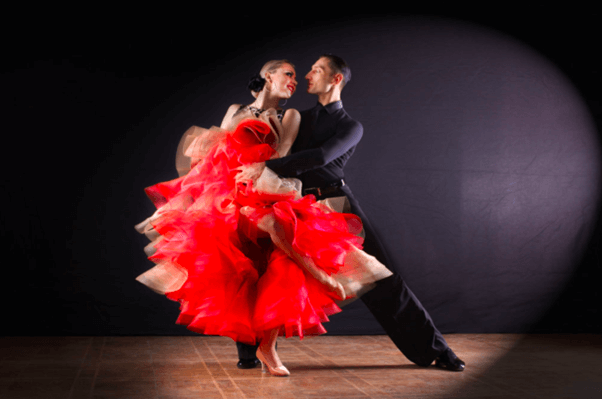 Latin dances, such as Salsa, Cumbia, Merengue, Cha-cha, Tango, Bolero, and Mambo are some of the most popular types of dance in the world.
With so many different types of Latin dances, it's easy to find one that suits your mood and style. Dancing is also a great cardio exercise if you want to get fit and healthy.
17. Watch a Documentary About the Hispanic Culture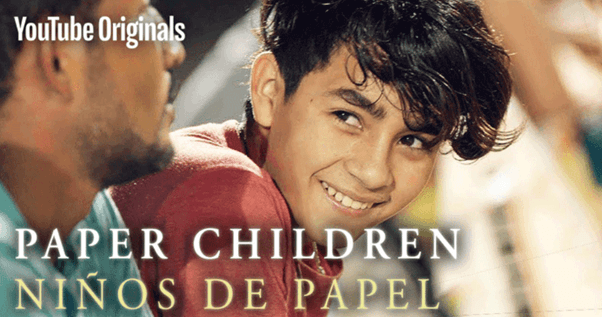 The Hispanic culture is a diverse one and there are plenty of movies and documentaries on different streaming platforms that highlight the rich history of the Hispanic people.
From food and music to language and art, there are lots of fascinating things about the Hispanic Culture to discover and enjoy.
Here are some great recommendations:
Visions of Us
Paper Children
A La Calle
Cesar's Last Fast
To My Motherland
18. Curate a Lively Hispanic Music Playlist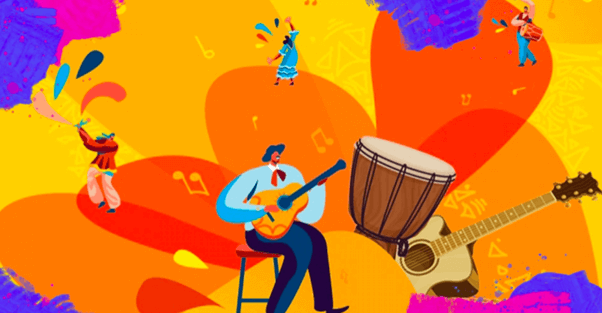 Whether you want to learn more about the Hispanic culture or you just want a fun, lively soundtrack to sing or dance to, it's time to start curating your playlist for Hispanic Heritage Month.
Start by browsing through YouTube, Spotify, Apple Music, Amazon Music, or Pandora to find a variety of different songs from talented Latino artists.
19. Learn Some Spanish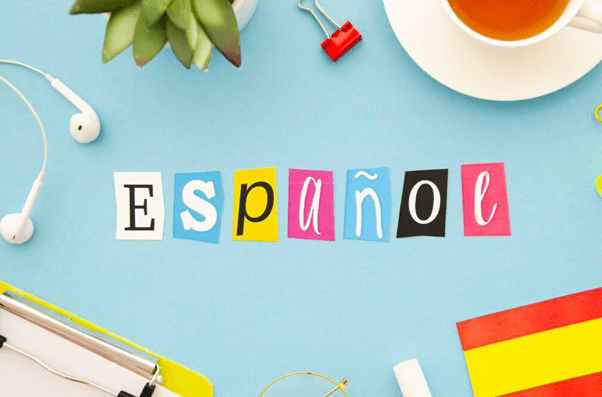 If you'd like to learn some Spanish for your enjoyment, or if you want to travel to another country that speaks this beautiful language, Hispanic Heritage Month is the best time to start learning.
Spanish is the second-most spoken language in the United States, so having some basic knowledge of it can be extremely beneficial in your daily life.
20. Visit a Museum
Whether you want to learn about Latino culture through art, dance, food, music, or history, local museums throughout the country have many educational exhibits that you can check out and enjoy.
Visit any of these museums during Hispanic Heritage Month to see what they have to offer.
21. Attend a Cooking Class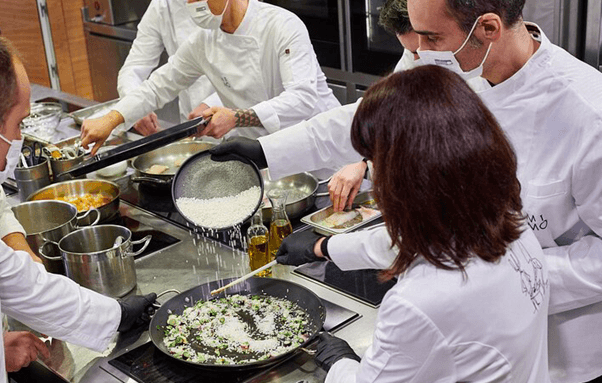 Whether you want to learn how to cook authentic Mexican or Cuban food, there are cooking classes offered all over the country that you can attend during Hispanic Heritage Month.
Attend one of these classes to get into the culture and learn some wonderful recipes.
22. Visit a Famous Landmark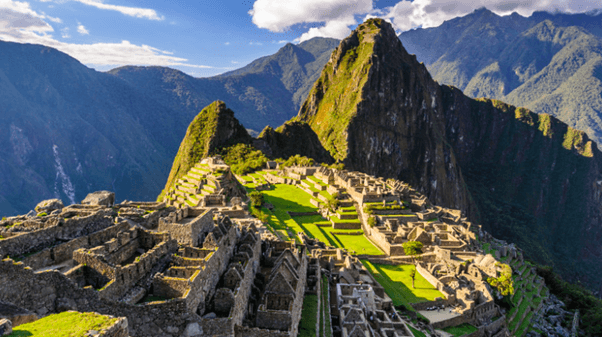 There are many famous landmarks in Latin America, some of which you can visit and experience during Hispanic Heritage Month.
Whether you're looking to explore the amazing pyramids in Mexico or climb the magnificent Machu Pichu in Peru, these famous landmarks are waiting for you.
23. Play a Hispanic Game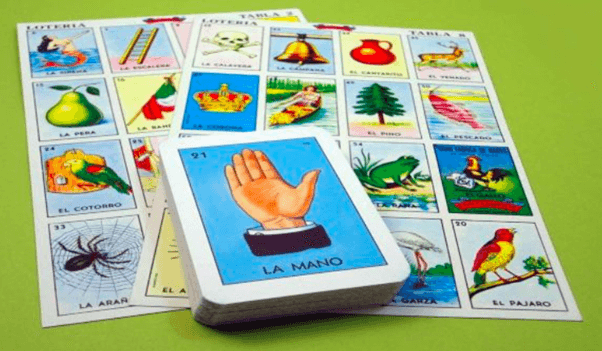 There are plenty of Hispanic traditional games and activities that will surely keep you engaged and entertained for hours. Some of the most popular Hispanic games include loteria, mar y tierra, chiviri cuarta, and so much more.
You can also try Hispanic board games such as ¡Dígame!, manzanas con manazanas, and Spanish scrabble.
24. Visit a Hispanic Fair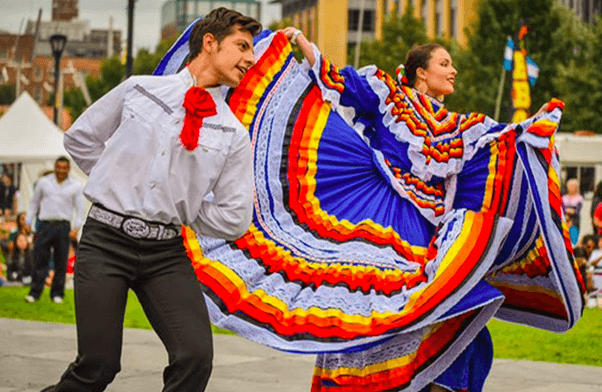 Many towns and cities host Hispanic Heritage Month events, from parades to festivals.
These fairs usually offer a wide variety of activities including carnival rides, live performances, ethnic foods, music, dancing, and even crafts. You can also try your hand at various traditional Hispanic games.
25. Get Inspired by Hispanic Literature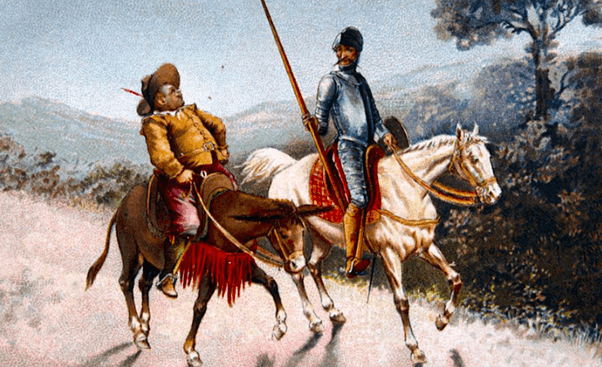 Throughout history, Hispanic authors have produced many influential books.
Some of them include the Spanish classic Don Quixote by Miguel de Cervantes as well as the novels Doña Bárbara by Rómulo Gallegos and Love in the Time of Cholera by Gabriel García Márquez.
Immerse Yourself in the Rich, Vibrant, and Wonderful Hispanic Culture
The Hispanic culture is diverse and filled with unique traditions and values. You can immerse yourself in this wonderful culture during Hispanic Heritage Month by participating in various events and festivities across the country.
You can also take this opportunity to learn about the Hispanic language, food, music, art, and history – and you'll be surprised by how many new things you'll discover.