Father's Day Ideas and Activities
Want to help your children with some father's day gift and activity ideas? Look no further. Here you will find an extensive list of poems, activities, and gifts to make Dad's special day a memorable one.
FATHER'S DAY OBSERVANCE in United States
Sun Jun 16 2019
Sun Jun 21 2020
Father's Day is a day of commemoration and celebration of Dad. It's a day to not only honor your father, but all men who have acted as a father figure in your life – whether as Stepfathers, Uncles, Grandfathers, or "Big Brothers."
Program and craft ideas follow– but here are a few frugal suggestions you can do to make Father's Day special for YOUR dad or special person:
Make dad breakfast in bed.
Send flowers, the red rose is the official Father's Day flower.
Do secret acts of kindness, this might include doing one of dad's chores for him–such as taking out the garbage or cleaning his car inside and out!
Burn a CD of his favorite songs
Make or take him out to dinner. Have a BBQ or picnic.
Send him an on-line greeting card; write him a letter of how much you appreciate him and/or a special memory.
---
A SMALL FATHERS DAY BASKET
of Dad's favorite snacks that fit within a theme would make a great inexpensive gift!
Example:
A 2-liter bottle of soda with tortilla chips and salsa or chips and dip
A package of favorite coffee or tea with homemade muffins or cookies
A six-pack of beer with pretzels and nuts
A bag/tub of popcorn with a movie rental gift card and a couple small boxes of candy
---
MESSAGE TO KIDS…
Be obedient. Do your chores, without being asked. Get along with your brothers and sisters

---
Fathers Day Arts and Crafts Ideas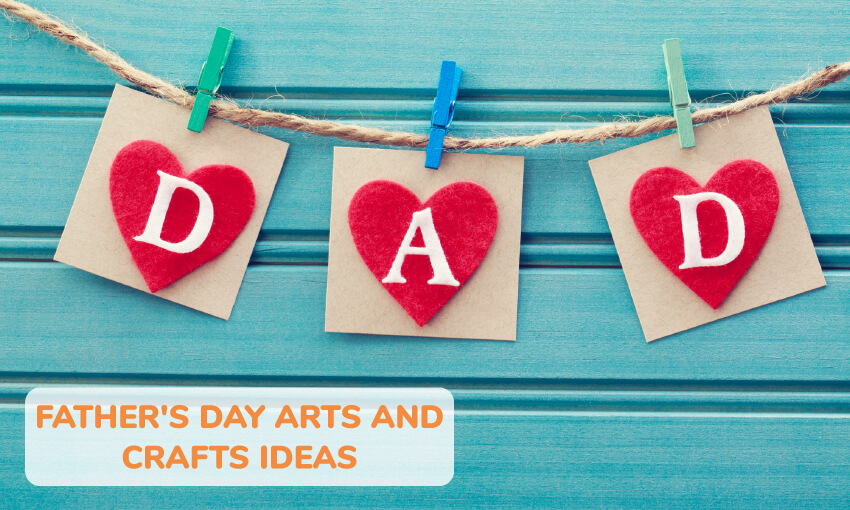 CARDS FROM THE HEART…
It doesn't matter if you're 6, 24 or 48– a handmade card or note with love speaks more of your feelings than the store bought variety. Put out a variety of papers, fronts of old greeting cards, markers, pens,and decorations. Create from the heart! (Poems at page bottom)
---
PAPER WEIGHT GIFTS FOR DAD, GRANDAD, OR UNCLE…
PLASTER PAPER WEIGHT
Materials:
Plaster of Paris,
Assorted nuts, bolts, etc.
Felt
Glue
Silver spray paint
Mix up the Plaster of Paris according to package directions.
Give each child about 1 cup of the mixture and have them form it into a lump with a flat bottom.
Quickly before it hardens have them stick the nuts, bolts, etc. all over the lump.
Leave it to harden overnight and then spray with silver paint.
Last, cut out a piece of felt and glue it on the bottom.
---
PENNY PAPER WEIGHT
Materials:
Cleaned and shiny pennies
Elmers Glue
Small tiles ( I used about 3"x 3" – you can also use the top side of jar lids)
Felt pieces for bottom
For an afterschool program, I picked up discontinued tiles (see if you can get them donated–the store gave me about 100 for no charge!)
1. First clean and dry the pennies.
2. Next glue pennies to the attractive side of the tile. Glue on the first layer and then in places— glue two or three on top of each other. Glue will dry transparent. Pennies donot have to cover all edges as the tile underneath is nice looking.
3. When pennies are dry— fit, cut, and glue felt to the bottom.
4. The tiles used were unfinished on the side, so we used permanent marker along the edge.
5. You can protect pennies with a coat of clear polish!  (Image by KidActivities.net)
There is an image of another version made with smooth stones at page bottom!
---
CRAYON COVERED ROCK PAPERWEIGHT…
Materials:
Zip–close plastic bag,  Wooden or rubber mallet, Smooth, flat rocks about the size of your fist, Aluminum foil or an old pie tin, Felt scraps, Scissors, White glue
Choose crayons in three or four light or bright colors. Dark crayons will make the color on the rock look muddy.
Peel the crayons, put them in the zip-to-close bag, and seal it.
Place the bag on a hard surface such as a floor or sidewalk. Using the mallet, pound the crayons into small pieces.
Place the rock in the pie tin or on a sheet of aluminum foil in the hot sun. Sprinkle it with the crayon pieces.
When the crayon pieces have melted, but before they reach the point that they run off the rock, take the rock out of the sun to cool.
The crayon will quickly harden and form a colorful and waxy coat over the rock.
Cut a piece of felt to glue to the bottom of the rock to keep it from scratching the table.
Image courtesy of World Preschool Mom. The rock was made by a four year old boy; it was colored after being in the oven for about ten minutes. With this method as Deneal states, place the rock on a sheet of foil (with a hot pad or towel under the foil) before decorating with crayons. The hotter the rock, the more runny the wax will be. (Use caution and supervision with this method.)
TIPS:
If weather is not hot-preheat the oven to 350 degrees. Place the rocks on a foil covered cookie sheet and put them in the oven for the children. Keep an eye on them because the crayon melts quickly. It will re-harden within seconds of taking it out of the oven.
TO DO OUTSIDE…this project needs a hot, direct sun..
If you're unhappy with the color of a crayon-coated rock—Reheat the rock and allow the crayon to melt to the point where most of it drips off the rock and onto the foil under it. Cover the rock with a new selection of crayon bits and see if you get a swirl of color you like better. Remember to avoid dark colors.
……A goal is to get it looking like a tie-dyed rock! The distinct lines of color can be very beautiful. Because the rocks can be easily redone, remember not to place the completed ones that you like in a sunny window or direct, hot sunlight because they will re-melt.
---
CANCELLED ROCKS
Materials
Cancelled stamps from your mail; small colorful pictures from seed catalogs and magazines may be used instead of stamps.
White glue (the kind that dries clear)
Clear shellac, varnish, or fingernail polish
Smooth surfaced rocks
Wash, rinse, and dry rocks.
Carefully peel off stamps from envelopes. It's O.K. if some tear.
On dry rock, spread a thin layer of glue
Arrange stamps (or small pictures) on rock, OVERLAPPING, until all rock sides showing are covered. Let dry.
Coat with thin layer of shellac or varnish, or fingernail polish.
NOTE: You can also coat the finished rock with a thin layer of white glue. It will dry clear, but it will not be waterproof!
---
CHIP OFF THE OLD BLOCK (A gift for Dad)
Materials:
Block of wood
Child's Photo
Modge Podge
Glue child's photo on the block of wood using the podge type effect.
On the back of the wood have a card printed with 'A Chip Off The Old Block'.
---
A SPOONFUL OF KISSES
Place a candy kiss (or a many as will fit on your spoon)–
Wrap it in  transparent cellophane paper or tulle and tie with a ribbon.
Attach the following poem…
"A spoonful of love and lots of kisses…
Please enjoy your Father's Day wishes!"
---
DOES DAD OR HUBBY LIKE TO BBQ?
Buy a plain canvas apron at your local craft supply store. Have kids/grandkids write messages to Dad or Grandpa in permanent marker. Stuff spices or a grilling utensil in the apron pocket for a fun gift that will last for years.
---
COIN HOLDER
Have children mold pieces of dough into small bowl shapes. Decorate the bowls by pressing colored pasta pieces and dried beans into the shape. Bake the bowls with decorations in place.
You can use the  following recipe…
BAKED ART DOUGH
Good for making gifts! In a bowl, mix together 2 cups flour and ½ cup salt. Stir in ¾ cup water. Knead the mixture for 8 to 10 minutes, until it is smooth and pliable. If the dough is too dry, add a few drops water. If it is too sticky, add a small amount of flour. Have children mold the dough into shapes and press in decorations when desired.
Place the decorated shapes on a baking sheet and bake them at 300 degrees F for about 4 hours, or until hard.
If desired, when shapes are cool and dry, spray the painted or unpainted shapes with a clear fixative—in an area away from youth.
---
POPSICLE STICK PENCIL HOLDER
Make this in the person's favorite colors.
Materials: Approximately 22 Popsicle sticks, container, paint (Optional)
Take the paper label off the container.
Line up a Popsicle stick, straight up and down, so that the bottom of the stick is just touching the bottom of the container and the top of the stick goes just over the top of the container.
Glue in place. Glue another Popsicle stick next to the first one– then repeat until you have glued on Popsicle sticks all the way around.
Leave natural or paint the Popsicle sticks; use any color except green if you'll be painting on green leaves.
Let paint dry.
Paint flowers or decorated as desired.
---
Give Dad the royal treatment! MAKE A CROWN and let him know he's "King" for the day.
---
BOOKMARKS make a great for a gift to someone you love.  For other 'Bookmark Ideas' visit the Bookmark page…

FATHERS DAY BOOKMARKS #1
Cut the front of appropriate greeting cards into 2 inch wide strips. Punch a hole at the top of each strip and attach a yarn tassel. Children can decorate the backs of the strips with markers and crayons if desired…
---
FATHERS DAY BOOKMARKS #2
Make fun bookmarks with construction paper, markers, paints, and stickers. You can also use glitter, sequins, lace, doilies, buttons, and any other odds and ends you have left over form other projects.
Cut strips from construction paper, painting the construction paper will make it sturdier, or you can visit the local library or office supply to have them laminated for longer lasting use.
To complete the bookmark, attach a tassel make from strands of yarn.
---
MAKE A SIT-A-PON FOR GARDENING OR CAMPING…
Remember making these when you were in Brownies or Girl Scouts? Children can make them for family members to kneel on during summer gardening! (Good for Camping too!) Also great for your outdoor 'Circle Time". Need:
1 thick magazine or catalog.
Old plastic coated tablecloth
Yarn
Large sewing needle
1. Fold your tablecloth in half. Place your magazine or catalog on the tablecloth. You'll be cutting out 2 squares from this. Cut out a square about 1 1/2-2 inches wider than the magazine. You don't want too much of an edge because then the magazine will slid around too much. The plastic part of the tablecloth will be the outside covering.
2. Take the 2 plastic squares and the one magazine and make a "sandwich " putting the magazine in the middle. You can use large straight pins to hold all the "sandwich" pieces in place. Once you have done this, using the hole punch, make openings equally spaced all around the perimeter of the "sandwich ".
3. Thread the sewing needle with the chosen yarn. Make a knot and start sewing through the holes. This will keep the "sandwich" together. After going all away around the perimeter of the rectangle end with a knot.
---
MAKE A PERSONALIZED T-SHIRT for Dad
Idea: Paint the bottom of the children's feet using fabric paint and have them step on the shirt to make footprints. Once the footprints are dry, use black fabric paint and write, "My kids walk all over me".
OR…
Keep the recipient's hobbies and interests in mind. For example, if he is an avid fisherman, why not make him a related shirt? You can make or buy fish-shaped stamps or sponges, dip them in fabric paint, and press a print on the shirt.
Since this could be costly–you could ask children that want to make a shirt– to bring one in. If "new" it needs to first be washed.
ABOUT PAINTING ON FABRICS…
Painting on fabric is done with a special acrylic paint that sets in the heat (Fabric paint) –by ironing or in an oven at 302F.
You can also make your own fabric paint by mixing acrylic paint with a mixer.
Apply the paint with a brush or stencil brush. The fabric SHOULD BE PRE-WASHED TO REMOVE SIZING/Starch so that the paint doesn't 'slip'.
Avoid  slightly fluffy fabrics when using a paintbrush, it makes the task harder.
When the shirt is painted and dry–be sure to iron it to set the paint before it is worn. If the paint is not "set" it may come off when washed. TO PAINT A T-SHIRT… After washing and drying the garment, you should iron it and lay it out flat. Slip a thin piece of card board inside to stop the paint from staining the back of the t-shirt. It could be impossible to get rid of paint stains on clothes; work carefully and cover up the surfaces not meant to be painted to protect them as you're working.
---
MAKING SOAP ON A ROPE
3 cups soap flakes ***
1/2 to 1 cup water, approximately
1 teaspoon vegetable food coloring
With this recipe you can make the following…
1. SOAP ON A ROPE
You'll need some string. Shape the soap with your hands. Cut a piece of string and tie the ends together. Push the knot gently into your finished shape. Let the completed soap dry before hanging it by the rope.
2. MULTI COLORED SOAP ON A ROAP
Make two-tone soaps by using identical shapes of different colors and sandwiching them together.
Adapted from: frugalhomemaker.com
***For soap flakes recipes, you can make your own with finely grated bars of pure soap to make soap powder. The amount of water may need to be decreased, so start with less water and add as needed. If you don't want to make your own pure soap flakes, YOU CAN BUY a package in the laundry aisle at the grocery store. ***Do not use laundry detergent! ***
---
MAKE A FATHERS DAY MEMORY BOX
Decorate a shoe box and give it to Dad as a "Memories Box". Put in notes, pictures, and other things that will make Dad think of his family. How about a item from being a baby, awards won, drawings, a good report card, poems, favorite photographs, an article of baby clothing, or vacation mementos?
---
Have your child/children INTERVIEW THEIR FATHER and/or grandfather. Ask questions about his birth, childhood, and what he did when he was a teenager. Find out favorite subjects in school, how he met their mother or grandmother. Inquire about his favorite job. End the interview by expressing love for him. The activity can end with the interview–or answers can be compiled into a booklet and/or illustrated.
---
CRAFT STICK TREASURE BOX
Materials:
1 package of large or small craft sticks
White craft glue
Buttons or beads
Paint brush
Wax paper
Optional: Acrylic paint, Glitter glue, Craft jewels
Lay several craft sticks on the wax paper, next to each other and touching. Be sure to line them up evenly.
Use two more craft sticks and glue on top of the others, one at each end, to hold the rest together. They will look similar to a fence or log raft.
Use two more craft sticks –and glue ends of stick– to the ends of the sticks that are already in place, so that they create a square.
Keep repeating this alternating process to build up the sides as high as you would like.
Make the lid by repeating steps 1 & 2 above. Let everything dry completely.
You can leave your box plain or paint it. You can also add a shiny effect by painting on a layer of glitter glue over white paint. Glue a bead or stacked matching buttons to the center of the finished lid as a handle.
You can further embellish your jewelry box by decorating it with craft jewels.
Adapted from: artistshelpingchildren.org
---
A BOX OF LOVE
To make this gift you need:
Small plain boxes such as jewelry boxes
Pretty wrapping paper to fit the occasion
Glitter, sequins, decorations of choice-Ribbon
This poem–printed on nice paper.
This is a very special gift
that you can never see.
The reason it's so special is
it's just to you from me.
Whenever you are happy,
or even feeling blue.
You only have to hold this box
and know I think of you.
You never can unwrap it…
Please leave the ribbon tied.
Just hold the box so close to you…
It's filled with love inside.
With Love, ______________
---
GIFT CERTIFICATES
Materials: Scissors, paper, colored pencils, crayons, and/or markers, glitter (optional)
Sometimes people give gift certificates for gifts. A gift certificate is a simple piece of paper that lets the person who owns it -trade it in for the gift.
Kids can easily make their own gift certificates. Have them think of several things they can do well, things that other people would appreciate.
 Maybe Dad would appreciate a cleaning of the car. Maybe Grandpa would appreciate errands done?
---
COUPONS FROM KIDS WHO DON'T YET WRITE…
Supplies: Paper, markers, scissors, old magazines.
Directions: Ask children to think of something they can do to help dad around the house. They can cut pictures from the magazine and paste them on paper strips to make coupons. Example: I will help wash the dishes" can have a cup, saucer or dish detergent on the coupon… Package up in an envelope as a gift…(Traditional coupon booklets are great for kids who can write!)
---
MAKE A GARDEN STEPPING STONE
Materials:
Cake pans in a shape you would like, sand dough, paint, cooking spray, paint
1. Spray the cake pans with cooking spray –Vaseline also works.
2. Fill it with sand dough.
3. Let dry for 3 days.
4. Children can paint the stepping stones when they come out of the pan. You can also Varathane the stones to weatherproof.
SAND DOUGH RECIPE #1
1 part white glue
2 parts flour
2 parts sand
2 parts water
Mix together to create a dough. You may need to add water or flour depending on the consistency.
#2 SAND DOUGH RECIPE
Add sand to quick set cement and follow the instructions for mixing the cement. Use this recipe when you have a mold or have created a pattern in the sand.
---
Yes, sometimes Dad gets stressed out!  Make him a BALLOON STRESS BALL to squeeze! They're also good for exercising hands after too much time at the computer keyboard. Cover a table with newspapers — this project gets a bit messy.
Have a canister of flour ready (how much you need depends on how many balls you make). You might want a helper with this project to make it easier.
Materials:
Flour, 16 oz. plastic bottle or funnel, small paper cup or measuring cup, medium or large round latex balloons, pencil or straw- or chopstick or dowel, permanent marker if desired.
1. Make a funnel out of plastic bottle by cutting 4 inches off the bottle–or use a purchased funnel.
2. Blow up the balloon and then let the air out. This is to stretch the balloon some.
3. Fit the balloon over the funnel or bottle spout.
4. Fill the balloon with flour by using the cup. Use a pencil, straw,spoon or dowel to push the flour down into the balloon.
5. Keep filling until your balloon is palm-sized. Twist the top of the balloon and tie it.
6. For stability, the sample balloon was made by pulling a second cut balloon over the first filled balloon–however, you do not need to add a second balloon–this is only for stability.
Above finished balloons by Lucky Bean.
7. Optional: draw on a face or decorate your ball.
Note: Other fillings like SAND or RICE can be used, but most people like the feeling of the flour-filled balloons best.
---
FAVORITE MUNCHIES…
How about making Dad a cake, cookies or his favorite snack? …
FILLING JARS 
1. DOES DAD LIKE M&M'S? This is a great, and inexpensive gift to give!
1. Wash bottles/jars, and take off labels.  Sort M&M's by color and layer them into the bottle.
Cut a piece of fabric into circles about 6″ in diameter. Glue fabric to lid of bottle, and tie a ribbon around the top!
SIMILAR TO THE ABOVE…
2. Fill a jar with Dad's favorite nuts and attach a tag to it saying, "I'm (Or We're) Nuts About you Dad!"
or…..
3. How about filling a jar with 'Reeses Pieces candy' and writing, "I love you to Pieces Daddy!"
---
FATHERS DAY RECIPE IDEAS FOR KIDS
POPCORN RECIPES/SNACKS Idea: What dad doesn't like popcorn!? A couple nice ideas below… 
Visit the POPCORN RECIPES PAGE for loads of other Popcorn Goodies!
EASY CARAMEL CORN #1
3 quarts popped corn
1 cup brown sugar
1/4 cup corn syrup
1 stick of butter
1/4 teaspoon salt
1/2 teaspoon baking soda
1. Put popcorn in a heavy paper bag.
2. Melt butter in a saucepan and mix together sugar, syrup, and salt.
3. Add 1/2 teaspoon baking soda and stir well.
4. Pour into paper bag and stir with a wooden spoon. Put bag in microwave and cook on high for 1 1/2 minutes. Take out and shake well.
5. Cook for another 1 1/2 minutes. Shake bag again and pour into a large container.
6. Serve in paper baggies that kids can decorate.
---
CARAMEL CORN #2 
This recipe is very inexpensive and easy to make.
Ingredients:
One stick (equals 1/2 cup) butter or margarine
1 cup packed brown sugar
3 Tbs. Light Karo syrup
1/2 tsp. vanilla
1/2 tsp. baking soda
Popped popcorn
Put one stick of butter or margarine in a medium saucepan; add one cup packed brown sugar (light or dark it doesn't matter). Add 3 TBS. Karo Syrup.
Heat all ingredients over med until you start to see it bubble. Turn the heat to low and let it cook for 5 minutes (Do not stir during the five minutes)
Remove from heat and quickly add 1/2 tsp vanilla and 1/2 tsp baking soda.
Stir and quickly pour over a large mixing bowl full of popped corn. Mix it all up to get it evenly coated. Enjoy!
---
MILK CHOCOLATE POPCORN
12 cups popped popcorn
1/4 cup butter or margarine
2-1/2 cups (12oz can) salted peanuts
2 cups (11-1/2 oz bag) milk chocolate
1 cup corn syrup
In a large greased roasting pan, combine popcorn and nuts. In a separate large heavy saucepan, combine chocolate chips, corn syrup and butter. Cook over medium heat until mixture boils, stirring constantly. Pour over popcorn toss well to coat. Bake in a preheated 300 degree oven for 45 minutes stirring frequently. Cool completely. Store in an airtight container for up to two weeks. Makes about 14 cups.
---
POPCORN WITH CANDY BAR PIECES
Ingredients:
1 package (3.5 ounce size) microwave popcorn–or any pre-made popcorn
1 king-size bar chocolate-coated caramel-peanut nougat candy
Directions: Pop the popcorn according to the package directions. While the corn pops, cut the candy bar into 1/2-inch pieces. (Or put pieces on your pre-made popcorn) Spread the popped corn onto a microwave-safe platter such as paper plates… Top with candy bar pieces. Heat on full power in the microwave at 30 second intervals, or until candy is melted.
---
FATHER'S DAY EVENTS…
Childcare Programs–Host a 'FATHER'S DAY' HAPPY HOUR!
Around 4:00 (or later) in the afternoon, fathers have root beer and popcorn with their children and teachers. The children can invite a "Favorite Guy" if Father is not available. During this time the children present gifts and cards that they have made…a great way to get more Dads involved!
---
I used to have fun with the following idea at our Father's Day/End of the year party events. (Sorry, I don't remember where I first saw this–but it's fun! Cassi in Michigan) This would also be fun at a large family get together.
Get together a few families and play the FATHER'S DAY/CHILD GAME. Divide into four father/child teams. Ask the fathers to leave the room while the children sit in chairs. Ask the same four or five questions to each child about their fathers. Bring in the fathers and ask them the same questions. Will the father and child have the same answers? Switch places and see how well the father's know the children. Award a red rose to the winning father/child team.
Question Ideas: Favorite color, movie, candy bar, color of toothbrush, memorable moment with you, best friend, hobby, talent, food, animal, cartoon, pizza topping, ice cream topping, restaurant. Most embarrassing moment. Favorite holiday.
This would also be fun at home if having a get together with a few fathers present!!!
---
Father's Day Poems for Preschoolers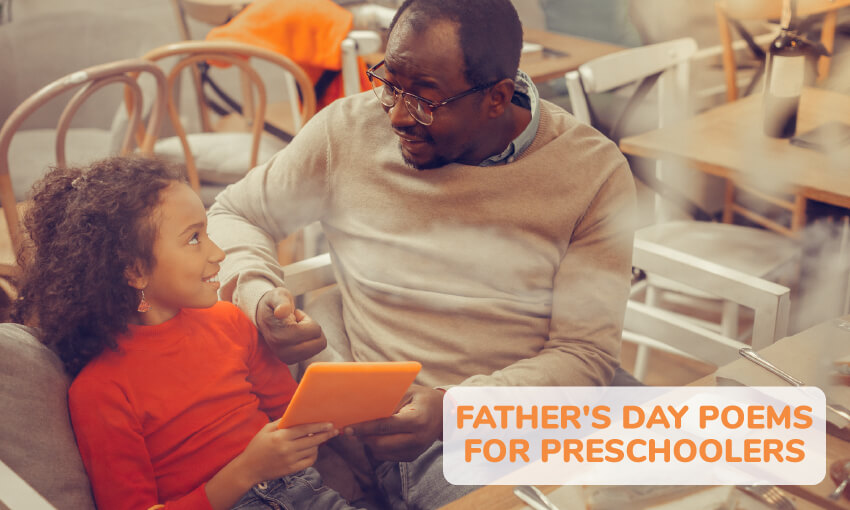 A DAD IS…
A Dad is respected because he gives his children leadership.
A Dad is appreciated because he gives his children care.
A Dad is valued because he gives his children time.
A Dad is loved because he gives his children the one thing they treasure most – himself.
Author Unknown
---
DADDY, I LOVE YOU
Daddy, I love you
For all that you do.
I'll kiss you and hug you
'Cause you love me, too.
You feed me and need me
To teach you to play,
So smile 'cause I love you
On this Father's Day.
Author Unknown
---
A FATHER MEANS…
A Father means so many things…
An understanding heart,
A source of strength and support right from the very start.
A constant readiness to help
In a kind and thoughtful way.
With encouragement and forgiveness,
No matter what comes your way.
A special generosity and always affection, too.
A father means so many things
when he's a man like you….
Author Unknown
---
NEW ADDITIONS..
PAPER WEIGHT WITH SMOOTH STONES…Follow directions in making a paper weight using coins..(Located in Art & Craft ideas towards the top of THIS page…) Image by KidActivities.net

art ideas, craft ideas, and Father's Day poems. " width="275″ height="715″ />

art ideas, craft ideas, and Father's Day poems. " width="275″ height="715″ />
SaveSave