Curious George is one of the most easily recognizable and beloved characters in children's books. He's been around since the early 1940s when he was introduced as the star of a series of books created by Margret Rey and H. A. Rey.
Since then, his adventures have been adapted into various media, including a movie, a broadway musical, and a long-time-running TV show that has seen him become a modern-day cultural icon.
If your kids love Curious George and his many adventures, why not celebrate their birthday with a party filled with all things Curious George? From arts and crafts to games and treats, there are many ways to create a fun and memorable birthday for your little monkeys.
Here are 40 Curious George birthday ideas that will surely delight your little ones and get them excited about celebrating their big day.
Awesome Curious George Birthday Ideas
1. Chocolate Covered Bananas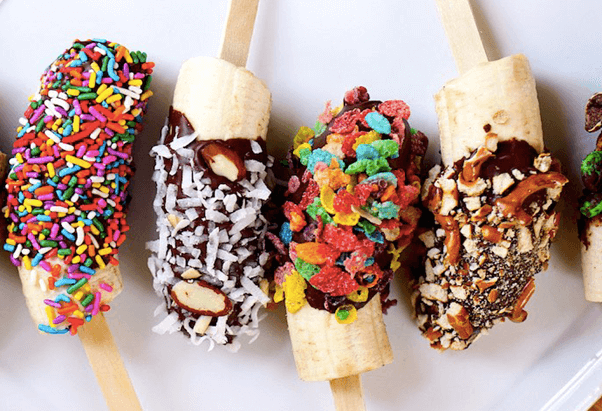 Consider making some chocolate-covered bananas if you want a delicious yet healthy treat to serve at your kid's birthday party. You can use either melted dark or white chocolate, put it in a fondue fountain, and let the kids dip their bananas into the chocolate. Don't forget to prepare some toppers like:
Marshmallows
Sprinkles
Chocolate chips
Candies
Nuts
Cereals
2. Curious George Piñata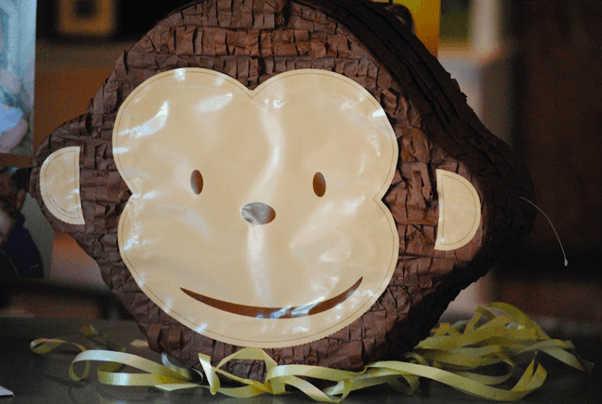 Piñatas are a classic and fun activity to do at parties. You can buy one from Amazon or spend an afternoon making it with your kids.
Get creative and fill it with a variety of sweets and snacks that your kids will enjoy. It will surely add some excitement to your child's birthday party. 
3. Curious George Cake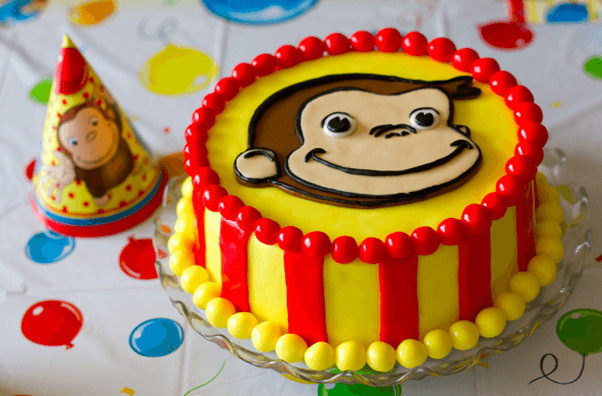 A Curious George-themed birthday party will not be complete without a custom Curious George cake. A fondant cake will surely look amazing and make the perfect decoration for your child's birthday party.
However, baking is not for everyone, so it's best to have the cake baked by a professional to guarantee it turns out great. 
4. Curious George Party Invitations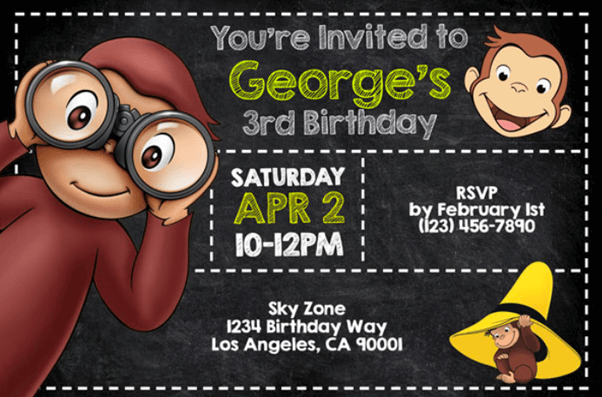 Invitations play an important role in setting the mood for your child's upcoming party.
There are a lot of printable Curious George invites available online that you can easily customize to create a unique invite that you can use to spread the word about your child's birthday party.
5. Curious George Cookies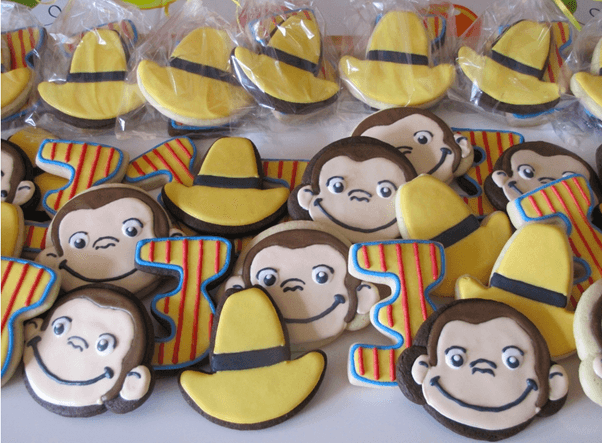 Curious George sugar cookies are a fun and tasty snack to serve at your kid's birthday party.
In addition to Curious George's face and his iconic yellow hat, you can also add your son's initials and age to your cookie designs to make them more personalized. 
6. Curious George Favor Bags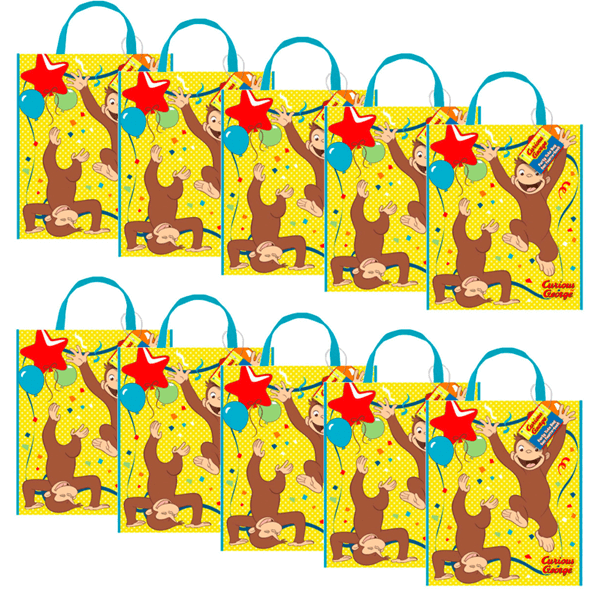 A small favor bag will go a long way in letting your guests know how much you appreciate their presence at your child's birthday party.
Fill them up with candies, Curious George toys, and even a banana to stay true to the theme. The kids will surely be delighted to receive a favor bag filled with goodies.
7. Curious George Face Painting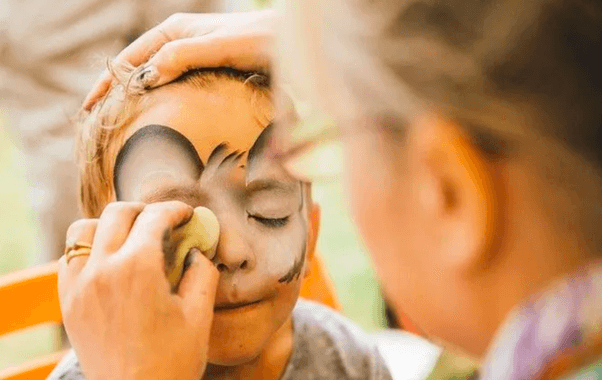 You can take your child's Curious George-themed birthday party to the next level by hiring a professional face paint artist to create some cute designs on the kids' faces.
Your guests will surely have so much fun with this activity and you'll end up with Instagram-worthy photos that you can share online.
8. Banana Split Bar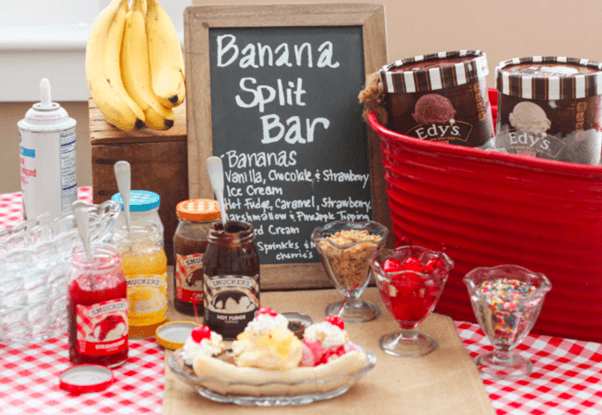 If you want to stay in theme with Curious George, then serving banana splits topped with ice cream, candies, and other sweets would be an excellent idea.
This yummy dessert is perfect for kids and adults alike and a great way to cool down after a long day of birthday festivities.
9. Curious George Cupcakes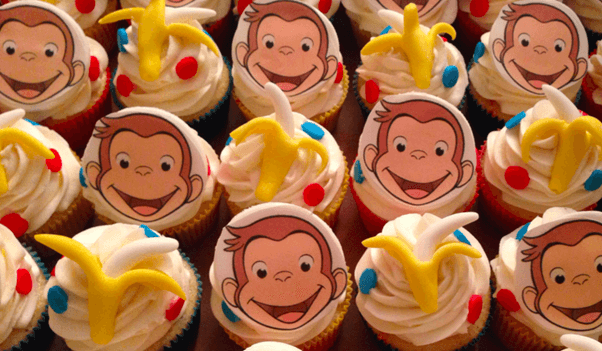 If you're looking for a quick dessert option for your kid's Curious George-themed birthday party, cupcakes are a great choice.
Complete the look by decorating them with yellow and white icing, sprinkles, and Curious George face printouts. You can also bake banana flavored cupcakes to stay true to the theme.
10. Curious George Balloon Art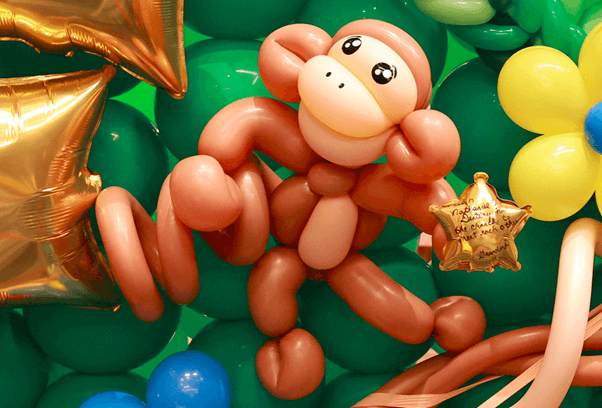 To add more fun and color to your kid's party, make balloons the main focus of your décor.
You can use them to form Curious George faces, yellow hats, trees, and bananas. The sky's the limit when it comes to creating unique and whimsical balloon art for your Curious George-themed birthday party.
Balloon art can be used as:
Background for your photo booth
Stage backdrop
Party giveaways
Centerpieces
11. Curious George Bouncy Castle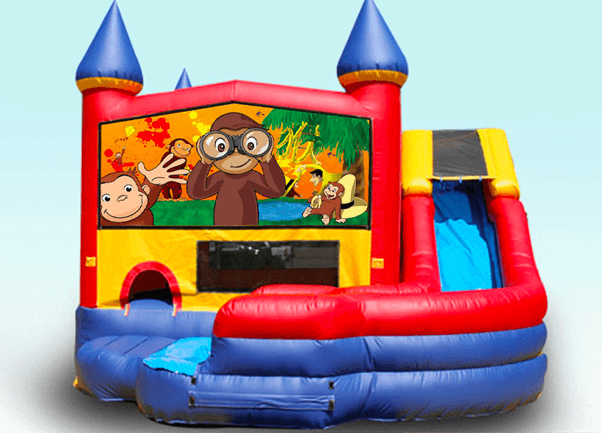 Renting a bouncy castle for your kid's birthday will surely be the highlight of the occasion.
And what kid doesn't love a bouncy castle? This inflatable structure will help you transform your child's party from boring to amazing. It's also a great way for kids to play around and socialize with each other. 
12. Curious George Stage Backdrop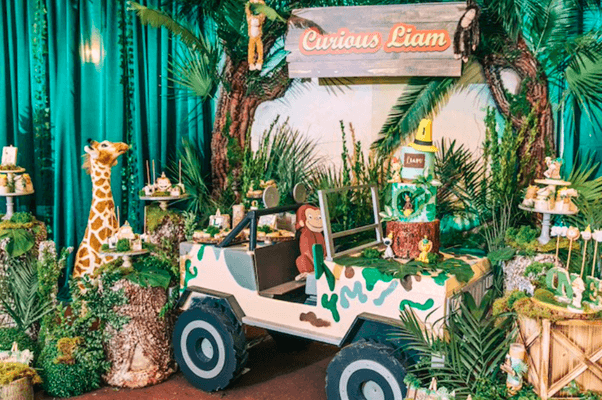 A Curious George stage backdrop can add a colorful and fun element to your child's birthday party.
You can use a combination of balloons, buntings, stuffed animals, plants, and other safari-themed decorations to create the perfect Curious George stage backdrop. Don't forget to add Curious George himself to complete the set.
You can use the following themes as inspiration:
Safari/Jungle
Yellow and Green Motiff
13. Curious George Photowall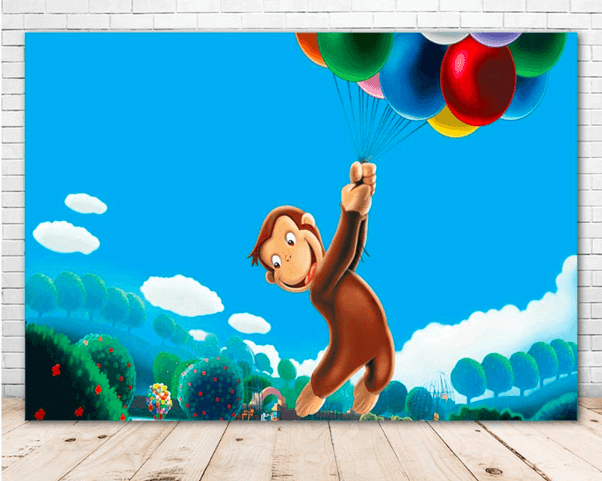 A Curious George photo wall is a must-have for your kid's birthday party. It's a great spot for your guests to take photos and capture all the fun moments of your child's birthday.
You can ask a professional graphic artist to design a custom Curious George backdrop with your child's face on it or you can buy a premade one from Amazon.   
14. Curious George Mascot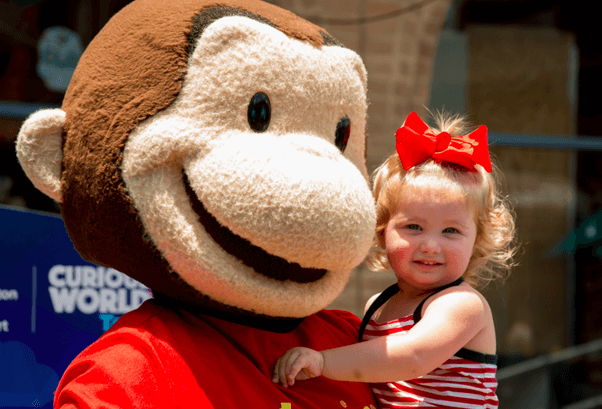 If you have the budget, hiring a Curious George mascot will make your child's birthday truly unforgettable.
You can hire a Curious George mascot just for one to two hours to greet your child, interact with guests, dance to a couple of songs, and pose for pictures.
15. Curious George Table Setup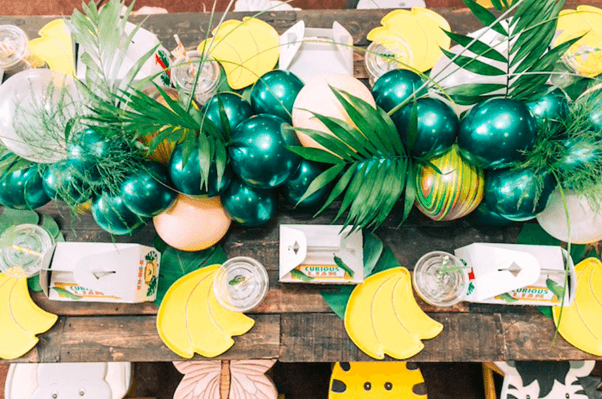 Curious George-themed tablescapes are a fun and unique way to welcome your guests to your child's birthday party.
You can purchase a bundle of Curious George paper plates, disposable cups, and napkins from Amazon plus other table decorations like green and yellow balloons and tablecloths, stickers, and Curious George-themed placemats. 
16. Curious George Plushies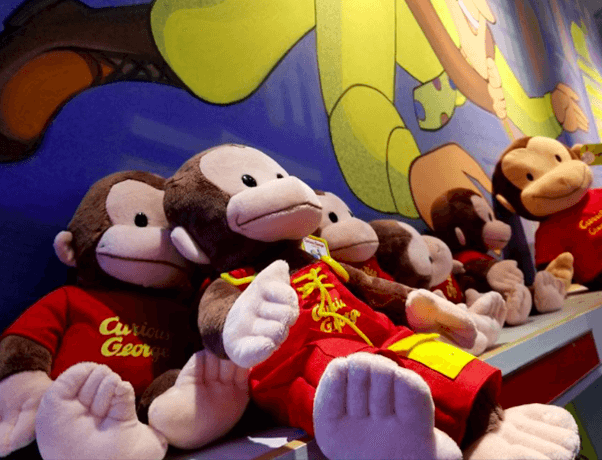 Forget traditional favors and party bags. Instead, give out Curious George plushies as a "thank you for coming" gift to your guests.
They are unique, and adorable, and will be treasured by the kids long after the party is over. Plushies will make a memorable birthday party favor.
17. Curious George Party Hats and Blowouts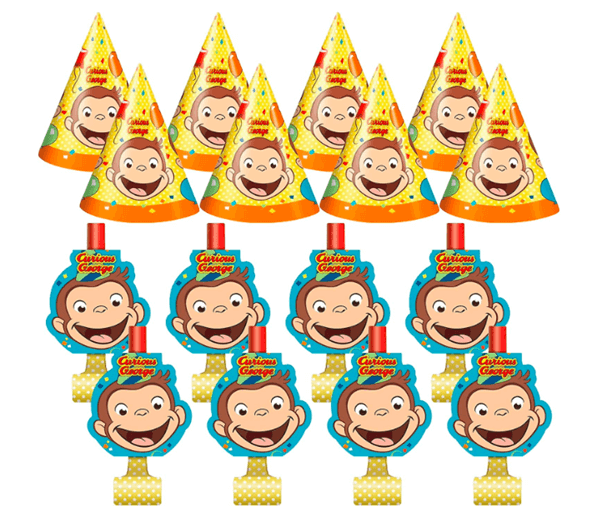 Party hats and blowouts are inexpensive, easy to use, and will set the tone for your party.
If you're on a budget and don't want to spend money on a huge gift bag or party favors, then party hats and blowouts are a fantastic alternative. The kids will definitely love them. 
18. Curious George Outfits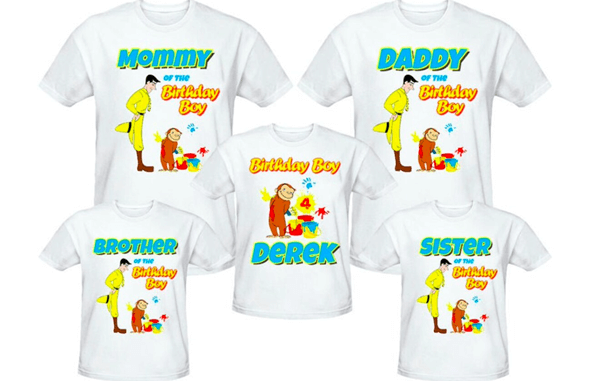 If you're going all out with your kid's birthday party, then you may want to consider having the whole family wear matching outfits for the party.
It'll look adorable, and your child will feel extra special since everyone will be wearing the same thing.
19. Curious George Cornhole Game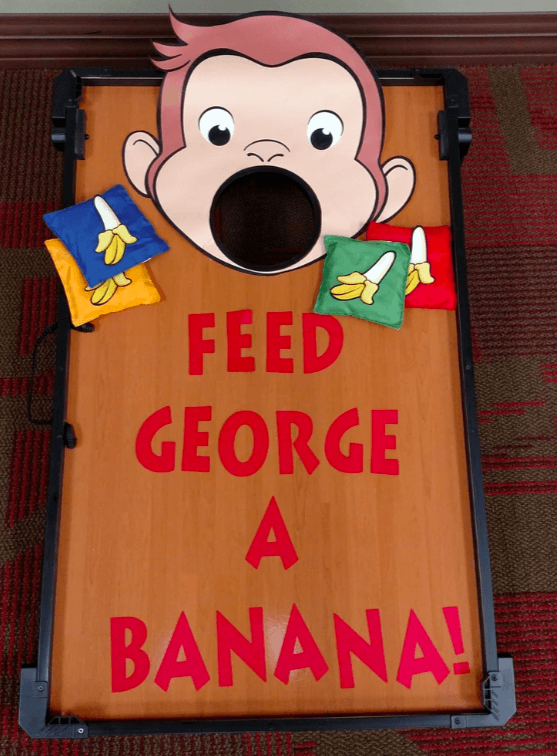 If you're having a birthday party outdoors, then you can easily set up a cornhole game for the kids.
This game can be easily set up in just a few minutes and will add some fun entertainment to your party. It's also a great way to get the kids to socialize and play with each other. 
20. Curious George Tic-Tac-Toe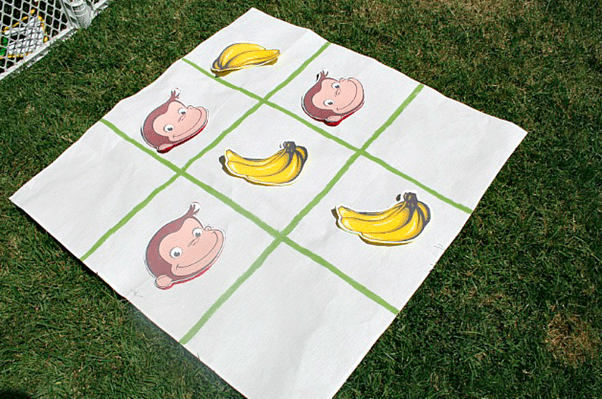 If you're looking for a classic party game, then consider setting up a life-size Curious George-themed tic-tac-toe game for your child's birthday party.
This activity will surely keep your little guests entertained for hours on end, and it's a lot of fun to play as well.
21. Curious George Puppets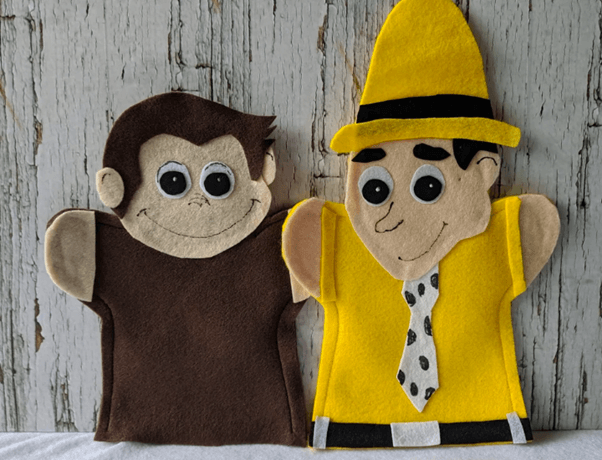 Create a cute little puppet show for your child's birthday party with a few inexpensive and easy supplies like balloons, construction paper, and felt.
A short puppet play is a fun, low-cost activity to bring a little magic to your child's birthday party. Children love to watch puppet shows, so this is a guaranteed crowd-pleaser. 
22. Curious George Paper Plates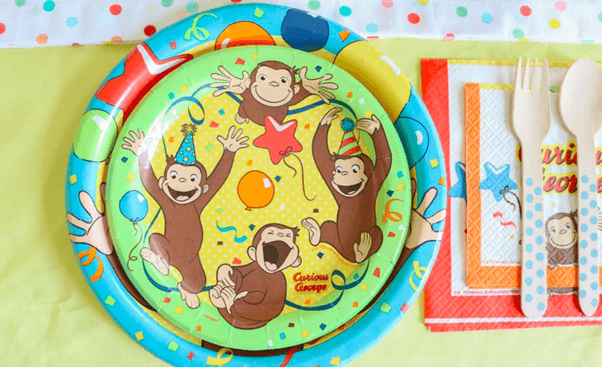 Why use plain, boring white paper plates when you can buy a set of Curious George plates and cups on Amazon for cheap?
They'll look great on your table and are sure to be a huge hit with your child's guests. Plus, they can be great conversation starters as well.
23. Banana Plushies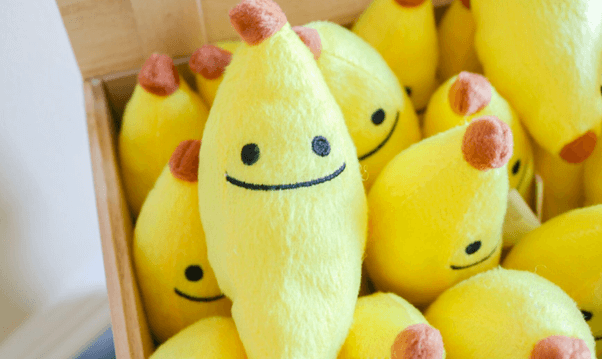 There is nothing cuter and more adorable than fuzzy, bright yellow banana plushies. Kids of all ages will absolutely love having one of these little guys on their table.
You can also give them away as party favors after the celebration is over, so your guests will always have a cute memory of your child's birthday. 
24. Banana Station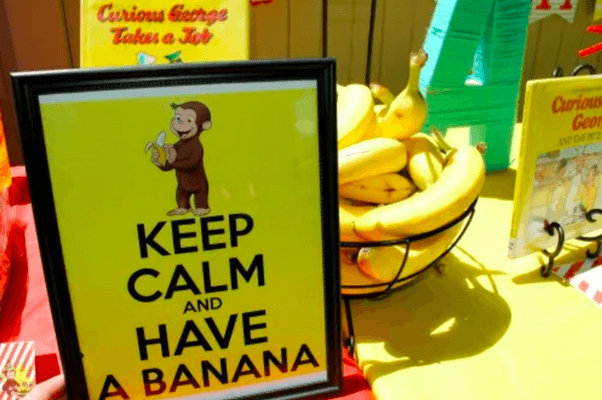 Curious George loves bananas, so it only makes sense to have a whole bunch of them at your child's birthday party.
Instead of just putting an array of sugary treats, you can add some fresh, ripe bananas to balance things out. This way, your little guests can help themselves to some healthy snacks. 
25. Banana Bread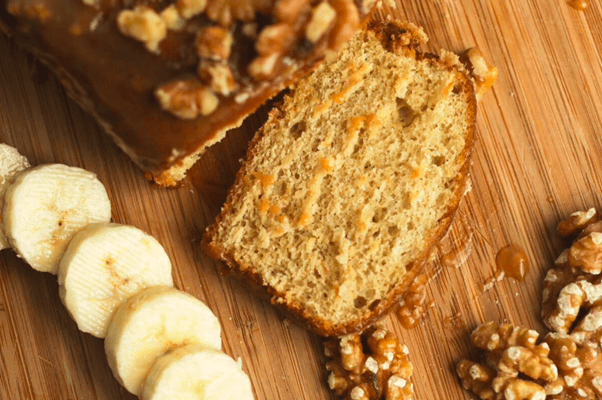 If you are looking for a tasty way to say thank you to your guests, consider making a batch of banana bread as a party favor.
They'll definitely enjoy taking home something sweet after attending your child's birthday party. Banana bread is easy to make, so you won't have a hard time whipping up a few batches.
26. Curious George Welcome Banner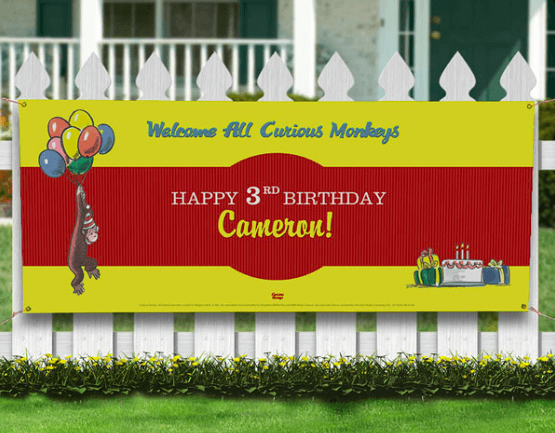 It's a good idea to include a big Curious George welcome banner when you host your child's birthday party.
This way, your little guests will know that they're in for a special experience. Plus, it's a great way to get everyone in the mood for your child's birthday.
27. Curious George Cake Pops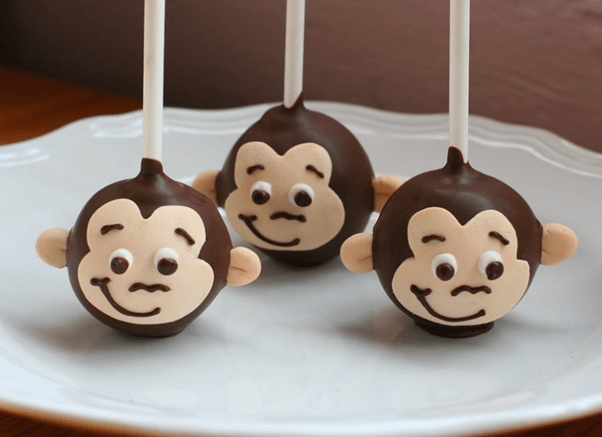 If you'd like to give your little guests a fun and tasty treat at your child's birthday party, consider serving Curious George-themed cake pops at your kid's birthday party.
Curious George's face, bananas, and the iconic yellow hat are just some of the designs that you can use for your cake pops. 
28. Curious George Banner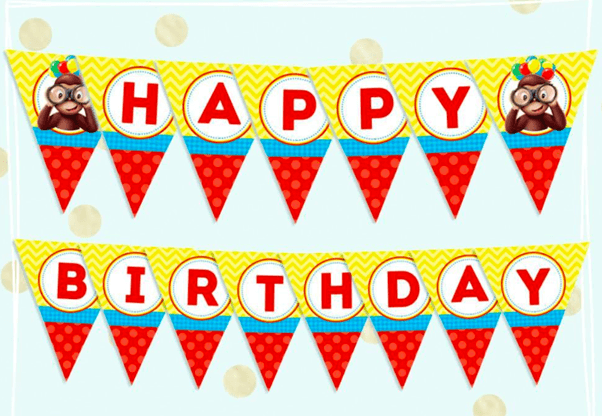 A Curious George banner would make a great addition to your child's birthday party.
It would be a fun way to welcome your guests and celebrate your child's birthday. Plus, they are fairly cheap, and you can easily find them on Amazon, Etsy, or just about any local craft store.
29. Curious George Foil Balloons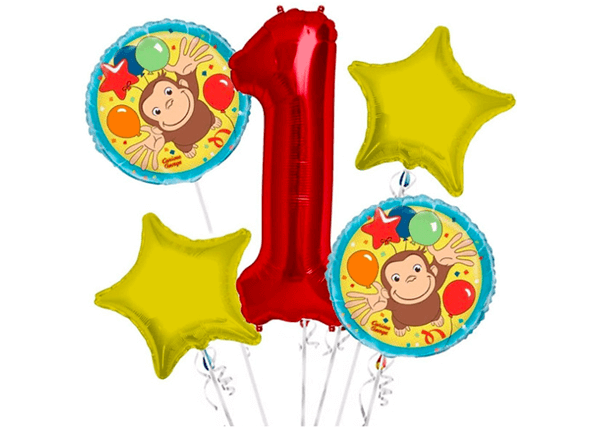 The best thing about foil balloons is how bright and shiny they look. They are also more durable, easier to inflate and last longer than regular balloons.
Plus, foil balloons usually come in a set, so you'll save yourself the headache of finding the right color or design combination. 
30. Curious George Cake Topper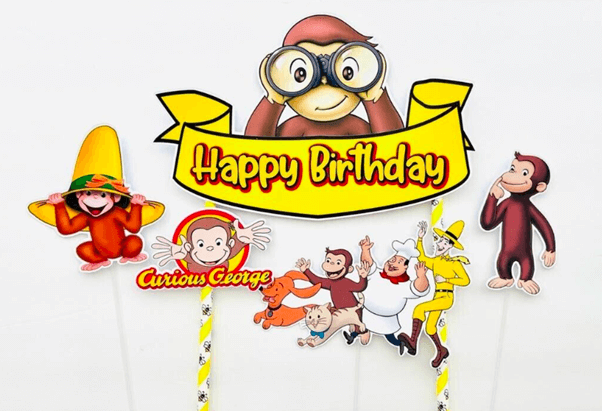 Instead of spending hundreds of dollars on a custom Curious George-themed birthday cake, you can simply buy a store-bought cake and transform it into something more colorful using printed toppers.
You can buy a set of Curious George toppers from Amazon and Ebay for just a couple of bucks.
31. Monkey Ears Headband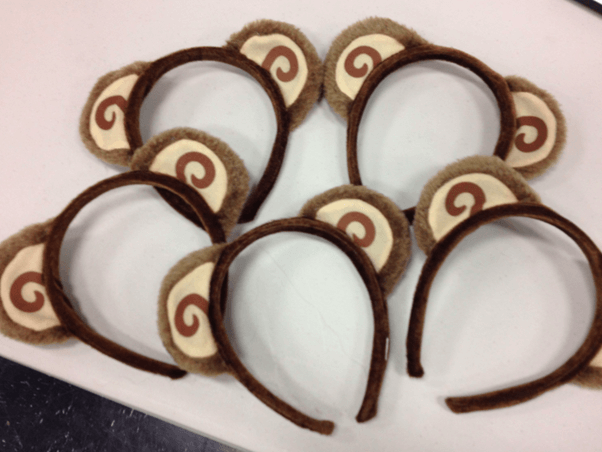 Kids love wearing hats and headbands, so why not buy a bunch of Curious George/monkey ear headbands for your child's birthday party?
They're a cute way to get your little guests in the party spirit and also make a great party favor for kids after the celebration is over.
32. Curious George Bottled Water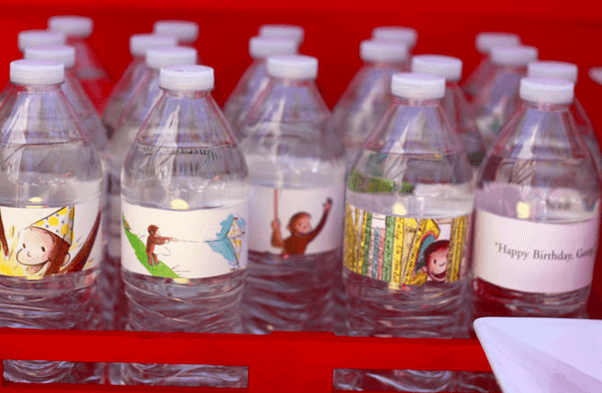 For your child's birthday party, you might want to consider having bottled water available for everyone.
It keeps children away from sugary soda and juice, while also keeping them hydrated throughout the party. There are plenty of Curious George printables online that you can use as labels.
33. Banana Scavenger Hunt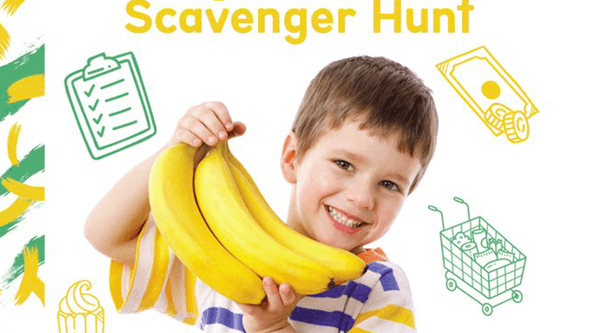 Scavenger hunts are a favorite among children of all ages. At your child's birthday party, hide some bananas in your house, then ask your little guests to find all the bananas.
When they do, you can reward them with a fun party favor like banana plushies or bags of sweet treats.
34. Monkey Felt Masks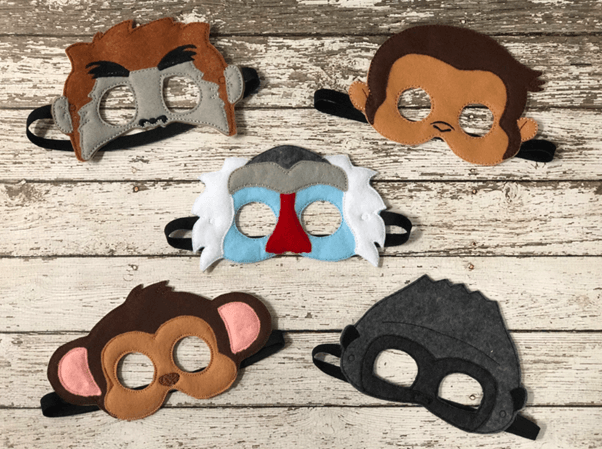 Monkey masks are a wonderful party favor idea for a Curious George-themed party.
Kids love to play pretend, so they'll be thrilled to wear a mask at your child's birthday party. They're also very affordable and come in a variety of colors, sizes, and designs.
35. Curious George Outdoor Screening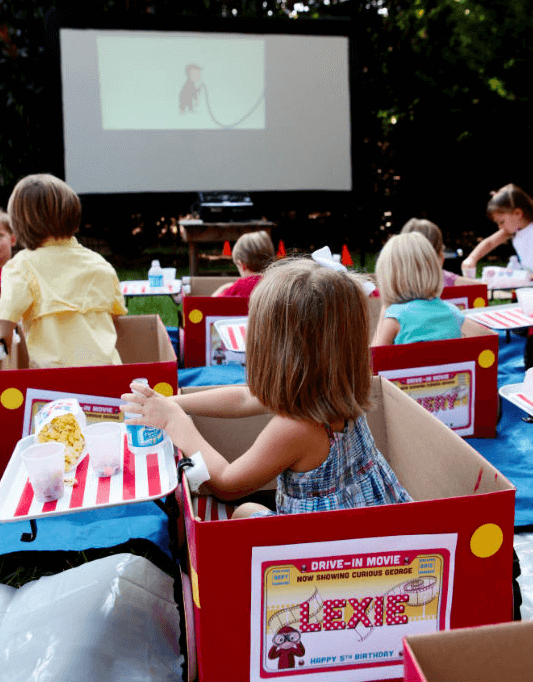 If you are celebrating your child's birthday on your porch or lawn, you can set up a big TV or projector screen and play some Curious George episodes for the kids to watch.
You can serve popcorn, cupcakes, and other snacks to complete the outdoor movie experience. This activity is sure to entertain your little guests for hours.
36. Curious George Book and Bookmark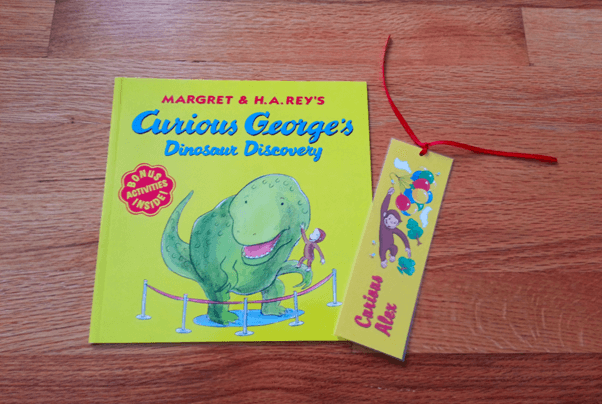 If you are looking for a party favor that will be a lasting keepsake, consider handing out Curious George books and bookmarks for your little guests to take home after your child's birthday party.
You can customize the bookmarks with the names of each guest to make them feel more special. 
37. Curious George Jigsaw Puzzle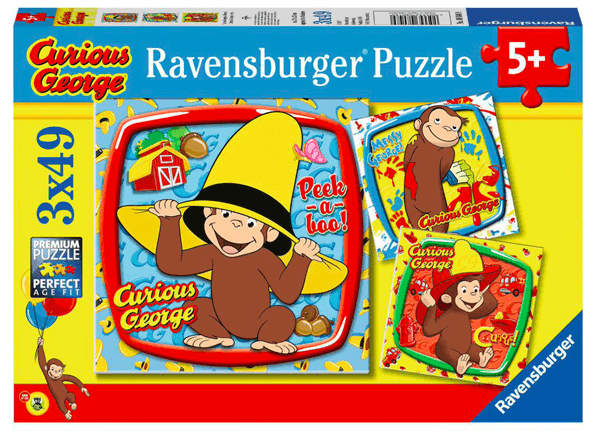 Looking for an activity that will both entertain and keep kids occupied at your child's birthday party?
Look no further than a Curious George jigsaw puzzle. Your little guests will absolutely love this game. It is a unique activity that kids can do as a group or individually. 
38. Curious George Action Figures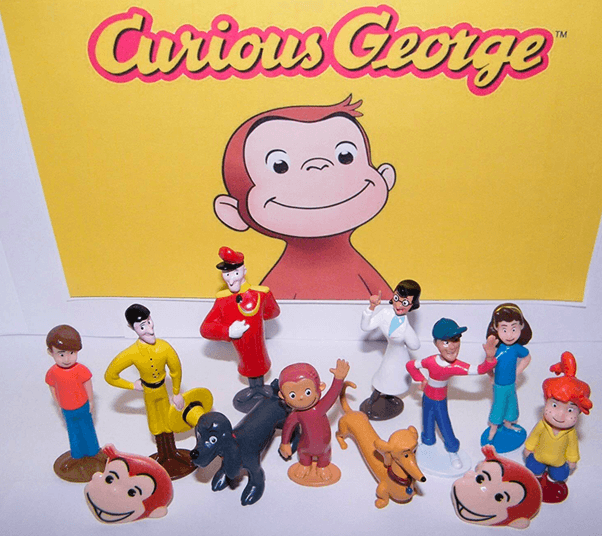 Toys are a surefire way to bring smiles to children's faces. If you are looking for a fun gift for kids, consider giving them a complete set of Curious George action figures.
Action figures are extremely popular among children and they will be 100% thrilled to receive them as a gift.
39. Curious George Candy Corner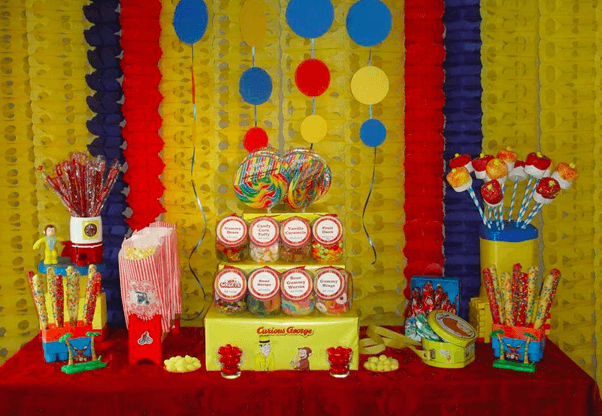 Kids love to eat candies, so why not give them a candy corner to enjoy? A candy buffet will surely be a hit at your child's birthday party.
Gummies, jellybeans, lollipops, chocolates, cookies, and other sweet treats will absolutely satisfy your little guests' sweet tooth. 
40. Curious George Craft Table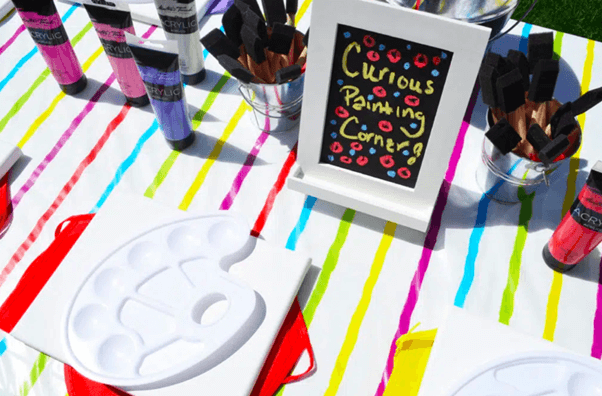 A fun way to keep your little guests occupied during parties is to set up an arts and crafts table.
This is a great activity for toddlers, especially those who love to draw or paint. You will find it to be a lot of fun to see their creativity unfold as they make their own masterpieces.
Make Your Child's Birthday Extra Special This Year
With these 40 Curious George-inspired activities, games, and party ideas, you'll definitely be able to make your child's birthday party one for the books.
Children's parties are a great opportunity for kids to practice their social skills, learn about themselves, and have lots of fun with their friends. So, make sure to take the time to plan out a party that will make memories that last a lifetime.