What famous person am I? is a classical icebreaker game that has brought many parties and family reunions to life!
Since it requires little preparation time and a minimum amount of materials (just some sticky notes and a pen!), this fun game can be played anytime, anywhere.
Well, of course, as long as there are at least two people willing to play… But the more, the merrier! 
Let's see exactly how to play the What famous person am I? game. 
What is the What famous person am I game?
What famous person am I? is a popular guessing game that challenges players to ask Yes or No questions to identify the famous person they have been assigned.
Questions can relate to age, physical appearance, gender, and other relevant characteristics of the famous person they are trying to guess.
This game can be played in small and large groups alike. 
How to play What famous person am I?
Of course, the first step would be to know exactly how many players will participate.
This way you will make sure each player will receive a card that they will then have to guess.
Now that you know how many players there will be, it's time to focus on cards and characters.
Game preparation
Preparing the game takes very little time. You can use sticky notes on which you will then write the names of famous people to be guessed.
If you prefer and you have time on your hands, you can use magazine pictures of famous people, notecards, or ready-made card decks designed for the game. 
Make sure to also get masking tape so that you can adhere the cards/pictures to the players' backs or foreheads.
Choosing the characters
Obviously, when choosing the names of the famous people, you will need to take into account the players' age, preferences, interests, etc.
If you want everybody to have fun, players need to be able to guess their characters.
So make sure you opt for famous people that all players are likely to recognize (with a little bit of effort, of course!).
If you prefer, you can choose a theme for the game. For example, classic rock stars or actors from the '60s would make a great choice for adults.
Kids will more than likely have a blast guessing Disney characters, while teenagers might prefer pop or hip-hop music stars.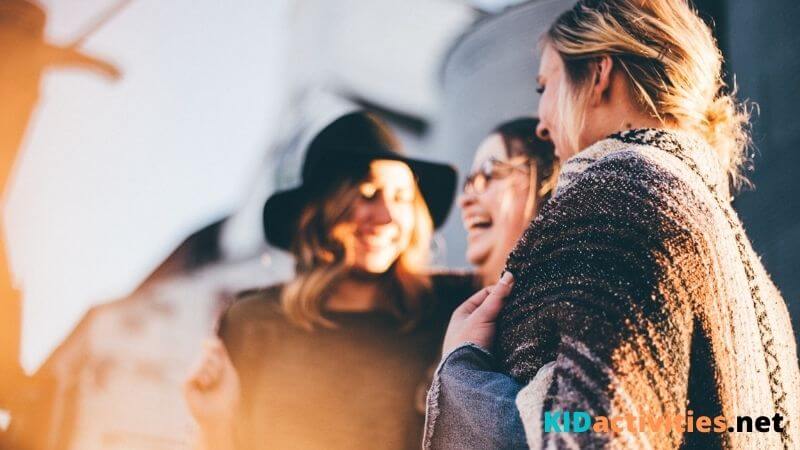 Gameplay
Once each player is assigned a card that is then placed on his/her back or forehead, there are two ways you can play What famous person am I:
Players can move around and ask Yes or No questions to other players until all the players identify their characters. 

This playing method is ideal for large groups. To add some extra excitement to the game, you can have each player sit down as soon as he/she guesses the character. The last one standing loses. 

For reduced groups, it is better to take turns. One by one, players ask Yes or No questions until they identify the famous persons.
Game rules
Don't cheat! If you look at the name on your card, you will spoil the fun.
Only ask questions that the other players can answer with Yes or No.
Try to answer questions as accurately as possible.
Aspects to decide before playing:
If a player asks a question that you don't know the answer to, you should be able to consult other players or even use Google to find the correct answer. 

You can decide together on a number of questions that each player is allowed to ask. Anywhere from 10 to 20 sounds reasonable enough.

If, for any reason, a player can't identify the famous person, you can agree to give him/her a couple of hints. 
Tip: Start with general questions and then narrow down the options.
Try your luck and give an answer
At a certain point, you will have to put your intuition to a test a make a guess. If you are sure that your answer is correct, you don't have to ask all the pre-established number of questions.
If you have doubts, wait until the last question is answered. Usually, there are no penalties for wrong answers.
But if you want to spice up the game, you can 'punish' wrong guesses with a fun task. 
Ideas for What famous person am I? themes and famous people
Adults:

Politics: Barack Obama, Donald Trump, Angela Merkel, Bill Clinton, Joe Biden

Famous Inventors: Alexander Graham Bell, Nikola Tesla, Marie Curie, Leonardo Da Vinci, Thomas Edison, Steve Jobs

Movie stars from the ´60s: John Wayne, Elizabeth Taylor, Cary Grant, Julie Andrews, Paul Newman, Audrey Hepburn

Classical Rock stars: Billy Idol, Ringo Starr, Don Henley, Jon Bon Jovi, Robert Plant, Alice Cooper, Stevie Nicks, Ozzy Osbourne

Characters from plays by Shakespeare: Romeo, Juliet, Desdemona, Hamlet, Othello, Lady Macbeth, Ariel, Iago
Teenagers: 

Marvel characters: Loki, Falcon, Spider-Man, Abraxas, Ant-Man, Blade, Thor, Wolverine, Lady Deathstrike

Famous YouTubers: PewDiePie, Marshmello, Ed Sheeran, Vegetta777, Smosh, Nigahiga, Justin Bieber

Pop Singers: Rihanna, Ariana Grande, Dua Lipa, Justin Bieber, Katy Perry, Shawn Mendes, Bebe Rexha, Charlie Puth

Celebrities: Oprah Winfrey, Kim Kardashian, Prince Harry, Beyoncé, Bella Thorne, Bella Hadid, Ellen DeGeneres, Simon Cowell

Action Movie Actors: Sylvester Stallone, Jackie Chan, Scott Adkins, Jason Statham, Tom Cruise, Jet Li, Arnold Schwarzenegger, Lucy Liu
Kids: 

Disney characters: Mickey Mouse, Ariel, Rapunzel, Cinderella, Mulan, Goofy, Lightning McQueen, Sheriff Woody, Princess Jasmine, Elsa

Disney Channel stars: Miley Cyrus, Selena Gomez, Joe Jonas, Cainan Wiebe, Miranda Cosgrove, Dylan Sprouse, Skai Jackson

Fairy-tales characters: Peter Pan, Cinderella, Little Red Riding Hood, Dorothy, Snow White, Tom Thumb, Hansel and Gretel

Sports: Lionel Messi, Cristiano Ronaldo, Tiger Woods, LeBron James, Serena Williams, Kobe Bryant
Possible Questions for What famous person am I?
The best way to start the game is to begin with general questions and then narrow down options (profession, physical appearance, etc.) For example, useful initial questions could be:
Am I female? / Am I male?
Am I real? / Am I fictional?
Am I dead? /Am I still alive?
Am I American/European/ African etc.?
Am I an actor/animated character/politician etc.?
Am I blonde/dark-haired etc.?
Am I skinny?
Do I have a beard/freckles/long hair etc.?
Questions regarding age (ex. Am I over 60?) could be tricky, as players may not know the answer.
But it could be useful if you have previously agreed that you may consult external sources (ex. Google). 
What famous person am I? variations
What am I?
Instead of famous people, objects can also be used. For instance, you can choose categories such as: fruit and vegetables, animals at the ZOO, or home objects.
What famous person am I? charades
Instead of asking questions, players can act out the names of the characters.
What famous person am I? for classroom use
The game can be used in the classroom to reinforce specific vocabulary or tenses.
For instance, children can practice vocabulary related to classroom objects, animals, literature characters, etc. Or questions can be asked using a specific tense: present simple, past tense, etc.
It is an awesome warm-up activity that will allow children to learn in a fun and relaxing way. 
To sum up
What famous person am I? is a fun guessing game that allows players to customize it according to their age and interests.
Enjoyed by kids and adults alike, this game is an awesome party ice-breaker and warm-up classroom activity. Ready to have fun?