Even though many people relate Valentine's Day to romantic love, they couldn't be any further from the truth! Valentine's Day means much more than that:
It is the perfect occasion to show love, commitment, and appreciation to all those people who enrich our lives day after day: family members, friends, classmates, teachers, etc.
So why not engage kids in such a joyful and soul-enriching celebration? There are plenty of ways to turn Valentine's Day into a special kids-friendly celebration.
From DIY cards decorated with fancy hearts to songs, love and friendship poems, dance choreographies, and many other fun activities, there are many ways to turn Valentine's Day into a vivid reminder that we should always tell those special people in our lives how much we love and admire them!
Valentine's Day Songs for Preschoolers
A brief history of Valentine's Day
Even if the history of this celebration is still uncertain, it is believed that it all started back in Roman times when Emperor Claudius II outlawed marriage for young men.
The Emperor believed that married men were more cautious on the battlefield. And he only wanted brave soldiers in his army. Despite this law, as it is natural, young men were still falling in love and dreaming of a family.
Fortunately for them, a priest named Valentine was brave enough to defy the law and put his own life in danger. Valentine kept celebrating marriages in secret.
Unfortunately, the priest's secret was revealed and he was sentenced to death. According to records, he was executed on February 14th.
To honour the priest's memory and courage, the Catholic Church made Valentine a saint. Nowadays, February 14th has turned into a global celebration of love and friendship. 
Did you know that…
… celebrating Valentine's Day is a custom that is more than 600 years old?
… people used to send 'Vinegar Cards' on Valentine's Day to turn away unwanted suitors?
… Valentine's Day is the second most popular holiday to exchange cards (obviously, right behind Christmas)?
…millions of Valentine's Day cards are exchanged each year?
… red roses are considered the symbol of love. There's no wonder that red roses are the most gifted flowers on Valentine's Day?
…alongside red roses, heart-shaped chocolate boxes are people's favourite Valentine's Day gift?
Make your kids' day special with Valentine's Day songs!
Whether you are a teacher or a parent who wants to get kids into the right Valentine's Day spirit with special songs, this is the right place to be!
We have prepared a list of the most entertaining kids-friendly Valentine's Day songs just for you! Of course, if you want to put kids' creativity to a fun test, you can challenge them to write their own lyrics and sing them using the music of other songs (for example, Twinkle, twinkle little star or the London Bridge). 
But having an ace up your sleeve is not a bad idea either. Let's get the party started! 
Here's the list of Valentine's Day Songs for Preschoolers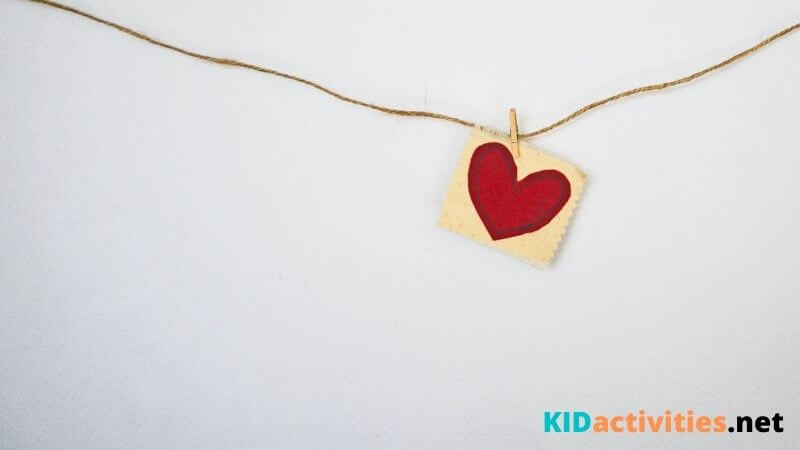 1. Five Pretty Valentines
You can find the song here. If you want to make the song even more entertaining, you can have kids use their own names. For instance:
Five pretty valentines waiting at the store.
Susan/Mark/Emily/etc. bought one and then there were four…
2. H-E-A-R-T by The Kiboomers
You can find the song here. Of course, to make it even more fun, you can work out your own choreography.
3. Valentine's Day SharksbyPinkfong 
The Baby Shark song is already a hit. You wouldn't expect a Valentine's Day version of the song to be less than that, would you? You can find this fun version here. 
4. Boom Chicka Boom by The Learning Station
Get that body moving with this entertaining Valentine's Day song! You can either dance along with The Learning Station or make your own choreography. You can find the song here. 
5. Skidamarink by Pinkfong
Another fun and catchy song animated by Pinkfong, kids will definitely love Skidamarink! Check it out here.  
6. Today Is the Day for Valentines by Mother Goose Club Phonics Songs
A song wrapped in a beautiful story, this is definitely a MUST WATCH and MUST SING option. You can find the song here. 
7. Valentine's Day Song with Apples and Bananas by Little Angel
Well, any occasion is a great occasion to keep reminding kids to eat healthily. Healthy singing anyone? You can find the song here. 
8. 5 Little Hearts by The Kiboomers
Love, friendship, and Maths blend together wonderfully! Don't take our word for it. Check it for yourselves here. 
9. Valentines, Valentines, What Colors Do You See? by The Kiboomers
Songs are not only fun to sing but they also have an educational value. You can use this song to teach and practise colours. 
10. Valentines FREEZE Dance by Wright Ideas with Susan
Get kids in the Valentine's Day mood with a dancing heart, bouncy music, and a FREEZE challenge! You can pair up the song with fun games such as the hot potato or musical chairs. If you are up for the challenge, you can find the song here. 
11. I Love My Family – CoComelon Nursery Rhymes & Kids Songs
This song can be used to teach kids that there are many ways to show your family how much you care. You can find it here. 
12. Valentine's Day Song by Jack Hartmann
If you are looking for a catchy song with a fun and easy choreography, this is the one! 
13. No No Valentines Day by Little Angel
Get into the Valentine's Day spirit with Baby Monkey and watch him learn how to make friends, share, and show love to the important people in his life! The song is available here.  
14. Diana and Roma SAVE VALENTINE'S DAY
Join Diana and Roma in their thrilling adventure to save Valentine's Day! You can find the song here. 
15. If You're a Kid… (Valentine's Day Remix)
This interactive Valentine's Day Remix will get everybody involved! Check it out here! 
16. Be My Valentine by Jack Hartmann
No kid will be able to resist this fun choreography!  Get everybody to move and sing along with this catchy song. 
17. Would You Be My Valentine by Music Box Kids
True love overcomes any obstacle. Just watch Sam the Elephant trying to gift Emmy a Valentine's Day Gift! You can find the song here. 
18. Valentines Are Made to Share by The Kiboomers
This is a cute Valentine's Day song that will allow you to practice colours on such a special occasion! You can find the song here. 
19. Valentine's Day Dance by Sing Play Create
When a catchy song and a fun choreography join forces, everybody will follow in! This is a great choice for a fun activity on Valentine's Day. 
20. Valentine's Day Song for kids by LittleStoryBug
This is another great song to practice colours with kids! Check it out here. 
It is never too early – nor too late – to teach your kids that love and friendship will prevail over any adversity!
With our fun and educational selection of Valentine's Day songs, your kids will not only have a great time but will also learn new concepts interactively. Happy Valentine's Day everyone!