When planning your child's first birthday themes party, you must ensure you do it right.
First birthdays are extra special because they mark the beginning of a whole new phase of your child's life: a once-in-a-lifetime event that deserves to be celebrated in style.
However, most parents feel overwhelmed at the thought of throwing such a special occasion.
In this post:
It seems almost impossible to know what to do or where to start, so we've put together some of the best first birthday party themes to jumpstart your planning process.
Here are 40 unique and creative birthday party ideas to help you get started:
Creative First Birthday Themes for Your Child's Celebration
1. Safari Theme
A safari theme is very popular for kids' birthday parties because there are so many decorations that you can use to bring the great outdoors to your party venue.
Safari party decorations may include nature-inspired decor items like:
Stuffed animals
Plush toys
Wooden toys and more.
You can even incorporate real plants to create a more realistic setting.
2. Space Theme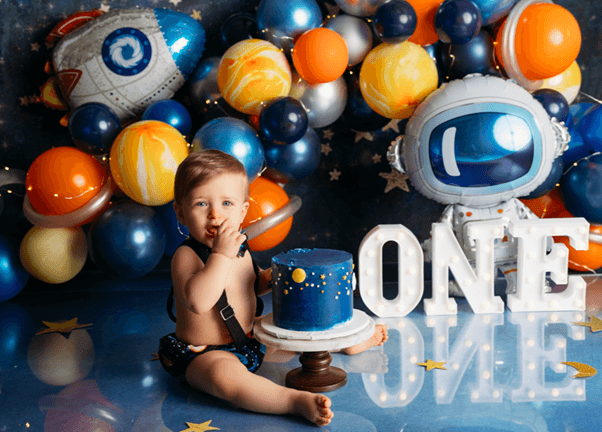 An outer space theme is the perfect backdrop for a kid's party because it offers endless imaginative play and role-playing opportunities.
Decorate your party with everything from rockets, planets, and stars to alien characters and other objects from outer space.
You can use balloons to form the solar system and star cutouts to make constellations.
3. Unicorn Theme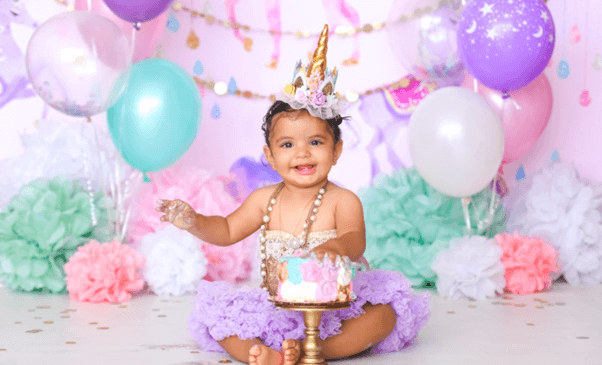 Unicorn party themes are a lot of fun for kids' birthday parties because they're magical and whimsical.
The most common unicorn theme party involves incorporating rainbow-colored decorations, confetti, streamers, and balloons.
To complete the look, you can also prepare a unicorn cake, pastel-colored candies, and other colorful edible treats.
4. Princess Theme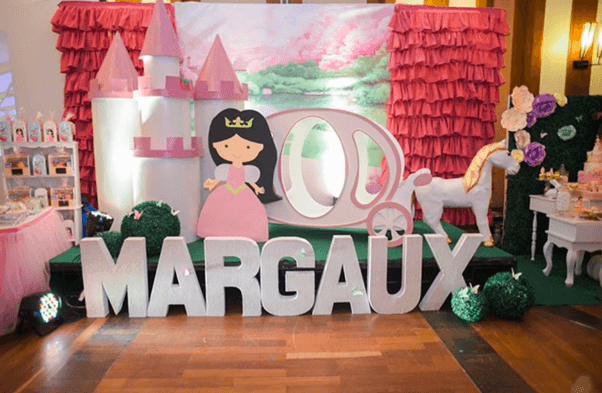 If your little girl has always dreamed of being a princess, then her first birthday is a wonderful opportunity to make that dream a reality.
Dress your child in a sparkling dress, tuck her hair under a crown, and decorate her party with fairy lights, pink balloons, and flower crowns.
You can also add a castle and carriage on your stage backdrop for an extra touch of royalty.
5. Basketball Theme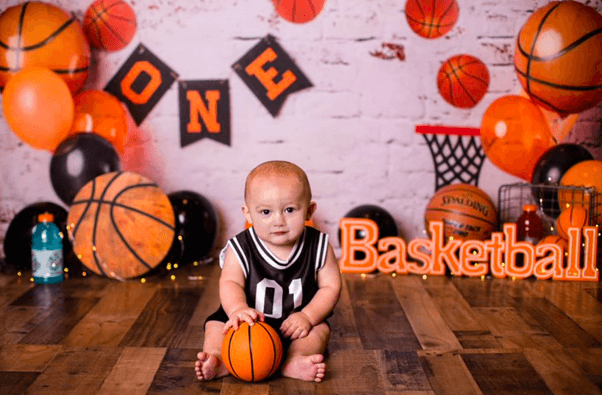 If you and your husband love the NBA, why not throw your little boy a party that celebrates your favorite sport?
You can have your child dressed as a basketball player, wearing the jersey of your favorite NBA team, and you can also add a basketball hoop and plenty of basketball to the party décor to complete the look.
This is a unique party theme that is sure to impress. 
6. Candyland Theme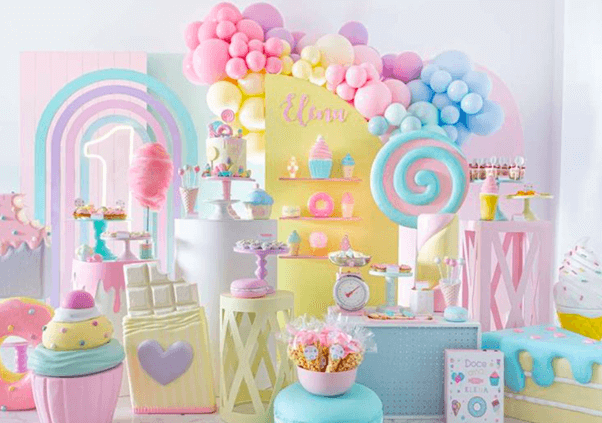 If you are looking for a picture-perfect party theme for your child's first birthday, you can never go wrong with a Candyland theme.
This is perfect for little girls who love to dress up in colorful costumes and eat sweet treats.
Make sure to prepare a candy station full of:
Jelly beans
Lollipops
Nerds, and other sweets for your child and little guests to enjoy.
7. Mermaid Theme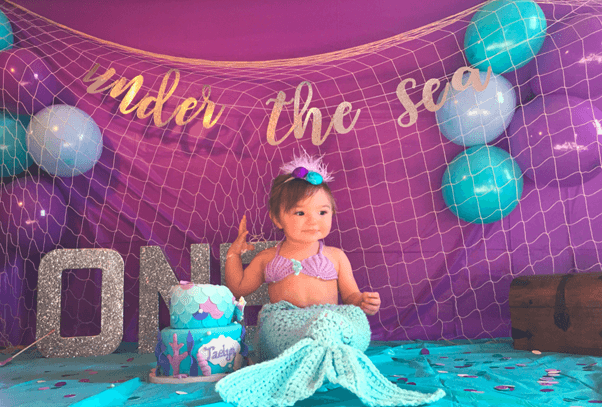 This Little Mermaid-inspired party theme is perfect for little girls who love dressing up in sparkly, sequined costumes.
You can purchase a custom-made mermaid tail on Etsy for your child to wear at the party.
As for the decorations, you can play around with all shades of blue – from sky-blue balloons and teal tablecloths to aqua-blue cups and light-blue tableware.
Don't forget to rent an automatic bubble maker to add to your child's magical under-the-sea birthday party. 
8. Superhero Theme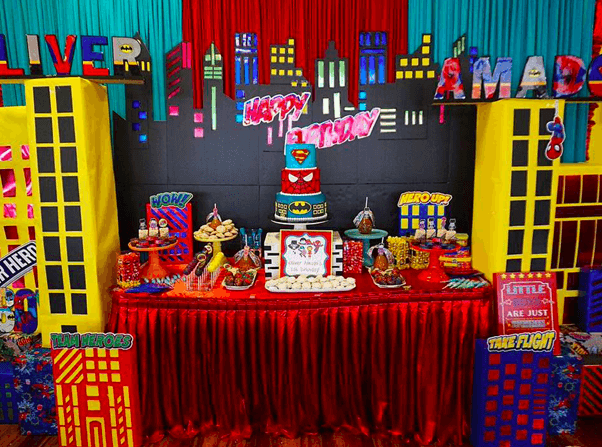 Superhero-themed parties are always a hit among kids. To really go all out, you could create a costume contest where your little guests get to don superhero outfits and compete to see who has the cutest costume.
For the party decorations, stick to red, yellow, and blue hues for a true comic book vibe.
You can also order superhero action figures as party giveaways – they make a great parting gift that your little guests can keep after the party.
9. Beach Theme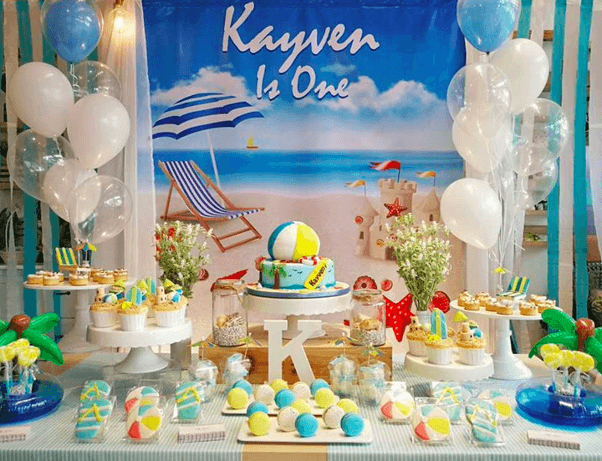 A beach theme birthday party is perfect if your little one loves the water.
You can rent an inflatable swimming pool or pool floats for your little guests to play on or fill a sand pit with buckets and shovels and have them build their own sandcastles.
This party theme is perfect for summer – you can turn your lawn into a tropical paradise. Your little guests will surely have a great time. 
10. Winter Wonderland Theme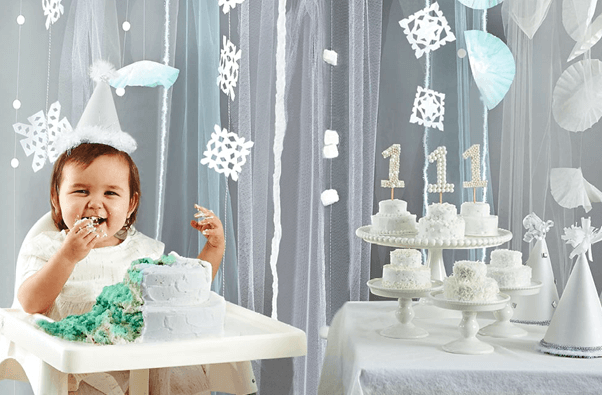 For a chic and sophisticated look, set the backdrop of your little girl's birthday party with white tulle and draping fabric.
Use white pom poms and a few other small white accents to really make this theme stand out.
Silver also blends beautifully with white, so be sure to incorporate silver tableware and silver balloons for the perfect effect.
Don't forget to add snowflakes and cold white fairy lights for a more magical feel. 
11. Cars Theme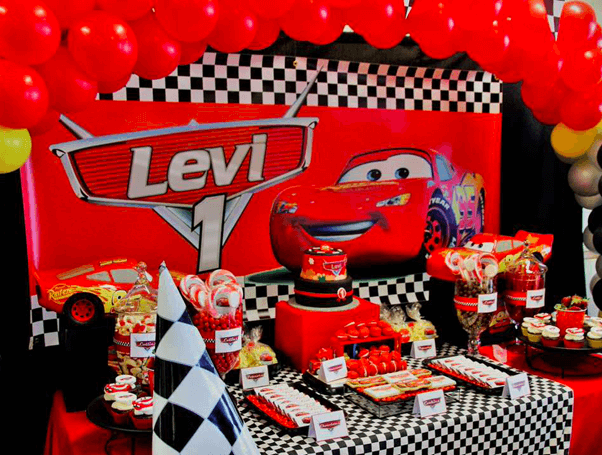 Pixar's Cars is a movie full of racing cars, so this theme is perfect for little boys. To achieve the look, focus on red and yellow decorations – reminiscent of the movie's main character, Lightning McQueen.
A simple tablecloth in a checkered pattern that looks like a race flag will also help tie this theme together.
There are plenty of Cars decorating set pieces that you can buy on Amazon, so you don't have to break your budget to pull off a Cars-themed party.
12. Dinosaur Theme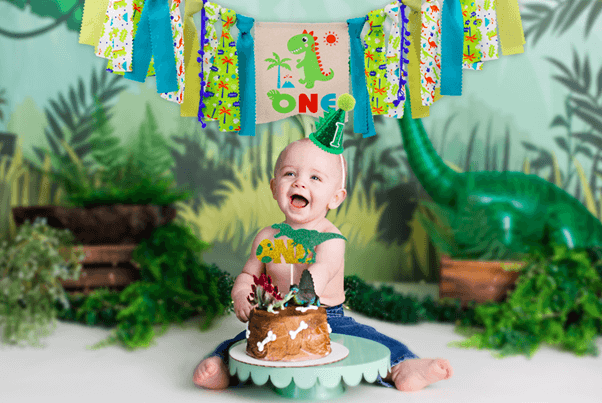 Dinosaurs are awesome, and kids absolutely love them, so why not celebrate your little one's first birthday with this theme?
You can use dinosaur figurines, plush toys, and other Jurassic Park-themed decorations for a dino-tastic party.
You'll also want to choose earthy colors like brown and green party supplies to create a more jungle-like setting.
13. Cowboy Theme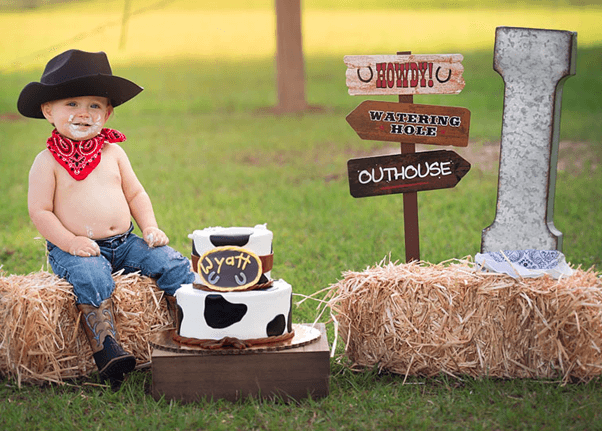 Cowboy parties are all about the classic Americana lifestyle, so you'll want to feature cowboy hats, boots, and other western-inspired decorations.
Think white picket fences, horses, and hay stacks to create an authentic backdrop.
Go for earthy colors like brown, tan, and red to make this theme come alive.
Top it off with plenty of traditional foods, such as hamburgers, hotdogs, chicken nuggets, pizzas, and other goodies for your guests to munch on. 
14. Fiesta Theme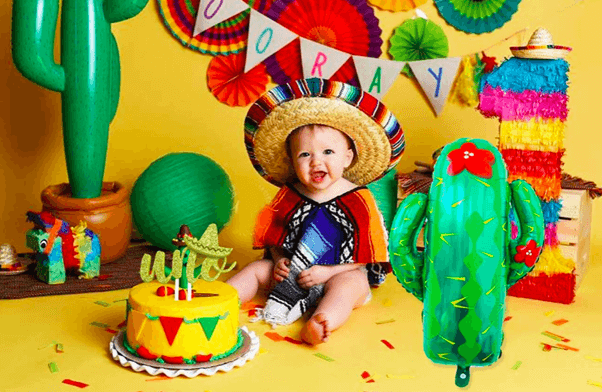 Fiestas are all about community, so this theme makes perfect sense. Invite your friends and family over to celebrate your child's first year with a fiesta-themed birthday bash.
You can make use of Mexican-style décor, such as maracas, sombreros, and piñatas, and serve authentic dishes like enchiladas, tacos, and burritos.
Go for bold, bright colors like yellow, red, green, and orange to bring the Fiesta-party vibe to life.
15. Bunny Theme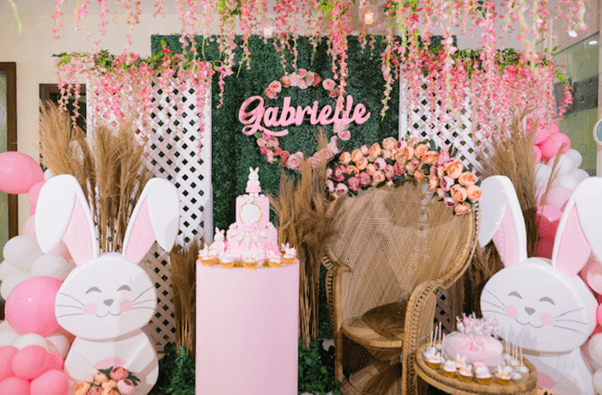 If your little one's first birthday falls on Easter Sunday, why not throw your child a bunny-themed birthday party?
You can incorporate adorable bunnies into your décor and display Easter-themed items, like eggs, candy, and pastel-colored food and drinks.
You could even dress up your baby in a bunny costume and pose him or her with a few Easter-themed props. It will surely look cute and adorable.
16. Bee Theme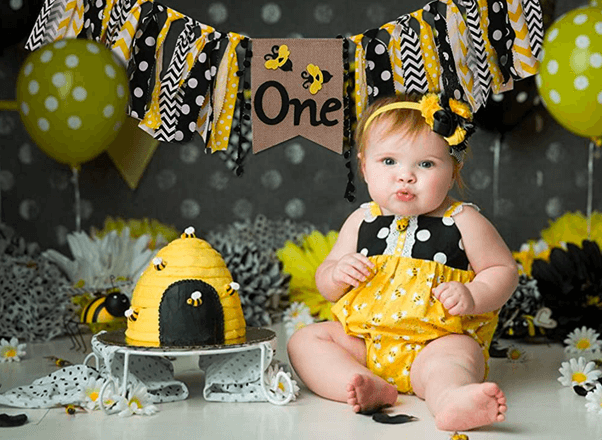 Honey is sweet, and bees are adorable – so combine them together to create a bee-themed first birthday party for your little nugget.
Serve honey-filled food and treats like cupcakes and cookies, and decorate your venue with lots of flowers, bee figurines, and honeycombs.
Use the colors black, white, and yellow to bring the bee theme to life. A bee outfit is also a must for your little one's special day!
17. Barn Theme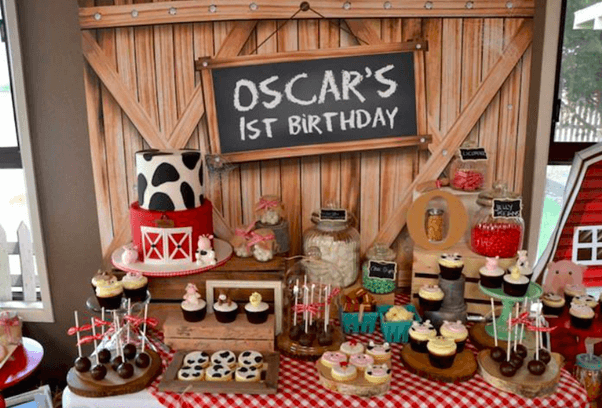 If you want to celebrate your little one's first birthday party in a rustic countryside setting, then you should definitely consider having it in a barn.
Prepare some farm-related toys for your little guests to play with, like mini tractors and wagons.
You could also use farm animal plushies as party decorations – or even better, let the kids take them home as party favors.
Barn-themed events are perfect for families who love nature and animals.
18. Mickey/Minnie Mouse Theme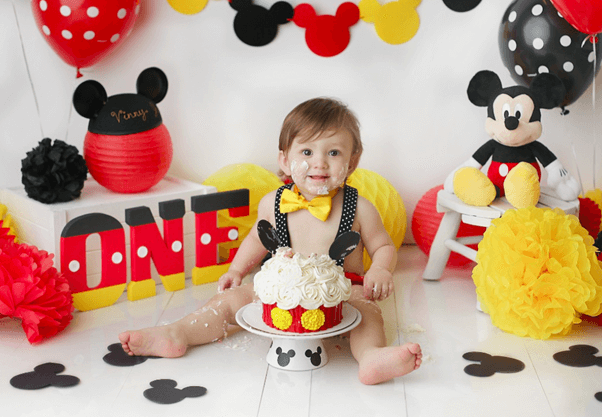 Mickey and Minnie Mouse are two of the most recognizable Disney characters that little kids love and adore.
The duo is known for their silly antics, sweet personalities, and overall cuteness. For little boys, you can take inspiration from Mickey Mouse's red jumpsuit, his ears, and iconic white gloves.
For little girls, think of Minnie Mouse's pink polka dot dress, bow, and yellow shoes. Both characters make the perfect mascots for kids' birthday parties.
19. Frozen Theme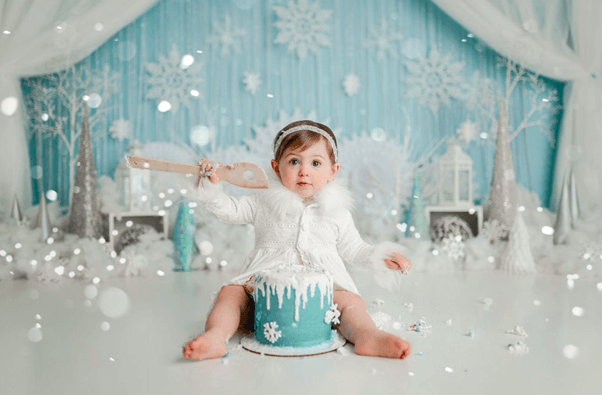 Frozen is such an incredibly popular movie franchise – it's no surprise that kids of all ages are obsessed with Elsa and Anna.
When planning a Frozen-themed birthday party for your little girl, you'll want to focus on snowflakes and glittery accents to achieve a true winter wonderland feel.
And don't forget to play Frozen's theme songs on repeat – "Let It Go," "Do You Want to Build a Snowman?" and "Into the Unknown."
20. Floral Theme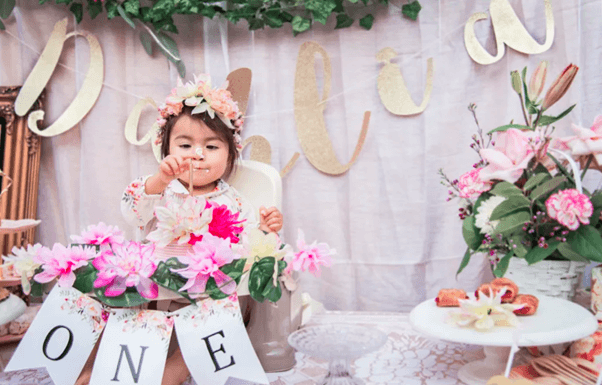 If you named your little girl after a flower – there's no better way to celebrate her than choosing a floral theme for her first birthday party.
Consider decorating the space with fresh flowers and pastel-colored balloons to create a beautiful backdrop for the festivities.
For the food, make sure to serve some cute desserts like mini cakes with colorful frosting and fresh fruits to complement the blooms.
21. Teddy Bear Theme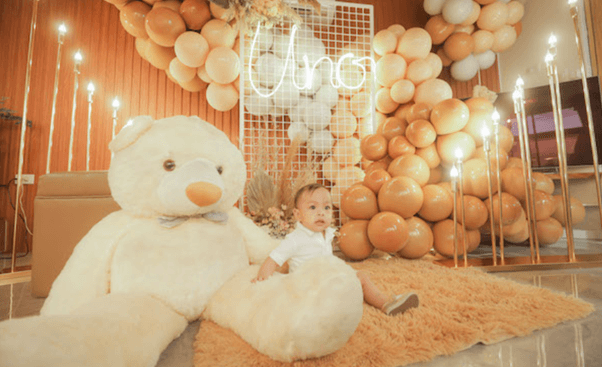 If you are looking for a gender-neutral theme for your little one's first birthday party, consider making it a teddy bear theme.
You can play around with brown and nude colors for the decorations and use soft toys or plush toys as centerpieces for your table settings.
As for the stage, go all out for life-size teddy bears – they will surely amaze and delight your little guests.
22. Ballet Theme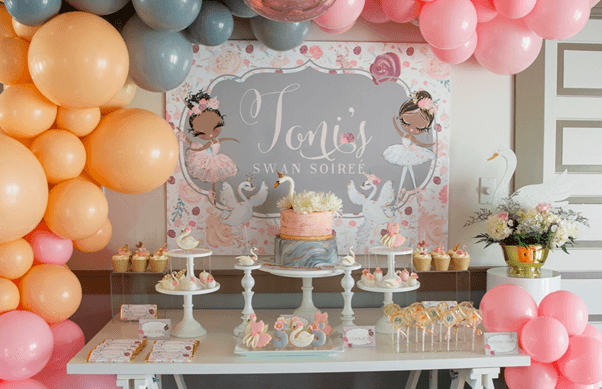 Transform your little girl into a ballerina on her first birthday by having her wear a tutu and pink leotard.
Decorate the room with pink tulle streamers and paper flowers to match her costume.
You can also include pastel-colored balloons to the décor to add some whimsical feel to your venue.
Last but not least, decorate with swans – reminiscent of the famous Swan Lake ballet – for an extra touch of elegance.
23. Butterfly Theme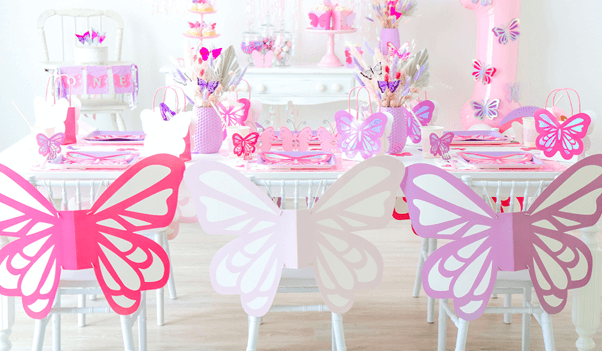 Butterflies are a symbol of purity and innocence, which makes them the perfect choice for a girl's first birthday party.
Decorate with colorful paper flowers and butterfly cutouts that look lovely against white and pastel walls.
Stick to pink, white, and lavender colors for a more classy and elegant look. Alternatively, you can opt for light yellow, green, and orange hues to create a more playful atmosphere.
You can also buy a pair of ready-made butterfly wings on Etsy or Amazon to complete your child's birthday outfit.
24. Sesame Street Theme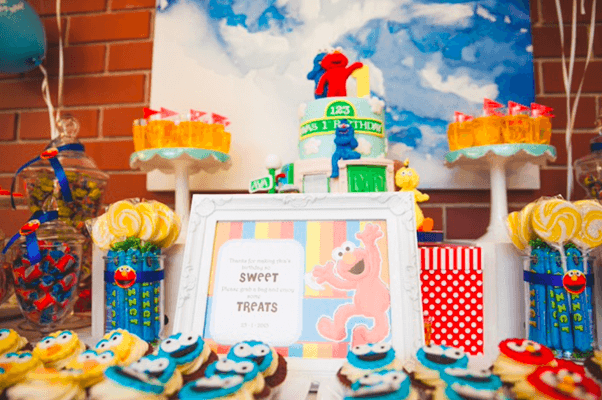 Hop along with Big Bird, Elmo, and Cookie Monster to the tune of one of the most popular children's shows ever – Sesame Street.
Create a fun and festive atmosphere by decorating your space with red, yellow, and blue balloons.
To keep the festivities going all day, you can also rent a live puppet show or a Sesame Street sing-along session.
Your little guests will surely have a great time singing and dancing with their beloved Sesame Street characters.
25. Moana Theme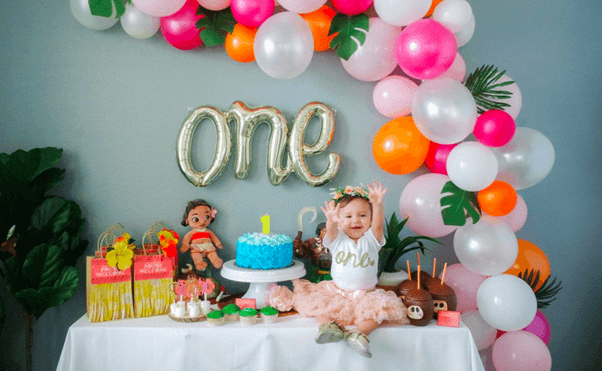 Setting up a Moana-themed party is pretty simple: all you need are some banana leaf and palm leaf decorations, coconuts, a Moana piñata, and some colorful balloons and streamers.
This tropical-inspired party theme works well for a baby girl's first birthday party since little girls love to pretend to be princesses.
Make your child and guests feel like they're in Hawaii for an island vacation with this fun party theme.
26. Carnival Theme
If you want to set the mood for your child's special day with a carnival theme, don't forget to serve food items like popcorn, hotdogs, cotton candy, caramel apples, and funnel cakes.
You can also hire a clown, magician, and face painter to make your little one's birthday more fun-filled.
A carnival-themed party will not be complete without some fun parlor games, balloon animals, and circus performers.
27. Hot Air Balloon Theme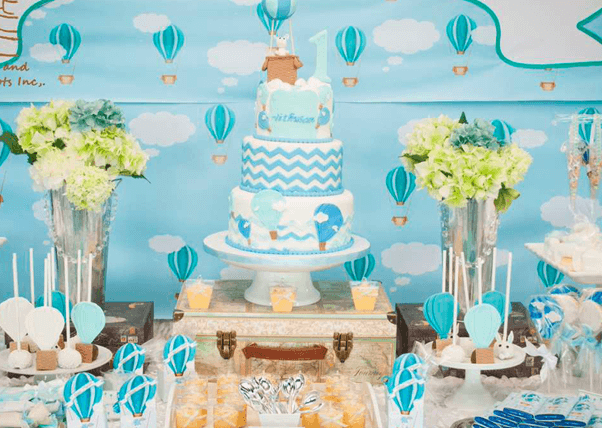 If you are looking for a unique birthday party theme for your little boy, consider setting up a hot-air balloon party for his first birthday.
Decorate your space with all things white and sky blue, from cloud cutouts, balloons, and table cloths – and serve sweets like marshmallows, cake pops, and cupcakes.
Also, have some hot air balloon decorations made of construction paper decorate the walls, ceilings, and buffet tables to make the party look even more magical.
28. Musical Theme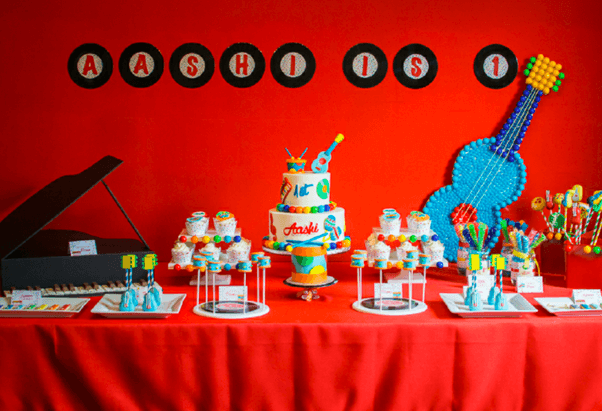 Musical-themed birthday parties are fun-filled events where kids and adults alike can sing, dance, and play instruments for as long as they want.
For your little one's first birthday, you can set up a stage where your guests can perform their favorite songs, dances, and instruments.
You can also get a karaoke machine or a DJ to add more fun and entertainment to your little one's party.
29. Watermelon Theme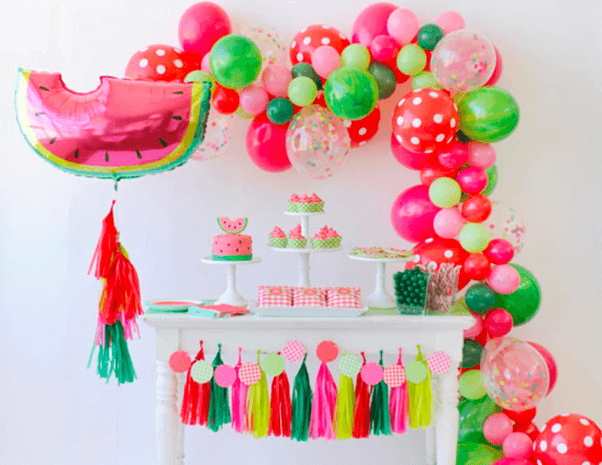 For a sunny and tropical vibe, go with a watermelon-themed party for your child's first birthday.
A giant bowl filled with delicious watermelon, plus a spread of fruits like pineapple, honeydew melons, and oranges, will make for the perfect snack at your child's summertime bash.
You can also decorate your party venue with red and green balloons, pompoms, and streamers to match your watermelon party theme. 
30. Football Theme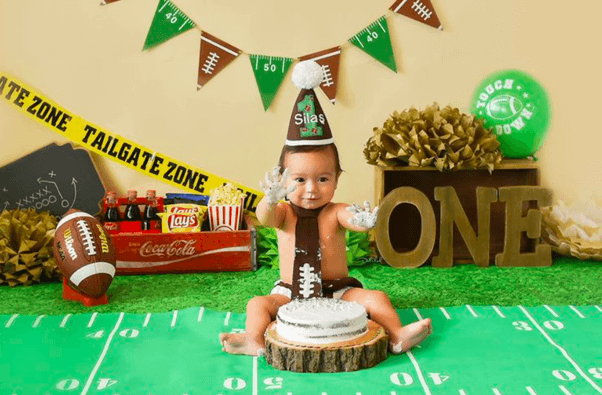 The perfect way to celebrate a football-themed first birthday is by setting up a party room that looks like a football field.
You can cover the stage with a green and brown backdrop and hang buntings and jerseys of your favorite NFL team on the walls and ceiling of the party venue.
Don't forget to use some football props and decorations like footballs and helmets to make your little boy feel like he is part of the big game!
31. Donut Theme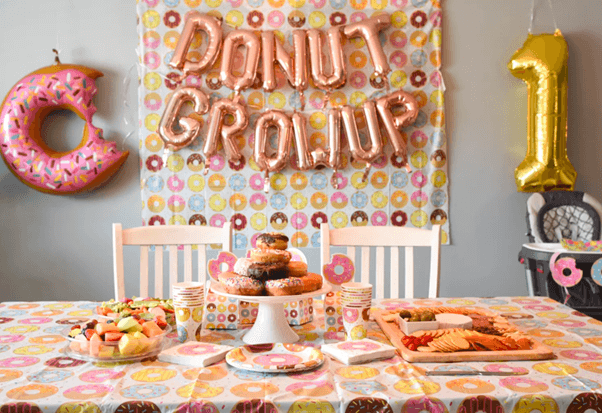 You can never go wrong with sweet treats, so it's no wonder why a donut-themed first birthday party will surely be a huge hit with kids.
To create a sugary atmosphere for your little one's special day, set up a cake table with:
Cupcakes
Candies
Sprinkles, and various donuts.
From plain, sugar-glazed donuts to chocolate, cream-filled ones. You can also set up a donut wall for an Instagrammable dessert table.
32. Strawberry Theme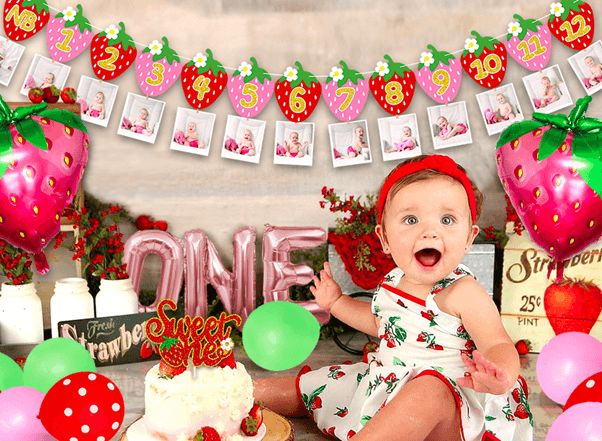 If you want to make your child's first birthday extra special, plan a strawberry-themed party with plenty of fresh strawberries, whipped cream, and other seasonal fruits on the dessert table.
As for the party decorations, opt for a red, white, and green color scheme for straw hats, bunting, balloons, streamers, paper plates, etc.
You can also include some touches of pink to complement the strawberry theme.
33. Minions Theme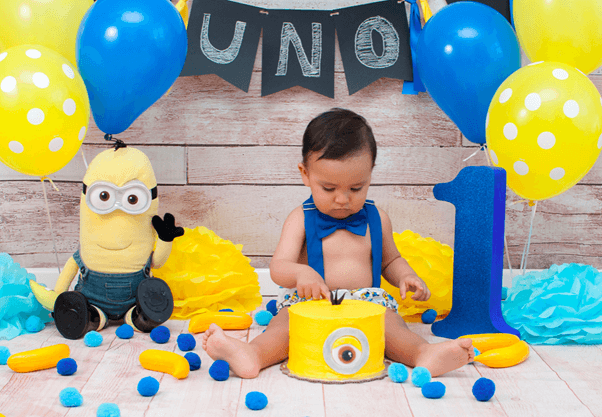 Your little nugget is finally one, and it's time to party – with the Minions.
Despicable Me is one of the most popular animated films of all time, and its characters are adorable – so why not incorporate them into your child's first birthday party?
Use blue and yellow balloons to decorate the party area, and have your guests dress in blue jumpsuits.
If you have some extra budget, you can also hire a Minion mascot to take your child's party to the next level.
34. Starry Night Theme
Van Gogh's Starry Starry Night painting is one of the world's most recognizable works of art, making it an amazing backdrop for your little one's first birthday party.
Decorate your venue with a lot of blue and yellow balloons and twinkling, glittery stars.
You can also add plenty of fairy lights to light up the space and make it more whimsical and magical.
To top it off, ask a cake artist to bake a special custom cake with a lot of sparkly and glittery edible decorations.
35. Pirate Theme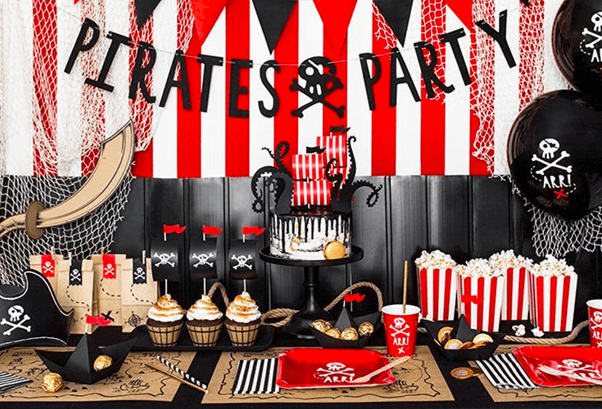 Transform a boring space into a pirate ship-like party venue and make sure that it is filled with lots of fun decorations like a treasure chest filled with gold coins, pirates' hats for everyone to wear, and of course, lots of black and red balloons.
Your little guests can also dress in matching pirate outfits as they dance to the Pirates of the Caribbean theme song.
Don't forget to make cupcakes with fondant skulls and bones to serve to your guests.
36. Ice Cream Theme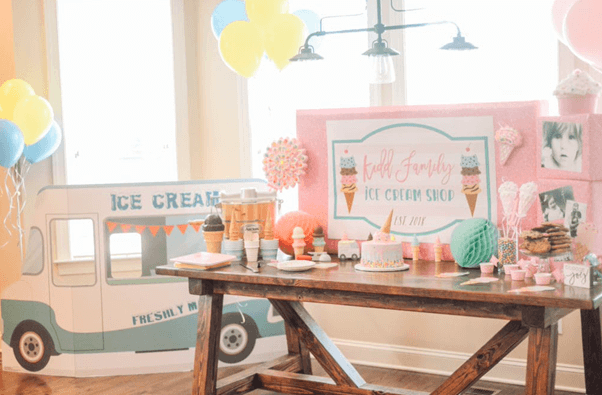 For your little one's first birthday, why not transform your party venue into an ice cream shop?
To achieve the look, decorate the space with pastel-colored balloons, bunting, and banners.
You can also set up a dessert table full of ice cream tubs in different flavors, waffle cones, and toppings like sprinkles, marshmallows, chocolate syrup, and more.
Ice cream-themed parties are perfect during the summer – to help your guests cool down after an afternoon of fun and games. 
37. Alice in Wonderland Theme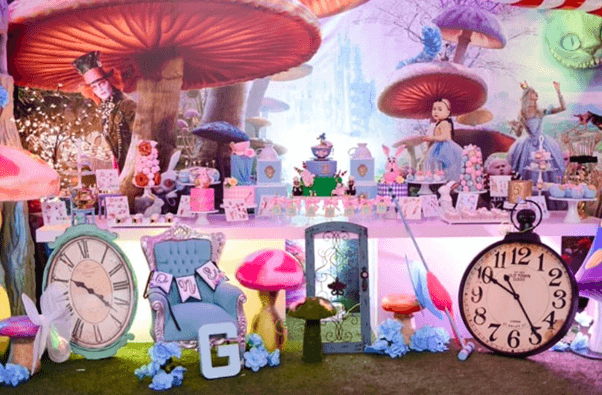 For your little girl's first birthday, you can explore the magical world of Alice in Wonderland.
You can take inspiration from the book or its movie adaptation to create a setting that will capture your guests' imagination.
For this enchanting theme, you must decorate the venue with flowers, ribbons, mushrooms, clocks, and lanterns to match the Alice in Wonderland vibe.
If you're looking to go all-out, you can even create a backdrop for a photo shoot featuring some of the most recognizable characters from the book.
38. Golf Theme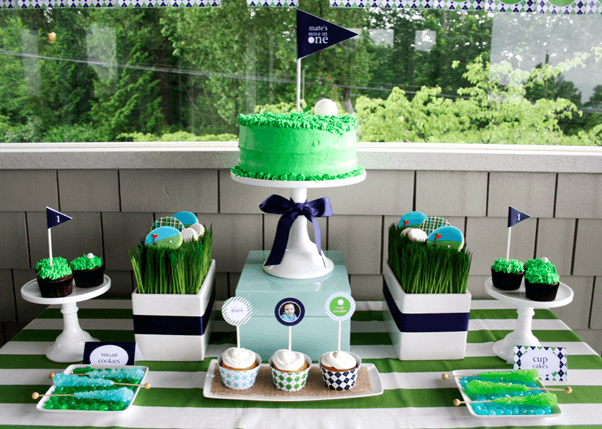 A golf-themed birthday party is pretty simple to set up – you can turn your lawn or backyard into an instant golf course with simple decorations like tee signs and hole markers.
Alternatively, you can rent a portable mini-golf course for your guests.
Focus on green colors to emulate the lush green grass of a golf course – and display plenty of golf balls and golf clubs to make the setting look authentic.
39. Baseball Theme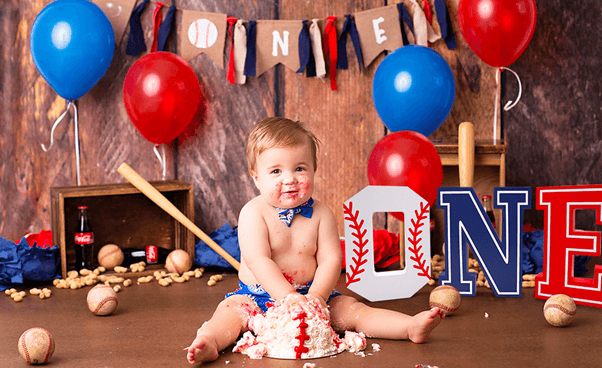 If you are a fan of baseball, why not dress up your little boy to look like Babe Ruth for his first birthday party? You can use the traditional red, white, and blue colors to represent the American flag.
You can also pick out cute baseball gear for your little boy to wear at the party, including a hat and a jersey.
Keep the fun times rolling by serving treats like cotton candy, pretzels, popcorn, and hot dogs to your guests. 
40. Travel Theme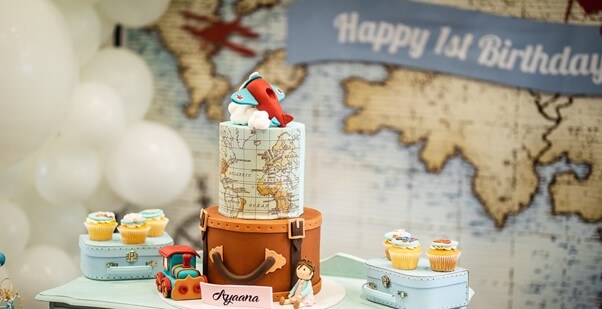 A version of "All the Places I Want to Go," a travel-themed party is a great choice if your family loves to explore new places.
For this birthday theme, you can put up a miniature display of some of the world's most popular tourist destinations, like the Eiffel Tower in Paris, the Colosseum in Rome, or the Statue of Liberty in New York.
You can also include other items related to travel, such as luggage, the world map, an airplane, and more. These are sure to be conversation pieces throughout the party.
A video with more theme ideas:
Make Your Child's First Birthday Party an Unforgettable One
Your child will only celebrate his or her first birthday once, so you want to ensure it's truly memorable and one-of-a-kind.
Time flies so fast – just enjoy every minute of these precious memories with your little one.
After all, you want your child to look back at the photos and videos of his or her first birthday and feel loved and special.
The devil is in the details, so pay close attention to every aspect of the planning process.
From finding the perfect venue and decorating the space to finding the perfect cake and food to serve, there are many things to consider to ensure that your child's first birthday party is nothing short of perfect.
We hope you have found the inspiration to plan a fabulous first birthday party for your child. Now get to planning and turning those wonderful ideas into reality.