Unicorns are fictional creatures that continue to captivate the imagination of kids and adults alike – it's no wonder kids want a unicorn theme birthday party like every year.
From TV shows and plushies to clothing and toys, these colorful and magical creatures have been a part of pop culture for decades.
Kids, in particular, love unicorns because they're cute and adorable – and there's no denying that these mythical beasts look pretty cool too.
So, if your child's birthday is coming up and you are thinking of adding some splash of color and magic to the celebration, why not turn it into an awesome unicorn theme birthday party?
Check out our list of 50 unicorn theme birthday party ideas that will make your kid's birthday more special and magical than ever.
Best Unicorn Theme Birthday Party Ideas
1. Unicorn Cake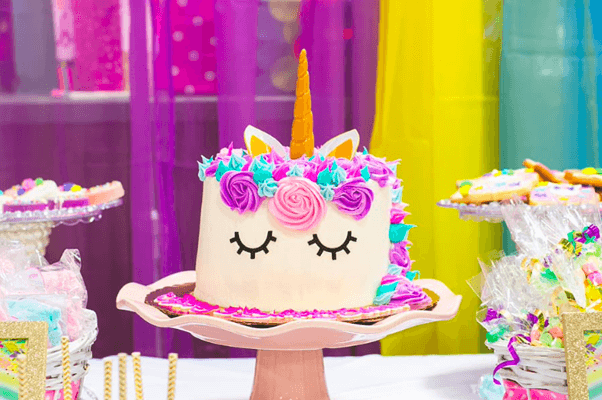 A unicorn themed birthday cake will be the center of attention at the buffet table. A splash of colors – including pink, purple, and yellow – combined with colorful and glittering sprinkles will definitely bring some magic to your child's birthday celebration.
We couldn't start our list of the best unicorn theme birthday party ideas without a top notch cake right? We've only just began.
2. Unicorn Cupcakes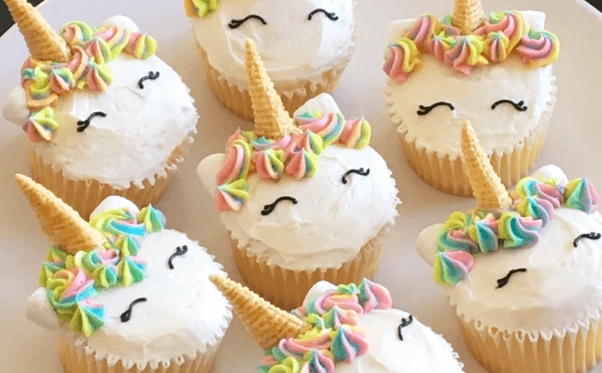 Looking for something delicious to serve at your child's birthday party? Try unicorn cupcakes. They're easy to make and decorate, super cute, and the perfect homemade, sweet treat to share with your friends and family.
3. Unicorn Sugar Cookies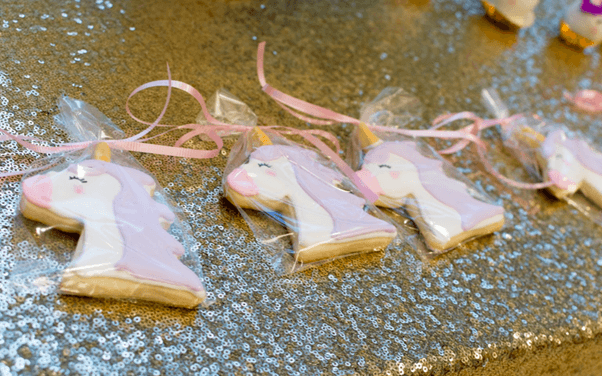 Sugar cookies decorated with colorful icing and sprinkles are a tasty treat that your guests will love to take home from your kid's party.
Sugar cookies are pretty inexpensive and very easy to make – making them the ideal treat to share with your friends and family.
4. Unicorn Piñata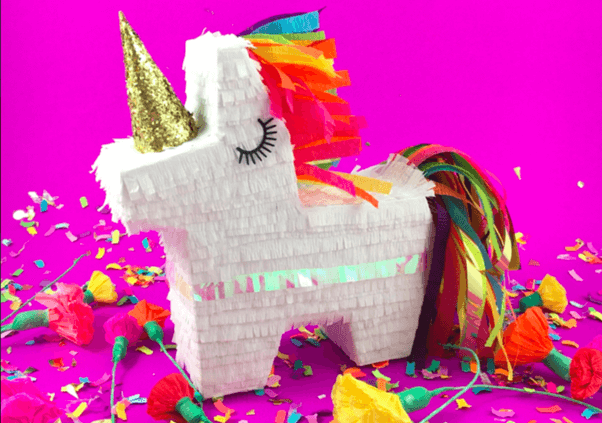 A unicorn piñata filled with candies is the perfect centerpiece to your child's birthday party.
Not only is it a great party decoration to display, but it's also a fun activity that will fill the atmosphere with smiles and laughter.
The kids will surely have a blast trying to hit and pop the candies out of the piñata.
5. Unicorn Headband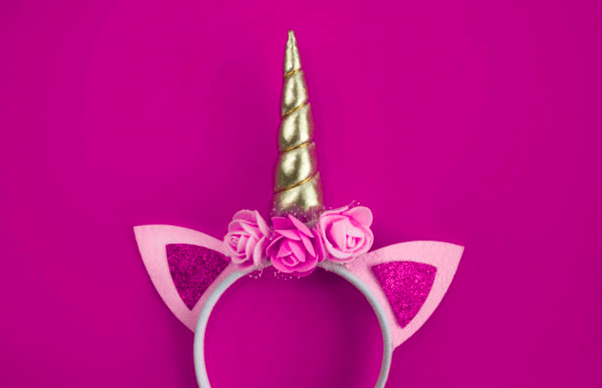 A fun and cute headband that looks like a unicorn horn is the perfect way to complete a unicorn outfit.
Unicorn headbands also cost only about a dollar or two per piece on Amazon, so you can buy a whole bunch of them and give them to your little guests to get everyone in party mode. The perfect accessory for a unicorn theme birthday party celebration.
6. Unicorn Dress
Want to make your daughter feel like she's the most beautiful girl in the world? A custom unicorn dress will make sure she feels extra special.
You'll find tons of adorable unicorn dresses to choose from Etsy and Amazon but you can also visit a local tailor shop to have a custom one made.
7. Unicorn Cake Pops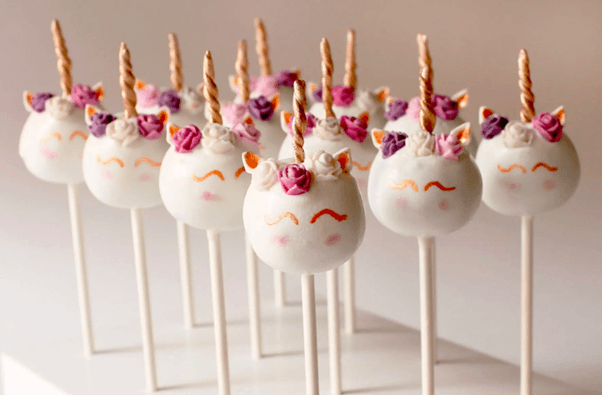 Looking for some bite-size treats for your guests to munch on while at your child's birthday party? Try making some unicorn cake cops with your kid's favorite cake flavor.
Cake pops are just as yummy as they are colorful – and they will absolutely look adorable on your dessert table.
8. Unicorn Foil Balloons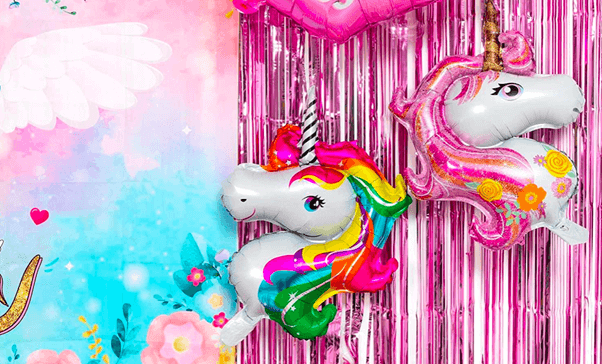 Foil balloons are great because they don't require helium to inflate, and they stay up longer than regular balloons.
Unicorn foil balloons will take your child's birthday party to the next level – the kids will definitely love them. Your little guests can also take them home as a souvenir.
9. Unicorn Stage Backdrop
Setting up a small stage with a unicorn-themed backdrop is a surefire way to bring your little one's birthday party from boring to amazing.
There are plenty of elements that you can play with, including pastel-colored balloons, fairy lights, stars, rainbows, clouds, and so much more.
Of course, don't forget to add some unicorn statues to complete the look.
10. Unicorn Party Hats and Masks
Unicorn party hats and masks are pretty inexpensive and easy to find at your local dollar store or on Amazon.
They make a cute and fun costume for the little kids to wear while playing games and having a good time at your daughter's birthday party.
Plus, party hats and masks also look good as table decorations, so you hit two birds with one stone.
11. Unicorn-Themed Balloon Arch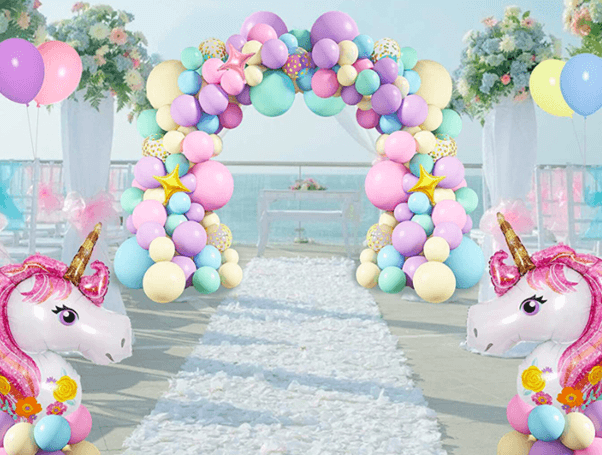 If you are looking for a creative and eye-catching decoration to welcome your little guests, a colorful balloon arch will surely make a lasting impression to all who walk by it.
You can hire a balloon artist to make a custom unicorn-themed balloon arch – it'll be a spectacular addition to your child's birthday party.
I'm a balloon girl, so this is my favorite unicorn theme birthday party idea from the list. I'm not sorry
12. Unicorn Birthday Party Invitations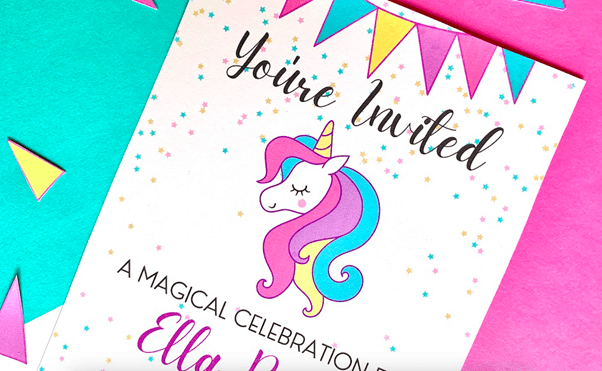 A week or two before your little one's birthday party, you can make or order custom unicorn birthday party invitations and mail them out to your guests.
Printed invitations will definitely make the recipient feel like a VIP – and they also make a great keepsake for your little one's birthday party.
13. Unicorn Party Bags/Favors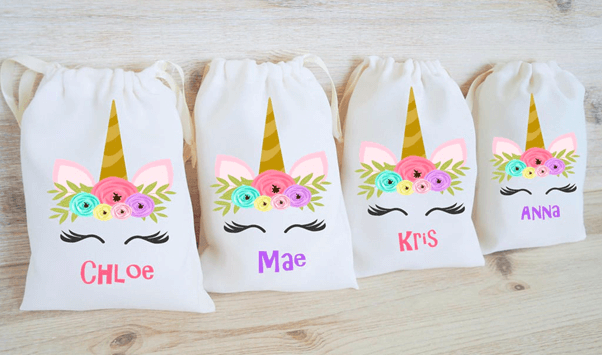 Who doesn't want to receive a bag full of goodies at a birthday party? Nothing screams birthday celebration than handing out gifts and treats to your little guests.
A party bag filled with unicorn knick-knacks is a cute and fun way to thank your little guests for attending your child's birthday party. 
14. Unicorn Plushies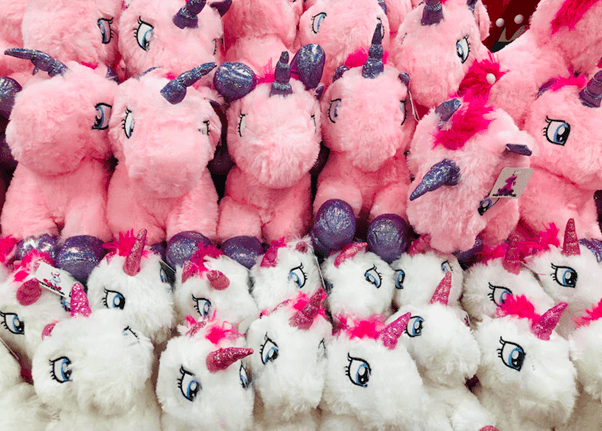 Kids love getting something soft and cuddly to hold onto and hug at night. So, if you're planning on hosting a unicorn theme birthday party for your daughter, consider ordering her some unicorn plushies to hand out to all her friends.
Plushies make a unique party giveaway and a great keepsake that the kids will surely treasure for many years to come.
15. Unicorn Bunting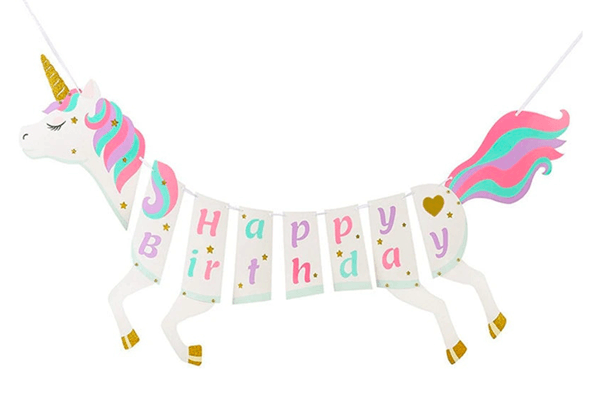 Want to add some character on a plain wall on your party venue? Hang a unicorn bunting to liven up the atmosphere and give the place a more whimsical feel.
Not only that, colorful buntings and flag let's make an ideal backdrop for photographs – your little guests will have lots of fun posing in front of it.
16. Unicorn Plates, Cups, and Utensils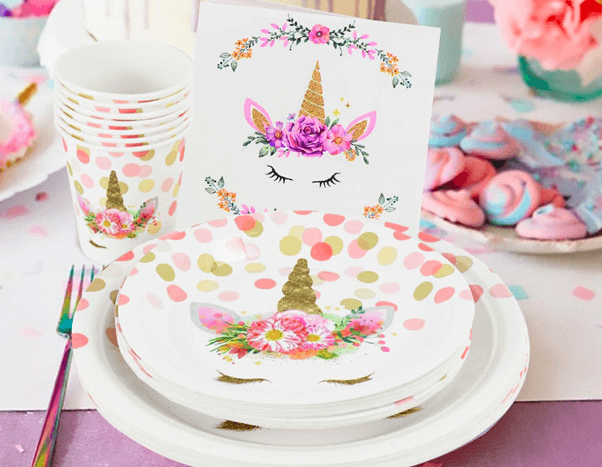 A unicorn birthday party will not be complete without some matching plates, cups, and utensils to go along with it.
Table setting sets the mood for the occasion, so don't forget to pay close attention to this detail.
There are plenty of design options on Amazon and most of them are pretty much affordable.
17. Unicorn Tablecloth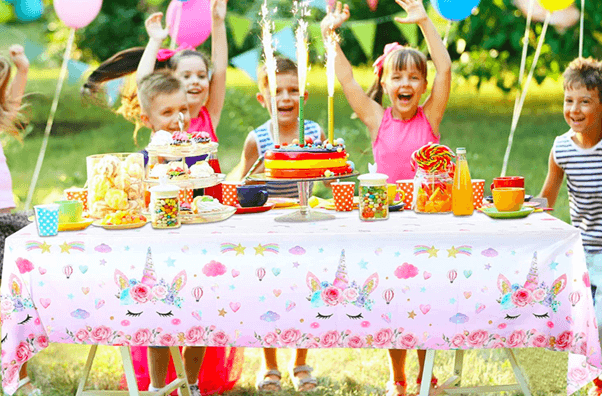 The fastest way to transform a boring party table is to dress it up with a theme-appropriate tablecloth.
For a unicorn birthday party, you can opt for the obvious design – unicorns – or rainbows and sparkles if your daughter likes those things.
Choose table cloths in pastel color because they look great in photos.
18. Rainbow Lollipops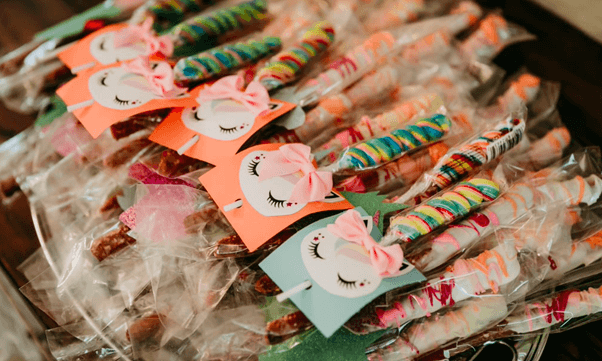 Sweets are a staple on any child's birthday party, and what better way to indulge your little guests' sweet tooth than by giving them rainbow-colored lollipops?
Not only are they tasty, cute, and inexpensive – they make a great treat to include in your unicorn theme birthday party bags as well.
19. Colorful Candy Station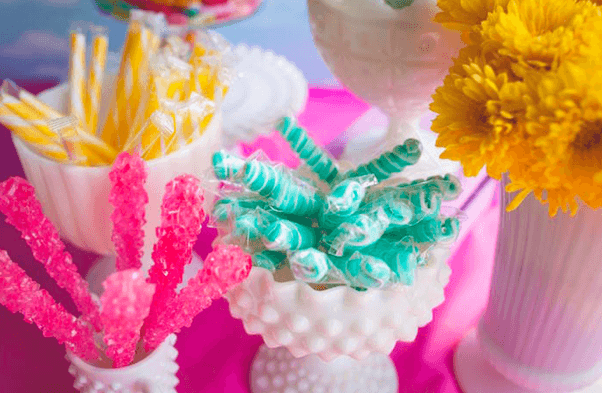 A unicorn birthday party will not be complete without a colorful candy station where kids can enjoy some sweet treats.
You'll want to choose rainbow-colored candies to include in your station to match the theme of the party.
From rock candies and Nerds to Jellybeans, lollipops, and gummies, you have plenty of yummy options for your little guests to enjoy.
20. Unicorn Slime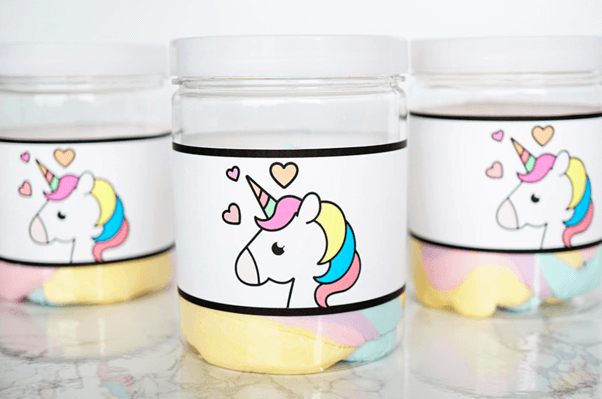 Looking for a party giveaway that your little guests will absolutely love? Unicorn slime is just the thing.
Slime is a sure hit among kids because of its squish factor and sheer gooeyness.
Unicorn slime is even more exciting because it comes in vibrant colors of the rainbow.
21. Unicorn-Themed Welcome Board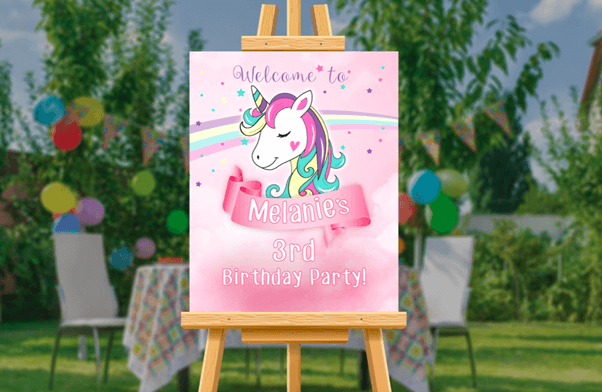 Getting a unicorn-themed welcome board to greet your guests as they enter the party venue is a great way to kick off your child's party.
The best thing about a welcome board is it can double as a dedication board where your guests can write down their wishes for the birthday celebrant.
22. Cotton Candy Station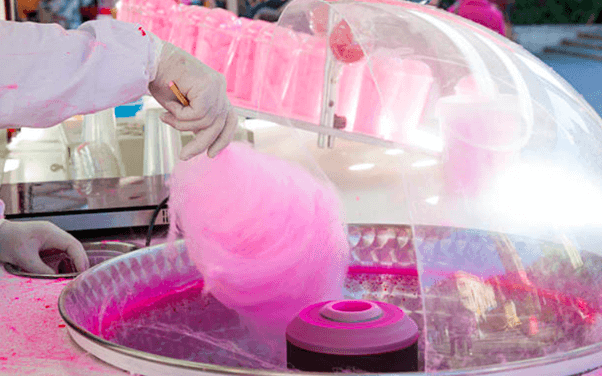 Who wouldn't want to get a giant mouthful of delicious, sugary cotton candy?
It's one of the most popular kids' treats, so you'd want to set up a cotton candy station at your child's birthday party.
The best part is that cotton candy comes in a wide range of colors, so it'll match the unicorn party theme perfectly.
23. Unicorn Birthday Candle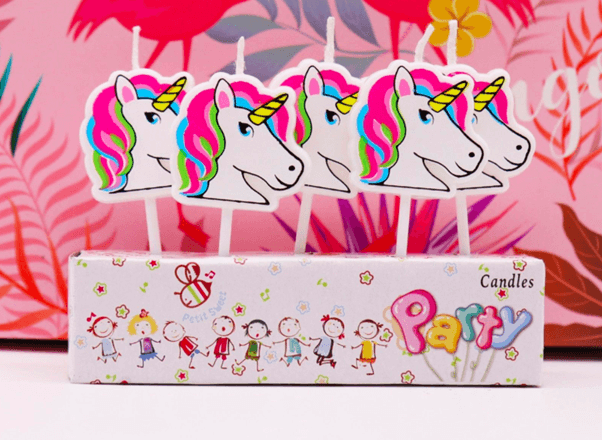 Want to make your child's candle-blowing experience extra magical? Make sure to top her cake off with a unicorn birthday candle.
As your little nugget blows the candle and makes a wish, you can also fill the air with some colorful confetti by using party poppers.
24. Unicorn Earrings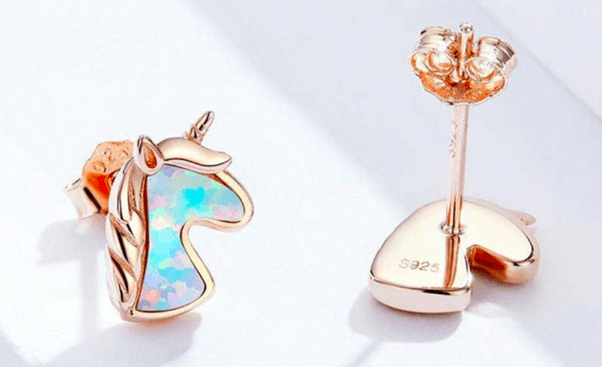 If you are looking for a special present for your little girl, why not buy her a pair of unicorn earrings.
She'll definitely love how cute they are and they're a great way to show off her favorite mythical creature.
If you have the extra budget, you can also buy a unicorn necklace and bracelet to complete her magical look.
25. Unicorn Sneakers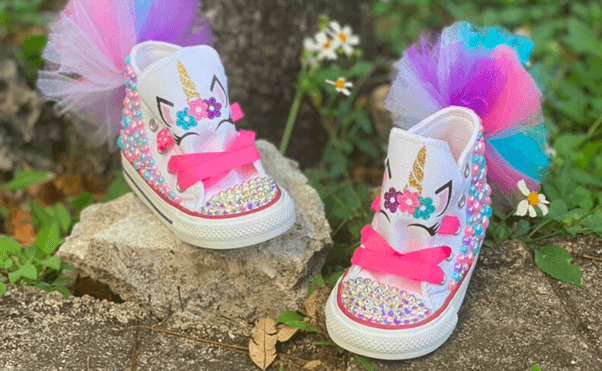 If your daughter loves unicorns, then she's going to be in her element when she receives an incredible pair of unicorn sneakers on her birthday.
There are plenty of shops on Etsy where you can get a pair of shoes customized just for your little girl.
Don't forget to add colorful rhinestones and sparkly sequins to give the shoes some extra glitz and make the entire unicorn theme birthday party come together
26. Unicorn Backpack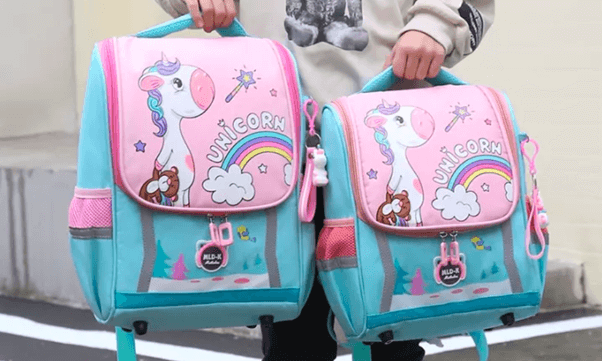 Want to give your daughter something that she can always carry with her? Why not get her a new unicorn backpack that she can show off to her classmates?
Your child will surely be excited to go to school every day – with a cute and adorable unicorn bag on her back.
27. Unicorn Ice Cream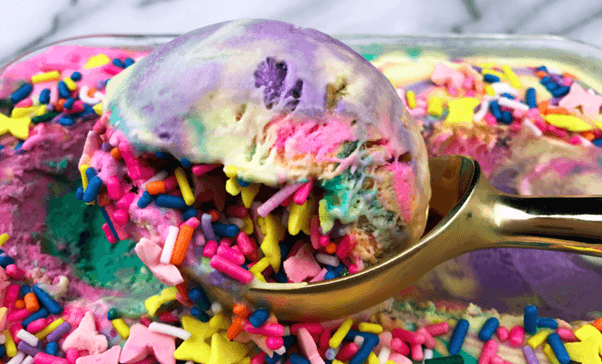 There is something about rainbow-colored ice cream that screams "unicorn!"
When topped with colorful sprinkles, it's even more magical. This unicorn-inspired dessert is perfect for a hot summer afternoon and will certainly wow your guests.
Don't forget to buy some colorful ice cream cones to match the unicorn theme.
28. Unicorn Keychain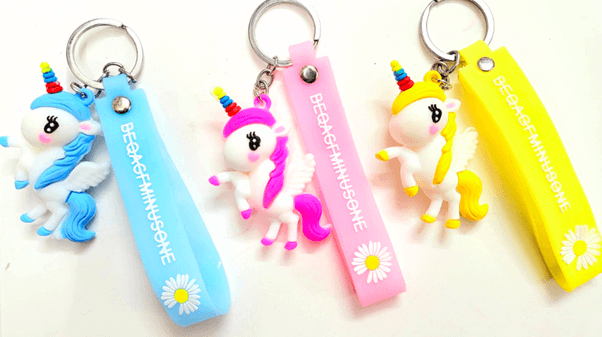 How cute would it be if all your daughter's friends and guests to show up at your unicorn theme birthday party and receive a custom keychain with their own names in it?
Adorable yet inexpensive, custom unicorn keychains are the perfect party favor. They also make a great keepsake – and a simple yet meaningful way to remember your child's special day.
29. Unicorn Tumblers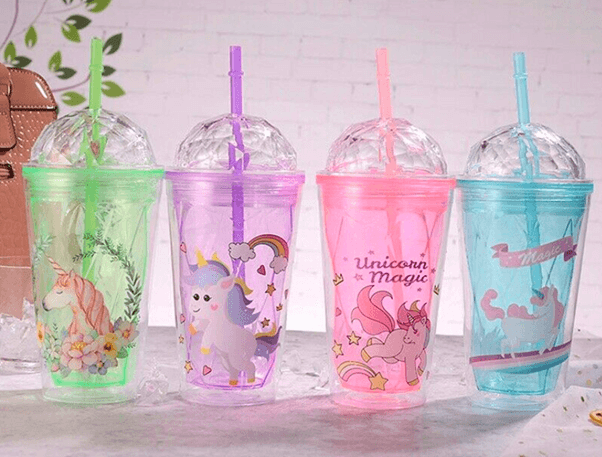 Whether your little guests like iced tea or soda, water or juice – these fun unicorn tumblers will make for adorable party favors.
Kids can fill them up with their favorite drink at the party and then take them home afterwards.
Plus, they make a great party giveaway for adults too – who love drinking iced coffee or any other cold beverage.
30. Unicorn T-Shirts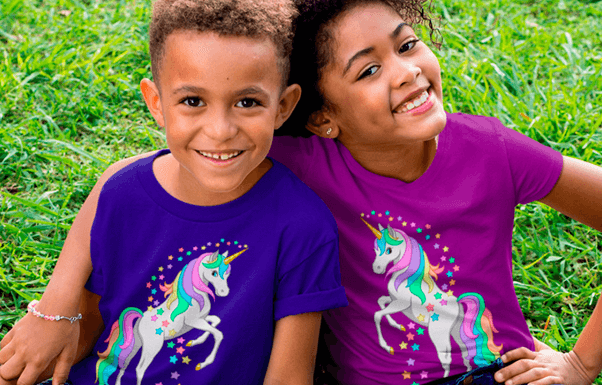 If you want your little guests to feel more special, why not give them a unicorn t-shirt as a party favor.
Kids will love having their own unicorn-themed tee on them during the party, and they'll surely keep on wearing it long after the party is over.
Plus, it's very easy and inexpensive to order and print custom t-shirts online.
31. Soda Station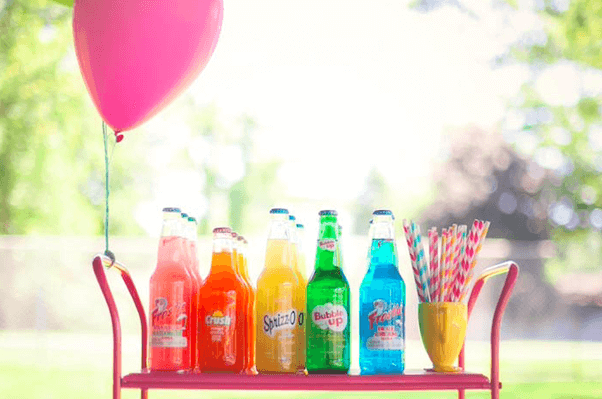 Kids love anything sweet, sugary, and colorful – so why not set up an ice-cold soda station for your little guests to quench their thirst.
It's perfect for outdoor parties, especially if you are celebrating your child's birthday in the summertime.
Simply choose colorful bottled sodas to match your colorful unicorn party décor.
32. Unicorn Bottled Water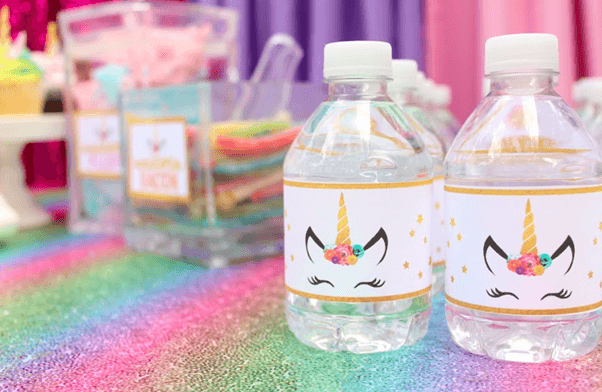 If your guests are not into sweetened or carbonated drinks, you can simply opt for store-bought water bottles and try to paste them with cute unicorn labels to make them special.
This simple and inexpensive DIY project will surely add some charm on your buffet table or beverage station.
33. Unicorn Headband Station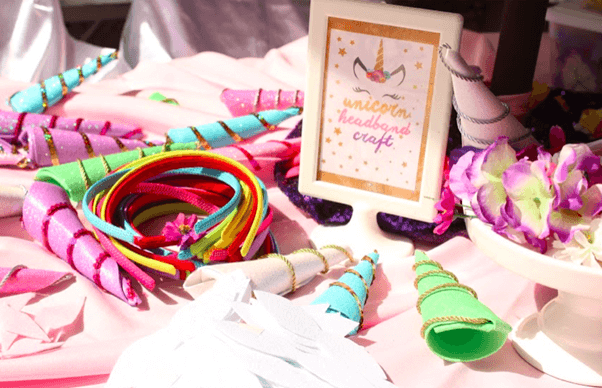 A unicorn headband craft station will surely keep your little guests occupied for hours.
Simply provide the kids with art materials such as felt, colored papers, beads, and glitters – and let them create their own unicorn headbands.
Their creations also make a great memento of your child's unicorn theme birthday party.
34. Colorful Tassels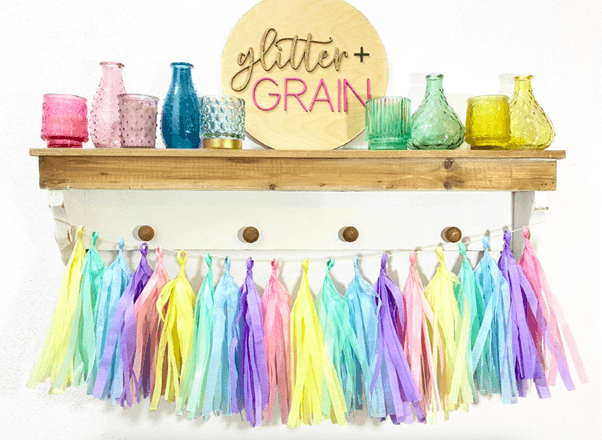 If you are looking for an inexpensive DIY project to decorate your buffet table, why not make some colorful paper tassels?
All you need is a pair of scissors, crepe paper in various colors, hot glue, and a piece of string.
Simply cut the crepe paper strips into equal lengths, tie them into the string, glue them in place, and voila! You got yourself some colorful unicorn-themed tassels to dress the buffet table.
35. Colorful Pasta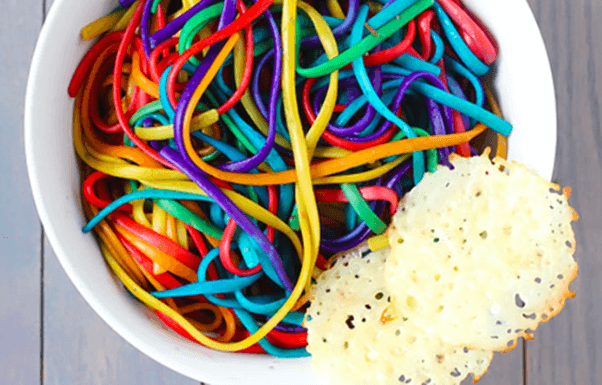 If you want to serve your guests with something different at your child's unicorn themed birthday party, why not cook a rainbow pasta dish?
You can easily buy uncooked rainbow pasta in grocery stores or make your own pasta dough and mix it with some food gel coloring.
36. Rainbow Layer Cake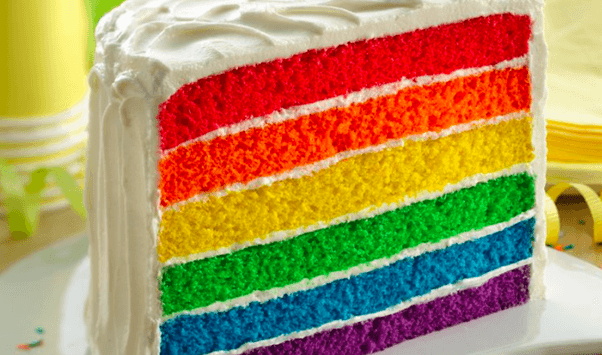 A custom unicorn-themed fondant cake can get costly, so if you are short on budget, you can opt for a layered rainbow-colored chiffon cake in buttercream icing instead.
Imagine the look of amazement on your daughter's face when she takes a slice of her birthday cake and sees the colors of the rainbow.
37. Unicorn Mugs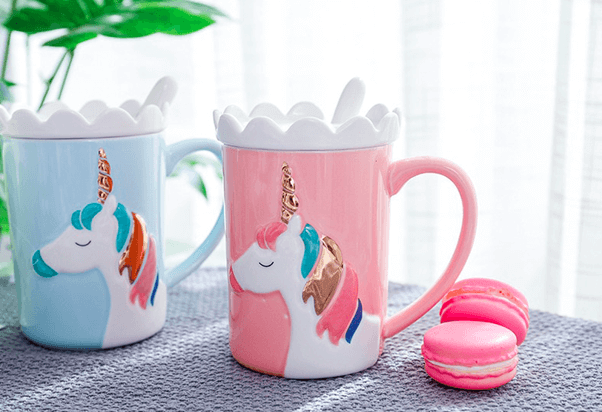 Coffee mugs are a staple party giveaway but unicorn mugs are on a league of their own.
They are cute, adorable, and unique – making them the perfect party favor for your little guests.
They also make a great keepsake that the kids will use and treasure for many years to come.
38. Unicorn Cupcake Toppers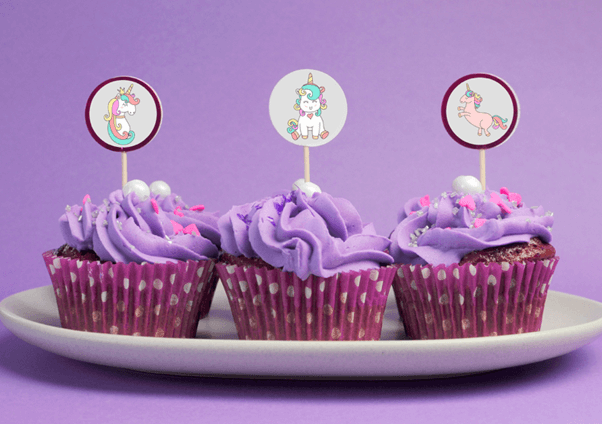 Printable cupcake toppers are perfect for adding a bit of unicorn magic to your otherwise, plain cupcakes.
There are plenty of options to choose from online, so you can personalize the color, size, and design that best suit your cupcakes.
Printable cupcake toppers are affordable and easy to make – just download, print, cut, and put them on top of your cupcakes using toothpicks or skewers.
39. Reusable Unicorn Straws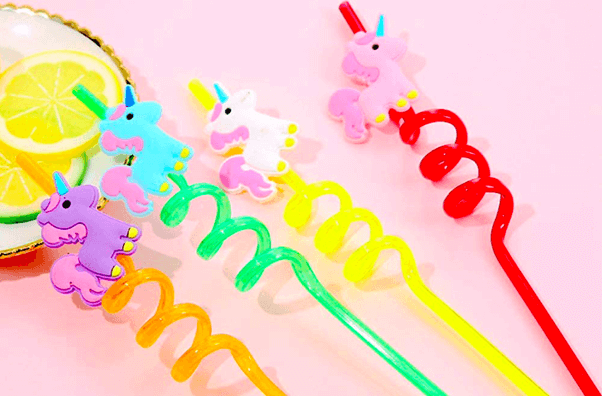 Reusable unicorn straws are the perfect, eco-friendly, and economical party giveaways that you can give to your little guests.
Instead of using disposable plastic straws that will end up in the trash once the party is over, let the kids use reusable straws that they can take home with them.
40. Unicorn Stickers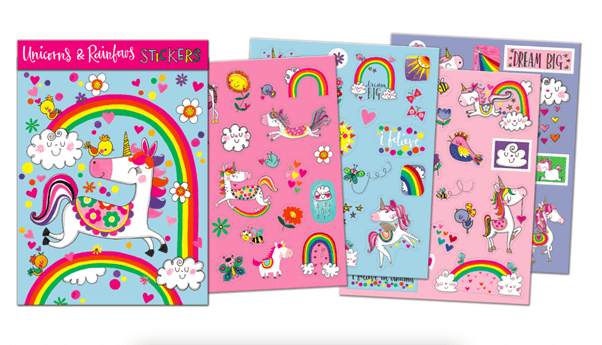 A set of colorful unicorn stickers make a great souvenir for your little guests.
They can stick them on their notebooks, lockers, lunchboxes, or bedroom walls to remind themselves of how magical your child's birthday party was.
Plus, they're pretty inexpensive as well, making them an awesome inclusion in your party giveaway bags.
41. Unicorn Bouncy Castle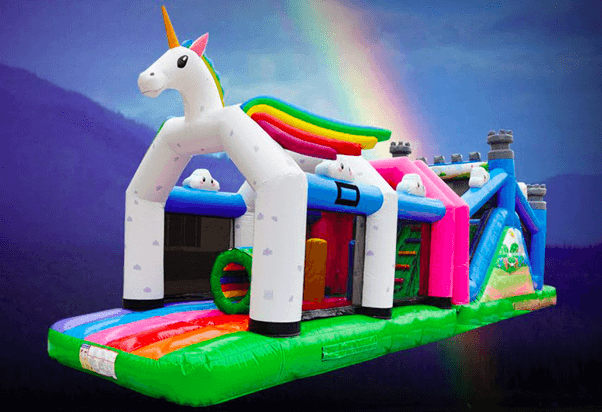 During children's' birthday parties, a bouncy castle is one of the coolest activities that both kids and kids at heart will definitely enjoy.
Renting one will guarantee that your little one's party is going to be a blast – especially if you can find a huge unicorn inflatable one that can accommodate your entire unicorn theme birthday party and also accomondate a lot of kids at once.
42. Unicorn Ring Toss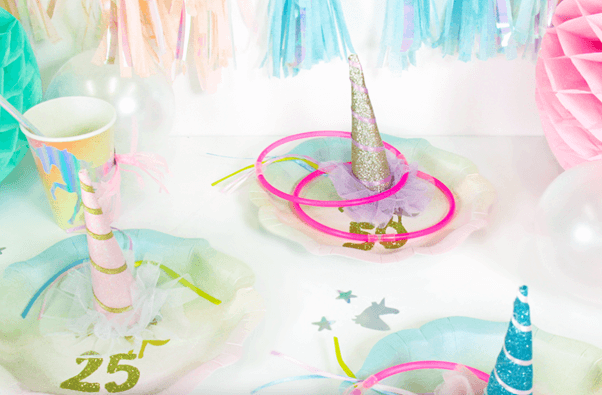 If you are thinking of creative game ideas for your child's unicorn-themed birthday party, why not include a unicorn ring toss game.
This game involves setting up some unicorn horns (with corresponding scores) on the floor.
The kids will then try to throw the rings on the horns and get as many points as they can. Whoever gets the highest score wins the game. 
43. Unicorn Bingo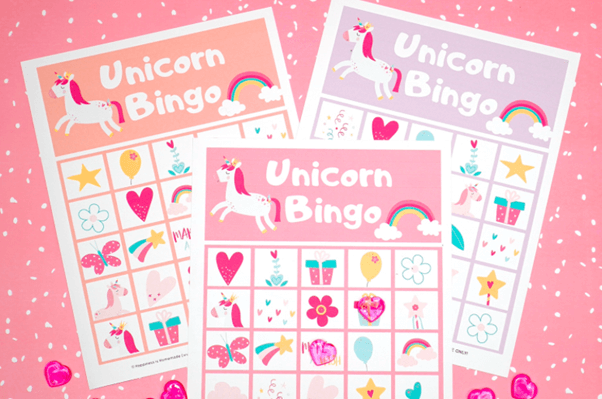 A unique twist to a classic card game, unicorn bingo works like the traditional bingo game but instead of numbers, unicorn-related images are printed on the cards.
For each round, players need to match a specific pattern – and whoever completes it first wins the game.
44. Unicorn Coloring Book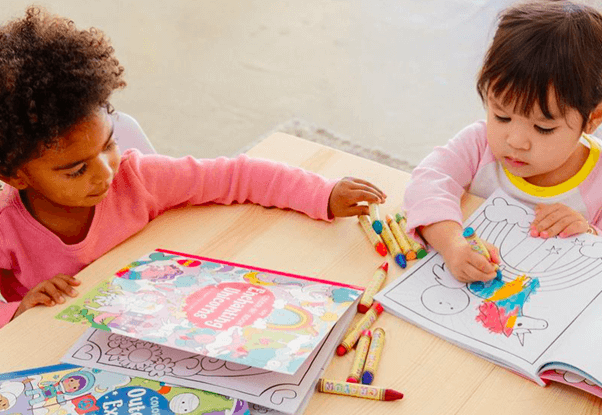 If you have some unused space in your party venue, why not set up a coloring book station where kids can color away their thoughts and feelings?
Kids will love this activity as it allows them to unleash their creativity and express themselves while having some fun with their friends.
You can also let the kids take home their unicorn-themed coloring books as a little memento of the day.
45. Rainbow Playdough Set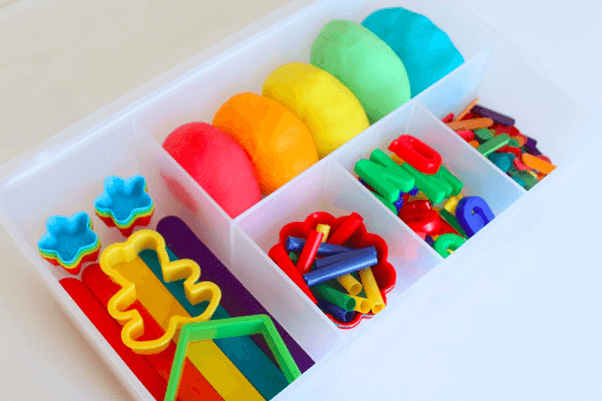 Don't forget to add some colorful playdough on your arts and crafts table for the kids to enjoy.
Playing with playdough has been proven to stimulate children's brain development and help improve their fine motor skills.
This fun activity is also great for keeping the kids entertained while waiting for your other little guests to arrive.
46. Donut Wall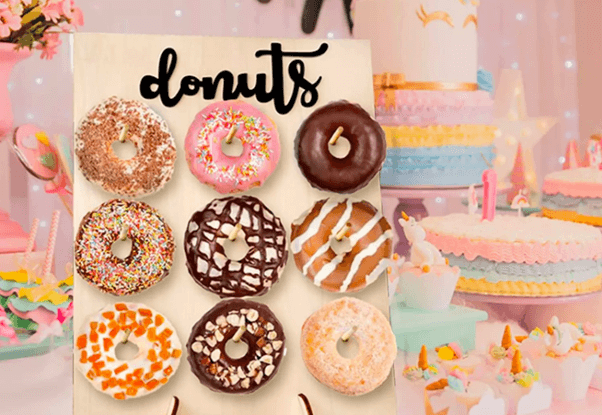 Setting up a donut wall will instantly make your buffet table Instagram Mable.
This is the latest trend in parties today – from birthdays to weddings – because donut walls look great in photos.
Plus, who doesn't love donuts. They will surely satisfy everyone's sweet tooth.
47. Unicorn Fence Banner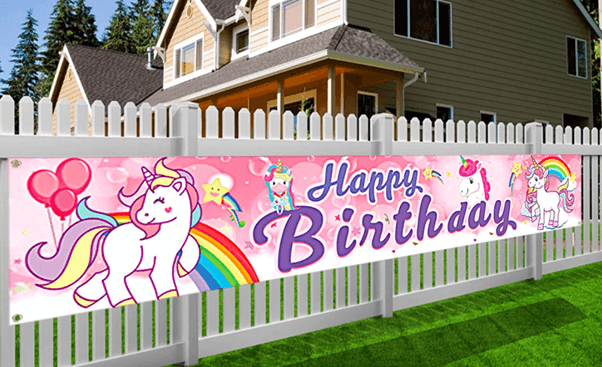 Hanging a custom-made unicorn fence banner is the ultimate way to welcome and show your appreciation to your guests.
In addition to making them feel extra special, it is also a great way to set the tone of your child's birthday party.
They also make a wonderful backdrop for photos, so you can include your child's name and photo in the banner as well.
48. Unicorn Party Snack Mix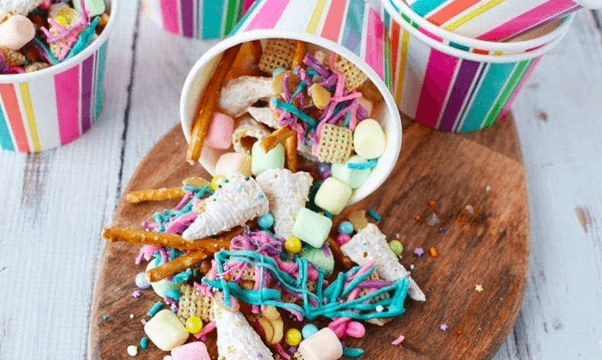 In between activities, serve a unicorn party snack mix that your little guests can munch on while enjoying the party.
You can do this by simply filling up some rainbow-colored disposable cups with different snacks like mini marshmallows, fruit loops, candies, pretzels, and gummies.
49. Rainbow Popsicles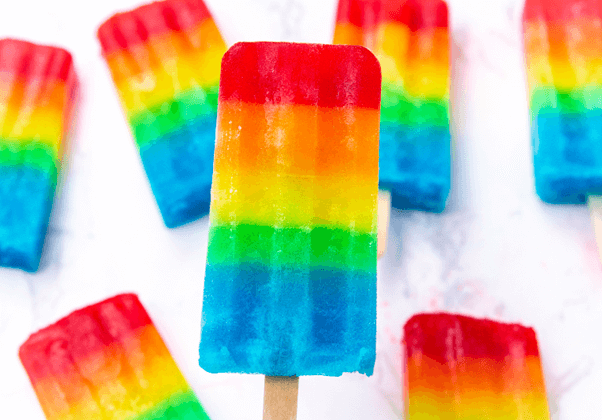 If you're throwing a summer unicorn-themed birthday party for your daughter, there's no better way to cool down and enjoy the fun than with rainbow popsicles.
Your little guests will surely love the refreshing taste of homemade juices mixed with frozen berries.
Make sure to add some food coloring to your juice mix to make the colors pop.
50. Unicorn Popcorn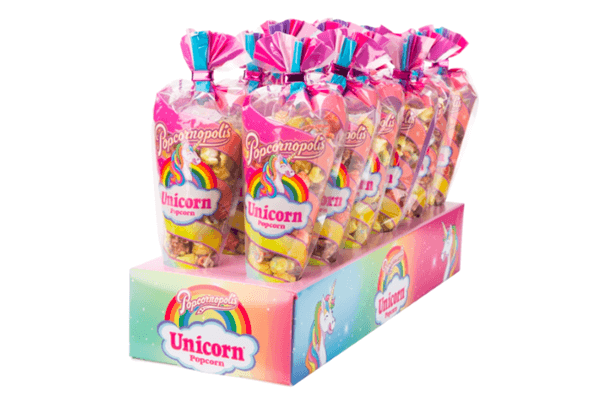 Popcorn is a classic snack that both kids and adults love – the only problem is that it's usually too boring.
To match it with the unicorn theme, you can cook small portions of popcorn and add some food coloring in each batch.
Alternatively, you can just buy unicorn-colored popcorn cones from specialty party stores online if you don't want to deal with all the preparation involved in making it yourself.
51. Unicorn Meringue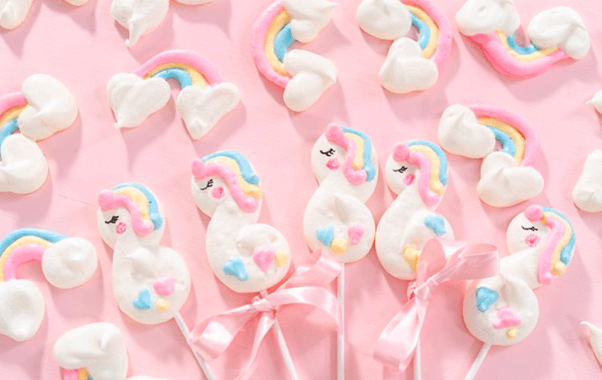 Meringue is a sweet treat that is made from just a few ingredients. It is pretty easy to make – you just need to whisk egg whites, sugar, and cream of tartar.
Portion out the mixture and then add a few drops of food coloring. Then, draw some rainbows and unicorns on parchment paper, pop them in the oven, and you are good to go.
The end product will surely impress your little guests.
Make Your Child's Birthday More Magical This Year By Throwing Her a Unicorn-Themed Party
Unicorns are the stuff of fairytales, which makes them the perfect theme for kids' birthday parties.
It doesn't matter if your child turns one or seven years old, a unicorn-themed party will surely amaze and leave a lasting impression on your guests.
From the cake and decorations to games and food to serve at the buffet table – there are endless ways to transform your party venue into a magical land of unicorns.
We hope that these unicorn party ideas will inspire you to plan the most magical birthday party for your little princess this year.