Easter Scavenger Hunt Riddles
There are many ways families celebrate Easter, but no matter what the family traditions are, there is bound to be an Easter egg hunt before the day is over.
If you want to host an Easter egg hunt for your family this year, or you just want to watch your little one scamper through the yard hunting for the Easter basket that the bunny left, you might want to put a different twist on the fun.
Instead of the boring hunt to see who can collect the most eggs, why not try an Easter egg scavenger hunt this year? This is a fun and exciting way to make the kids work for the final treasure, and it can be fun for you too.
In this article, we have listed 35 Easter scavenger hunt riddles for kids and the adults can participate as well! It's fun and easy to set up with little expense and it doesn't matter if you have one child or 100 children. Well, it could matter if you have 100 children because then you would need more treats, and maybe a few more eggs, but it sure would be a lot of fun!
How to Set Up an Easter Scavenger Hunt
You will need:
Plastic Easter Eggs (10-12 for each participant or team)
Baskets or bags to carry the eggs in
Candy, treats, toys
Easter Scavenger Hunt Riddles
When setting up your Easter Scavenger Hunt, one thing you need to consider is the ages of the children who will be participating. If the children are small and can't read, then you might want to consider clues with pictures instead of words. If you have mixed ages, you can pair the older ones up with the younger ones so they can help them to read the clues.
Another thing you will want to consider is the number of children who will be participating in the scavenger hunt. A small number of children can go on the hunt as one group working together as a team to find the hidden treasure. For a larger number of children, you might consider splitting them up into two groups. Of course, you can allow each child to go on the hunt independently just keep in mind that you will need a final treasure for each participant.
You will want to be sure you have enough plastic eggs to scatter around for the teams or individuals to find. For each team or individual, approximately ten to twelve eggs with clues should work.
If you want to make the hunt even more exciting, especially when you have groups, you can hide several pieces of candy in each plastic egg along with the clue. Each clue should lead to the next hidden egg until they get to the final hidden treasure.
You might want to lead each team or individual to a final place where treats are scattered on the ground. Another fun Easter Scavenger Hunt can lead them to their Easter basket, or you might even consider a Pinata at the end of the trail. No matter what, be sure and provide each team or individual with a bag or basket to carry all their smaller treasures and eggs they find along the way.
Once you have decided how many participants you will have you will then need to decide where you want to have the scavenger hunt; indoors or outdoors.
Depending on where you live it might not be warm enough to conduct your Easter Scavenger Hunt outside, therefore, you will want to choose an appropriate indoor space. You might want to do it in one area of your house, maybe in a large garage or barn, or even someplace inside the church. Be sure to clarify the boundaries and let the kids know if there are certain places that are off limits.
If you are lucky enough to have your scavenger hunt outdoors you will want to choose a place large enough to spread everyone out. Just like inside, you will want to specify the boundaries and let everyone know where they can and cannot go. Make sure they stay out of the streets and busy parking lots.
Once you've narrowed down the hiding grounds it will be time to hide the eggs! Don't forget that the smaller children won't be able to see up high and you will also want to hide some eggs in more obvious places so they can find them easier. To be fair, you might want to tell the older kids to allow the younger ones to find the eggs that are in the open areas.
Be sure and keep track of the number of eggs you've hidden and where you've hidden them. You might want to use this as a fun learning game too. You can tell the kids that they need to find X number of yellow eggs for an example.
You don't need to spend a lot of money on this. You can get a variety bag of party treats to fill a basket at the end of the treasure hunt. Kids don't really care, they just like to have fun looking for the treats. You can buy plastic eggs at a dollar store and pick up a pack of lunch bags for them to carry the eggs in.
The best way to do a scavenger hunt is with riddles. The following is a list of 35 Easter Scavenger Hunt Riddles for Kids to enjoy. They will get practice reading and they can use critical thinking skills too. It makes for a great team building exercise when they work together.
There are outdoor and indoor Easter Scavenger Hunt riddles and there is a list of Easter Basket Scavenger Hunt riddles too.
Outdoor Easter Scavenger Hunt Riddles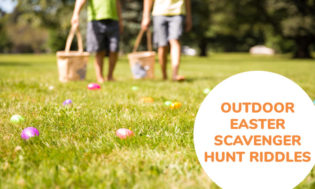 1. Use the handle to open my lid, it could be hot where your clue is hid.
Answer: BBQ Grill
2. You will find me nearby with a lot of green skin, sometimes a squirrel you will find within.
Answer: Tree
3. You and your neighbors I rest between, if you hit me with a car I might begin to lean.
Answer: Fence
4. Sometimes I'm on a post, sometimes I'm on a house, inside me letters you will find the most but never will you see a mouse.
Answer: Mailbox
5. Although I have no feet, I can move around. In my trunk, your clue will be found.
Answer: Car
6. When it's dark I will brighten you up, turn me on when you hear the dog bark.
Answer: Porch Light
7. Play with me on a hot day, cool yourself off when you don't have a pool.
Answer: Water Hose
8. I'm dirty and hungry always waiting for my stash, please open my mouth and give me some trash.
Answer: Garbage Can
9. On the porch is where I sit, please come and join me for a bit.
Answer: Porch Chair
10. In this room your car goes to sleep, open the door and take a peek.
Answer: Garage
11. Roses are red, violets are blue, for your next clue, go to the flowers and smell a few.
Answer: Flower Beds
12. What a great treat when we eat in the heat.
Answer: Patio Table
Indoor Easter Scavenger Hunt Riddles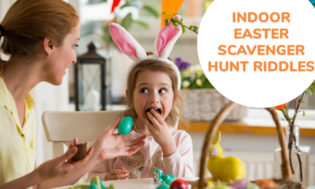 13. Open my door for a bright light, grab some juice to fill up your cup.
Answer: Refrigerator
14. Turn me on so you can see, fore if it's dark you could bump your knee.
Answer: Lamp
15. I'm big and square, sometimes with your refrigerator, I will pair.
Answer: Stove
16. In this box is where you'll put your bread so that when it's done, you'll have toast instead.
Answer: Toaster
17. Look under the place where you rest your head, pick up your next clue and race to the shed.
Answer: Bed
18. I have a round face and two hands. I sit in one place and signal on command.
Answer: Clock
19. I'm a big box on a mission toward drying your clothes and eating your socks.
Answer: Clothes Dryer
20. When your food is done, I will beep loud and proud.
Answer: Microwave
21. I can be tall, or I can be short, you will find me against the wall holding the books you wish to sort.
Answer: Bookshelf
22. This is where you keep your clothes folded neatly in several rows.
Answer: Dresser
23. When you're dirty you should get in here, wash yourself clean from top to bottom and ear to ear.
Answer: Shower
24. Mirror, mirror on the wall, go and check behind the one that's hanging in the hall.
Answer: Mirror
Easter Basket Scavenger Hunt Riddles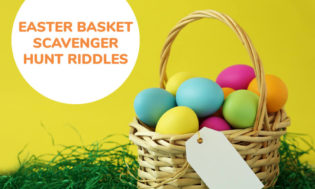 25. The first Easter egg can be found where you play, look hard in the place where your toys are put away.
Answer: Toy Box
26. This clue is easy peasy, just go to the place where you brush your teeth.
Answer: Bathroom Sink
27. Look at the table near the front door, you will be surprised when you look at the floor.
Answer: The Clue Can be Hidden in Something on the Floor Near the Table
28. Look in the kitchen where you can find a snack, you might need to look way in the back.
Answer: Food Pantry
29. Now that your tummy is full go to the room where your mom keeps the broom.
Answer: Broom Closet
30. Now sweep up your mess and go to the place where you will find a dress.
Answer: Clothes Closet
31. When you have a cold you might be told to cover your mouth when you cough and carry a tissue with you.
Answer: Tissue Box
32. Now that you have your cold protected you will want to set the table for the dinner guests who are expected.
Answer: The Plate Cupboard
33. When dinner is over and the place is a mess, clean the dishes so your mom doesn't stress.
Answer: Dishwasher
34. The dishes are done now it's time for some fun, let's play a game before we end the day.
Answer: Game Closet
35. You won the game it's your time for fame, go find your basket behind your dad's jackets.
Answer: Jacket Closet
Final Thoughts
Now that you've had a chance to read through this list of 35 Easter scavenger hunt riddles for kids, you should have a pretty good idea of which ones you want to use and where you will use them.
A few things you will want to remember though:
Safety should always be first. Rope off any areas where the children shouldn't go and always keep them in a safe place.
Never give tiny toys or small pieces of candy to the small children. Be sure and provide bigger toys and other snacks for the littlest ones.
If you're doing an Easter egg hunt outdoors, be sure and do it early so that there is light and protect against the sun and annoying insects.
Always have a backup plan just in case it rains.

With all this in mind and all the riddles prepared you should have no problems setting up your Easter scavenger hunt. If you would like more riddles, click here for 40 more scavenger hunt riddles for kids.