Playdough is one of those amazing things that kids love. It's fun to play with, easy to work with, and it's great for creativity. Not to mention that it's a lot of fun to make with your kids.
There are so many different ways to play with playdough – you can make shapes, patterns, sculptures, and even make your own recipes.
If you are looking for some creative ways to use clay-like material, here are 25 of the best playdough games for kids that will surely keep them entertained for hours.
Playdough Games for Kids
1. Make Your Own Playdough at Home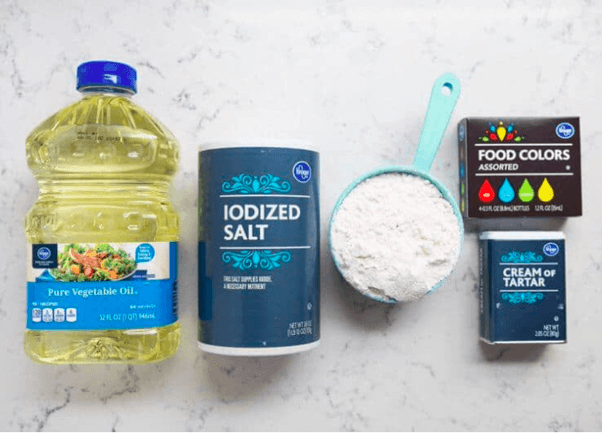 Instead of buying your kids' playdough from the store, you can actually spend an afternoon making it in your kitchen.
You only need a few ingredients to get started, and you don't need any special equipment to do so. Here's how you can make your own playdough in no time:
Ingredients:
2 cups of lukewarm water
2 tablespoons of oil
4 teaspoons of cream of tartar
3/4 cup of salt
2 cups of flour
Food coloring gels
Wax paper
Method:
Mix all the dry ingredients in a large pot.
Add the water and oil to the mixture.
Cook the mixture on medium heat.
Stir until the mixture thickens and begins to turn into a clay-like material.
Let the mixture cool down slightly.
Put in the wax paper and knead the mixture.
Section the mixture and add the food color of your choice.
Enjoy your homemade playdough.
2. Playdough Color Mixing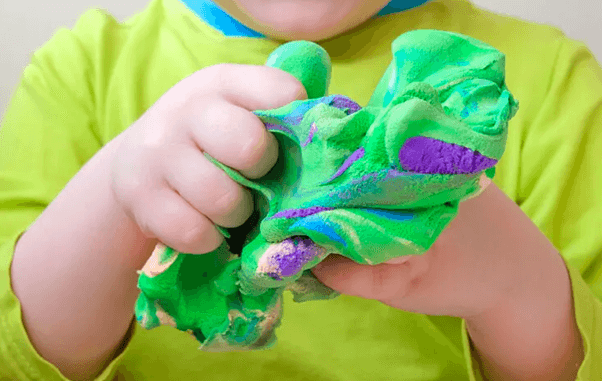 A great activity for toddlers, playdough color mixing is one of the best playdough games for kids to teach them about primary colors, secondary colors, and even tertiary colors.
Pro Tips:
You can print out a color wheel or a color mat and ask your kids to match the colors on the color wheel.
Color mixing using playdough is a great way to help your kids develop their artistic and cognitive skills.
3. Shape Cutouts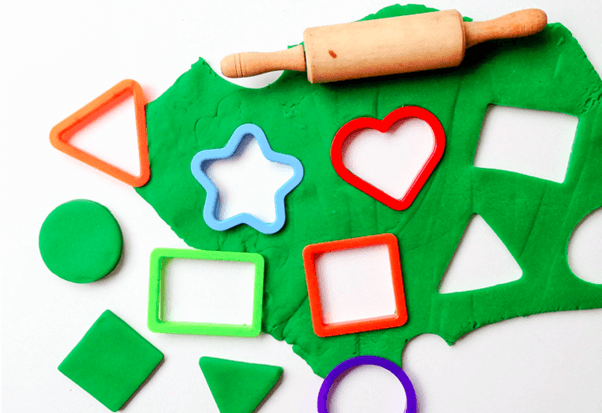 Making shapes with playdough is a great way for your kids to work on fine motor skills and shape recognition.
You simply need a rolling pin and a variety of cookie cutters to make a fun and easy playdough shape-cutting project. The kids will surely love rolling, cutting, and creating shapes from the dough.
4. Leaf Imprinting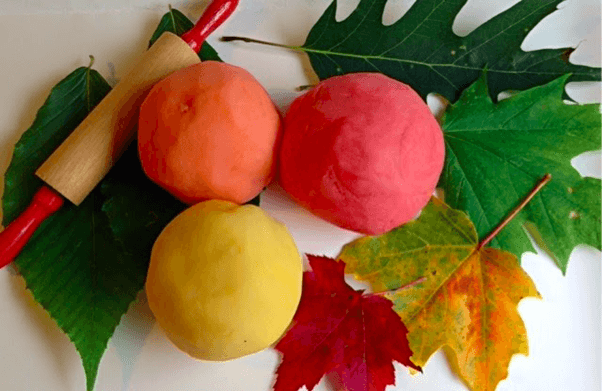 Perfect for the autumn season, your kids can use dried fallen leaves as the template to imprint a leaf shape on the play dough.
They can also cut the edges of the leaves to make them more realistic. Leaf imprinting is a great way to keep the kids busy and get them outside collecting leaves of different shapes and sizes.
5. Letter Tracing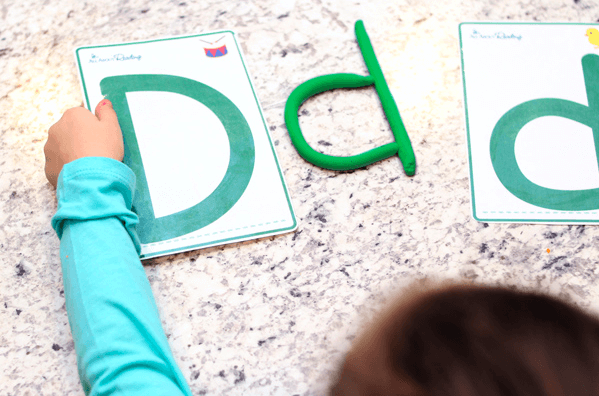 If you are looking for an engaging way to teach your kids about the alphabet, you can use letter printouts and ask them to trace them out.
This is a simple yet effective technique that can improve children's letter recognition skills as well as hand-to-eye coordination.
Pro Tips:
There are plenty of colorful and inexpensive tracing cards that you can order online.
If you want to save money, there are also tons of free letter printables available online.
6. Do You Want to Build a Snowman?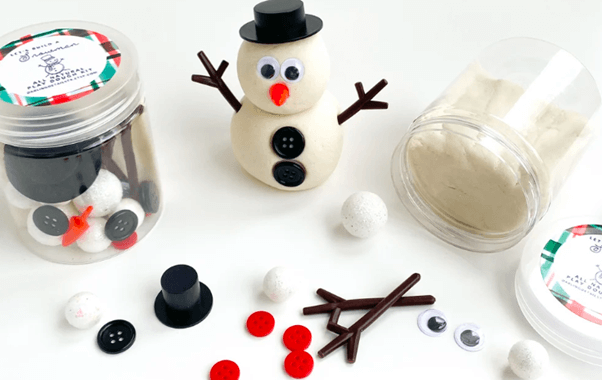 With the popularity of Disney's Frozen, a lot of kids will be wanting to build their own versions of Olaf, the adorable little snowman in the film.
Children will surely love making their own Olaf, especially if they get to add in glitters, beads, and other sparkly embellishments to make their snowman one of a kind.
7. Playdough Fossils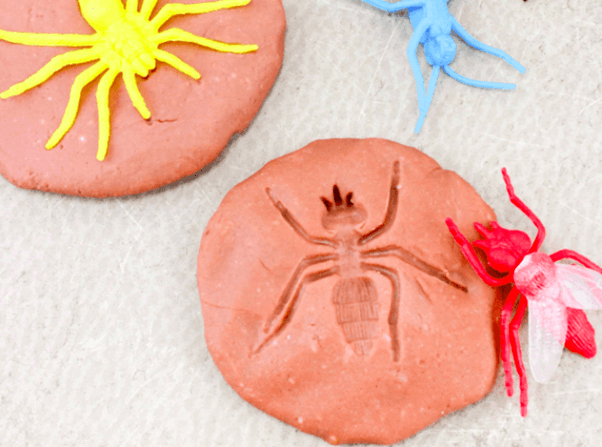 Playdough fossils are very fun and interactive. You simply need some plastic toys of dinosaurs, animals, and other prehistoric creatures – then press them into the playdough, leaving behind fossil-looking impressions.
If your kids love dinos, this is the perfect activity to keep them entertained for hours.
8. Playdough Color Matching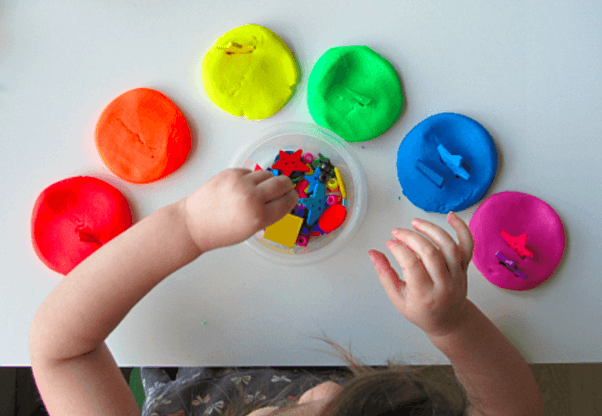 Color matching is an activity that can be used for fine-motor development, as well as concentration and visual memory.
For this activity, you need to prepare a set of playdoughs in different colors and a few small items that match the color set of your playdough.
Then, simply ask your kids to stick the item that matches the color of the play dough.
Pro Tips:
You can use colorful beads, buttons, colored popsicle sticks, and broken crayons as matching items.
Small items can be a choking hazard so make sure not to leave your child unattended while playing this game.
9. Playdough Jewelry Making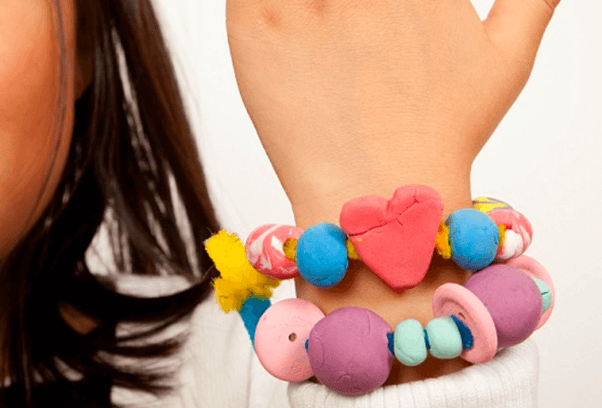 As playdough comes in a wide range of colors, kids can turn them into pretty jewelry and charms.
Simply form little playdough balls, punch holes in them using a toothpick, let them dry, and voila! You can use these small little beads to make necklaces, bracelets, rings, and earrings.
10. Playdough Volcano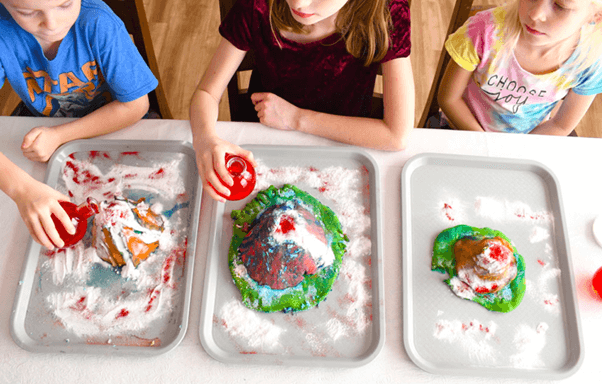 This is a simple chemistry project that requires no hazardous chemicals or ingredients.
All you need to do is let the kids make their own sculptures of volcanoes using playdough. Then, tell them to keep the volcano's crater hollow – because this is where you'll pour your homemade lava.
How to Create a Homemade Lava?
Ingredients:
Baking soda
Vinegar
Red food coloring
Glitters
Method: 
Put 2 tablespoons of baking soda in the volcano's crater.
Put the glitters in the crater as well.
In a plastic cup, mix 1/4 cup of vinegar and a few drops of red food coloring.
Let the kids pour the vinegar mixture into the volcano's crater.
Watch as it bubbles up through the baking soda and erupts out of the volcano's opening.
11. Playdough Treasure Hunting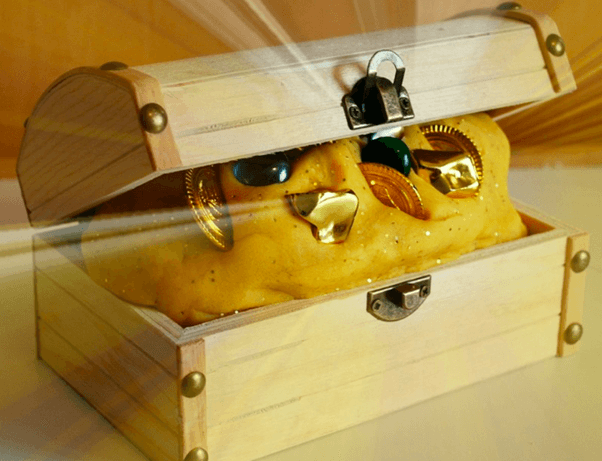 Create a pirate-themed treasure-hunting game by rolling out yellow playdough with gold glitters and sticking it with plenty of faux jewels, coins, and other shiny treasures.
Let the kids hunt through the playdough to find the hidden items. Whoever finds the most treasure wins.
12. Playdough Cookie Cutting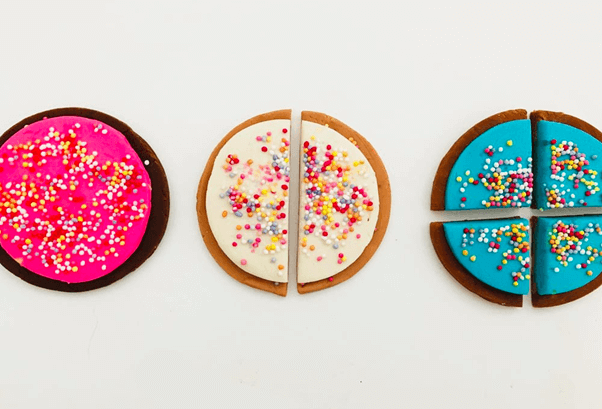 The easiest way to teach kids about the concept of fractions is to make a cookie-cutting game out of play dough.
Let your kids make a few cookies and then cut them into half, a quarter, or whatever fraction you choose. This is a surefire way for your kids to learn about fractions while having a lot of fun.
A pizza playdough cutting game is a similar fun idea to teach fractions to your kids.
13. Playdough Cake Decorating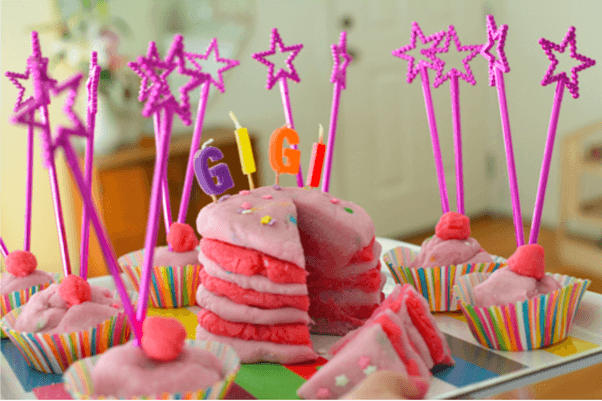 Playdough is an ideal medium for arts and crafts projects, and kids can get creative by making and decorating their very own playdough cakes and cupcakes.
Cake decorating is a great way to introduce concepts like color, shape, and proportion while letting kids become more artistic and creative.
14. Portrait Making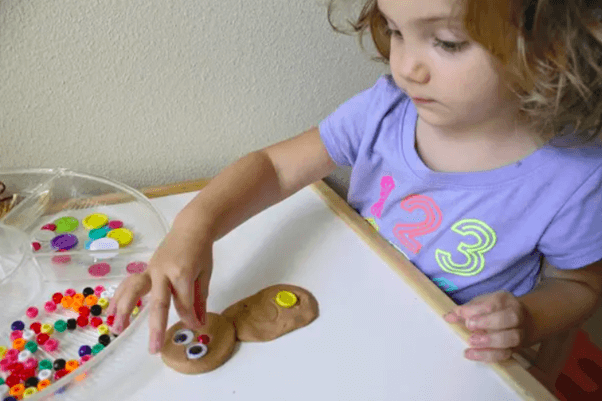 Kids have a natural desire to draw, paint, and sculpt – so it makes sense to encourage that through fun, hands-on art projects.
Using playdough, beads, buttons, and googly eyes, your kids can create a unique portrait of themselves. They can also try making a portrait of their favorite cartoon character.
15. Miniature Earth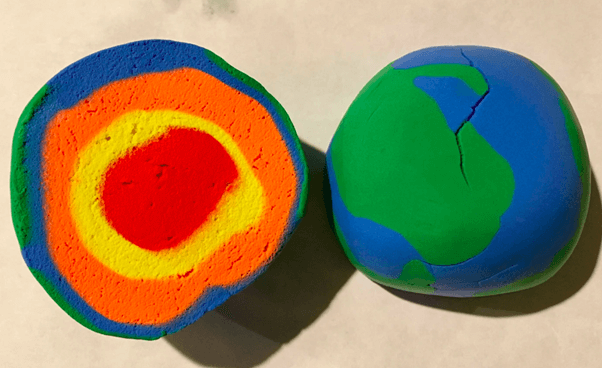 Crust, mantle, core – there's plenty of room for exploration when it comes to building your very own mini-earth. Kids can explore the different layers of the earth as they use play dough to make a perfect replica of our planet.
You can also add in the land masses and oceans to create an even more detailed model.
16. Complete the Solar System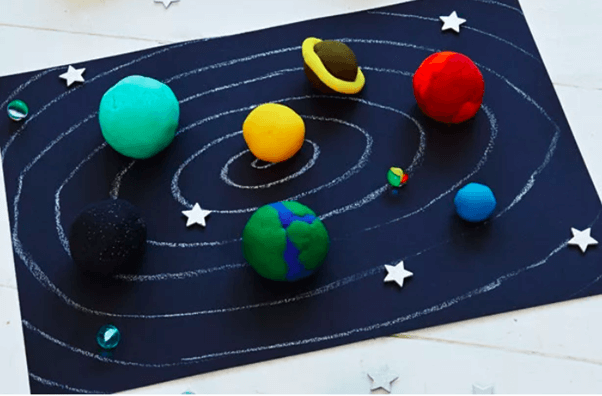 There are tons of great resources on the web to help teach kids about the solar system. This project, however, will help them create their own little model that they can take pride in.
They'll learn about the sun, planets, and stars as they use play dough to make a complete model of our solar system.
17. Playdough Robots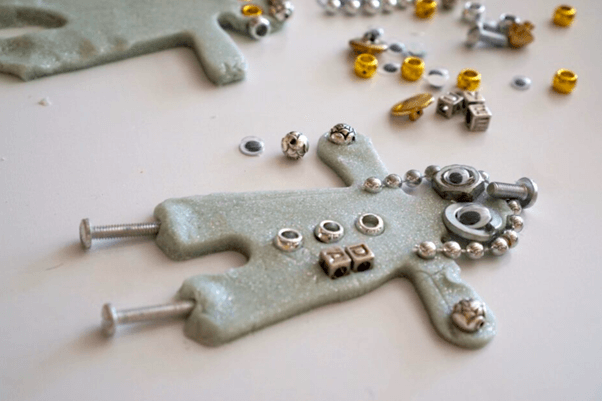 Get your kids to make their very own robots by rolling up some playdough and decorating them with googly eyes, metallic beads, nuts, bolts, etc.
Kids will have hours of fun making these cute little playdough robots that look like they came straight out of a sci-fi movie.
18. Playdough Pizza Decorating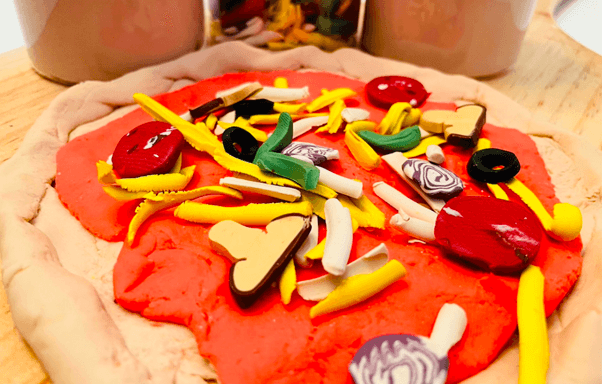 It's always fun to make food art, so let your kids be creative and express their creativity by making their own pizza designs with playdough.
This is one way to get your kids to use their imagination while helping them improve their fine motor skills. This is a craft that's fun for kids and easy enough that even the little ones can do it.
19. Lego Floss
For this activity, you simply need to take a piece of lego, stick the playdough in between the "studs" and let your kids use a string to remove traces of play dough in the lego.
This is a great opportunity for you to talk to your kids about how flossing can help keep their teeth clean and healthy.
20. Playdough Marble Maze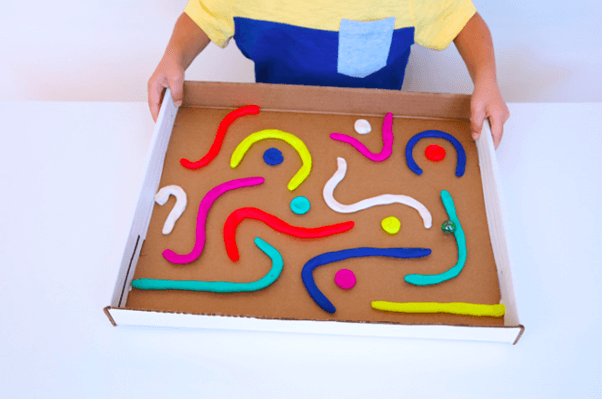 Kids love to play with marbles, so why not make it more fun by creating a marble maze using readily available items at home? You can easily make this project using just a carton lid and a little bit of play dough.
Your kids can form their own marble maze, playdough obstacle course, or even a marble race track.
21. Playdough Picasso Art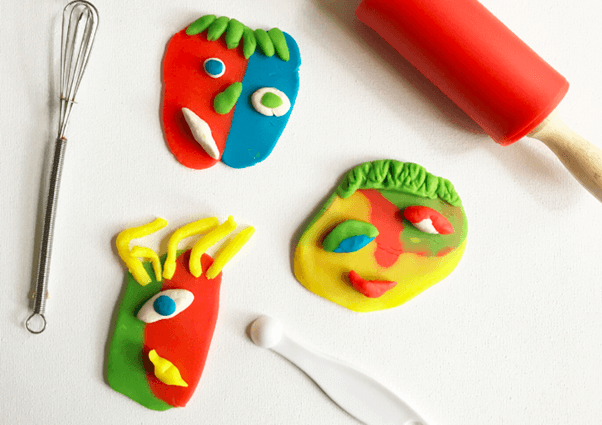 Pablo Picasso is undeniably one of the greatest artists of all time, known for his cubist works, pointillism, and abstract works.
This arts and crafts project is a great way for you to teach your kids about fine art and introduce them to one of the most influential artists of the 20th century.
You can show your kids some of Picasso's work and tell them to recreate their favorite using playdough.
22. Playdough Rainbow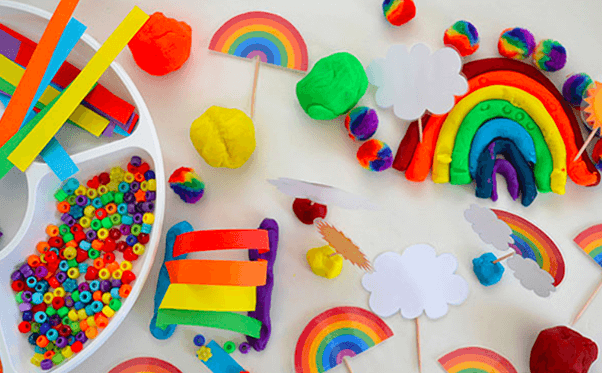 Here is another awesome way to introduce kids to colors. For this project, you simply have to prepare seven colors of playdough (red, orange, yellow, green, blue, indigo, and violet).
Then, ask the kids to roll the playdough into strings and let them arrange the colors of the rainbow in proper order – ROYGBIV.
23. Make a Playdough Monster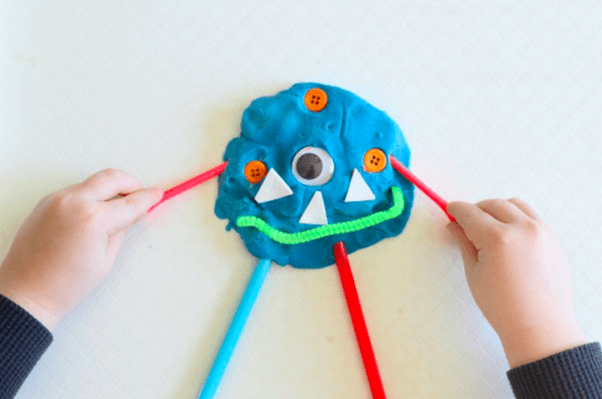 Playdough monsters are always a blast to make during the Halloween season. The best part is that you can let your kids' creativity run wild when making their very own monsters.
All you need are some googly eyes, straw, buttons, and uncooked spaghetti noodles. Your kids will surely have a blast with this one.
24. Playdough Animals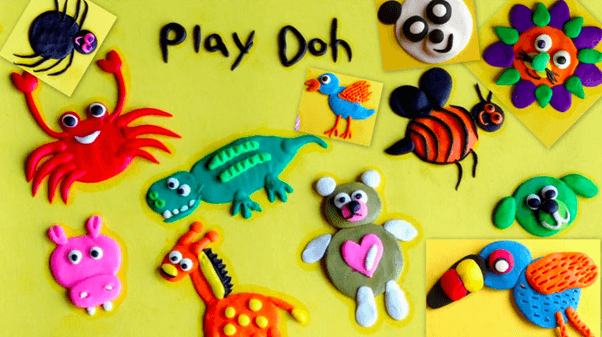 Playdough animals are so much fun to create. These soft clay creations will take a while to dry, but you will be surprised at how easy they are to mold.
Playdough sculpting is a great activity to develop your kids' creativity and hand-to-eye coordination.
25. Playdough Ocean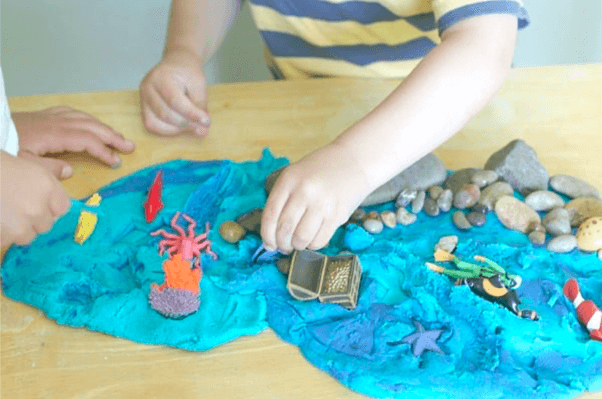 The ocean is always an interesting topic to discuss with children. This colorful and creative craft lets them explore ocean life and learn about the different parts of it.
They can add shells, starfish, and other marine creatures to their ocean. The kids can also use some garden stones and pebbles to create realistic seafloor rocks.
Play-Doh vs. Homemade Playdough: Which is Better?
Homemade playdough offers a number of benefits over the store-bought variety because it's free from chemicals and artificial ingredients that could potentially harm your children.
However, it takes time and a lot of mixing to make homemade playdough, so keep that in mind when you decide whether to go for the store-bought variety.
Generally speaking, homemade playdough is also more affordable but has a shorter shelf-life, whereas store-bought playdough can last up to two years.
If you'll need a huge volume of playdough for a party or event, then consider making your own instead of buying as it's more economical and you'll have complete control over how much or how little playdough you want to make.
How to Properly Store Your Homemade Playdough?
To ensure that your homemade playdough lasts for a long time, you should store it in a cool, dark place out of direct sunlight.
If you are going to store it for more than a few weeks, you should probably get a resealable container like a ziplock or Tupperware to help contain moisture.
Some also recommend putting the leftover playdough inside the refrigerator to help prolong its lifespan. If stored correctly, homemade playdough can last for up to two to three months.
Playdough is a Great Medium for Learning and Development
Playdough can be used to develop fine motor skills, shape-building, and problem-solving skills in your child. It also provides a lot of sensory stimulation and can keep kids entertained for hours.
When kids play with playdough, they're developing cognitive, social, emotional, physical, and imaginative skills.
For instance, they learn how to work with their hands, practice math skills such as counting, and develop language skills by learning to communicate.
Playdough is also one of the easiest media for teaching kids about basic concepts like science and art.
You can teach kids how to make shapes and recognize colors and use them as a base for many enjoyable arts and crafts projects.
If you are looking for a versatile material that is great for learning and fun, give playdough a try.