Affirmations for Kids 
What's the point of affirmations for kids?
The world can be a complicated place full of fear and confusion, especially if you're a child.
With so much to deal with, parents and teachers are looking for something to uplift children and inspire them. Something that has a positive impact on their mindset.
The answer may be in one of the oldest forms of communication, our own voices.
Affirmations are not a new concept, yet one that has come to the forefront of self-help options.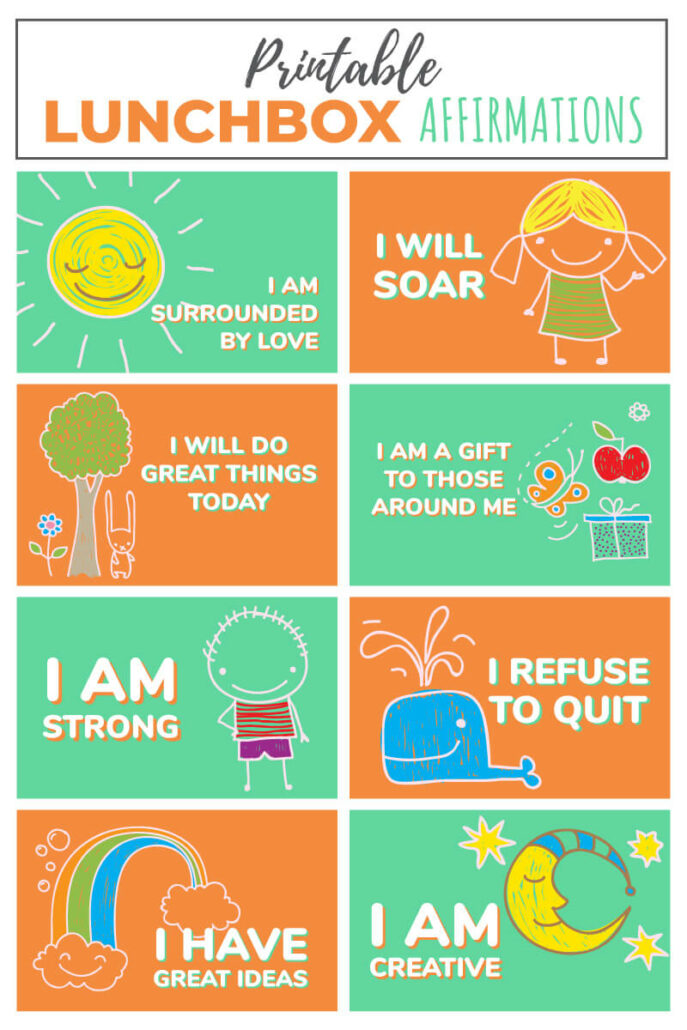 What are affirmations?
The definition of an affirmation is fairly simple. Whether it's Wikipedia or another source, the answer to this question is usually straightforward. An affirmation is merely a phrase written, said, or thought about repeatedly. The more it is uttered or thought about, the greater its power in the mind of the person who has it.
More crucial to their power is not only the number of sayings but the message behind it. Affirmations for kids hold positive messages and thoughts that are designed to calm worries, encourage success, and increase the possibility for positive results in someone's life.
List of Kids Affirmations to Build a Positive Mindset
There are 151 tried and true affirmations that are a constant source of inspiration for kids as well as adults. Consider these phrases as you search for the perfect set of daily affirmations for kids to help every child through the ups and downs of childhood. They're the go-to solution to not only the problems listed above, but many more of the daily concerns that follow every kids through their roughest years.
1.  I am a superhero.
2.  I am a hero.
3.  I am calm.
4.  I am happy.
5.  I am peaceful.
6.  I can do anything.
7.  I am my own hero.
8. I am okay.
9.  I am fine.
10.  Nothing can hurt me.
11.  I am fearless.
12.  I am unafraid.
13.  Nothing can stop me.
14.  My nightmares aren't real.
15.  My monsters don't exist.
16.  I can do my best.
17.  I am safe.
18.  I am secure.
19.  I am in a safe place.
20.  I am with good people.
21.  I am surrounded by love.
22.  I am surrounded by hope.
23.  I am surrounded by care.
24.  I am loved.
25.  I am liked.
26.  This is my happy place.
27.  I am protected.
28.  My heroes protect me.
29.  I can make it through anything.
30.  I am whole.
31.  I am healthy.
32.  I am free.
33.  I am smart.
34.  I am good.
35.  I am kind.
36.  I will do great things today.
37.  This is my safe place.
38.  No one will hurt me.
39.  No one hates me.
40.  I am among friends.
41.  I am warm and safe.
42.  I can spread love.
43.  I am everyone's friend.
44.  I am a friend.
45.  I am a loved child.
46.  I am a good child.
47.  I have great ideas.
48.  I am gifted.
49.  I am beautiful.
50.  I am talented.
51.  I am a star.
52.  I am a gift to those around me.
53.  I am my own person.
54.  I can make good decisions.
55.  I can make the right decisions.
56.  I have no problems.
57.  I have no worries.
58.  I have good answers.
59.  I am well.
60.  Everything I need is around me.
61.  Everything I want is here.
62.  I believe in myself.
63.  I believe I can do anything.
64.  I am strong.
65.  I am kind to animals.
66.  I am kind to others.
67.  I trust my family.
68.  I trust my friends.
69.  I trust my teachers.
70.  I can stand up to bullies.
71.  I am better than any bully.
72.  I can help someone who is bullied.
73.  I respect myself..
74.  I am a better person.
75.  I know right from wrong.
76.  I respect my elders.
77.  I respect my friends.
78.  I respect other students.
79.  I respect my family.
80.  I listen to my teachers.
81.  I listen to my family.
82.  I listen to my classmates.
83.  I refuse to hate anyone.
84.  I love everyone.
85.  I love school.
86.  I love life.
87.  I love my friends.
88.  I refuse to quit.
89.  I refuse to give up.
90.  I always share.
91.  I share with my friends.
92.  I can stand up to hate.
93.  I know what is right.
94.  I know what is wrong.
95.  I will not be jealous.
96.  I avoid jealousy.
97.  I belong here.
98.  I belong in this place.
99.  I matter.
100.  My thoughts matter.
101.  My life matters.
102.  My choices matters.
103.  I can make the right choices.
104.  I make the right choices.
105.  I will not fail.
106.  I will not lose.
107.  I can pass this test.
108.  I can make it.
109.  I am a miracle.
110.  I am unique.
111.  I am creative.
112.  I am artistic.
113.  I can make good decisions.
114.  I care.
115.  I don't let things hold me back.
116.  I can beat anything.
117.  I am great.
118.  I can stand anything.
119.  No one can harm me.
120.  I rise above.
121.  I will rise.
122.  I will soar.
123.  I am relentless.
124.  I feel comfortable.
125.  I am alive.
126.  My time here matters.
127.  My talents are special.
128.  I always take the high road.
129.  I matter.
130.  I am a survivor.
131.  I am here for a reason.
132.  I can help others heal.
133.  I am smiling.
134.  I am laughing.
135.  I am not sad.
136.  My emotions matter.
137.  My feelings matter
138.  No one has the right to harm me.
139.  I am singing.
140.  I am dancing.
141.  I have goals.
142.  I am going forward.
143.  I am always moving forward.
144.  I know I am powerful.
145.  I am important.
146.  I am a strong person.
147.  I am playful.
148.  I am cool.
149.  I am an achiever.
150.  I can adapt to anything.
151.  I believe.
Why are affirmations important?
Affirmations make you feel better, somehow uplifting as they get you through something that seems insurmountable. It can become a valuable tool in healing, recovery, cultivating a resilient mindset, or smaller details in our lives.
Before we get to the children, it's important to see how it matters to everyone. Adults can see the effects of a stable diet of affirmations in their own life, including at work as noted by Refinery29 in a recent piece on workweek positive thinking. Having a schedule of affirmations each day or taking any free time to deal with affirmations has given many adults a healthier outlook on challenges ahead as well as their own well being. If it can help an adult get through their daily schedule, imagine how much it can help a young mind?
A child faces many issues as they grow. From how they perceive themselves to the world around them, it can be a difficult time. That's why it is crucial to instill positive values and ideas when these young minds are open to the possibilities.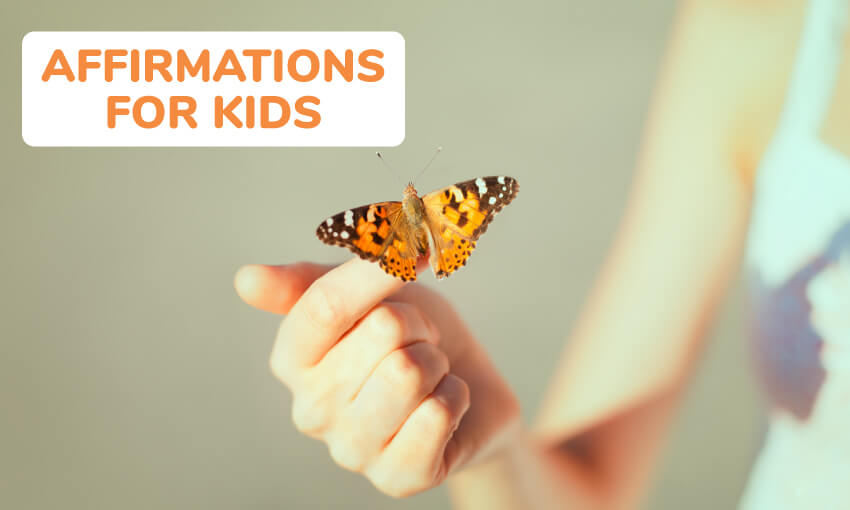 Affirmations for children target several key areas of their lives that are crucial for success. Self-esteem is a major component in development and this is an important time for that development. The ability to transform how someone sees themself is one of the things that affirmations do best. Simple phrases that any age group can grasp make it easy to keep the ideas of self-importance and confidence at the forefront. With issues such as bullying occurring around them, having positive ideals to follow to cross-out or erase stigmas that might otherwise take hold and last into adulthood.
More than just self-esteem, affirmations can affect how a child sees their classmates and teachers. By instilling a sense of self-importance, they also grow healthy respect for the feelings and thoughts of others. Just as they can avoid the harsh influences of bullying, so too can they help others going through this common problem. In terms of how they relate to teachers, putting a more human and less authoritative face on their teachers creates bonds instead of barriers against learning.
In terms of studying and learning, selected affirmations can help a child's educational development, even their grades. Testing at any level can bring about stress in various forms. While preparing, affirmations of encouragement and even principles to remember to encourage better study habits as well as more retention. Before and during the test itself, phrases focusing on calm and cool under pressure help.
Even if they have to stay silent during the test, repeated thoughts or even writing it down on a spare sheet of paper can help the situation. After testing is through, have affirmations to break down the tension, stress or fear of failure to calm down already fragile nerves.
At home, these simple phrases also have the potential to make a big difference in day-to-day activities and their overall mental health. Nighttime is difficult for many children, especially younger kids. No matter their age, there are some affirmation based options that help to improve their sleep habits. Young ones often imagine the monsters under the bed or in a closet, it can become a problem as they learn to sleep on their own.
Affirmations are a simple substitute for being in the room as they learn to rely on themselves when controlling fear. Over time, the phrases add a sense of security that is more powerful than any item.
When it comes to household routines, having a round of these all too familiar positive daily affirmations help improve every task. Morning usually means sluggish kids who are far from ready to get off to school or other activities. Introducing a morning routine of consistent affirmations may be just the trick for easing them into the day.
With so much on your plate, that makes a common set of affirmations more important than you can imagine. Much like adults do yoga as their first activity of the day, impart selected affirmations that they can say as they wake up. Help them through each one or leave them on their own for some quiet moments, the choice is yours.
Affirmations can become part of a child's travel activities. Children who are scared of trains, planes or any other method of travel find a lot of meaning in sentences that focus on combating their fears. Before the trip ever begins, setting up a schedule of positive affirmations about the mode of travel can help combat the issues. It means a more comfortable and safe experience for everyone involved.
Along the way, affirmation cards can also improve how they deal with fears like heights or water. Conquering the fears only adds to their growth and increases their love of reaching out to places both far away and at home. Once again, a tailored approach to the selected issues really assists both the child and yourself in dealing with the issue. Make sure to help them with the affirmations before the big event to really see the importance and life-changing elements in person.
Last update on 2023-06-03 / Affiliate links / Images from Amazon Product Advertising API
Not all situations are the same when it comes to children, that's why there are so many affirmations out there suited to each special child. These are just some of the reasons why they are so important to kids. More than these examples, there are so many other uses for the affirmations just waiting to be found and put to use.
Affirmations make a positive impact on people willing to work with them on a consistent basis. For kids, this makes even more of a difference as their young minds grow and learn. With an open and honest approach, these easy to remember affirmation cards can be a major help for children of all ages. Lessons learned about these positive influences often translate to future success. So, try a new path for your children or help them further their course of positive daily affirmations for kids that are perfect for all age groups. The results are something both you and any child can rely on to change their entire life for the better.