Easter is right around the corner and if you are looking for some holiday-themed food ideas, check out these Easter Rice Krispie treats.
Not only do they taste great, but they showcase the holiday colors.
I love Rice Krispie treats because they are a childhood staple and they are easy to make. With just a handful of ingredients, you will be able to create these wonderful kid's treats.
Ingredients: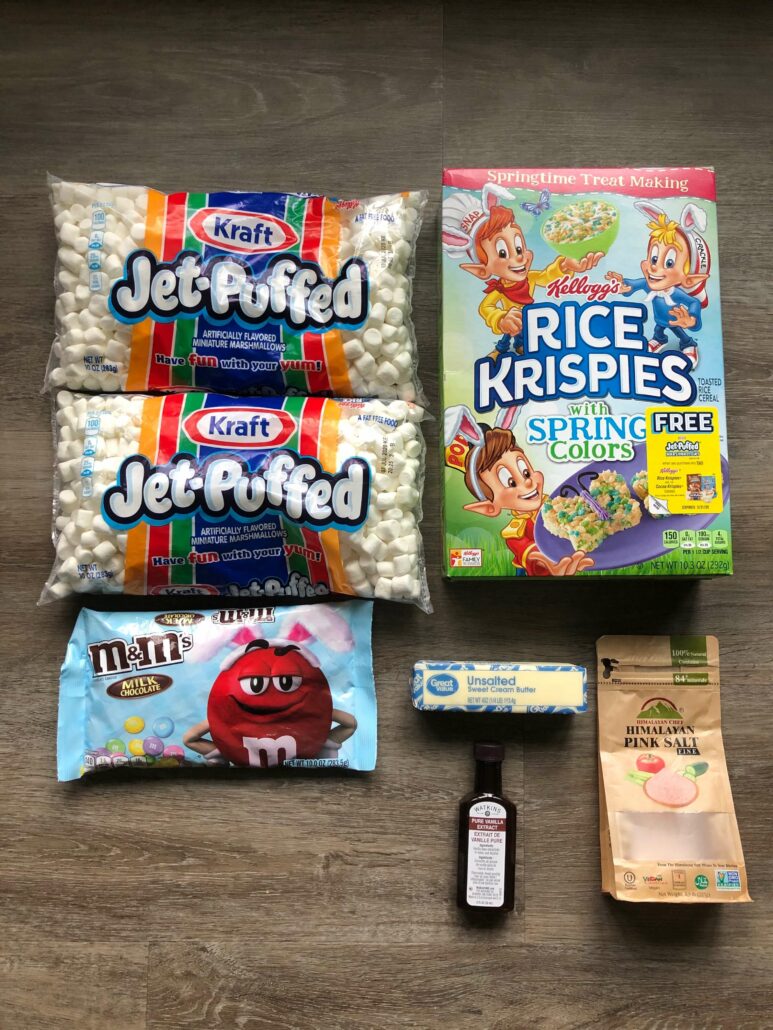 5 tablespoons unsalted butter
6 cups mini marshmallows (two 10 oz packages or one larger package)
6 cups Rice Krispies cereal with Spring colors
1/4 tsp salt or just a pinch of salt
1 tsp vanilla
1 cup milk chocolate m & m's (10 oz bag with pastel colors)
Instructions
Spray a 9 x 13 baking dish with cooking spray. Also, spray your spoon that you will use for mixing with cooking spray.
Place a large pot on your stovetop and place on low heat.
Add your 5 tablespoons of butter to the pot and begin melting.
Once it's melted and nice and bubbly, add 6 cups of mini marshmallows to the pot and begin stirring.
You want the marshmallows melted but not over melted.
Add 1/4 tsp of salt and 1 tsp of vanilla to the pot with your melted marshmallows and stir that in.
After that, you will want to turn off the stove and remove the pan from heat.
Add 6 cups of Rice Krispies cereal and mix until coated.
Then you will transfer the Rice Krispies mixture into a large bowl. I do this so that the m & m's won't melt as much as they would in the pan that is still hot.
Wait just a couple minutes for it to cool down a little and then stir in 1 cup of M&M's. You will want to stir this gently and without over mixing as the candies start to melt and can come apart while mixing.
Pour into prepared baking dish. Again, spread the mixture out gently as the candies can easily come apart while doing so.
If you wash your hands and leave them wet you can press down the mixture gently into the pan using your hands and it won't stick to them. Allow to cool, then cut and serve.
Store in an airtight container.
In Summary
We hope you have enjoyed this Easter Rice Krispie treat recipe. They are great for an Easter potluck or just an everyday treat leading up to the Easter holiday. Make sure you check out some of our Easter craft ideas and some of our Easter activities.