Undoubtedly, every girl likes to have different hairstyles for school. They love experimenting with their hair because it's fun and it shows off their personality – not to mention that a great hairstyle can be a major confidence boost for many.
From buns and braids to curls and bangs, there are plenty of ways to have your hair look fabulous.
In this article, we'll be listing down 56 of the best girl hairstyles for school – a mix of different looks, from cute to sophisticated to just plain cool.
So, whether you are a parent of a teenage daughter or a student who's looking for the coolest way to rock your hair for school, take a peek at some of the most awesome girl hairstyles for school that we have compiled below.
Before you start:
Check with the school dress code policy to make sure you can have creative hairstyles
Your hairstyle needs to stick for 8 hours or so. So make sure it's solid
Girl Hairstyles for School
1. Twin Buns
For this hairstyle, you simply need to gather your hair into two sections.
Once they're divided, take the first section and roll it into a tight bun.
Then do the same on the other side.
You can secure the buns using bobby pins or hair ties to make sure that they will stay in place for the rest of the day.
2. Simple Top Knot
A simple top knot is a quick and easy hairstyle.
Simply gather all of your hair toward the top of your head, twist it several times, until it forms a one big bun or knot.
You can just tighten the knot itself to secure the bun or use some bobby pins or a hair tie to prevent it from unravelling or falling down.
3. Braid Headband
Braided headbands are the perfect option for girls who want to make sure that their hair won't get in the way of their face.
To make this look, you need to grab a section of hair on one side of your head, then braid it all the way to the other.
Once the braid is complete, you can secure the end using a hair tie, then hide it at the back of your ear for a more seamless look.
4. High Ponytail
Clean and sophisticated, this high ponytail hairstyle will help you achieve that Ariana Grande look.
Simply pull your hair all the way up to the top of your head and secure it with an elastic band or hair tie.
Make sure to tuck any loose hair strands by using some styling gel for a sleeker look.
5. Braided Ponytail
If you are looking for a simple yet elegant look that doesn't require too much effort, a braided ponytail hairstyle is perfect for you.
Simply tie your hair using an elastic (it doesn't matter if you want to tie it high or low), grab a few sections of hair from it, braid them in whatever style you want, and you are good to go.
6. Boho Side Braid
A one-sided braid is all it takes to transform your hair into something truly befitting of a bohemian look.
Keep the individual braids loose and messy to achieve a relaxed and effortless look.
A boho side braid is also the perfect hairstyle to highlight the better side of your face, so make sure to know your angle before choosing this hairstyle.
7. Pigtails
To create a cute and playful look, simply divide your hair into two sections (each at the opposite side of your head) and secure them with hair ties or elastic bands.
Pigtails look great on straight or curly hair and are also a versatile option for both short and long hair, making them the perfect everyday school hairstyle for girls.
8. Clean Bobcat Haircut
Want to highlight the shape of your face and accentuate your long neck? A clean bobcat haircut is perfect for you.
All you need to do is keep your hair above your shoulders and keep it neat and tidy.
A haircut like this is a low-maintenance style that will not easily get mussed, so if you are looking for a cute, casual hairstyle that is very easy to maintain, you should consider getting a clean bobcat haircut.
9. Pixie Cut
The pixie cut is a trendy, hip, and edgy hairstyle that will really stand out in school.
This hairstyle will make your eyes pop and highlight your favorite facial features.
You can add structure and volume to your pixie cut by using some styling gel or clay to make your hair look thicker and fuller.
10. Asymmetrical Bob
The asymmetrical bob is a sleek and stylish hairstyle that is perfect for school because it has a sharp, angular appearance that adds a youthful energy to your face.
It's the perfect hairstyle if you have rounder facial features, since the asymmetrical bob can hide those areas and only bring your attention to your chin and jawline.
This is a trendy style that's very easy to pull off.
11. Soft Curls
Soft curls look great on girls with round faces because they draw attention to the cheekbones and help to frame the face.
To achieve soft and bouncy curls, you can use a curling iron and brush your hair until you achieve your desired look.
Then, you can set your hair using some hairspray to make sure that it stays in place for the whole day.
12. Glam Ponytail
A glam ponytail is one of the easiest and most effortless hairstyles that you can wear for school.
To achieve this look, you just need to gather your hair into a low ponytail around your nape area, twist some sections of your hair, and secure it with a hair tie.
Then, you can leave the rest loose – letting them freely flow at your back for a more relaxed and natural look.
13. Elongated Pixie Cut
Elongated pixie cuts are great for girls who are always late or short on time and don't want to spend hours trying to get ready for the school day.
This hairstyle gives you a neat, simple, and effortless appearance that shows off your best facial features.
Plus, an elongated pixie cut is a stylish cut that requires little to no maintenance – so they're perfect for students of all ages.
14. Side-Swept Bob
For a sweet and youthful look, you can opt for a side-swept bob that features a smooth, rounded, and slightly angled hair shape that starts from one side of your head and sweeps down across the other side of your face.
The side-swept bob is a classic, timeless style that can be worn by almost anyone.
15. Wavy Bob
Why settle for a classic bob when you can elevate it even further? A wavy bob makes a statement because it features some waves and curls that add drama and character to your hairstyle.
It gives you a fresh and youthful look that gives dimension to your facial features and at the same time, makes your eyes pop.
16. Twisted High Ponytail
Twisted ponytails are also known as rope ponytails because of their rope-like appearance.
To create this look, you need to tie your hair in a classic high ponytail, divide your hair into two sections, then twist them together until your hair is in one long rope-like braid.
Finally, secure the end of your hair by using an elastic band to prevent the twist from unraveling.
17. Fishtail Braid
A fishtail braid is an amazing way to highlight your hair and add a little drama to your everyday look for school.
Unlike Dutch braids that are simple and easy to do, it takes some time and effort to master fishtail braids – but with patience and practice – you can create this beautiful hairstyle yourself in no time.
Here's a YouTube tutorial to help you learn how to create this gorgeous hairstyle.
18. Braided Pigtails
Braided pigtails are one the most popular hairstyles for girls because they are easy to do and require only a couple of basic steps to make.
Simply divide your hair into two, tie them in pigtails, then braid each pigtail in whatever style you want to create this charming and youthful look.
This hairstyle is perfect for school because you can do it in less than 5 minutes.
19. The Bow Ponytail
A bow ponytail is a great hairstyle for girls because it looks simple yet classy – and will truly make you look sophisticated and feminine.
Creating a bow or ribbon using your hair may seem a little complicated at first but it actually won't take you more than 5 minutes to finish the look.
Here's a quick video tutorial to help you make your own bow ponytail.
20. Half Up Half Down Messy Bun
A half up half down messy bun is a great way to add some carefree vibes to your everyday look.
For this hairstyle, you simply have to divide your hair into two sections horizontally – leaving the bottom half of your hair free while turning the upper half into a messy knot or bun.
Then, you need to secure the bun and hold it in place by using some bobby pins.
Be effortlessly chic by wearing this messy yet very elegant hairstyle.
21. Twin French Braid
A twin french braid is a fabulous hairstyle for girls because it does not only look cute and elegant but also gives off a youthful and fresh look to anyone who wears it.
To create the look, simply divide your hair into two sections vertically then braid each side using the French braiding technique.
Secure both ends by using elastic bands and enjoy your stylish new look.
22. Scarf Bun
A scarf bun is a beautiful way to take an everyday hairstyle and make it look more chic and classy.
For this look, you will simply have to gather all your hair to the top of your head, place your favorite silk scarf parallel to your hair, and then twist them together until they are wrapped tightly in a bun or knot.
Secure the bun using bobby pins or a hair tie to prevent the knot from unraveling.
23. Braided Bun
If you want to create a super feminine look, try combining braids and buns.
You can start by braiding your hair in a twin French braid until your nape area and secure it using a hair tie or elastic band.
Then, you can make a low bun out of the rest of your hair and use some bobby pins to hold it in place.
You can opt for a loose or messy braid and bun to get a more casual and relaxed look for school.
24. Flip Twist Ponytail
To create this easy and quick hairstyle, first, you will divide your hair into three sections: left, right, and back.
You will then twist the left and right side of your hair towards the back of your head and tie them using an elastic band.
Loosen up the twists if you want to achieve a messy look and then tie all the three sections of your hair into one low ponytail.
Voila! You're ready to rock a flip twist ponytail any day of the week.
25. Loose Beach Waves
To create this loose and voluminous style, you have two options.
You can either use a curling iron, comb your hair until you get your desired waves, and set them using some hairspray.
The other option is to braid your hair the night before, sleep with your braided hair, and in the morning, take off your braids and comb them until you achieve your desired look.
You can also set your curls using some hairspray to keep your style intact throughout the day.
26. Apple Cut
Just like a bob, an apple cut style is a fashion-forward haircut that works best for girls with small faces.
It is a great way to frame your face and accentuate your neck, which will add a trendy, modern look to your appearance.
An apple cut also looks feminine and sweet, making it an ideal haircut for schoolgirls.
27. Low Bun
Sometimes, less is more.
You don't have to spend a ton of time on your hair if you decide to wear a low bun.
Simply gather all your hair at the nape area and twist it to create a bun or knot.
For a chic and effortless look, you can opt to style your hair in a messy low bun.
It is a cute and simple hairstyle for school that will make you feel comfortable, yet glamorous.
28. Sock Bun
If you want a stylish yet practical hairdo, use a sock to secure your bun.
A sock bun is also often referred to as a ballerina bun because it takes away any distraction from the face – allowing ballet dancers to focus while dancing.
This hairstyle is perfect for school days when you don't need your hair to get in the way of what you are doing.
29. Big Oversized Curls
If you want to try out a big curly hairdo, then this is the one for you.
This hairstyle is ideal for those who are looking to bring out their natural curls and want to stand out from the crowd.
Big curls scream confidence and glamor – and will instantly bring the spotlight on you wherever you go.
Plus, you don't have to spend a lot of time fixing your hair in the morning with this natural-looking style.
30. Waterfall Braid
If you want to try something different with your hair, then try a waterfall braid.
You can either let it flow down your back, or pull it up a little higher to create a messy look
It's a simple style that looks great whether you are wearing a dress or jeans, making it a versatile hairstyle that you can use everyday for school.
31. Messy Buns
Messy buns are a chic and elegant hairstyle that any girl can pull off effortlessly.
The key to getting a messy bun that is elegant, dreamy, and stylish is to not over style it.
A messy bun should be unkempt and messy, so keep it as simple and natural as possible.
Don't stress about styling your hair to perfection – let some of your hair strands go wild and just have fun with your messy bun.
32. Short Blunt Bob
Short blunt bobs are one of the most popular haircuts on the runway today and this is why they are also one of the most in-demand hairstyles right now.
If you are looking to rock a shorter cut that will give you a fierce and edgy vibe, then a short blunt bob is the perfect style for you.
This haircut screams confidence – the exact same energy that you want to exude in school.
33. Curly Hair With Headband
Headbands and bandanas are a great way to accessorize any type of hair. However, they look extra beautiful when partnered with natural curls.
The volume of the curls and the thickness of the headband add the perfect contrast and separation between your face and your curly hair.
Plus, this style only takes a couple of minutes to make – perfect for busy students and young school girls alike.
34. Pixie Mullet
An edgy pixie mullet is basically a shorter version of a pixie cut but a longer version of a mohawk.
It's not as aggressive or as edgy as a full-blown mohawk, because you don't have to shave both sides of your head for this look.
A pixie mullet looks very modern and futuristic – and will surely turn heads wherever you go – so don't hesitate to try out this hairstyle if you are feeling a little bit rebellious.
35. French Twist
The French twist is a dreamy and romantic hairstyle that's perfect for girls with slightly curly or wavy hair.
You can make it as sleek and messy as you want, depending on your mood for the day.
All you need to do is gather your hair in an upward-facing roll at the back of your head, then pin it in place using a couple of bobby pins to make sure it stays intact throughout the day.
36. Bubble Ponytail
A bubble ponytail is a fun and creative play on a classic high ponytail.
Instead of just letting your hair flow freely after tying it into a high ponytail, you can add some bubble-like hair elements on it using just a couple of hair ties.
Here's an easy-to-follow bubble ponytail tutorial if you'd like to give this hairstyle a try.
37. Dutch Braid Pigtails
Pigtails are a staple among schoolgirls, so why not try to take this classic style to the next level by mixing them with some cool braids.
You can actually choose whatever braid style you want for this look but Dutch braids blend perfectly well with pigtails.
The Dutch braid will instantly add some flair and sophistication to your already cute hairstyle.
38. Full Braid Ponytail
As seen on Beyoncé's Lemonade music video, full braids tied into a high ponytail is a stunning hairstyle that is definitely a must try.
It's a great look to copy if you want to take your everyday braids to the next level.
However, full braids take a while to complete, so make sure you have plenty of extra time in the morning if you plan on wearing this look.
39. Ponytail With Bangs
A simple ponytail with bangs is a versatile look that you can wear with almost any outfit.
It's a trendy and chic hairstyle that's perfect to try out if you're looking for a new hairstyle for school.
If you'd like to create more volume and shape to your ponytail, just leave out the part of your hair on the side of the bangs and let them fall down effortlessly into a wave or curl.
40. Side Bun With Braid
If you are looking for a new hairstyle that is both stylish and practical, then a side bun with braid is the way to go.
The hairstyle looks great when worn low, which means that it will also look good with most school uniforms, or any other casual outfits.
It's a great hairstyle to try if you want to get a sleek yet elegant look.
41. Side Swept Lemonade Braid
A side swept lemonade braid is a fresh and edgy way to style your hair.
This hairstyle looks great with most outfits and will keep your hair in place and looking gorgeous the whole day.
They are perfect for girls with long hair, but can also be easily adapted if you have medium-length hair.
The thinner the braids, the more put together your overall look will be.
42. Cornrow Bun
A cornrow bun is a very popular hairstyle among black girls because of its versatility and practicality.
Just like a sock bun, a cornrow bun removes any distraction on the face, allowing you to focus on studying instead of trying to fix your hair all the time.
This hairstyle is also perfect for Physical Education classes or during exams week.
43. Messy Side Braid
For a casual and relaxed look, you can never go wrong with a messy side braid.
Sometimes, when you wake up in the morning on the wrong side of the bed, you don't have the time and energy to fix your hair.
The messy side braid is the best hairstyle for a lazy day.
Simply gather all your hair on one side of your shoulder, braid it in whatever style you want, and you are good to go.
44. Slicked-Back Hairstyle
Channel your inner Kim Kardashian by pulling your hair all the way to your back and style it like how she did her hair during the 2019 MET Gala.
You can achieve the so-called "just got out of the sea" look by saturating your hair with a generous amount of styling gel and combing your hair from the root to the tip.
You can reserve this look for those special school events where you want to be the center of attention.
45. Wavy Bob With Bangs
An effortless and carefree haircut, the wavy bob is a great hairstyle that will instantly give your face a lift.
Because of its youthful and playful appearance, this hairstyle will look perfect for girls of all ages.
The bangs add another dimension to this style, giving it a fun and stylish vibe.
Take your daily school look to the next level by sporting a wavy bob with bangs hairstyle.
46. Natural Curls
If you have natural curly hair, then you should know that this style is all about embracing your hair's natural texture.
It's also about having fun with your hair and showing it off by wearing natural curls, even if they are a little unruly.
Imperfections make us beautiful and this hairstyle embodies that. Be proud. Be confident. Be you.
47. Pinned Back Side Hairdo
By using some bobby pins or decorative clips, you can create a pinned back side-swept hairstyle.
To achieve this look, simply grab the front section of your hair, sweep it over to the side, and pin it behind your ears.
Then, use some bobby pins or clips to secure the style in place.
You can do it on one side or both sides of your head, depending on your personal preference.
48. Baby Braids
There is a recent craze for baby braids ever since Margot Robbie rocked this style in her red carpet ensemble.
So if you are thinking about trying out this cute style for yourself, here's how to do it.
Simply grab a few small sections of your hair near your temple and twist them into tiny braids.
There's no need for you to tie the ends using an elastic band – just let the baby braids fall and unravel naturally.
49. Non-Binary Haircut
If you want to look and feel different, then you should consider experimenting with a new hairstyle.
If you have always had long hair, a short, non-binary haircut can be so much fun!
You can go for a buzzed undercut style or opt for a razor fade or even a short, slicked back look.
But whatever you choose, make sure that it looks as unique as you are.
50. Face Framing Layers
Face framing layers are a great way to highlight your cheekbones, jawline, forehead, and eyes.
This hairstyle works well on all types of hair – whether you have long, short, or curly hair.
Layers are a classic hairstyle for a reason.
They add body, structure, and volume to your hair while highlighting the most flattering areas of your face.
51. Side Parted Bob
The side parted bob is the perfect hair trend to try this season.
It's an easy way to show off and highlight the better side of your face, drawing attention to your cheekbones and jawline.
Asymmetrical hairstyles also generally look more interesting than symmetrical ones, because you can play with proportions and styling more easily.
52. Loose Curly Updo
If you have naturally curly hair and you're looking for a new up-style that looks fresh and feminine, this loose curly updo could be just what you're looking for.
Perfect for those lazy Monday mornings, it only takes a couple of minutes to create this look.
Simply gather your hair at the top of your head, secure it using a hair tie, and then gently tousle your curls to create this casual updo.
53. Double Braided Buns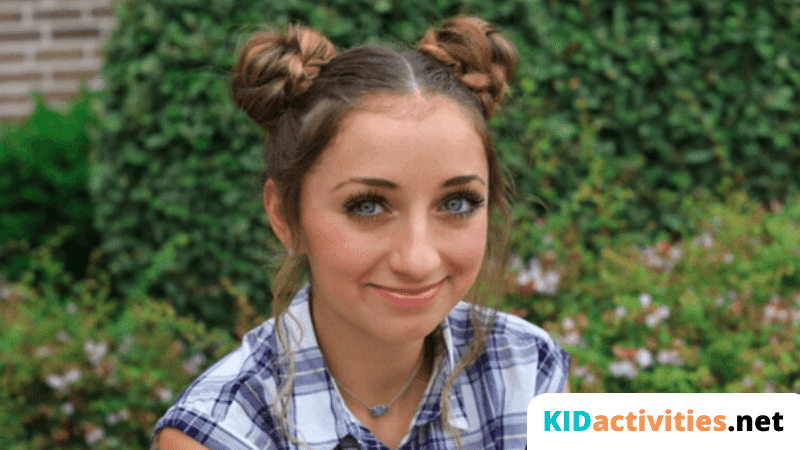 Double braids look cute, sweet, and playful, which makes them the perfect daily hairstyle for school.
But, you can elevate the look even further by twisting them into two buns for a more youthful vibe.
You can also leave a few strands of hair dangling on both sides of your head for an effortlessly chic and sophisticated look.
54. Twisted Bangs
Getting a bangs or fringe cut is one of the best ways to hide your not so flattering face shape.
However, the style can be quite limiting because it always looks the same.
To overcome this limitation, you can simply twist your bangs on both sides of your head and secure it with decorative hair pins to give it a little personality.
It's the perfect way to experiment with bangs, and you can easily get creative with it.
55. Pinned Back Curls
Sometimes, it is difficult to find hairstyles that will put the sole focus on your face, but pinning your hair at the back of your head will definitely do the trick.
It is a versatile hairstyle that you can create in no time and will instantly bring out your best facial features.
The messy curls also look lovely when they are pinned up, giving it a more dreamy feel.
56. Straight and Flowy
If all else fails, you can still rely on straight, long, and flowy hair to make an impression.
A straight hair looks great on any outfit and is virtually maintenance-free.
It is also a very versatile hairstyle that can be styled in any way you want.
If you are looking for a simple hairstyle for school, you'll never go wrong with this one.
No Matter What Hairstyle You Choose, Confidence is Key to Looking Beautiful
Your hair is only one of the many things that make you who you are.
At the end of the day, no matter what hairstyle you choose to wear for school, there is no point if you are not confident about yourself.
Remember, beauty is more than just physical appearance; it is also attitude, character, personality, and intelligence.
Furthermore, you don't have to spend hundreds of dollars on expensive salon treatments to get ready for school this year.
By following our list of 56 Girl Hairstyles for School, you'll easily find a stylish and inexpensive hairstyle for school that you can manage yourself in the comfort of your own home.
Which of the hairstyles mentioned above would you love to try?
Share your thoughts with us in the comments section below.