Disclosure: This post may contain affiliate links, meaning I get a commission if you decide to purchase through my links, at no cost to you. As an Amazon Associate, I earn from qualifying purchases. Read the full disclosure here.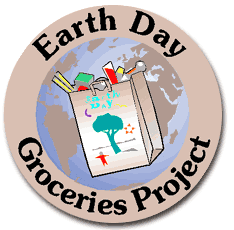 This is a fun 'Community" idea for the month of April!
'EARTH DAY' GROCERIES PROJECT 
Four Simple Steps
1. Borrow. Contact a local grocery store that uses large paper grocery bags. See if the manager will let you "borrow" enough bags so that each student in your school can decorate one. Let the manager know about the project and its environmental education message, of course! Grocers usually get these bags in "bundles" of 500.
2. Decorate. Have students at school decorate the bags with pictures of the earth, environmental messages, the name of your school, etc. Be creative! DO NOT allow students to write their last names on any bags.
3. Deliver. A couple of days before Earth Day you and/or your students return the decorated bags to the grocery store – with many thanks to the manager! The store then distributes these bags (full of groceries) to happy and amazed shoppers on Earth Day.
4. Report. Fill out the Report Form on the project web site with a count of how many bags your school made. Please, only one report per school. All reports will be posted on the Earth Day Groceries site
You do not need to sign up or register, just have a great time with the project! For more information, check the FAQ (Frequently Asked Questions) on the above website link.
Another Idea: If you can't use paper bags, you can have students decorate individual fliers, or even bookmarks, which can be handed out to shoppers or inserted in their shopping bags. These will be counted in the project tally, so do send in your report!
This is a great idea, even if you do it on your own!
---
SURVIVOR READER! (Good Idea for Reading Club or Book Club!)
Who are the ultimate readers in your class/program? And what are they willing to do to prove it? Will they eat fried worms (gummy candy) ala How to Eat Fried Worms (Thomas Rockwell)? Can they climb a beanstalk (rope ladder) like Jack? Will they drink Freckle Juice (Judy Blume)?
Search titles to create a challenge to tax even your boldest readers.
You can also create a booklist of "survivor" titles such as Hatchet (Gary Paulsen), A Girl Named Disaster(Nancy Farmer), My Side of the Mountain (Jean Craighead George) along with a competition to see who survives reading all the survivor books. Adapted from: nea.org
---
NAME FUN…Good for about grade 3 to adult–some younger children 'may' enjoy a couple!
WHAT WOULD YOUR NAME BE IF YOU USED…
(Examples shown…)
1. YOUR ROCK STAR NAME: First pet & current family car (Pixie PT Cruiser)
2. YOUR DETECTIVE NAME: Favorite color & favorite animal (Red Chimpanze)
3. YOUR SOAP OPERA NAME: Middle name, city where you were born
(Jean Detroit)
4. YOUR STAR WARS NAME: the first 3 letters of your last name and first 2 letters of your first name
(She Ba)
5. SUPERHERO NAME: 'The' plus 2nd favorite color and  favorite drink
(The Brown Sweet Tea)
6. NASCAR NAME: The first names of your grandfathers
(Joseph Anthony)
7. TV WEATHER ANCHOR NAME: Your 5th grade teacher's last name, a major city that starts with the same letter
(Celestine Chicago)
8. SPY NAME: your favorite season/holiday and flower
(Autumn Daisy)
9. CARTOON NAME: (favorite fruit plus article of clothing you're wearing right now and add 'ie' or 'y'
(Watermellon Soxy)
10. HIPPY NAME: What you ate for breakfast plus your favorite tree
(Muffin Red Maple)
11. YOUR ROCKSTAR TOUR NAME: 'The' and Your favorite hobby/craft and favorite weather element plus the word 'Tour'
(The Designing Blue Sky Tour)
---
Have a PURPLE PEOPLE EATER Theme…
A fun theme to celebrate with kids! Be sure to visit it for art, crafts, and literacy ideas. Good for Classrooms, after school and childcare programs…Also would make a fun family event!
Additionally, check out all the themes featured in left side category list of this site…
---
EACH MONTH-CELEBRATE 'BONZA BOTTLER DAY'!
What is it??? It's a day just to have a reason to celebrate. We all need a day to just be silly and have fun–so celebrate!!!
This happens each month when the day and date are the same number!
Example: January 1, February 2, March 3, April 4, May 5, etc.
Bonza Bottler Day is a favorite with many school classrooms and programs because it provides a break in routine for the students and teachers. It has been celebrated since August 8 (8-8) 1985!
When the number of the year also coincides with the number of the day and month (October 10, 2010, there is reason to have a bigger celebration (more food, more friends and more decorations).This is called a 'Bodacious Bonza Bottler Day'. As the official website states, "Bodacious means extraordinary, impressively great in size, or enormous" Consider making this a monthly event the kids can look forward to!
SaveSave