Swing Sets for Small Yards
Purchasing a high-quality swing set for your yard means that your children will always have a fun activity available when they are bored.  Having a swing set will also help the kids spend more time outside — improving their physical fitness and athletic ability.
If you have a small backyard, you might think it is impossible to install a kid's swing set.  That couldn't be further from the truth!  Manufacturers have been busy creating versatile swing sets that are perfectly suited for small spaces.  Even though they have a compact size, they come with a variety of features that will keep the kids entertained for hours.
In this post, I'll be sharing some tips for choosing the perfect kid's swing set for a small backyard.  I'll also share our top 5 swing sets for small yards for 2019. 
Benefits of Owning a Swing Set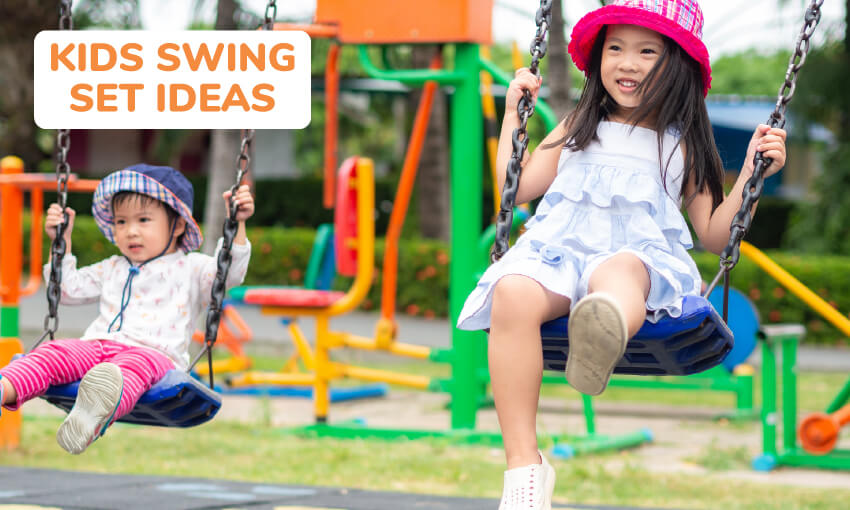 Here are a few reasons why a swing set is the best purchase you can make for your family:
Swing sets help children stay fit
It's important for children to stay physically active as it encourages proper physical development and helps them avoid the plague of childhood obesity.  Having a swing a set in your yard makes it much easier for your kids to be physically active while having fun.
Swing sets improve your child's athletic ability
Playing on a swing set will help your children develop gross motor skills, which are the movements of the large muscles of the arms, legs, and torso.  Developing these kinds of motor skills is essential for good athletic performance.  A study performed by Scholastic also found that swing sets also help kids develop movement and perceptual skills, balance, and general fitness.
Swing sets keep your kids busy
Young children are constantly looking for things to do.  If you don't provide them with plenty of enjoyable activities, they will eventually begin to argue with one another or become couch potatoes that watch television all day.  A swing set provides the kids with a fun physical activity that they can enjoy whenever they feel like it.
Swing sets are handy for parents
By having a swing set that keeps your children busy, you will be freeing up a lot of time for yourself and make life as a parent less stressful.  Instead of having the kids inside the house asking you a million questions or fighting with one another, they will be in the back yard having fun.  That makes your life much simpler!
Swing sets promote social interaction
Children typical use swing sets as a group.  They will take turns on the various parts of the swing set and some activities are designed for two kids to operate at once.  This helps children learn to play with one another in a way that is fun and fair.  They carry these social skills forward into the classroom and the home environment, helping them to thrive.
Choosing the best swing set for a small yard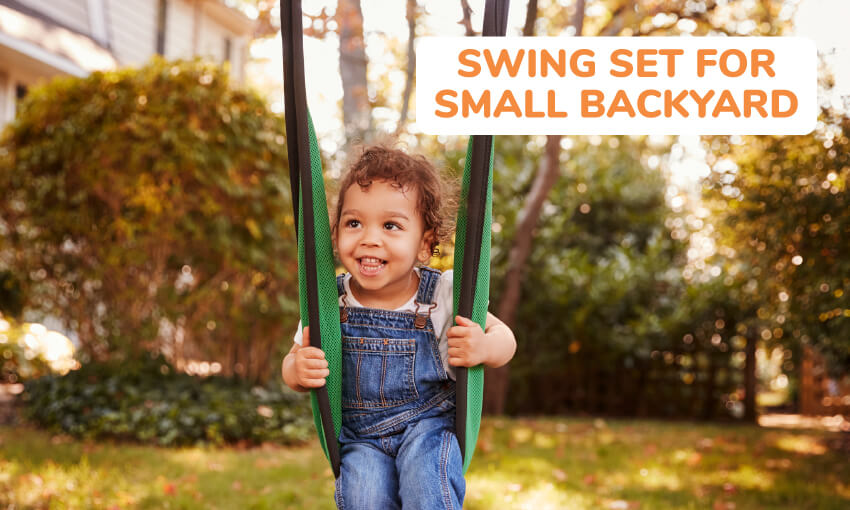 A little more thought is required when choosing a swing set for a small yard because you need to find a product that is works well in the allotted space.  Here are a few questions and considerations to keep in mind as you compare different products:
Calculate much room you have for the swing set
You should begin by identifying the location in the back yard where the swing set will be placed. Take a tape measure and measure how much width, length, and height you have available. You could also use chalk lines or string to mark out the precise location.
There are some considerations to keep in mind when choosing a location, including safety.  Ideally, the location should be flat ground and have grass, sand, or soft dirt beneath it.  This will help the children avoid injury if they fall.  
The location should also be well away from windows, buildings, trees, and shrubs that might cause injury if a child is off balance and falls.  Remembering that the plants around the swing set will grow over time.  
Finally, the swing set location should be in plain view from your home, so you can be inside and watching the kids have fun.  This will allow you to keep an eye on the kids as you continue working in the kitchen or relaxing on the porch. 
Calculate how big the swing set can be
Now that you have the dimensions of the available backyard space, you will know how large the swing set's footprint (where the legs go) can be.  When making these calculations, you should also consider the movement of the swings on the swing set.  
There must be enough space for a child to sit on the swing as it moves backward and forwards.  There are several factors that go into calculating how much room they need including the height of the child, the design of the swing, and the length of the chain/rope/pole connecting the swing to the swing set.  
In most cases, you can simply add 6 feet in each swinging direction, measured from the closest foot of the swing set.  Remember that you will also need room for the person who is pushing the swing.
What materials should the swing set use?
Most high-quality swing sets will use either powder-coated steel or timber (usually cedar or pine).  While timber swing sets look fantastic, they will need to be maintained with regular wood treatments.  
Many swing sets also incorporate plastic into their designs.  If a product does use plastic, make sure it is UV resistant or you may experience issues with it cracking in a few years time. 
What are the "must-have" features for the kids?
Modern swing sets can come with many types of activities including mini-rock walls, different types of swings, monkey bars, sandboxes, seating, and slides.  The best way to decide which activities you need is obviously to talk to your kids.  Show them the kinds of features that are available and ask them which ones are a high priority.
Will the swing set have longevity?
When purchasing a swing set, think about how long your child will be able to use it.  If you only purchase a tiny swing set designed for toddlers, the kids will outgrow it quickly.  If you think your children will still enjoy spending time on it in a few years, get something with features they will still enjoy as they age. 
Will it be difficult to assemble?
While most swing sets are fairly straight forward to assemble, ones with more components can become a little tricky.  The more complicated swing sets can take several hours to assemble, which can be an annoying task if you aren't a handy person.  
If you want something that can be put together in a short period, look for a product that specifically says it is easy to assemble.  It is also important to check if the swing set uses anchors or not.  Pushing anchors into the ground is fairly straight forward, but it can be an issue if you are placing the swings on a hard surface.
What is my budget?
The final consideration to keep in mind is your budget.  Swing sets can cost anywhere between $100 and $1,500.  You will have to decide how much you want to invest in your back yard swing set based on how much the kids will use it, how many features it has, and how much enjoyment it will bring to your home. 
5 Best Swing Sets For Small Yards
We've carefully reviewed dozens of swing sets for small yards to bring you a list of the five best.  These swing sets are well-made, have great features, and provide excellent value-for-money.
IronKids Outdoor Playground With Trampoline, Swings and Slide
Last update on 2023-09-22 / Affiliate links / Images from Amazon Product Advertising API
The
IronKids Outdoor Playground
is ideal for small yards because of its compact size and flexible activity arrangement.
It
comes with a trampoline,
slide, two swings, and monkey bar – with the trampoline and slide detachable from the swings, giving you more flexibility.
This swing set also comes with a large UV shade above the swings, which does a great job of keeping children protected from the sun.
The IronKids Outdoor Playground has a footprint of 13'6″L x 10'3″ W x 6'5″H, with the manufacturer recommending a play area of 18'6″L x 16'3″W x 14'H surround it.  It is made from powder-coated steel with various plastic components.  This is a great choice if you want some flexibility about how you set up the swing set.  
Flexible modular design
Durable powder-coated steel
Affordable
Cons:
The awning will probably need to be removed in storms

 
---
Lifetime Big Stuff Adventure Play Set
Lifetime Big Stuff Adventure Play set
Fun free standing playset for kids aged 3-12; includes 9 foot wavy slide, 2 swings, 1 trapeze bar, a climbing wall, cargo net, propeller swing, and activity board
Constructed of high-density polyethylene and powder-coated steel; durable, weather-resistant, and will not warp, rot, crack, or splinter like wooden playsets
Last update on 2023-09-22 / Affiliate links / Images from Amazon Product Advertising API
Lifetime Products is a leading manufacturer of swing sets.
Their
Lifetime A-Frame Adventure Playset
is a fantastic product for small yards because of its clever design and many features.
It manages to cram in several activities into a  13' 11" x 15' form factor, which requires a recommended play area of 29' 8" x 27'.
This swing set is made from high-quality materials including powder-coated steel and UV resistant plastic.  It is a combination that is extremely durable and capable of tolerating harsh weather conditions.  
The number of features included on this swing set is astonishing, given its reasonable size.  It includes 2 adjustable belt swings, trapeze bar, wavy slide, rope net, climbing wall, and seat.  The Lifetime A-Frame Adventure Playset even comes with a cubby house that has a steering wheel and chalkboard. 
Packed with features
Attractive design
Will remain useful for kids for many years
Cons:
Expensive

 

Will take up a lot of space in the yard
---
Sportspower My First Metal Swing Set with Slide
Sportspower My First Metal Swing Set with Slide, 4 Kids Max, Blue, Yellow
OUTDOOR FUN: Sportspower My First Metal Swing Set is feature packed with 2 swing seats, 1 trapeze, and 1 slide for up to 4 children at once
HEAVY DUTY: Sportspower My First Metal Swing Set is crafted from 2-inch heavy duty weather-resistant steel tubes and hardware with a powder-coated paint finish for superior durability
Last update on 2023-09-22 / Affiliate links / Images from Amazon Product Advertising API
With a footprint of the footprint of 89″L x 89″W x 74"H, this affordable swing set is ideal for small to medium yards.
It is a simple setup, with two swing seats, a trapeze, and a small slide.
The slide can be detached if your back yard is very small and cannot accommodate the full set.
It is a durable product that is crafted from 2-inch weather resistant steel tubes, with UV-resistant plastic components.  It uses zinc-coated chains for the swings, which can be easily height adjusted to match the height of your kids as they grow older.  It comes with padded legs, as an additional safety precaution.  This is a great choice for small yards and consumers on a budget.
Very affordable
The slide can be removed to make it more compact
Foam padded legs for additional safety
Cons:
---
Little Tikes Tree House Swing Set
Last update on 2023-09-22 / Affiliate links / Images from Amazon Product Advertising API
This cute swing set is designed for young children up to 8 years of age. It has a wonderful design resembling a tree fort, which will look fantastic in any backyard.
The
Little Tikes Tree House Swing Set
is made from durable molded plastic with internal bracing – a heavy-duty construction method that will last many years.
The unique design of this swing set incorporates handholds which allow kids to climb it like a real tree – a great way to encourage children to improve their agility.  These holes also function as lookouts that allow kids to sit on the platform and see their surroundings.  
The footprint of this swing set is approximately 139"L x 93"W x 80"H, plus additional room for the surrounding safety zone.  It comes with a viewing platform, two slides, and two swings.  A great choice for a child's first swing set.  
Unique treehouse design
Handholds make it fun for children to climb
Ideal for young kids
Cons:
Expensive
Only suitable for younger children
---
Flexible Flyer Fun Time Metal Swing Set
Last update on 2023-09-22 / Affiliate links / Images from Amazon Product Advertising API
This simple four-station swing set is affordable, durable, and easy to setup.
Made from powder-coated steel and plastic, it features two swings, a trapeze bar, and a slide.
It is a fairly compact product, measuring 120″ length by 90″ width by 70″ height — making it ideal for small backyards.
This is a very safe swing set, with no exposed bolts and a limited range of movement on the swings.  It is ideal for children in the 4 to 14 age range and will provide your family with many years of fun. 
---
Thanks for reading Best Swing Sets for Small Yards.  Make sure you check out our fun playground games as well.